This post may contain affiliate links. For more information, read my disclosure policy.
My easy Lemon Curd recipe is the perfect easy curd! Just a few ingredients and you can make it from scratch. It tastes so much better than from the store.
I've been making this recipe for years and it's always silky smooth and perfectly tart and sweet.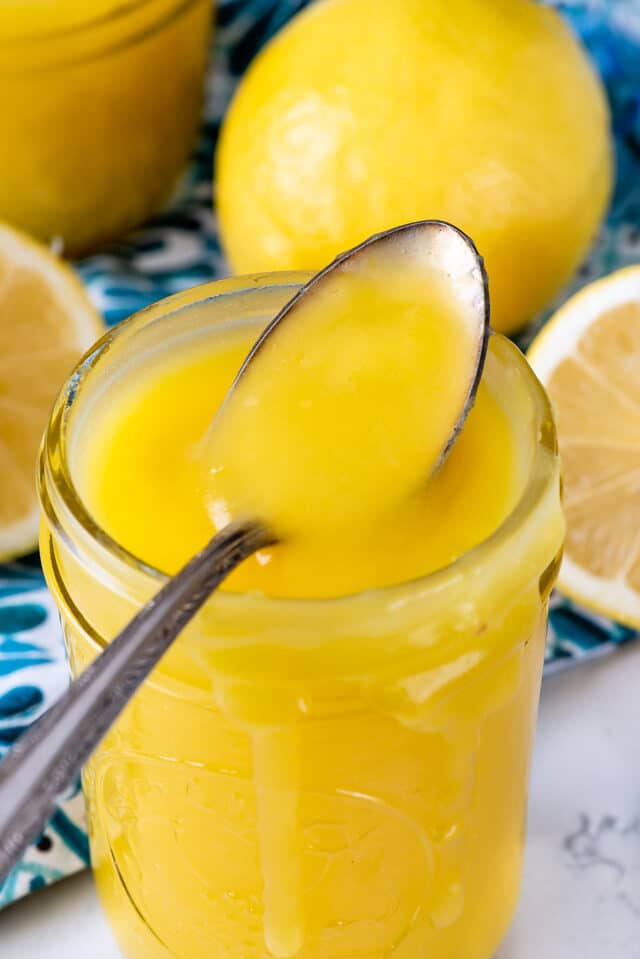 BEST Lemon Curd Recipe Video
Why you need this recipe
I am in love with lemon curd and lemon all the things! I've been making this homemade curd for years and decided I finally needed to share it with you.
If you've never made homemade lemon curd, you should. It's so much tastier than the kind from the jar. Plus, store-bought is sometimes hard to find and it's expensive.
Lemon Curd is a simple recipe made with just a few ingredients and it goes great on toast, in fillings for desserts, or on a spoon. You can use this curd to make things like lemon tarts or fillings for lemon cupcakes or lemon pastry.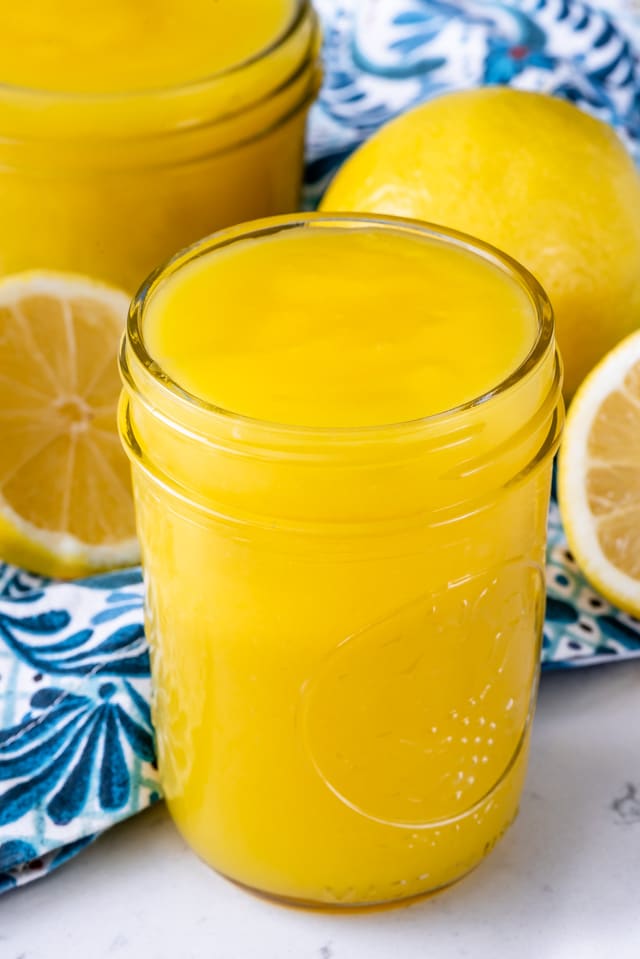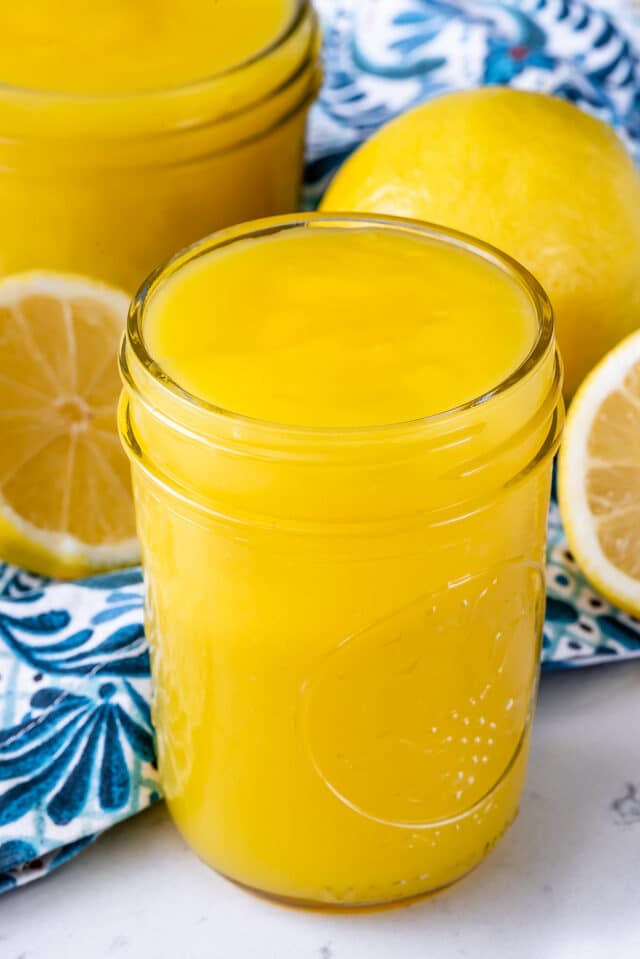 Ingredients in easy lemon curd
All lemon curd recipes are basically similar, with similar ingredients. However, my lemon curd recipe has one big difference:
I use whole eggs.
Most recipes for lemon curd that you see will call for just egg yolks. I hate using yolks and not whites because I always forget to use the whites for something. They end up going to waste which kills me because eggs aren't cheap. So I developed a lemon curd recipe with whole eggs to eliminate waste.
Here's what you need:
Fresh lemon juice: it's important to juice it yourself
Lemon zest: learn how to zest lemons
Granulated Sugar: for sweet
Whole Eggs
Unsalted Butter
That's it! Sometimes I add a pinch of salt as well, especially since I use unsalted butter.
It's like making a custard, but instead you're making curd. I like to think of this as a cross between jam and lemon custard. It's got a consistency that's between the two and a flavor that's unparalleled.
How to make lemon curd
Whisk: It's really important that you whisk all the ingredients together first, before turning it onto the heat. You don't want the eggs to scramble!
Cook: Then, like when you're making pudding or a cream sauce, you cook and stir constantly until the mixture thickens. It'll bubble and coat the back of a spoon and that's how you know it's done.
Strain: Now, because we are using whole eggs, we have to make sure that none of the egg whites cooked. This is why I always strain my curd using a fine mesh strainer. It takes out any lumps or chunks and gives a nice silky lemon curd.
Always strain your curd so it stays silky smooth!

PRO TIP
At this point, the curd is a bit thin but don't worry: it will thicken as it cools.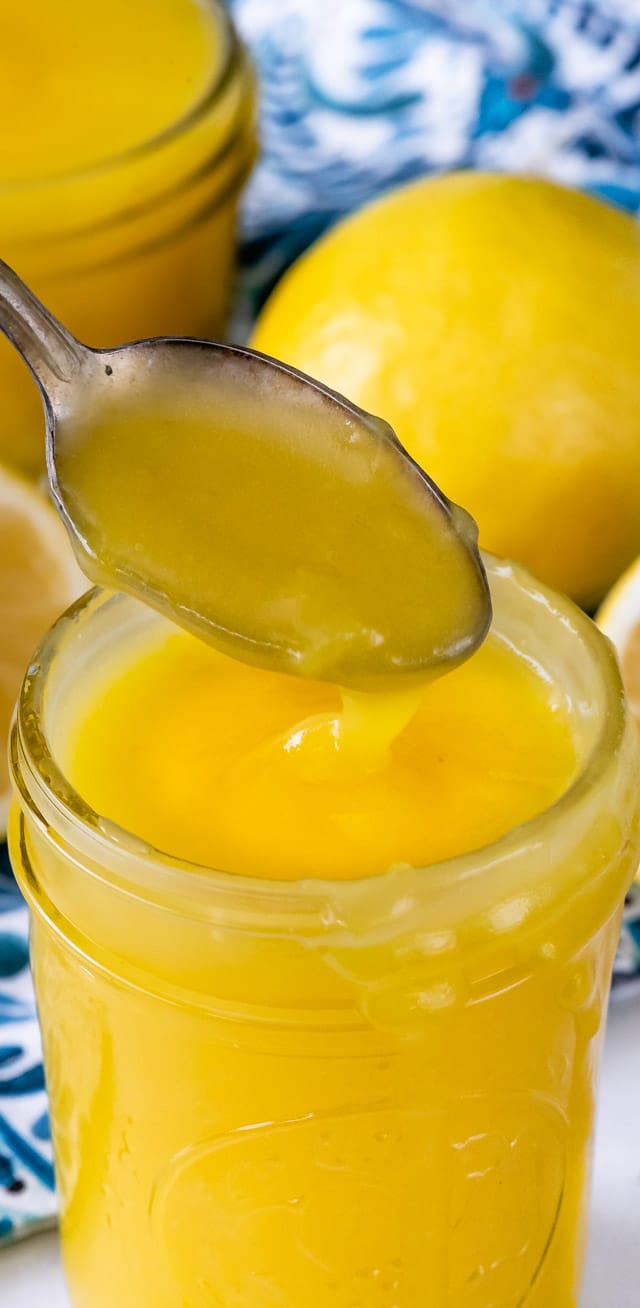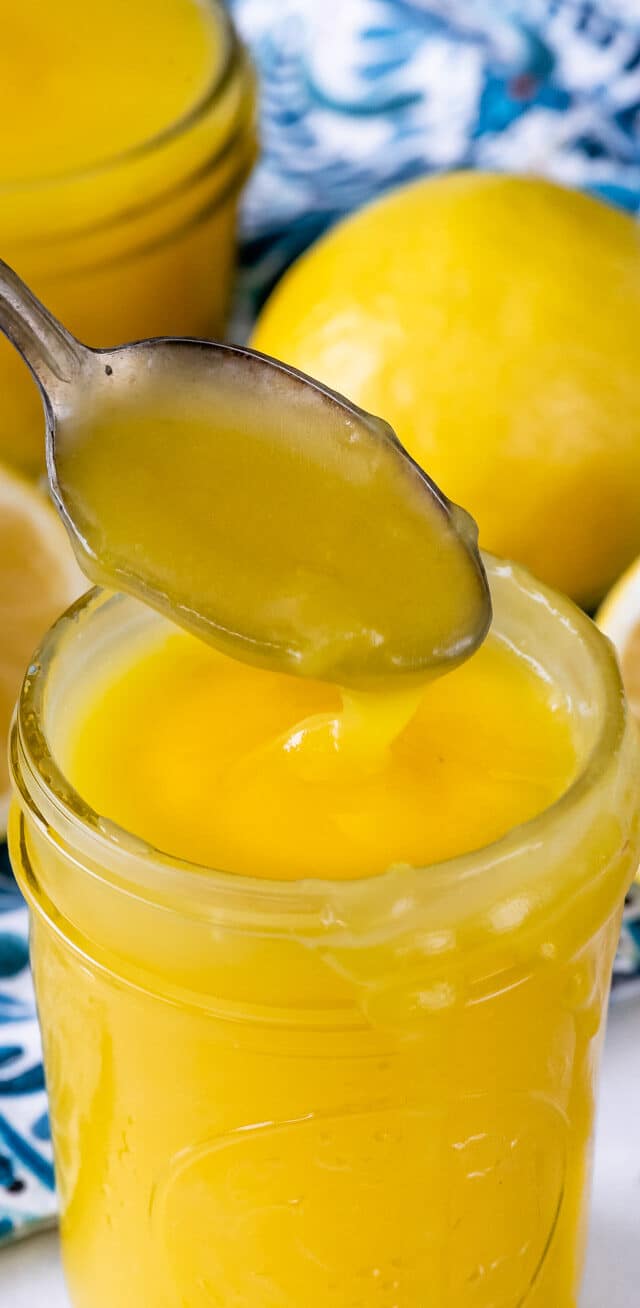 Commonly asked questions
My curd didn't set, what happened?
Did you cook it long enough? It should boil and coat the back of a spoon and be very thick. Let it cool. Once it cools and chills it will thicken. Make sure to use fresh lemon juice so the pectin can work its magic.
How does curd thicken?
Curd thickens because of the eggs and the natural pectin in the fresh lemon juice. That's why it's important to use fresh lemon juice! It thickens more as it cools as well.
How do you store it?
Store this in a jar or other airtight container for up to a week in the refrigerator.
Can you freeze lemon curd?
Yes you can! I like freezing it in plastic containers. Just thaw in the refrigerator.
How do you fix lemon curd that doesn't thicken?
First, make sure it's been cooked long enough. It should be thick and coat the back of the spoon (thicker than heavy whipping cream) so if it's still runny, make sure to cook it longer. If you've let it cool and it's still thin, warm it back up over low heat and add a bit of cornstarch slurry (cornstarch mixed with cold water) and cook until it thickens.
What temperature do you cook lemon curd at?
Make sure it doesn't bubble or it could break. Cook it at a low temperature!
How to use Lemon Curd
There are so many ways to use this recipe! Besides putting it on toast or eating it with a spoon, you can use it anywhere you'd use jam or pudding. Here are some of my favorite recipes to use this in: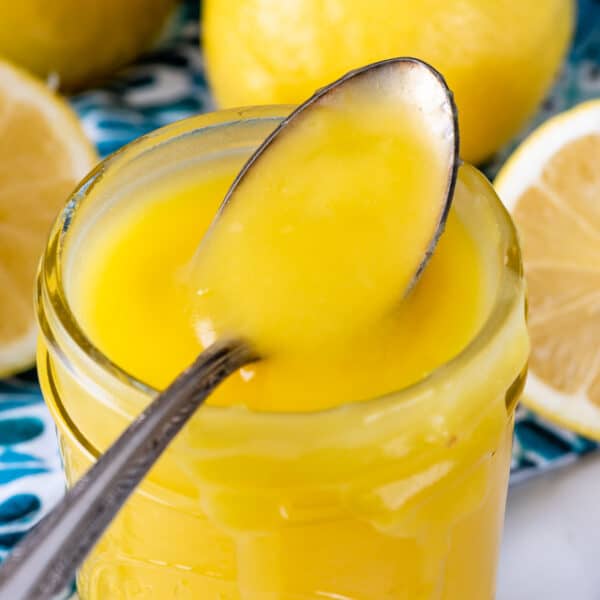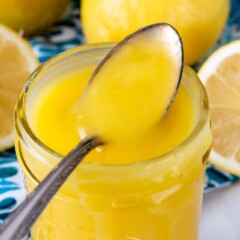 Easy Lemon Curd
This easy lemon curd recipe is perfect for breakfast or dessert! It's easy and comes together in under 10 minutes.
Ingredients
3

large

large eggs

3/4

cup

(150g) granulated sugar

Pinch

of salt

1/2

cup

fresh lemon juice

Zest of 1 large lemon

4

tablespoons

(57g) unsalted butter

diced
Instructions
Place eggs, sugar, salt, juice, and zest in a medium saucepan. Do not put it over the heat yet. Whisk the ingredients together until smooth.

Place over low heat. Stir constantly with a wooden spoon until the mixture thickens, about 4-5 minutes. Turn all the way to low and add the butter. Stir until smooth.

Remove from heat and pour into jar(s). Makes just shy of 2 cups.
Recipe Nutrition
Serving:
1
serving
|
Calories:
74
kcal
|
Carbohydrates:
9
g
|
Protein:
1
g
|
Fat:
3
g
|
Saturated Fat:
2
g
|
Cholesterol:
38
mg
|
Sodium:
12
mg
|
Potassium:
19
mg
|
Sugar:
9
g
|
Vitamin A:
130
IU
|
Vitamin C:
3
mg
|
Calcium:
5
mg
|
Iron:
0.1
mg
Nutritional information not guaranteed to be accurate
Tools for success:
**Did you make this recipe? Don't forget to give it a star rating below!**
Last Updated on April 30, 2023