This post may contain affiliate links. For more information, read my disclosure policy.
Pecan pie is good. Chocolate Pecan Pie is even better. But DOUBLE Chocolate Pecan Pie? It's the BEST!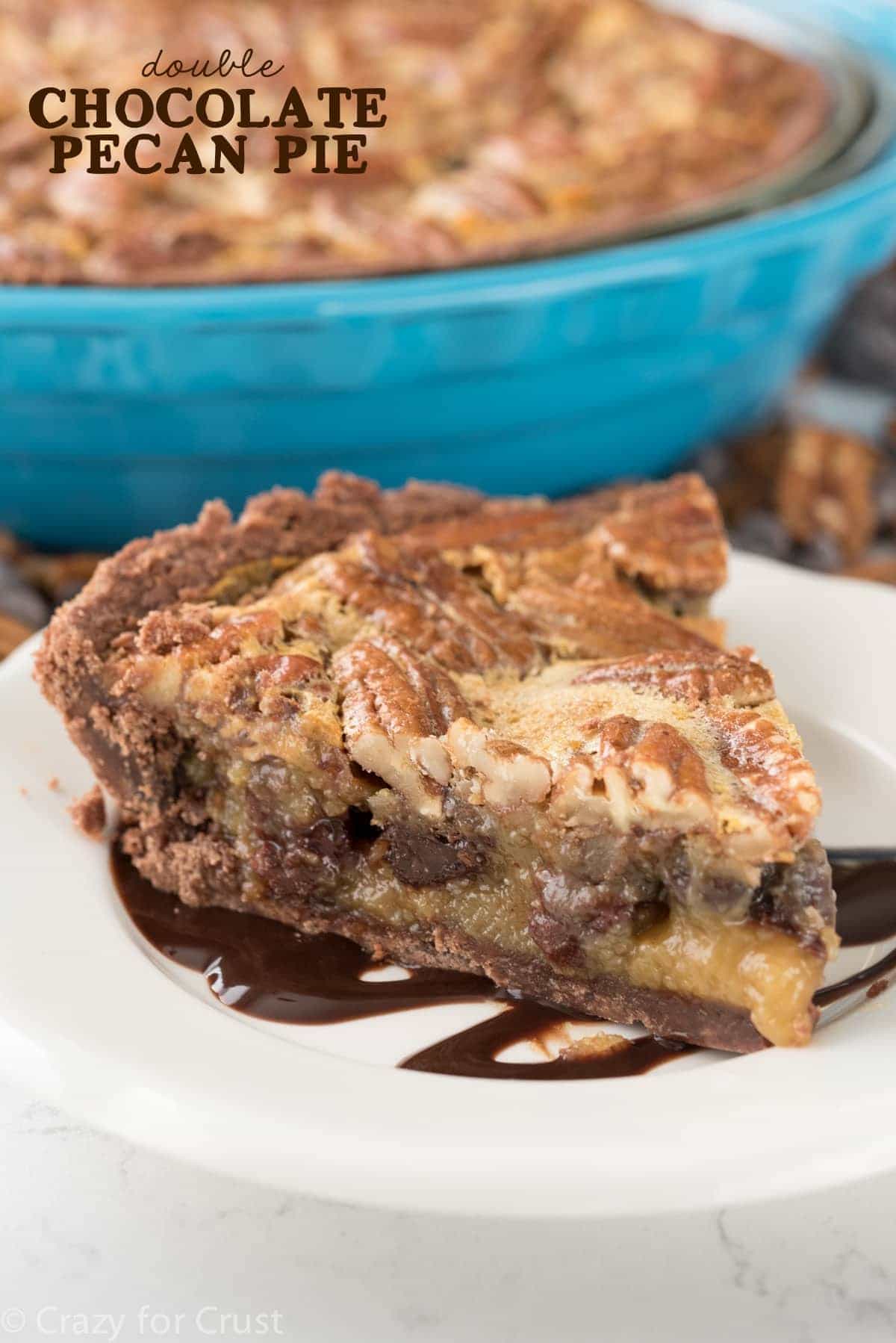 Do you dress your pets up for Halloween? I always want to, but hardly do. Our dog, Ginger, a golden retriever, would not appreciate having clothes on. One year I got her to wear a blue t-shirt so she could be Air Bud. And one year I attempted to make her wear one of Jordan's Cinderella costumes, but it didn't end well.
After the great Cinderella incident, I gave up trying to dress Ginger for holidays, but now I think I might have to start again. Have you seen the photo of the golden retriever martini glass that's going around the internet? When I saw it on Facebook I laughed harder than I had in WEEKS. What really got me was the dog's expression. Like, "FINE MOM. You win."
And then we went trick-or-treating and saw a dog wearing this cowboy saddle harness costume. You guys. It was literally the funniest thing I've ever seen. A golden retriever, wearing a cowboy in a saddle, running towards us. After too many glasses of wine that night I almost bought Ginger one just for random Tuesdays.
I didn't order it, but the second I see one with a Santa or an elf it's going into my shopping cart. Merry Christmas to me.
(Edited to add: OMG I FOUND IT ON eBay.)
Now that Halloween is over (thank goodness), we can move on to more important things. Like Thanksgiving. AND double chocolate pecan PIE.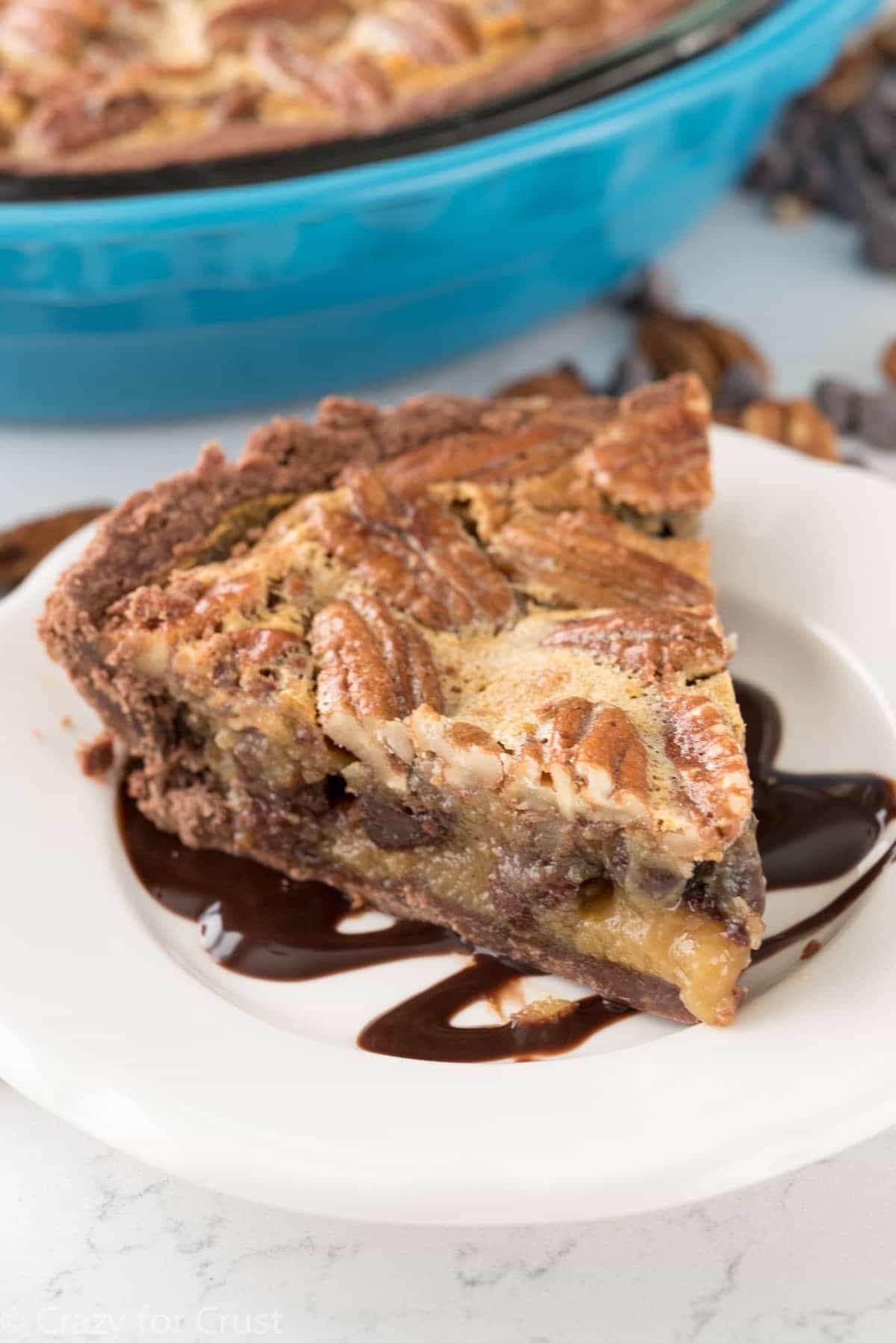 I'm assuming you all expected some sort of a chocolate-crusted pie after Tuesday's post, right? I promised you two chocolate pies and this is the first one: Double Chocolate Pecan Pie.
Really, it doesn't get much better. If you're looking for something sinfully chocolate for your Thanksgiving table (or a random Thursday), look no further. It's a chocolate pecan pie in a chocolate crust. DOUBLE the chocolate!
This double chocolate pecan pie recipe is incredibly easy.
It all starts with my No Roll Chocolate Pie Crust. Hello, it's no roll. That's easy for sure. And it's chocolate! #win
I married that with my Mom's Easy Classic Pecan Pie recipe. That pecan pie, seriously, is the fastest pie you'll ever make. If you have a mixing bowl and a wooden spoon you can make that recipe, I promise. And, as always, everything is better with chocolate. So I added chocolate chips to my mom's pecan pie.
#doublewin

This pie is a rich and wonderful way to make a twist on the classic pecan pie. In fact, I like double chocolate pecan pie better because, hello. CHOCOLATE!!
Enjoy!!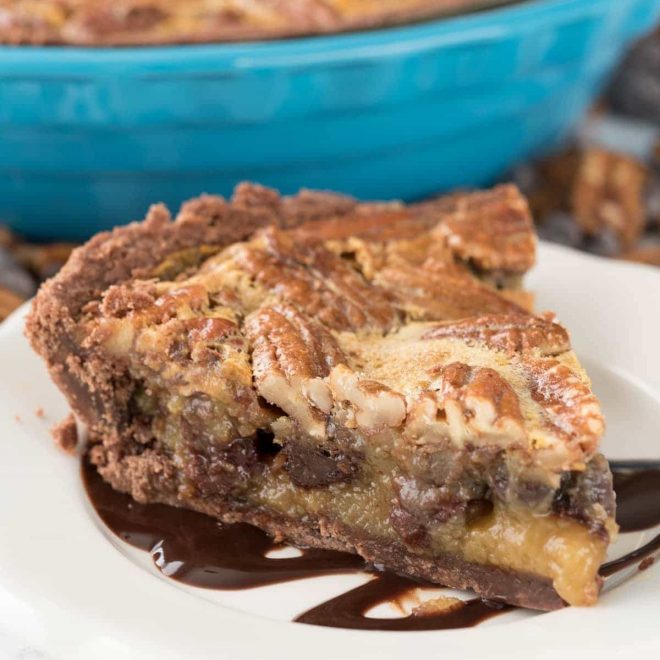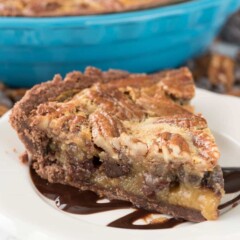 Double Chocolate Pecan Pie
This Double Chocolate Pecan Pie is an easy pecan pie recipe that's full of chocolate chips and it has an easy no roll chocolate pie crust!
Total Time
1
hour
15
minutes
Ingredients
1

recipe for No Roll Chocolate Pie Crust

3

eggs

1

cup

dark corn syrup

1/3

cup

granulated sugar

1/4

cup

unsalted butter

melted

1/4

teaspoon

salt

2

teaspoons

cornstarch

1/2

cup

chocolate chips

1 1/2

cups

or thereabouts pecan halves
Instructions
Preheat oven to 425°F. Press the pie crust into the 9" pie plate as directed and chill until ready to fill. Note: make sure to use a 8-9" pie plate for this pie; using anything bigger than 9" will result in a not full pie!

Whisk eggs, corn syrup, sugar, butter, salt, and cornstarch in a large bowl.

Place chocolate chips on the bottom of the pie crust and place the pecans in a single layer on top of the chocolate chips. Pour the filling over the top. The pecans will rise to the top of the pie. Note: it's important that the chocolate is on the bottom because the chips will weigh down the pecans and not let them rise, so make sure to put the chocolate in first!

Place the pie on a cookie sheet. Tear off 4" long strips of aluminum foil (about 1 1/2" wide) and wrap the edges of the pie crust so it doesn't brown too quickly. (Or cover with a pie shield.)

Bake for 10 minutes at 425°F. Then lower the temperature to 350°F and bake for 35-45 minutes or until the pie is puffed and browned. Remove from oven and cool completely before serving. (I chill mine overnight and then bring it to room temperature before serving.) Store covered in the refrigerator for up to 3 days, or freeze (whole or slices) for up to one month.
Recipe Nutrition
Serving:
1
/8th pie
|
Calories:
634
kcal
|
Carbohydrates:
69
g
|
Protein:
7
g
|
Fat:
38
g
|
Saturated Fat:
15
g
|
Cholesterol:
115
mg
|
Sodium:
2643
mg
|
Fiber:
2
g
|
Sugar:
31
g
Nutritional information not guaranteed to be accurate
See more of my ultimate pie recipes here!
Easy Classic Pecan Pie (Mom's Recipe!)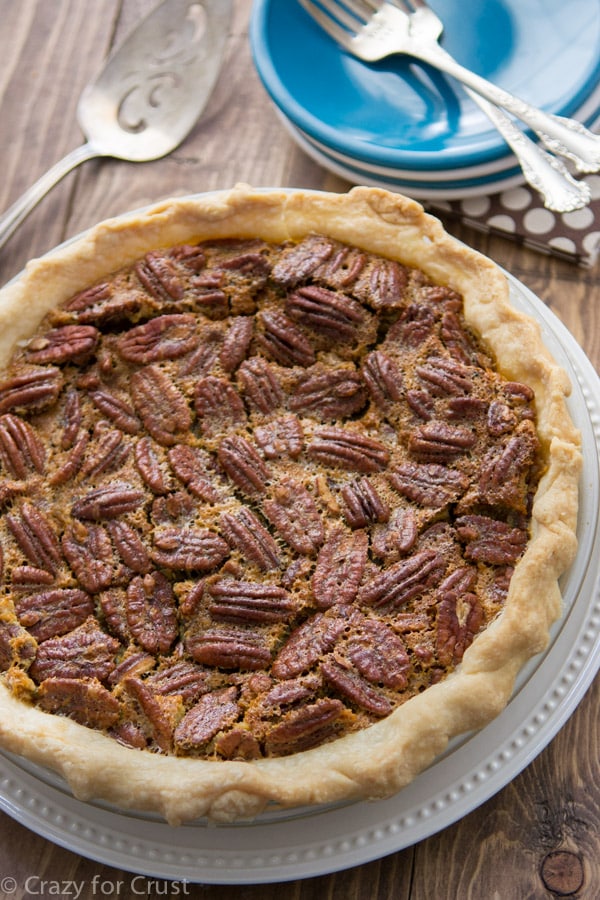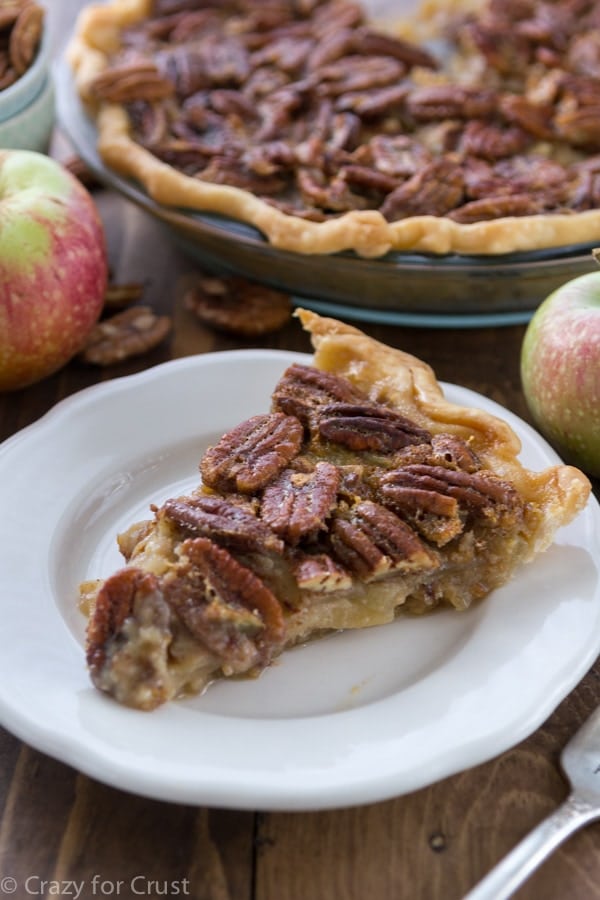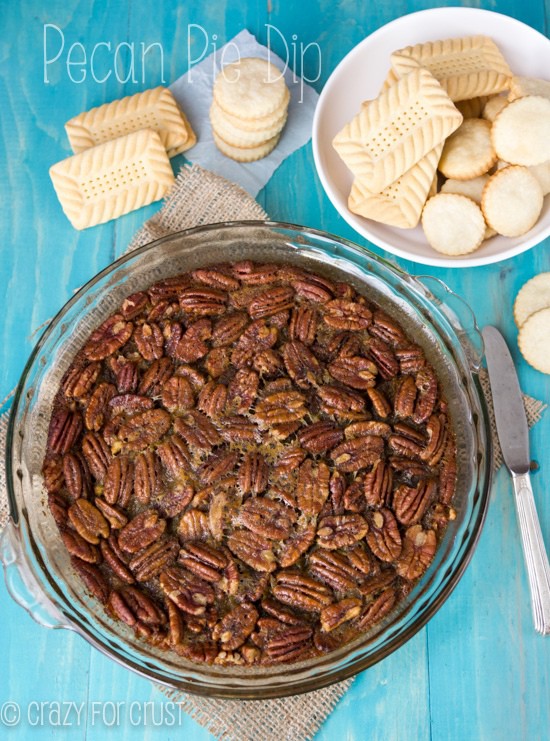 Sweets from friends:
Salted Caramel Pumpkin Pecan Pie by Lemon Tree Dwelling
Bourbon Chocolate Pecan Pie by Beyond Frosting
German Chocolate Pecan Pie by Melanie Makes
Last Updated on September 20, 2019