This post may contain affiliate links. For more information, read my disclosure policy.
This is the CLASSIC Mai Tai Recipe you'll get in Hawaii! Can't go to the beach? Make this easy recipe and transport yourself to the tropics.
Learn how to make a Mai Tai and how to substitute for ingredients you don't have, plus learn how to make this in a pitcher for a crowd!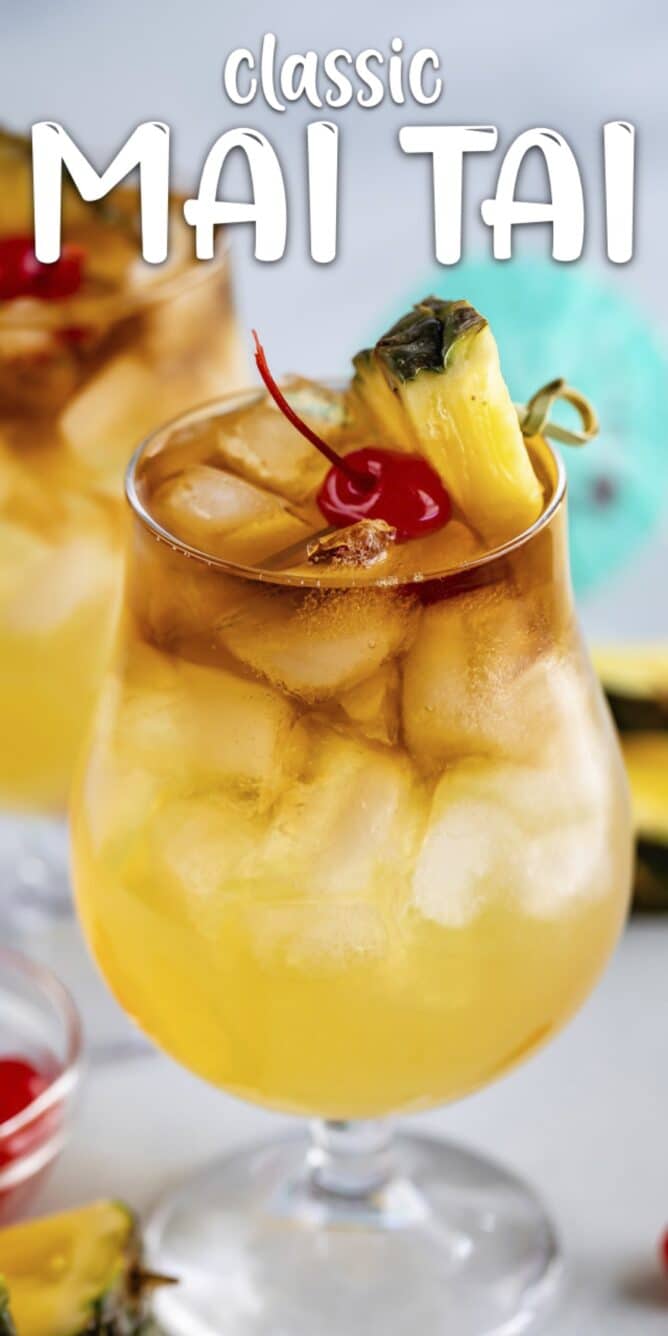 Table of Contents
BEST Mai Tai Recipe
I miss the beach! We don't have any tropical trips planned, so I think it'll be awhile before we're on the sand again.
One of my favorite things to do on a tropical (or, really, any) vacation is to sit in a lounge chair by a resort pool (preferably with a view of the ocean) and order cocktails while reading a good book. Mai Tai Cocktails are one of my favorite ones to order (and they are for sure my husbands favorite!)
If you're craving a bit of the beach, sun and tropical vacation vibes, then make yourself a Mai Tai at home! Close your eyes and pretend you're at a swanky resort with a waterfall in the distance while you enjoy this tropical Hawaiian cocktail.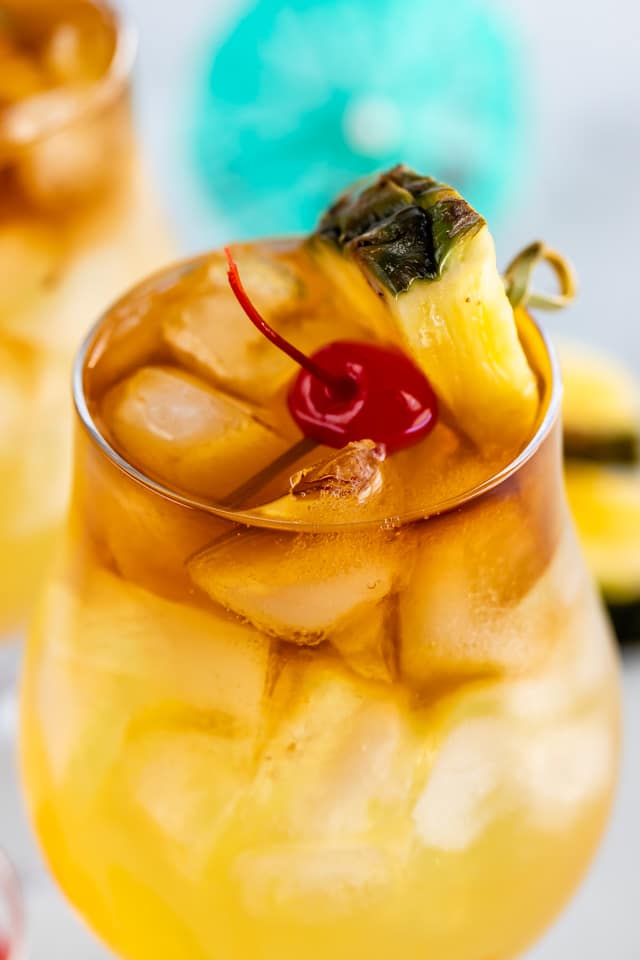 What's in a Mai Tai Cocktail?
A Mai Tai is a rum based cocktail that's associated with tiki-themed restaurants, Polynesian Culture, and Hawaii. The funny part it that the person who claims to have invented them created them for his restaurant in California.
A classic Mai Tai is a tart and strong cocktail, with a prominent rum flavor and a bit of orange and lime flavor on the backend. It's not a particularly sweet cocktail, although you can change up the flavors a bit to your liking.
There are SO many different versions of Mai Tai out there and I'm going to share some of them with you today. I'll explain not only what goes into this drink, but also how to vary my cocktail into your own Mai Tai Recipe, depending on your tastes or what alcohol you have on hand.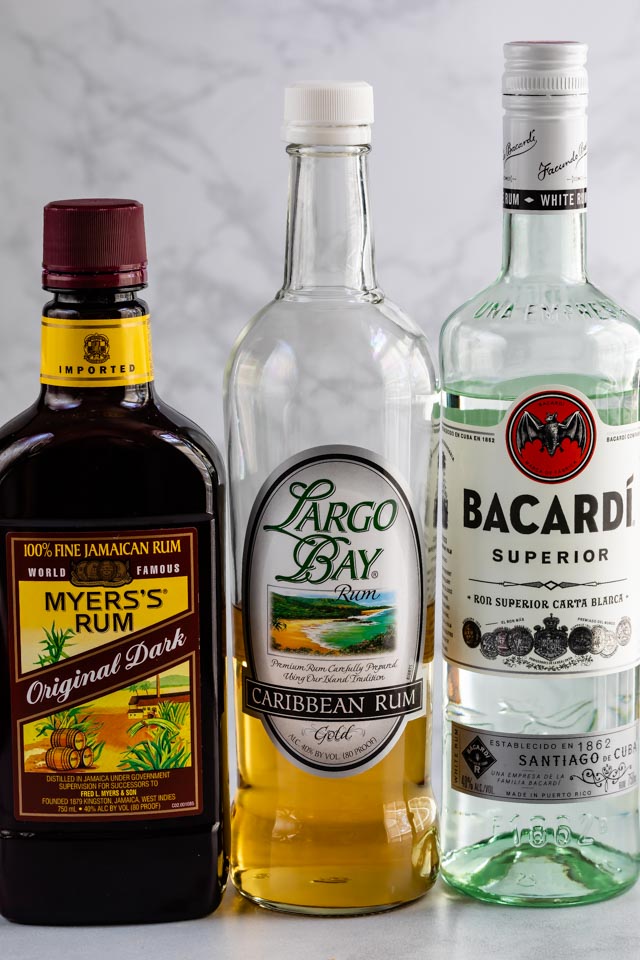 Best Rum for Mai Tai Mix
The Classic Mai Tai Ingredients has 3 kinds of rum in it: light, gold, and dark.
I told you it's a strong drink! Three kinds of rum pack a punch.
I'm sure that a purist would tell you you HAVE to buy top shelf rum (and, honestly, it probably tastes better with more expensive rum) but get what you like or what you want to spend.
I do recommend Bacardi and Meyers for the light/dark but get what you like!
The gold and light rum go in the cocktail mix itself and the dark rum is floated on the top (that's the dark brown you see in the photos).
You could also use aged rum or Jamaican rum – your choice.
Mai Tai Ingredients – Easy!
To round out the cocktail you need:
Fresh Lime Juice
Triple Sec (Cointreau or Orange Liqueur or Orange Curacao)
Orgeat Strup or Almond Liqueur/Amaretto (see substitutions below)
I told you it was a strong drink: all alcohol and a little lime juice!
For a traditional mai tai, leave the lime juice and triple sec in the drink. The easiest thing to switch up is the orgeat syrup or almond liqueur. (I used almond liqueur – I mean I'm sure most of you have orgeat syrup lying around…right? HA)
How to make a Mai Tai?
To make the cocktail, you add all the ingredients (except the dark rum) to a cocktail shaker, shake and pour over ice, then float the dark rum on top.
I've listed the ingredients and method for how to make a pitcher in the recipe card. I also think it's important to add pineapple juice, orange juice, and/or lemon lime soda when doing a pitcher cocktail.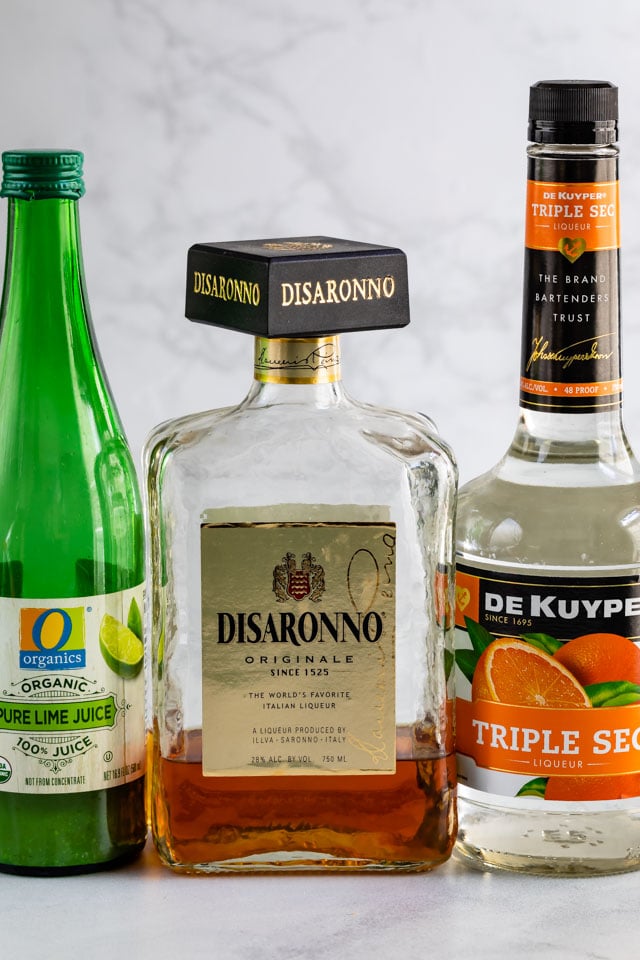 Substitutions
If you don't have a well stocked liquor cabinet like I do, you can definitely make some substitutions
Rum Substitutions
Use double the white or gold and leave the other out, if you don't have it.
Substitute coconut rum for one or both to make a Coconut Mai Tai.
Orgeat/Almond Substitutions
Orgeat is basically an almond flavored simple syrup. You can get it at the liquor store or at some grocery stores in the alcohol aisle. You can also make your own, but it's kind of an involved process.
I substitute a bit of Amaretto (almond liqueur) for the orgeat called for in a tradtional Mai Tai recipe, but almond liqueur isn't something everyone has. It also depends on the sweetness level you like. Here's what to substitute:
Use a different flavor simple syrup, like grenadine, orange or any other kind.
Make almond or orange flavored simple syrup by boiling 1 cup sugar with 1 cup water until the sugar dissolves. Let it cool then add 1-2 drops of almond or orange extract.
Skip the simple syrup all together and add orange or pineapple juice.
Use Grand Mariner instead
Making Mai Tai Punch
Want to make punch for a crowd? You can do that too! This is where you're going to want some pineapple or orange juice to fill in the gap. Making punch out of just a classic mai tai recipe would be very expensive!
I love serving Mai Tai Punch at summer pool parties and I can't wait to have a BBQ so I have an excuse to make it.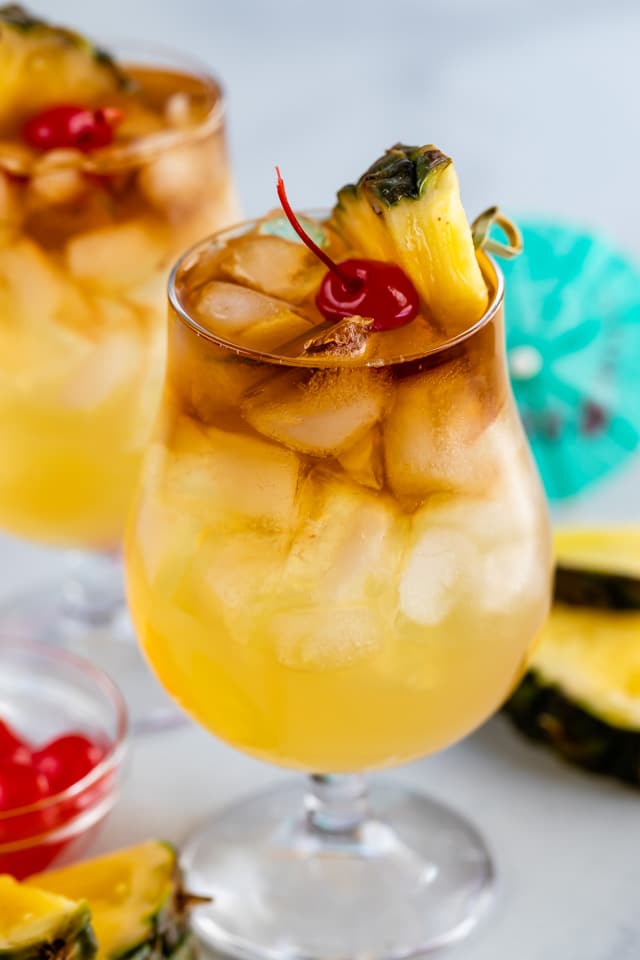 FAQs
What does a mai tai taste like?
To me, a mai tai tastes like Hawaii! It has all those tropical flavors you expect when you're at the beach. I always substitute amaretto for the orgeat and it adds a nice little touch of sweetness. This cocktail recipe, as written, is really strong. If you want it less so, add pineapple juice.
Is mai tai from Thailand?
Nope – people think so because of "tai" in the name, but it was actually invented by Victor J Bergeron, the founder of Trader Vic's restaurant.
What type of rum is used in a mai tai?
Lots of different kinds – this recipe uses gold, light and dark/spiced rum.
Can I make a Mai Tai with pineapple juice?
To make this recipe with pineapple juice, just add it to taste, or reduce the triple sec and add pineapple juice instead. Adding juice is a great way to water down this strong drink.
Other Tropical Cocktails:
Have you made this recipe?
Tag @crazyforcrust on Instagram or hashtag it #crazyforcrust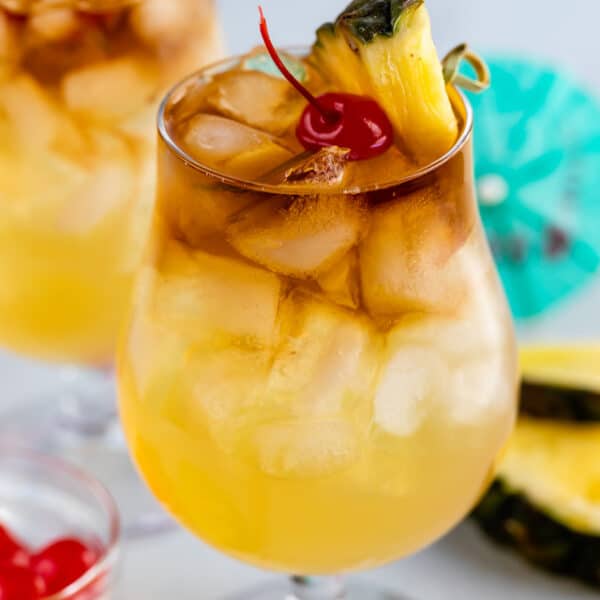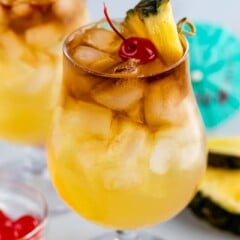 Mai Tai Recipe
This Mai Tai is such a classic cocktail recipe with 3 kinds of rum, lime, orange and almond. It's the perfect way to transport yourself to the beach!
Ingredients
For 1 cocktail:
1.5

ounces

light rum

1.5

ounces

gold rum

2

ounces

triple sec

1

ounce

lime juice

1/2

ounce

Amaretto (almond liqueur)

see note

1

ounce

dark rum
For a pitcher:
1

cup

light rum

1/2

cup

gold rum

1/2

cup

dark rum

1

cup

triple sec

1/4

cup

lime juice

2

cups

pineapple and/or orange juice

1/4

cup

Amaretto (almond liqueur)

see note
Instructions
For one cocktail:
Mix light and gold rum, triple sec, lime juice, and almond liqueur in a cocktail shaker with ice. Shake and strain over ice. Add dark rum on top.
For pitcher:
Mix all ingredients in a large pitcher. Adjust strength/sweetness as needed by adding simple syrup or more juice. Serve over ice.
Recipe Notes
Amaretto Substitutions:
Substitute orgeat or other simple syrup or grenadine (start with 1/2 ounce and add more as needed for desired sweetness)
Substitute 1 ounce pineapple or orange juice for the amaretto
Other:
Substitute more of one rum for another, if you don't have all three.
Coconut rum is a great sub also
The drink, as written, isn't very sweet, so if you like a sweeter drink, add some simple syrup or grenadine.
Recipe Nutrition
Serving:
1
cocktail
|
Calories:
487
kcal
|
Carbohydrates:
25
g
|
Protein:
1
g
|
Fat:
1
g
|
Saturated Fat:
1
g
|
Sodium:
7
mg
|
Sugar:
23
g
|
Vitamin C:
9
mg
Nutritional information not guaranteed to be accurate
The Mai Tai is one of the most famous cocktails associated with Hawaii, summer and the beach! Make my classic Mai Tai Recipe at home so you can feel like you're in the tropics.
Last Updated on August 14, 2022