This post may contain affiliate links. For more information, read my disclosure policy.
Treat yourself to a Manhattan Drink for your next happy hour! This classic cocktail recipe is easy to make with just a few ingredients. It's a combination of whiskey, sweet vermouth, and bitters – learn how to make it and what makes it special!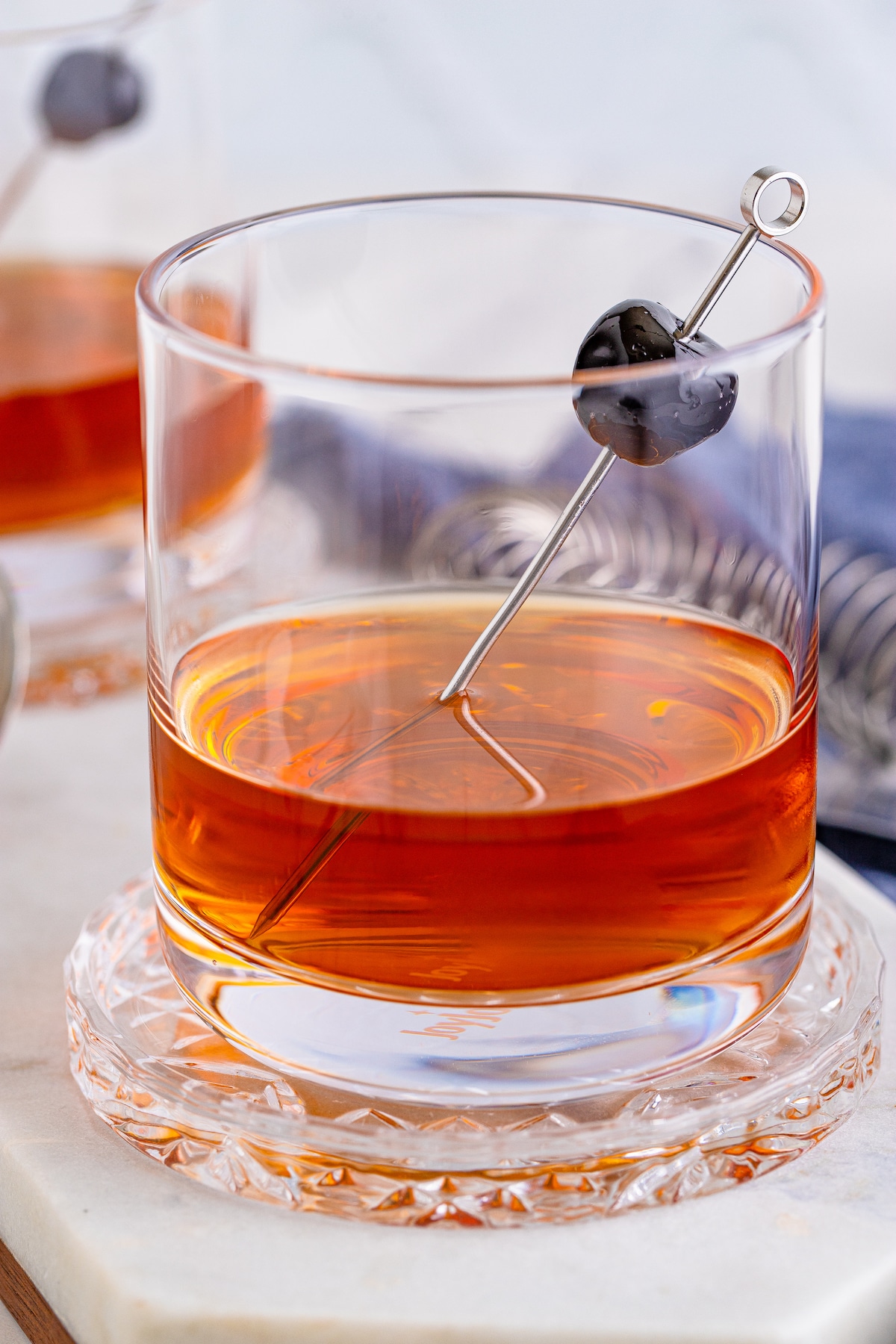 What is a Manhattan drink recipe?
It's adult beverage time, and what better drink to make than a classic Manhattan cocktail recipe? Named for where it was created in New York City, this is a classic drink that you can easily make at home.
This classic cocktail has been around since the late 1800s and is still a popular drink today. It's a combination of whiskey, sweet vermouth, and angostura bitters. It's usually served in a martini glass or low-ball glass.
Why you'll love this recipe
You don't need a bunch of fancy bar tools – just a glass! Manhattan drink ingredients are simple: You only need three plus a garnish.
Traditionally, an old fashioned Manhattan drink is made with rye whiskey, but you can substitute Canadian whiskey, bourbon, or try a blended whisky.
It's often garnished with an orange peel or maraschino cherry, but if you want to go old-school, use a Luxardo cherry! These are the original maraschino cherry but much more adult in look and flavor.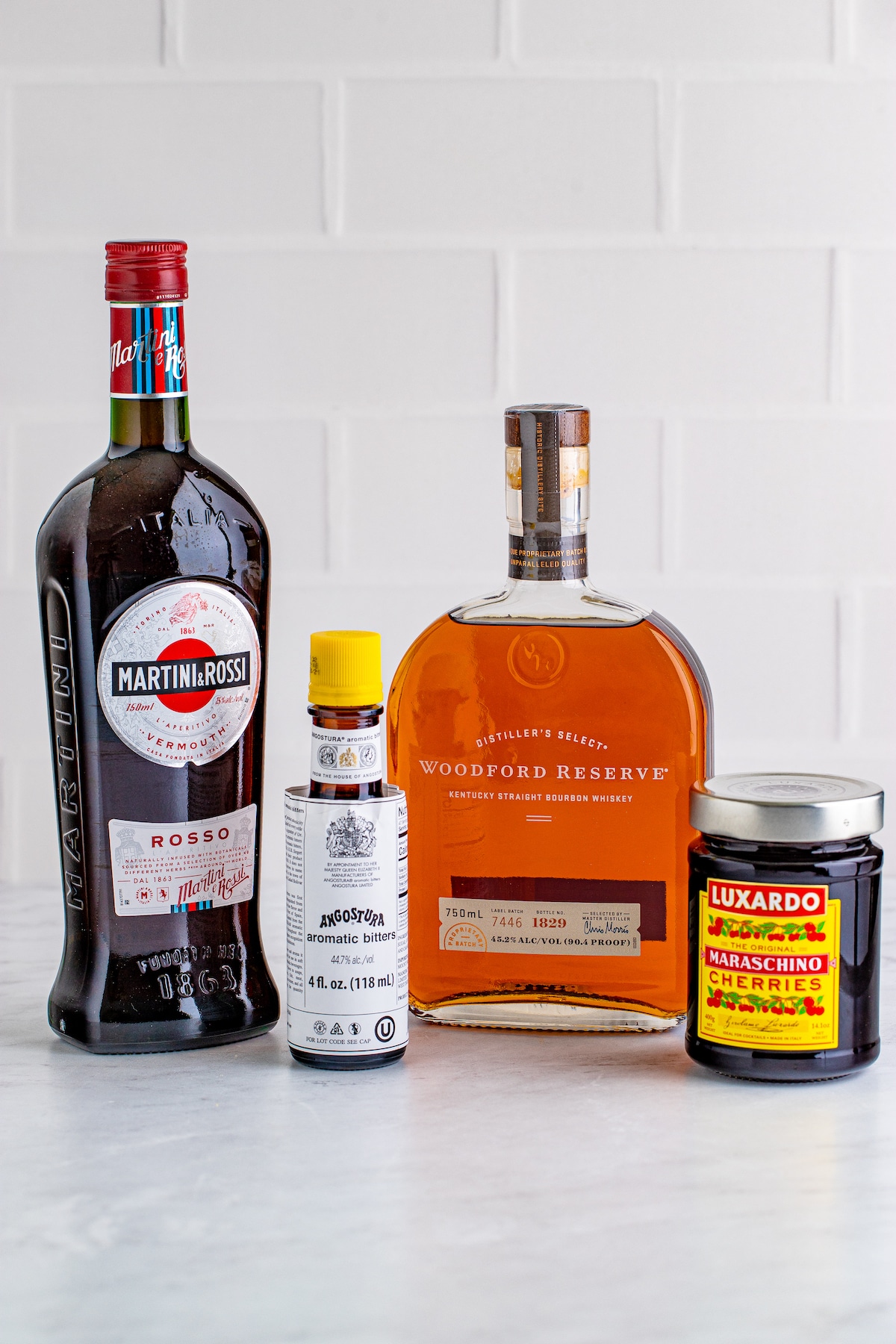 Manhattan Cocktail Ingredients
As always, use your favorite brands for liquor, but the more top shelf it is the better your drink will taste.
Rye Whiskey – this is the best whiskey for manhattan but you can use your favorite.
Sweet Vermouth – I prefer using 3/4 ounce sweet vermouth
Bitters – Just a dash
Cherry garnish – Luxardo cherries are the most common used but you can use a slice of orange peel if you don't have them.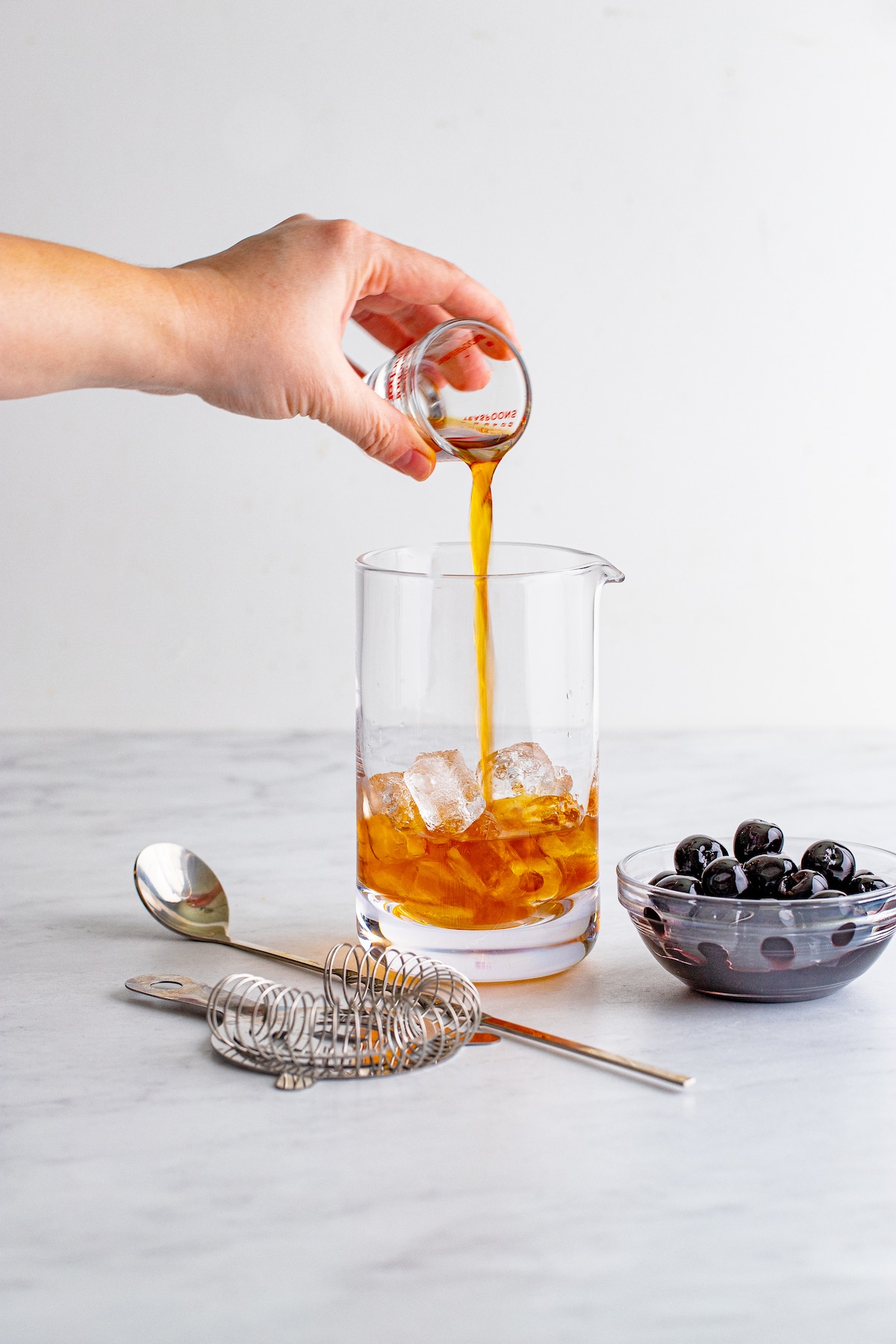 How to make a Manhattan drink:
Place the ice in a mixing glass and add the whiskey, vermouth, and bitters.
Gently stir to combine.
Strain the drink into a low-ball glass or martini glass (just make sure it's a chilled cocktail glass!)
Garnish it with a cherry and serve. It's the perfect Manhattan cocktail!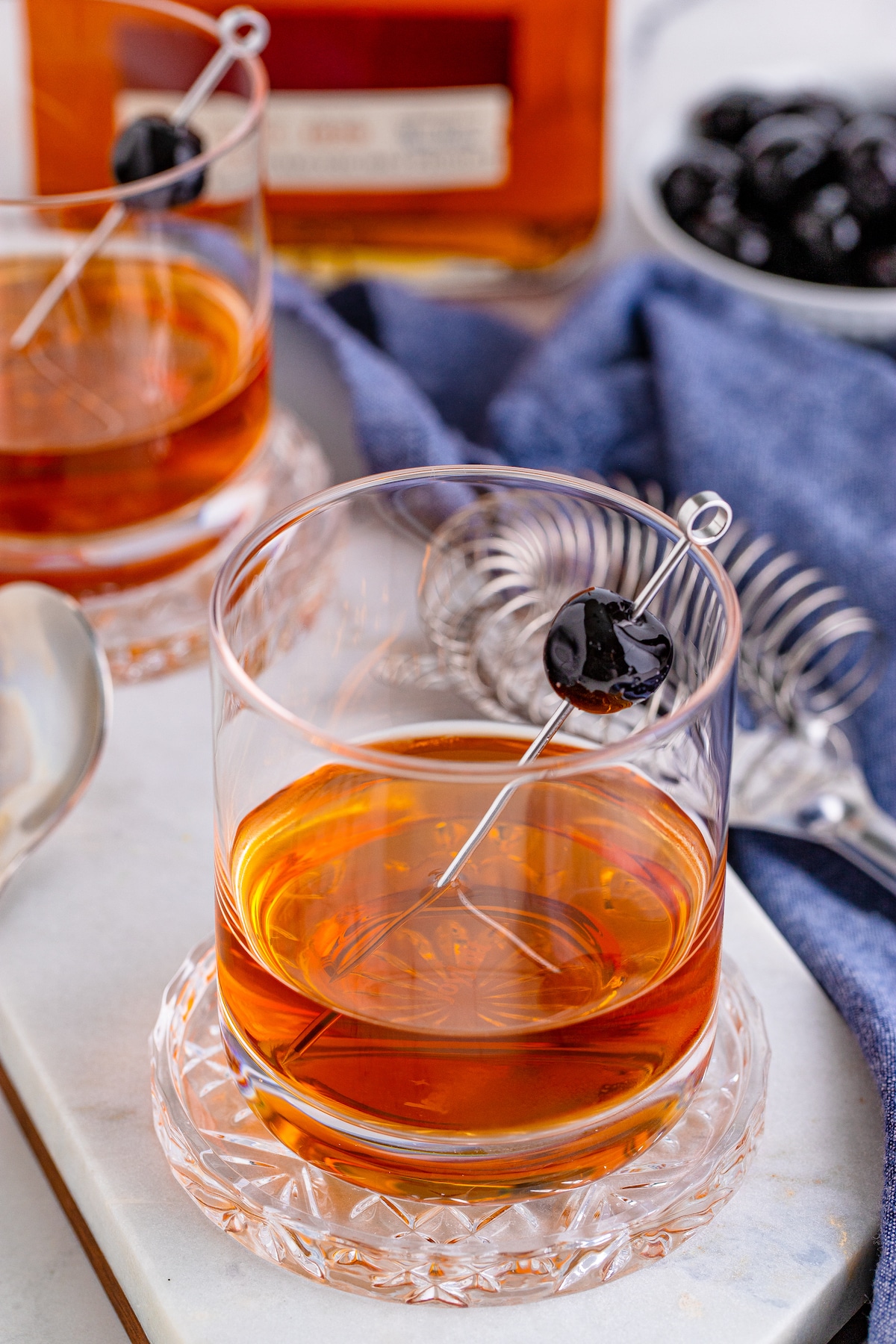 FAQ
What's in a Manhattan drink vs old-fashioned?
They are very similar. Both are made with whiskey and bitters, but a Manhattan has sweet vermouth while an old-fashioned is made with sugar.
Is a Manhattan a strong drink?
It is a strong drink – a little goes a long way!
Why is the drink called a Manhattan?
No one knows for sure, but most think that it was created for a party held at the Manhattan Club in New York City. This was way back in the late 1800s! But, it's not absolutely clear that this is the truth – some think it was a drink created at a bar in NYC and then got the name Manhattan. However it came to be, it's a classic and continues to be a popular cocktail.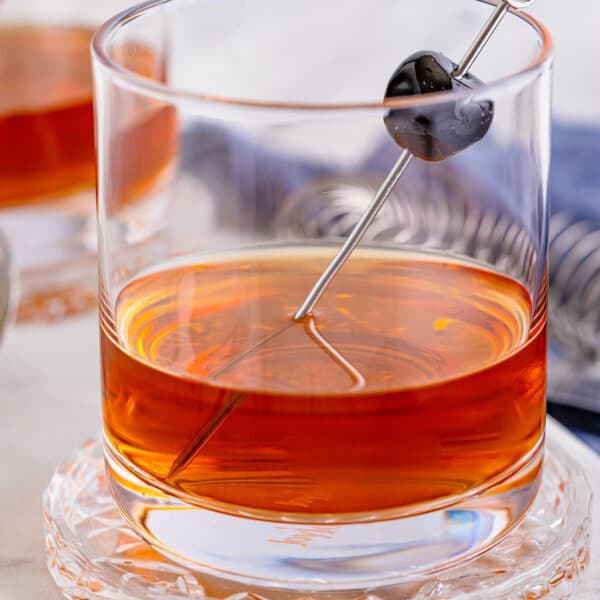 Manhattan Cocktail Recipe
A Manhattan is a classic cocktail that's super easy to make with just a few ingredients plus garnish!
Ingredients
2

ounces

Rye Whiskey

¾

ounce

sweet vermouth

Dash Angostura bitters

Luxardo Cherry garnish
Instructions
Place ice into a mixing glass. Add the whiskey, sweet vermouth, and bitters, gently stir to combine.

Strain into glass. Garnish with a cherry and serve.
Recipe Notes
This is the classic recipe, not an original.
Typically Rye whiskey is used but Canadian whisky, bourbon, and blended Whiskey can be used in its place.
Some garnish with orange peel or a modern maraschino cherry. Luxardo cherries are the original maraschino cherry before the bright red ones began being used.
Recipe Nutrition
Serving:
1
serving
|
Calories:
159
kcal
|
Carbohydrates:
1
g
|
Protein:
1
g
|
Potassium:
1
mg
|
Sugar:
1
g
|
Iron:
1
mg
Nutritional information not guaranteed to be accurate
Other Favorite Cocktail Recipes
You can't go wrong with this Manhattan drink recipe if you want an easy cocktail. Pick up the ingredients and treat yourself to one soon!
Last Updated on March 10, 2023