This post may contain affiliate links. For more information, read my disclosure policy.
Hello, my name is Dorothy and I'm a bagel addict. I love bagels so much, it was about time I made my own.
Hello Cinnamon Sugar Bagels, prepare to be devoured. Add some PHILADELPHIA Cream Cheese Spread and prepare to be demolished.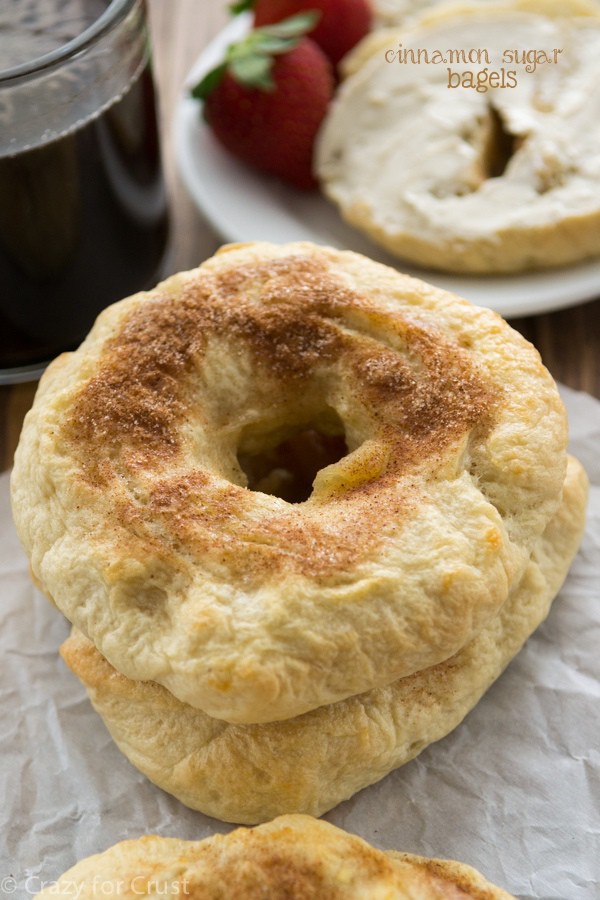 I grew up in the San Francisco Bay Area, on the Peninsula. There were several bagel shops within walking distance of my house and I'd usually hit one (or both) several times per week.
When we lived in Arizona, the bagel store close to our house made the best bagel sandwiches, and for only $5 you'd also get a drink and chips. I don't even want to admit how often I ate there.
Then we moved to the Sacramento area…and I've only been to a bagel store about 3 times in 7 years. The closest Noah's Bagels is over a 20 minute drive and totally out of the way. I cry regularly because I haven't gotten my Cracked Peppercorn Potato fix.
Because there are no bagel places near me (and no, I do not count Panera) I decided to finally cross bagels off my bucket list. And I'm so glad I did because bagels are so freaking easy to make yourself. For my first try, I'd say these are pretty darn fantastic.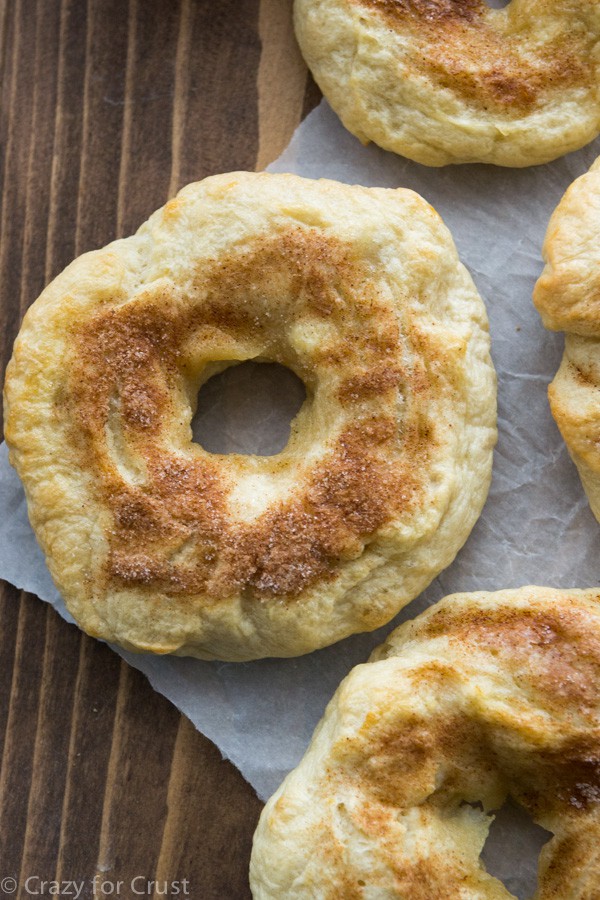 I know there are several methods for bagel making and I'm pretty sure that bagel enthusiasts everywhere are pretty opinionated on their methods. My bagels are boiled in water that's been laced with honey, then they are baked until puffy and slightly golden. Boiling them gives them a good chew, which is something I always want in my bagels (and pretzels too!)
The tops of the bagels are brushed with egg and sprinkled with cinnamon sugar before baking. I have to admit, my favorite bagels for breakfast are always sweet. Cinnamon sugar, blueberry, cinnamon crunch – I need sweet bagels for breakfast (and savory for lunch). If you don't like cinnamon sugar, you could top these with sesame seeds, poppy seeds, or even leave them plain.
While I've been known to eat bagels straight out of the bag, my favorite way to eat them is with cream cheese. Plain will do in a pinch, but flavored cream cheese is where it's at for me. My favorite flavored cream cheese is always PHILADELPHIA, especially their Cream Cheese Spreads.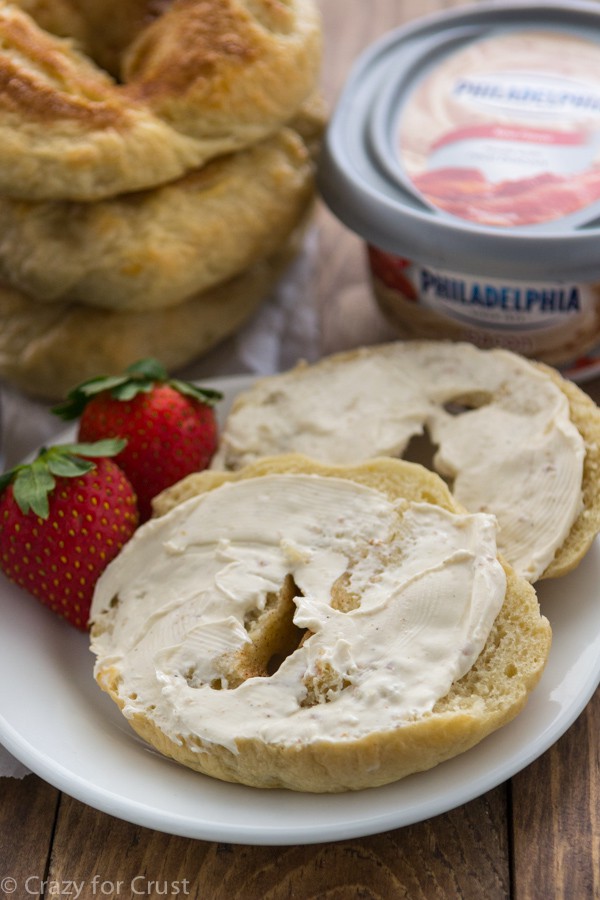 I always eat a bagel the same way: sliced in half, cold, not toasted, and slathered with some flavor of cream cheese. If you've looked in the cream cheese aisle recently, you've probably noticed all the flavors of PHILADELPHIA Cream Cheese Spread. They have a flavor for every taste – there are over 20 sweet and savory spreads to choose from! By far, my tastes lend to the sweet cream cheese spreads: Strawberry and Honey Pecan are my top favorites with the Blueberry following close behind. PHILADELPHIA introduced it's newest spread earlier this month: Bacon Cream Cheese Spread. It's made with real Oscar Meyer bacon!
What's your favorite PHILADELPHIA Cream Cheese Spread?
However you eat your bagels, you should totally try making them at home. It's much easier than I thought it would be and it's way better than driving 20 minutes to the closest bagel shop. (Seriously, Sacramento. What gives with the lack of bagel shops??)
It was all we could do not to eat all 12 of the bagels in one day. Before we got through them all I managed to freeze some for quick weekday mornings. Although, going through these photos is making me really hungry. I think I know what I'm having for lunch…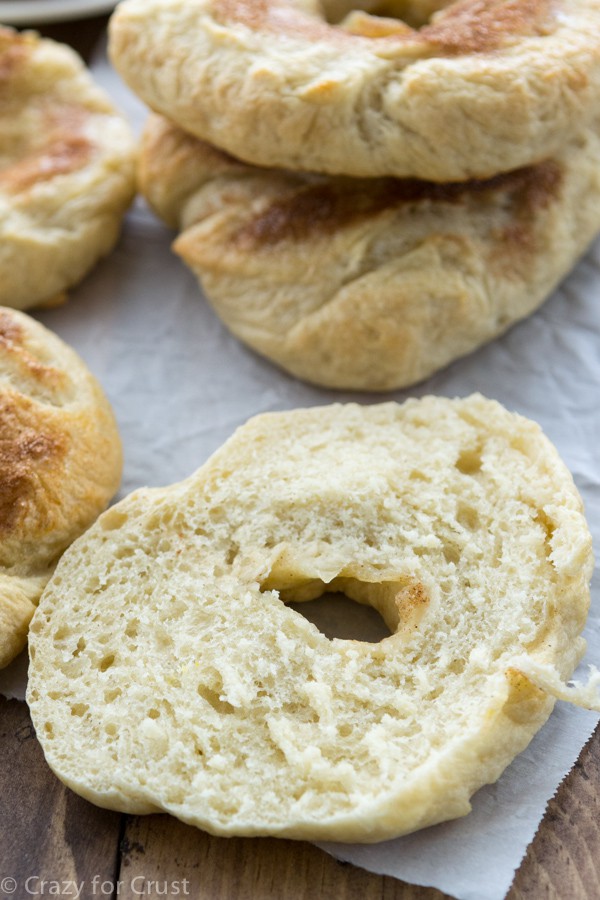 I don't think making bagels at home is going to help my bagel addiction one bit! 🙂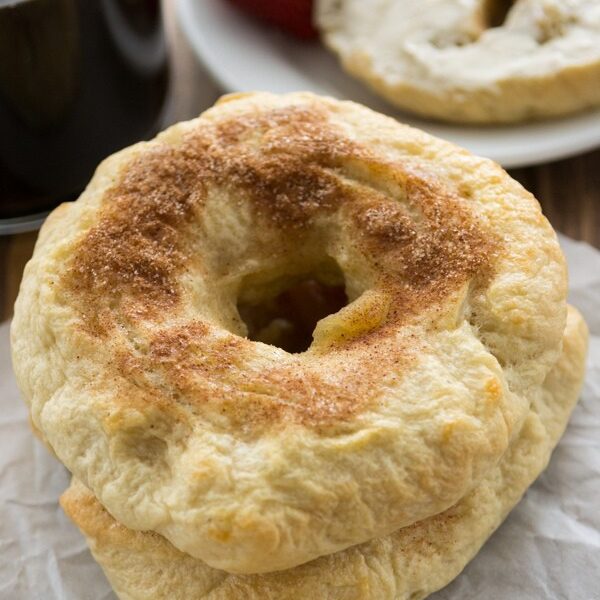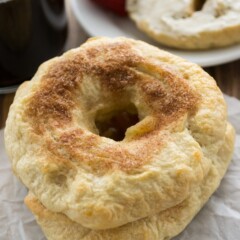 Cinnamon Sugar Bagels
Making your own bagels at home is so easy! Top with your favorite toppings like cinnamon sugar and then serve with your favorite cream cheese spread.
Ingredients
1 1/2

cups

very warm water

think hot bathwater

2

packets

active dry yeast

about 4 1/2 teaspoons

3

tablespoons

brown sugar

1

teaspoon

salt

3 1/2 - 4

cups

bread flour

2

tablespoons

honey

1

egg

2

tablespoons

granulated sugar

1

teaspoon

cinnamon

Water

for boiling
Instructions
Heat water in the microwave until it's very warm, like hot bathwater. (This takes about 45-60 seconds in my microwave). Add the yeast and brown sugar, stir and let sit for 5 minutes until frothy.

While the yeast is proofing, add 3 1/2 cups flour and salt to a stand mixer fitted with the paddle attachment. (Alternately you can use a wooden spoon and a large bowl, it just uses more elbow grease!) Stir together the flour and salt.

Turn the mixer on low and slowly pour the yeast mixture into the flour mixture. Mix until dough has formed, then mix for another minute. If the dough is too sticky to handle, add up to another 1/2 cup of flour (I had to add the extra 1/2 cup). The resulting dough will be slightly sticky but you should be able to touch it with only minimal transfer to your hands.

Spray another large bowl with cooking spray and then transfer the dough to the new bowl. Spray the dough with cooking spray and cover with plastic wrap. Let sit until doubled in size, about one hour.

Bring a large pot of water to boil on the stove.

Once dough has risen, turn it out onto a lightly floured surface. Divide the dough into 12 equal parts and roll them into balls. Let them sit for 5 minutes.

Once the water has boiled, line two cookie sheets with silpat baking mats or spray them with cooking spray. Add the honey to the water and stir.

Preheat oven to 350°F.

Pick up each dough ball and press two fingers through the center, creating the hole of the bagel. Boil for about 45 seconds, flipping once. (I boiled two bagels at a time.) Remove from water with a slotted spoon and place on prepared cookie sheets. Continue until all bagels are boiled.

Beat the egg in a small bowl and brush a little on the top of each bagel. Stir the granulated sugar and cinnamon together in a small bowl and sprinkle a little on top of each bagel.

Bake bagels for 15-20 minutes, rotating pans halfway through baking, until they start to turn golden brown.

Serve the bagels warm from the oven, or cold, or toasted. Store in an airtight container; they are best eaten within 2 days but you can freeze them for up to one month.
Recipe Nutrition
Serving:
1
bagel
|
Calories:
35
kcal
|
Carbohydrates:
8
g
|
Cholesterol:
13
mg
|
Sodium:
200
mg
|
Potassium:
9
mg
|
Sugar:
7
g
|
Vitamin A:
20
IU
|
Calcium:
6
mg
|
Iron:
0.1
mg
Nutritional information not guaranteed to be accurate
Easy Cinnamon Sugar Soft Pretzel Bites
Strawberry Cheesecake Pancakes
Baked Banana Blueberry Pancake
Sweets from friends:
NY Style Blueberry Bagels by Heather's French Press
Pumpkernickel Everything Bagels by Foodie with Family
Cinnamon Sugar Fritters by Something Swanky
This post was sponsored by PHILADELPHIA Cream Cheese. All opinions are 100% my own.
Last Updated on May 13, 2020