This post may contain affiliate links. For more information, read my disclosure policy.
Pancakes are the perfect breakfast food. In my dreams, cheesecake is too. But now my dream is a reality: Strawberry Cheesecake Pancakes! Thanks to the sponsorship of PHILADELPHIA, I'm bringing you my favorite new pancake and topping: PHILADELPHIA Cream Cheese Spread!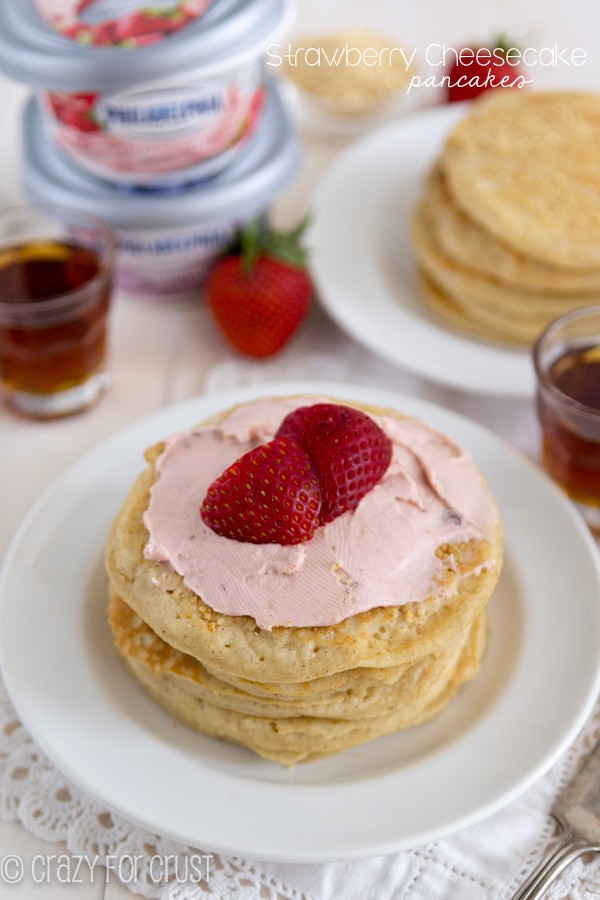 I could eat pancakes all day long. I'm not alone in this, am I? I love it when I have a pancake photo shoot, because that means I'm making them at 11am and shooting them at noon which leads to the perfect lunch. When Jordan begs me for brinner I jump for joy because breakfast for dinner is not complete without pancakes!
I'm kind of on a pancake roll lately – this is my 4th recipe this year so far. But that's okay with me, and I'm sure it's okay with you…right?
Good.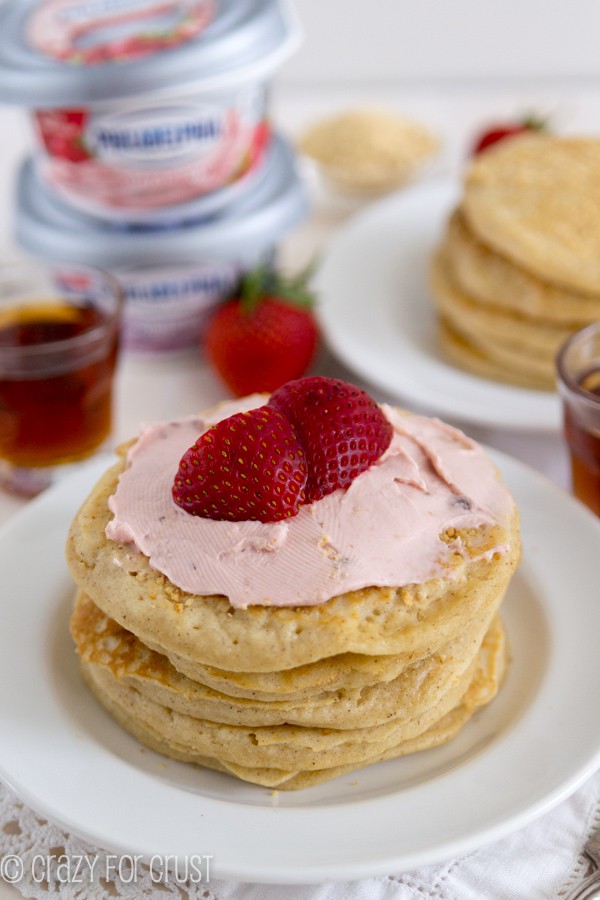 I'm super excited about this recipe for a lot of reasons. First, even though I love pancakes, I'm not a huge syrup fan. It's sticky, messy, and super sweet. If I eat super sweet first thing in the morning, I'm crashing by 10am. I like to have a little sweet with my morning meal, but I want a little something to make the breakfast last.
While syrup would make these pancakes amazing, it's totally unnecessary, because to get the cheesecake in the name I added one of my favorite things: PHILADELPHIA Cream Cheese Spread!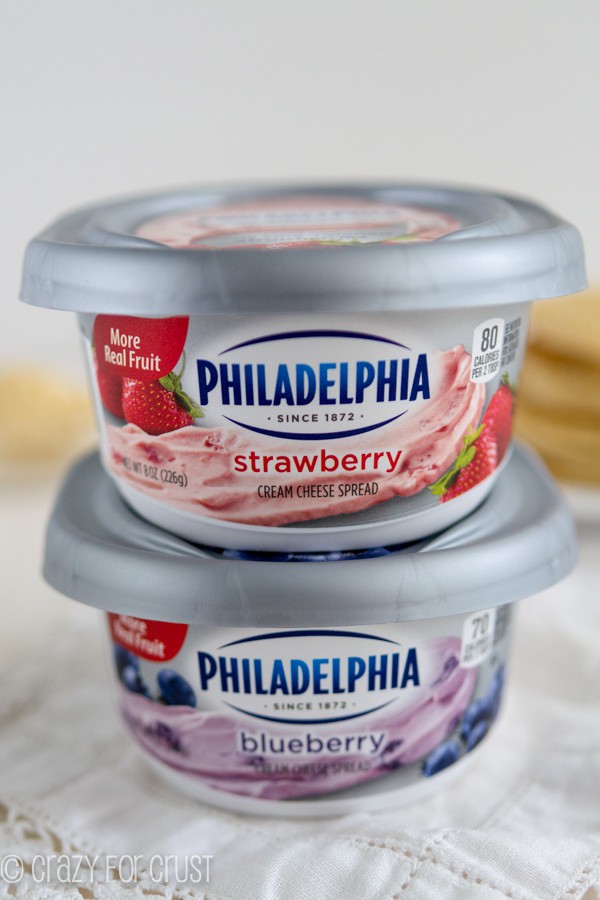 You've probably seen these spreads on your grocery store shelves near the regular cream cheese. They come in all sorts of flavors from sweet to fruit to savory. For the first time in 17 years, PHILADELPHIA has made some changes to it's line of cream cheese spreads. You can feel even better about slathering it on your morning bagel (or pancakes!) because they've added even more real fruits and vegetables to their most popular flavors, already made with fresh milk and cream. Now, when you open the package, you can see the little bits of real fruit inside!
PHILADELPHIA has been making its signature cream cheese for more than 140 years, and as part of its ongoing commitment to deliver more delicious, real ingredients, the brand is proud that 22 of its leading cream cheese spreads have no artificial flavors, allowing the flavor of fruits and vegetables to come through in every bite.
And the strawberry (or blueberry!) flavor is perfect on pancakes!
To make these pancakes more like cheesecake, I had to give them a crust. What Crazy for Crust blogger would I be without that?? I added graham cracker crumbs to the top of the pancake while cooking, similarly to when I made my Wheat Germ Pancakes back in January. It adds a little graham cracker flavor to the pancake and because they fry up with the crumbs stuck to the outside, they have a slight crunch – just like a crust should.
The pancake itself started with my base pancake recipe. I used all milk in this recipe because I wanted to be sure and taste the flavor of the Strawberry Cream Cheese Spread, and banana has a way of taking over. But you can totally use my banana/milk method if you prefer.
Then, to make them more reminiscent of a crust, I substituted brown sugar for the granulated. OMG, best decision ever. Have you ever put brown sugar in pancakes? Do it. Do it now!
There are so many ways you can serve these up to make them the perfect breakfast.
Layer cream cheese spread on top and slather with maple syrup.
Layer cream cheese spread in between two pancakes – like a sandwich!
Spread some of the spread on top of a pancake and

roll it up for a quick on-the-go breakfast

.
Try not to eat all the spread with a spoon. Believe me, it was hard not to!
So, if you know me at all, you'll know I'm a super picky person. Normally, I don't go for fruity things at all. I'm always the "Honey Pecan" kind of girl. But seriously, the new PHILADELPHIA Strawberry Cream Cheese Spread is amazing. It's so good! The strawberry flavor screams through and the little chunks of strawberry make it perfect. I was hooked at the first bite.
You're going to LOVE it on these pancakes.
And if you're not into strawberry, don't worry. They have Blueberry, Honey Pecan, 2x Protein Honey, Pineapple, and Chocolate flavors too! There's a flavor for every pancake, that's for sure.
Find the flavors in your grocery store near the other cream cheese. The packaging is new too – they're more stackable for easy label reading. And they won't roll all over your refrigerator either. #win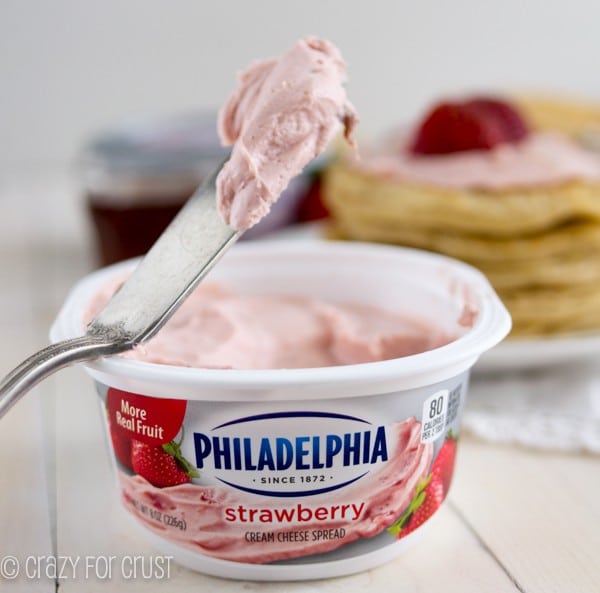 Cream cheese really goes good on so many things besides bagels. Like pancakes.
It's even better when the pancakes taste like cheesecake. I mean, cheesecake for breakfast? #totalwin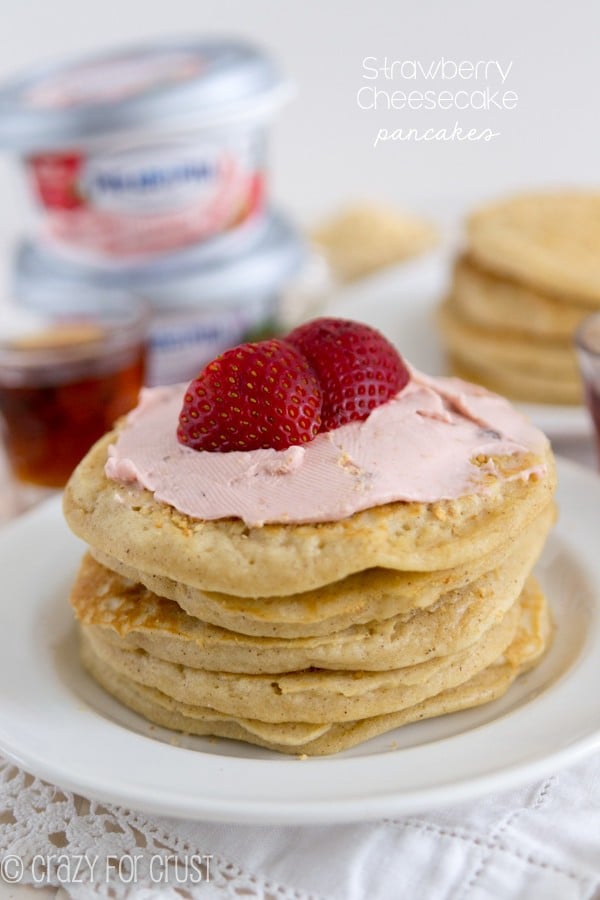 Connect with PHILADELPHIA Cream Cheese:
website ~ facebook ~ twitter ~ pinterest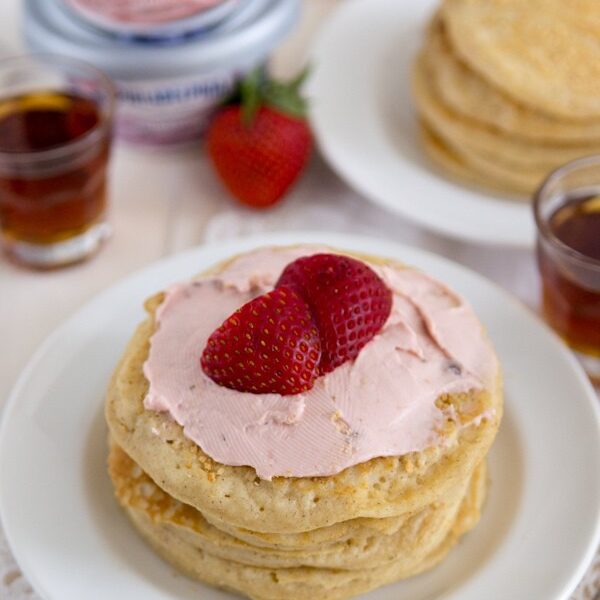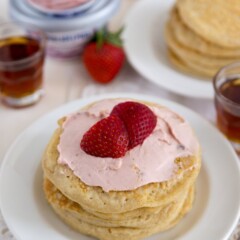 Strawberry Cheesecake Pancakes
Ingredients
1 1/2

cups

flour

1/4

cup

packed brown sugar

1

tablespoon

baking powder

1/2

teaspoon

ground cinnamon

1/2

teaspoon

salt

1/4

cup

vegetable oil

2

eggs

1 1/4

cups

nonfat milk

1/4

teaspoon

vanilla extract

1/3

cup

graham cracker crumbs

PHILADELPHIA Strawberry

or Blueberry Cream Cheese Spread
Instructions
Whisk flour, brown sugar, baking powder, cinnamon, and salt in a large bowl. Set aside.

Add the oil, eggs, milk, and vanilla to a large measuring cup or medium bowl and whisk. Pour wet ingredients into the dry and whisk until smooth.

Preheat electric griddle to 350°F or heat a skillet over medium heat. Spray with nonstick cooking spray or grease with butter.

Ladle pancake batter onto prepared griddle as desired. Immediately sprinkle the top of the pancake with 1/2 teaspoon of graham cracker crumbs. Let cook until the bottom starts to turn golden and the top starts to bubble. Flip carefully and cook until done. (Some of the graham cracker crumbs will spill when you flip. Dampen a large paper towel and carefully clean off your griddle in between batches so the crumbs don't burn.)

Serve pancakes with PHILADELPHIA Strawberry Cream Cheese Spread. Roll the pancakes to go for a quick breakfast or top with maple syrup for a sweet breakfast treat. Tip: substitute the Blueberry flavor for a new twist!
Nutritional information not guaranteed to be accurate
Click HERE for my PANCAKE & WAFFLE recipes!
Click here for more Brunch Recipes!
Check out my breakfast pinboard for even more ideas!
Follow Crazy for Crust's board Crazy for Breakfast on Pinterest.
This post post sponsored by PHILADELPHIA Cream Cheese. All opinions are 100% my own.
Last Updated on February 2, 2023