This post may contain affiliate links. For more information, read my disclosure policy.
Chocolate French Toast Casserole – this easy overnight French toast recipe is full of chocolate, from the milk to the chocolate chips! It's the perfect indulgent brunch recipe!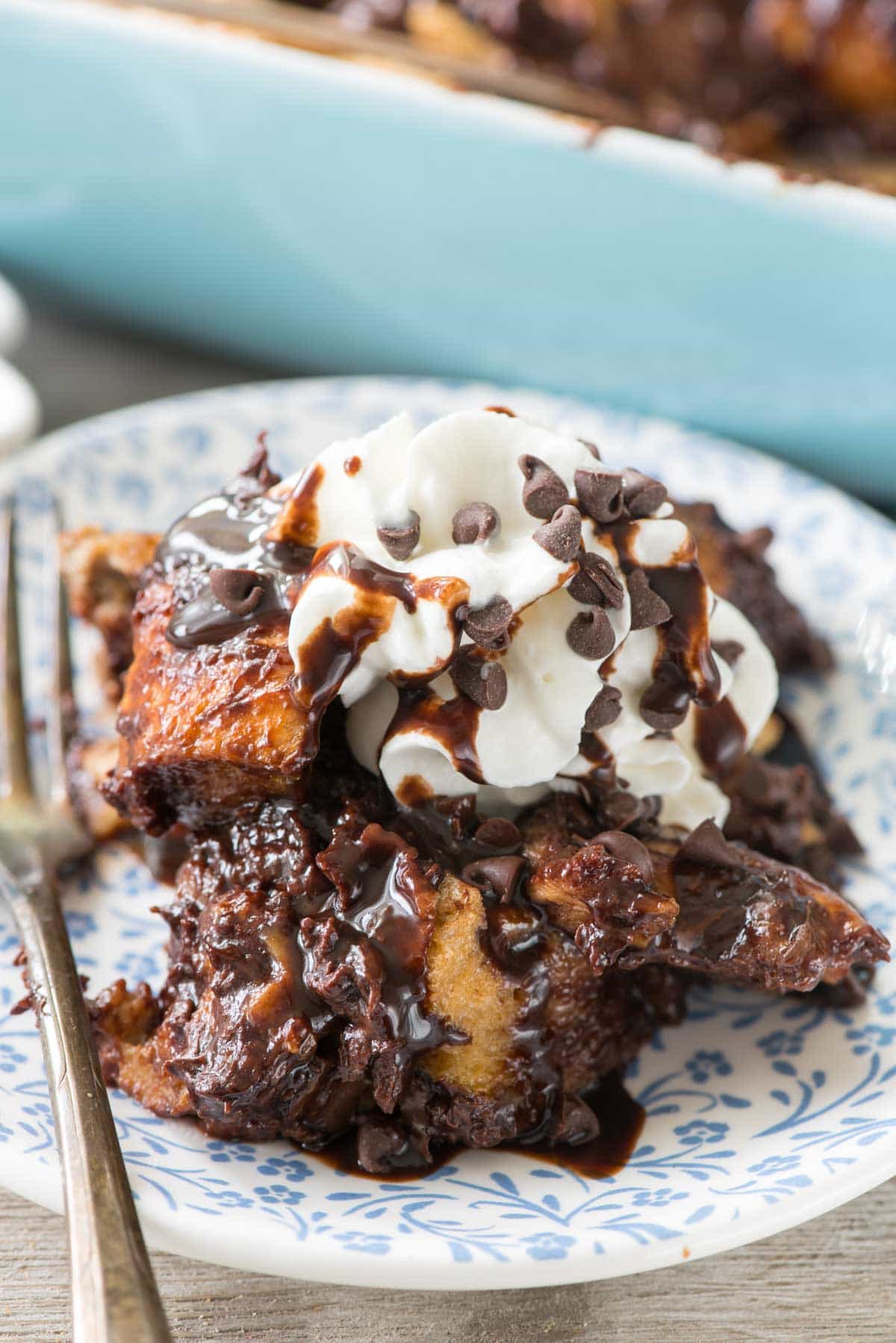 Last week I discovered hot yoga. Have you ever tried it? A friend of mine gave me a free one week pass to her studio, which is the only reason I went. I've heard about hot yoga before but never wanted to try it. I mean, exercising in a 100° room? No thanks. But it was free, and it was girlfriend time, so I went along. And guess what? I loved it. I've gone back three times since, and I plan to buy a few classes a week.
I've been doing yoga for about a year now, at home, with Youtube. It was the first time I'd ever done it in a group setting, and I was glad that I had been doing it long enough that I knew the poses and could do most of them without making a fool of myself. The heat was a total game changer though; I think I lost a pound or two just in perspiration. I always feel stretched out and cleansed after I do yoga at home but after doing hot yoga; I felt amazing after.
I've learned a couple of things after just going a few times. One, you really need a yoga mat towel, one that's made not to slip. Two, bring socks. Walking barefoot into class is one thing. Walking barefoot out of class? *shudder* And three, always have a meal planned after you're done because you're gonna be hangry.
The second hot yoga class I did was a sculpting class, with weights. It was at 9am on Saturday morning and, even though I had eaten breakfast, I was famished when I was done and dreaming about Chocolate French Toast Casserole.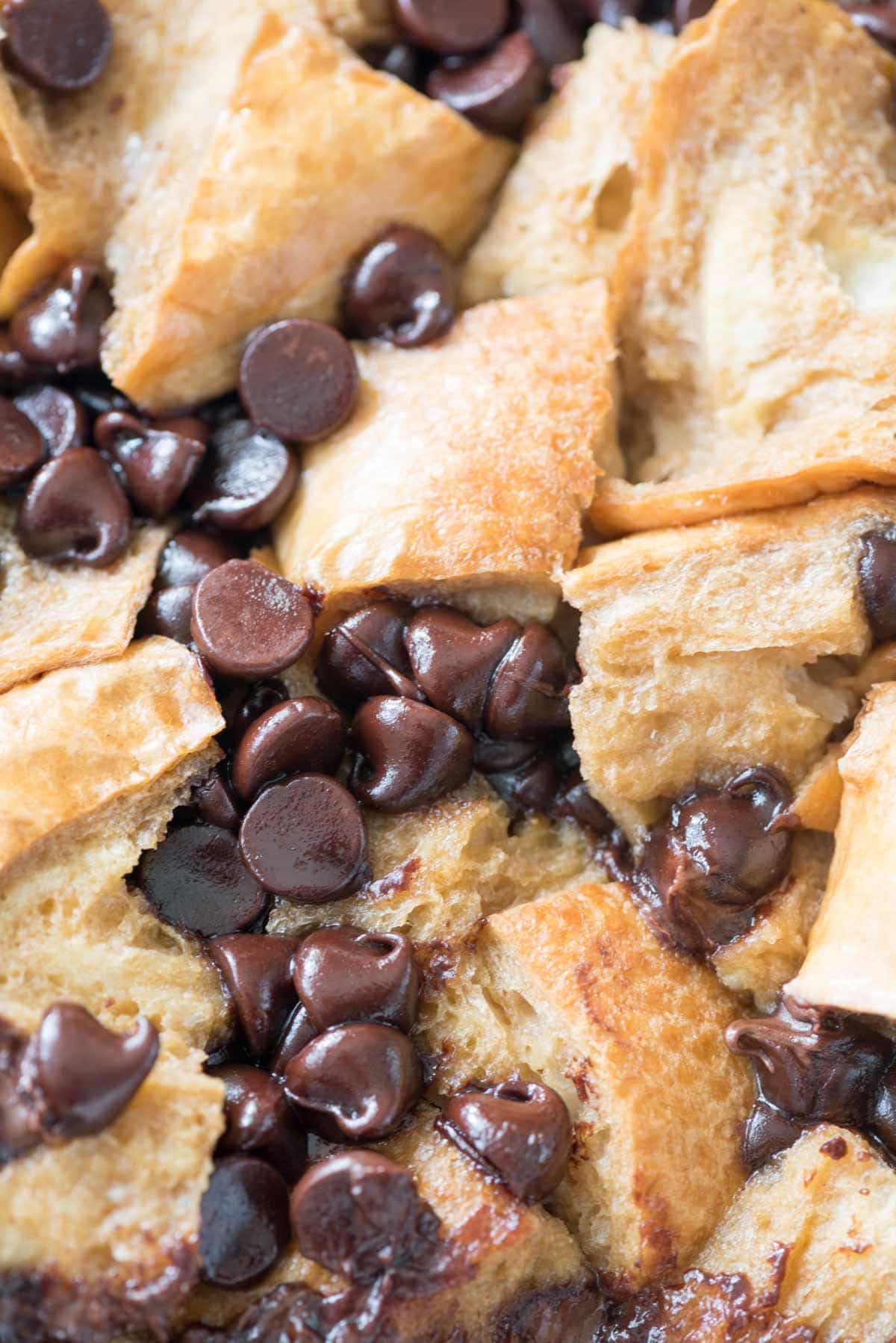 Raise your hand if you love baked french toast. Both of my hands are high in the air because baked is way better than traditional. I'm not much for a dipped and fried french toast, but I love making it as an overnight casserole. Plus, if you make it the night before, you can enjoy your family in the morning and not be in the kitchen cooking while they're relaxing reading the Sunday paper.
(I don't do morning breakfasts…and if I do, it means I really love you.)
There is double the chocolate in this french toast casserole: in the milk and in the chocolate chips.
It's a sinfully good brunch recipe that's perfect for a holiday or even as a bread pudding for dessert.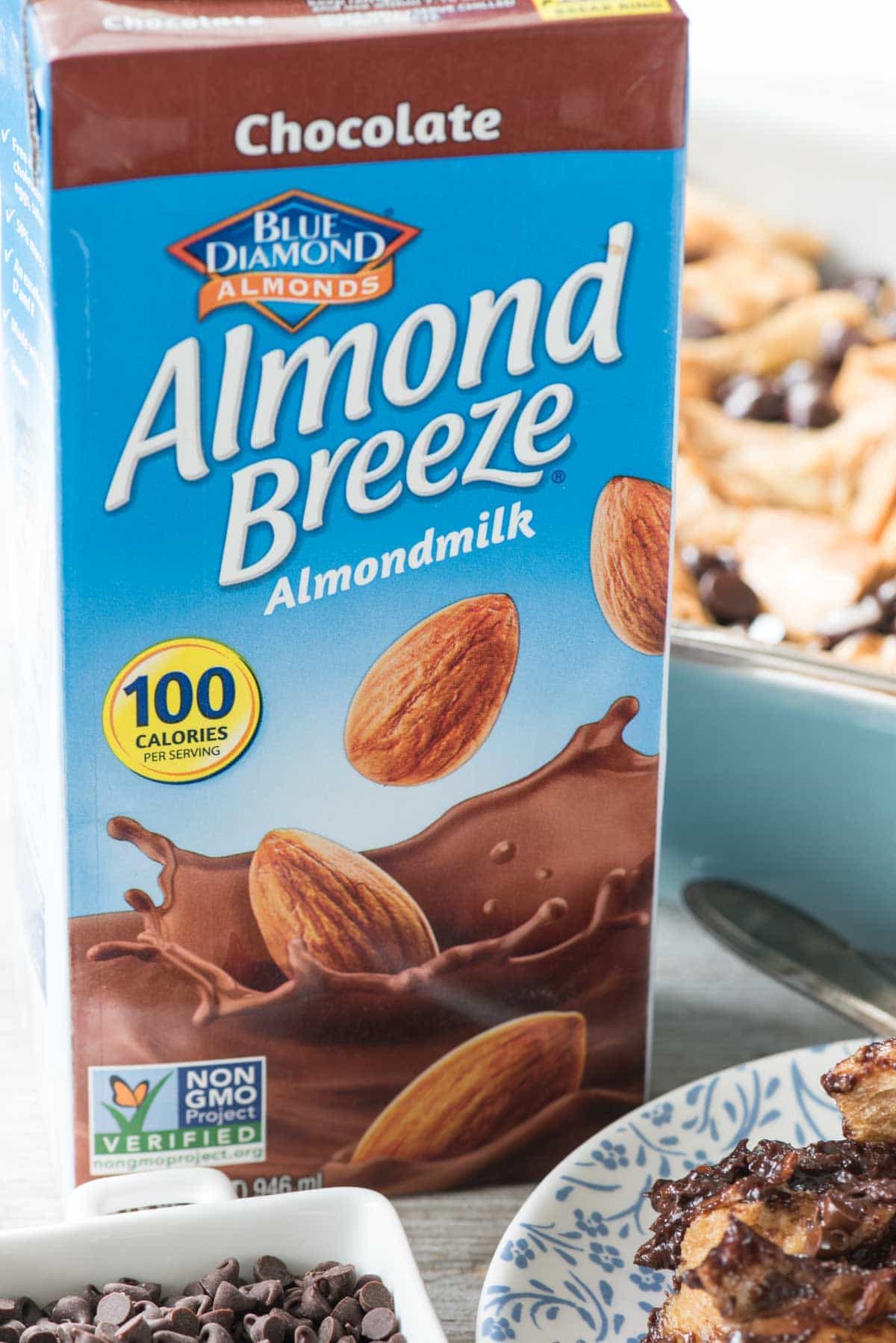 I started the casserole with a day-old loaf of french bread. You can use any kind of bread you like, but french bread is cheap and readily available in the bakery section of my grocery store. (I really like using challah bread, if you can find it, but it's not as easy to find.) Chop it into bite sized pieces and add it to your casserole, with chocolate chips.
The french toast part comes from making a custard with eggs and milk. I used Almond Breeze Chocolate Almondmilk instead of plain because it adds some sweetness and chocolate flavor to the custard. I use Almond Breeze for almost every recipe at home instead of using regular milk, because it's easy to substitute. I also use almond milk for my cereal and oatmeal, and I can drink the chocolate Almond Breeze straight because it tastes so good. (It also makes great smoothies!)
Once you pour the custard over the bread, you let it soak, from a few hours to overnight. Once it's baked the chocolate gets all gooey and is the perfect way to celebrate brunch.

I ate my chocolate French toast casserole by the plateful, with whipped cream and chocolate sauce. Serve it with ice cream for dessert with bread pudding! Just don't forget the extra chocolate…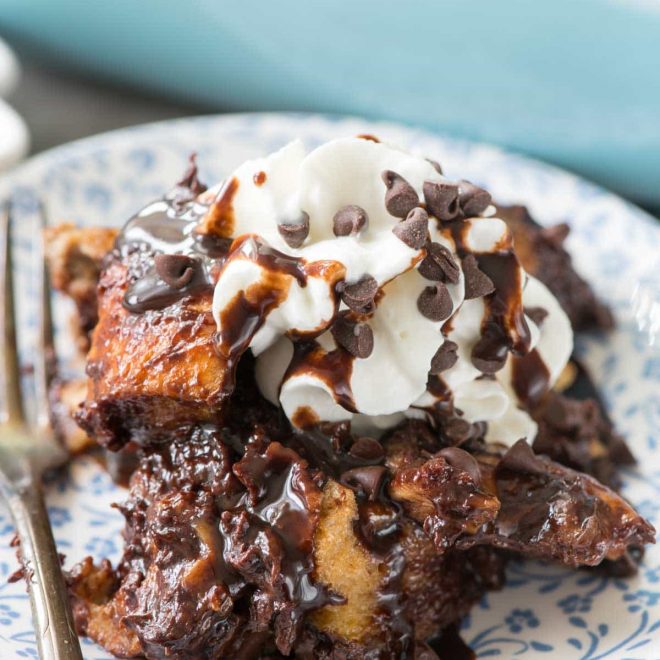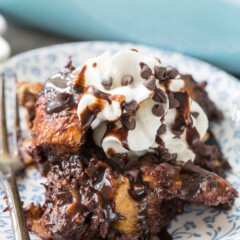 Chocolate French Toast Casserole
Chocolate French Toast Casserole - this easy overnight french toast recipe is full of chocolate from the milk to the chocolate chips! It's the perfect indulgent brunch recipe!
Ingredients
12

ounces

day-old bread

sliced into bite size pieces (I used a sourdough loaf)

1

cup

chocolate chips

5

large eggs

1 1/4

cups

Almond Breeze Chocolate Almondmilk

2

tablespoons

granulated sugar

1

teaspoon

vanilla extract
Instructions
Spray an 8x11 or 9x13 pan with nonstick cooking spray.

Place bread cubes into the bottom of the prepared pan. Sprinkle with chocolate chips.

Whisk eggs in a large bowl. Whisk in almondmilk, sugar, and vanilla. Pour mixture over bread and press down lightly with your hands to soak it all up.

Let sit for at least 2 hours before baking. If your bread is fresh, you can bake it after 2 hours. If it's more stale, you'll want to let it sit longer. You can also cover and refrigerate overnight.

When ready to bake: preheat oven to 350°F. If your casserole has been in the refrigerator, let it come to room temperature while the oven preheats. Bake for 20-30 minutes or until the casserole is cooked through. (This will take longer if your dish is cold.)

Serve warm with whipped cream and chocolate sauce.
Recipe Nutrition
Serving:
1
/8 Slice of Casserole
|
Calories:
357
kcal
|
Carbohydrates:
50
g
|
Protein:
11
g
|
Fat:
12
g
|
Saturated Fat:
6
g
|
Cholesterol:
116
mg
|
Sodium:
285
mg
|
Fiber:
3
g
|
Sugar:
23
g
Nutritional information not guaranteed to be accurate
Click here for more Brunch Recipes!
Overnight Monkey Bread French Toast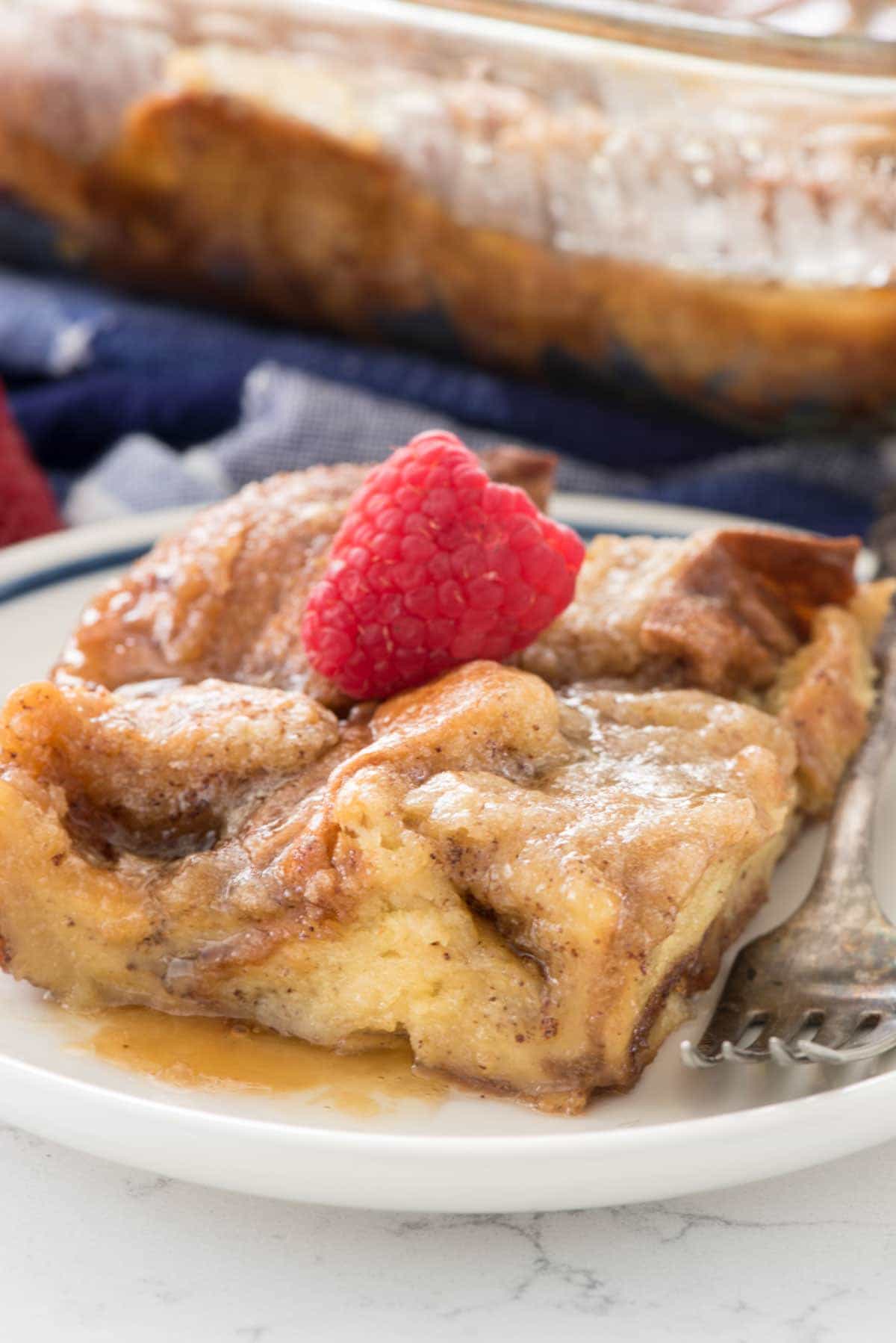 Chocolate Chip Oatmeal Muffins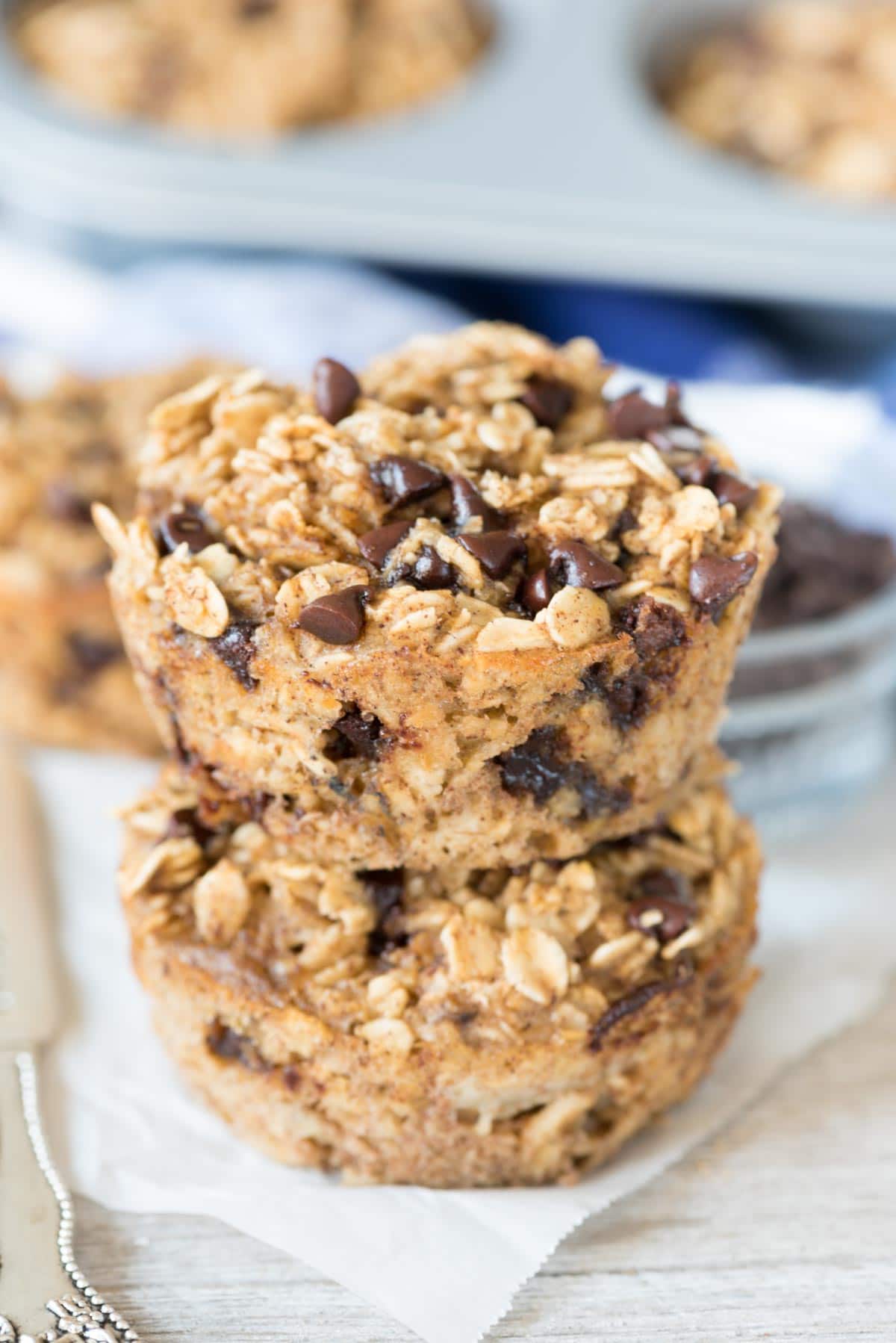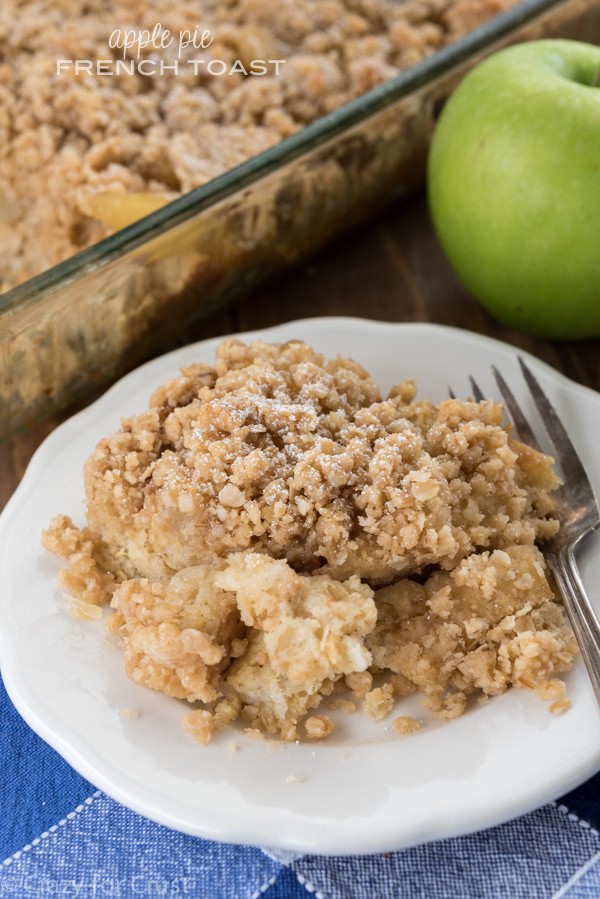 This post has been sponsored by Almond Breeze. All opinions are 100% my own.
Last Updated on February 2, 2023