This post may contain affiliate links. For more information, read my disclosure policy.
Overnight Monkey Bread French Toast Casserole – Yes, I'm serious. I combined two epic breakfast recipes into one. Brunch just got REAL.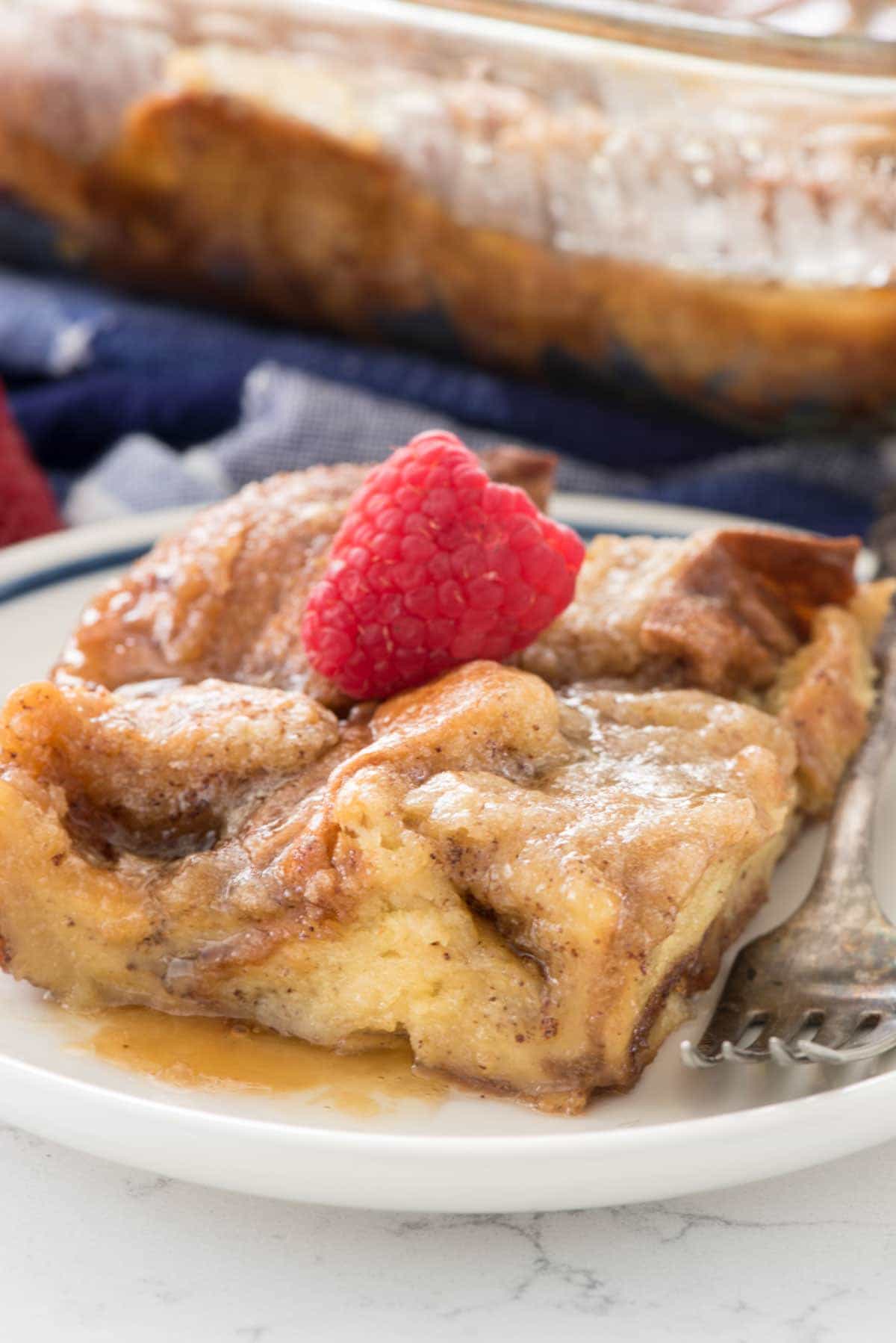 Since I currently live in yoga pants (hey, if I'm not leaving my house why not be comfortable?), I've been shopping for cute t-shirts to make it look like I'm actually making an effort instead of just looking like I didn't shower after the gym. My newest favorite shirt is one I got a few weeks ago at Express. It's a black boyfriend tee and it says "My favorite food is Junk." I mean, it's like the shirt was meant for me, or something.
The irony: there was only one large left on the rack.
People often comment that they love the shirt. I respond, with "If someone tells you their favorite food is kale, they're lying." Hey, admit it: there's some truth to that statement.
I also have one that says "literally Can't Even". When Jordan's whining I just point at the shirt and it becomes a behavior modifier. #parentingwin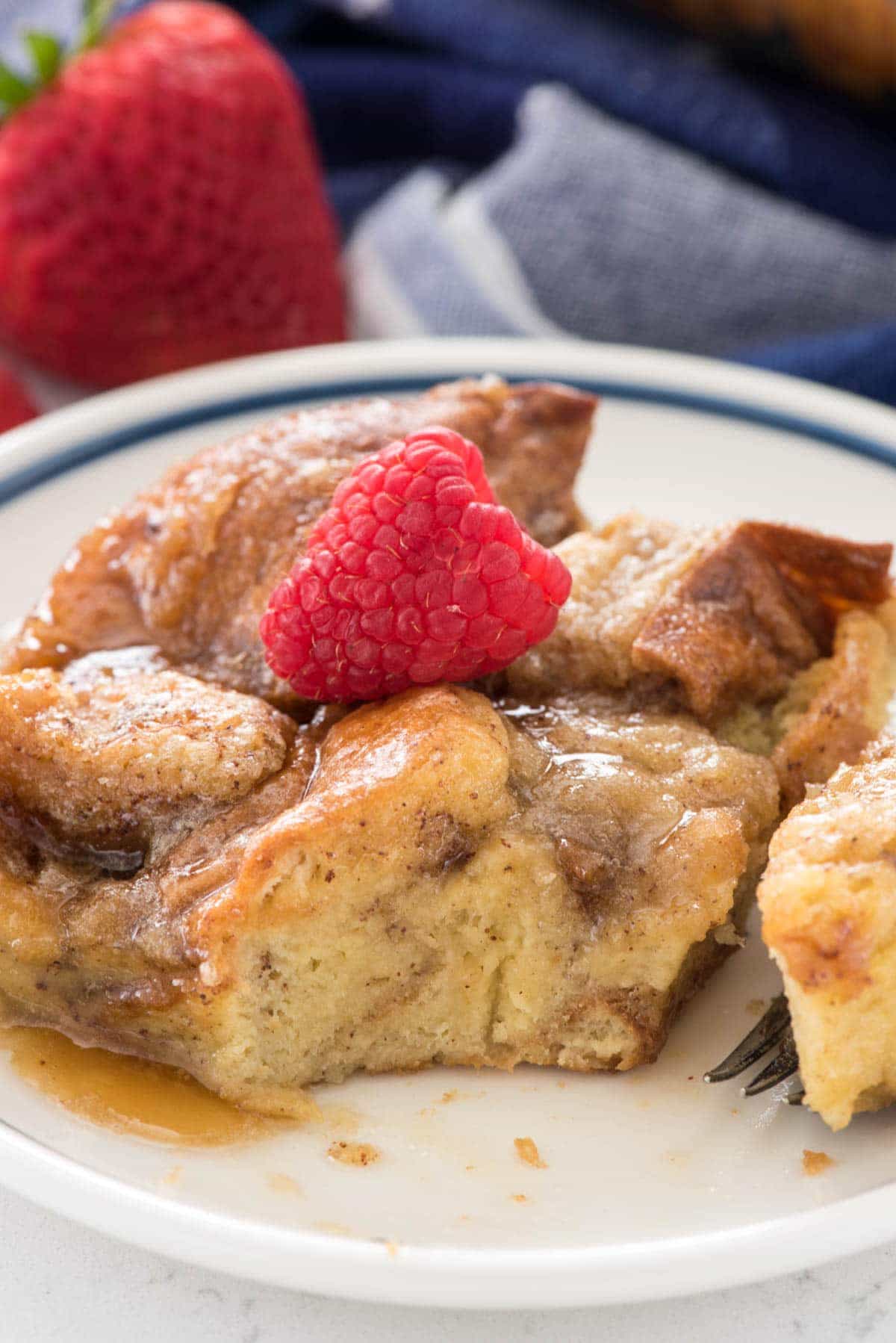 (I promise this is all relevant to this amazing french toast casserole. Just hang in there.)
Last weekend Mel was complaining about how Jordan is constantly thinking about food. As in, at breakfast she asks what's for snack. At lunch she wonders what we're having for dinner, or what she'll have for dessert later. She does this in a constant stream, out loud, all day long. He was worried because she thinks about food so much. "It's not normal," he said.
That's news to me. Thinking about food every free moment of the day isn't normal? Really? Because I've pretty much spent my life thinking about my next meal while I'm eating my cereal. I mean…I've kind of created a job out of thinking about food all the time.
Jordan and I had a discussion the next day about internal dialogue.
How This Recipe Came About
So, my point is: that's how this Monkey Bread French Toast came about. Thought process:
I make an almond milk smoothie for breakfast. I think about what I'm going to eat after my run. Cereal? Toast?
Oh, hey. Toast. French toast. That sounds good. But I like it better as a casserole. I'll make it this afternoon when I'm pepping to make soup for dinner.
Hmmm, so what should we have with our soup? Biscuits. Okay, that sounds good. Oh, biscuits. Now I want monkey bread. Hey, wait…
And so on and so on until infinity.
How To Make This Monkey Bread French Toast Casserole
So, french toast casserole meets monkey bread. Let's break down the recipe, shall we?
The main components of french toast are bread, eggs, and milk. I like my french toast baked instead of dipped and fried, and I like it more milky and less eggy. I actually love using Almond Breeze in my french toast because it adds a little extra flavor from the vanilla. The Unsweetened Vanilla is what I use 99% of the time in my smoothies, cereal, and any other baked good I'm making, so it's always in my refrigerator. But any flavor (sweetened or unsweetened) would do.
When you're making french toast, you want to use semi-stale bread. I like using a crustier bread to help soak up the egg mixture. Because this is a "monkey bread" version, I took it one step further and used dinner rolls. They were from the bakery section at the store, just one of those basic packs of already made rolls that I let sit on the counter for a day before using them. You could use leftover dinner rolls (do those exist?) or any crusty thick bread. Just chop it up into bite sized pieces.
The reason I love a baked french toast casserole is because I can assemble it the day before. Home girl here doesn't have the patience for morning baking or frying or anything more than pouring coffee, so with this recipe I can make it all the night before and then just pop it into the oven the morning of.
Once the french toast is out of the way, we have to bring on the monkey bread!

As you may or may not know, we love monkey bread in this house. Really, the topping is what we love most (I mean hello, melted butter and brown sugar!) and that's what gets poured onto this casserole before you bake it. Simply melt butter, stir in brown sugar, and pour it all over the soaked bread. When you bake it it gets gooey and rich, almost like a caramel roll.
This french toast casserole is so sweet and perfect, you don't even need syrup! It's a great fancy breakfast or brunch, or serve it with whipped cream for dessert (which is how Jordan ate it for 3 straight days).
Now, excuse me. I have to go think about what I'm having for lunch. And snack. And dessert tonight…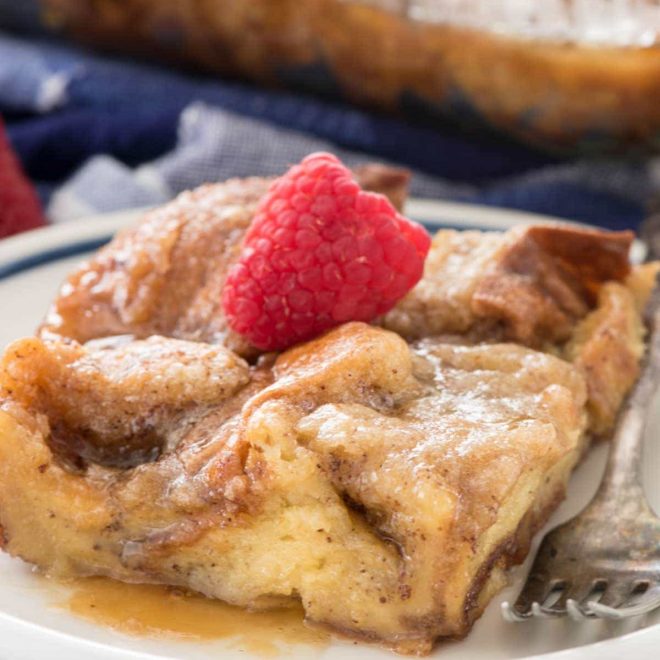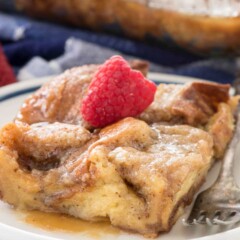 Overnight Monkey Bread French Toast Casserole
This Overnight Monkey Bread French Toast Casserole is the best breakfast or brunch recipe!! Monkey Bread combined with French Toast - so good! My family loved the rich sweet monkey bread topping all over the french toast casserole. Bonus: no syrup needed!
Ingredients
12

dinner rolls

medium sized, I used a 14 ounce bag from the store

4

large eggs

1

cup

Almond Breeze Almondmilk

any flavor

2

tablespoons

granulated sugar

1

teaspoon

cinnamon

1

teaspoon

vanilla extract

1/2

cup

unsalted butter

melted

Pinch

of salt

3/4

cup

brown sugar

packed
Instructions
Spray a 9x13" or 8x11" baking dish with nonstick cooking spray. Cut rolls into bite size pieces (about 6 per roll) and spread in pan.

Whisk eggs, milk, granulated sugar, cinnamon, and vanilla extract in a large measuring cup or medium sized bowl. Pour evenly over bread in pan. Press down with your hands to soak all of the bread pieces in the egg mixture. Cover with plastic wrap and chill overnight.

Preheat oven to 350°F. Remove the french toast from the refrigerator and allow to sit while oven is preheating. Stir brown sugar and pinch of salt into the melted butter, stirring until they mix well. Pour evenly over the top of the french toast, spreading with the back of a spoon to coat the entire pan.

Bake for 35-40 minutes, until the edges seem golden brown. The center will be bubbly and the brown sugar mixture will be somewhat liquidy. It will set as it cools. Serve warm, no syrup needed!
Recipe Nutrition
Serving:
1
/10th slice of monkey bread
|
Calories:
303
kcal
|
Carbohydrates:
40
g
|
Protein:
6
g
|
Fat:
14
g
|
Saturated Fat:
7
g
|
Cholesterol:
99
mg
|
Sodium:
201
mg
|
Fiber:
3
g
|
Sugar:
19
g
Nutritional information not guaranteed to be accurate
Click HERE for more Pillsbury Dough Recipes!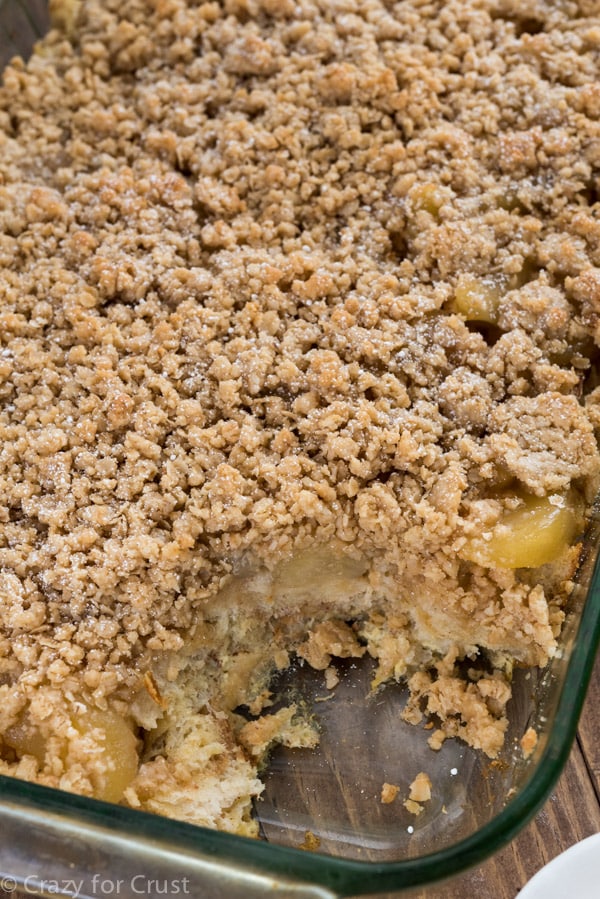 Baked Chocolate Croissant French Toast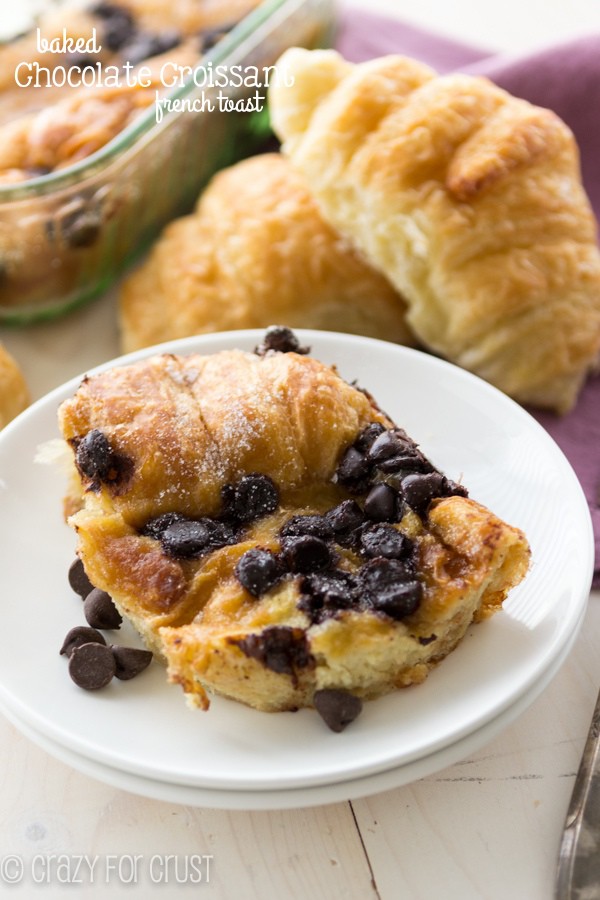 Slow Cooker Cinnamon Roll Monkey Bread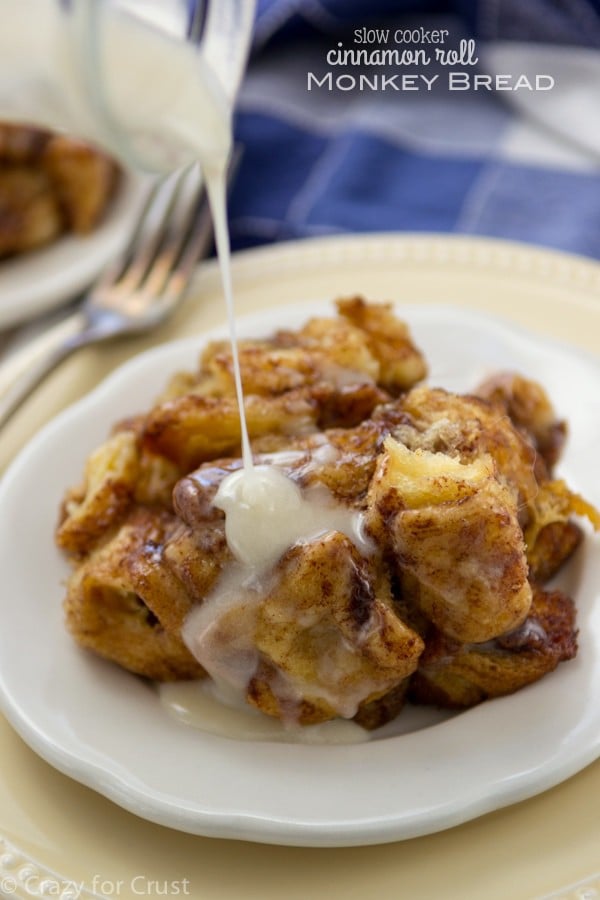 This post has been sponsored by Almond Breeze. All opinions are 100% my own.
Last Updated on September 6, 2018