This post may contain affiliate links. For more information, read my disclosure policy.
This is the BEST Chocolate Chip Cookie Recipe and the only basic cookie recipe you need, seriously. This ONE cookie recipe makes tons of other recipes and it is the ONLY ONE we make.
One bowl, no mixer, a soft cookie with tons of gooey chocolate chips – this is the recipe YOU need to make.
Why this is the BEST Chocolate Chip Cookie Recipe
Chocolate Chip Cookies: when you find a good one, it's the unicorn of dessert recipes. There are so many recipes out there and I'm not gonna lie: most of them are meh. Some of them are okay. Some of them are not very good at all. Some of them a great…but not OMG! And the rest are just…meh.
THIS chocolate chip cookie recipe is the only one that you need. It's a soft and chewy cookie, full of chocolate, with depth of flavor. They're easy to make with no weird ingredients and you can change up the recipe to make any kind of cookie recipe you want.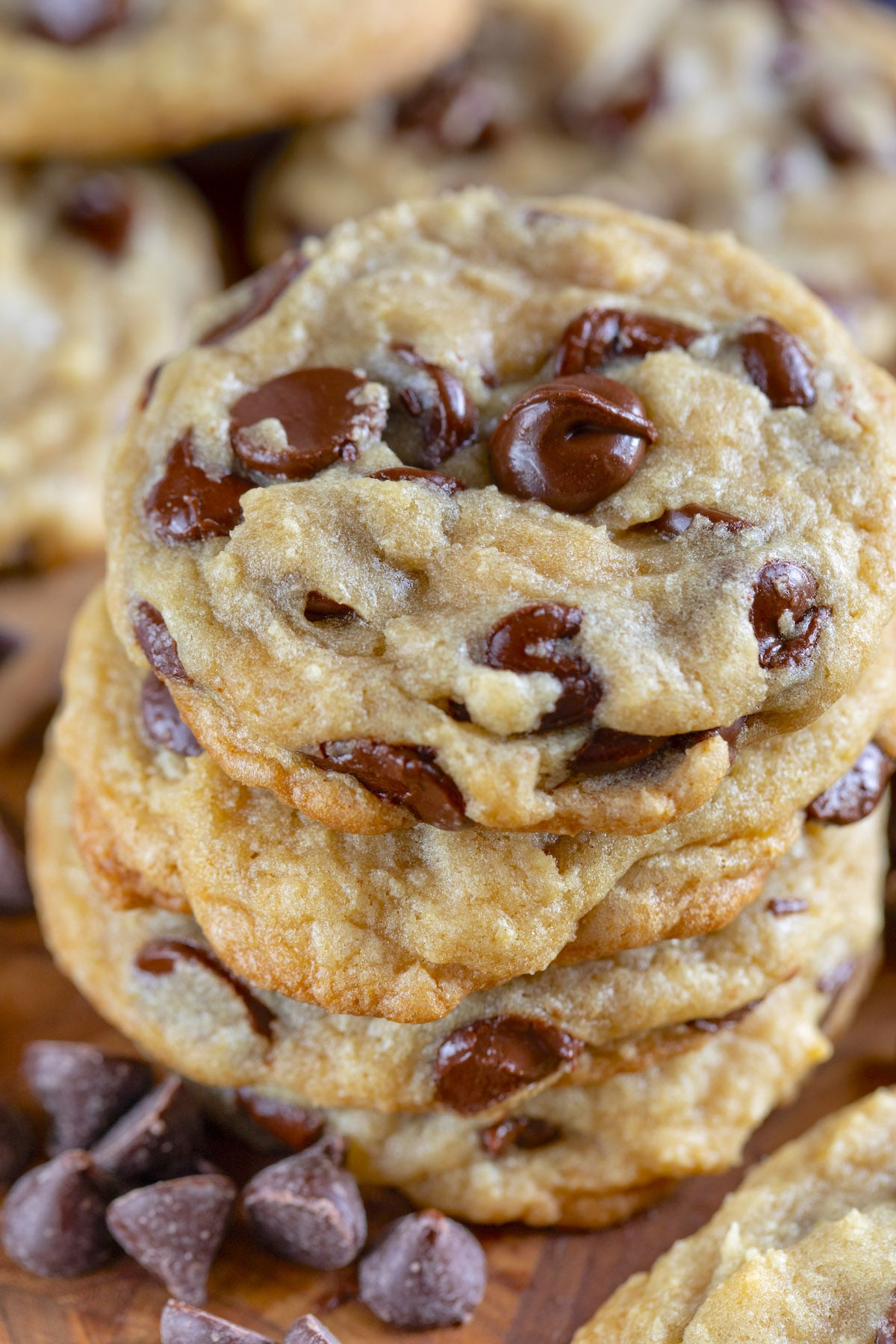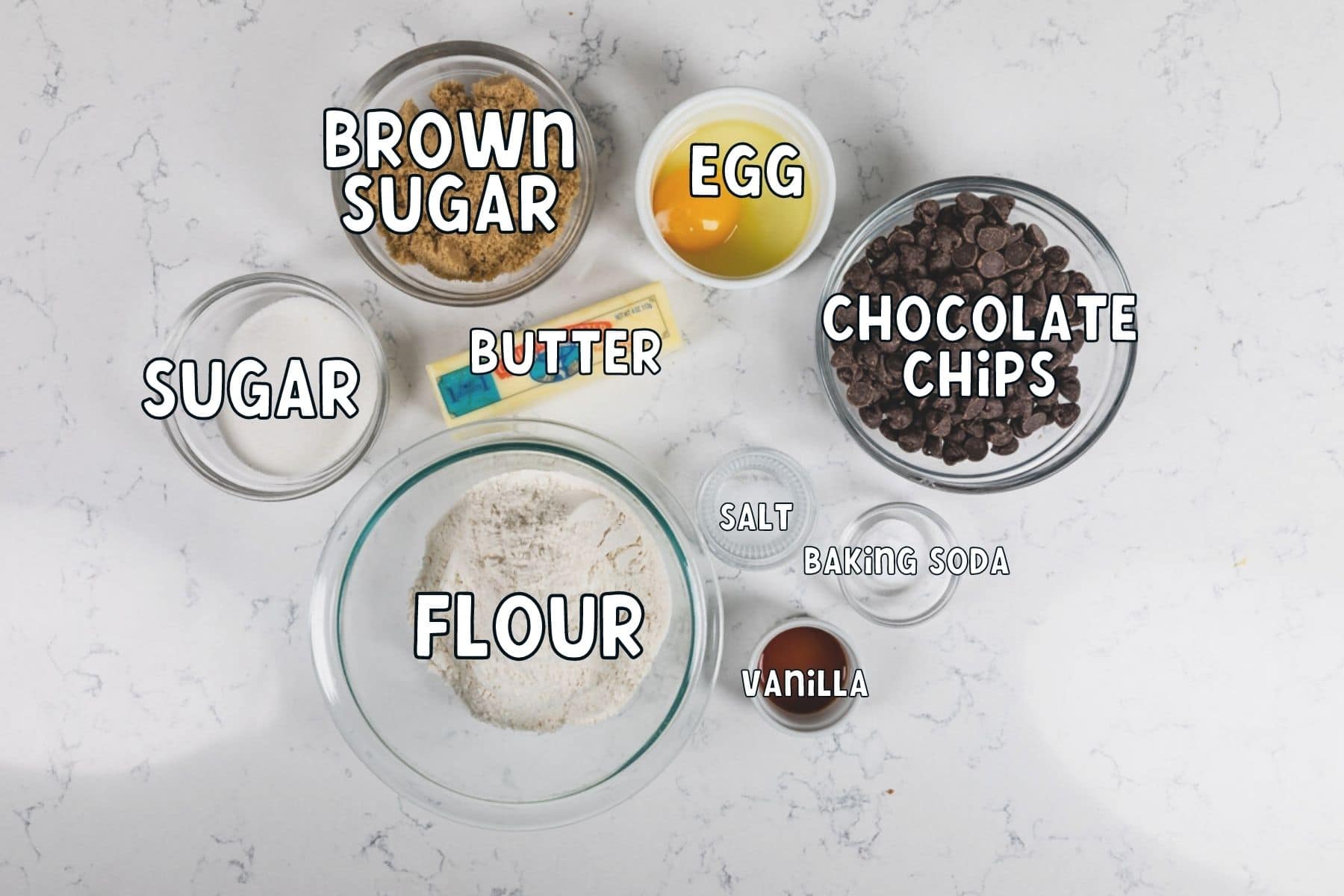 Important Ingredients Needed
Butter – see my tips below
White Sugar AND Brown Sugar – the combo makes the best fluffy chocolate chip cookies
Whole Egg – be sure to buy large eggs
All Purpose Flour – be sure to measure it correctly
Salt – for flavor, especially since using unsalted butter.
Baking Soda – just 1/2 teaspoon so you don't get flat cookies.
Vanilla – be sure to buy pure vanilla extract
Chocolate Chips – use your favorite milk chocolate chips or semi-sweet chocolate chips.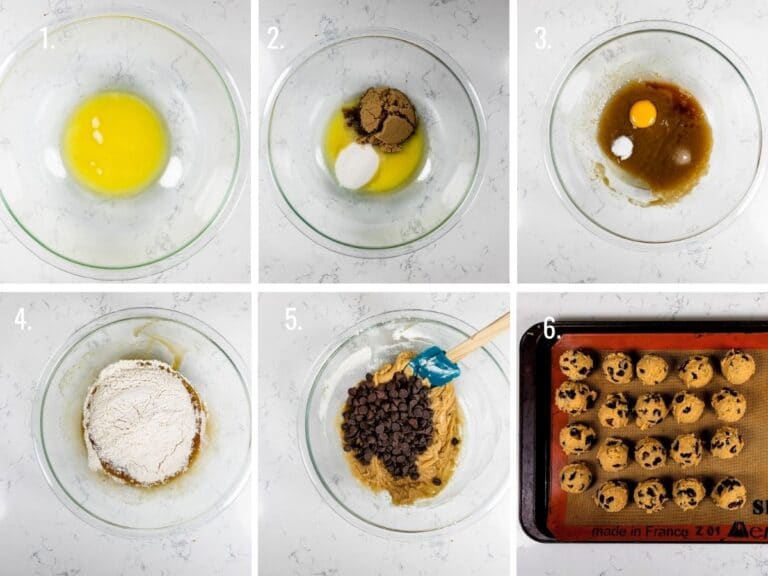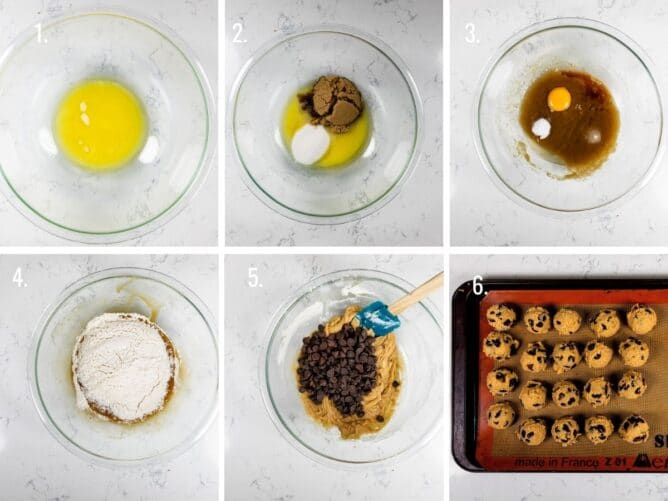 How do you make the BEST Chocolate Chip Cookies?
Melt your butter in a large bowl. You don't even need to use a mixer unless you want to.
Add white sugar and brown sugar to the melted butter and stir until combined.
Add a whole egg, baking soda, vanilla, and salt. Stir.
Combine flour into the wet ingredients. Again, you don't need a mixer unless you want to use one.
Stir in chocolate chips or chocolate chunks.
Scoop balls of dough in desired size and place on a cookie sheet covered with parchment paper or a baking mat. Chill the dough at least 30 minutes!
expert tip
Do I have to chill the dough?
YES. YES YOU DO.
Chilling the dough does a few things to this cookie recipe:
Allows the butter to solidify again, ensuring your cookies don't spread too thin.
Allows for a chewier outside AND soft inside.
Allows the flavors to develop as they sit.
Don't skip chilling. Just don't.
Pro tip: scoop the cookie dough balls BEFORE chilling. The dough is easier to scoop that way!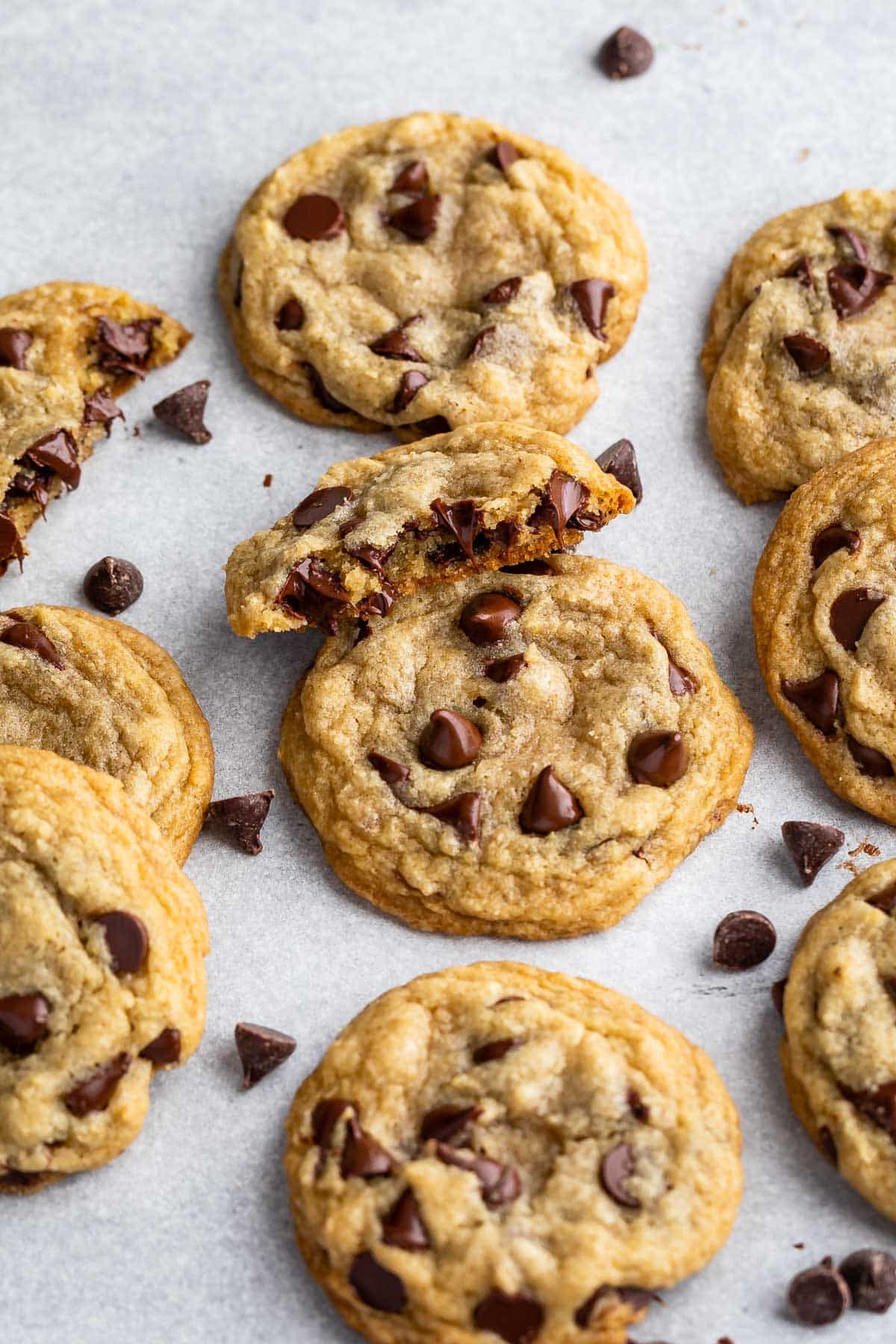 Freezing Cookie Dough
These cookies are perfect from the oven or perfect cooled to room temperature. They store easily, ship easily, and freeze well.
Can you freeze cookie dough?
Scoop the balls of cookie dough onto your cookie sheet, cover with plastic, and freeze the cookie sheet until the dough balls are frozen. Then place them in an airtight container.
How to bake cookies from frozen cookie dough:
You can bake these directly from frozen as directed. Place them spaced on a cookie sheet lined with parchment paper or silpat baking mats and bake until they just loose their glossy sheen.
You can also let them thaw in the refrigerator overnight or on the counter for 30 minutes before baking. They'll turn out perfect!
Can you freeze baked chocolate chip cookies?
Freeze baked cookies in an airtight container once they've cooled.
How to store chocolate chip cookies
Store these in an airtight container on the counter for up to 4 days.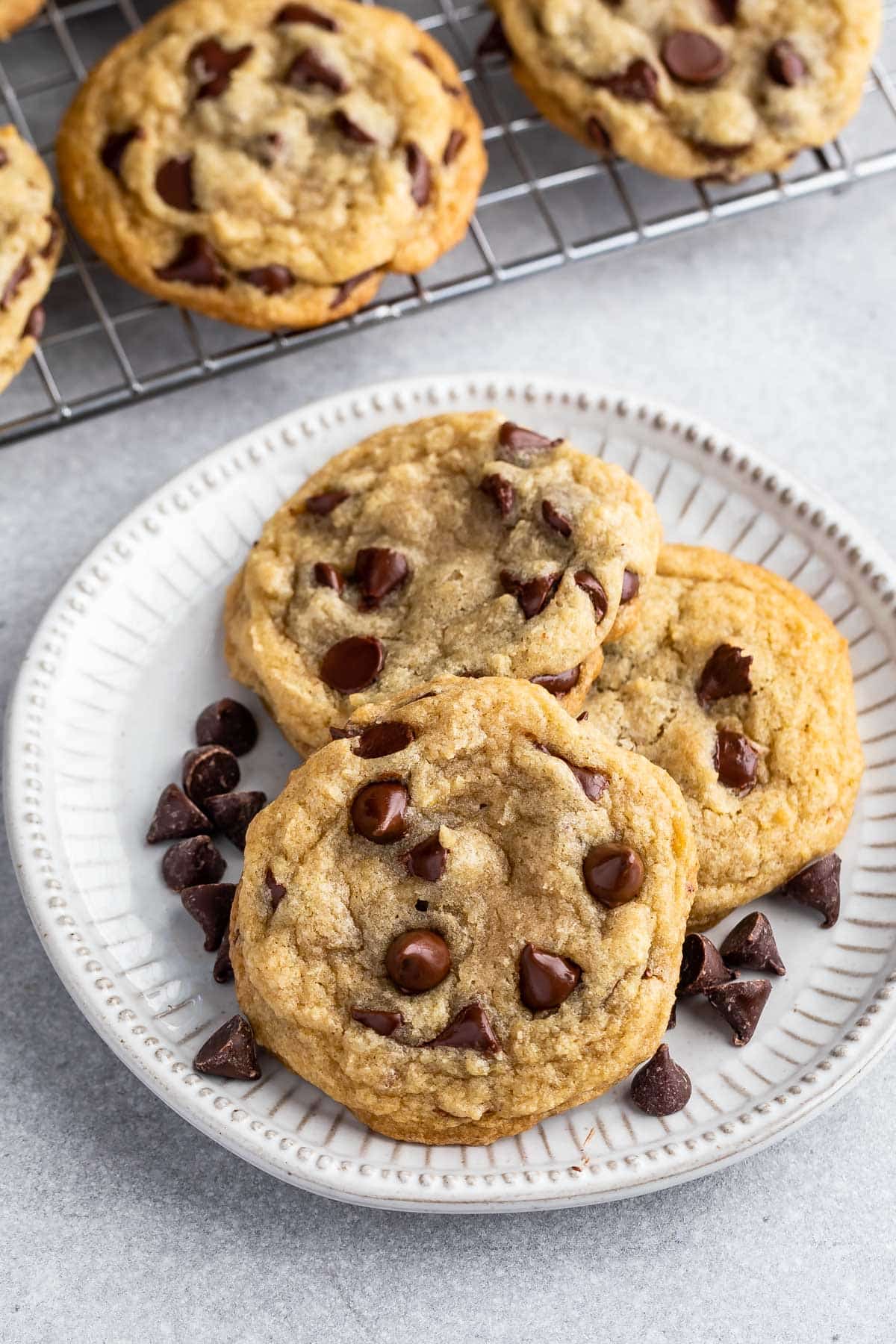 Variations
Turn these into so many different cookies recipes with just one dough!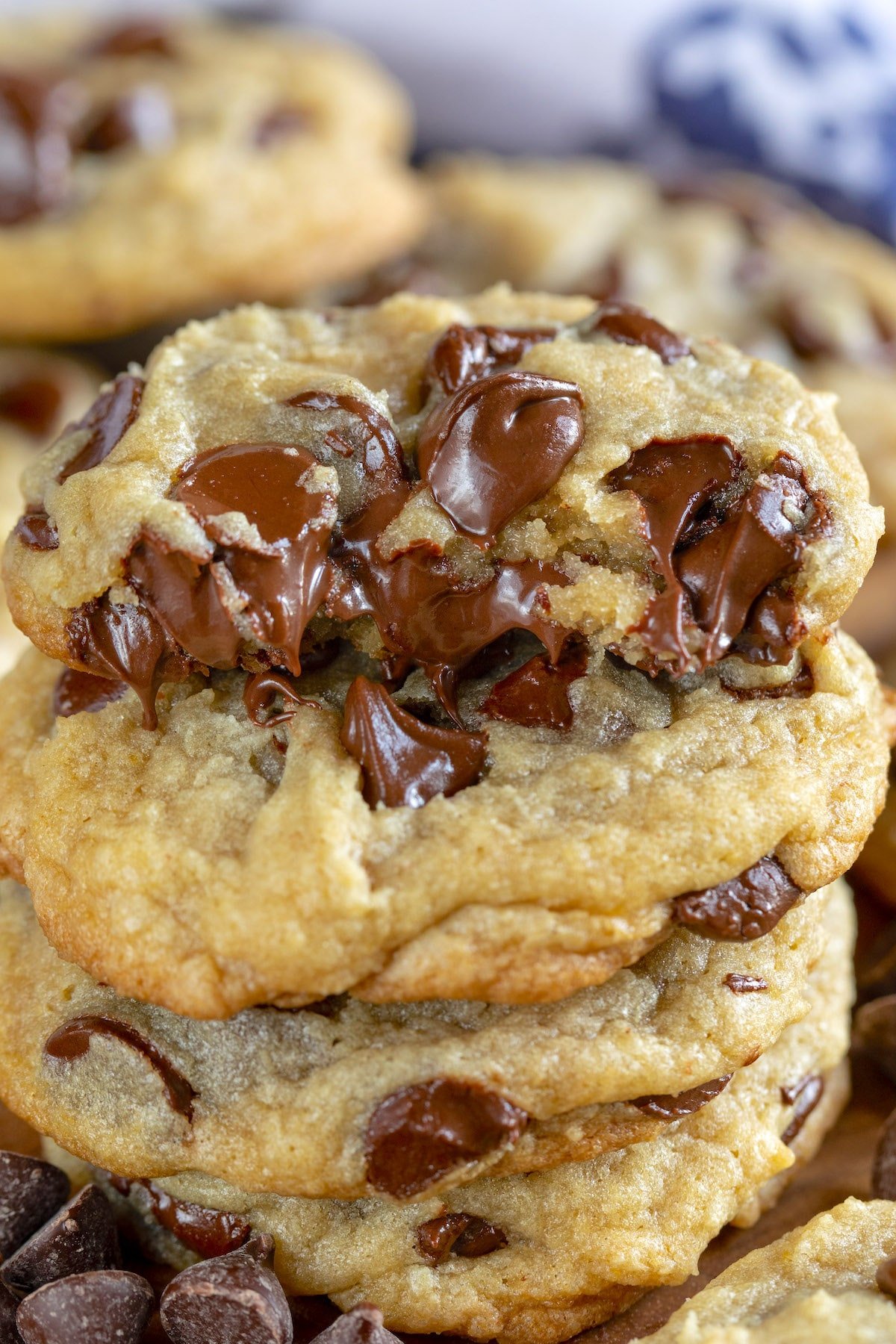 Tip From Dorothy
Expert Tips
To sum up some of the most important tips about making these cookies:
Do not skip the chill step! Chilling prevents the cookies from spreading and flattening too much. It also allows the gluten to rest and form which keeps the cookies soft on the inside.
It's important to use good quality ingredients when you can. I use good quality butter (like Challenge) and chocolate chips (like Trader Joe's) but generic flour, sugar, etc.
You can double this cookie recipe, make the cookies as big or small as you want. You can turn them into pan cookies or cookie cakes and add any mix-ins you like. Think of the recipe as a blank canvas.
FAQ about Chocolate Chip Cookies
Why do cookies spread & flatten?
Be sure to chill them: if you bake them too soon after mixing they will spread out because the melted butter needs to firm up before going into the hot oven.
Other reasons cookies spread and flatten: too much baking soda or not enough flour, but don't worry – this recipe has been tried and tested so many times I know it's the perfect amount.
Why didn't my cookies spread?
They might be TOO cold! If you've chilled them longer than an hour or two, or if you've frozen the dough, then they might be so cold the heat of the oven can't catch up. What to do: press them slightly with the palm of your hand before they go into the oven. This helps start them to spread out – but don't worry they won't spread too much!
What kind of chocolate makes the best chocolate chip cookies?
Use a good chocolate chip, okay? Stop buying the store brand, unless it's Trader Joe's. Trader Joe's chocolate chips are by far my favorite, with Guittard or Guiradelli being a close second and third. Mini chocolate chips make every bite chocolatey. You can also mix up the chips: use some white, some milk, some dark. Do what you like most!
What kind of flour do you use in a chocolate chip cookie?
This recipe uses all-purpose flour. For the best results, use that. If you're trying to substitute gluten-free flour, it will change the texture of the cookie. I've substituted that flour in many recipes with success, but not in cookies.
Can you double this chocolate chip cookie recipe?
Yes – just double all the ingredients for double the cookies.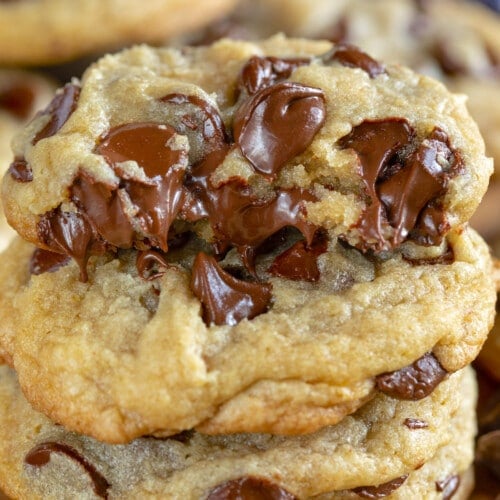 BEST Chocolate Chip Cookie recipe
The BEST Chocolate Chip Cookie recipe is easy to make and a great base for so many other cookie recipes!
Ingredients
½

cup

(113g) unsalted butter, melted

⅓

cup

(66 g) granulated sugar

½

cup

(104g) packed light brown sugar

1

large egg

1

teaspoon

(5ml) vanilla extract

½

teaspoon

baking soda

½

teaspoon

salt

1 ½

cups

(186g) all-purpose flour

1 ½

cups

(255g) chocolate chips (semi-sweet or milk)
Instructions
Note: This dough requires chilling.

Place melted butter in the bowl of a stand mixer fitted with the paddle attachment (or a large bowl if using a hand mixer). Add granulated and brown sugars and mix on low speed until the mixture is smooth. Mix in egg and vanilla extract and mix on medium speed until combined.

Mix in baking soda and salt, then slowly mix in flour and mix just until the batter is smooth and comes together. Be sure to scrape the sides of the bowl during mixing. Slowly mix in chocolate chips.

Line a cookie sheet with a silicone baking mat or parchment paper. Scoop 2 tablespoon balls of dough onto the cookie sheet. Spacing doesn't matter because you will be chilling the dough. Cover with plastic wrap and chill for at least 2 hours.

Preheat oven to 350°F. Line a second cookie sheet with parchment paper or a silicone baking mat.

Remove the chilled cookie dough balls from the refrigerator and space them 2-inches apart on the cookie sheets. Bake (2 tablespoon sized cookies) for 11-15 minutes, or until the edges are a light golden and the tops are no longer glossy. Let cool on the cookie sheets at least 10 minutes before removing.
Recipe Notes
How to freeze: Freeze baked cookies in an airtight container for up to two months.
Freezing cookie dough: Freeze balls of cookie dough in a single layer. Once frozen you can put them in an airtight bag or container. Bake directly from frozen as directed (allow cookies to thaw on cookie sheet while oven preheats).
If your cookies don't seem to be flattening, you can press them lightly before or during baking with the palm of your hand to help them along. This happens sometimes when they are very cold, and it can also happen with different brands of ingredients.
Try using white chocolate chips or a combination of milk, semi-sweet, and white chocolate chips instead of all one flavor. You can even substitute butterscotch or peanut butter chips, or add your favorite nuts. Just keep the amount of add-ins to 1 1/2 cups.
Want chewy cookies? Try my BEST Chewy Chocolate Chip Cookie Recipe.
Recipe Nutrition
Serving:
1
cookie
|
Calories:
150
kcal
|
Carbohydrates:
20
g
|
Protein:
1
g
|
Fat:
6
g
|
Saturated Fat:
4
g
|
Cholesterol:
18
mg
|
Sodium:
83
mg
|
Potassium:
16
mg
|
Sugar:
14
g
|
Vitamin A:
155
IU
|
Vitamin C:
0.1
mg
|
Calcium:
20
mg
|
Iron:
0.6
mg
Nutritional information not guaranteed to be accurate
**Did you make this recipe? Don't forget to give it a star rating below!**
Favorite Cookie Recipes
The BEST Chocolate Chip Cookies recipe that you'll make over and over for years to come!
Last Updated on September 7, 2023