This post may contain affiliate links. For more information, read my disclosure policy.
Baked Oatmeal Muffins are an EASY breakfast recipe that you can make ahead of time for on the go!
These healthy breakfast muffins don't have any flour or oil and can be customized with your favorite mix-ins. They are freezer-friendly, too, so you can make a big batch for easy breakfasts during the week.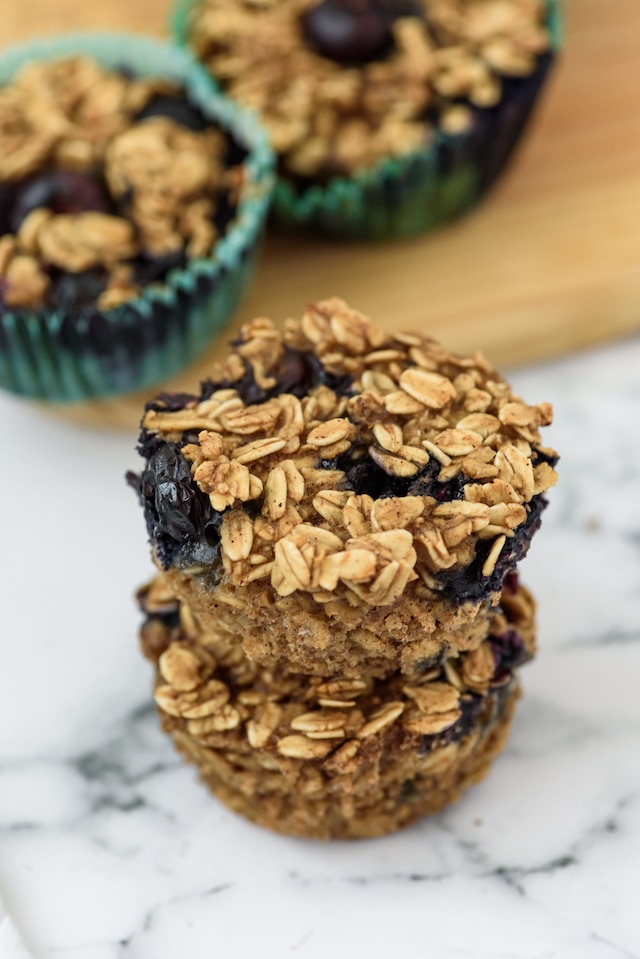 I'm not a big fan of making traditional bowl of oatmeal in the morning – there's something about the texture I just don't love. It's a little too gloppy for me, but I love baked oatmeal because it has a nice chewy texture and you can really taste the oats. Baked oatmeal in a muffin tin is a super easy way to make it so you can pre-portion it into single-serving muffins.
They are a great breakfast or snack and I like to make a big batch to keep on hand during the week so everyone can grab one whenever they want. I love them after my work out!
What is a Baked Oatmeal Muffin?
In my opinion, baked oatmeal muffins are a much better way to enjoy oatmeal! Instead of cooking the oats on the stovetop in water or milk you mix them with a few other ingredients and bake them in the oven like you would regular muffins.
They are like a cross between a muffin and oatmeal except they don't have any flour or oil and the texture is chewy and not soupy or gloppy like regular cooked oatmeal. They're a perfect grab-and-go breakfast or snack.
Healthy Breakfast Muffins made with Oatmeal
What I love best about these oatmeal muffins (or oatmeal cups as some people call them!) is that…
They are so easy to make! You only need one bowl and spoon to make the muffins.
They are customizable. I love mine with blueberries, but you can add your favorite mix-ins. You can make all the muffins the same or do a variety of flavors in one batch.
These oatmeal muffins don't have any flour or oil so you can easily make them gluten-free.
You can also make them vegan-friendly!
The muffins keep in the refrigerator for two days or you can freeze them for several months in an airtight container.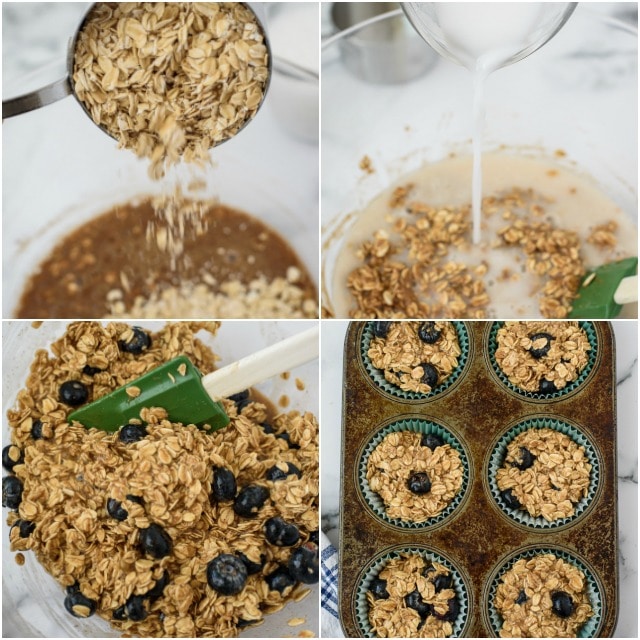 Start with the Oatmeal Muffin Base
Once you know how to make plain baked oatmeal muffins there are so many directions you can go in to switch them up with your favorite add ins. For the base recipe you will need:
Eggs
Mashed banana
Brown sugar
Vanilla extract
Cinnamon
Salt
Baking powder
For the best texture use Old Fashioned Oats instead of quick oats, which tend to get a little mushy when they're baked.
Milk: You can use any kind of milk you like including non-dairy milk!
Mix the eggs, banana, sugar, and vanilla until smooth. Add the cinnamon, salt, baking powder, oats, and milk. Mix until combined. That's all you need to do for the base.
Lately, I've been making blueberry oatmeal muffins and so I just fold in 1 cup of blueberries into the oatmeal mixture before I scoop it into the muffin pan. But there are so many other ways to customize your muffins so here are some more ideas to get you started.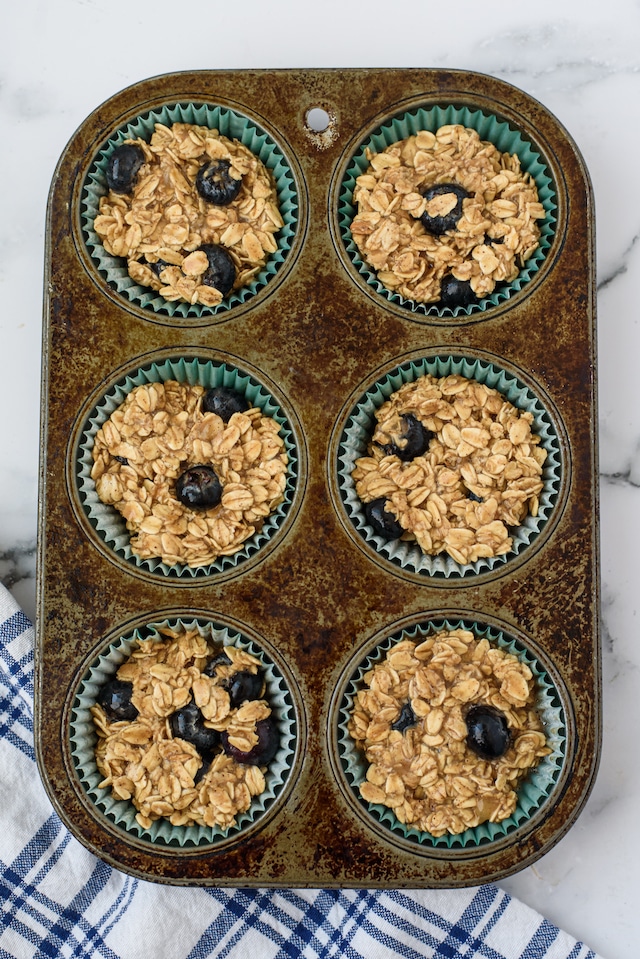 Baked Oatmeal Muffin Mix-In Ideas
Once you made the muffin base you can add pretty much any mix-in you like. You will want to add 1 cup of the mix-ins to the oatmeal mixture. You can do all of the same or mix it up and do a combination of flavors. Depending on what you use, you can make healthy oatmeal muffins or mix in a little treat for yourself, too.
Fresh fruit: Blueberries, strawberries, raspberries, blackberries, apples or any other kind of fruit you would add to a regular bowl of oatmeal work well. If the fruit is big you will want to cut it into so smaller pieces before adding it to the oatmeal mixture.
Dried fruit: Apricots, raisins, craisins, dates, prunes, peaches, mangos… the list goes on. There are so many options so pick your favorite. Unless it's small, be sure to chop the dried fruit before adding it to the oatmeal mixture.
Chocolate and other sweet treats: Sometimes we need a little treat, right? Dark chocolate chips or milk chocolate chips are one of my favorite add-ins when I want a little treat. Or, try white chocolate chips. Peanut butter chips and butterscotch chips work well, too.
Nuts: Chopped walnuts, almonds, pecans, peanuts, macadamia nuts and cashews are great mix-ins, too.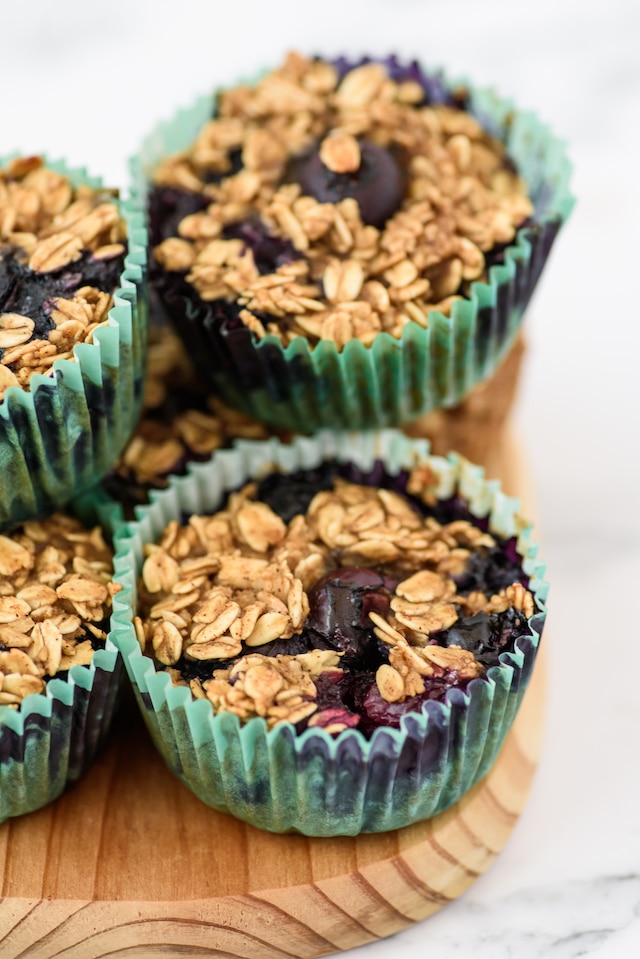 Mix it up: Ideas for Flavor Combinations
Like I mentioned, you can use all of the same mix-in or do a combination. The total amount should equal 1 cup. Here are some of my favorite mix-in combos:
Very Berry: Do a mix of blueberries, strawberries and raspberries.
Strawberries and Cream: Half strawberries and half white chocolate chips. Or use dark chocolate chips like you would for chocolate-dipped strawberries!
Caramel Apple: Chopped apples and butterscotch chips
Trail-Mix Inspired: Do a combination of dried fruit, nuts and chocolate chips.
Chunky Peanut Butter Cup: Add a combo of peanut butter chips, chocolate chips and chopped peanuts.
Tropical: Add macadamia nuts and some chopped dried mango or pineapple.
These are just a few ideas – there are so many more! You probably could make these oatmeal cups every week and never have the same combination of mix-ins twice!
I love an easy make-ahead breakfast for busy weeks and these baked oatmeal muffins are one of my favorites. I hope you love them, too!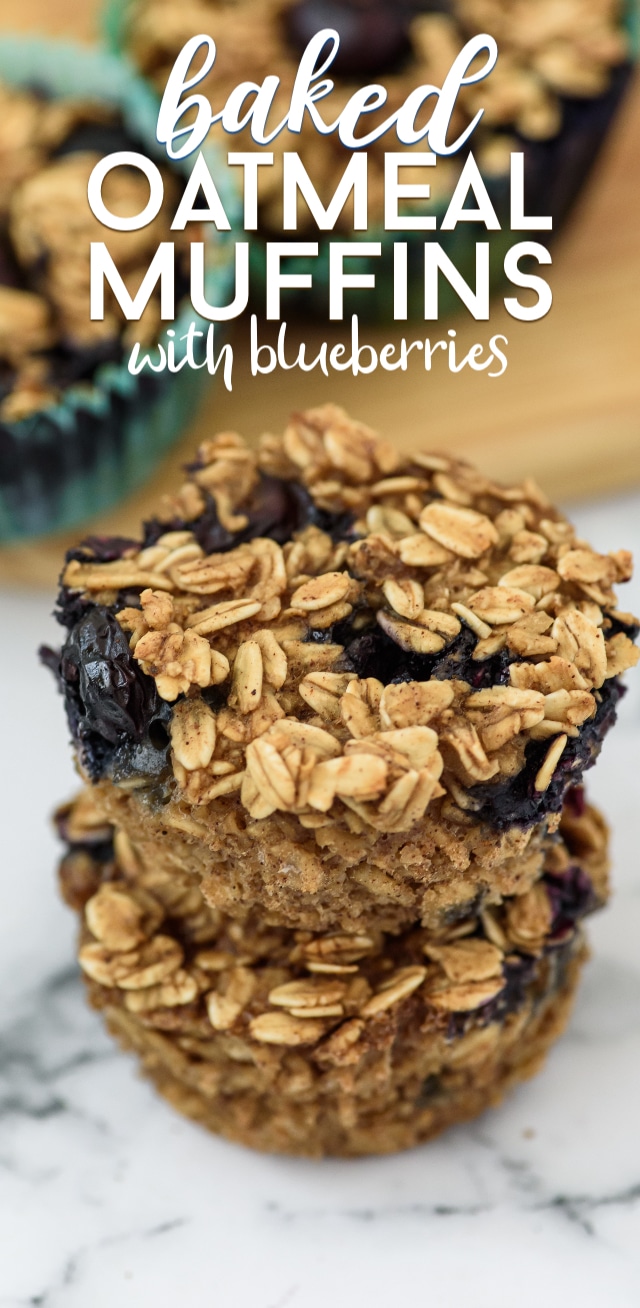 Other favorite oatmeal recipes:
Have you made this recipe?
Tag @crazyforcrust on Instagram or hashtag it #crazyforcrust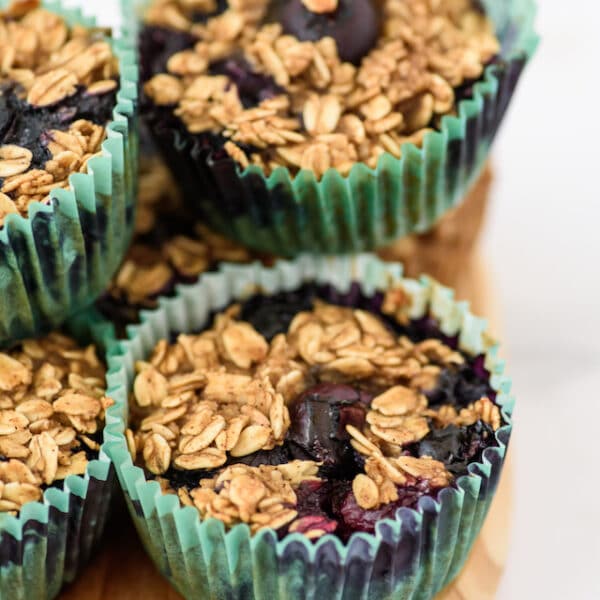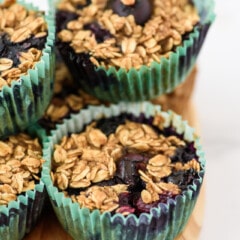 Baked Oatmeal Muffins
Baked Oatmeal Muffins is an EASY breakfast recipe that you can make ahead breakfast for on the go! These healthy breakfast muffins don't have any flour or oil and can be customized with your favorite mix-ins. They are freezer-friendly, too, so you can make a big batch for easy breakfasts during the week.
Ingredients
2

eggs

1/2

cup

mashed banana about 1 medium

1/3

cup

brown sugar

1

tablespoon

vanilla extract

2

teaspoons

cinnamon

1/2

teaspoon

salt

2

teaspoons

baking powder

3

cups

old fashioned oats

1

cup

Almondmilk (unsweetened)

see note

1

cup

blueberries

Options for mix ins – fruit

chocolate chips, etc.
Instructions
Preheat oven to 350°F. Spray a muffin pan with nonstick cooking spray or line with liners and spray those with nonstick spray.

Whisk eggs, mashed banana, brown sugar, and vanilla until smooth. Stir in cinnamon, salt, and baking powder. Stir in oats and almond milk. Gently fold in blueberries. Scoop into muffin pan (about 1/4 cup per muffin; they don't rise much so you can fill them to the top).

Bake for 18-20 minutes until oatmeal is browned and not jiggly in the center. Cool slightly before attempting to remove from pan.

Store in refrigerator up to 2 days. You can also freeze for quick morning breakfasts!
Recipe Notes
Note: You don't have to use Almond Breeze. You can use any kind of milk (regular or non-dairy).
Recipe Nutrition
Serving:
1
serving
|
Calories:
289
kcal
|
Carbohydrates:
53
g
|
Protein:
9
g
|
Fat:
5
g
|
Saturated Fat:
1
g
|
Cholesterol:
27
mg
|
Sodium:
122
mg
|
Potassium:
370
mg
|
Fiber:
7
g
|
Sugar:
10
g
|
Vitamin A:
57
IU
|
Vitamin C:
3
mg
|
Calcium:
109
mg
|
Iron:
3
mg
Nutritional information not guaranteed to be accurate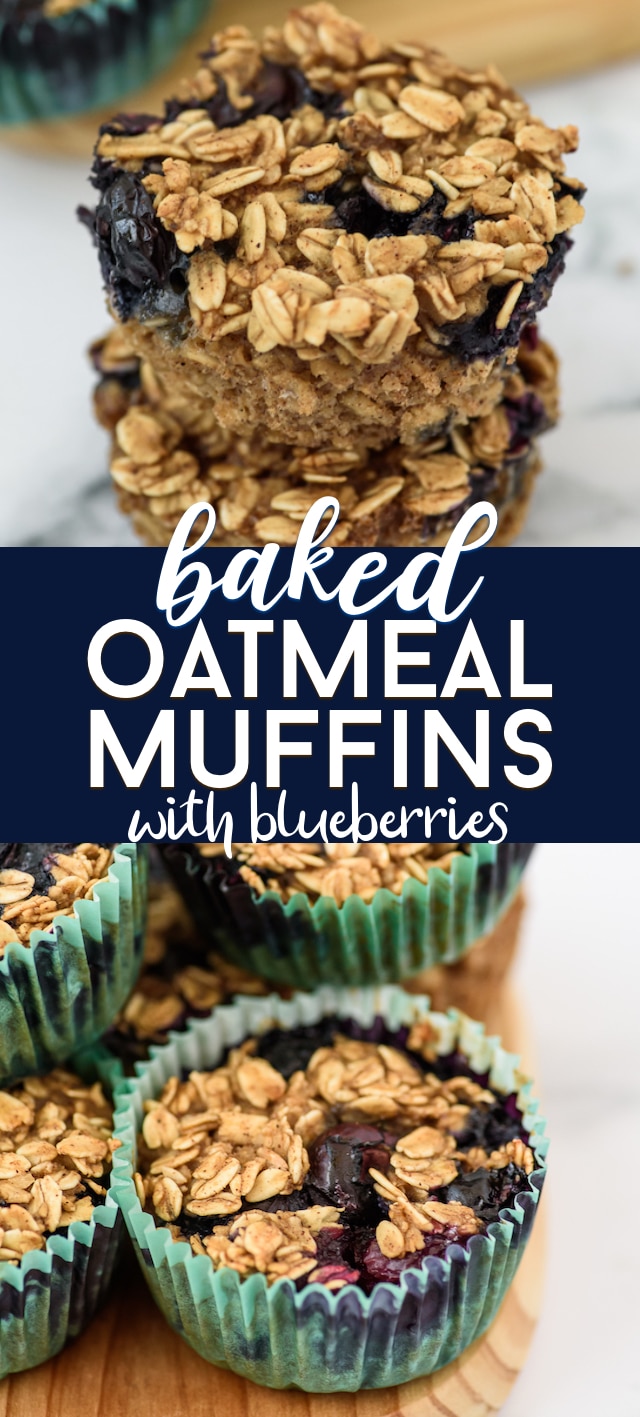 Baked Oatmeal Muffins are an easy healthy muffin recipe! Make baked oatmeal in a muffin tin with blueberries, chocolate chips or any fruit! Easy Oatmeal Cups are the perfect breakfast or snack and the kids love them.