This post may contain affiliate links. For more information, read my disclosure policy.
When I want pie, I want it NOW. I'm like Veronica Salt in that way.
These Skinny Bite Sized Pies have only 4-ingredients and you can have them now…or maybe in 10 minutes, when you're done making them. You still need a dessert for the game tonight, right?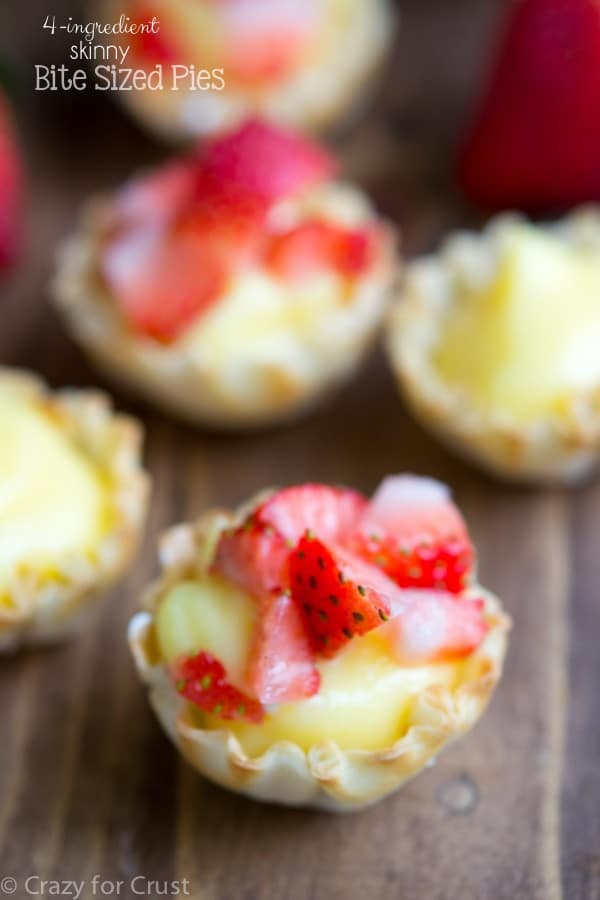 This week is a special week here at Crazy for Crust. No, it's not my birthday. Not the blogiversary, either. This week is Heart-Healthier Week. Why? Because Friday, February 6, 2015 is National Wear Red Day, part of the Go Red For Women campaign.
You might say, but you're a dessert blogger. Isn't heart health a little counterintuitive? Sort of, yes. But here's the thing: Heart Disease is the #1 killer of women. It kills more women each year than breast cancer. 1 in 3 women die each year of heart disease. One in three.
If you've read this blog for any length of time, you might remember that my family is rich in heart disease history. My mom suffers from heart disease and many of her family members have suffered fatal heart attacks and stroke. So yes, being a dessert blogger is kind of weird, and heart disease is never far from my mind. It's why I try to eat unhealthy foods in moderation and why I exercise every single day.
And it's why I'm devoting this week to dessert recipes that are a little bit heart-healthier. Because sometimes you just want dessert…no matter what eating plan you're following. Maybe you're craving a cookie or you're having people over for brunch or a party. That's where these recipes come in.
Especially these bite sized pies. They're skinny, they're heart healthier, and they only have 4 ingredients. They can be ready before game time…or within a few minutes of you getting a craving for pie.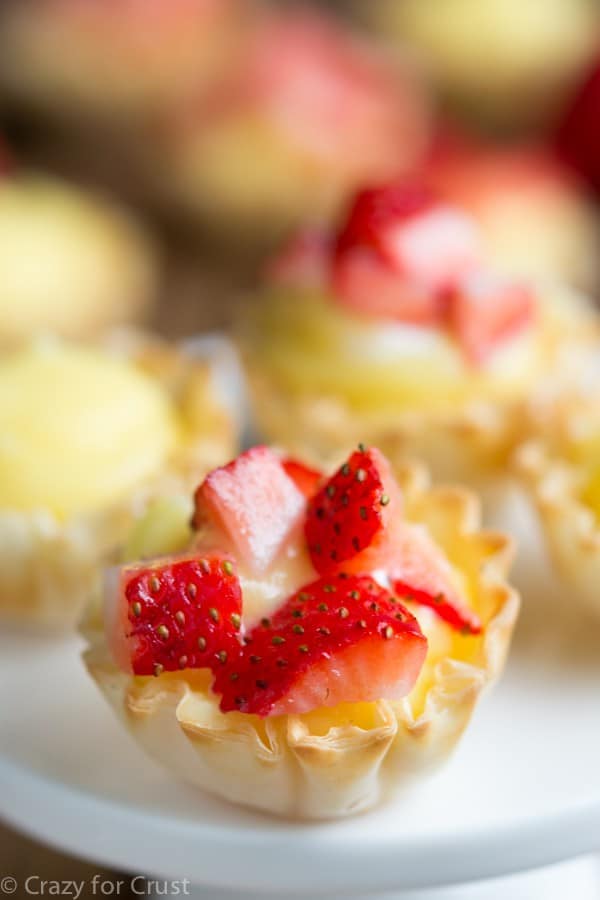 Making desserts more heart healthy isn't always easy. All the good things you love, like butter and whipped cream and sugar aren't good for heart disease. Each day this week I'm going to talk about some smart substitutions you can make in baking to help make your recipes more heart healthy.
Today's swap: pie crust. I love me a good pie crust…obviously. But normal pie crust is full of butter and butter isn't that great if you're eating heart healthy. These little bite sized pies use phyllo tart shells instead of pie crust. Two of these tart shells have only 30 calories with 1 gram of fat.
I don't even want to know the calories in two mini pies.
The tart shells make a perfect stand in for a quick pie. If you've never used these phyllo shells before, they come frozen and already in tart form. You can find them at your grocery store near the puff pastry and regular phyllo dough. There's literally no prep – just unwrap the package and fill.
That's the kind of recipe I love.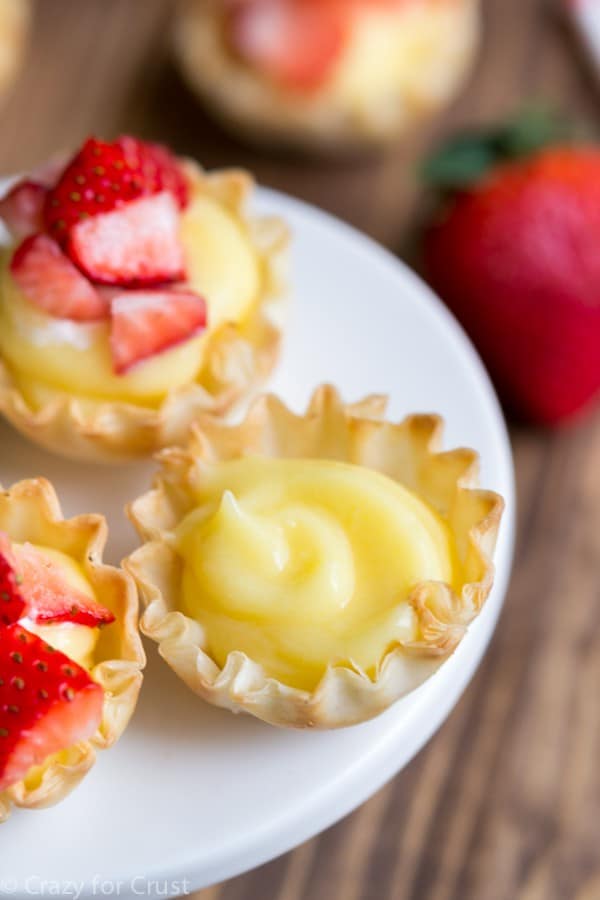 I filled these mini pies with sugar-free pudding. If you're dieting or on a restricted heart healthy diet, you're probably trying to limit sugar. Using a sugar-free pudding mix helps you do that, with less calories and fat than regular pudding. I used banana for these pies, but you can use your favorite flavor.
As for topping…fresh fruit is always good. I liked the pop of color the fresh chopped strawberries added to these pies. You can also use some Cool Whip Free or Sugar-Free Cool Whip instead of (or in addition to) the fruit. (And yes, whipped cream works too, but it's not really heart-healthy, is it?)
Literally, these pies took me less than 10 minutes to make. And they're easy to eat too.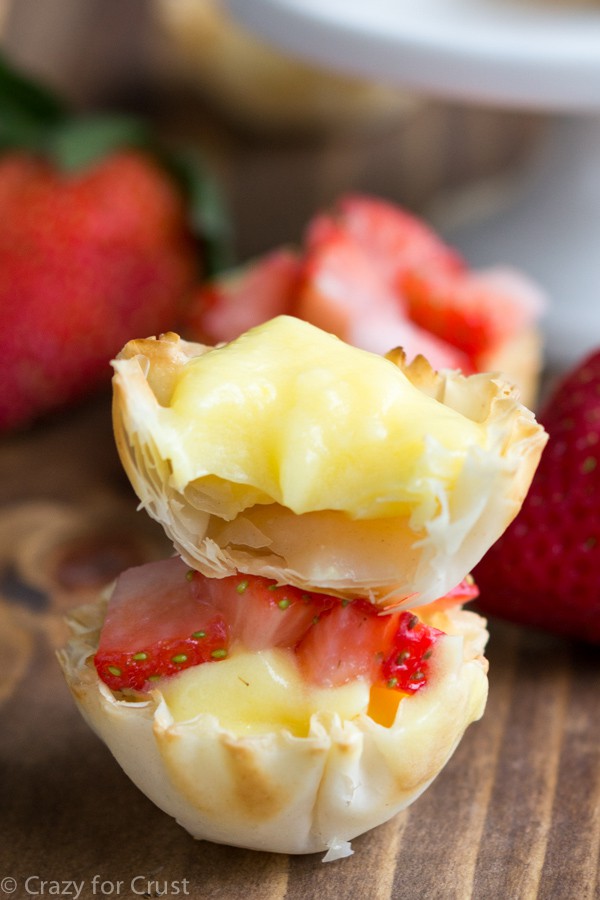 These pies are so pretty, so good, and so easy, no one will know they're eating something a little heart-healthier. They're the perfect thing to make when you just need some pie…now.

Know your risk of heart disease. And know the symptoms of heart attack and stroke. Knowing those things saved my mom's life, and it can save yours too.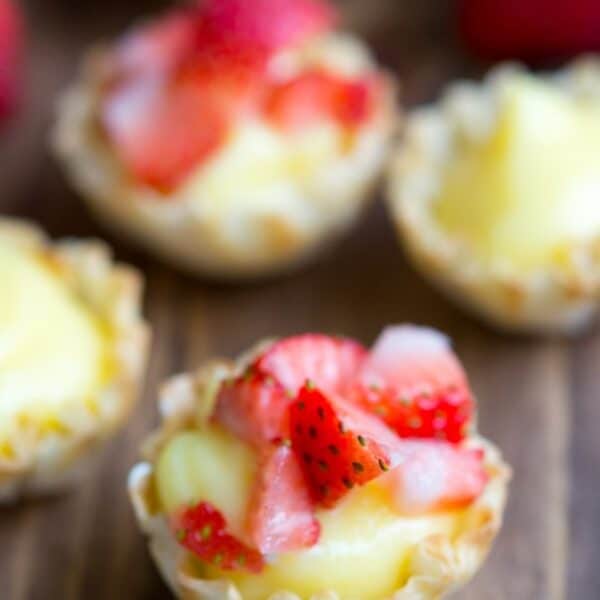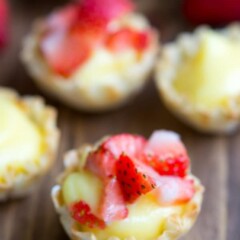 Skinny Bite Sized Pies
These bite sized pies have only 4 ingredients, can be modified to make them your favorite flavor, and they are heart-healthier!
Ingredients
1-2

boxes Phyllo Tart Shells

see note

1

0.9 oz box sugar-free instant pudding mix (any flavor, may substitute a 3.4 ounce instant pudding that is not sugar-free but that would make these not as "skinny")

1 1/2

cups

nonfat milk

Fresh fruit and/or fat-free whipped topping or whipped cream
Instructions
Remove tart shells from the freezer and place on serving tray.

Whisk pudding and milk in a medium sized bowl for 1 minute. Let sit until set up (about 3-5 minutes). Place pudding in a gallon size Ziploc bag. Cut off one tip. Pipe some pudding in each shell.

Top with chopped fruit or whipped topping. (For a heart healthier treat, make sure to use Cool Whip Free, which is fat-free. Regular whipped cream can be used, but is not heart healthy.)
Nutritional information not guaranteed to be accurate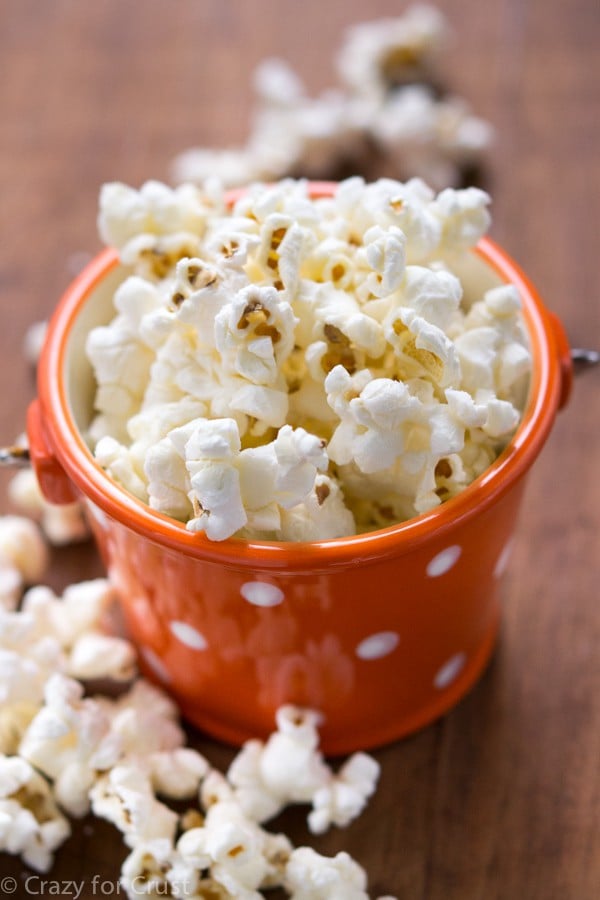 Skinny Frozen Peanut Butter Pies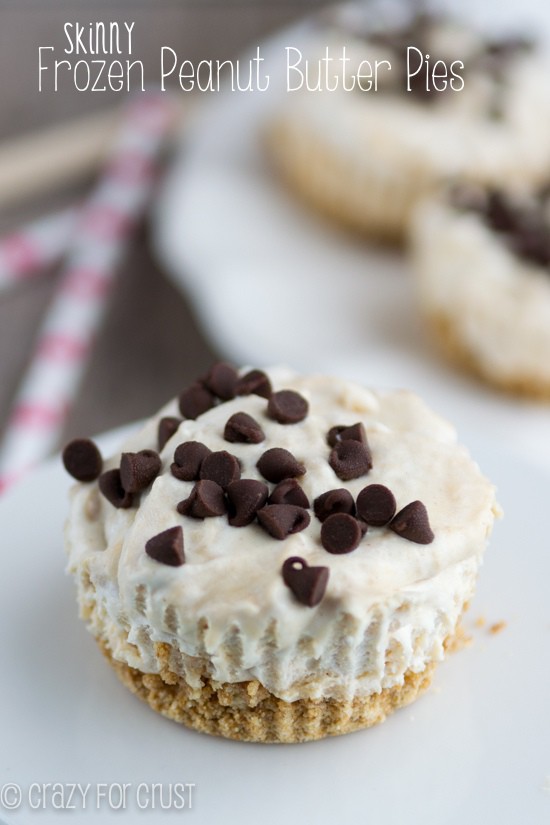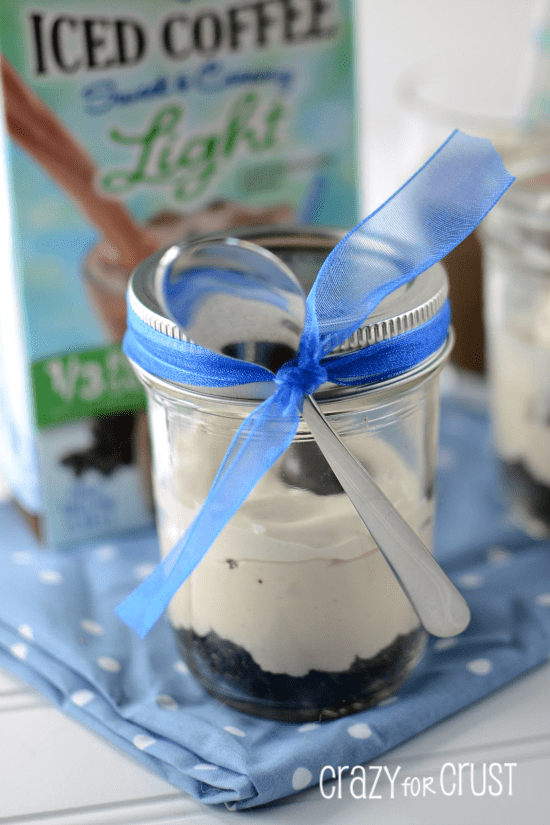 Sweets from friends:
Chia Seed Pudding from Very Culinary
Berry Pudding Cakes from Barefeet in the Kitchen
Vegan Chocolate Avocado Cookies from Two Peas and Their Pod
I'm not a doctor. I can only do what I can to eat better and create healthier recipes. All information about heart disease and heart-healthy baking come from the American Heart Association.
Last Updated on September 20, 2019