This post may contain affiliate links. For more information, read my disclosure policy.
Growing up in Northern California it's not hard to forget that wine country abounds right outside our front door. But, when you think about wine country, what city comes to mind? I bet it's Napa, right? Well, did you know that right across the valley from Napa is Sonoma County and even more wine country? Today I'm telling you about the reasons you should visit Sonoma County – I like it even better than Napa!
PIN IT NOW TO SAVE FOR LATER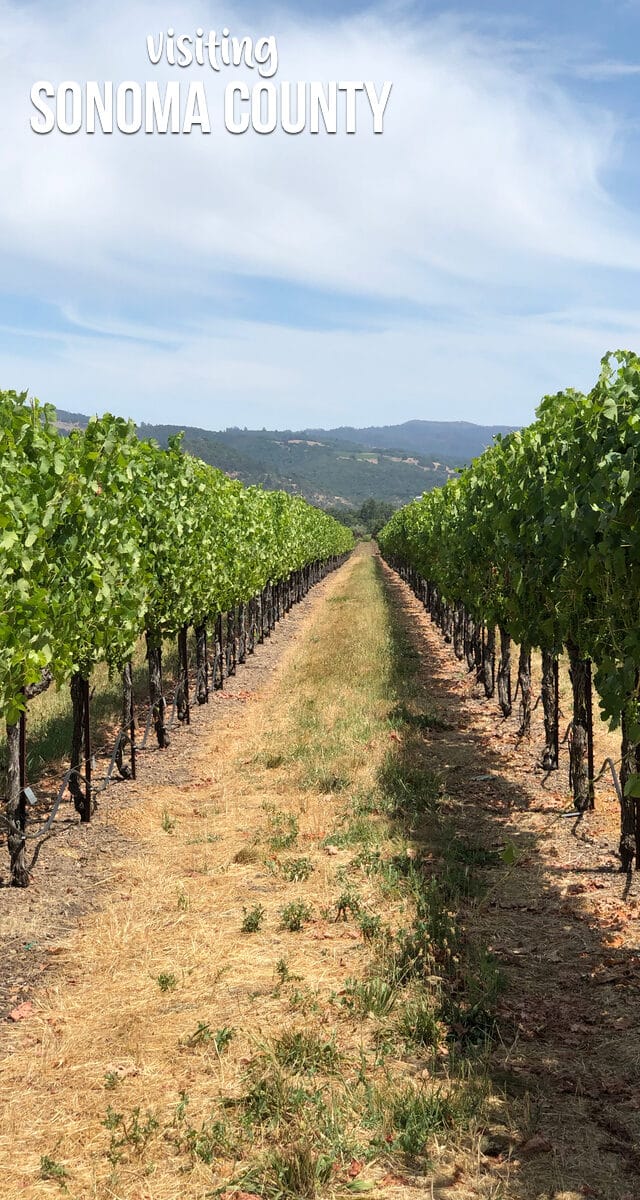 I've been to Napa a handful of times but a few years ago I attended a press lunch given by Sonoma County Tourism. I'd always thought of Sonoma as a college town and Santa Rosa as just an extension of San Francisco but I was way off base: the entire area is ripe with wineries and delicious restaurants, just like Napa Valley.
After spending a week in Sonoma County I realized something: I like it so much more than Napa. It's much more relaxed and just as beautiful with just as much amazing wine and food. From now on I will be heading to Sonoma and Santa Rosa when I plan our wine country trips (it doesn't help I joined TWO wine clubs while we were in town!)
Sonoma County has amazing wineries and food and is more laidback and accessible than Napa!
If you're looking for a few ideas for restaurants and wineries in Sonoma County, read on. These are some of my favorite places and I know you'll all love them too!
Where to Eat in Sonoma County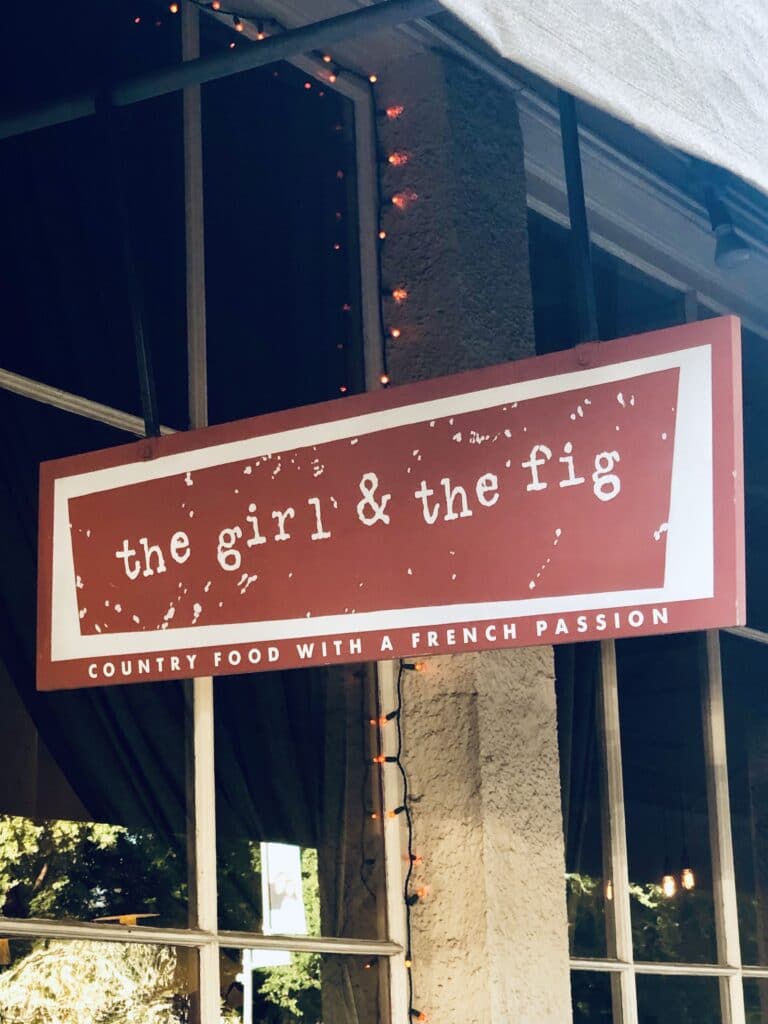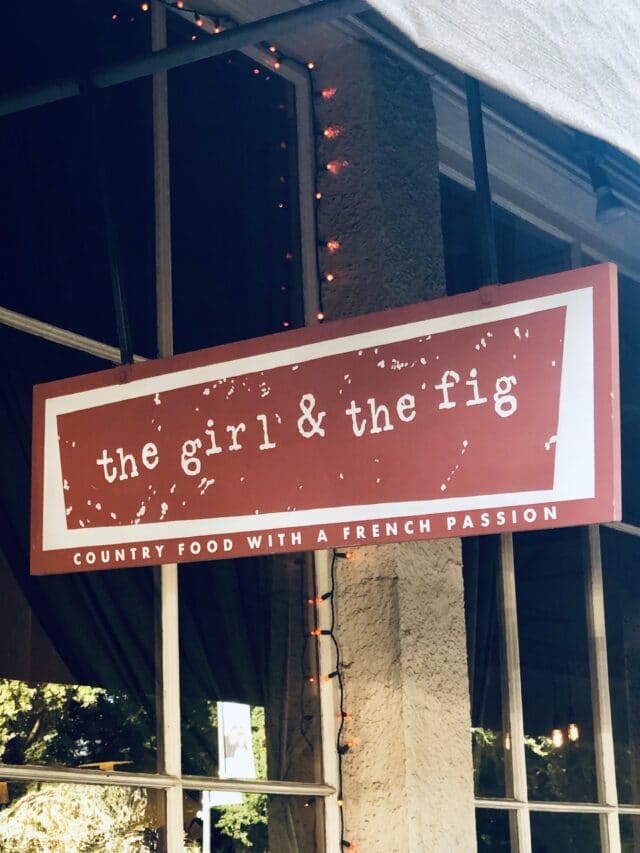 I cannot recommend The Girl & The Fig enough. It's an absolutely fabulous restaurant with amazing food. We enjoyed their Fig Royale (a Kir Royale made with fig liquor instead of Chambord) as well as charcuterie, several of their specialties and desserts. My favorite dessert was a Lavender Creme Brûlée that was so good. I'm making a copycat as I write this! I've told my husband our next wine trip will be to Sonoma, and I'm planning to eat here again (and again).
2. Cafe Citti
We stayed at a house in Kenwood which is midway between Sonoma and Santa Rosa. There weren't a ton of restaurants super close to the house but Cafe Citti was one of them. It was recommended by two people before our trip and since we could walk from the house it was a no-brainer. It's an order-then-sit restaurant but has waiters to bring out your food and it was so good. Italian food is my favorite and this was one of the better meals I've had. We tried several pasta dishes as well as a half chicken and shared them – very good! (There is no bar, just wine and beer, so keep that in mind.)
3. Palooza Brewery & Gastropub
Also down the road from our Kenwood home, Palooza was a nice find for lunch. It was easy and fresh with delicious cocktails and fried pickles on the menu. It's a great place to grab some hearty food in between wine tastings too.
Wineries to visit in Sonoma County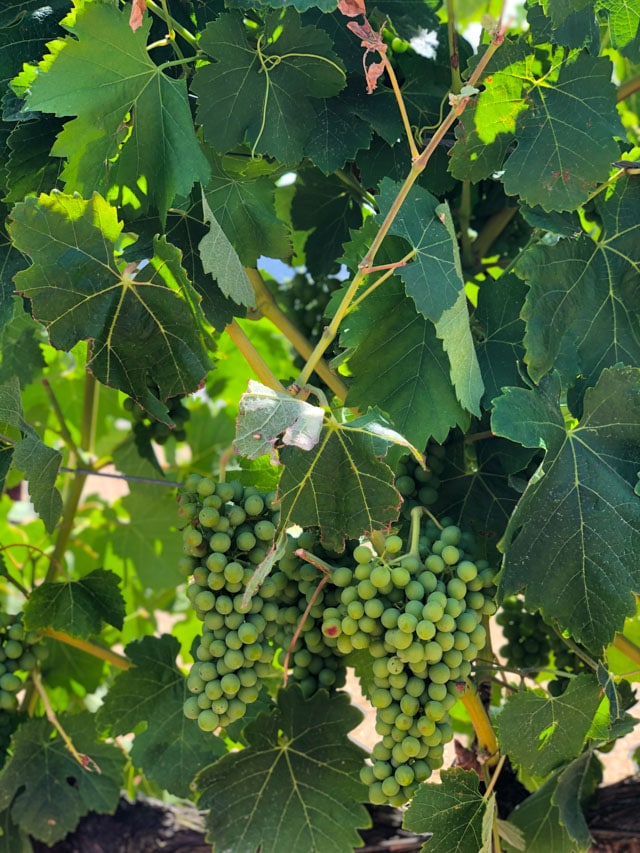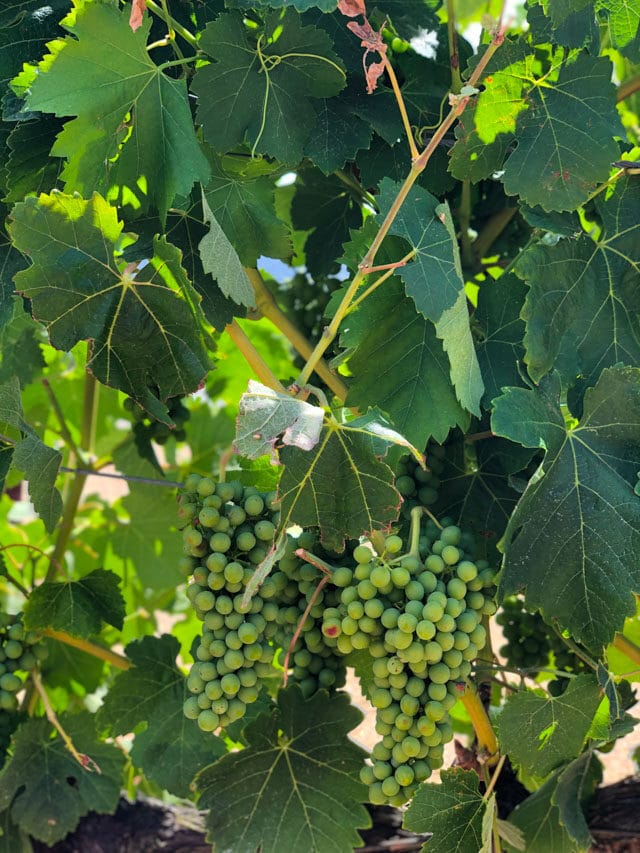 Sonoma County, like Napa, is a long and spread out valley full of vineyards as far as the eye can see. Benziger, Chateau St. Jean, and La Cream are just a few of the more recognizable wineries in Sonoma County.
When you're planning a winery tour you want to think ahead about a few things:
How many wineries will you visit in a day?
Transportation to and from – don't drink and drive!
Is there food at the winery? Or other things to do besides taste?
Personally I like one or two winery visits max in one day or I get so tipsy I can't remember anything – and then I pass out before dinner. When I planned this Sonoma retreat I decided on one winery each day. We selected wineries that also had food pairings or experiences because I like exploring the vineyards, etc. If you're just in and out of the car tasting, it's not much fun.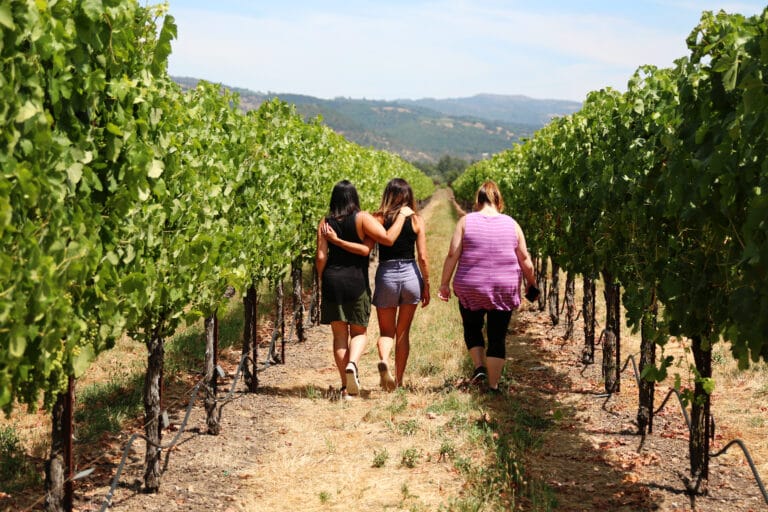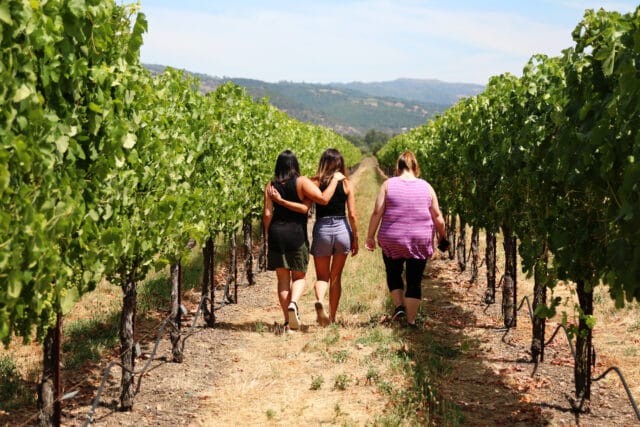 One of the wineries we visited is located on the tip of Santa Rosa and Kenwood, just 2 miles from where we were staying. The property is absolutely gorgeous and you're allowed to walk in the vineyards while you're on site. It was a super hot day when we were there so we couldn't walk as much as we wanted to, but it would be fantastic to go in spring or fall when the temps are in an it's-ok-to-be-outdoors range.
St. Francis has several wine experiences, some that are just tastings and a few that are food pairings. I'd heard amazing things about the Wine & Food Pairing and we were able to attend one while we visited.
The visit to St. Francis starts with a glass of their chardonnay as a welcome. You're able to walk in the vineyards or lounge on the patio overlooking the valley while you wait for your tasting.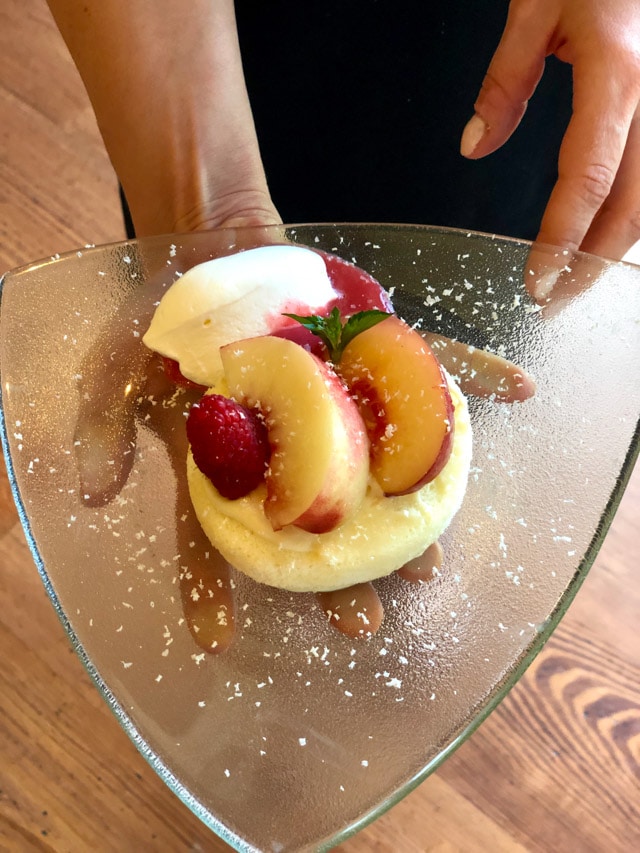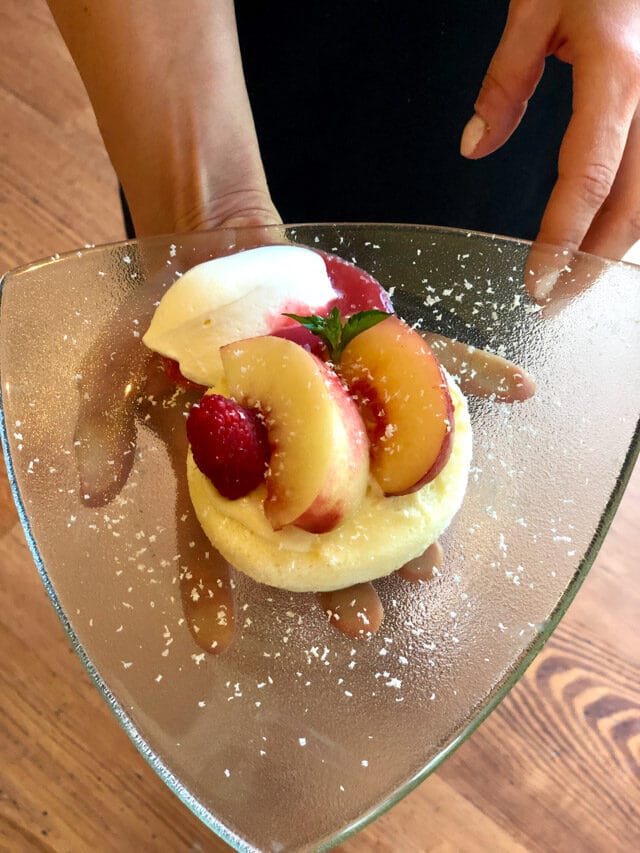 The tasting is a complete five course meal where each course is paired with one of their signature wines. The menu is seasonal, so we had their summer menu which included melon salad, an amazing pasta dish, and that cake with white nectarines and Whipped Vanilla Crème Fraîche. The meal was epic, seriously and I will plan to do it again with my husband.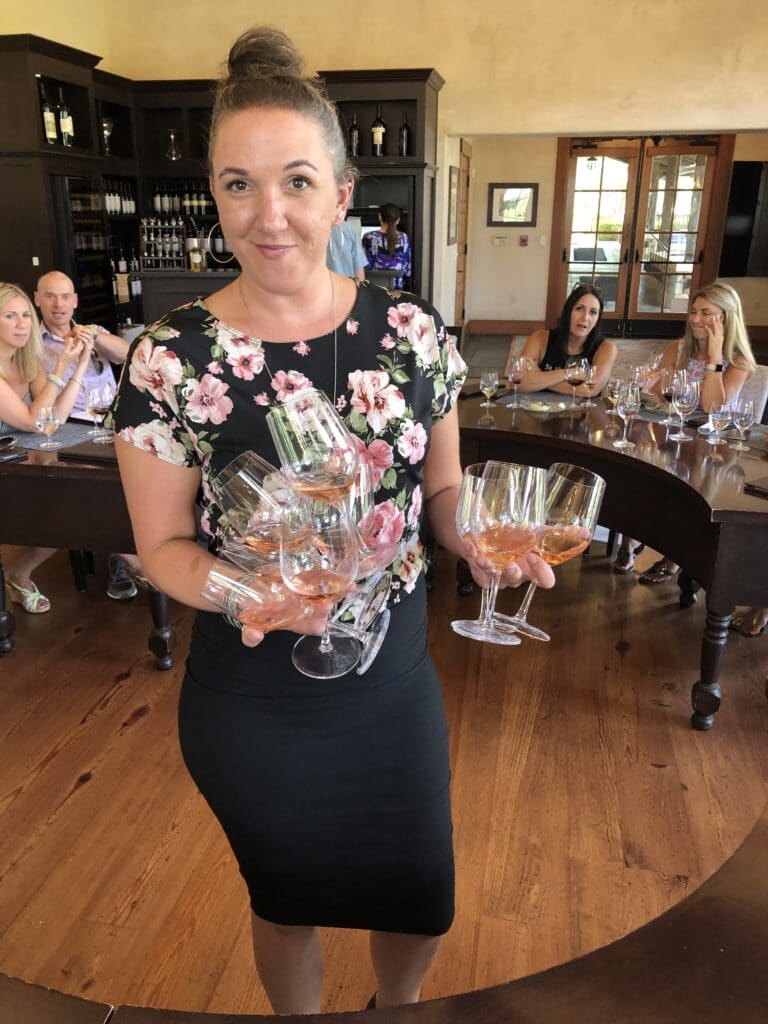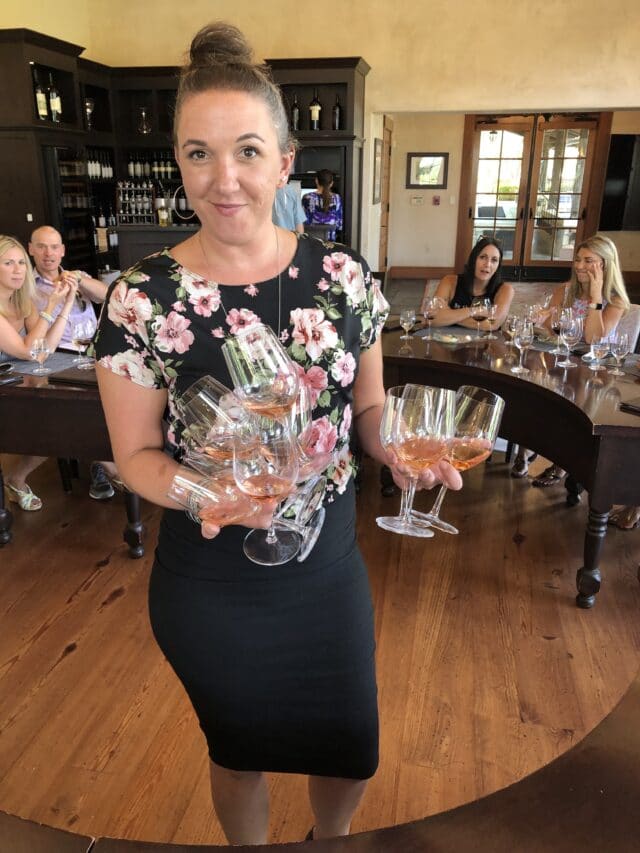 After the meal I asked to taste their Rosé, and everyone else asked too, and they brought out tastings for all of us…in one carry!
St. Francis is known for their Zinfandel, but I truly enjoyed their Chardonnay, Sauvignon Blanc and Rosé. I'm not a huge red wine drinker but the Pinot Noir was so good I brought home a bottle of that as well…and I joined their wine club so it's only a matter of time before I visit them again to pick up my shipment.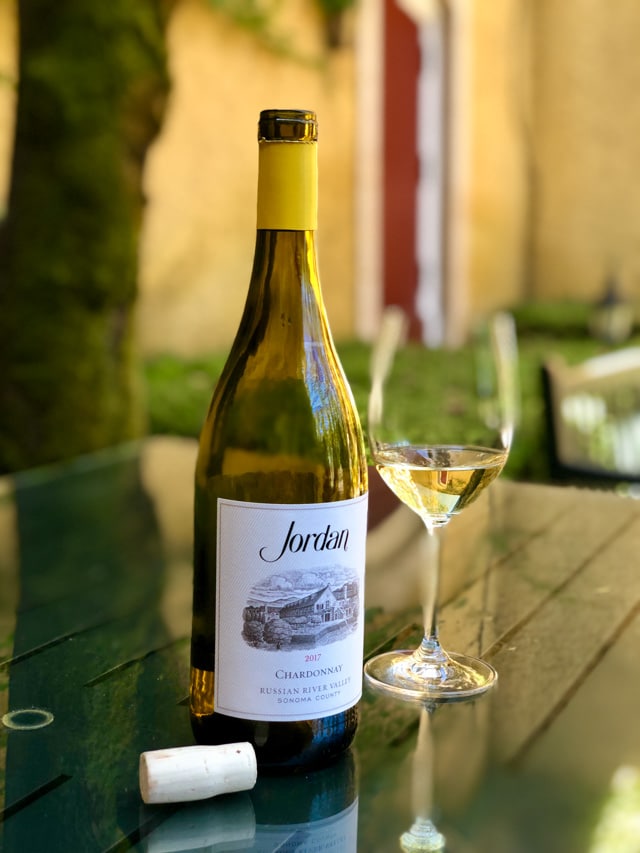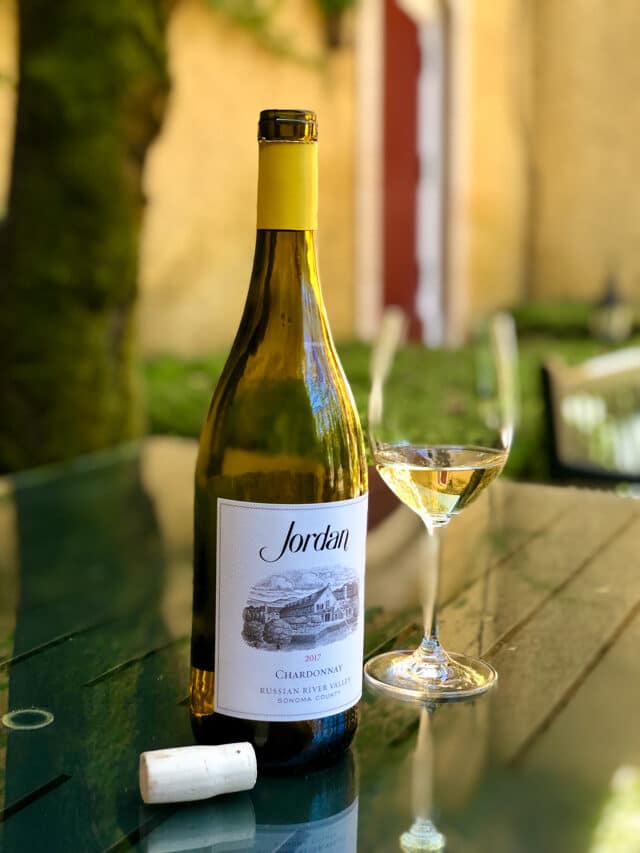 Located in Alexander Valley outside Healdsburg, Jordan Winery only makes two wines: Chardonnay and Cabernet Sauvignon. My husband and I love Jordan Chardonnay and order it quite often in restaurants. Jordan Winery has been family owned and operated since 1972. The Jordan Family loved French wine and brought the French style of wine making to Sonoma County.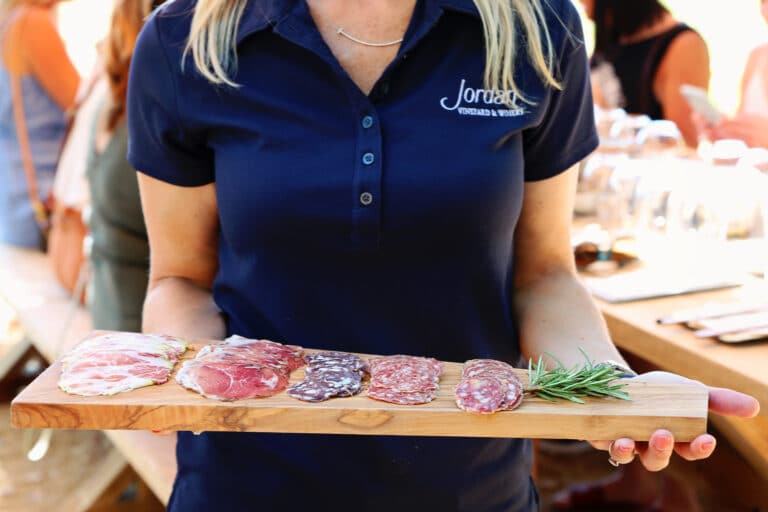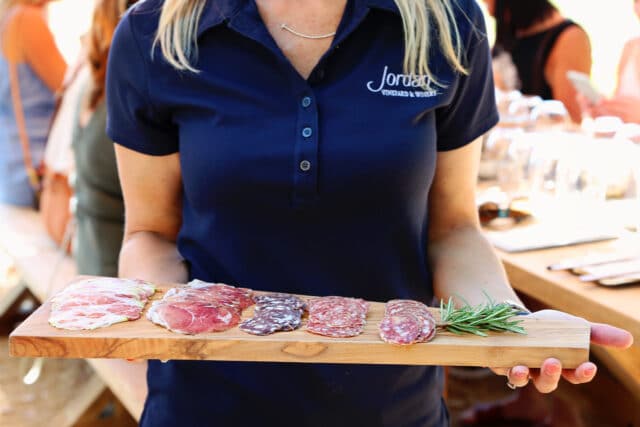 There are several tastings to choose from at Jordan Winery, from simple to elaborate. We were able to attend a Chateau Block Cabernet Sauvignon Vineyard Tasting during our visit. This tasting takes place above the vineyard (bring your walking shoes!) on picnic tables overlooking their newest "baby" vineyard.
We were welcomed to the estate with a glass of chardonnay (my favorite!) and then headed up to the vineyard for the tasting. Our tasting included different Cabernet Sauvignon wines as well as local charcuterie from Journeyman Meat Co. in Healdsburg. We also got to taste Jordan Olive Oil which was, no joke, the best olive oil I've ever tasted. I brought some home to enjoy with bread and charcuterie…or in a glass.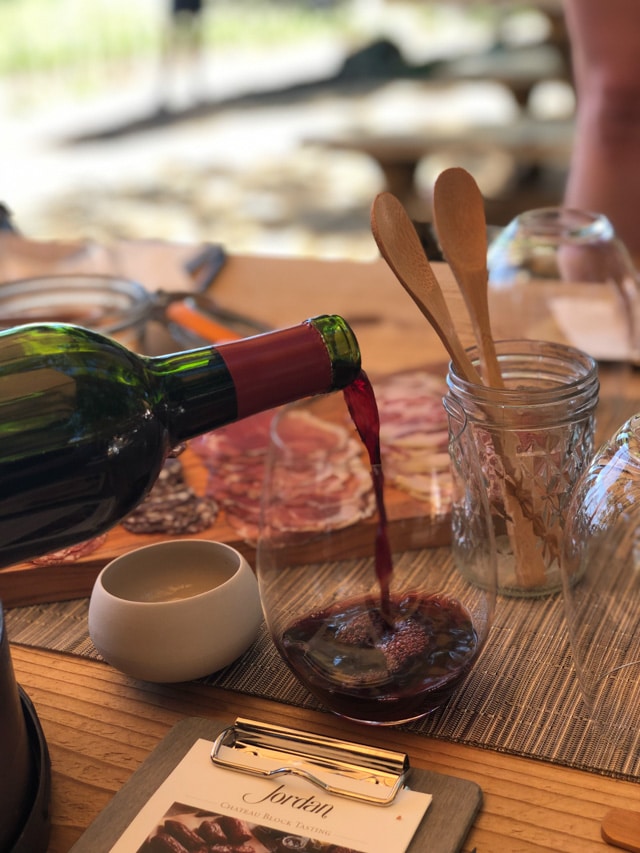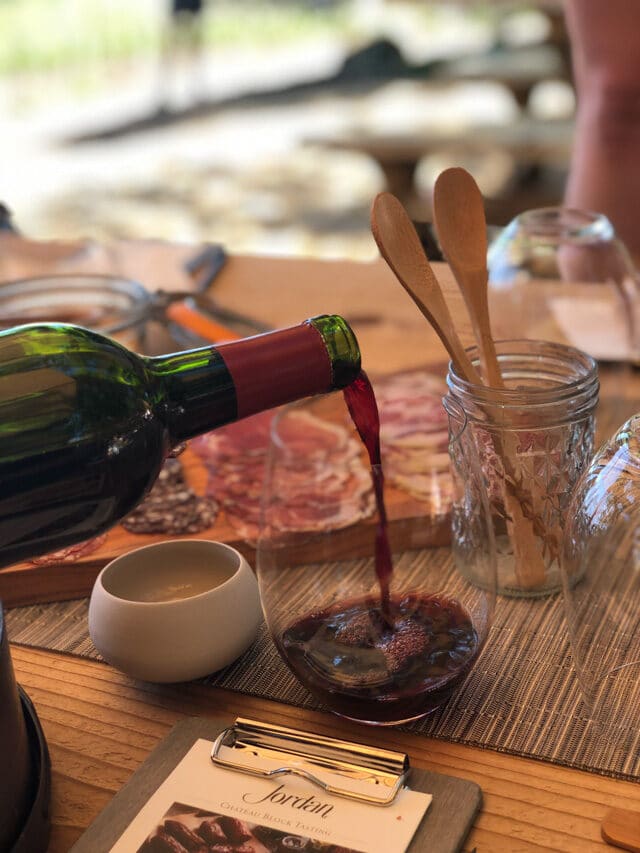 I really enjoyed the different Cabernets we tasted and along with the view and good company I highly recommend this tasting.
Jordan Winery doesn't have a traditional wine club per se, but instead they have a rewards system. Each visit or purchase accumulates points which you can use towards tastings, events or even staying overnight at the estate. You can join the club here.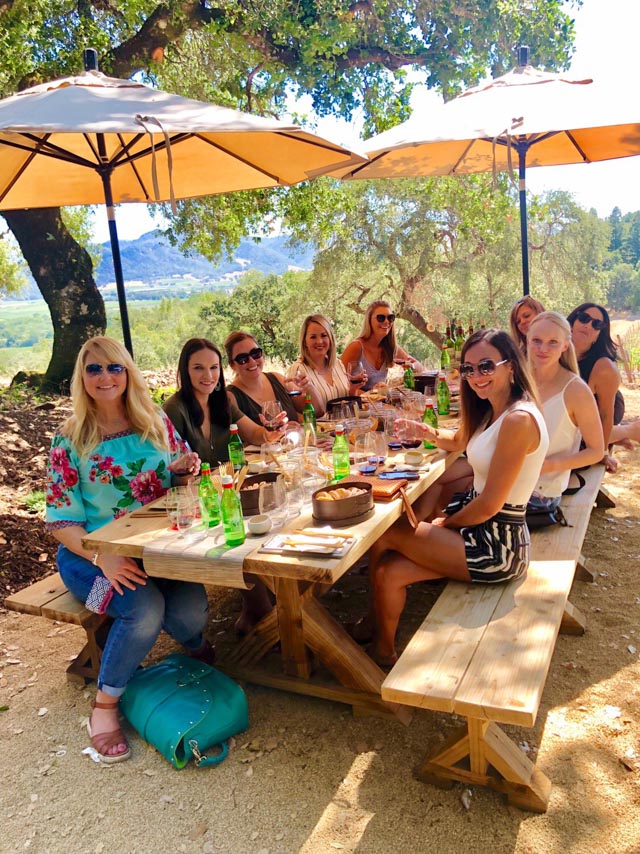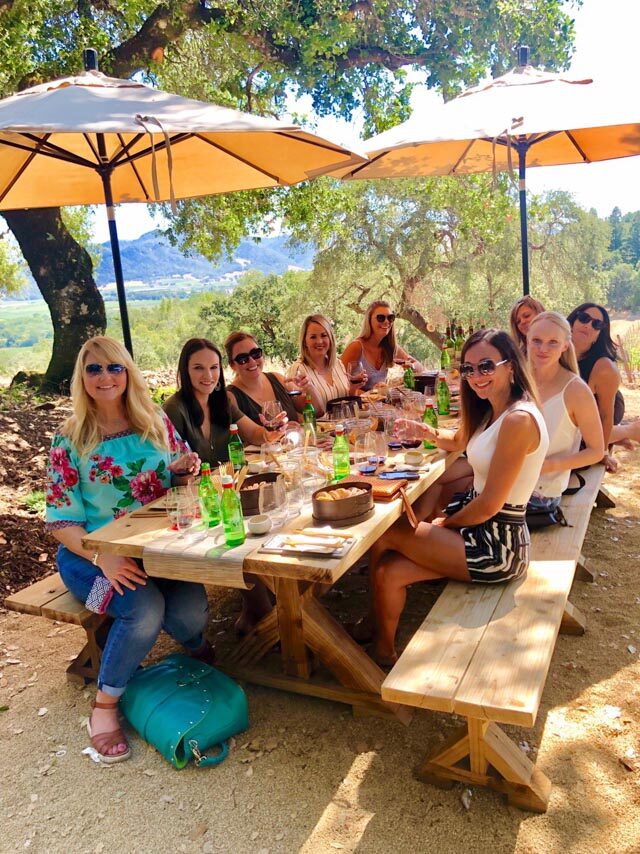 Other fun things to do when you visit Sonoma County:
6. Rent a house instead of a hotel!
We stayed at Casa Bella in Kenwood. It was a 10 bedroom property that would be perfect for families or large groups like ours. There are other smaller options in the area too, and it's nice to be able to go home after a long day and just make charcuterie for dinner.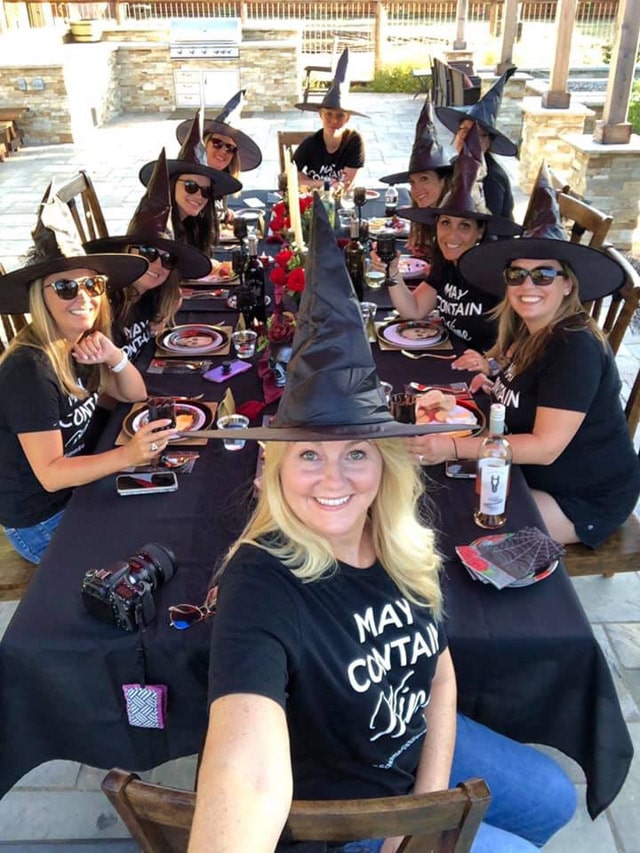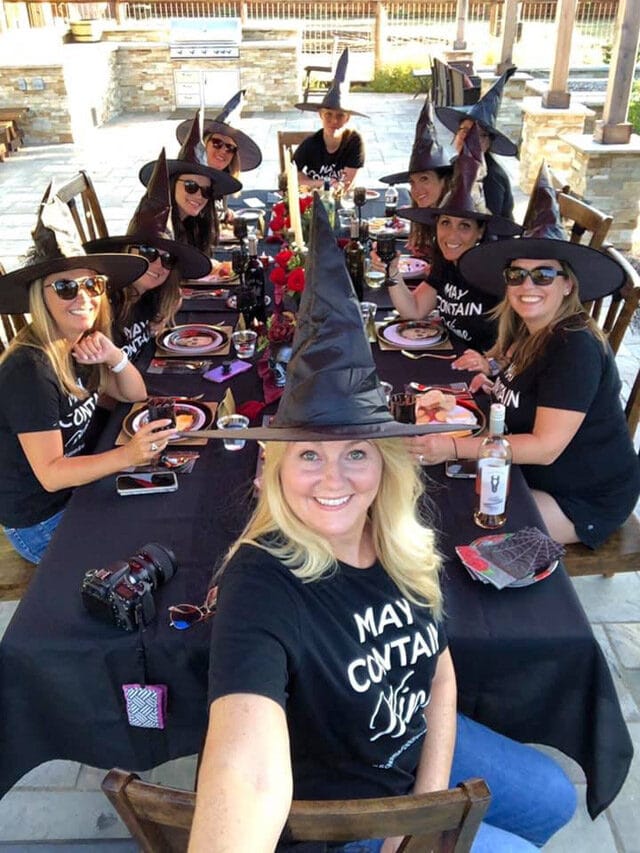 Oriental Trading Company helped sponsor our trip so one night we put on a Gothic Halloween Party with their new line. You can also make custom shirts through Oriental Trading Company now. Amy from Living Locurto made us all "May Contain Wine" shirts to wear. I have to admit – I don't normally like those printable t-shirts – they never fit right – but these were super comfortable. Best custom shirts ever, seriously.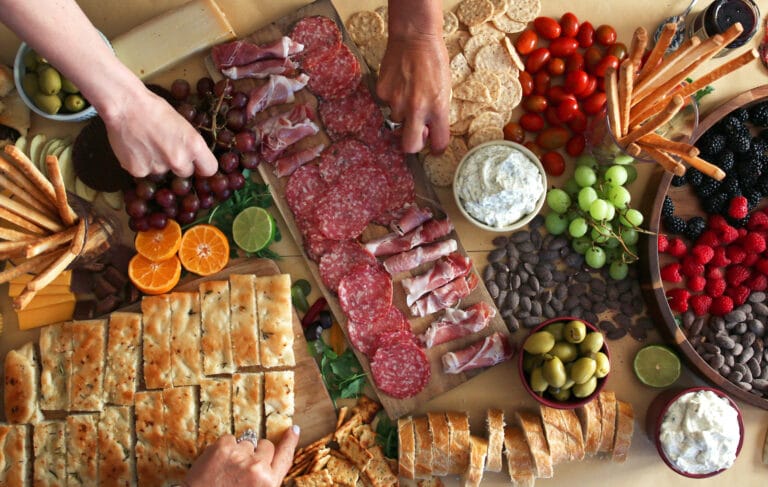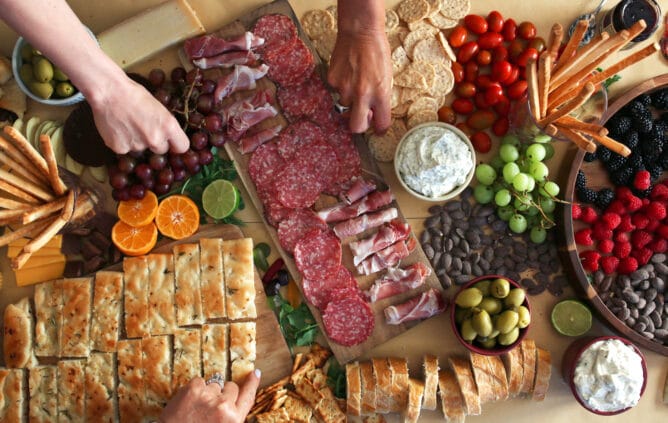 We also made an epic charcuterie board that spanned the entire dining room table! After a day of charcuterie at Jordan Winery we ate more charcuterie for dinner…you can never have too much cheese!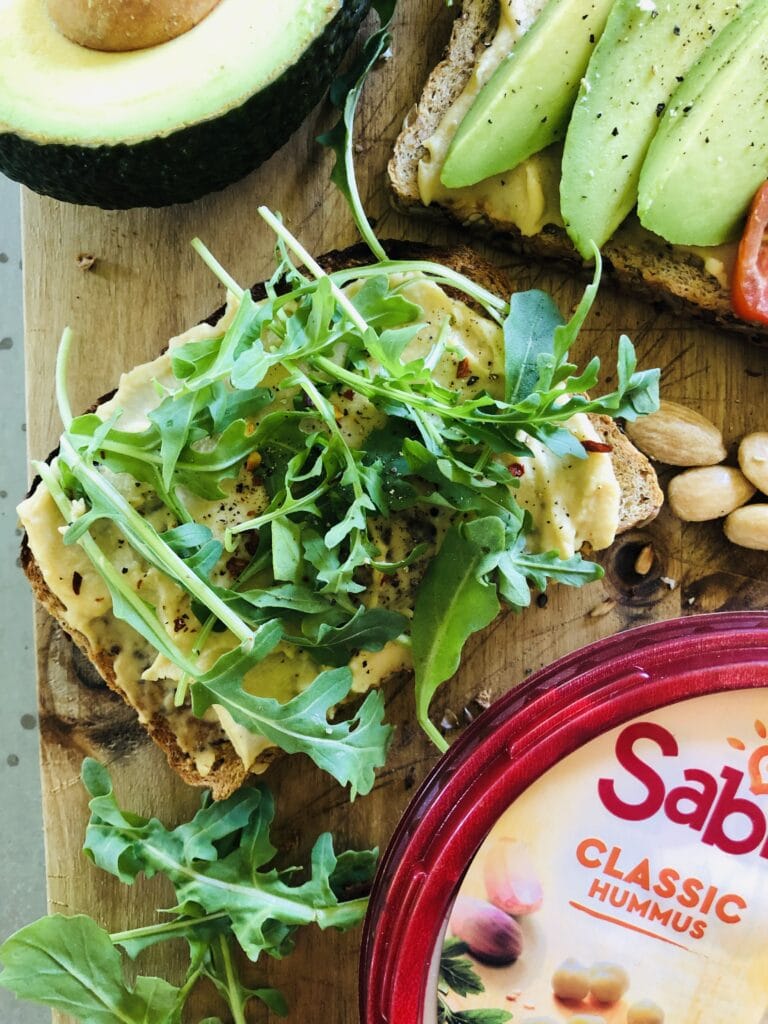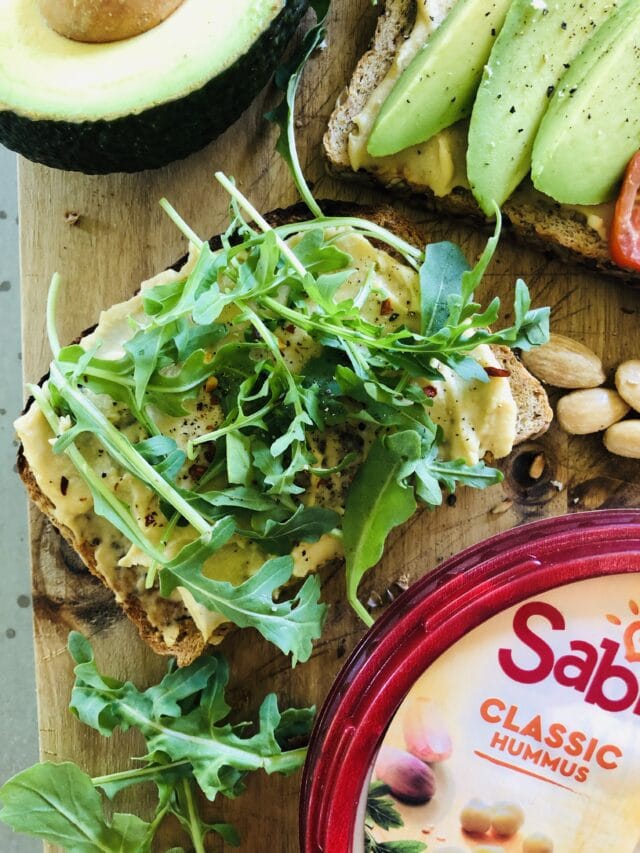 Another thing I like about staying at a house is that we could make our own breakfast. One morning we made Hummus Toast (have you ever had it? SO GOOD). Sabra was a sponsor of our trip and it was so much fun to see what everyone did with their #hummustoast.
7. Shop in Downtown Healdsburg or Sonoma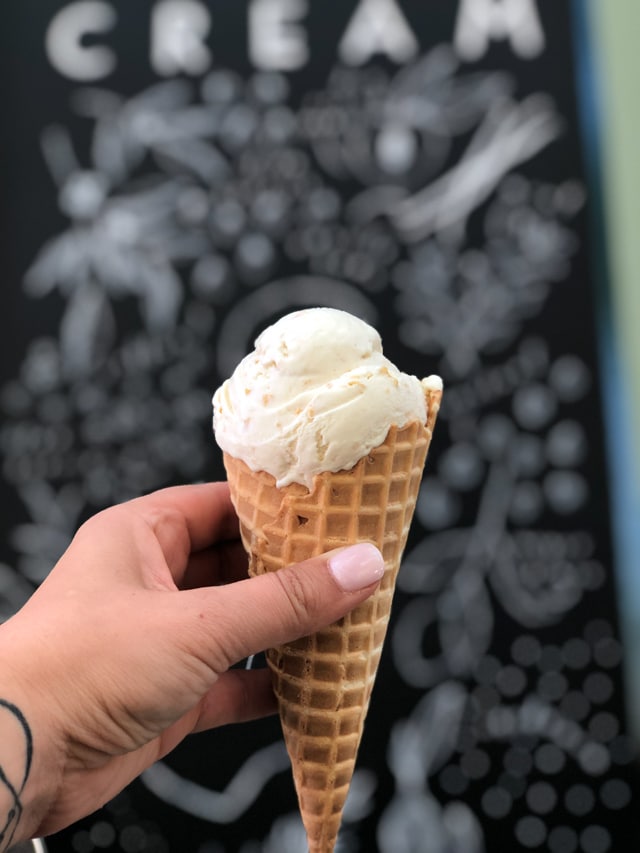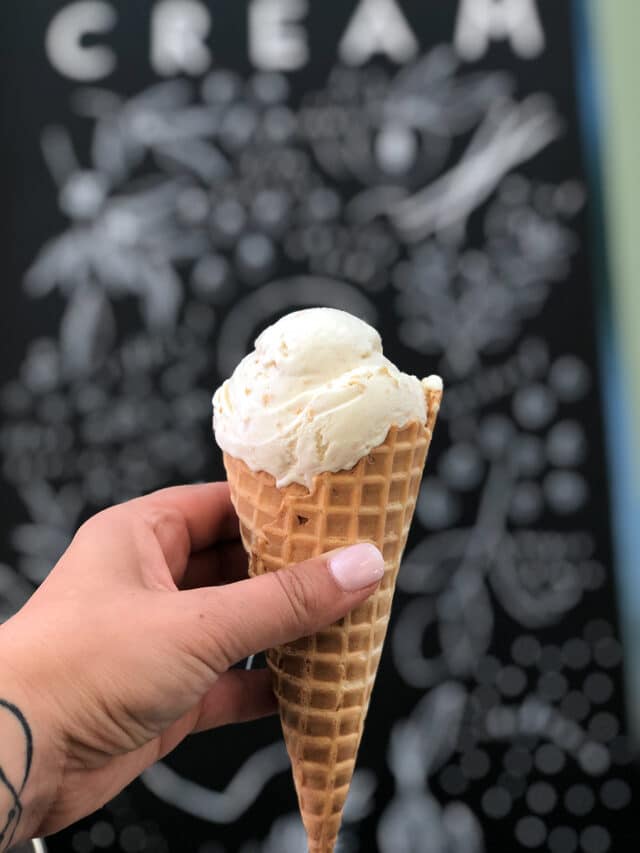 After our trip to Jordan Winery, we stopped in Healdsburg to shop. The downtown square has tons of cute shops and restaurants and we spent an hour wandering around. I think it would be perfect to do as a full day trip: eat, visit the tasting rooms and shop.
We got ice cream and pie at Noble Folk. They had traditional flavors but also this maple cornflake ice cream which was surprisingly good and very refreshing. The pies were bomb too!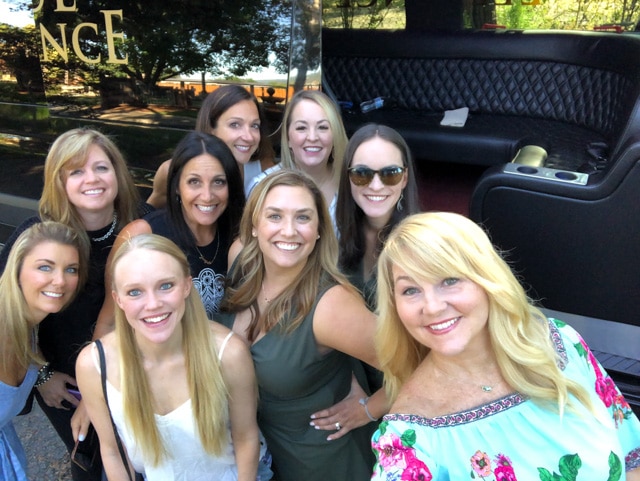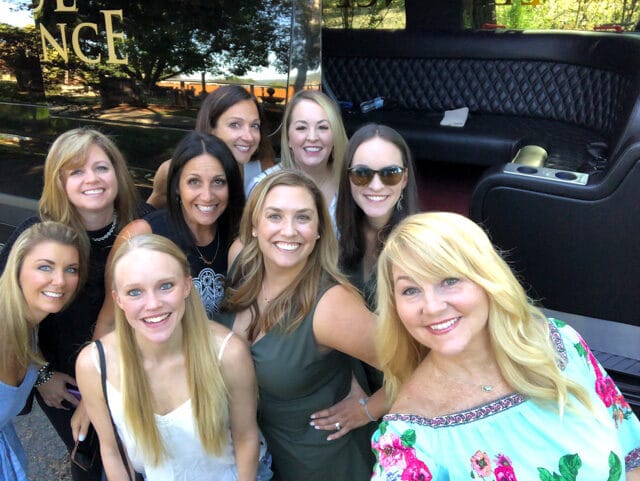 The 10 of us had a fabulous week in Sonoma County and I can't wait to go back. I want to give a thanks to our sponsors: Mediavine, Danish Creamery, Tamron USA, Oriental Trading and Sabra. Also a huge thank you goes to The Girl & The Fig, St. Francis Winery and Jordan Winery for hosting us.
Photo credit for some photos used in this post: Amy from Living Locurto (my co-host).
This post was sponsored by the companies listed above. All opinions and my love of Sonoma County is my own.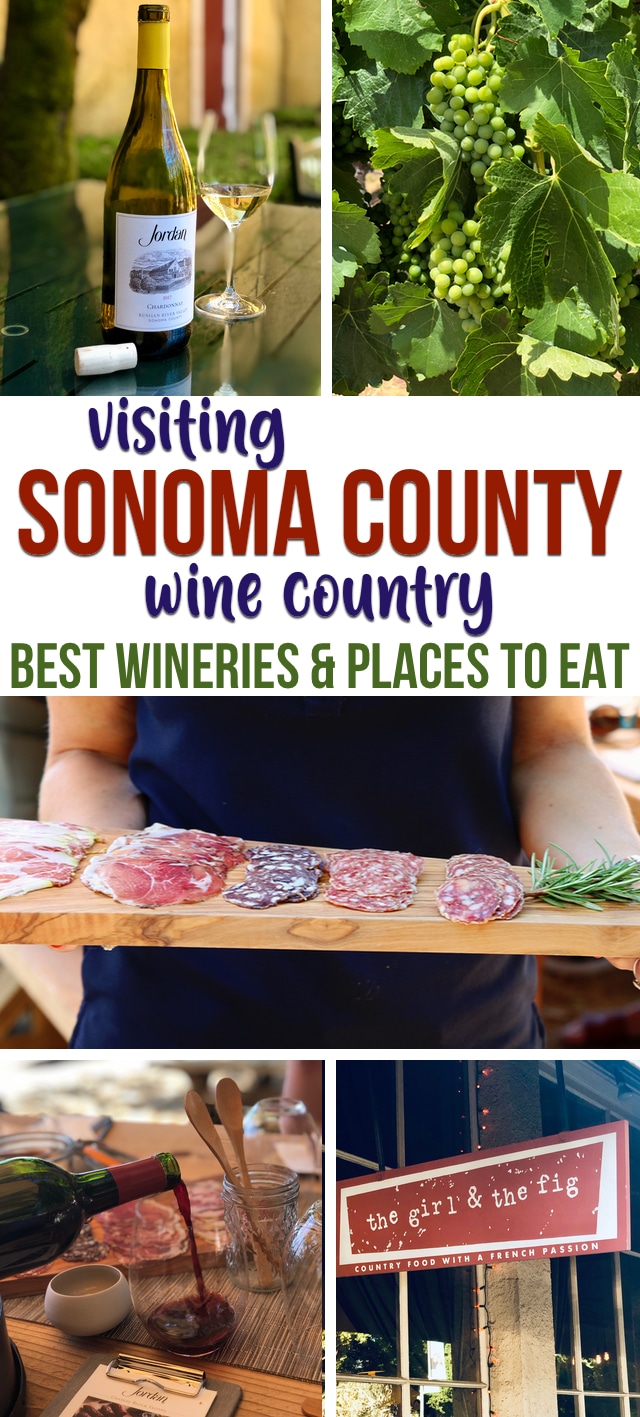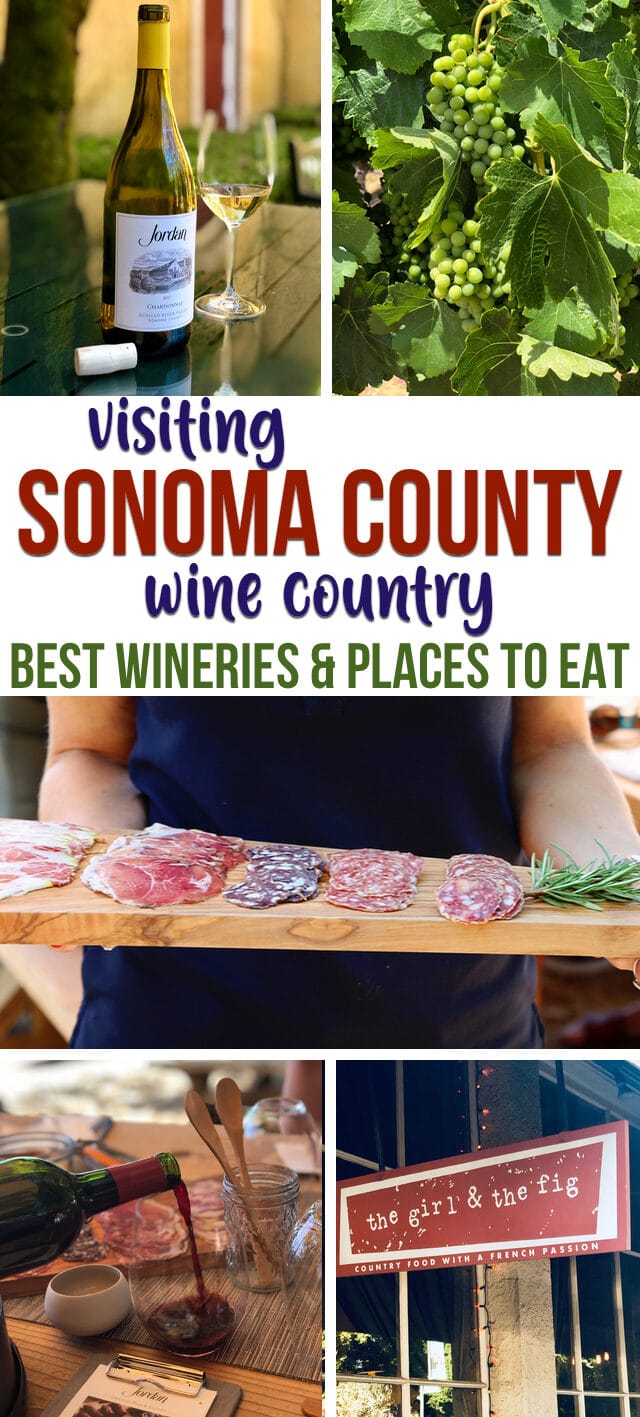 Last Updated on September 10, 2022