This post may contain affiliate links. For more information, read my disclosure policy.
Perfect for when you want a small cookie that's packed with flavor: Toffee Chocolate Chippers! They're a copycat of the old Entenmann's Heath Toffee Chocolate Chip Cookies!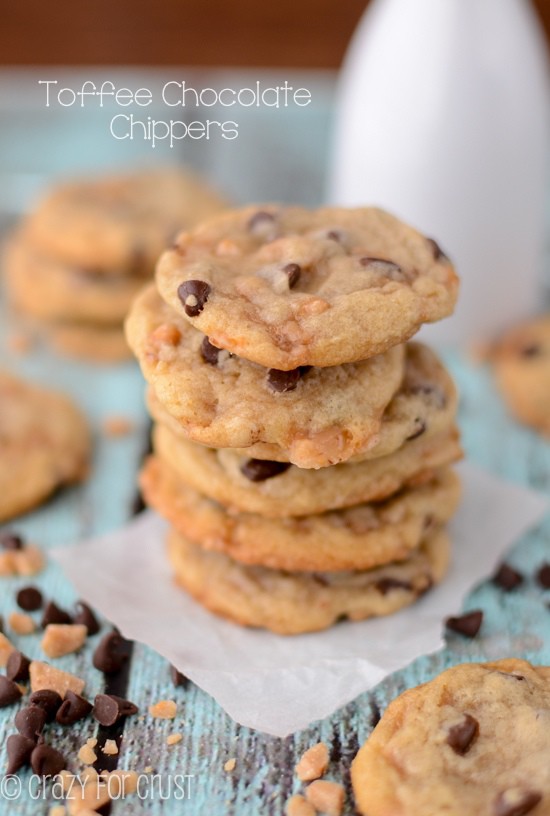 Aren't these cookies just totes adorbs? It's cray-cray how cute they are and they taste totally amazeballs!
Sorry, I had to throw all those words in that paragraph. Because, well, according to this article, I'm not allowed to say them anymore, because I'm over 30.
I know, right? It's just cray.
Sorry, I couldn't help it. Have you read the article? I use at least half those terms on a regular basis, although I must say, I've never said I'll cut a b$%@!. I don't see where I would, although I do like to greet some of my friends as Hey, b$$%@! because, well, that's just how we roll.
I must say, I write the terms more than I actually say them. Except I know, right? because that's just a necessary phrase. It's the Seriously? of the decade. So, if I write them, it's okay to use them…riiiight? Please say yes.
I'm (well) over 30 and I'm going to call my cookies totes adorbs if I want. I'm still going to use amazeballs because it's my favorite adjective. And I know, right? just plays right into my sarcastic nature.
What I'm surprised isn't on the list? Talking in #hashtags, which is something I totally do. I even use the hand signal, and I've got my husband doing it too. #itsjustthewayitis
Okay, so onto the cookies which is probably why you're here and now you're scratching your head and saying Who the heck is this chick?
Remember those Entenmann's Heath Chocolate Chip Cookies? Yeah, these are those. I call them toffee chocolate chippers because they're small like those ones you get at the store in the mall. But they're better than both, because you made them!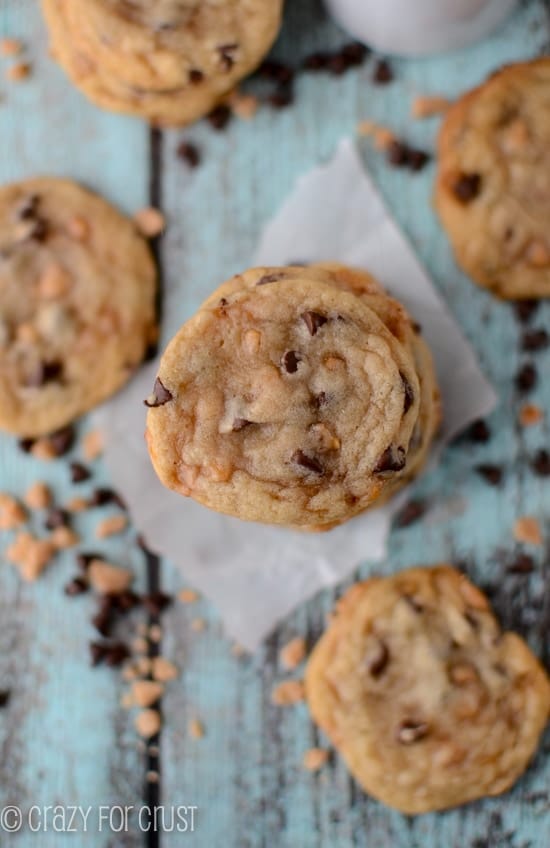 I used to love those cookies and I haven't thought about them in forever. Then one day I was making chocolate chip cookies and threw in some toffee bits. When I ate them I remembered those Entenmann's. I haven't looked for them in the stores recently, but they're no longer on the website so who knows if they still exist. No matter, now you can make them at home.
Built off my Bakery Style Chocolate Chip Cookie recipe, my gold standard, these cookies are the baby version. While the other ones were made with a 1/4 cup scoop, these are made with my teeny-tiny 1 tablespoon cookie scoop. They spread out a little but stay chewy and gooey inside. If you like your cookies the texture of cookie dough but chewy on the outside, these are for you.
I love that they're little because it's easy to just grab one (or two) and not feel guilty about having cookie. They're great for lunch boxes too – kid gets a dessert but it's not too big (and not too small). The batch makes a ton (about 72 cookies), and they freeze fabulously. Place them between layers of paper towels in either resealable containers or gallon size resealable bags and freeze for up to a month. If they last that long.
If you've never put toffee chips into chocolate chip cookies, you're missing out. Why not start today, with this recipe? You won't be sorry!
Like I said…they're amazeballs.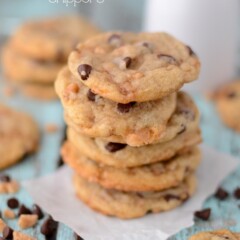 Toffee Chocolate Chippers
Ingredients
1

cup

butter

melted

3/4

cup

granulated sugar

1

cup

light brown sugar

packed

2

large eggs

1

tablespoon

pure vanilla extract

1

teaspoon

baking soda

3 1/4

cups

all-purpose flour

1/4

teaspoon

salt

1/2

cup

mini chocolate chips

1/2

cup

toffee bits

Bit o' Brickle or the kind with chocolate
Instructions
Pour melted butter into an electric mixer fitted with paddle attachment. While still hot, add both sugars and mix on low until combined. Let sit to cool for a few minutes.

While butter mixture is cooling, combine flour, baking soda, and salt in a medium bowl. Stir and set aside.

Turn mixer (with butter mixture bowl attached) on low. Add eggs, one at a time, mixing completely. Mix in vanilla extract. Add flour mixture to the wet ingredients and mix until combined. Stir in chocolate chips.

Important: Cover bowl with plastic wrap and chill dough for at least 4 hours. It must be COMPLETELY cold before you bake it for these to turn out properly.

Preheat oven to 350°. Line cookie sheets with parchment or silpat liners. It's gonna be an arm workout to scoop the dough, but tt's worth it!

Scoop out 1 tablespoon sized balls and place on prepared pans.

Bake for about 8 minutes. They will still look sort of raw, but the bottoms will be golden. Let cool for 5 minutes, and then remove from pans to cool completely.
Nutritional information not guaranteed to be accurate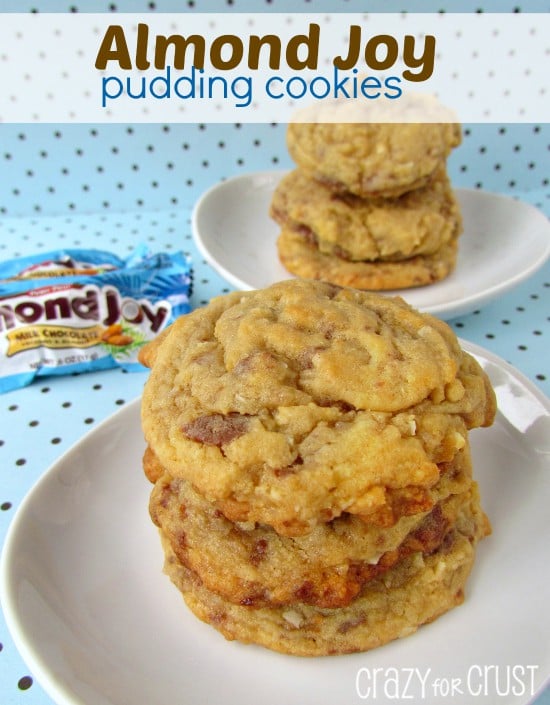 Toffee Pretzel Peanut Butter Cookies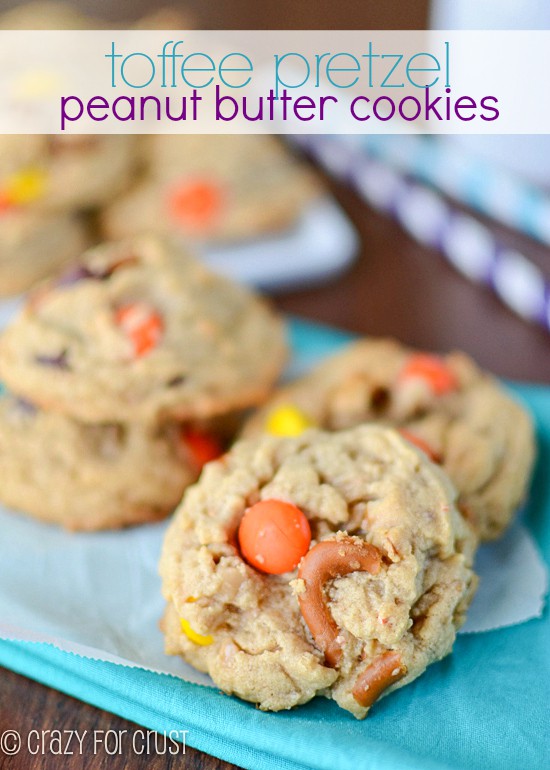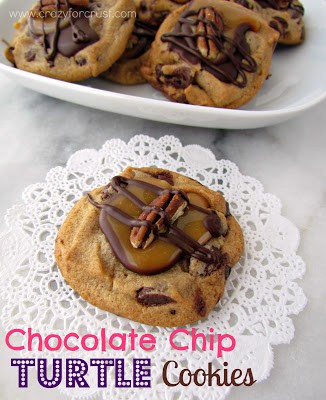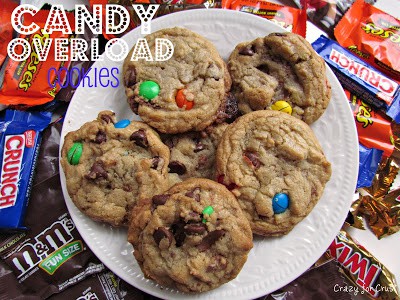 Sweets from friends:
Soft and Chewy Oatmeal Coconut Cookies by Averie Cooks
Giant Chewy Brown Butter Toffee Cookies by Mom on Timeout
M&M Chocolate Oat Cookies by Something Swanky
Last Updated on May 13, 2020