This post may contain affiliate links. For more information, read my disclosure policy.
Peanut Butter Cracker Candy is the ULTIMATE toffee bark recipe with peanut butter and chocolate on top! I've been making this every Christmas for over 15 years and everyone loves it.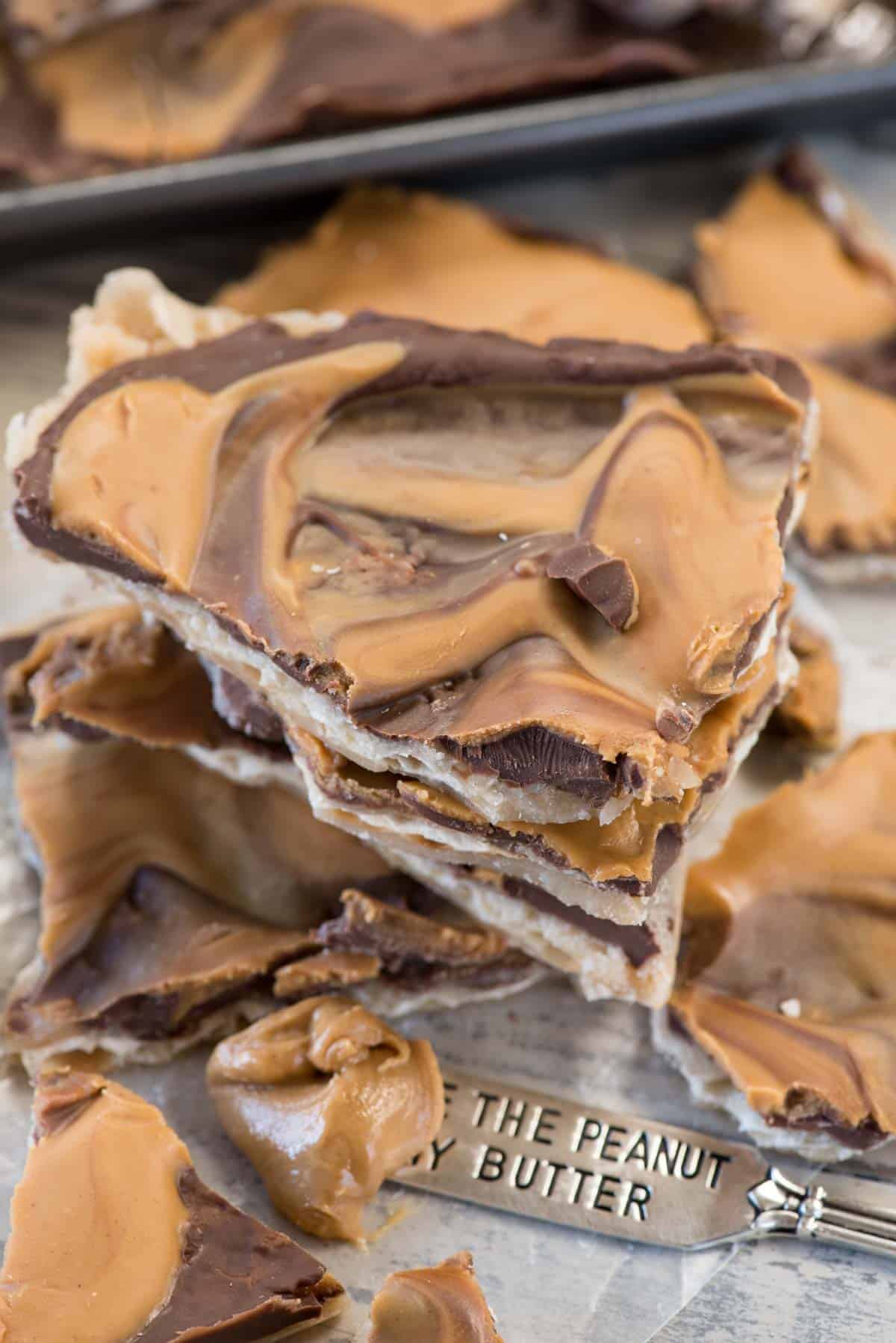 What is Cracker Toffee?
This peanut butter chocolate bark uses a cracker base to give the toffee bark an even bigger crunch when you bite it and crack when you break it! This is one of my favorite toffee bark recipes. It tastes like an even better Reese's cup, just crunchy and more decadent.
Why You'll Love This Recipe
This is a delicious toffee bark recipe that can be made year-round but is a must-have for the Holidays!

The ingredients are very simple, and you probably have most of them in your pantry already. This is a great dessert to make on the fly!

I've been making this recipe for over 15 years so you KNOW it works!
Ingredients in Peanut Butter Chocolate Bark
Matzo cracker sheets-

You can use saltines instead if you wish!

You can usually find matzo in the International Foods aisle. Matzo is an unleveaned bread made from flour and water and is traditionally used during Passover.
Butter –

Unsalted

is what I normally use but you can substitute salted, just omit addes salt.
Granulated sugar – Creates the toffee
Water
Vanilla extract-

Always use pure vanilla for the best flavor!

Chocolate chips – semi-sweet or milk
Peanut butter

– Use creamy peanut butter when making this peanut butter cracker toffee

, and make sure it's a regular no-stir (not natural) peanut butter.
Recipe Swap
When I make peanut butter chocolate bark, I like to use Matzo cracker sheets, they are basically like unsalted saltines (if that makes sense). If you can't find Matzo crackers and want to use regular saltines, then you absolutely can! You can even use Ritz crackers or graham crackers if you want a little extra cinnamon or honey flavor in your bark.
How to Make Cracker Toffee With Peanut Butter
Prepare for baking:

Preheat the oven to 350°F. Line a rimmed baking sheet (around 11×16 sized) with foil and spray with non-stick cooking spray.

Prep and break crackers:

Place Matzo crackers in a single layer on the cookie sheet. Break them as needed so they fit on the sheet, and set them aside.

Make butter mixture:

Place butter in a saucepan and place over medium-low heat. Melt, then add the sugar and water to the pan. Stir everything to combine. Then, place a candy thermometer in the mixture and bring it to a boil. Cook it over medium-low heat until the mixture reaches 255°F. At this part of the process, do not stir it. Let the mixture turn a golden brown on its' own. Once it reaches 255°F, remove from the heat and stir in the vanilla. Pour over the crackers in the prepared pan and spread to coat them evenly and completely.

Bake and distribute chocolate chips:

Bake the toffee bark for 8 minutes. After 8 minutes, sprinkle the chocolate chips evenly over the hot pan. Place the peanut butter chocolate bark back into the oven for 2 minutes or until the chocolate chips start to melt slightly but are still holding their shape.

Heat peanut butter:

During the 2 minutes, heat peanut butter in a microwave-safe bowl for about 30 seconds or until you can pour it.

Drizzle the peanut butter:

Remove the pan from the oven and spread chocolate evenly on top of the crackers. Then, drizzle the peanut butter over the top and swirl with a spatula. Chill to set for at least an hour before serving.

Serve and store:

Break apart and serve. To store, put the bark in an airtight container for up to 2 weeks.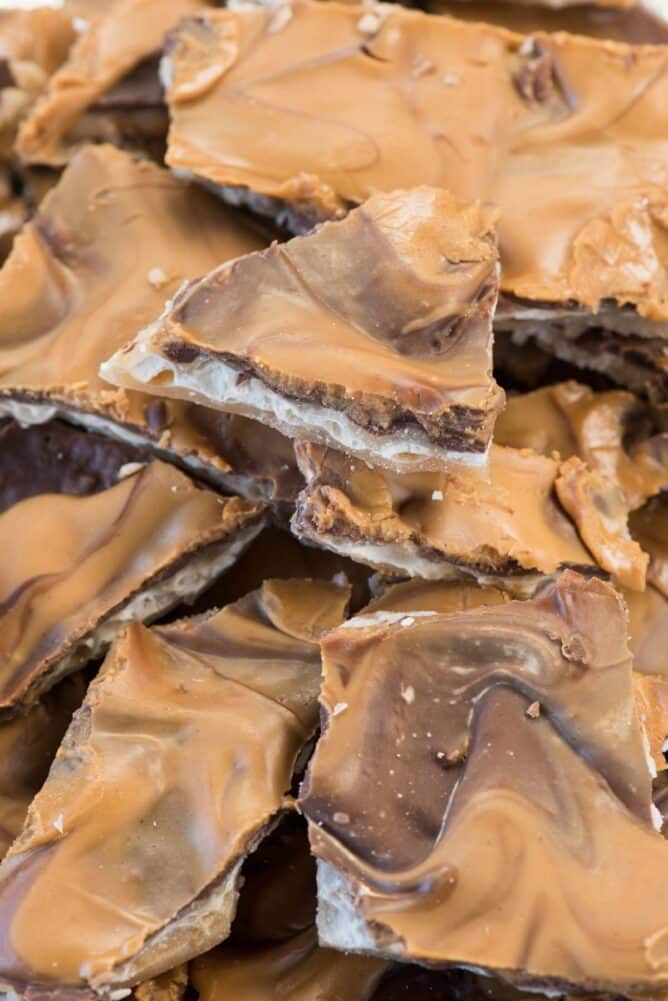 Expert Tips
Use crunchy peanut butter for a little extra crunch.

Don't use this method with white chocolate chips, they won't melt properly during the 2 minutes in the oven.
FAQs
Why is it called Christmas crack?
It is called Christmas creak because it's a dessert that is often served around the Holidays, and it cracks when you break it up!
Can you make cracker candy with white sugar?
I always make toffee with granulated sugar! The flavor will be slightly less rich, but the peanut butter cracker toffee will still turn out just as delicious.
Can you freeze cracker toffee?
Yes, you can freeze this peanut butter cracker toffee. Just be sure it's in an air-tight container. No freezer burn here!
Does cracker toffee need to be refrigerated?
Once set, cracker toffee does not need to be refrigerated; simply store in an air-tight container at room temperature.
Why is my peanut butter cracker toffee soft?
Your toffee could be soft because it was not left in the fridge long enough before serving.
Have You Made This Recipe
Leave a rating by clicking the stars below!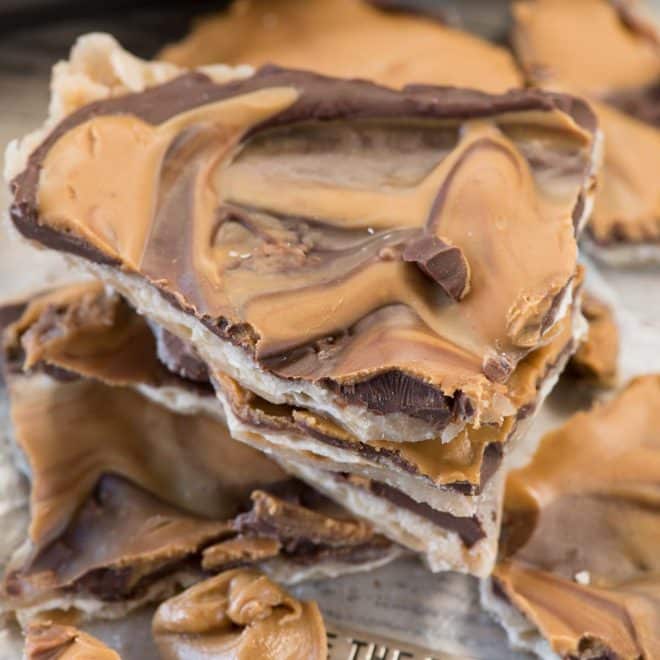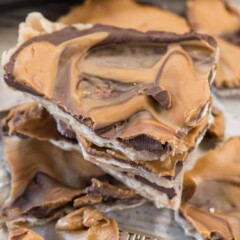 Peanut Butter Cracker toffee Recipe
A crunchy toffee bark made with matzo crackers, chocolate and peanut butter.
Ingredients
4

matzo crackers

(unsalted or lightly salted)

1

cup

(226g) unsalted butter

1 ¼

cups

(250g) granulated sugar

½

teaspoon

salt

2

tablespoons

(30ml) water

1

teaspoon

pure vanilla extract

2

cups

(340 g) chocolate chips

(milk, semi-sweet, or dark)

1

cup

(268g) creamy peanut butter

(not natural)
Instructions
Preheat your oven to 350 °F. Line a rimmed baking sheet with foil, covering the bottom and sides. Spray with nonstick cooking spray. Place a layer of matzo crackers on the sheet, breaking as needed to cover the sides; set aside.

In a heavy 2-quart saucepan, melt the butter over medium heat. Stir in the sugar and 2 tablespoons of water. Bring the mixture to a boil and cook undisturbed over medium-high heat until the caramel mixture is a light golden and registers 255 degrees on a candy thermometer, about 5-7 minutes. Remove from the heat and let cool for 1 minute. Stir in the vanilla and quickly pour over the matzos, using a metal spatula to spread evenly. Bake for 8 minutes.

Remove the bark from the oven and sprinkle with the chocolate chips. Return to the oven and bake just until the chocolate starts to melt, about 2 minutes, then spread the chocolate evenly.

Meanwhile, melt the peanut butter in a microwave safe bowl for 1-1 1/2 minutes, until it is a pourable consistency. Drizzle the peanut butter over the chocolate and, using the handle of a wooden spoon, swirl the chocolate and peanut butter together.

Let the bark cool for 1 hour, then refrigerate until set, at least 2 hours. Break into pieces and serve.
Recipe Notes
Use saltines in place of the matzo
Omit salt if using salted butter
Don't use white chocolate chips – they won't melt properly
Make sure you're using a no-stir peanut butter
Recipe Nutrition
Serving:
1
serving
|
Calories:
798
kcal
|
Carbohydrates:
79
g
|
Protein:
9
g
|
Fat:
53
g
|
Saturated Fat:
26
g
|
Polyunsaturated Fat:
5
g
|
Monounsaturated Fat:
14
g
|
Trans Fat:
1
g
|
Cholesterol:
61
mg
|
Sodium:
142
mg
|
Potassium:
334
mg
|
Fiber:
2
g
|
Sugar:
60
g
|
Vitamin A:
709
IU
|
Calcium:
57
mg
|
Iron:
1
mg
Nutritional information not guaranteed to be accurate
Other Bark Recipes
Peanut Butter Cracker Toffee is a Christmas Crack recipe with peanut butter and matzo crackers or saltines! This is our go-to candy recipe – everyone LOVES it!
Last Updated on November 17, 2023