This post may contain affiliate links. For more information, read my disclosure policy.
These Toasted Coconut Rice Krispie Treats have NO butter – just coconut oil. And they're dressed in pink for Breast Cancer Awareness Month!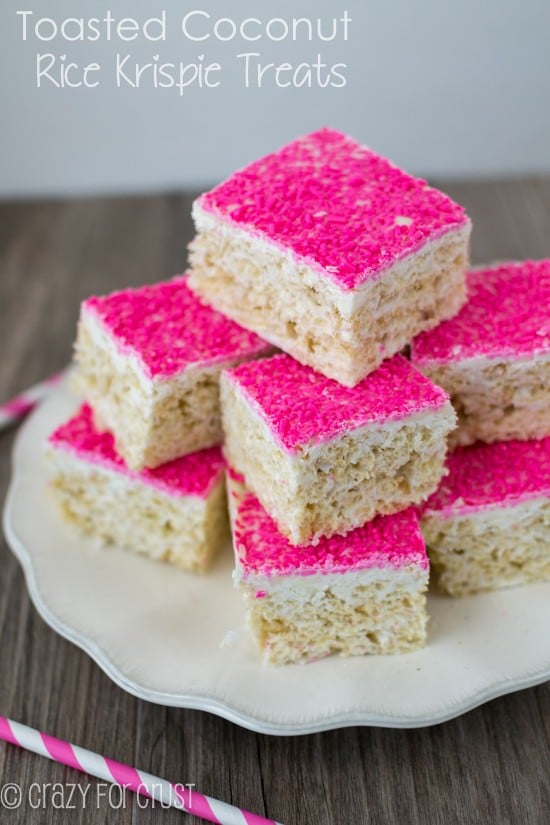 Would it be weird to start a post with how much I love my chest? Yes? Okay. Let's start over.
October is Breast Cancer Awareness month, as I'm sure you all know. I think that breast cancer touches everyone in some way. I don't know a single person who doesn't have a sister, mother, grandmother, aunt, daughter, or friend who has had the disease. Personally, I my step-mother in-law and a good friend are both survivors.
In fact, one in eight women will be diagnosed in their lifetime. That's really a lot of women. Breast cancer is the most common cancer in women, and it's also the second leading cause of death.
If that's not an epidemic, I don't know what is, really.
I know that so many strides have been made in conquering the disease, but it's estimated that over 220,000 women will be diagnosed in the United States each year, and over 40,000 of them will die. So strides yes…but it's not enough.
One of the biggest factors in survival of breast cancer is early detection. This is why self-checks and doctor visits and mammograms are so important.
Breast cancer is very close to the heart of my friend Ashton, which is why we're posting about Breast Cancer Awareness month today. October is almost over, and with the distraction of the holidays and Halloween, sometimes our own personal health can get overlooked.
I'm a prime example of that. I am not going to admit how long it's been since I had an official doctor's visit. This post is to get ME to practice what I preach!
Breast cancer is genetic, and that's the kind that can't always be avoided. But many risk factors for breast cancer (or any kind of cancer, and heart disease too) can be avoided. Drinking too much alcohol, not exercising enough, and eating poorly all increase your risk of breast cancer.
Now, I run a dessert blog. So it's kind of hard for me to tell you DON'T EAT SUGAR! But I can tell you that moderation is key. I practice that (or try to) all the time. I have to, with this job.
And, you can also make little substitutions that can help. Just a changing a few ingredients can make something a little better (not healthier; just less bad).
Enter: Toasted Coconut Rice Krispie Treats…made without butter.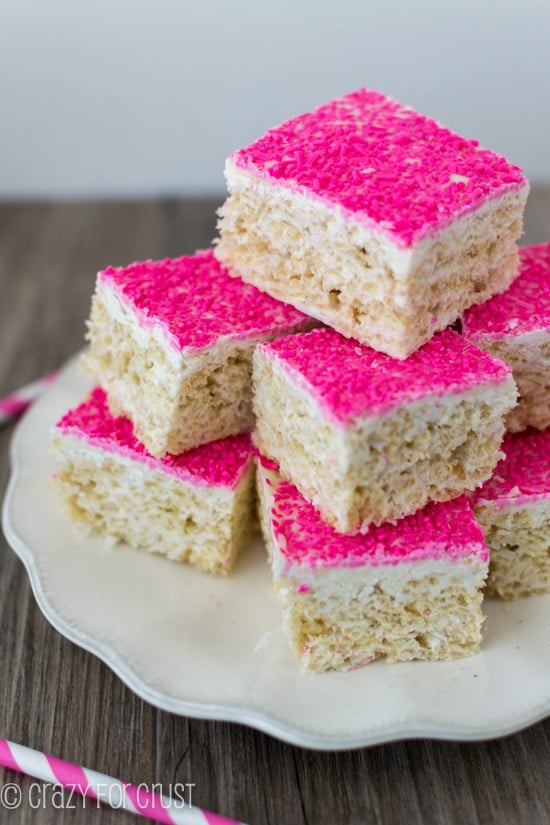 These rice krispie treats are made with coconut oil, not butter. Coconut oil has so many benefits that butter doesn't have – and it's better for you. I subbed all of the butter for coconut oil in these rice krispie treats, and guess what? I liked them better than regular ones. To me, they're less greasy.
I also added some toasted coconut to the rice krispies, and then to make them pink for breast cancer awareness, I added some white chocolate infused with coconut oil, and pink sprinkles.
Now, are these healthy? No. But are they a better choice, when faced with regular rice krispie treats? Yes.
And they're pretty.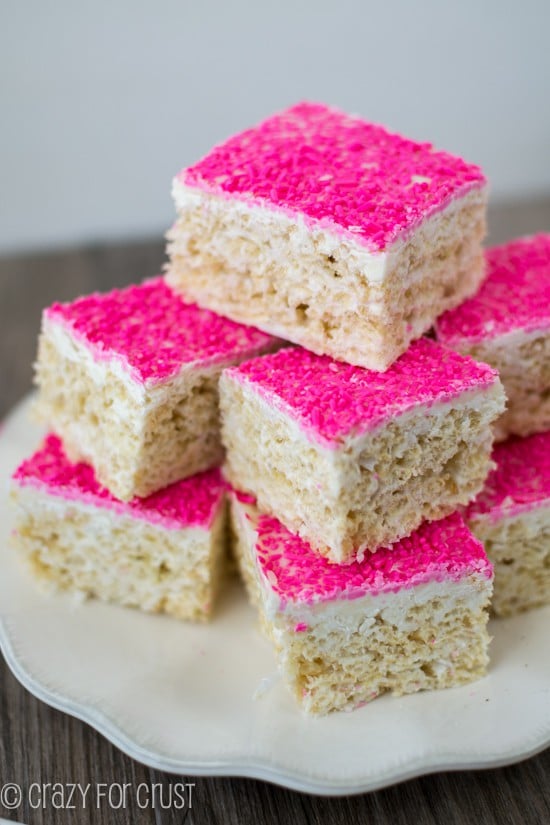 So go feel your ta-tas. Then call your sister and your mom and make sure they do it too. And enjoy a rice krispie treat for all your hard work. 🙂
Go check out Ashton's Breast Cancer Awareness Recipe today too!
**I was informed that coconut oil is not necessarily better than butter. It would seem that opinions on that are conflicting. This source says it has health benefits. This source says it doesn't. I am not a doctor or a trained dietician. Please be sure to consult one of those before concluding for yourself the healthy benefits of any food. And again, moderation is key.**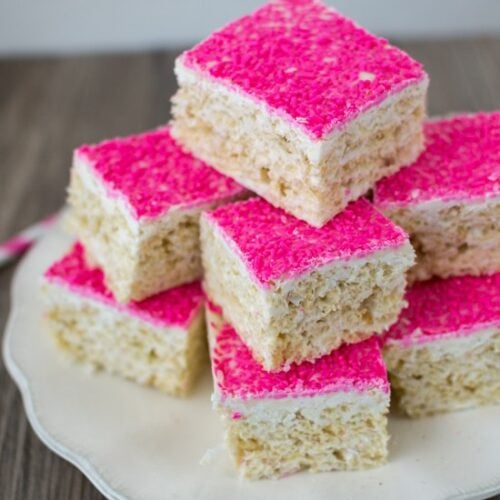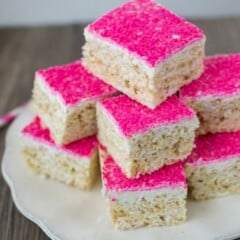 Toasted Coconut Rice Krispie Treats
Ingredients
2

cups

shredded coconut

6

cups

Rice Krispie cereal

40

large marshmallows

1/4

cup

+ 1 teaspoon coconut oil

divided

1 1/2

cups

white chocolate chips

Sprinkles

any color
Instructions
Line a 9x9" baking pan with foil and spray with cooking spray.

To toast your coconut: place coconut in a medium saucepan over low heat. Stir constantly for just a few minutes until coconut starts to brown. Be careful - it burns very quickly. Do NOT walk away from the stove. As soon as it starts to brown, remove it from the heat and transfer to a large bowl.

Add your cereal to the same bowl with the coconut. Stir to combine.

Add marshmallows and 1/4 cup coconut oil to a second large bowl. Microwave for 1 1/2 to 2 minutes, stirring every 30 seconds, until marshmallows are melted. (Note: if your coconut oil is solid and you cannot scoop it out, heat the jar (no lid) in the microwave for about 15 seconds. You should be able to scoop it then.)

Immediately pour the cereal/coconut mixture into the marshmallow mixture and stir to combine. Pour into prepared pan. Spray your hands with cooking spray and press to fit.

Note: these are thick krispie treats. I like them thicker. If you want a thinner treat, use a 9x13" pan.

Once the krispie treats are in the pan, add the white chocolate chips to a bowl. Melt on 50% power in 30 second increments almost melted. Stir in 1 teaspoon coconut oil and then continue to melt and stir until smooth. Spread evenly over krispie treats (an offset spatula makes spreading easy). Cover with desired color sprinkles! Chill until firm then cut into bars. Store at room temperature.
Nutritional information not guaranteed to be accurate
Click here to see more of my ULTIMATE COCONUT recipes!
Banana Cream Pie Krispie Treats
Check out my Crazy for Krispie Treats pinboard full of new flavors of your favorite easy treat!
Sweets from friends:
Pink Ribbon Breast Cancer Baking Ideas by Love from the Oven
Pink Trash Popcorn by Something Swanky
Berry Cobbler Krispie Treats by Mallow & Co.
Breast Cancer information from here.
Last Updated on February 2, 2023