This post may contain affiliate links. For more information, read my disclosure policy.
This post has been sponsored by Little Debbie®. All opinions are 100% my own.
I know, it's another no-bake dessert recipe, but can you blame me? I just can't get enough!! This one combines some of my favorite things: pudding, no-bake cheesecake, whipped topping, and Little Debbie® Swiss Rolls!
That's right, my friends. I made you a Swiss Roll Layered No Bake Dessert! It has cut up Swiss Rolls for the crust, no-bake cheesecake and chocolate pudding for the filing, and tons of whipped cream.
Pretty much, this dessert is my heaven.
When my friends and I turned 16 we used to go cruising. No, not with a boat; we'd cruise "The Avenue" in our cars. We'd all pile into my boyfriend's 1960s-era Impala and we'd drive back and forth from San Carlos to San Bruno (in the Bay Area) along El Camino. Every city had it's stop: the fast food joints, the coffee place, the hot spot, the grocery store. The grocery store was my favorite spot, why? Because that's where I'd get my Swiss Rolls.
Every Friday and Saturday night my friends and I would pick up snacks and continue cruising. Sometimes we'd head to the beach or just park at the local coffee shop where all the people gathered. Sometimes we'd end up back at a friend's house and watch movies. But pretty much, for hours every weekend, we cruised…and ate Swiss Rolls.
Man, those were the days, weren't they? I want to go back to that girl and say, "Enjoy it while it lasts, being a grown up is hard!"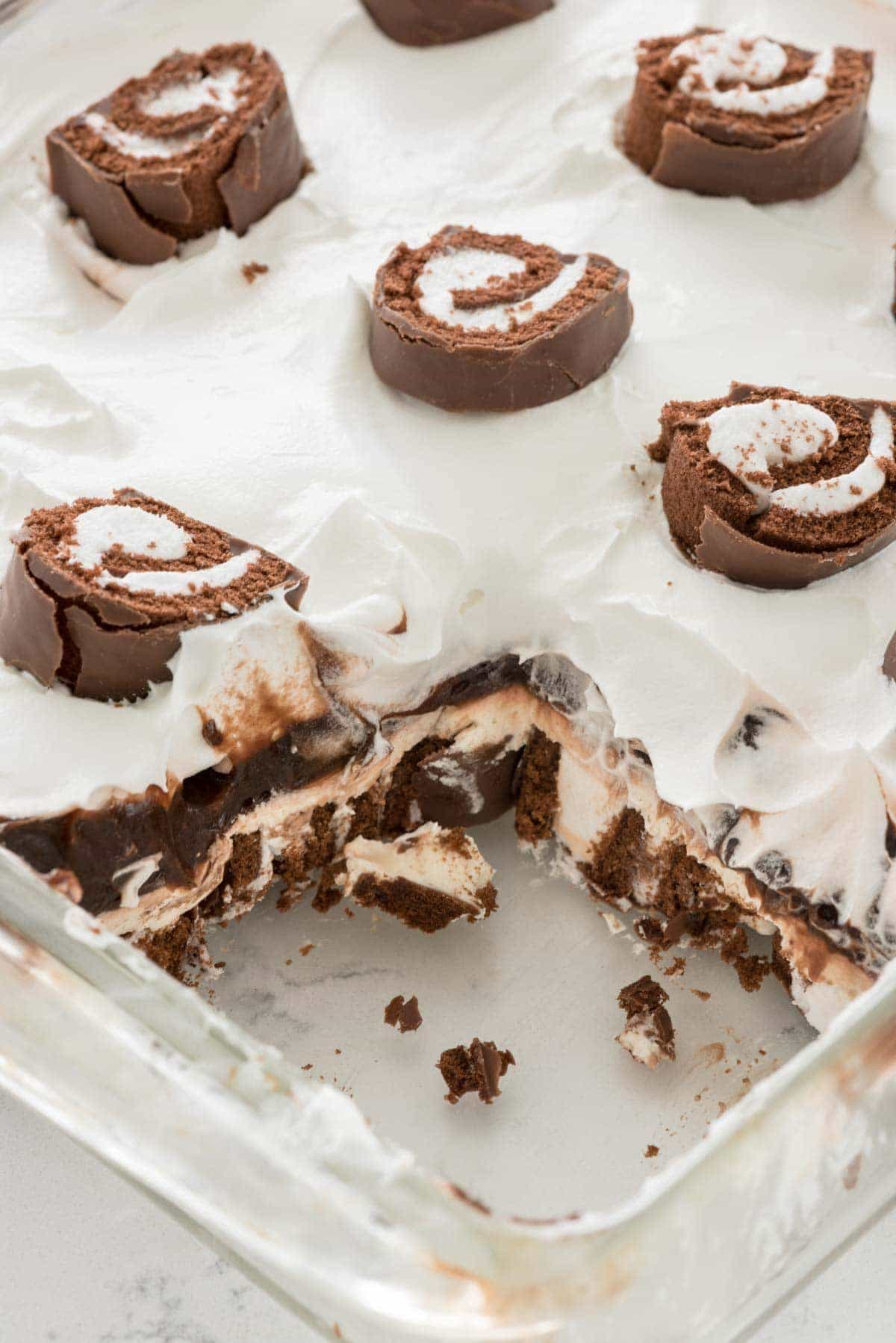 So, in my quest to bring you the next best lush dessert recipe, I decided to revise my love of these little cakes. After all, it's the taste you never outgrow, right? When I opened the package and took a bite I wondered where these little cakes had been for the last 20 years.
(They've been at the grocery store. Calling my name. Weeping that I haven't snatched them up…which I'll never not do again, especially since Jordan's now in love with them too.)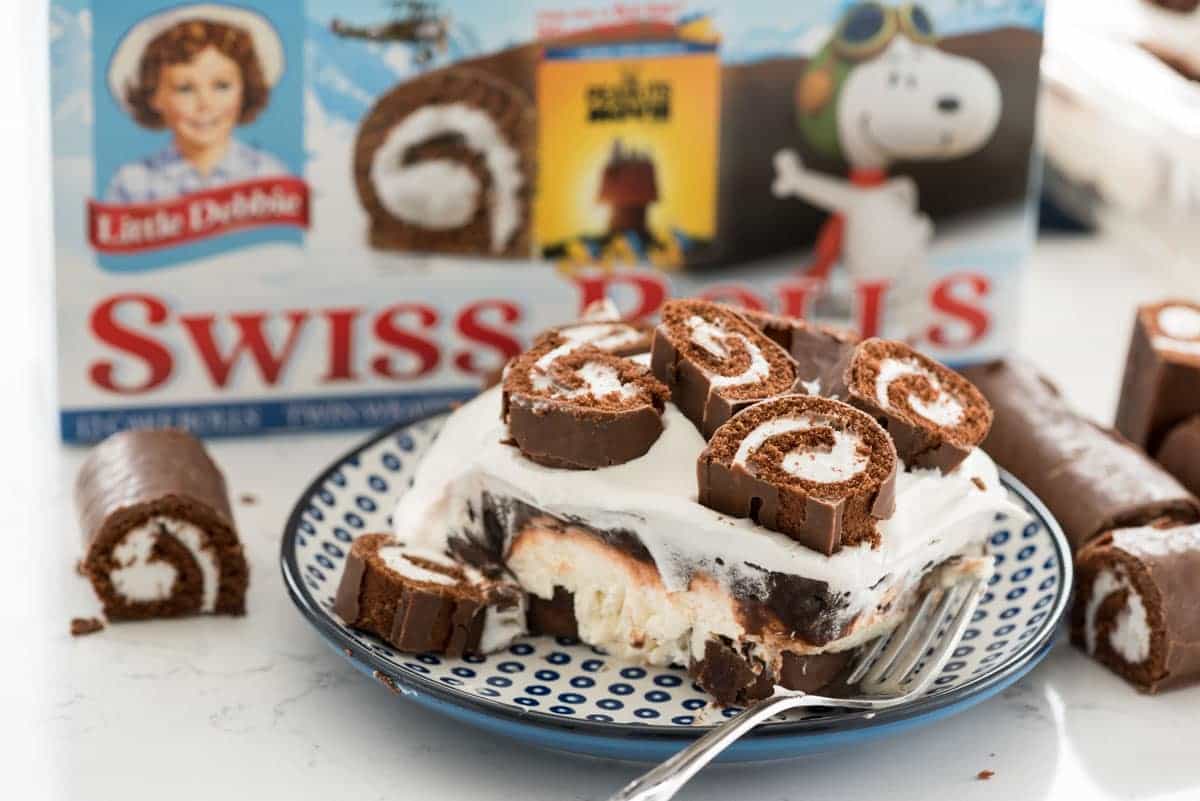 What's your favorite Little Debbie® baked treat? What sweet memories do you have with these snacks? I'm sure you have a few, since the company is a family run bakery that's spanned three generations and run for over 80 years. I think that my love of the Swiss Rolls preempted my love of cake rolls, what do you think?
Let's break down this recipe, because it's a really, really good one.
Layer 1: sliced up Swiss Rolls as the crust of the cake.
Layer 2: no-bake cheesecake.
Layer 3: chocolate pudding.
Layer 4: a fluffy layer of whipped topping or whipped cream (your choice) topped with more sliced Swiss Rolls (of course).
If this was one of those naming contest posts, I'd submit "Layers of Heaven" as my recipe title.

These easy no bake layered dessert recipes are perfect for potlucks and parties. They come together in minutes and feed a crowd and everyone loves them. Plus, by serving this Swiss Roll version at your next party, you're sure to spark some memories, which is always a good thing!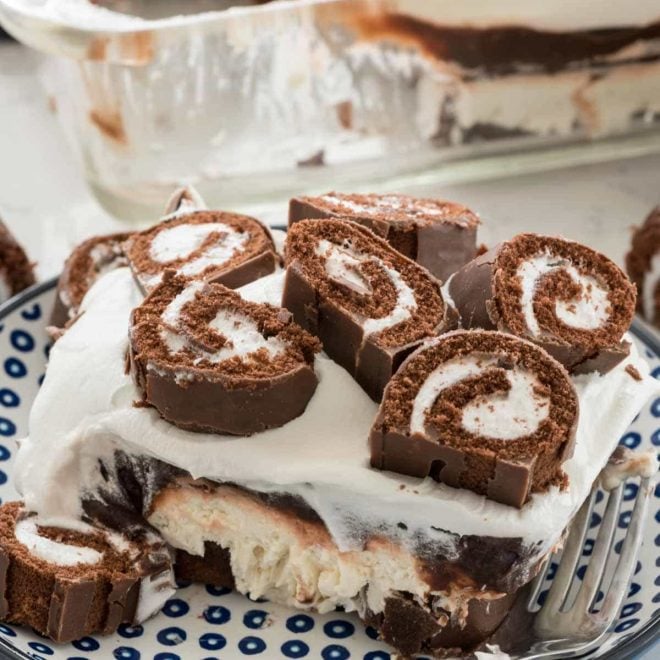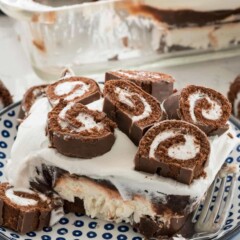 Swiss Roll Layered No Bake Dessert
This Swiss Roll Layered No Bake Dessert is a dessert lush made with Little Debbie Swiss Rolls, pudding, no bake cheesecake, and lots of whipped cream! It's a family favorite and is perfect for potlucks and parties!
Ingredients
15

Little Debbie® Swiss Rolls

from two 12-count boxes

8

ounces

cream cheese

softened

1/4

cup

granulated sugar

1

teaspoon

vanilla extract

1

8 ounce container Cool Whip

1

3.4 ounce box instant chocolate pudding

1 1/2

cups

milk
Instructions
Unwrap about 10 or 11 of the Swiss Rolls and cut each roll into 5 pieces. Line the bottom of a 9x9" pan with the slices of cake.

Beat cream cheese, sugar, and vanilla extract until smooth. Fold in half the container (about 1 1/2 cups) of Cool Whip. Spread carefully over the Swiss Roll slices.

Whisk the pudding with the milk and let it sit for a few minutes to thicken. Spread it evenly over the cream cheese layer. Top with the remaining cool whip. Cover and chill for at least 4 hours before serving.

Before serving, top with another slices of Swiss Roll.
Nutritional information not guaranteed to be accurate
Take a minute to visit LittleDebbie.com for more recipes! And join the Little Debbie® social media giveaway by posting an image of your family recipe to Instagram with the hashtag #SweetMemoriesGiveaway for a chance to win $1,000.
Connect with Little Debbie:
Online / Facebook / Twitter / Pinterest / Instagram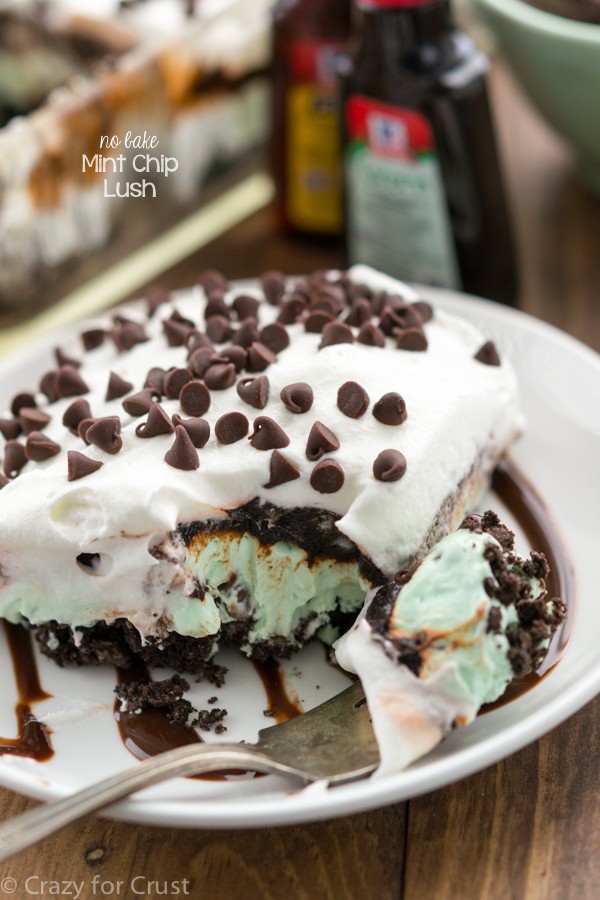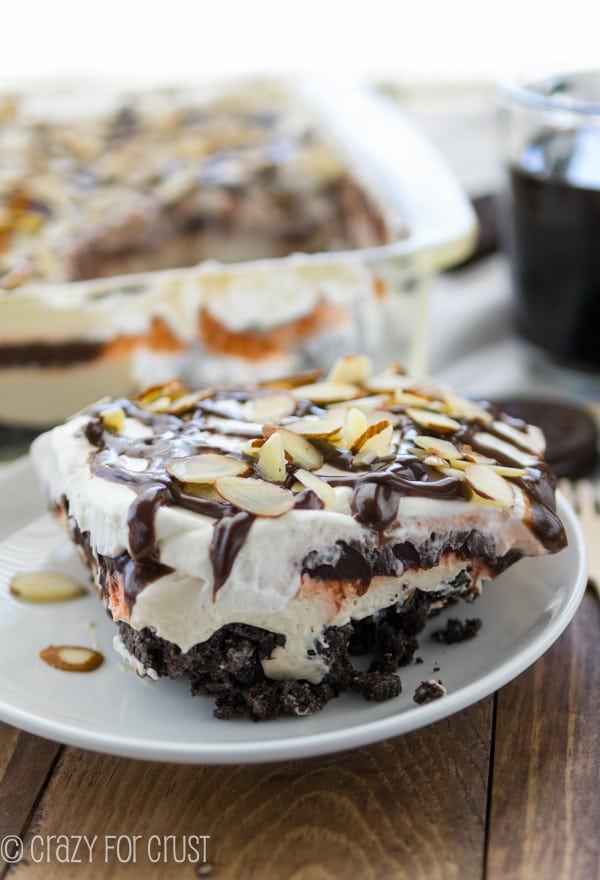 Find more layered desserts in my 21 MUST MAKE No Bake Layered Dessert Lush Recipe Collection!
This post has been sponsored by Little Debbie®. All opinions are 100% my own.
Last Updated on August 21, 2018