This post may contain affiliate links. For more information, read my disclosure policy.
Now this? This was my mom's birthday cake. It's a Snickers Poke Cake which means that it's a chocolate cake poked and filled with caramel and peanuts, then topped with a nougat frosting.
Um, best birthday cake ever, don'tcha think?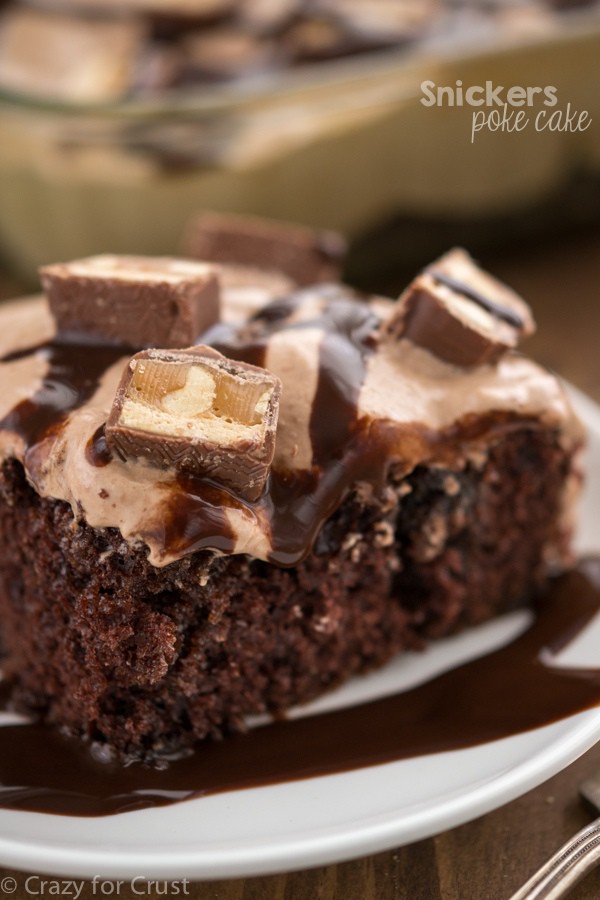 Okay, so speaking of moms, I want to talk to y'all about something that I've been not understanding lately. Is it just me or do people not abide by the "if you can't say anything nice" rule anymore?
My mom (and dad) always taught me if you can't say anything nice, don't say anything at all. Don't like something? Keep your opinion to yourself. Don't bad mouth or cut people down; live by the golden rule to do unto others.
It seems to me that either (1) people aren't teaching that very much any more or (2) the internet makes people think that rule doesn't apply to them. Social media and the internet give these people a place to hide behind; they forget that even though they're on their computer they're still talking to a person.
If you're a blogger you know exactly the people I'm talking about. They're the ones who leave comments like "I hate this, it's disgusting," on a post that you worked so hard on.
They're the people that, instead of being able to understand sarcasm or a joke, tell you you're stupid for joking around or that your blog is stupid because you talk too much.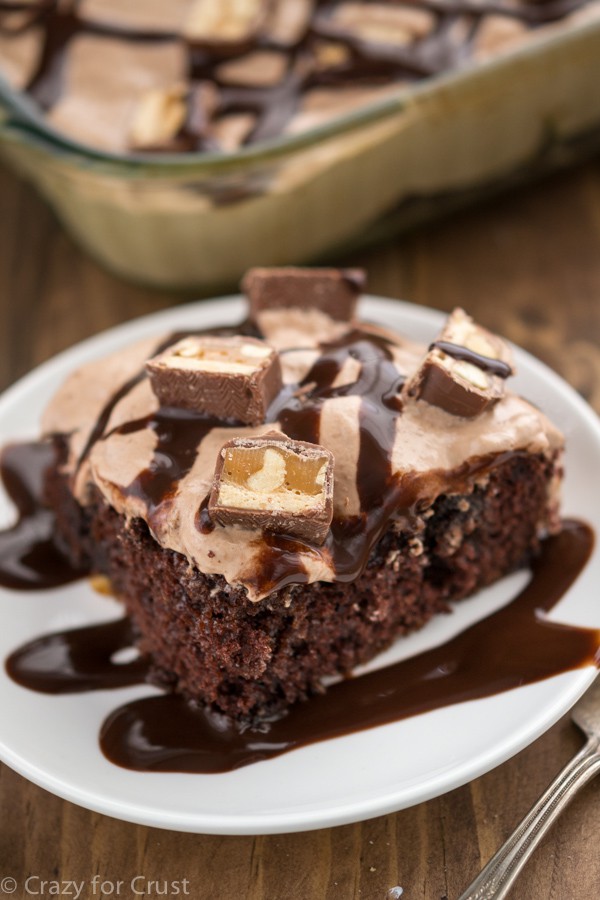 The biggest offenders are often the ones on Facebook. I gotta say, I have a love hate relationship with Facebook. It's great for catching up with old friends, sharing photos, and for getting traffic to my blog. But I swear, posting food on Facebook brings out the trolls x1000.
I asked a fun, silly question the other day about what kind of ice cream topping people like. Most people played along or just scrolled on past. One person commented "Who cares? What's the point of this?"
The point is to have fun. Remember what that's like?
Or, the people that comment on desserts, like this Snickers Poke Cake or any other dessert they deem "too sweet" or "a heart attack waiting to happen" or "gross." Or they say that they "hate that flavor". Why even say it? Would you talk that way to your mom? Wait. They probably DO talk that way to their mom.
And, as I found out last week, troll shaming doesn't just happen on Facebook. People create whole Instagram accounts to publicly shame people (aka food bloggers) that they think are wrong, stupid, or they are jealous of. I'm not even going to link to them, because I don't want to give them the satisfaction and views. It makes me sad that people can be so unhappy in their lives that they have to cut other people down.
Anyway, if you're stumbling over this post and happen to not be one of my fabulous loyal readers or a fellow blogger, first welcome to my blog. Second, I read your comments. I hope you like this cake, but if you don't…you can just skip to the next pin.
xoxo

Okay, so now that that's off my chest (thank you for letting me pile it on), let's talk about this OMG fabulousness that is the Snickers Poke Cake.
Have you had a poke cake before? They're also known as Better Than Sex Cakes, although, well. You can probably guess what I would say about that if you were my girlfriend and we were drinking wine and eating cake.
Hence, I call them Poke Cakes.
Anyway, a poke cake is a cake made in a 9×13″ baking dish. I used a chocolate box mix for this cake, but you can use your favorite from scratch chocolate cake. (That link is for cupcakes that would work fabulously as a cake.) Once the cake is baked, while it's still hot, you poke a bunch of holes in the top with the back of a wooden spoon.
The point of doing that is so you can pour some ooey gooey stuff over the top. #cakeforthewin
Sometimes a poke cake is made with pudding on top, sometimes sweetened condensed milk. For this Snickers version, I used caramel ice cream topping and chopped peanuts. They soak into the cake as it cools and gives it a nice gooey texture and a little crunch from the nuts.
Once the cake cools completely, you make the star of the show: the nougat frosting. No Snickers copycat mashup would be complete without nougat! The frosting is made from a jar of marshmallow fluff that gets stirred into melted chocolate chips, and then a container of Cool Whip is carefully mixed in to make it spreadable. Spread that amazingness all over the top of the cake, drizzle it with chocolate sauce, and top it with sliced mini Snickers.
And you have the best cake in the whole wide world.
(Oh, and remember the nice thing. Cool Whip is kind of necessary in this recipe. You can try it with whipped cream, but I had to stir it a lot to get the thick fluff mixture smoothed out into the whipped topping. A whipped cream would break, so I wouldn't try it. Plus…if you're eating marshmallow fluff is whipped topping that bad?)
Again: best cake in the world.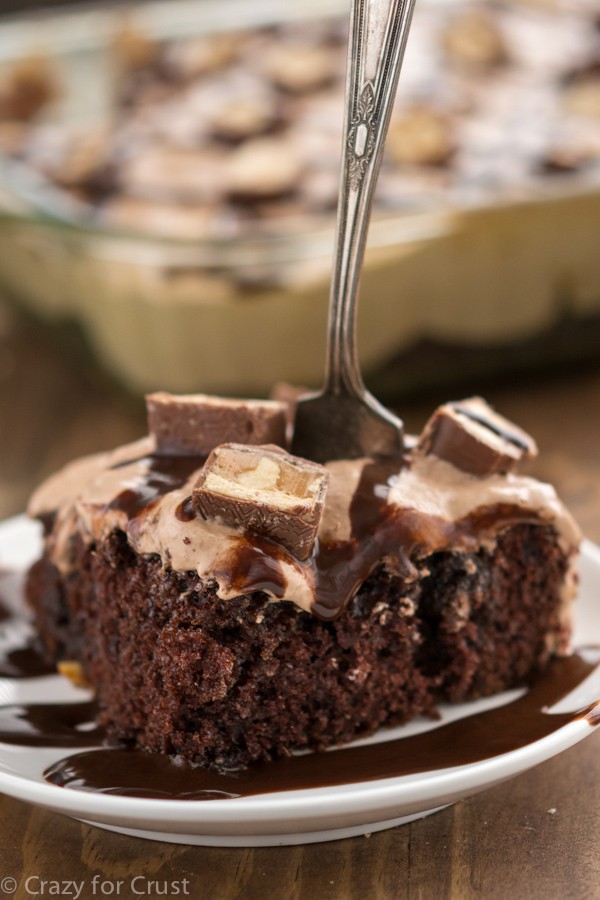 Best part? My mom loved it. <3 you mom!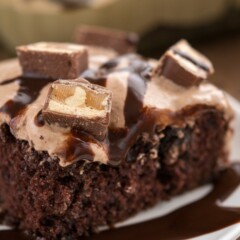 Snickers Poke Cake
A chocolate cake is poked and filled with caramel and peanuts and the whole cake is frosted with a nougat frosting. It's a Snickers Bar in cake form!
Ingredients
1

box chocolate cake mix

for 9x13" pan, plus ingredients to make the cake

1

approximately 12.25 oz jar jar caramel ice cream topping

1

cup

finely chopped peanuts

1 1/2

cups

milk chocolate chips

2

teaspoons

vegetable oil

1

7 ounce jar marshmallow cream/fluff

1

8 ounce container Cool Whip

Mini or Fun Size Snickers

for garnish

Chocolate sauce

for garnish
Instructions
Make the cake according to box instructions for a 9x13" pan size cake. Bake until a toothpick tests done. While the cake cools slightly, pour the caramel into a small bowl or measuring cup and heat for 30 seconds. Stir in peanuts.

Using the back of a wooden spoon, poke several holes in the cake, at least 20-30 holes, all over. Pour the caramel/nut mixture evenly over the cake. Let the cake cool completely before continuing.

Melt chocolate chips and vegetable oil in a large, microwave safe bowl on high in 30 second increments, stirring between each, until melted and smooth. The oil is to help the chocolate chips melt without seizing. You can also use shortening.

Once the chocolate chips are melted, stir in the marshmallow fluff. It's very sticky and thick!

Add the Cool whip to the chocolate mixture and stir with a wooden spoon until combined. Mixture will be hard to mix - but it'll get there eventually - and may be a little lumpy. Spread the Cool Whip mixture over the cooled cake. Chill for several hours before serving so the flavors can meld together.

Top with sliced Snickers and chocolate  sauce for garnish. Store in refrigerator for up to 4 days.
Nutritional information not guaranteed to be accurate
Snickers Stuffed Peanut Butter Cookies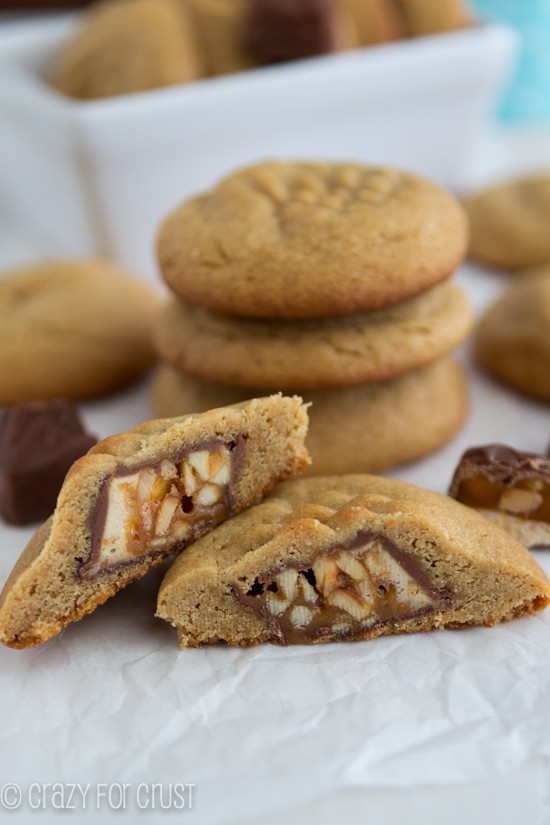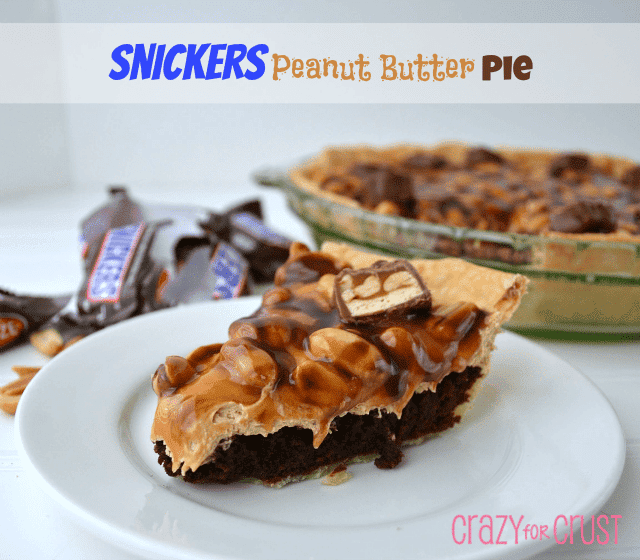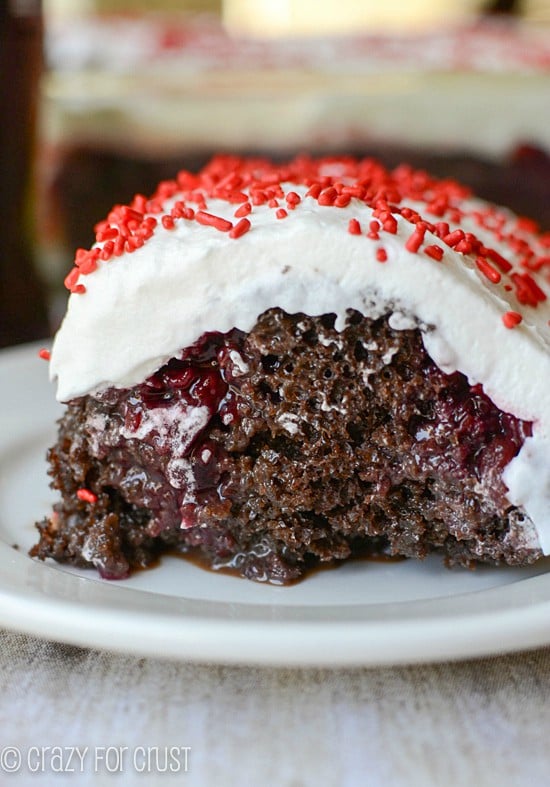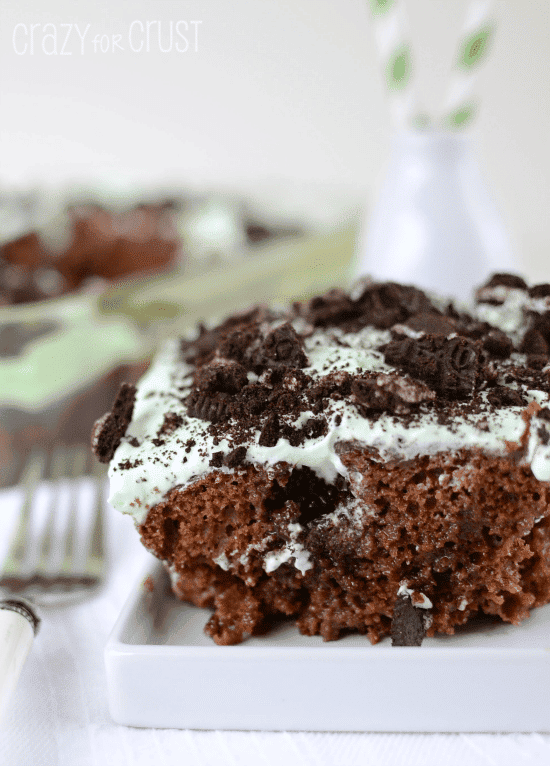 Sweets from friends:
Lemon Poke Cake by Something Swanky
Cannoli Poke Cake by Life, Love, and Sugar
Banana Carmel Poke Cake by Shugary Sweets
Last Updated on August 21, 2018