Snickerdoodle Apple Cobbler
This post may contain affiliate links. For more information, read my disclosure policy.
Snickerdoodle Apple Cobbler – This EASY apple cobbler recipe is topped with snickerdoodle cookies instead of crumble. It's the perfect fall dessert recipe!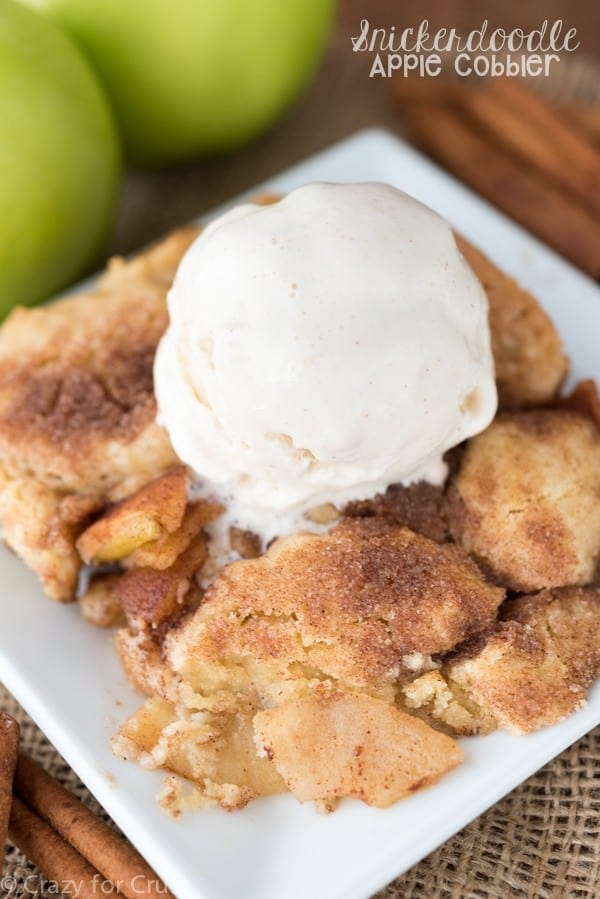 I loooooove apple season. I really think it's my favorite time of year. I can never get enough apple recipes. In fact, this is just one of a string of several I have in my queue and in my head. The possibilities for baking and cooking with apples are endless.
When KitchenAid came to me asking me to make you an apple recipe I had so many ideas. Then, all at once, my sugar cookie recipe popped into my head because I was thinking about snickerdoodles. And I realized that snickerdoodles and apple would be the perfect pairing.
That lightbulb moment resulted in this Snickerdoodle Apple Cobbler and oh my. Sometimes I'm right about flavor pairings and sometimes I'm riiiiiiight, if you know what I mean.
I was totally riiiiiight this time.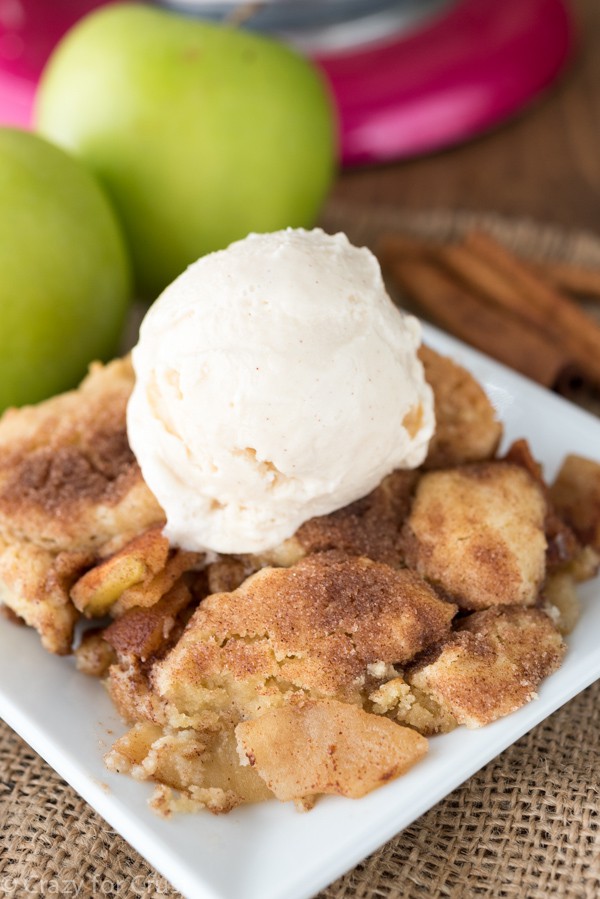 You want to know the funniest thing? People are shocked when they learn I have two KitchenAid Stand Mixers. They're either shocked because why would anyone have two mixers (I don't know, because they bake for a living?) or they shout "You have two mixers!" in a voice that makes me think they think I didn't know I have two. Like somehow the first gave birth in the night and all of a sudden there are two full grown mixers on my counter.
(I've gotta say, my mixer is my #1 most used appliance. Having two has saved my behind more times than I can count, especially when I was writing my book.)
Here are the two little bundles of joy, working together to make this cobbler: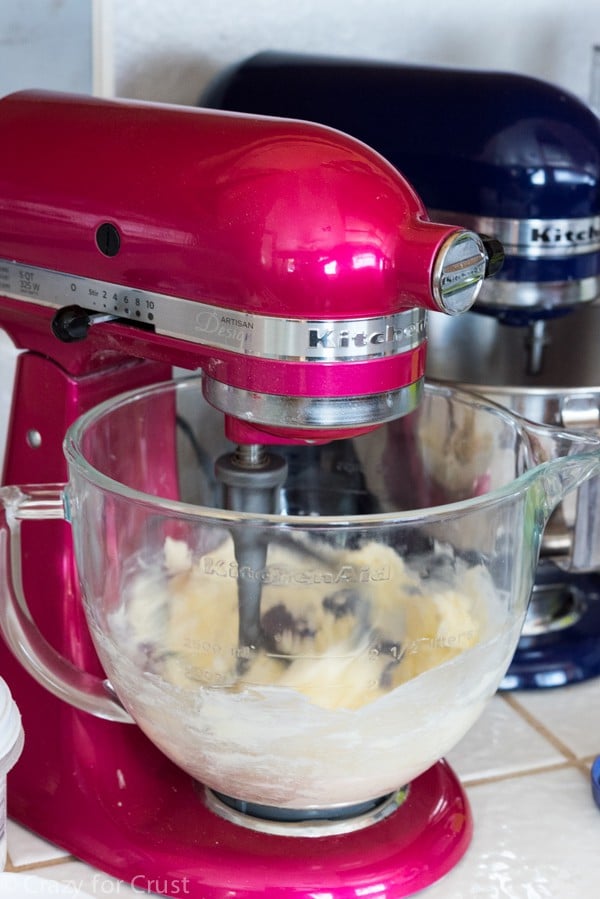 This cobbler combines my favorite sugar cookie recipe with my favorite way to eat apples: in pie! KitchenAid and Geoffrey Zakarian are teaming up this month to celebrate all things apple and I'm helping to spread the word. They're having a contest (see more info below the recipe) and you could win a suite of KitchenAid Black Stainless Steel Appliances and a private cooking lesson with Geoffrey Zakarian!
Until you win the contest, you're stuck with me giving you a private virtual cooking lesson on how to make Snickerdoodle Apple Cobble. Ready??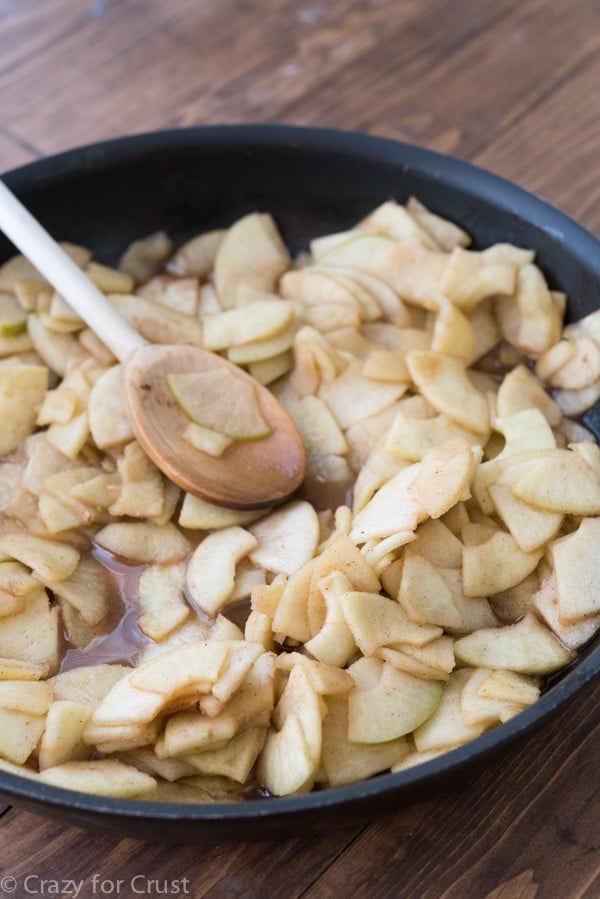 The secret to pretty much all of my apple recipes is partially cooking the apples first. I do not like crunchy apples. I do not like them in a pie. I do not like them in a cake. I do not like them in a cobbler. I do not like crunchy apples.
It's simple to cook them first. For this cobble recipe I just melted butter and brown sugar in a frying pan and cooked the apples until they just started to get translucent. If you like your apples really mushy, cook them longer. If you like them crunchy you can cook them less.
Then you pour the apples in a baking dish and you drop the cookie dough all over the top, like a cobbler.
Then comes the snickerdoodle part: you sprinkle the top with cinnamon sugar.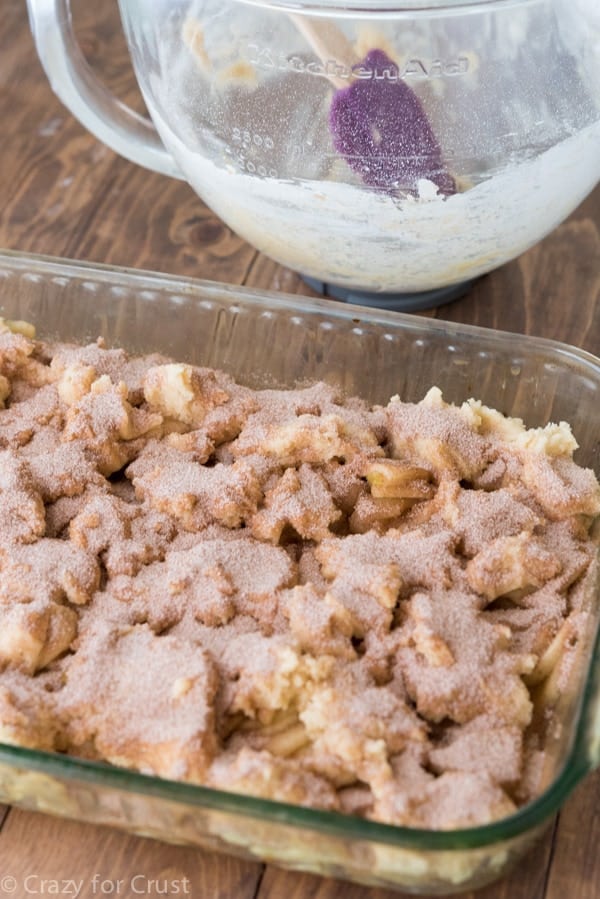 And then this happens: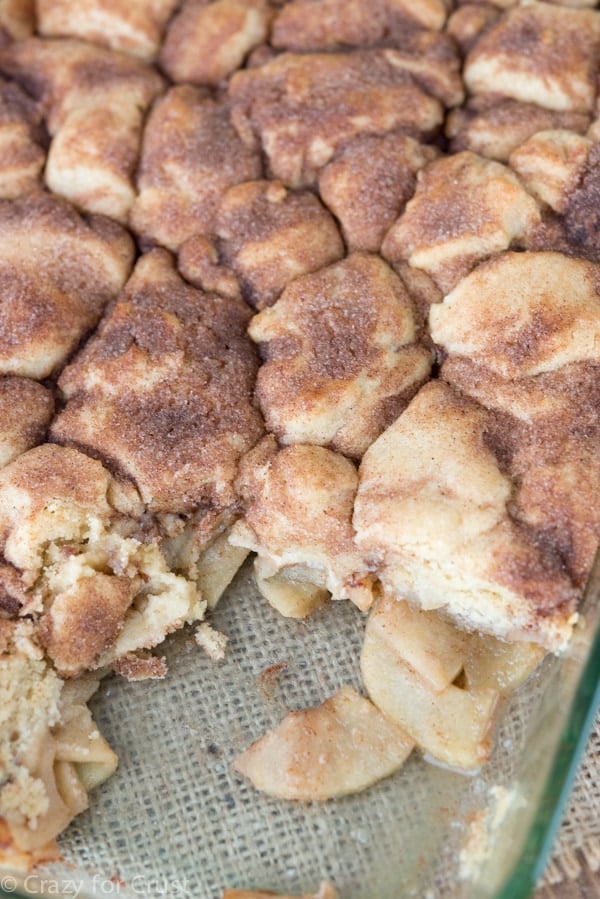 And then this happens:

And then you hide in a closet to eat the rest share it with friends at a party. Pretty cool, huh?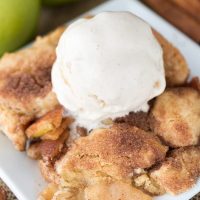 Snickerdoodle Apple Cobbler
This Snickerdoodle Apple Cobbler is a fun new way to eat apple cobbler! Cooked apples are topped with snickerdoodle cookie dough and baked for a delicious fall or anytime dessert.
Ingredients:
1 cup unsalted butter, softened and divided
6 Granny Smith (or your favorite flavor) apples, peeled and sliced thin
1/2 cup brown sugar, packed
3 teaspoons cinnamon, divided
3/4 cup + 1/3 cup granulated sugar, divided
1 egg
1 tablespoon vanilla extract
1/2 teaspoon baking soda
1/2 teaspoon cream of tartar
1/2 teaspoon salt
2 cups flour
Directions:
Preheat oven to 350°F.
Melt 1/4 cup of butter in a large skillet over medium-low heat. Add the sliced apples, brown sugar, and 1 teaspoon cinnamon. Toss to coat. Cook for 5-8 minutes over medium-low heat, stirring often, until the apples just become translucent. Set aside to cool while you make the topping.
Cream 3/4 cup butter and 3/4 cup granulated sugar in the bowl of a stand mixer fitted with the paddle attachment. Beat in egg and extract. Mix in baking soda, cream of tartar, and salt. Slowly mix in flour.
Pour apples into a 9×13" baking dish. Spoon tablespoons of the cookie dough mixture evenly over the top in a single layer.
Mix remaining 1/3 cup granulated sugar and 2 teaspoons cinnamon in a small bowl. Sprinkle evenly over cookie dough.
Bake for about 24-26 minutes until the cookie dough starts to brown. Cool slightly before serving. Serve warm with ice cream or whipped cream. Store in refrigerator loosely covered for up to 3 days.
All images and text ©
. Please do not use my images without prior permission. If you want to republish this recipe, please re-write the recipe in your own words, or link back to this post for the recipe. Disclaimer: Nutrition information shown is not guaranteed to be accurate.
Overnight Apple Pie French Toast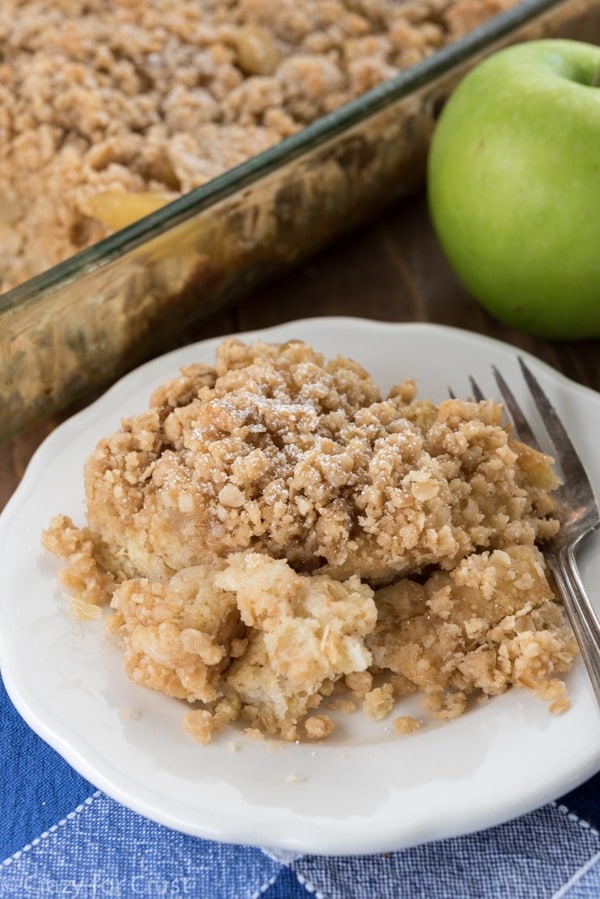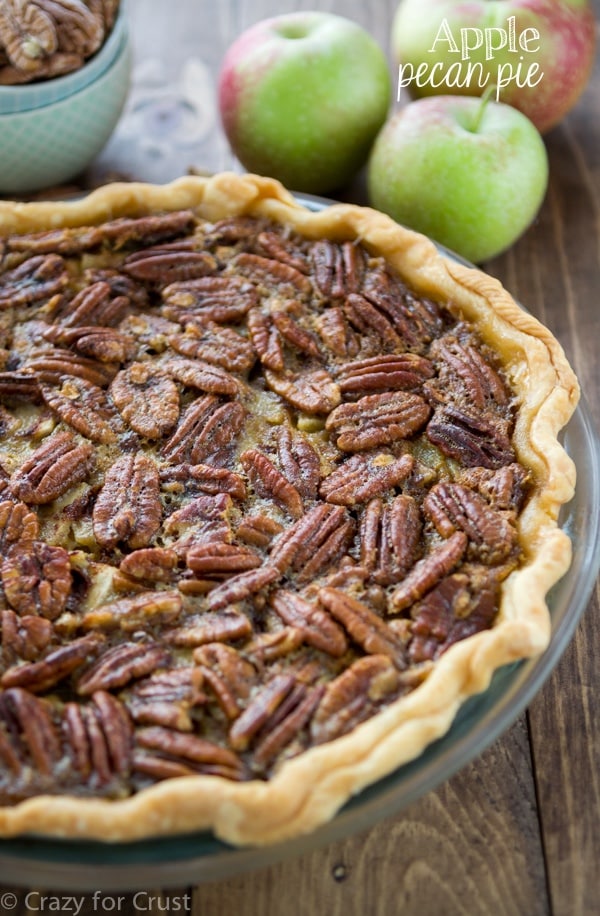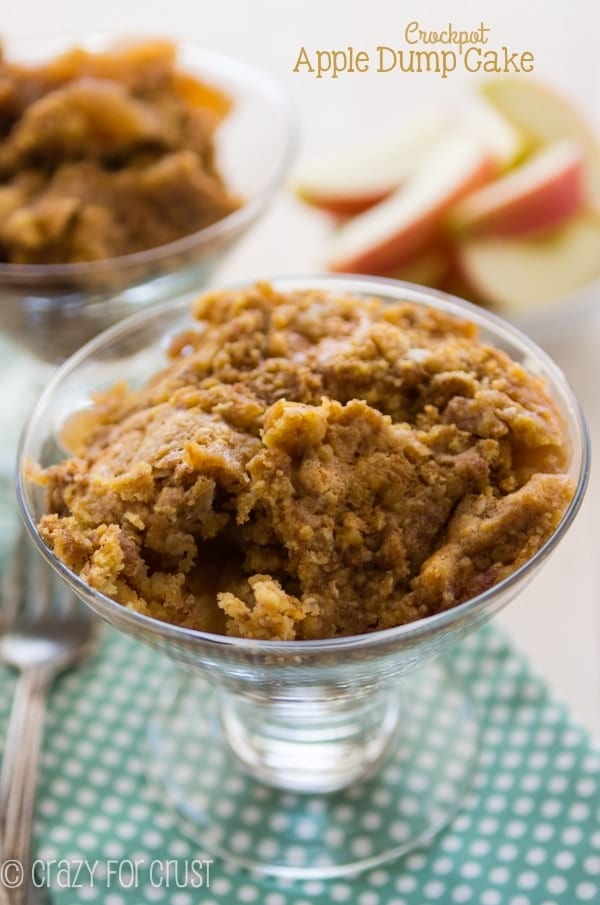 From the first-ever black stainless steel to the first-ever five-door refrigerator, KitchenAid pushes the limits with our appliances, so our home cooks can do the same with their cooking. See the revolutionary new line of KitchenAid appliances or visit the Kitchenthusiast™ blog for recipes, tips and more.
This is a sponsored conversation written by me on behalf of KitchenAid Elite Bloggers. The opinions and text are all mine.