This post may contain affiliate links. For more information, read my disclosure policy.
Next up: Peppermint Tarts. They're a cookie, a tassie, and a tart all in one! It would seem that this week is peppermint week. #sorrynotsorry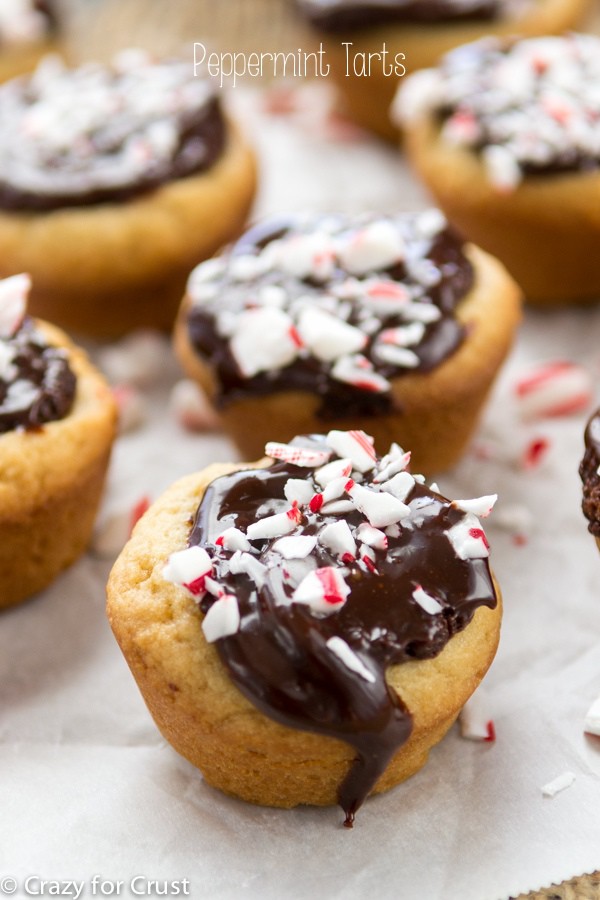 Do you guys watch food competitions? We watch them in my house all. the. time. Jordan and I love Cupcake Wars, even though I really doubt that the "time" is really the time they get. I mean, those carpenters make paint and glitter dry in record time. They ought to bottle and sell that magic; I'd use it for sure.
I occasionally watch Chopped, but mainly for the dessert portion. I love watching them open the basket and then coming up with my own creations for how to use Cheetos and carrots and chocolate chips and salmon all in one dessert. I've watched Top Chef since the beginning, and while a lot of those chefs seem to be full of themselves and would, honestly, probably turn their nose up at this little blog, I still love that show.
Remember Iron Chef? The original one, with the dubbed English? We spent many a night watching that show back in the early 2000s. Ala Cuisine!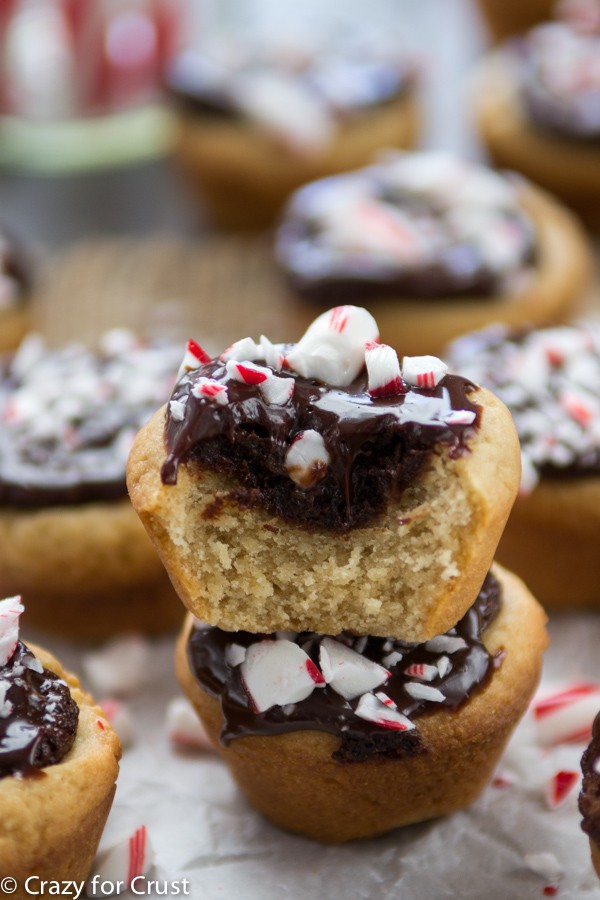 I get emailed all the time about auditions for this competition show or that one. And people I meet constantly ask me if Food Network is my next career goal. Heck, people even kept telling me that instead of just , I should compete.
Four words: Hells to the NO. I have no interest in (1) doing TV (2) competing on TV or (3) competing in general. I mean…who needs that stress when they're cooking??
That adamant dislike of competition (hello, I never even played sports!) is why I'm so confused that I'm actually in a competition right now. You see, these Peppermint Tarts are part of the Better Homes and Gardens Ultimate Baking Challenge holiday baking competition.
And I'm competing. Against my friends. *eek*
But these tarts? Are kind of worth it.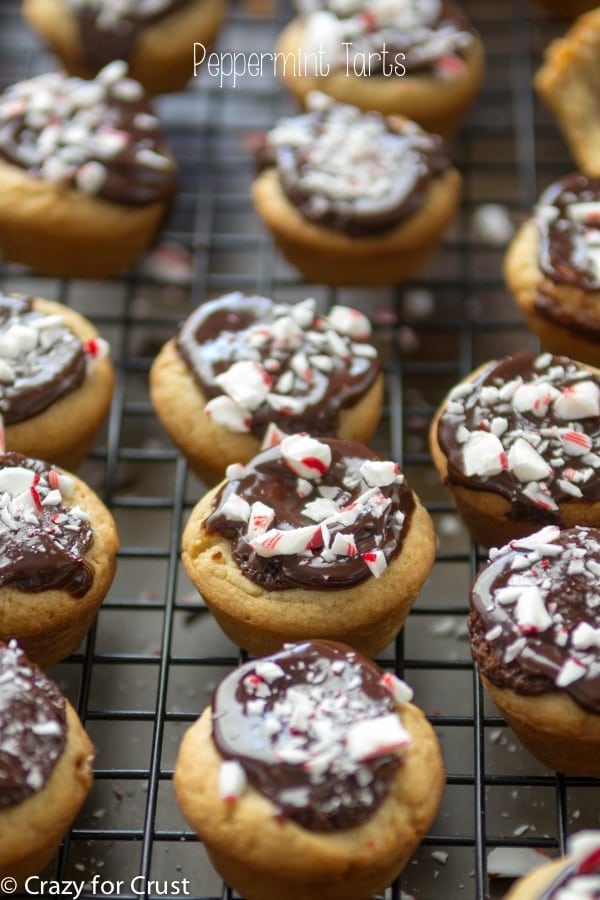 They're a sort-of sugar cookie dough, like a tassie. The dough has butter, shortening, and cream cheese in it so it's perfect for making little tart shells. Inside the tarts are a filling reminiscent of Peppermint Chess Pie; it's a chocolate mixture that's also kind of like a brownie, but it tastes like peppermint.
The cookies are baked and then you top them with more chocolate, in the form of a rich ganache. Then you sprinkle candy canes on top. BOOM, fabulous Christmas dessert.
If you think they look as good as I do, then you can go vote for me.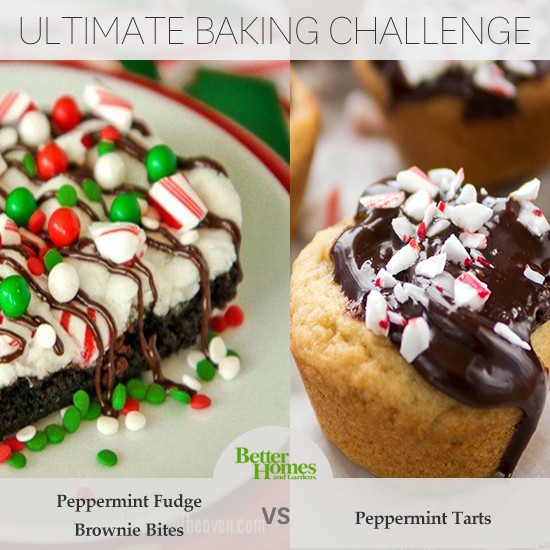 Congratulations Love from the Oven!
Christi won, I'm so happy for her. 🙂
But these tarts are so good, you must make them!!
Find the original recipe for Espresso Tarts on the BHG site, along with my edits to make them Peppermint!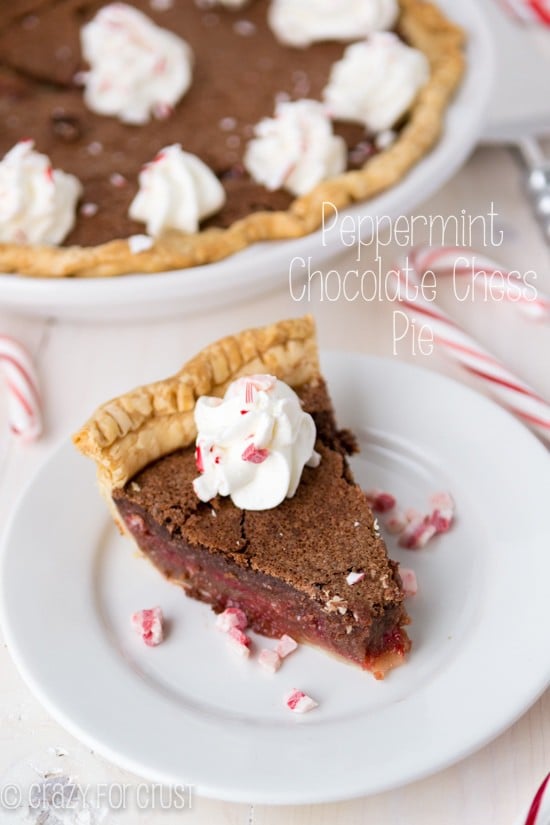 Peppermint Kiss Brownie Bites (dairy-free option)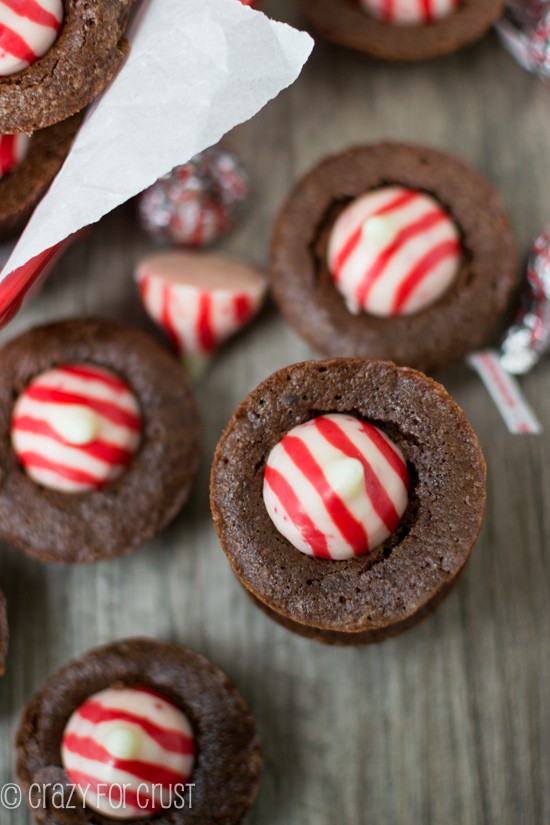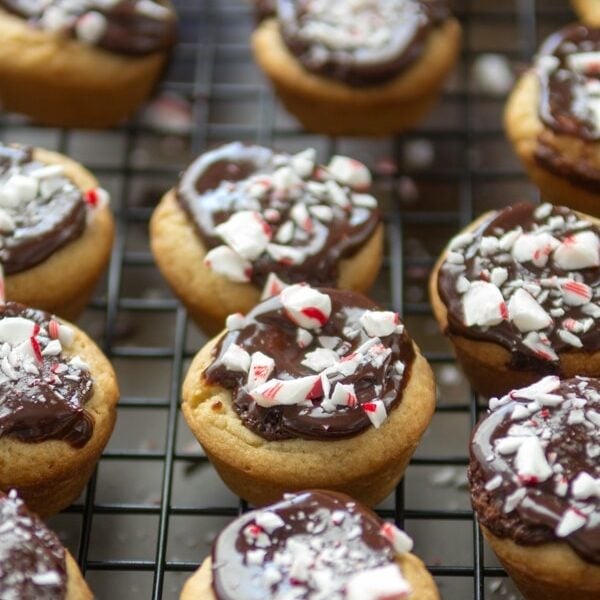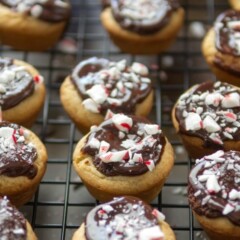 Peppermint Tarts
A sugar cookie tassie base filled with chocolate mint filling, chocolate ganache, and candy canes! The perfect holiday bite.
Ingredients
For the Tart Dough:
1/4

cup

unsalted butter

softened

1/4

cup

shortening

2

ounces

cream cheese

softened

1

cup

packed brown sugar

1/2

teaspoon

baking powder

1/2

teaspoon

salt

1

egg

2

teaspoons

vanilla extract

2 1/2

cups

all-purpose flour
For the Peppermint Tart Filling:
5

ounces

semisweet chocolate

coarsely chopped

2

tablespoons

unsalted butter

1

egg

1/3

cup

packed brown sugar

2

teaspoons

vanilla extract

1/2

teaspoon

peppermint extract
For the Chocolate Ganache:
1/3

cup

heavy whipping cream

3

ounces

chopped semisweet chocolate

3-4

candy canes

crushed, for garnish
Instructions
Preheat oven to 325°F. Spray mini muffin tins with nonstick cooking spray.

Beat butter, shortening, and cream cheese with an electric mixer on medium to high speed for 30 seconds. Add brown sugar, baking powder, and salt. Beat until combined, scraping the sides of the bowl occasionally. Beat in the egg and vanilla until combined. Slowly mix in the flour.

If dough is too sticky to handle, you can chill it for 30-60 minutes. Otherwise, continue below.

Shape dough into 36 balls (about 1 1/4 inches each). Lightly press balls onto the bottoms and up the sides of the muffin cups.

Make the filling: stir chocolate and butter in a small saucepan over low heat until melted. Remove from heat. Stir in egg, brown sugar, and vanilla and peppermint extracts. Spoon 1 slightly rounded teaspoon of filling into each dough-lined muffin cup.

Bake for 15-20 minutes until the crust is just firm and filling is puffed and set. Cool in muffin cups on a wire rack for 5 minutes. Carefully remove tarts from muffin cups; cool completely on a rack.

While the tarts are cooling, make the chocolate ganache. Place the chocolate in a medium sized bowl. In a small saucepan, heat the whipping cream over medium heat until it boils. Pour the cream over the chocolate and let sit 5 minutes. Stir until smooth.

Spoon a little ganache over each cooled tart. Sprinkle with crushed candy canes for garnish. Store in an airtight container for up to 3 days or freeze in a single layer in an airtight container or bag for up to 1 month.
Nutritional information not guaranteed to be accurate
Last Updated on February 2, 2023