This Macadamia Nut White Chocolate Pie will quickly become a family favorite!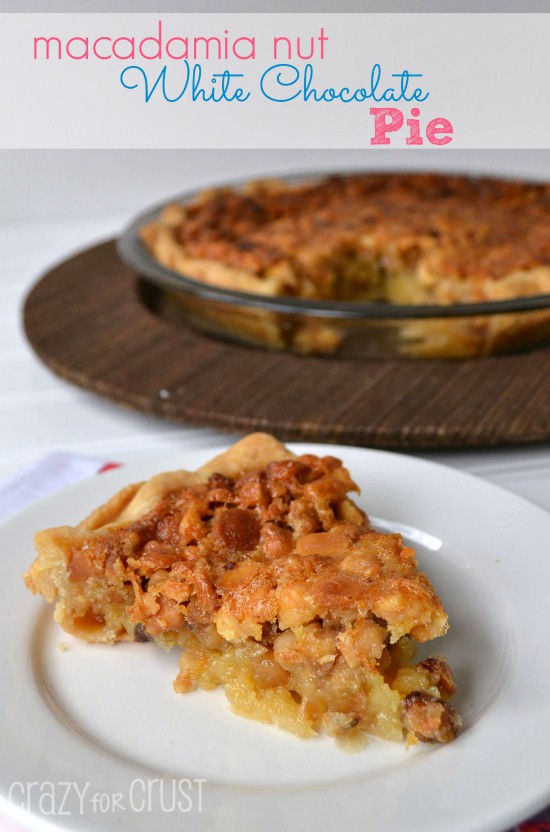 Remember last month, when my family had our "head" issue? Well, the effects of the issue are still being felt 'round these parts.
I mean, it's all gone, (knocking LOUDLY on wood) but the psychological trauma is still in residence.
I am convinced I stil have it. Mel has checked me, I have checked me, I'm practically bald from all the checking. I am using peppermint shampoo and conditioner. But every time my head itches I will myself not to scratch it, because if the itch goes away, it wasn't that bad and that means I'm clean.
I am imagining that things are crawling on my head. My hair hurts thinking about it.
And people. I didn't even have lice. Just two long-dead nits in my hair (thank you hair coloring, I heart thee.)
Jordan wears her hair up to school every day now. I douse her backpack and sweater with tea tree spray. I douse her head with peppermint spray. She wears tea tree gel. And I wash every sweater after one use.
Every time she scratches her head I stare hard at it. Last week, she got a cold and seriously, I kid you not, the first thought I had was, "the last time she got a cold she had lice three days later" and I panicked for the 30 seconds it took for the rational part of my brain to wrestle control back from the ledge.
On Monday, my anxiety was so bad that Mel made me call the lady who had taken care of the original problem and I paid her to come to my house and do a check on us. I was clean, and felt fine. Until we got to Kohl's and started trying on clothes that ohmigod may have been tried on by someone with lice!
Some of you probably think I'm embellishing to make a good post.
Sadly, I'm not. I couldn't make this stuff up if I tried.
Remember the ants? You could say I have a problem with bugs.
I'd honestly rather have ants than lice.
Actually, I'd rather have neither. I'd rather have pie.
And, quite possibly, psychiatric help.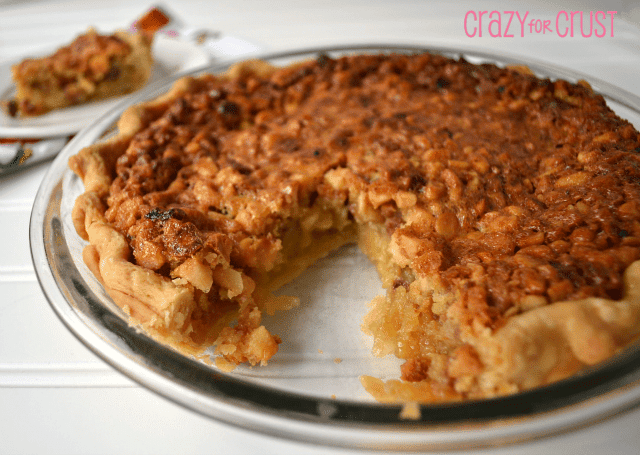 I've said before that I'm not a huge fan of Pecan Pie, not because of the flavor, but because of the texture. Well, I think I figured out the cure for that problem: chocolate chips.
This is my mom's pecan pie recipe, but I changed it up with macadamia nuts and white chocolate chips. The white chocolate chips don't really dissolve, but they give the center of the pie more body, which I love.
This pie is amazing. It's sweet, crunchy, soft, and savory all at the same time. I mean, macadamia nuts? Best. Nuts. Evvverrrr.
Seriously. You want this pie in your life. It's that good.
And it's waaaaay better than lice or ants. Or bug-related PTSD.
Macadamia Nut White Chocolate Pie
Recipe adapted from my Mom's pecan pie recipe.
Ingredients
1 1/2

cups

chopped macadamia nuts

2/3

cup

white chocolate chips

1

cup

light corn syrup

3

eggs

1/3

cup

sugar

1/4

teaspoon

salt

1/4

cup

unsalted butter

, melted

1

pie crust

(homemade or refrigerated)
Instructions
Preheat oven to 450 degrees. Unroll pie crust and place in your pie plate, crimping the edges as desired. Sprinkle the macadamia nuts and white chips on the bottom of the crust.

Beat eggs by hand in a large bowl. Stir in corn syrup, sugar, salt, and melted butter. Pour over nuts and chips.

Place pie on a cookie sheet and bake for 10 minutes at 450 degrees. Then reduce the oven temperature to 350 degrees and bake for an additional 35-40 minutes, until the top is browned. The center will still be wiggly, but will set as the pie cools. If the crust becomes too brown during cooking, cover the edges with foil.

Cool completely before cutting.
Thanks for reading!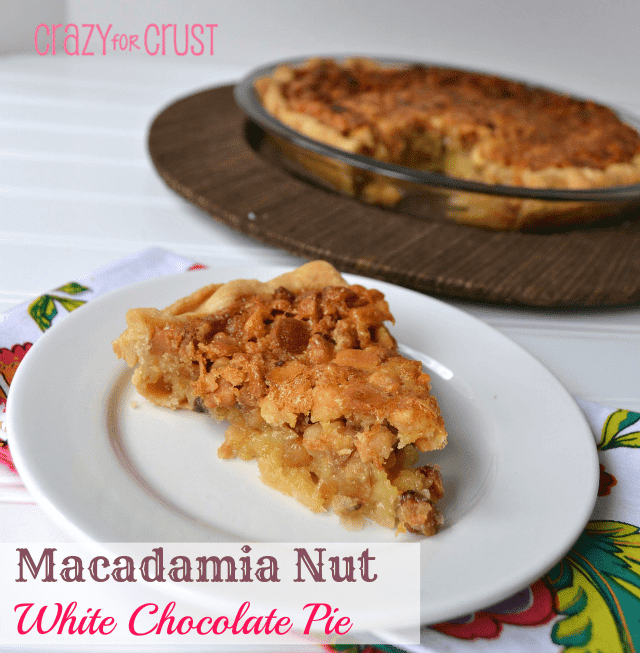 Like this pie? How about some other pecan pie like goodness…
Biscoff White Chocolate Macadamia Monster Cookies by Something Swanky
White Chocolate Cashew Caramel Cookie Blondies by The Domestic Rebel
All text and images © DOROTHY KERN for Crazy for Crust. Please do not use my images without prior permission. If you want to republish this recipe, please re-write the recipe in your own words, or link back to this post for the recipe. Disclaimer: Nutrition information shown is not guaranteed to be accurate.
This post may contain affiliate links. For more information, read my disclosure policy.
Published on: November 13, 2012