Peanut Butter Breakfast Cookies
A cookie for breakfast? Heck yeah! These Peanut Butter Breakfast Cookies are a great morning start, or a great after-school snack!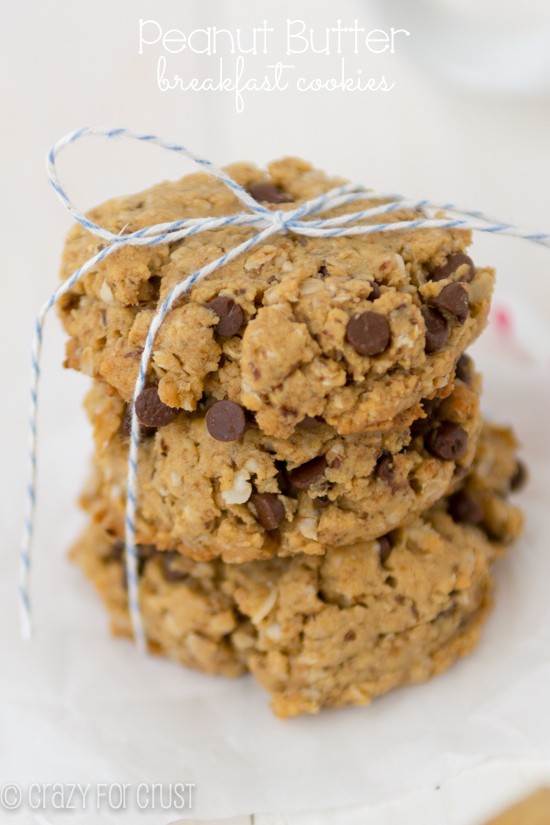 Do you make New Year's resolutions? I don't usually; I prefer to make goals. One year I made a goal to go (indoor) rock climbing, and it felt so good when I ticked that off my list.
This year? My goal is to finish my cookbook with my sanity intact. And to make a doctor's appointment for a checkup. (I'm not even going to tell you how long it's been since I had a check up. You'd all just yell at me.) I think I'm finally over the getting weighed part…but I just don't want blood work. Hello, I'm a dessert blogger who is writing a dessert cookbook. #toomuchbutter #toomuchsugar #hellolipitor
Anyway.
I'm assuming you are making some resolutions, right? What are they? Is one of them to get healthy? Eat better? Stop binge eating cookies? (I wonder what that would be like; to stop binge eating cookies? Let me know how it feels.)
Well, eating healthy and reading my blog probably seem like they don't go together, but that's not true. Sometimes I can make healthier treats. Or, at least, I can try.
Starting today, I have a couple of breakfast ideas you're going to love. Because, especially if you're eating healthier, you have to have breakfast!
And why not have cookies for breakfast?? That's the best kind of morning meal, if you ask me!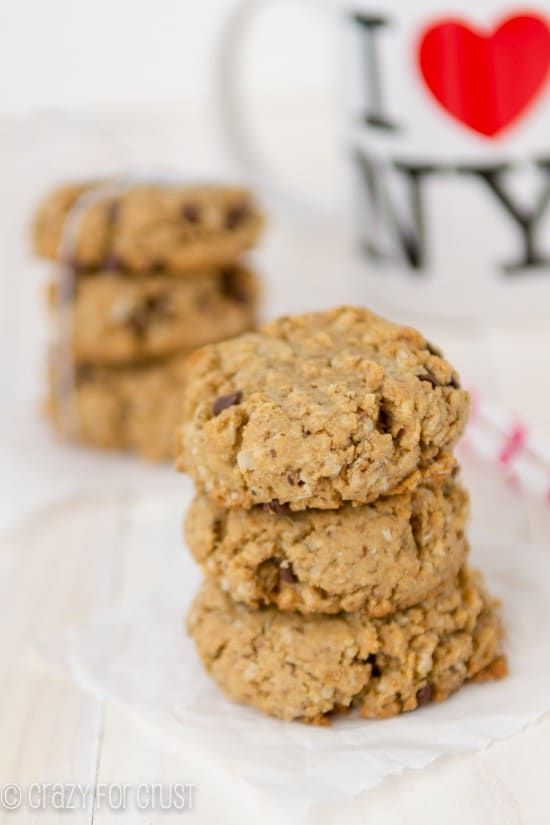 Last year I made Banana Breakfast Cookies and they were a huge hit. So I wanted to make another batch, and this time I went peanut butter. Because without peanut butter, life would be sad.
These cookies look like cookies. But they're much healthier than regular treats…so you can eat them in the morning. These cookies are filled with peanut butter, oats, whole wheat flour, and flax. They have an egg and a touch of coconut oil for binding (you you can use vegetable oil if you prefer, but you don't taste the coconut, I promise). I added mini chocolate chips because if I can have chocolate for breakfast I'm a happy girl, but you can leave that out.
Each cookie with chocolate chips is about 160 calories; without them they're about 130. They pack over 4 grams of protein per cookie. Now, I know that 160 calories is a lot but how many cookies can you say have 4 grams of protein? Not very many, I'm sure!
These would also be great for an after school snack. They'll satisfy the kids' requests for cookies, but keep them full until dinner.
A note about the recipe: they are very crumbly when they come out of the oven. They'll firm up as they cool so don't remove them from the cookie sheets until they've completely cooled. They're not a chewy regular cookie, they're more like a cross between granola and those easy gluten-free peanut butter cookies in texture and taste. Just wait until they're cooled to move them, then they'll stand up to holding.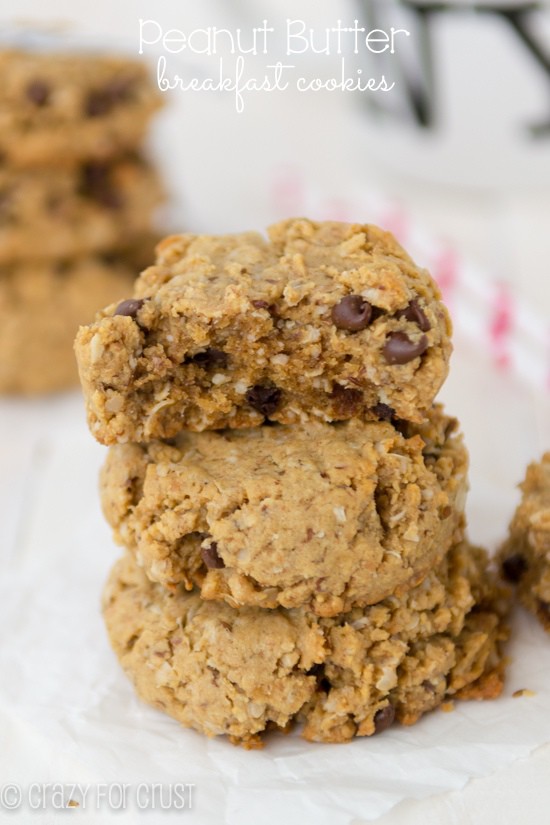 Cookies for breakfast…now that's a resolution I'd like to make!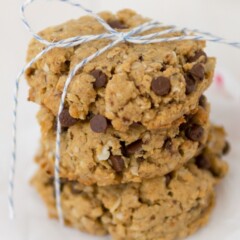 Peanut Butter Breakfast Cookies
Ingredients:
1/2 cup peanut butter
1/4 cup brown sugar
2 tablespoons coconut oil
1 egg
1/2 teaspoon baking soda
2 tablespoons ground flaxseed meal
3/4 cup quick oats
1/2 cup whole wheat flour
1/4 cup mini chocolate chips, optional
Directions:
Preheat oven to 350F. Line a cookie sheet with a slipat baking mat or parchment paper.
Using a stand or hand mixer, mix peanut butter, brown sugar, and coconut oil until smooth. (If your coconut oil is too hard to scoop out of the jar, you can microwave it for about 30 seconds.) Stir in egg, then mix in baking soda, flaxseed meal, oats, and whole wheat flour. Stir in chocolate chips (optional but yummy).
Using a 2 tablespoon cookie scoop, scoop uniform size balls of dough onto your cookie sheet. They won't spread, so they can be semi-close together. Press down slightly with the tines of a fork.
Bake for about 9 minutes, until the bottoms start to get golden. Do not remove from cookie sheet until they are completely cooled. These are very fragile until they have time to set. They'll still be more crumbly than a normal cookie, but will stay together once cool.
Great for breakfast or for an after-school snack!
All images and text ©
. Please do not use my images without prior permission. If you want to republish this recipe, please re-write the recipe in your own words, or link back to this post for the recipe.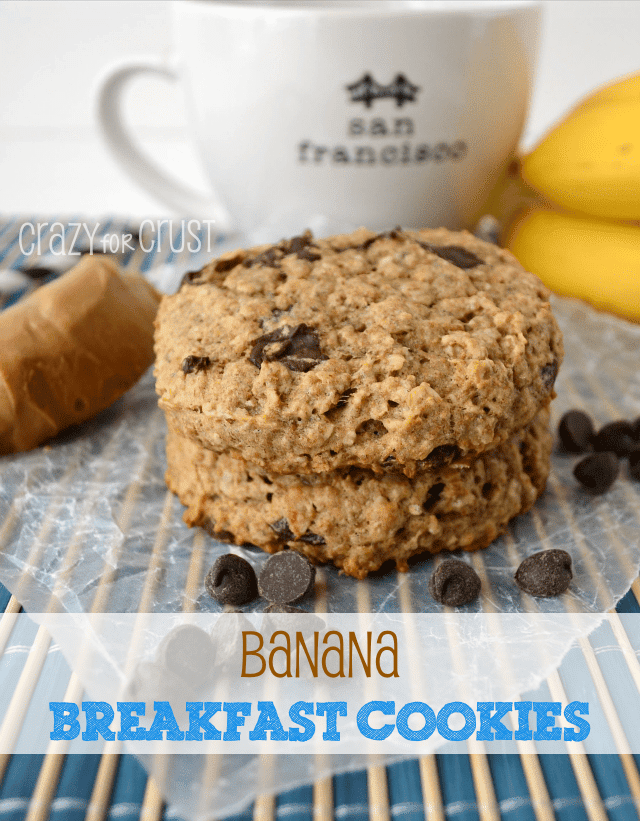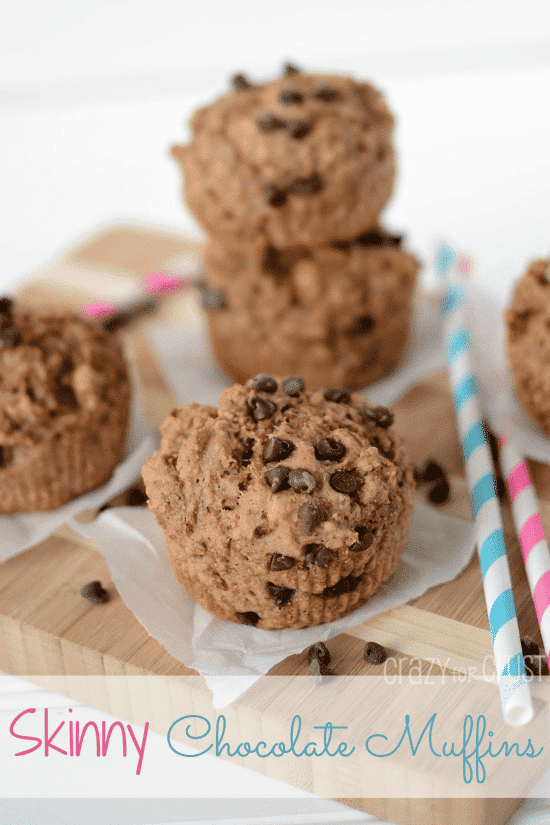 Skinny Sweets from friends:
Easy Skinny Smoothie by Something Swanky
Banana Chocolate Chip Muffins by Foods for the Soul
Apple Cinnamon Oatmeal Breakfast Cookies by Love From The Oven