This post may contain affiliate links. For more information, read my disclosure policy.
March 14th is PI DAY!! (That's TODAY!) I'll be eating a lot of pie, including this Easy No Bake Creme Brulee Pie!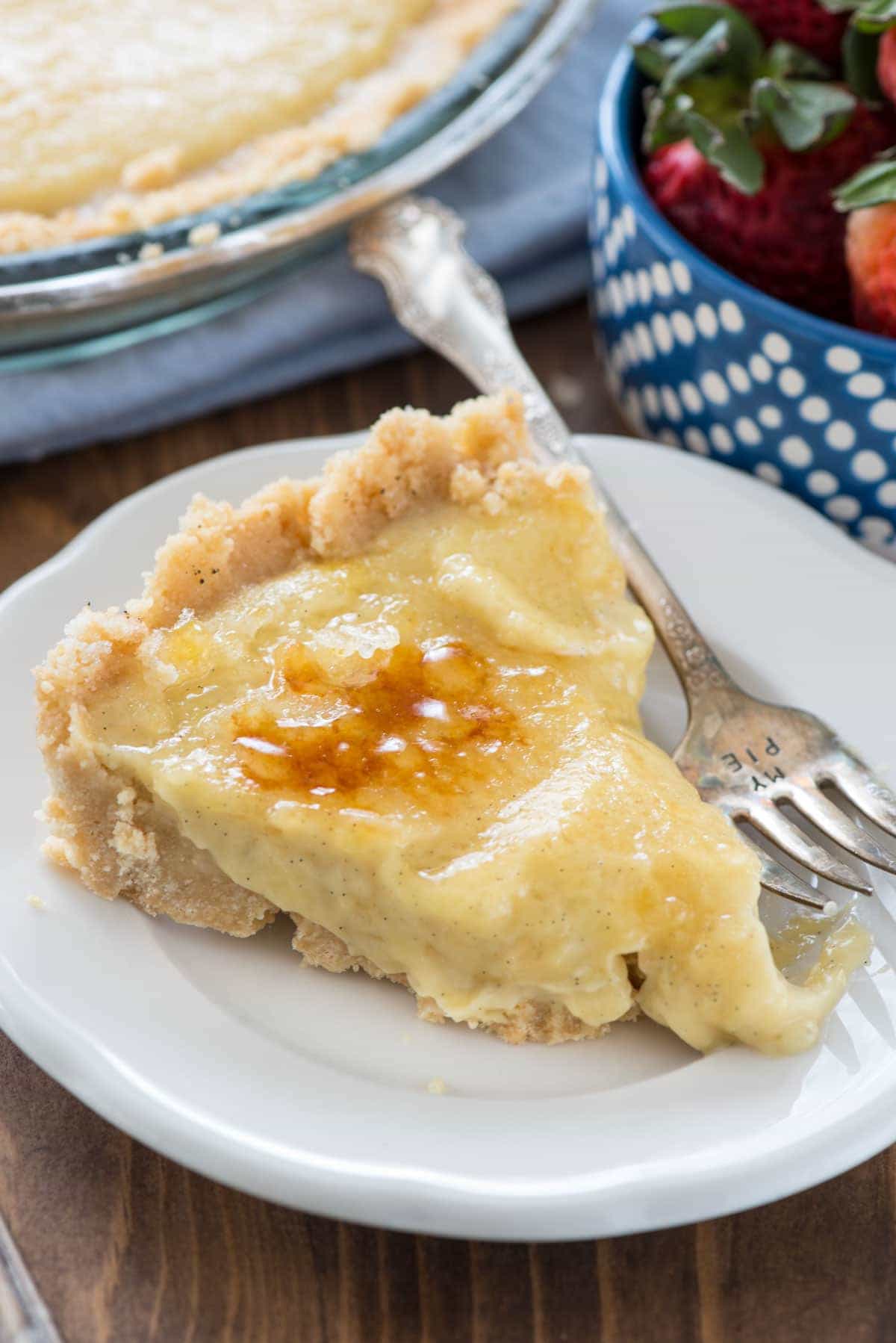 CLICK TO PIN TO YOUR DESSERT BOARD TO SAVE FOR LATER!
Today is one of my favorite days of the year: it's Pi Day! (Because it's 3/14 which is 3.14 which is pi, get it?)
In case you haven't read this blog for any length of time, I used to be a math teacher. I majored in math in college and geometry was my favorite subject (it has been since high school and still is). In fact, I'd rather do a 2 page long proof than add up a bunch of numbers and when I was in college and I was stressed I'd do just that.
(I never said I wasn't a nerd.)
Anyway, I'm a math geek who loves geometry and all things Pi, and I'm a dessert blogger who loves all things pie. Pretty much a match made in heaven, wouldn't you say?
Every year, when I was teaching, Pi Day was a BIG deal. We'd calculate Pi and play games and read Sir Cumference and the Dragon of Pi and eat pie. I stopped teaching 11 years ago, when my daughter was born. Since then, I've been anxiously awaiting the time when she got old enough in school to celebrate Pi Day. And finally, that day is here:
The fifth graders are celebrating Pi Day. And I get to go and help! It doesn't even matter that I can't stand children and I'd rather do, well, anything, other than hang out with them. I'm putting all that aside because I get to celebrate Pi Day!!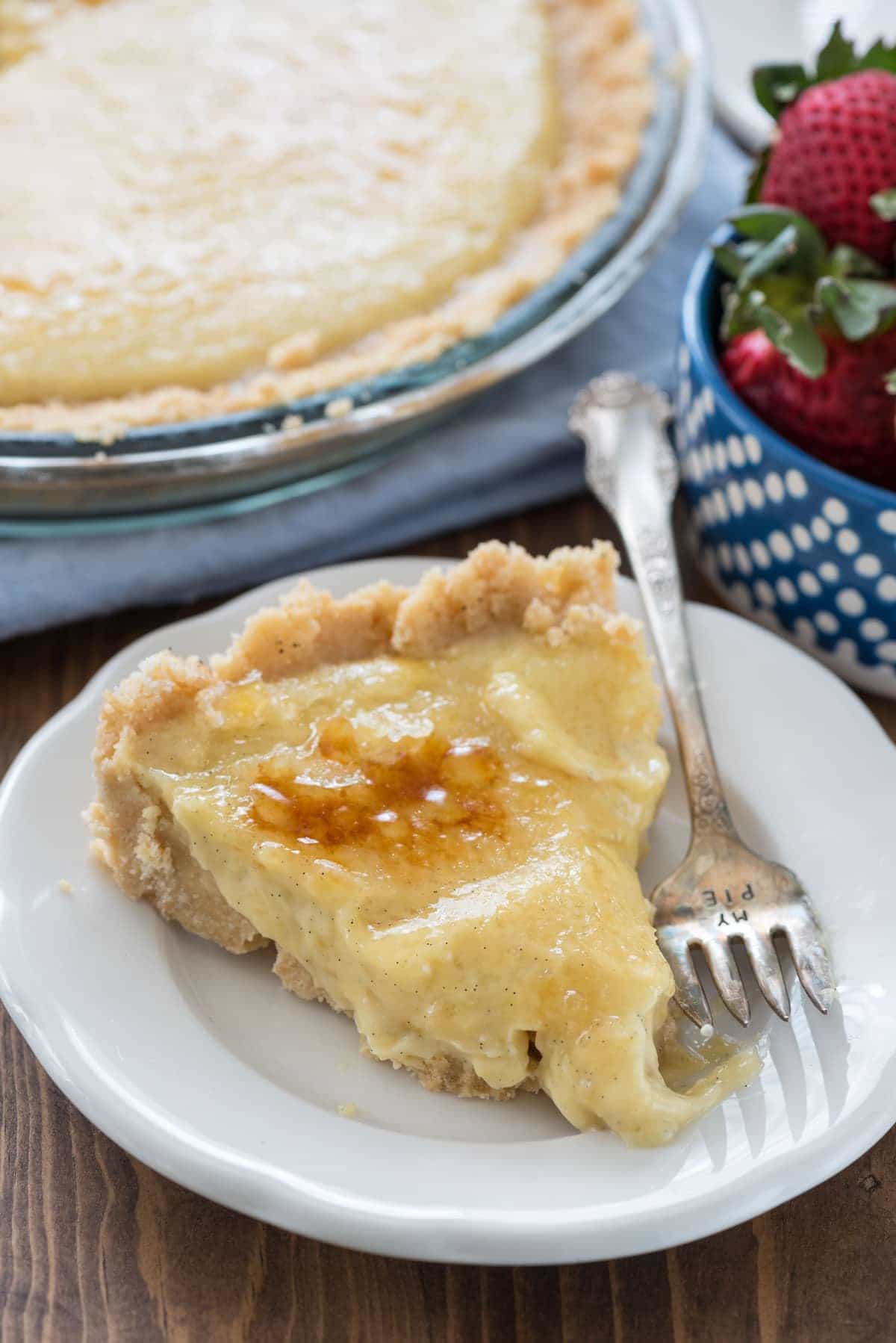 The best Pi Days are when we eat pie all day long. I have plenty of options for pie recipes for you on this site, but this No Bake Creme Brulee Pie is my new favorite. It's got just  a few ingredients and requires NO cooking and NO oven. You don't even need a kitchen torch if you don't have one.
This pie is magical, like Pi!
How did I make an easy creme brûlée that's no cook? By using vanilla pudding mix.
But wait, you say. What?
Yes, you can use PUDDING MIX to make creme brûlée! By using a combination of heavy whipping cream and nonfat milk, and adding a healthy dose of vanilla bean paste, the custard tastes exactly like a good creme brûlée. And it's done in about 10 minutes!
*mind blown*
Add a crust and you've got one of the best pies in the entire world!

How to Make This No Bake Creme Brulee Pie
So let's talk about the anatomy of this No Bake Creme Brulee Pie, okay? Because there are a few important things you need to know:
Make sure to use INSTANT vanilla pudding mix.
In a pinch, you can use whole milk and/or half and half instead of heavy whipping cream.
If you don't have vanilla bean paste, just substitute vanilla extract. But really, get your self some of the paste. It's really what gives this the authentic "not from a box" flavor.
You can use any kind of crust you want: shortbread, graham cracker, or even Golden Oreo. Or, save time and buy one from the store (I won't tell).
Brûlée Tips: these are important!
A kitchen torch is the best way to brûlée this pie. They aren't expensive, so treat yourself to one!
I did the brûlée on the entire pie for photos, but I highly recommend slicing the pie first and then brûlée each slice. The act of warming the sugar makes the pie harder to cut.
If you don't have a kitchen torch, don't worry. You can make a melted sugar brûlée to pour over each slice! I detailed that in my chocolate creme brulee post, but added the instructions in the recipe here.
However you make it, this No Bake Creme Brulee Pie is so EASY! Just a few minutes of active time gets you one of the creamiest, rich, and most vanilla pies ever. And I promise – NO ONE will know it's from a box!
What are you eating this Pi Day???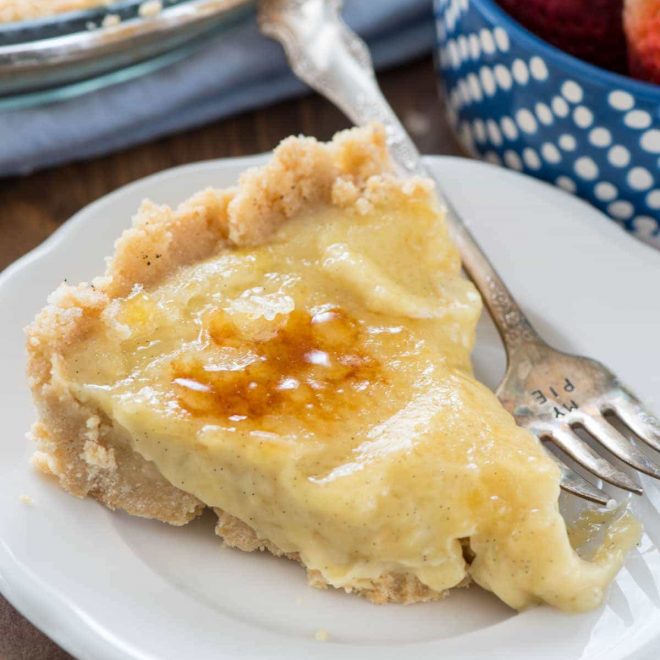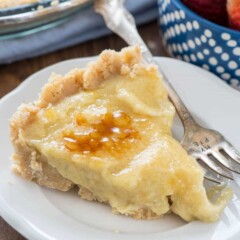 No Bake Creme Brulee Pie
No Bake Creme Brulee Pie - an easy creme brulee recipe in a pie crust! This easy recipe is no bake and no torch needed. Just delicious creme brulee in minutes!
Ingredients
1

9" Shortbread Crust, Graham Cracker Crust, or Golden Oreo Crust

1

approximately 3.4 ounce box instant vanilla pudding

3/4

cup

heavy whipping cream

1

cup

nonfat milk

1

tablespoon

vanilla bean paste

extract may be substituted

Sugar

for topping
Instructions
Whisk pudding with whipping cream and milk for 2 minutes or until smooth. Stir in vanilla bean paste. Let sit for 5 minutes.

Spread pudding into the bottom of prepared pie crust. Chill for at least 4 hours before serving.

Note on brulee: it's best to brûlée slices instead of the entire pie. It's harder to slice once it has the brûlée on top and it must be eaten immediately. Unless you plan to serve the entire pie immediately, slice, then continue.

Sprinkle each slice with sugar and use a kitchen torch to brûlée the top.

Alternate brûlée no-torch no-oven method: Add 1/4 cup granulated sugar to a small saucepan. Place over low heat and do not touch it, but watch it closely. Once it starts to turn to liquid, stir with a wooden spoon, being careful not to get it on the sides of the pan, until the sugar turns to crystals then to liquid again, and turns a light amber color. Drizzle some onto each slice of pie. Note: this sugar hardens more than it does with the torch. Err on the light side of adding it to the top and be cautious eating it.
Recipe Nutrition
Serving:
1
/8 slice of pie
|
Calories:
304
kcal
|
Carbohydrates:
47
g
|
Protein:
2
g
|
Fat:
13
g
|
Saturated Fat:
8
g
|
Cholesterol:
31
mg
|
Sodium:
271
mg
|
Sugar:
37
g
Nutritional information not guaranteed to be accurate
See more of my ultimate pie recipes here!
Check out the The Complete List of No Bake Pies!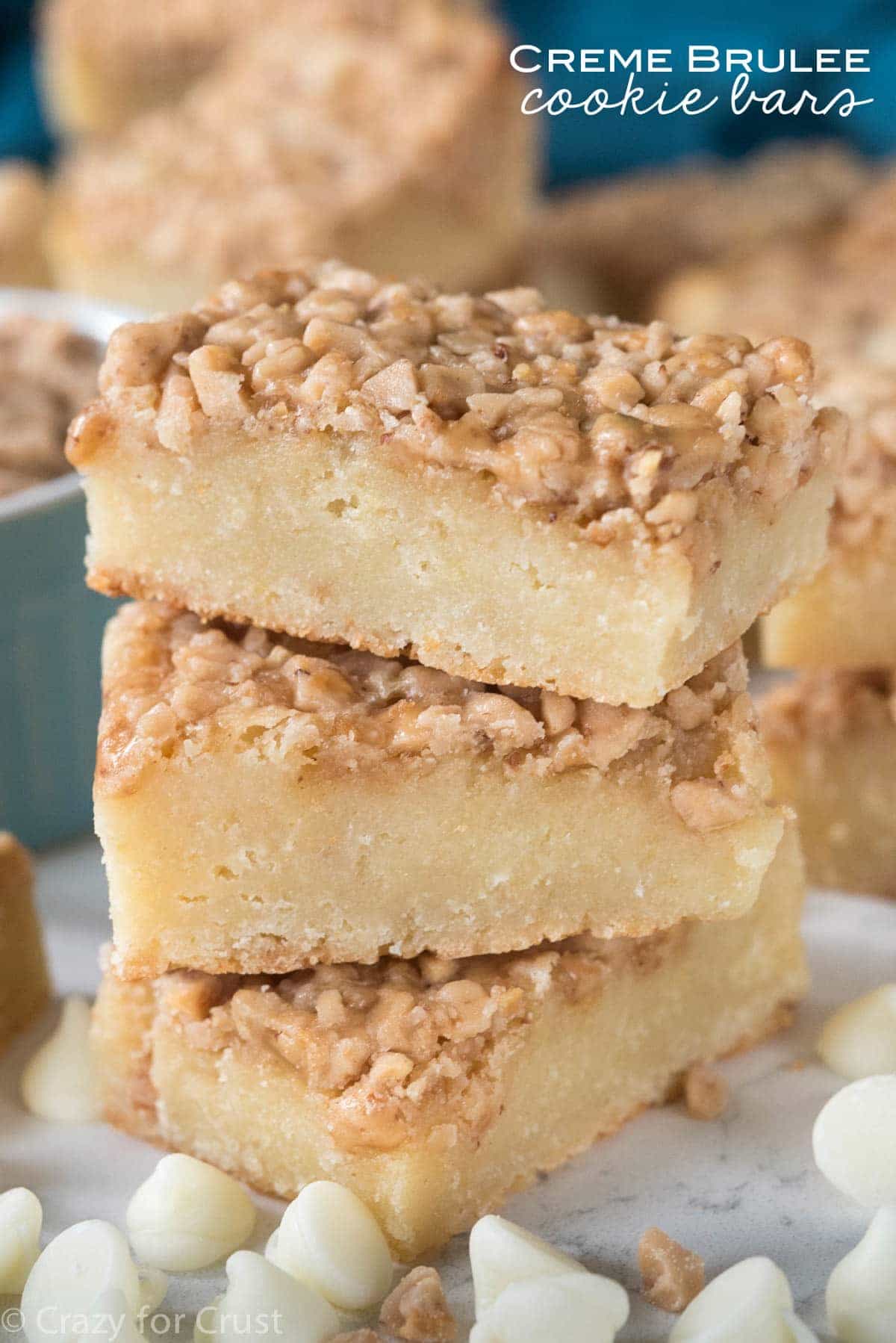 No Bake Strawberry Shortcake Pie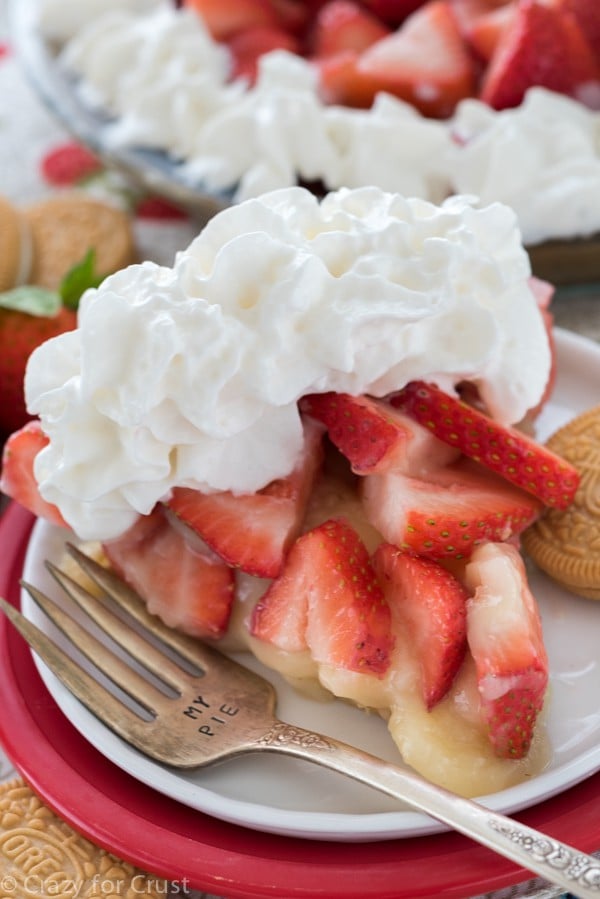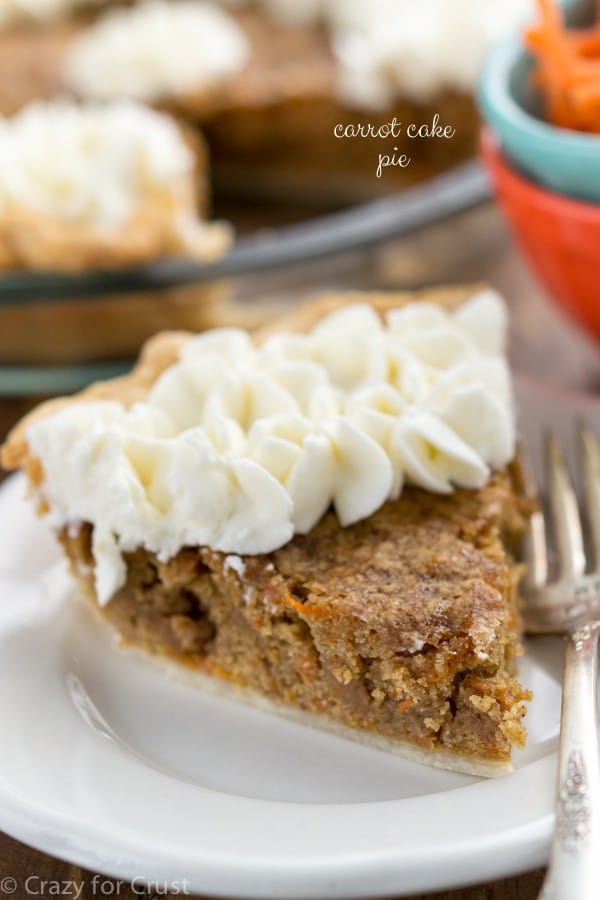 Sweets from friends:
No Bake Rainbow Pie by Cook, Crave, Inspire by Spend with Pennies
No Bake Chocolate Chip Cookie Pie by The Kitchen is my Playground
No Bake Silky Chocolate Pie by Roxana's Home Baking
Last Updated on September 20, 2019