You'll be shocked at how easy it is to make Crumb Cake Bites at home!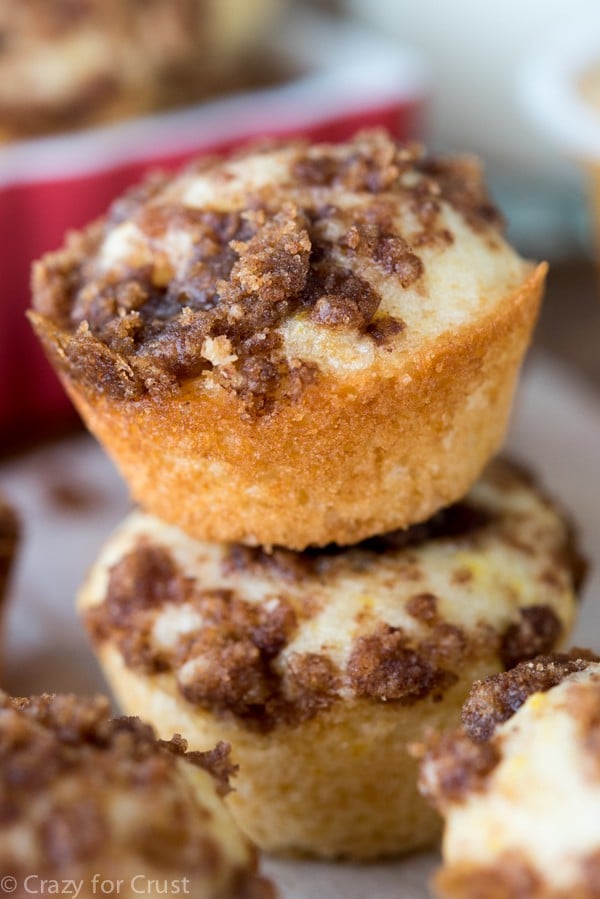 You guys, my baby started 5th grade yesterday!!! *sobbing*
I know I've been moaning all summer about how I wanted school to start. And I still do but…but…5th grade!! That's, like, almost an adult. In 2 years she'll be in middle school. Then high school. Then DRIVING. Quick, someone pull me back from the ledge!
I really, really like 10 years old. Sure, we have our disagreements, but she still loves me. We get along. She still listens to what I say…most of the time. By the end of 5th grade that's going to be over.
Cue the waterworks. (And the emotional eating of a dozen Mini Crumb Cake Bites.)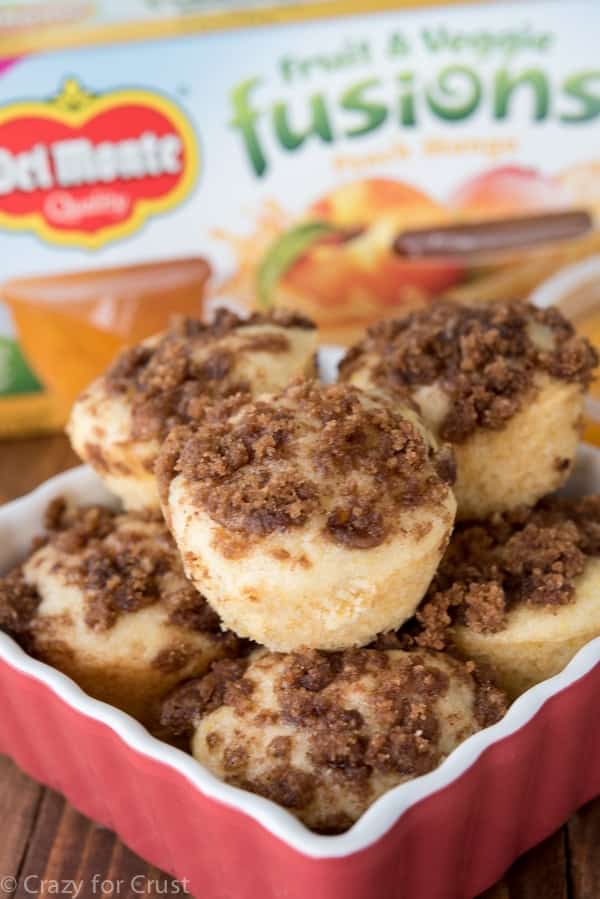 Since school is back in, we're trying to get into a routine. The first few weeks are going to be interesting, to say the least. Getting back into dance, homework, schedules, and the kitchen remodel are going to test both of our limits, I'm sure. I always start out the school year with the best lunch intentions. Everything will be healthy! She'll love every bite! I'll make them look FUN!
…And then week two happens. But not this year. This year I'm really going to try and keep the momentum going. My goal for 5th grade is not only to have her still love me at the end, but also to teach her more about what she eats and when. We've been trying to work on recognizing when we're full or when we've eaten too much but it's a work in progress.
One of our daily struggles is snack time. That girl can snack – just like her mama – and she loves her carbs. She also loves those little mini muffins you buy in the grocery store, you know, the ones that come in packages?
(I have to admit, I like them too. But I really don't like the price.)
I decided that, for the first week of school, I'm sending her with her favorite Little Crumb Cake Bites…that are homemade. (And then I can sneak some too!)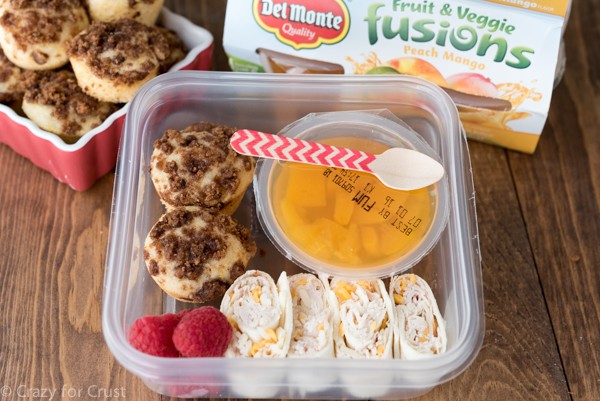 The other struggle we have about school lunch? Not having salami every day, and the fact that she hates all vegetables. #thestruggleisreal
Jordan loves fruit cups and would eat them every day if I let her, which is why I'm so excited to tell you about the new Del Monte® Fruit & Veggie Fusions fruit cups.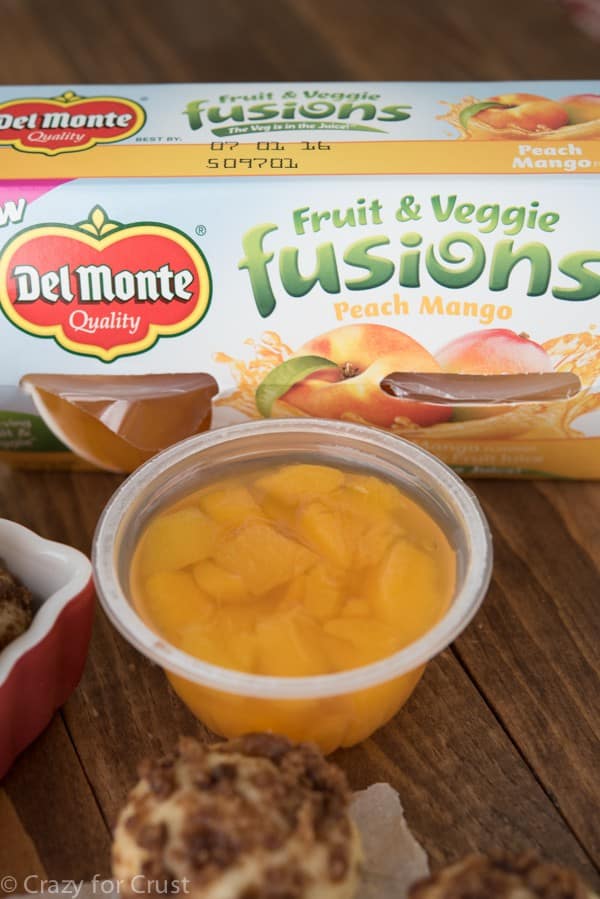 These Fruit & Veggie Fusions Fruit Cups have yummy fruit in a lightly sweetened veggie and fruit juice, and they have 1 full serving of fruits and vegetables. There is no high fructose corn syrup and there are no artificial colors or flavors in these cups. It's like hiding vegetables in their lunch box. #genius
I surprised Jordan with the Peach Mango and the Apple Pear Watermelon flavors last week. She ate the fruit, slurped down the juice and then I told her there were vegetables in the juice. She was shocked, but still wanted a second cup. School has barely started and I'm already winning at the lunchbox game!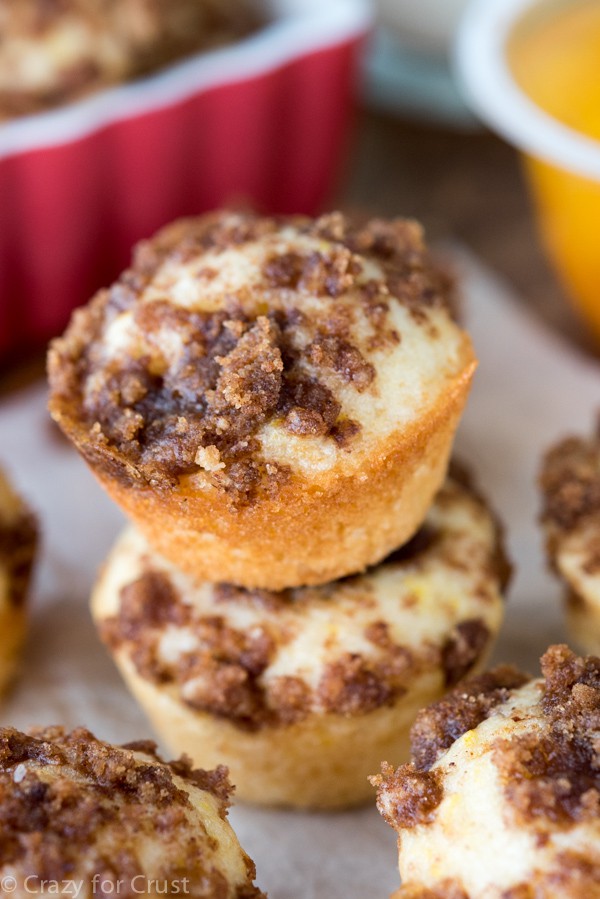 Let's talk about how awesome these mini crumb cake muffins are, mmkay? I could have inhaled them…if I wasn't trying to save some for Jordan.
These muffin bites are based off of my mom's coffee cake recipe. I've used her recipe to make so many versions (like pumpkin and banana and zucchini) but these muffins are the closest to the true coffee cake recipe I grew up with.
When I was a kid, I'd inhale the grocery store crumb cakes, but I always looked forward to my mom's more. Mom's know best, now don't they? 🙂
I simply took her coffee cake recipe and made it into mini muffins. That's it! The cake is tender and moist and the crumble is sweet and crunchy. They pair perfectly and they're great for breakfast with some protein from a smoothie or bacon, or at lunch they make a great dessert.
Your kids will love them and you'll save money not buying them at the store. That's a win for everyone!

Just a couple notes about the recipe:
If you want to, you can add some chopped pecans or walnuts in the crumble.
If you're feeling like a regular crumb cake and not muffins, make it in an 8×8 pan. Works every time!
Enjoy!
Mini Crumb Cake Bites
These little Crumb Cake Bites muffins are perfect for breakfast or lunch boxes! Easy to make and better than the ones from the store for sure, they'll delight your kids!
Ingredients
3/4

cup

granulated sugar

1/3

cup

vegetable oil

1

egg

1

teaspoon

vanilla

1/2

cup

milk

2

teaspoons

baking powder

1/2

teaspoon

salt

plus a pinch

1 1/2

cups

+ 2 tablespoons all purpose flour

2

tablespoons

butter

melted

2

teaspoons

cinnamon

1/2

cup

brown sugar

packed
Instructions
Preheat oven to 350°F. Spray mini muffin pans with nonstick cooking spray (I like using the nonstick spray that contains flour for these).

Stir granulated sugar, oil, egg, and vanilla in a large bowl until combined. Stir in milk.

In a medium bowl, whisk baking powder, ½ teaspoon salt, and 1 ½ cups flour. Slowly stir dry ingredients into wet ingredients. Fill muffin pans with 1 tablespoon of batter per cavity (33-36 muffins).

Melt the butter in the same bowl you used for the dry ingredients. Stir in cinnamon, 2 tablespoons flour, a pinch of salt, and brown sugar. Mixture will be crumbly. Place about ½ to ¾ teaspoon of crumb topping on each muffin.

Bake for 9-10 minutes until a toothpick comes out clean from the center of the muffin. Cool before removing from pan and serving. It's easiest to use a knife to help remove these from the pan.

Store in an airtight container for up to 3 days for freeze for up to one month. You may also bake them in in mini muffin liners instead of straight in the muffin pan.
Join Del Monte® in entering their #SharetheSuper Sweepstakes!
Follow @DelMonte
Post a picture of your child being super and use the hashtags #SharetheSuper #sweepstakes on Instagram or Twitter for a chance to win
Winners will be selected weekly to win a branded backpack with new Del Monte Fusions inside
One grand prize winner will be awarded $2,000 at the end of the campaign.
Visit www.sharethesuper.com for more info and $1 off coupon
Join in at the Twitter party, Thursday 8/20 at 10am PST #SharetheSuper.
And find some fabulous lunch box ideas on my Super School Lunch Ideas pinboard!
Follow Del Monte®: Facebook / Twitter / YouTube / Pinterest / Instagram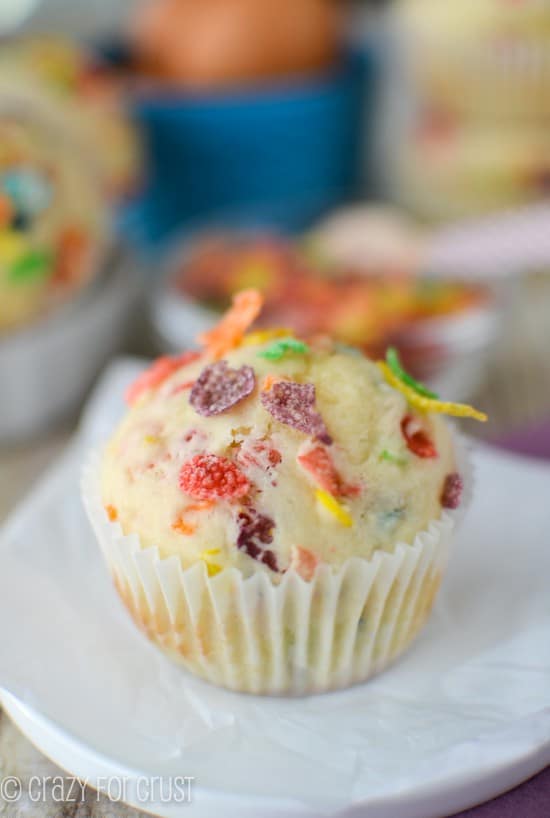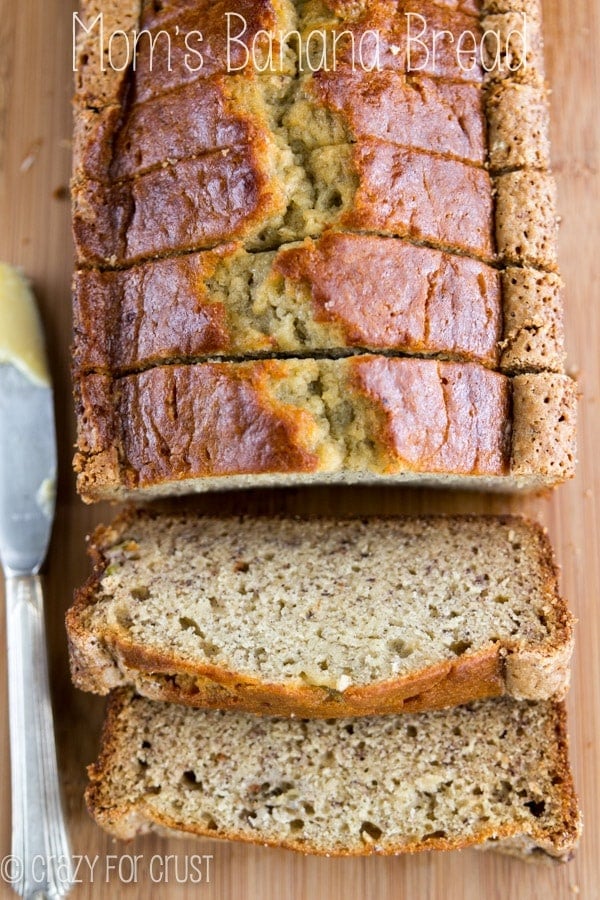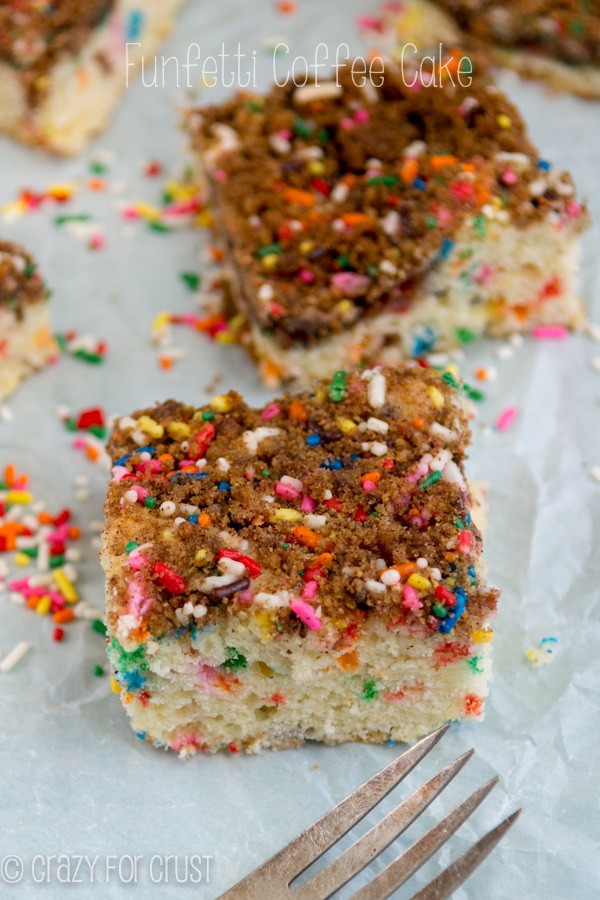 This is a sponsored conversation written by me on behalf of Del Monte . The opinions and text are all mine.
All text and images © DOROTHY KERN for Crazy for Crust. Please do not use my images without prior permission. If you want to republish this recipe, please re-write the recipe in your own words, or link back to this post for the recipe. Disclaimer: Nutrition information shown is not guaranteed to be accurate.
This post may contain affiliate links. For more information, read my disclosure policy.
Published on: August 19, 2015