This post may contain affiliate links. For more information, read my disclosure policy.
This Kettle Corn Snack Mix is easy, fast, and perfect for a road trip to the beach…or a random Tuesday.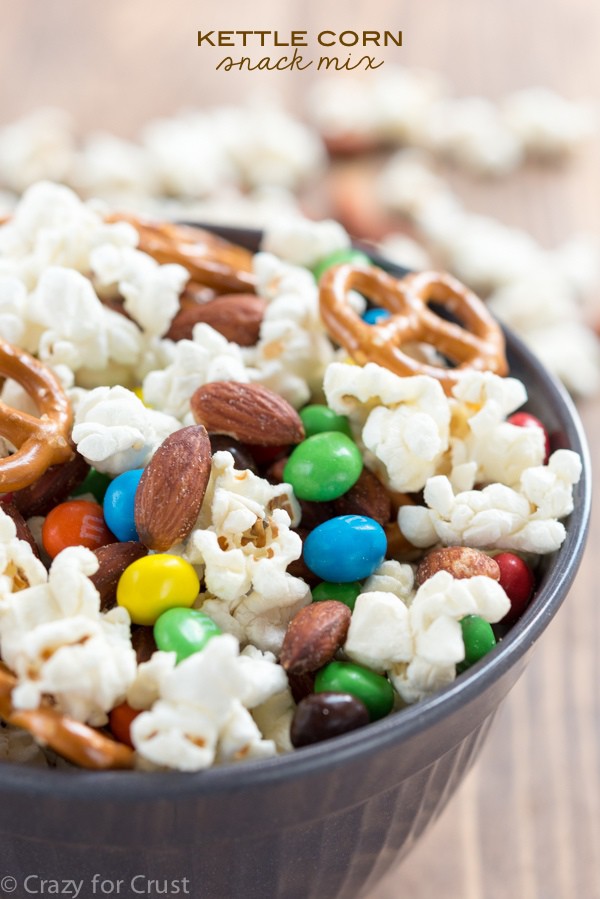 If there is one place in the world I love, it's the beach. What's really weird is that I hate sand, water, and generally being outdoors, but the beach is somewhere that I just immediately relax.
Currently, we live outside Sacramento. While there's a river running through the city, we're pretty land-locked. Having grown up in the San Francisco Bay Area, I'm used to living by the water. We may have hardly ever gone to the beach when I was a kid, but it was always there; I could see the bay every time we drove to the freeway. Water is in my blood, and I'm the happiest when I'm close to it.
Y'all know my feelings about where I live, but the one thing I do love about it is the proximity to the mountains. We're only a little over an hour away from one of my favorite places, Donner Lake (near Lake Tahoe). It's a calm lake with a really fun beach and we love going at least once a summer. And every time we go, like whenever we go to SF, we wax poetic about how wonderful it would be to have a house there.
Maybe someday…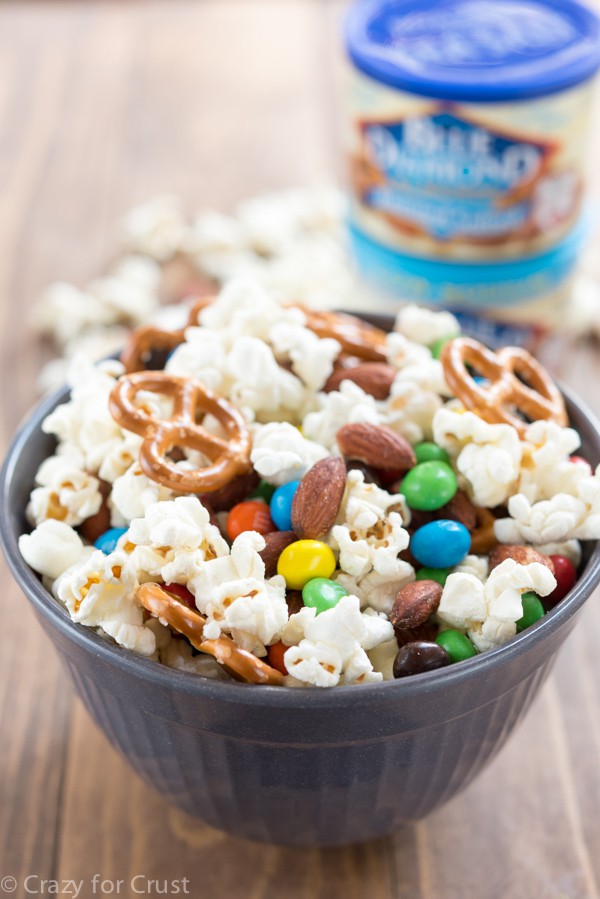 Going to the beach, for us, is a day filled with sand, sun, fun, and food! I may park my bottom in a beach chair all day, but Mel and Jordan spend hours in the freezing-cold lake. A few weeks ago when we went with some friends, we rented paddle boards. All of us took turns paddling with a view – even the kids! All that activity really makes everyone hungry.
My second favorite part about the beach? THE FOOD. Going to the beach means packing a cooler full of sandwiches, soda, and snacks. The kids go through snacks like water in a 5 hour day! Sometimes I bring whole bags of chips and pretzels and they disappear…and then we stop at Dairy Queen on the way home.
(If only I burned as many calories reading my book as they do swimming!)
On our recent trip to Donner, instead of bringing a bag of chips, I brought this homemade Kettle Corn Snack Mix. It was a huge hit with everyone – kids and adults.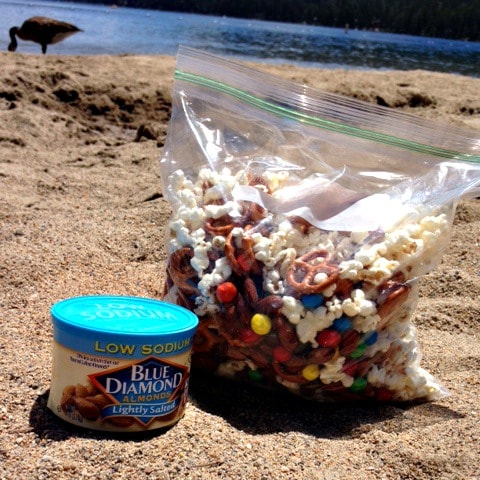 This snack mix consists of a simple homemade kettle corn recipe. The popcorn is mixed with pretzels, candy, and one of my favorite Blue Diamond Almonds, the lightly salted kind. (My other favorite is totally the honey roasted flavor!) The crunch of the popcorn and pretzels, the sweetness of the candy, and the protein from the almonds kept us going all day.
Did I mention the kettle corn is homemade? And that it's easy? You can totally make it yourself without any fire extinguishers!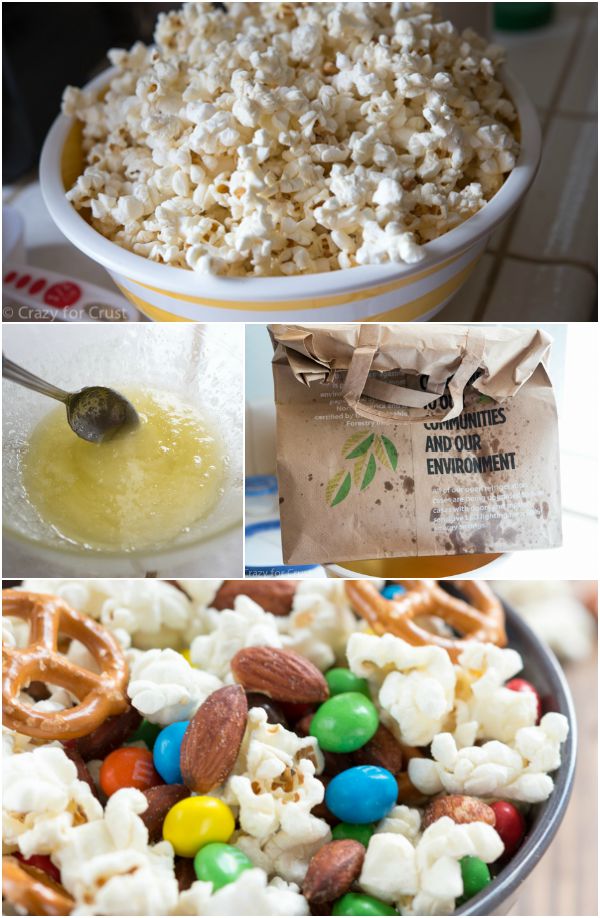 The kettle corn recipe is simply freshly popped popcorn that's shaken with a melted butter and sugar mixture. If you want to use microwave popcorn you can, but I popped mine fresh with an air popper. I totally recommend the air popper because it's no mess and hassle-free. I have tried so many times to make popcorn on the stove and every time it gets burned. If you want fresh homemade popcorn easily, get yourself an air popper!
The butter and sugar mixture is made using the microwave. You just heat it in increments of 30 seconds, stirring between each for just over a minute or so, depending on your microwave. (Be careful though, it can caramelize fast!) Then simply pour it over your popcorn in a paper grocery bag and shake to coat. Totally easy peasy!
Once the kettle corn is cool, just mix it with your favorite snack mix-ins. You can use any flavor almonds, any pretzel or other cracker, and any candy! Flavor your adventure the way you like it.

Kettle Corn Snack Mix with almonds…the perfect beach fuel or snack for any day!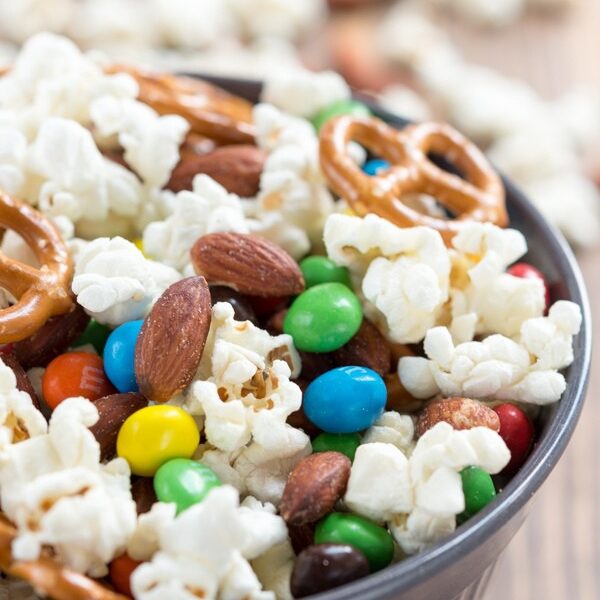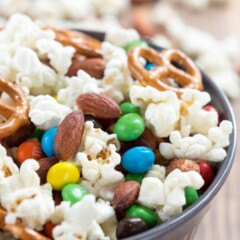 Kettle Corn Snack Mix
This Easy Kettle Corn Snack Mix takes homemade Kettle Corn and turns it into a mix that will satisfy your hunger!
Ingredients
1/2

cup

popcorn kernels

1/4

cup

granulated sugar

1/4

cup

unsalted butter

1

teaspoon

salt

or to taste

2

cups

pretzels

1

cup

Blue Diamond Almonds

1

cup

M&Ms
Instructions
Pop popcorn in an air popper or on the stovetop. I prefer an air popper - it produces perfect popcorn every time without burning it! Pick out any unpopped kernels. Place popped popcorn in a large brown paper grocery bag.

Place butter in a microwave safe bowl. Heat on high power for about 30-45 seconds until butter is melted. Add sugar, stir, and heat an additional 30 seconds. Stir, then heat again for 30 seconds. The mixture should slightly boil. If not, heat an additional 15-30 seconds but be careful - it can burn fast. Once it browns it's gone too far.

Stir butter and sugar mixture to make sure sugar is mostly (if not all the way) dissolved. Add salt and stir. Pour butter mixture over the popcorn in the bag. Close the bag by rolling it down and shake it several times to coat the popcorn. Let it cool before making the mix.

To make the mix: place popcorn, almonds, pretzels, and M&Ms in large ziploc bags. Seal and eat within 3 days. Optional: add other crackers or candies or raisins for a variety of snack mix flavor. The beauty of this recipe is you can make it how you like it.
Nutritional information not guaranteed to be accurate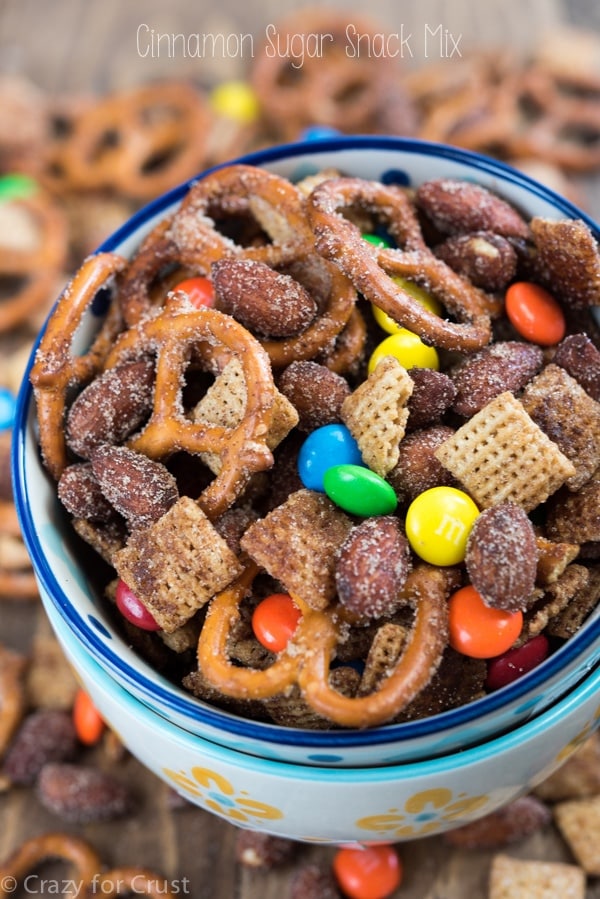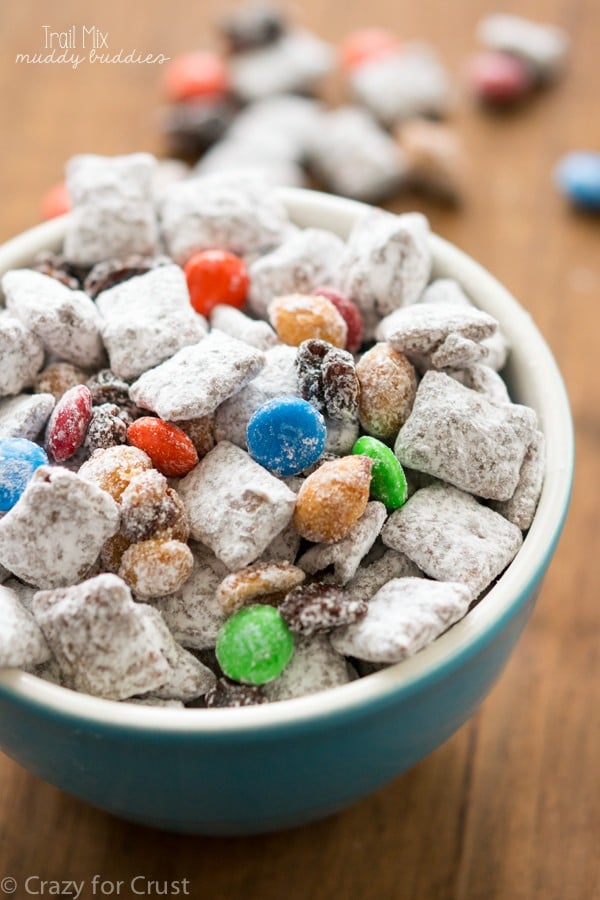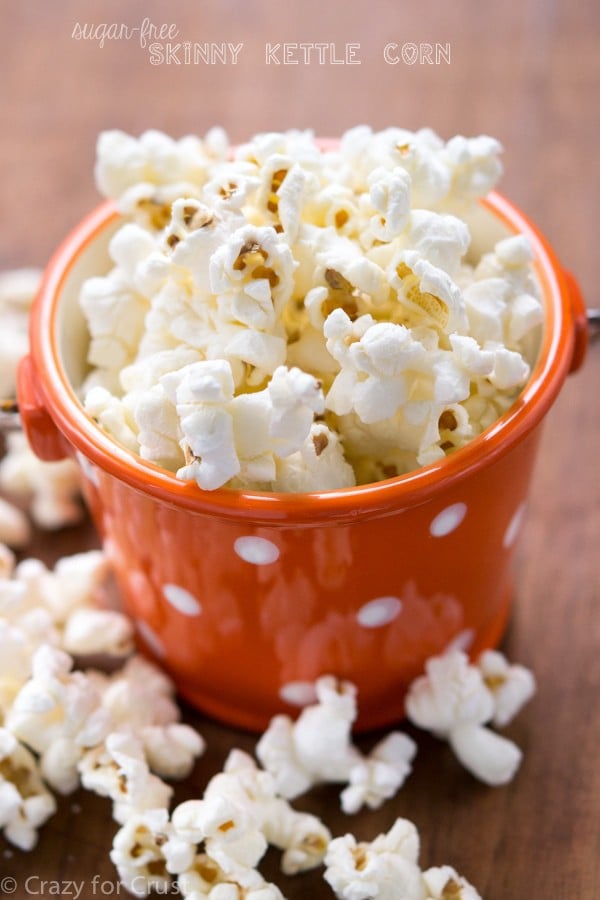 Sweets from friends:
Sweet Snack Mix Recipes from Something Swanky
Slow Cooker Snack Mix from Around My Family Table
Almond Joy Snack Bites by Very Culinary
This "Flavor Your Adventure" post is sponsored by Blue Diamond Almonds. For more snack ideas to "Flavor Your Adventure" this summer, visit Blue Diamond Almonds on Facebook, Twitter and Instagram. All opinions are 100% my own. Thank you for supporting the brands that make Crazy for Crust possible!
Last Updated on May 20, 2022