This post may contain affiliate links. For more information, read my disclosure policy.
Plain ice cream bowls are so boring. And they're so not eco-friendly.
With one ingredient you can make your own edible ice cream bowls – out of pie crust!
It's like ice cream pie…but way better.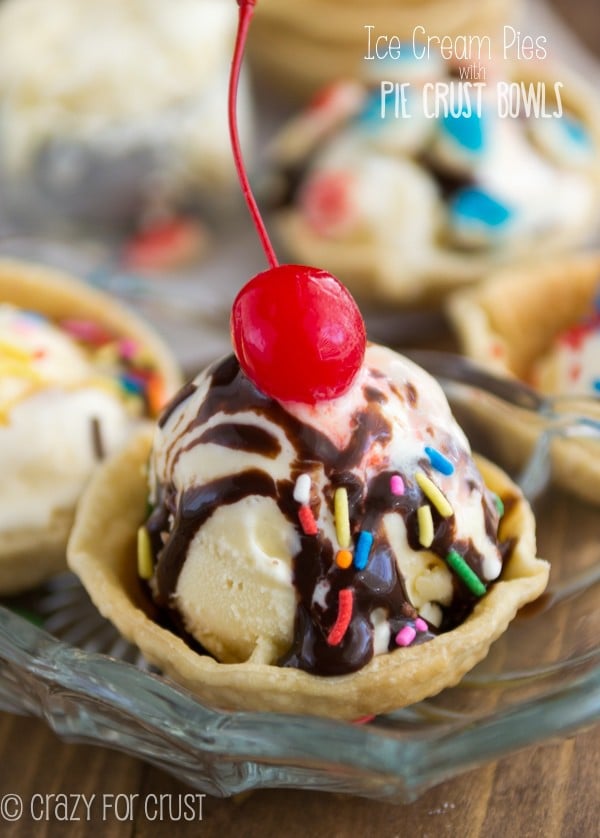 Have you ever had one of those Duh! moments?
Like when you cannot find your sunglasses…and they're on your head?
Or you tear the whole house apart looking for your phone…and it's in your purse?
Or when you realize that s'mores are so much better made with Thin Mints?
Or the lamp won't turn on no matter what you do and you realize that someone turned it off with the chain instead of the switch?
Or, when you realize that you've been wasting water washing ice cream bowls for 30 years instead of making them out of pie crust?
I mean, honestly. I have a CRUST WEBSITE. And I never thought of this before? Where do I go from here? Is there redemption?
#PleaseSayYes
You'll forgive me, right? Because this is such a genius idea? Because ice cream pie = the bomb so ice cream bowls made out of pie crust that end up tasting like ice cream pie are thebombdotcom?
You only need one ingredient for this recipe. Unless you use my from scratch all butter pie crust, in which case you need 4.
Still, it's easy. And easy is also thebombdotcom.
Here's how to make them: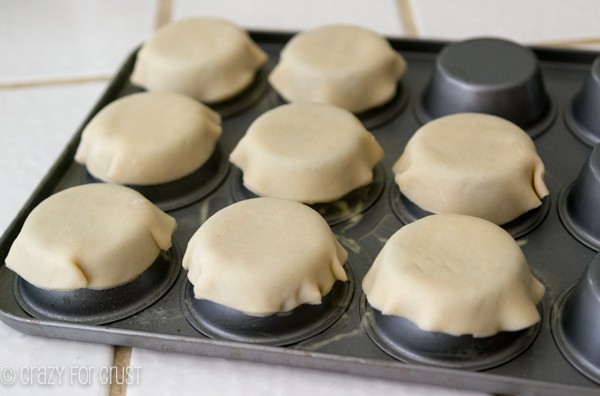 Cut circles of pie crust. I love Pillsbury pie crust. It's good and it performs well every time. I used a regular sized cupcake pan for this. Turn it over, spray it generously with cooking spray, and wrap the crust circles around the cupcake cavities. Then bake them.
(You can make minis using a mini muffin pan!)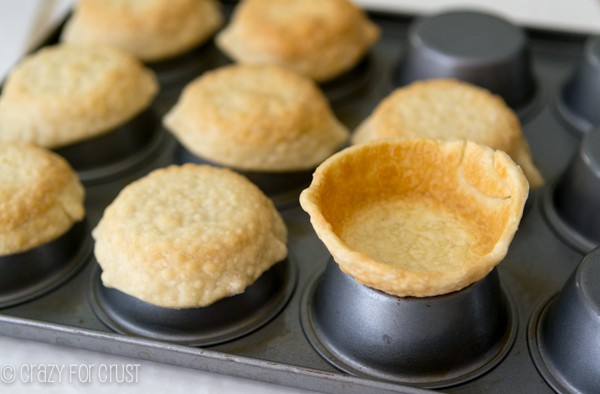 That's how they look once they've baked and cooled. They should pop right off once cool. Be careful with them – they're fragile!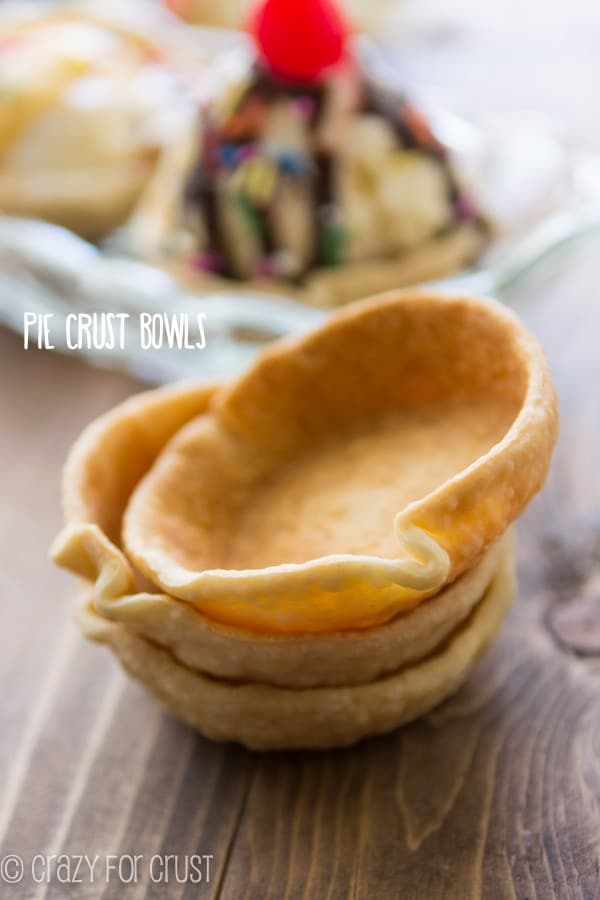 Next step: pick your favorite ice cream and toppings. The options are endless.
I used vanilla because my prop ice cream is vanilla. Food bloggers, tell me I'm not alone. I have a container in my freezer that has been softened and scooped and re-frozen and had old scoops tossed back in that it's a medley of 123 different recipes and it's got ice crystals. That way I don't have to eat all of the ones I make.
But I did eat one.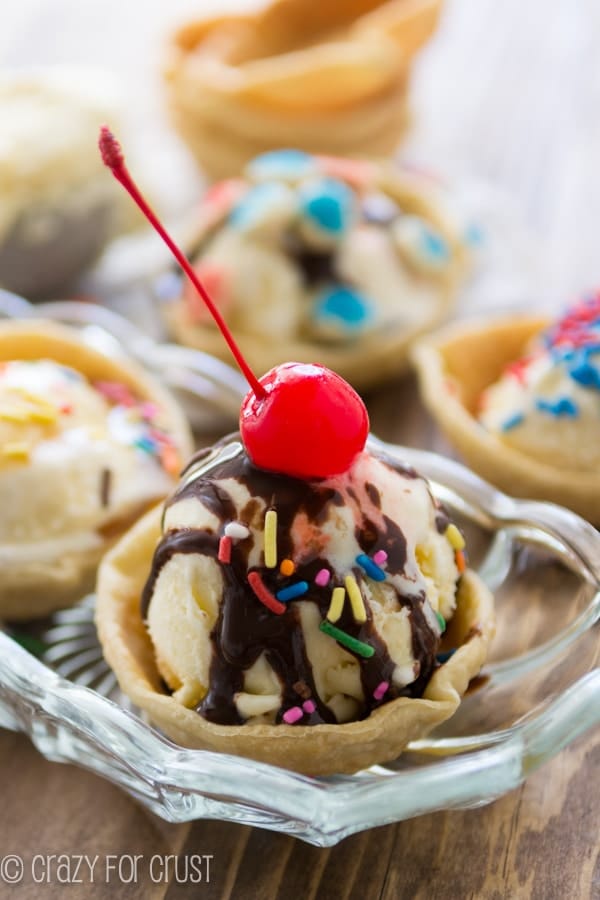 Chocolate sauce + sprinkles + cherry. Best sundae ever!
With the pie crust it just adds another layer of flavor. They're not as crunchy as a waffle cone bowl, but I like it better because it's crust.
Duh.

These are perfect for a party. Make a bunch and have them out for a make your own sundae party. Or, make the bowls, scoop ice cream in, then refreeze and serve for at a topping bar party.
The kids are going to love it. I promise!
Ice Cream Pie Crust Bowls. Just…yes.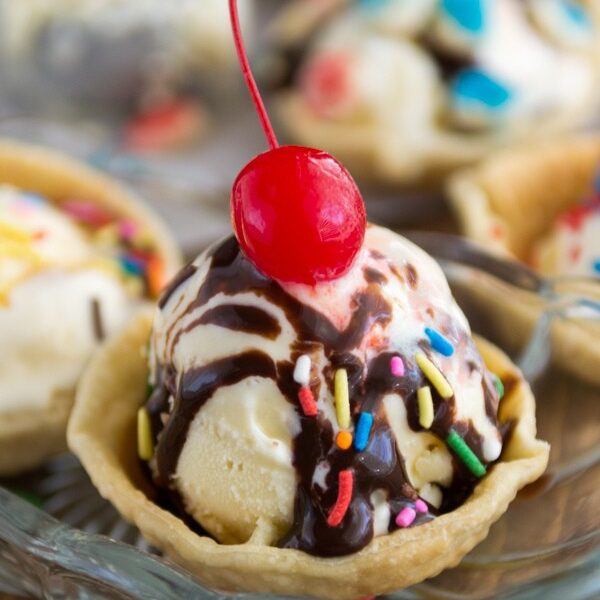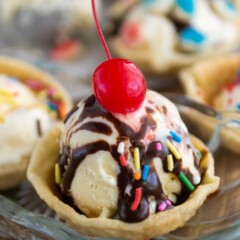 Pie Crust Ice Cream Bowls
Make your own edible ice cream bowls using pie crust!
Ingredients
1 9

" pie crust

cold (from a pack of two; I use Pillsbury) or you can make it from scratch

Ice Cream

Sprinkles

ice cream toppings, whipped cream, etc.
Instructions
Preheat oven to 375°F. Unroll your pie crust and cut 3 1/2" circles with a round cookie cutter. (If you're using a scratch crust, make sure it's chilled after rolling like I talk about in this post.)

Spray the bottom of a cupcake pan with cooking spray. Wrap each crust circle around the inverted cupcake pan cavities. Prick the tops of each with the tines of a fork to reduce bubbling.

With re-rolling your crust, you'll get 8-10 pie crust bowls. Double the recipe using two pie crusts as needed.

Bake for about 11 minutes, until the crusts are a light golden color. Cool completely, then gently remove from the muffin pan. (Be careful - they're fragile!)

Fill with scoops of ice cream and toppings like chocolate sauce and sprinkles. Use your favorites!
Nutritional information not guaranteed to be accurate
Sweets from friends:
Baked Apple Ice Cream Bowls by Domestic Fits
Cinnamon Sugar Tortilla Bowls by Two Peas and their Pod
Easy Caramel Sauce Recipe by Something Swanky
Last Updated on May 13, 2020