This post may contain affiliate links. For more information, read my disclosure policy.
Hot Chocolate Bombs are a super fun way to make a cup of hot chocolate. You can make them with white or chocolate almond bark and decorate them with sprinkles, marshmallows, and candy melt drizzles. I'm showing you how to make basic hot cocoa bombs that you can customize in so many ways. They make great gifts, or keep them all to yourself!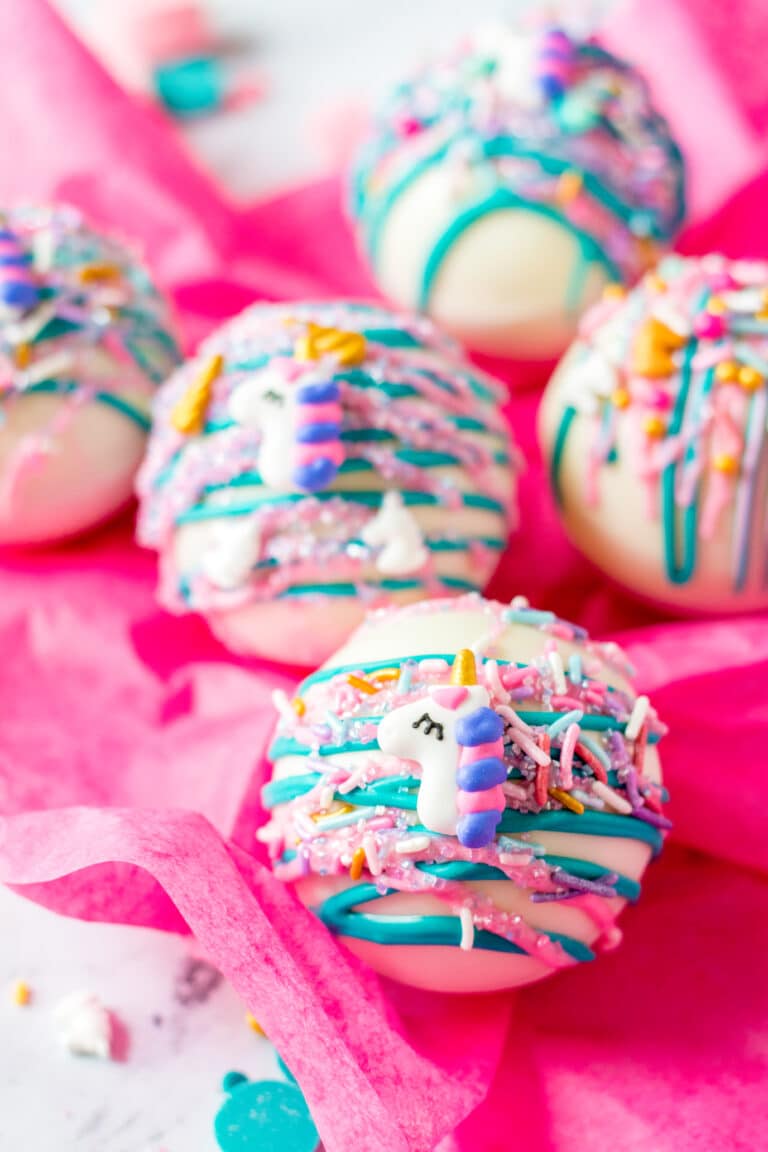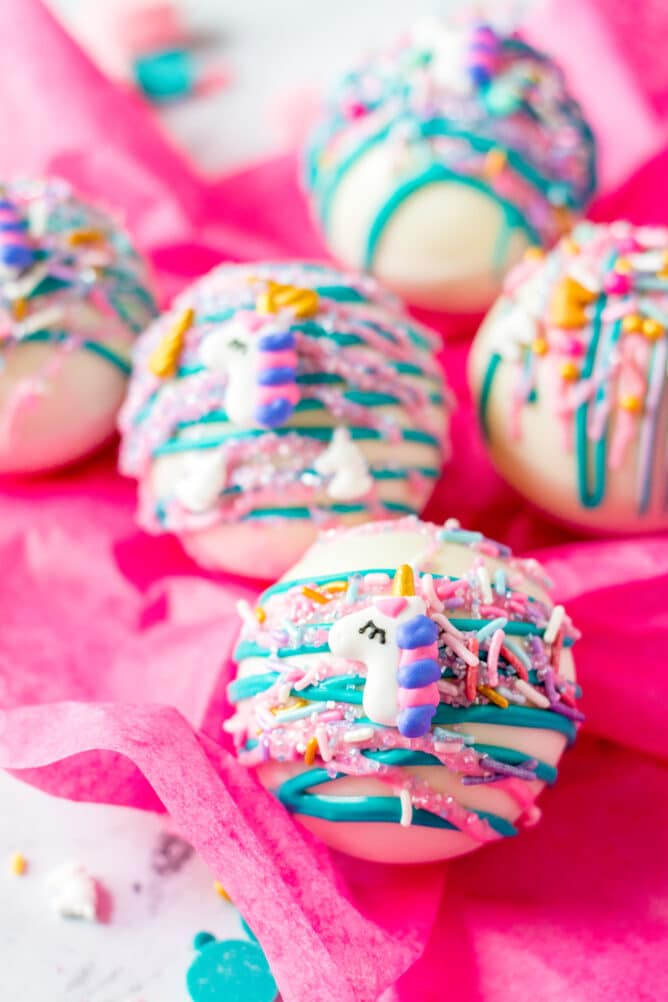 Are you as obsessed as I am with the hot chocolate bombs that have been all over social media lately? I love them because they aren't hard to make, and you can customize them in so many ways.
Fun Hot Chocolate Bomb Recipe
If you haven't seen them, hot cocoa bombs are chocolate spheres filled with hot cocoa mix and marshmallows. When you pour hot milk over one, the chocolate melts and reveals the mix and goodies inside. It's such a fun way to serve hot chocolate!
The great thing about them is that you can make a batch and they keep well, so they're great for gifts. The other great thing is that once you know how to make them, you can get creative with the decorations and make them for any occasion.
This post shows you how to make simple hot chocolate bombs, plus I'm sharing a few ideas for decorating them, including fun unicorn hot chocolate bombs.
Table of Contents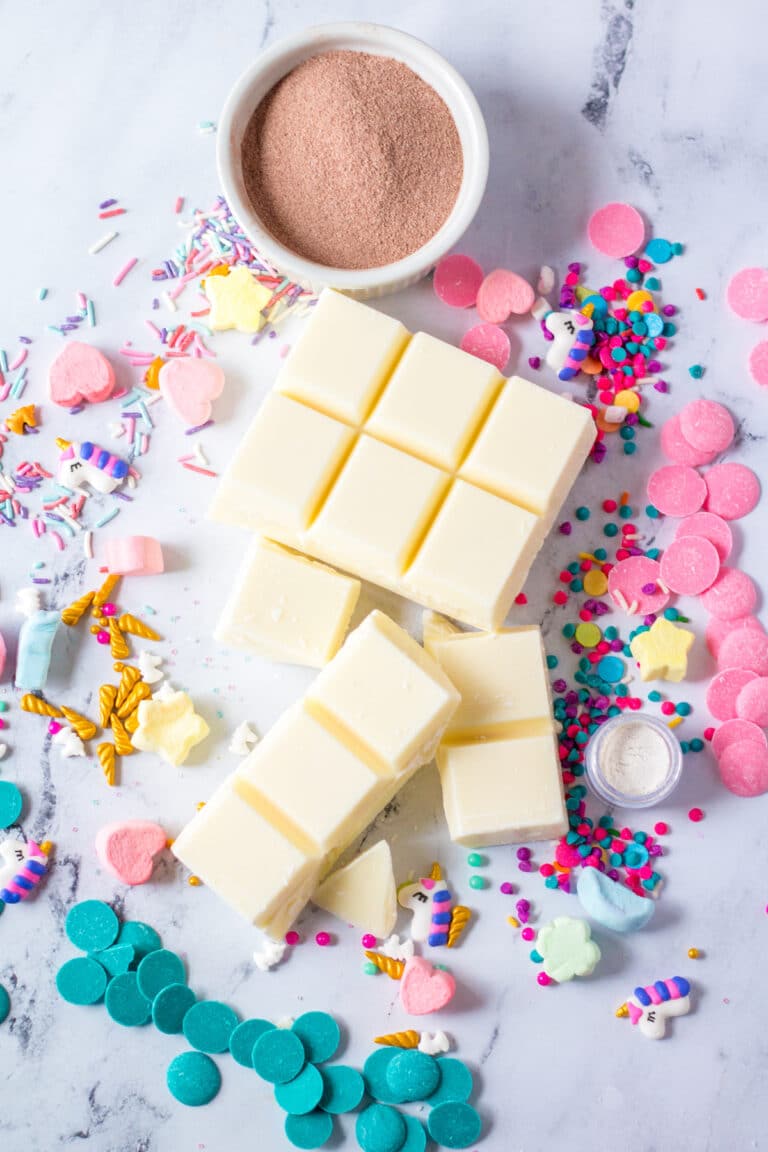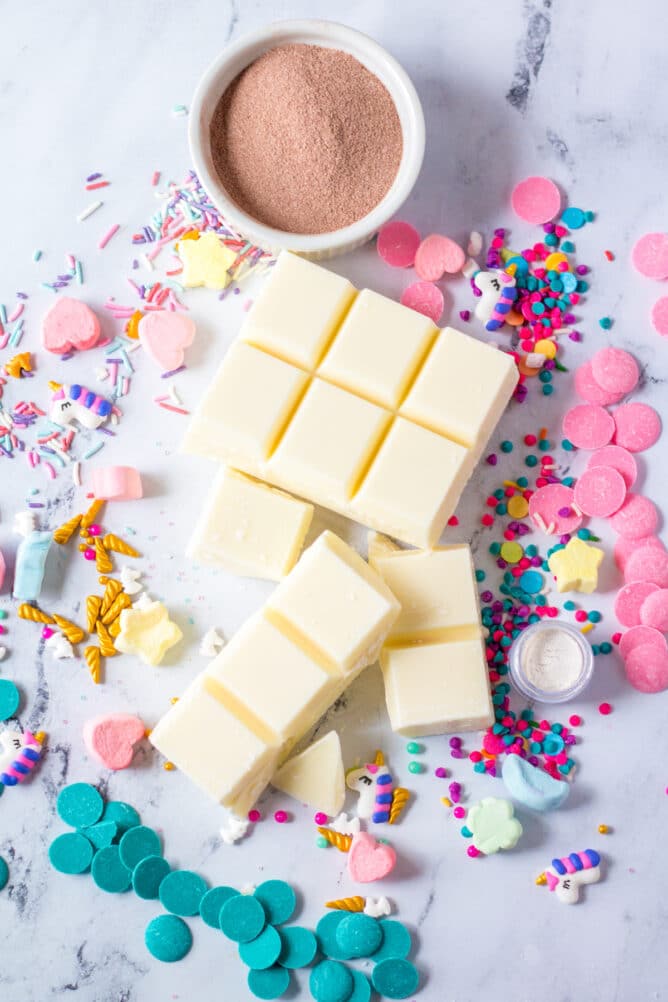 Ingredients to Make Hot Cocoa Bombs
16 ounces of white or chocolate almond bark
Hot chocolate mix: use your favorite brand
Sprinkles and marshmallows: both are optional
Additional candy melts for decorating: use your favorite colors
Supplies You'll Need
You will need a hot chocolate bomb mold for this recipe. It's a silicone mold that is used to make hollow chocolate spheres. I use a silicone half-sphere mold.
You will also need microwave-safe bowls, a microwave-safe plate, and hot cocoa mugs for serving.
How to Make Hot Chocolate Bombs
1. Melt: Melt the almond bark with a double boiler or in the microwave. Follow the package instructions, which usually have you melt it in 30-second increments.
2. Fill the mold: Take your silicone mold and place some of the melted chocolate in each mold. Smooth the chocolate into an even layer. It should coat up to the edge of the mold. Chill in the refrigerator for 10 to 15 minutes.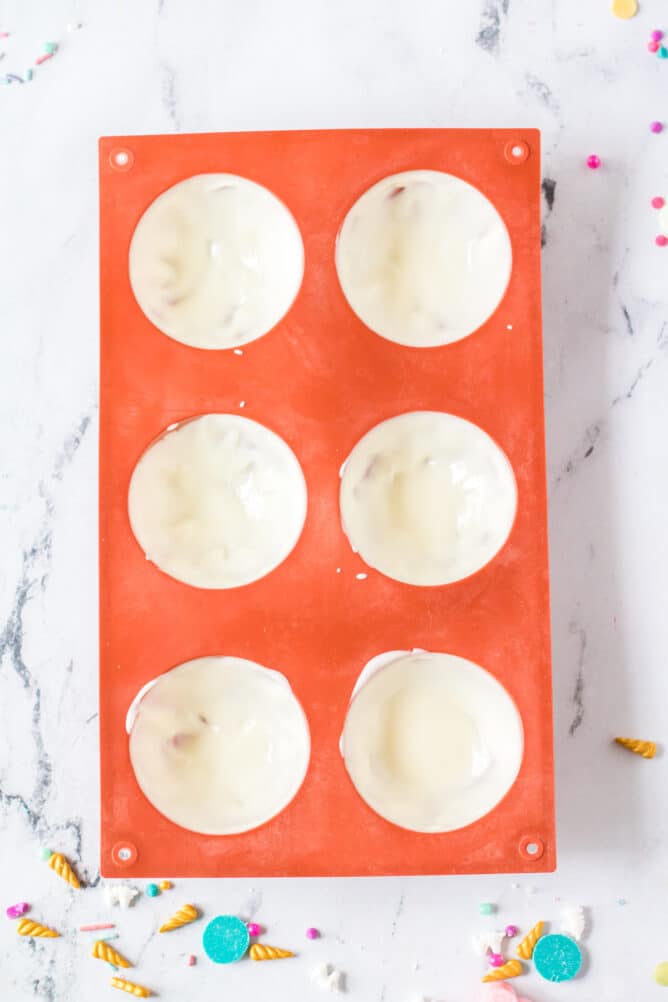 3. Second Coat: Do a second coat of chocolate, smooth it over the first coat, and then chill the chocolate for 10 to 15 minutes.
4. Warm Plate: Once your shells are chilled, warm a plate in the microwave for 30 to 45 seconds. Carefully remove the chocolate shells from the molds.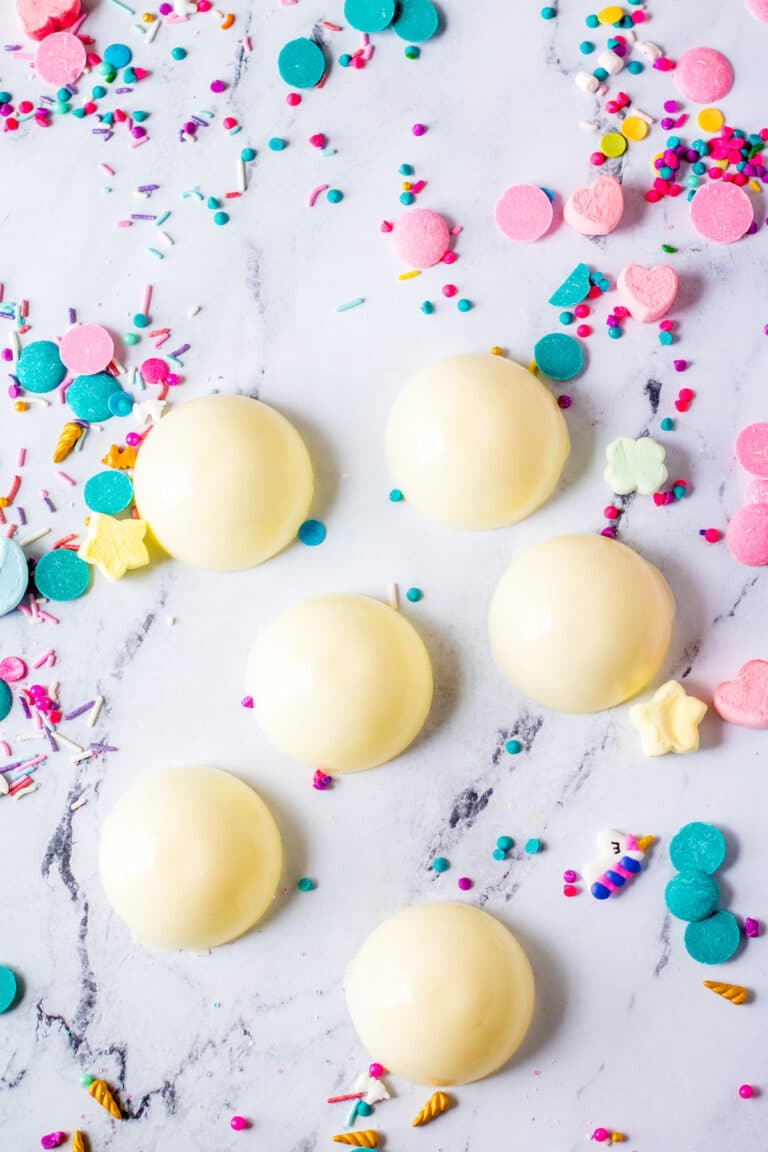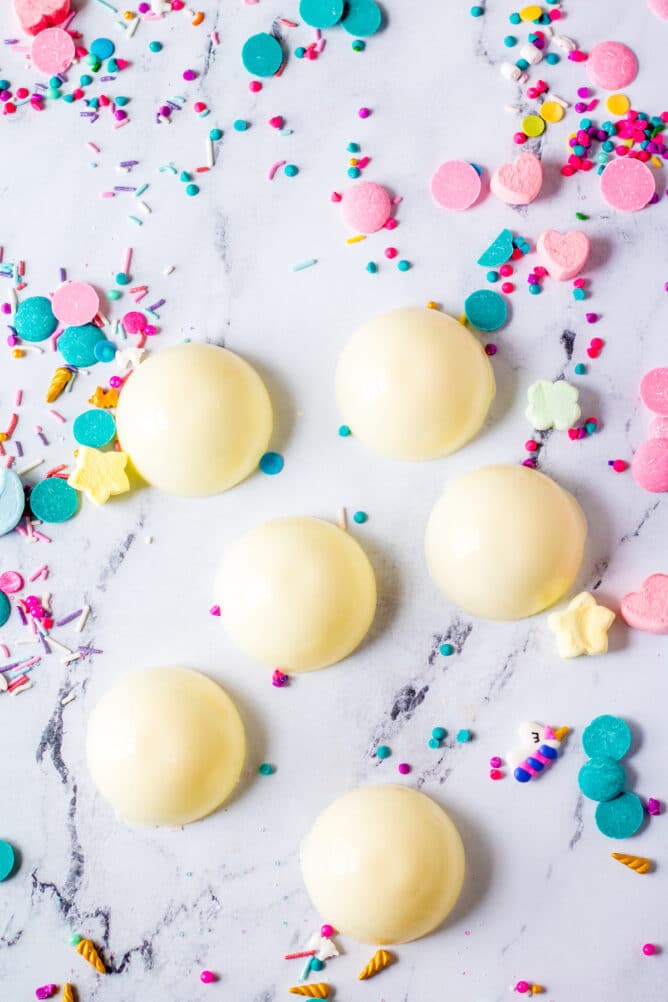 5. Flatten the edges: Place one shell on the warm plate to melt the edges. Do this step for half of the chocolate shells and then fill each with hot chocolate mix, sprinkles, and marshmallows.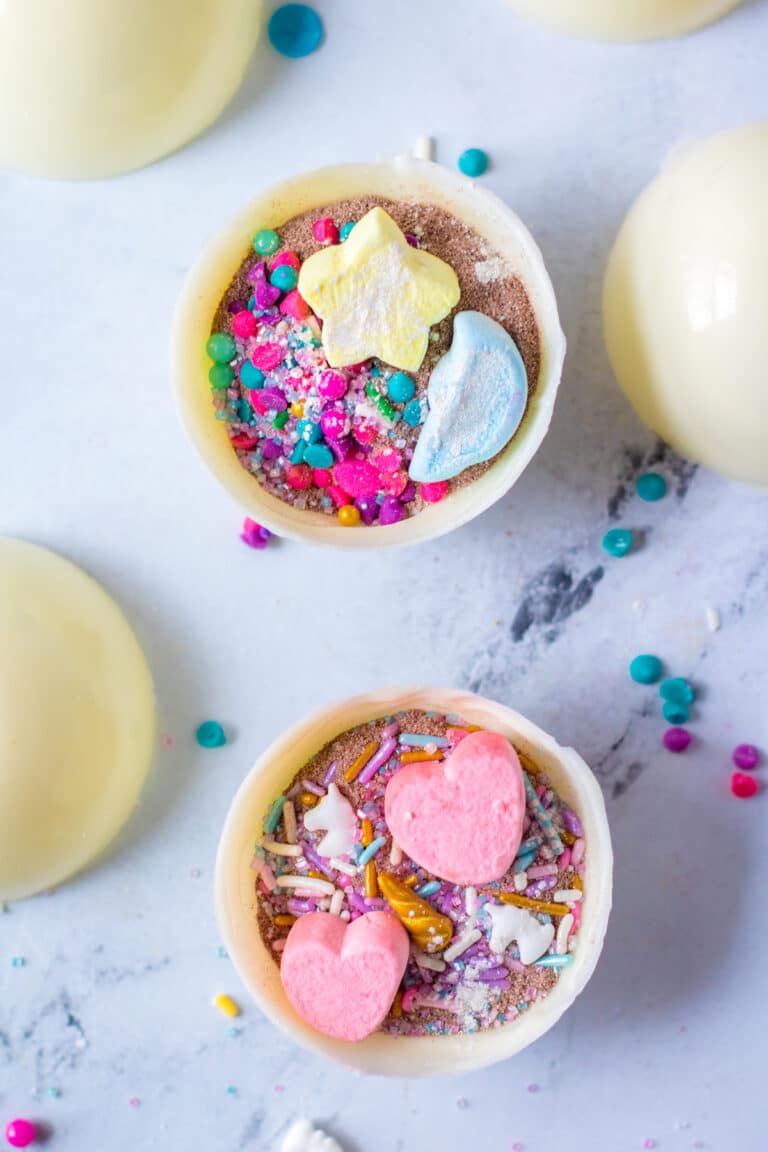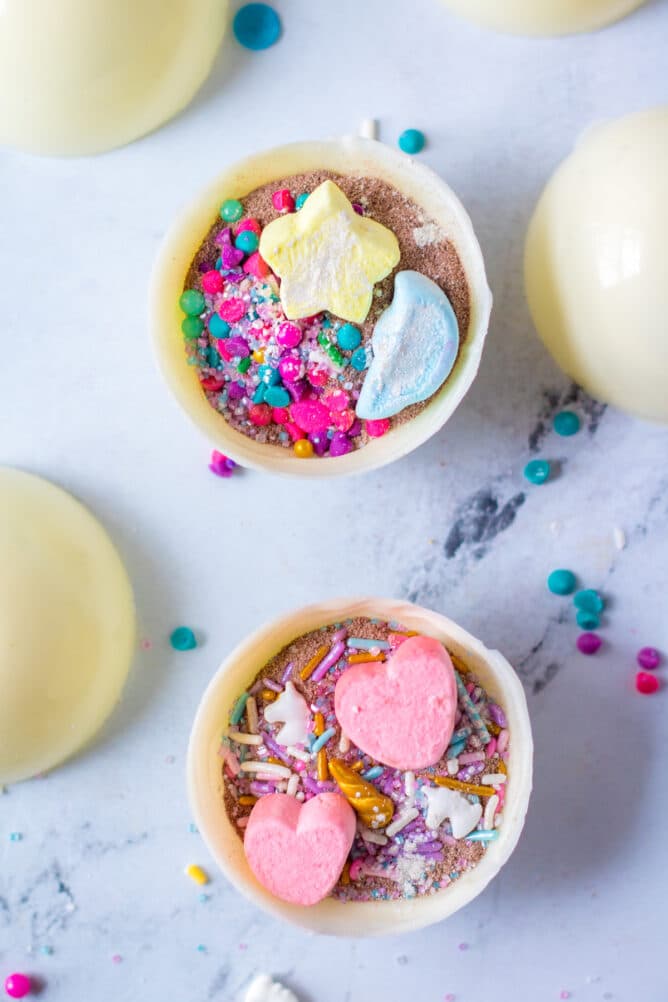 6. Fill & Seal: Take the other shells and place them on the warm plate to melt the edges. Place the empty shell on the filled one, so the edges meet. Smooth the seam and then leave the spheres to set.
How to Serve Hot Cocoa Bombs
Place one hot cocoa bomb in a mug. Pour hot milk over the top. Once the chocolate bomb melts, stir well and enjoy!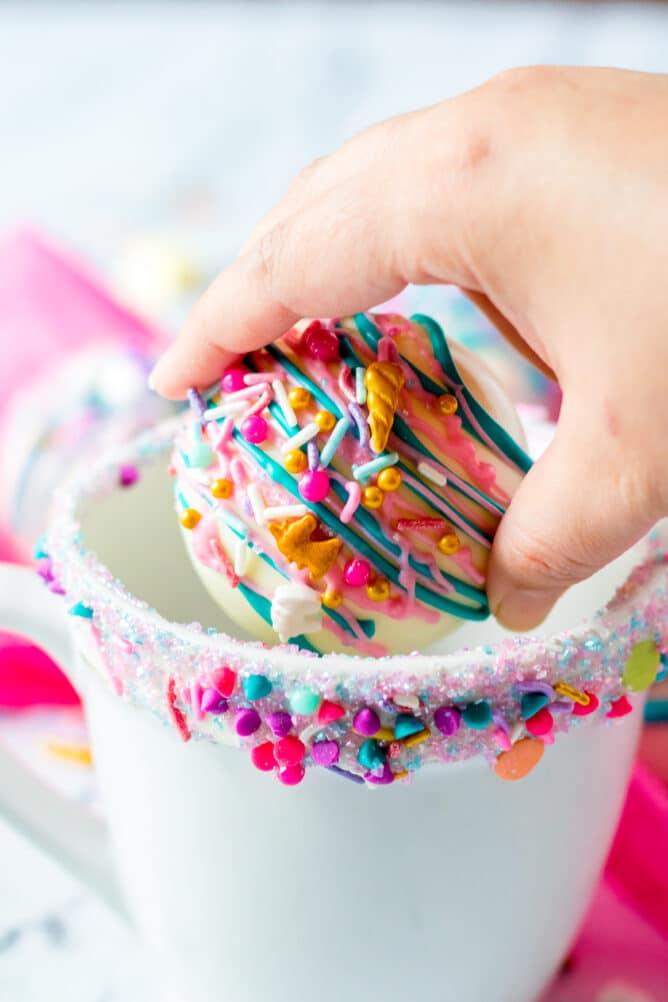 Variations
You can make hot chocolate bombs as simple or as fancy as you like!
For the spheres, you can do regular chocolate or white chocolate.
For the inside, I like to include fun marshmallows and colored sprinkles with the cocoa mix. You can also add mini chocolate chips or white chocolate chips.
For the outside, you can do some simple drizzles of white chocolate or chocolate almond bark. Use colorful candy melts to create a customized hot cocoa bomb to match any holiday or event. Think red and white for Valentine's Day, pastels for Easter, red and green for Christmas… you get the idea!
These unicorn hot chocolate bombs are so cute and easy to make. I include all of the instructions in the recipe card so you can recreate them!
Hot Cocoa Bombs FAQ
Can you use melted chocolate chips to make the spheres? You can, but almond bark is a lot easier to work with. Chocolate chips don't always melt nicely and can be too thick, and white chocolate chips can scorch easily. Stick with almond bark for less stress!
What kind of hot cocoa mix should you use? Any dry cocoa mix will work, so pick your favorite.
Can you make white chocolate bombs? Yes, use white almond bark to make your spheres! You can include white mini marshmallows and white chocolate chips to keep with the theme for the inside.
How long do homemade hot chocolate bombs last? They will keep for several weeks, if not longer! For gifts, I like to package them in clear bags with a tag that explains how to make a mug of cocoa.
Help! My chocolate spheres broke! What did I do wrong? When you smooth the melted chocolate in the mold, make sure it's in an even layer. Also, be sure to do two even layers, which will help reinforce the edges. Take your time removing them from the molds and handle them carefully, especially when pressing the two half spheres together to seal the chocolate.
Once you try these hot cocoa bombs, you will want to make them for every holiday or special event! The possibilities for decorations are endless, and they are such a fun treat – watching the chocolate melt to reveal the treats inside is so fun. I hope you give them a try!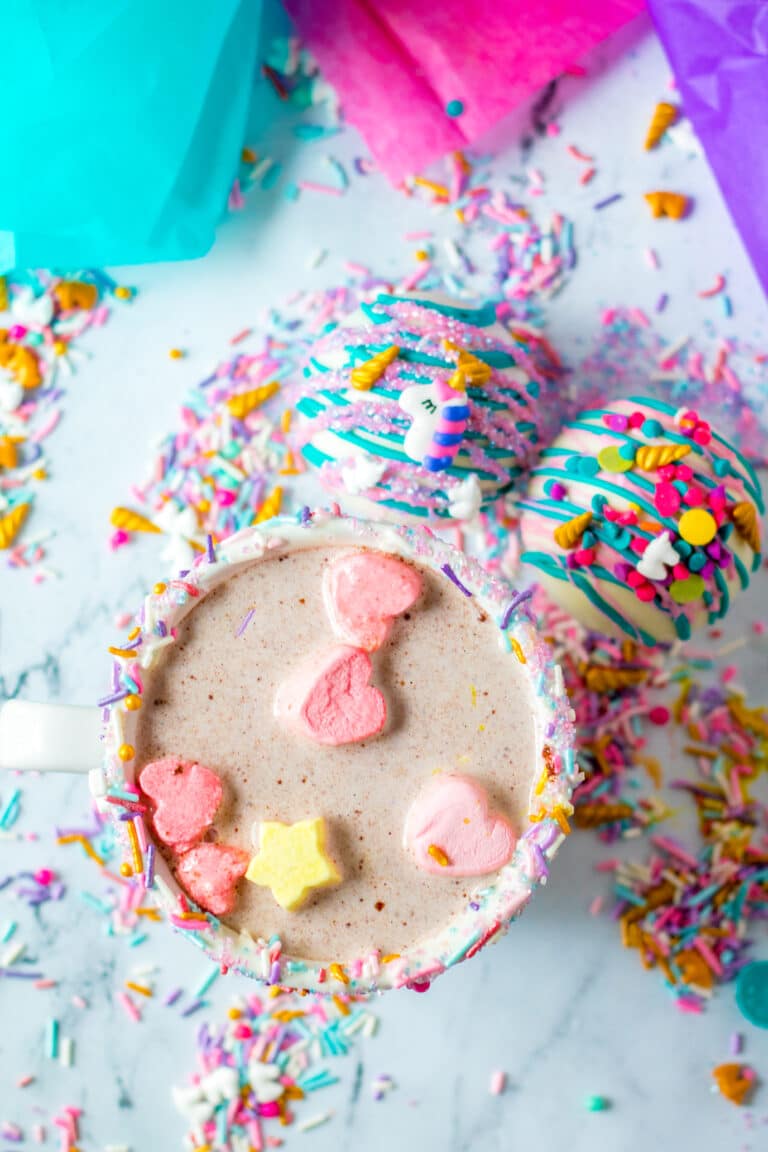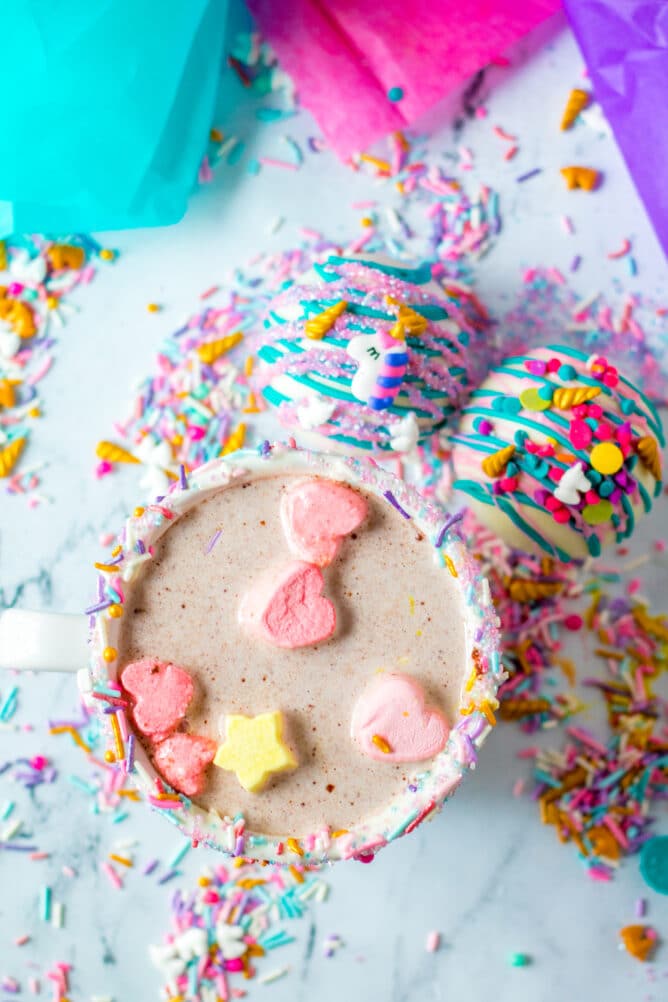 More Useful Baking How-Tos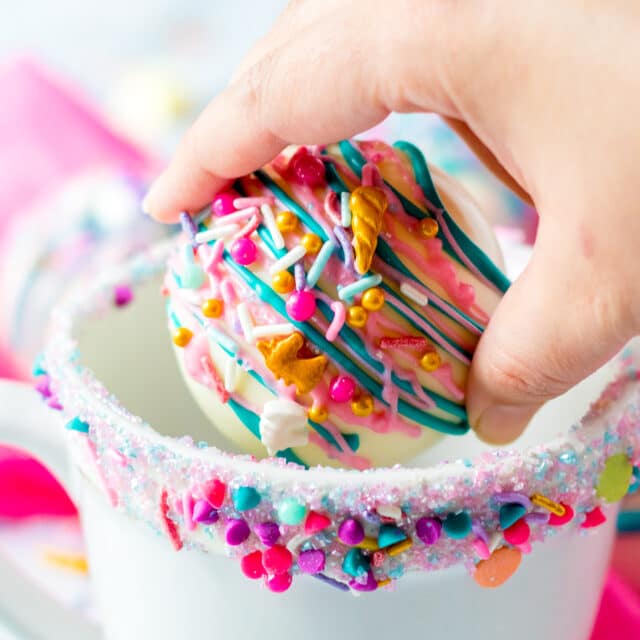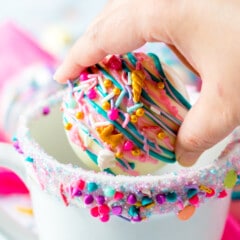 Unicorn Hot Chocolate Bombs Recipe
Prep Time
1
hour
15
minutes
Total Time
1
hour
50
minutes
Ingredients
To Make Basic Hot Chocolate Bombs:
16

ounces

white or chocolate almond bark

Hot chocolate mix
To Decorate/Make Unicorn Hot Chocolate Bombs
Pink candy melts

Teal candy melts

Assorted unicorn sprinkles

Unicorn candy toppers

Lucky Charm marshmallows
Instructions
Melt your chocolate by using a double boiler or microwaving in a medium microwave safe bowl in 30 second increments until all melted.

Use a spoon to place a bit of the melted chocolate into each mold.

Smooth the chocolate up and around the edges.

Place in the fridge for 10-15 minutes to set.

Spoon a little more chocolate into the hardened chocolate in the mold and spread it around for a second coat.

Chill for another 10-15 minutes.

Carefully remove the chocolate shells from the molds.

Microwave a small glass plate for 30-45 seconds. Set aside.

Take a shell and place on the warm plate to smooth the edges. Do this for half of the shells.

Fill half of the shells with 1 tablespoon of hot chocolate mix, assorted unicorn sprinkles, and a few marshmallows.

With the remaining half of the shells take each one and place on the plate to lightly melt the edges.

Immediately place the top shell on the filled shell.

Use your finger to smooth the seam.

Place your pink candy melts in a small microwave safe bowl and microwave in 30 second intervals stirring in between until melted.

Repeat with the teal candy melts.

Drizzle the pink and teal chocolate over each bomb and immediately decorate with the unicorn candies and sprinkles.

I love using the extra chocolate and sprinkles to decorate the lips of the mugs.

Serve in a mug, pouring hot milk over the bomb and stirring until completely melted.
Recipe Nutrition
Serving:
1
bomb
|
Calories:
287
kcal
|
Carbohydrates:
34
g
|
Protein:
2
g
|
Fat:
19
g
|
Saturated Fat:
11
g
|
Sodium:
9
mg
|
Potassium:
164
mg
|
Fiber:
3
g
|
Sugar:
29
g
|
Calcium:
14
mg
|
Iron:
2
mg
Nutritional information not guaranteed to be accurate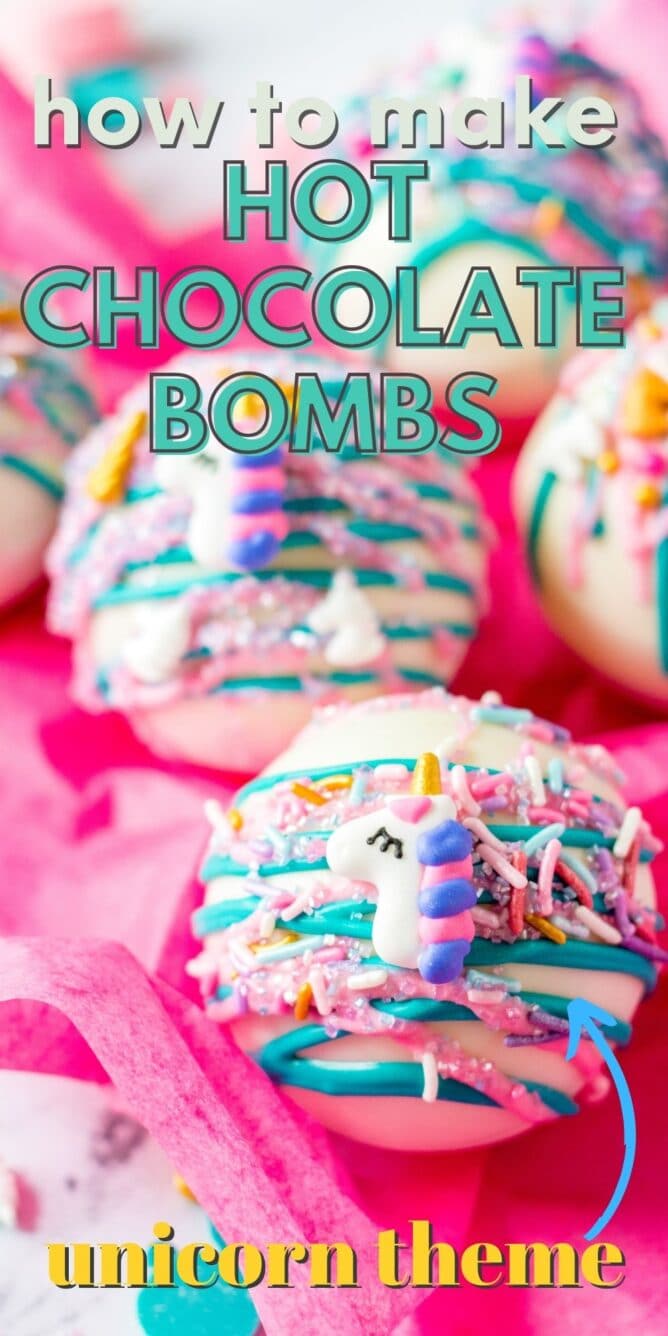 Hot Chocolate Bombs can be made with white or chocolate almond dark. They can be decorated anyway you choose – we love sprinkles, marshmallows and candy melt drizzles.