This post may contain affiliate links. For more information, read my disclosure policy.
Want perfectly grilled pork loin? This easy grill method for pork makes this Roasted Garlic and Herb Pork Loin Filet tender and moist every single time!
Once summer comes, we fire up the grill multiple times a week. This Roasted Garlic and Herb Pork Loin Filet is going in the grill rotation as a regular addition. Thanks to Smithfield® Marinated Fresh Pork, I'll never forget to marinate again!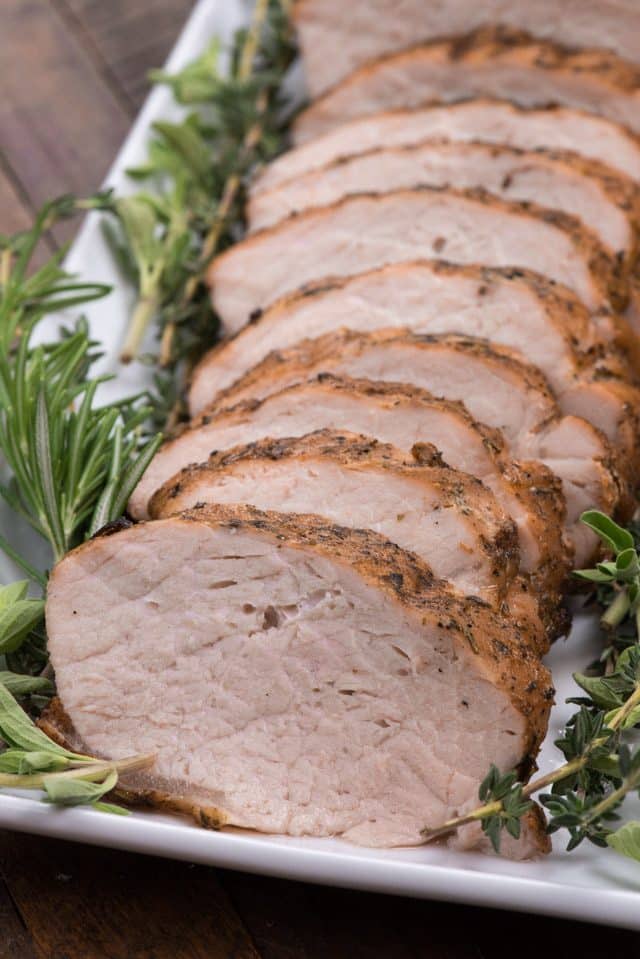 Why you will LOVE this recipe
I am going to be 100% completely honest with you: I've never really been a pork lover. Growing up, we ate pork chops a lot, and I did not like them one bit. And as an adult, my childhood experiences clouded my view of all cuts of pork.
UNTIL NOW.
Guys, have you ever had a really good pork loin or pork tenderloin? It's moist and tender and absolutely perfect… when it's cooked just right. My husband loves pork loin, so I pushed aside my past memories and tried cooking one in the oven a few weeks ago, and I really enjoyed it. I decided it needed to go into our regular dinner rotation, but now that it's in the 80s here, I don't want my oven running in the heat of the afternoon.
That's where the grill comes in… and this delicious Roasted Garlic and Herb Pork Loin Filet. It was so good, I had to share it with you because maybe you need to be introduced to pork properly too!
One of the best parts is this dinner can be on the table in under an hour and takes very little active time to cook? I never thought of grilling as something inactive, but it really is.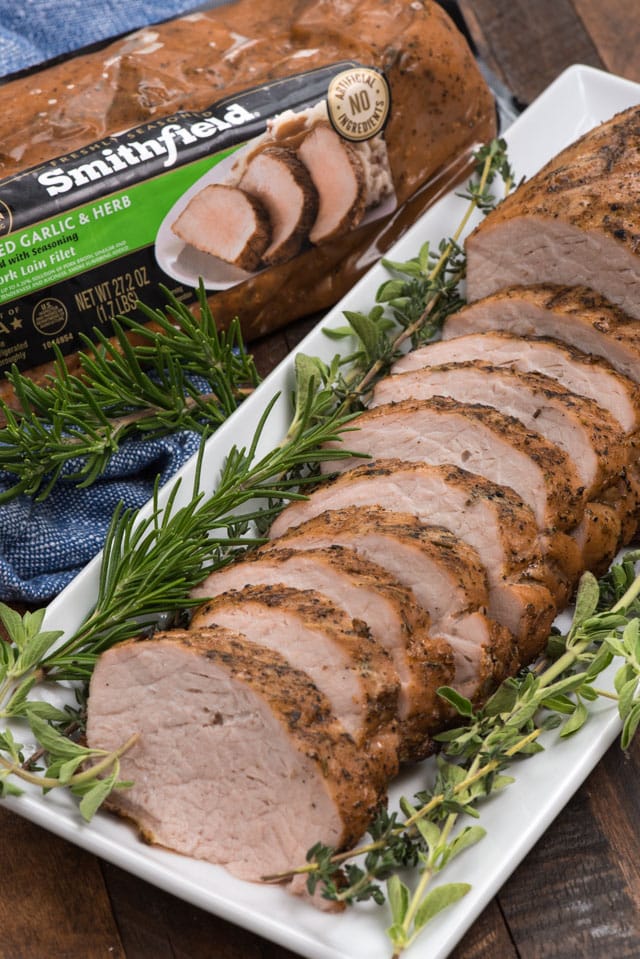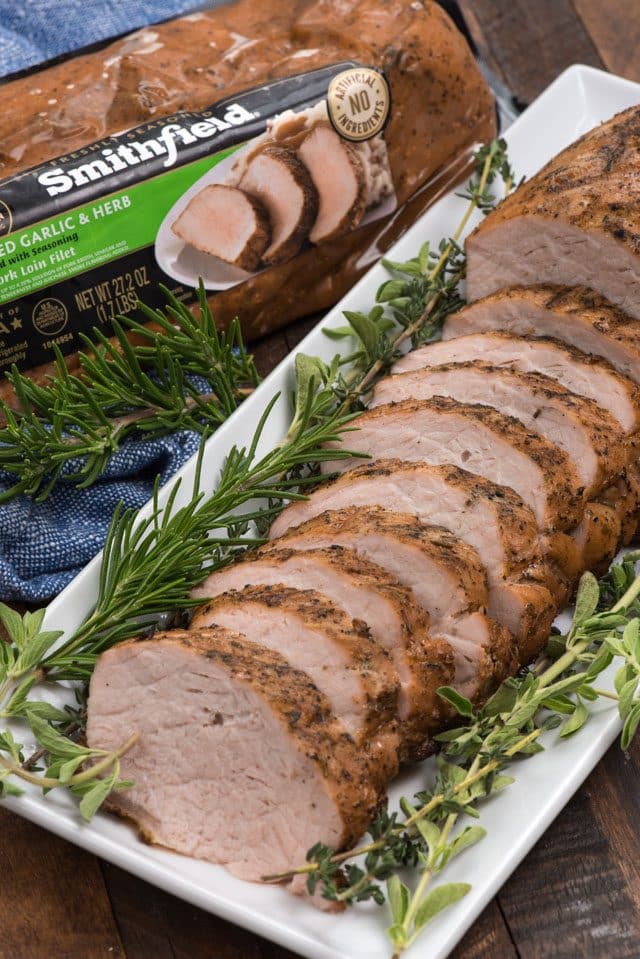 When I was looking for pork at Safeway last week, I came upon Smithfield Marinated Fresh Pork. They have a whole line of products in the meat department. The Roasted Garlic and Herb Fresh Pork Loin Filet was calling my name. I instantly envisioned dinner and leftover pork sandwiches in my future.
Then, I set out to figure out the best way to make a grilled pork loin filet.
Is pork loin filet the same as pork tenderloin?
No, they're actually different cuts of meat. Pork tenderloin is thin and small, while pork loin filet is larger and lends itself more towards slow-cooking or grilling because it's thicker. The only real similarity between the two is they are leaner cuts of pork. They aren't suitable for shredding or pulling like pork shoulder is.
I absolutely love that the Smithfield Marinated Fresh Pork comes ready to cook. All I had to do was open the package and pop it on the grill. It's perfect for people like me who forget to marinate!
How do you make grilled pork loin filet?
It was actually way easier than I thought it would be. The key to grilling pork loin filet is indirect heat. I'm not a fabulous grill master (I mostly leave the outdoor stuff to my husband), but even I was able to grill this to perfection using this method.
Because the pork loin filet is thick, it needs to cook slower than a pork tenderloin. If you cook it on direct heat, it's going to char on the outside and be raw in the middle, which is no good.
Direct vs Indirect Heat
I'm going to speak to grilling on a gas grill, because that's what I use. Direct heat would be over the flame (as in, the flame is right under the meat). Indirect heat is when there is no flame under the meat.
The key to slow-roasting on the grill is to heat up the grill using only half the burners and cook the pork loin on the indirect heat side.
How to cook with Indirect Heat
Turn on half your burners on your grill. For me, that was two out of the four burners. Close the lid, let it preheat to about 300-350°F. Note: if your grill won't get that hot, you may need to turn on a third burner.
Once it's preheated, you place the Smithfield Marinated Fresh Pork Loin Filet over the direct heat to sear it on both sides.
Then move it to the section with no flame underneath. Cover the grill and cook until the meat registers 145°F on an instant read thermometer (which I highly recommend).
How many minutes per pound do you cook a pork loin on the grill? The answer to that one is about 20 minutes per pound.
I seared my pork loin for 5 minutes per side over direct heat. Then I moved it to indirect heat, closed the lid and set the timer for 20 minutes. Then I turned it over and cooked it about 15-20 more, or until the thermometer registered 145°F.
Once it's done, you must let it rest at least 10-15 minutes. The result is a juicy and tender pork loin every single time. Plus, it'll be super flavorful because it came already marinated from Smithfield.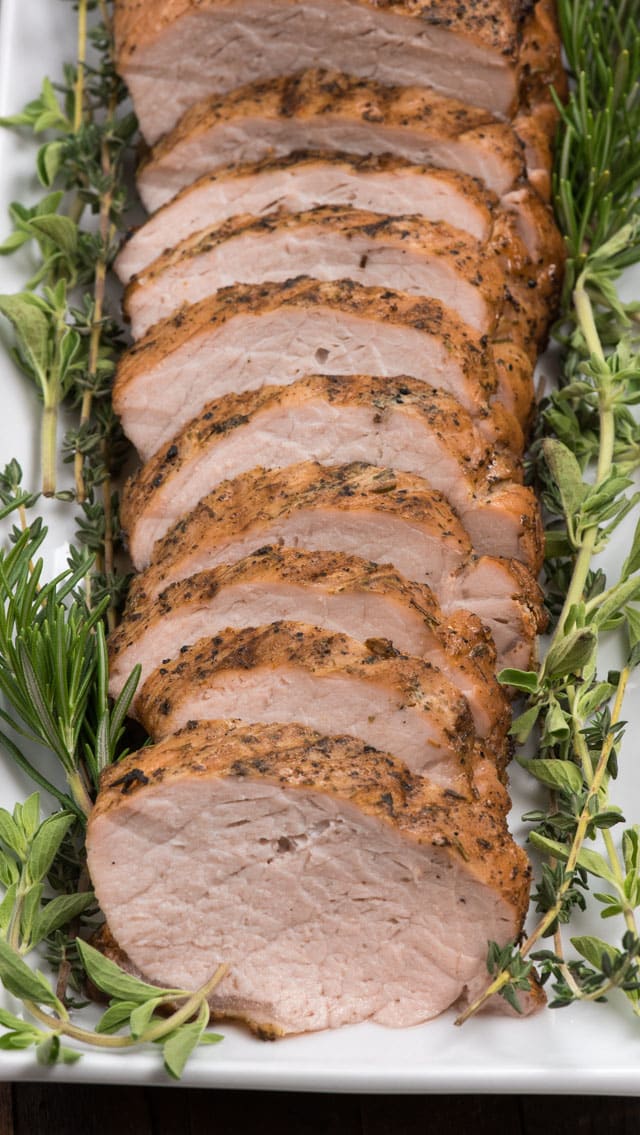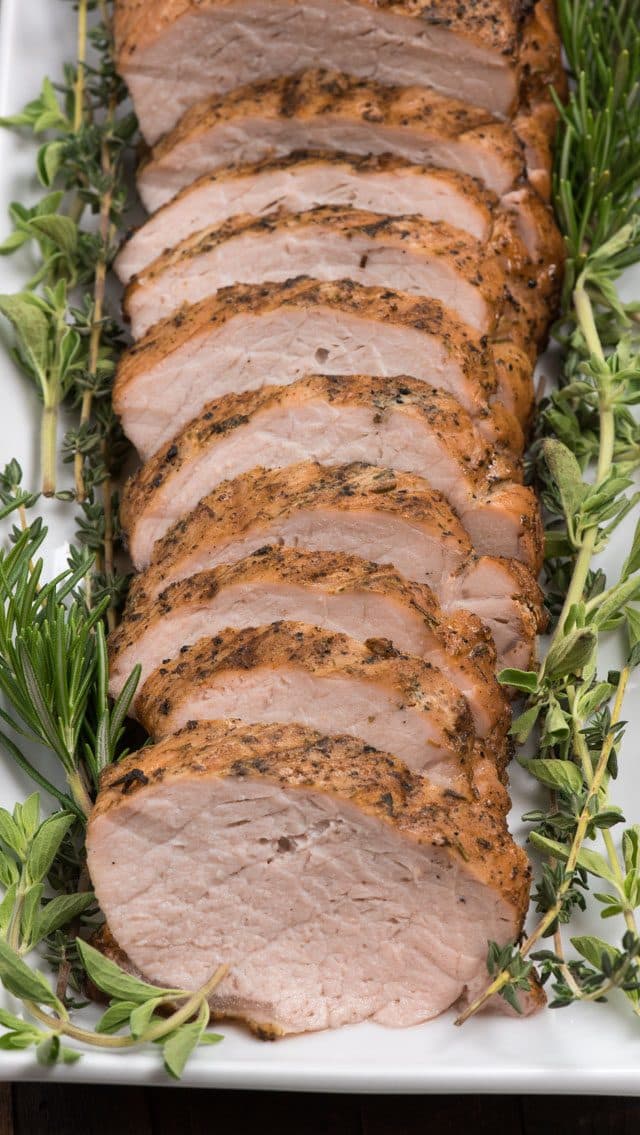 Smithfield Roasted Garlic and Herb Grilled Pork Loin Filet comes marinated and cooks up easily on the grill in under an hour.
This pork is perfect any night on the grill, either for a family dinner or a barbecue with family and friends. We also loved the flavor of the marinade. It was perfect with a simple salad, but I can't wait to make gravy and potatoes to go alongside next time! Find more grilling recipes at http://www.smithfieldgetgrilling.com!
Want even more? Subscribe to Crazy for Crust to get new recipes and a newsletter delivered to your inbox. And stay in touch on Facebook, Pinterest, Twitter, and Instagram for all my latest updates.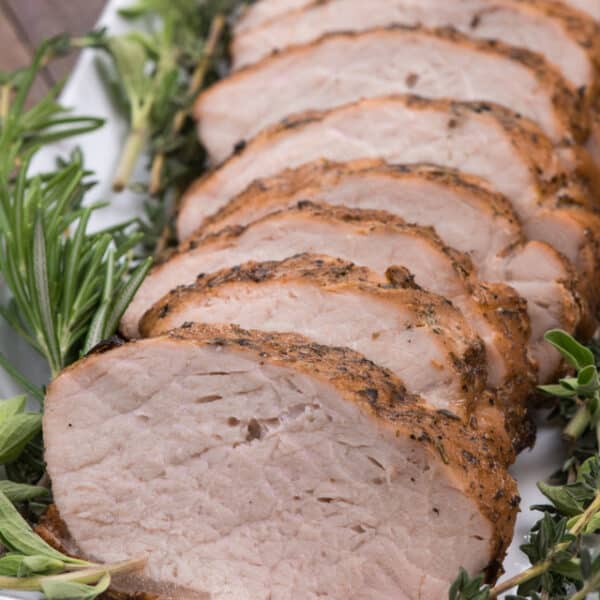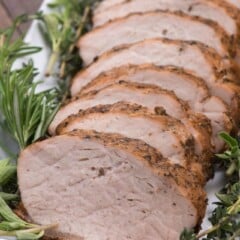 Garlic and Herb Grilled Pork Loin
How to grill pork loin perfectly every time! This easy grill method for pork makes this garlic and herb pork loin tender and moist on the grill!
Ingredients
1

27.2 ounce/1.7 lb Smithfield Fresh Pork Loin Filet (Roasted Garlic & Herb or other flavor)

Fresh herbs

for garnish
Serving Suggestions:
Easy Herb Gravy

Crockpot Mashed Potatoes
Instructions
Preheat gas grill to about 350°F using indirect heat. (Direct heat: open flame // Indirect heat: no flame). Turn on about half of the burners. (2-3 burners on a 4 burner grill).

Once preheated, carefully oil the grates or spray them with nonstick cooking spray.

Remove the pork loin from packaging. Sear (with the lid open) over direct heat for 5 minutes per side. Then move the pork to the indirect heat. Close the grill lid.

Cook for 20 minutes, then flip. While cooking, be sure to check for flare-ups and that the temperature stays between 300-400°F. Light another burner or turn on off to regulate temperature.

Cook an additional 10 minutes. Check internal temperature and continue cooking until the thickest part reads 145°F.

Remove from grill and rest for 10 minutes before slicing and serving.

Serve immediately or store in refrigerator for up to 2 days.
Recipe Nutrition
Serving:
4
ounces
|
Calories:
140
kcal
|
Carbohydrates:
4
g
|
Protein:
19
g
|
Fat:
6
g
|
Saturated Fat:
2
g
|
Cholesterol:
50
mg
Nutritional information not guaranteed to be accurate
Crockpot Mashed Potatoes are a great side dish for this pork recipe!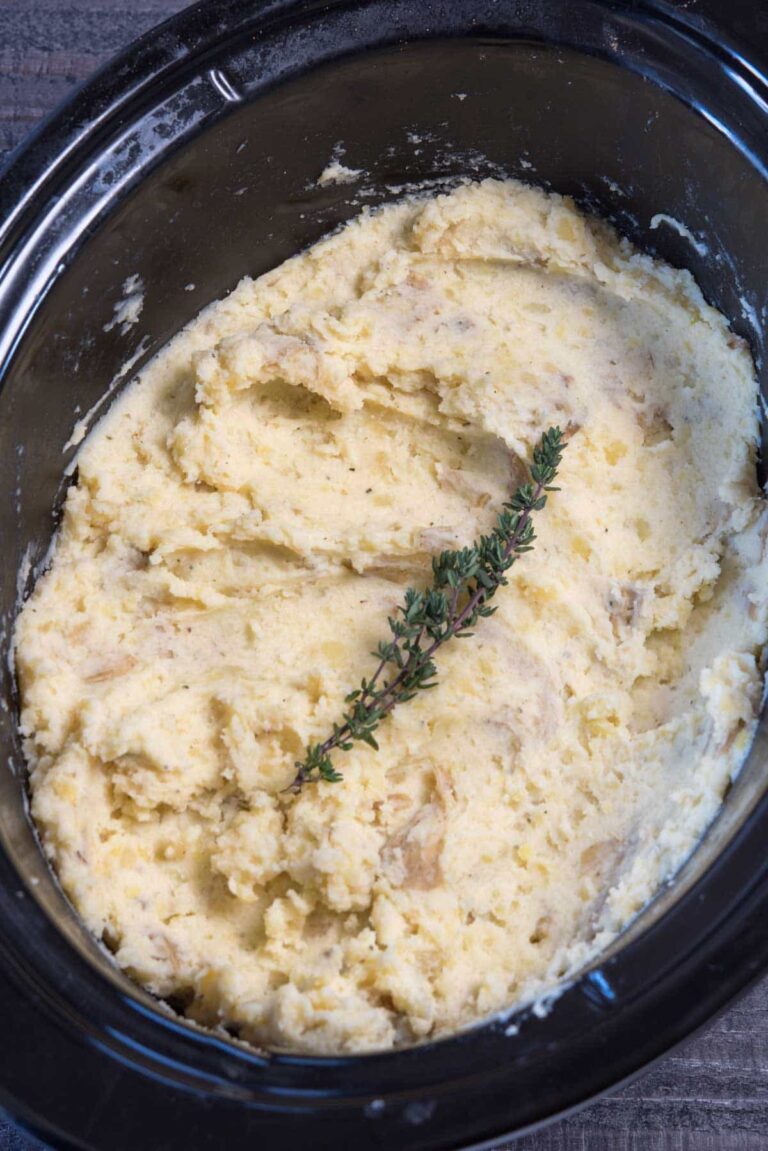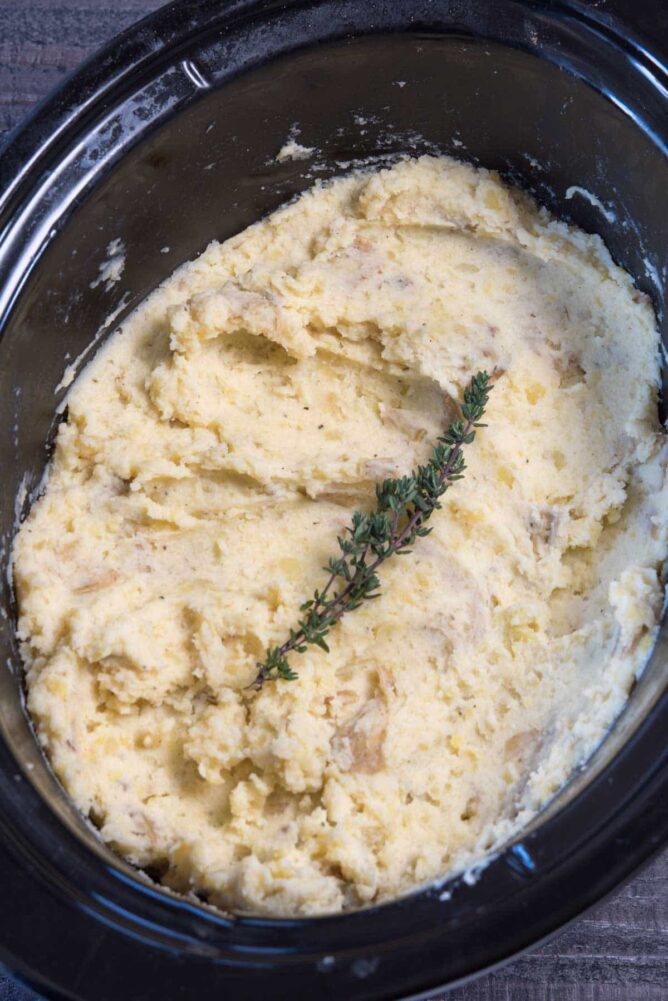 Easy 5 Minute Gravy would be amazing on this dish!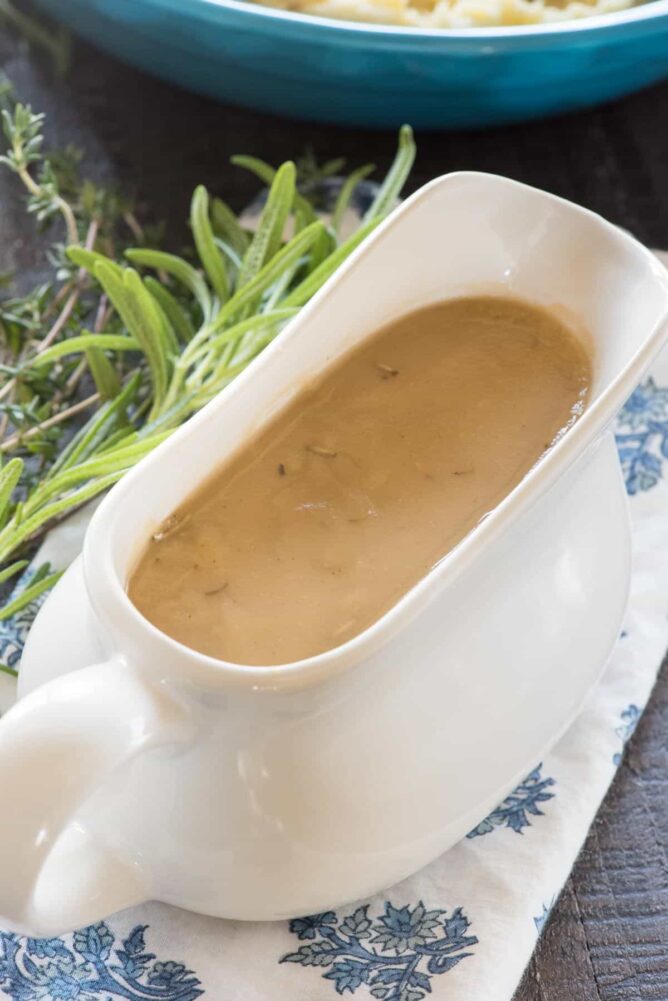 45 minute dinner rolls – the perfect pork sandwich bread!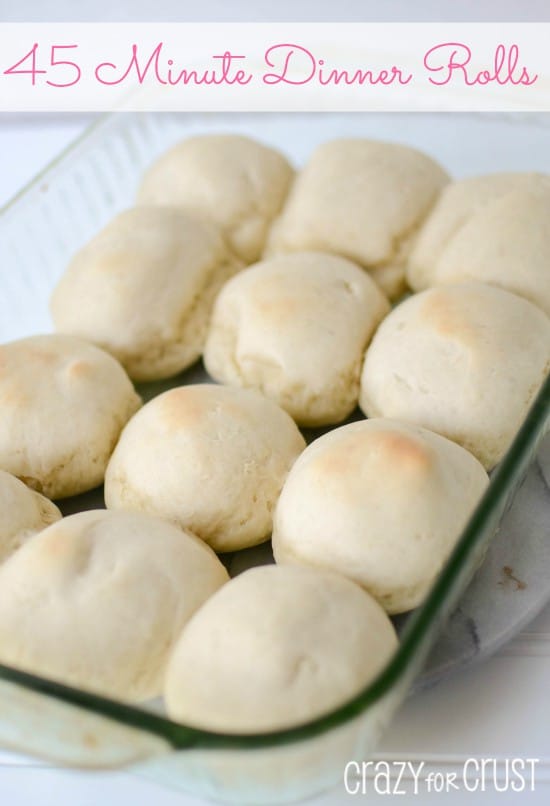 **Did you make this recipe? Don't forget to give it a star rating below!**
This is a sponsored post written by me on behalf of Smithfield® Fresh Pork. All opinions and text are 100% my own.
Last Updated on May 31, 2021