This post may contain affiliate links. For more information, read my disclosure policy.
Frosted Cupcookies: cupcakes that are made of cookies, get it? These cookies are stuffed with Oreos and frosted with a decadent vanilla frosting!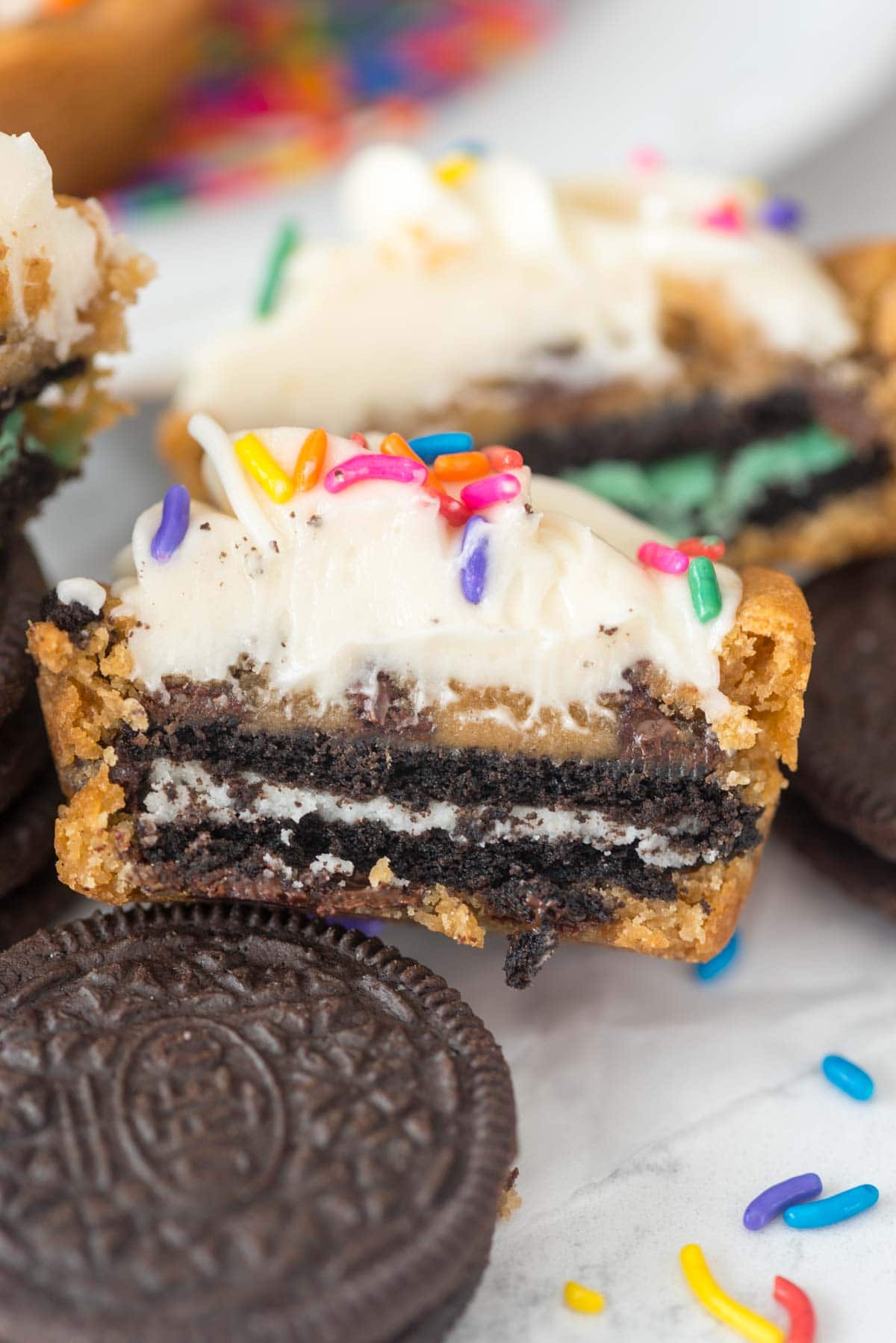 This post gets me a little emotional because I'm so excited about this recipe. Why? Well, let's start at the beginning.
About 4-5 years ago this girl commented on my blog and we started going back and forth commenting. One day she asked me where I lived because, I kid you not, my kitchen looked familiar to her. I told her that I was in Rocklin (which is outside Sacramento) and, small world, she was from the same city.
Fast forward a few months and a bunch of us bloggers that realized we were all close together decided to get coffee. This girl and I sat down next to each other and started talking about where we lived and she our conversation was basically a back and forth of "I live near this landmark" and "SO DO I!" It turns out that not only were we from the same city but we lived only a few blocks from each other. I walked my dog past her house every weekend!
Since that time four years ago, this girl and I have become friends, both personally and professionally. We help each other, lean on each other, go out for drinks together, and occasionally borrow a cup of sugar from each other. That girl is Hayley, from The Domestic Rebel. And I'm so happy and proud to do this post for her today because this recipe is from her NEW COOKBOOK!
You all are going to want to RUN over to Amazon and buy this book. Out Of The Box Desserts by Hayley Parker is available now and is full of 100 recipes that are simply spectacular and semi-homemade. You all know how much I love some help in the kitchen, whether it's using cake mix or Pillsbury refrigerated products or Krusteaz baking mixes! I'll be the first one to tell you that I hardly ever make a box mix or dough product as their intended; I always stuff them with something or bake them as bars or throw them in the slow cooker.
There is a myriad of recipes to choose from in her book and all have a little bit of grocery store help to get you started. This book would be great for someone who is new to baking (especially kids!) or for someone who just likes to have some shortcuts in the kitchen. Don't we all need to save time now and again? Especially with the school year starting – there's never time for extra baking these days.
These cupcookies have only 2 main ingredients, which is a major win-win in my book!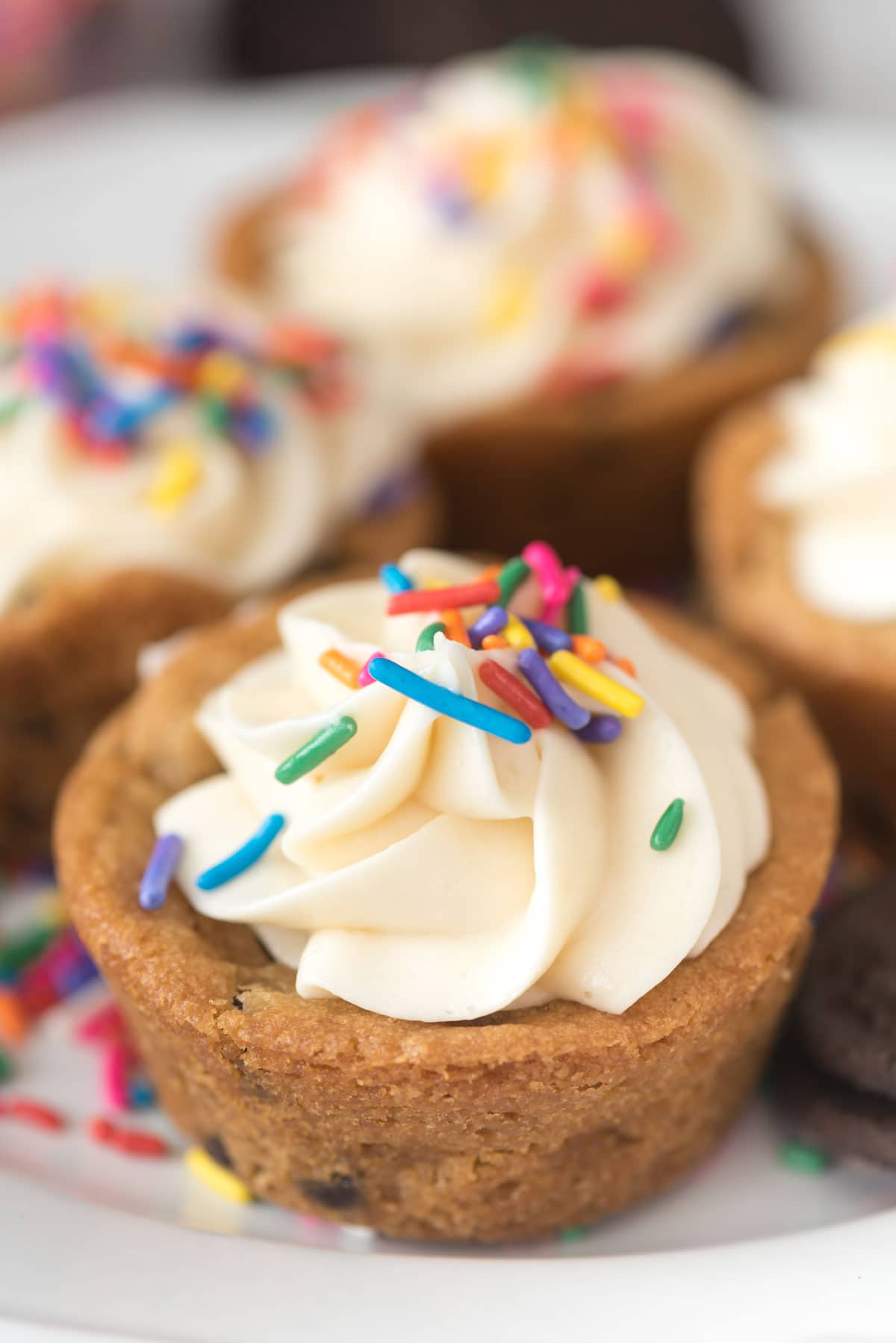 All you need to make the base of the cookies are some refrigerated cookie dough (or you could use a box mix or your own homemade recipe) and Oreos. That's it! And guess what? You can use ANY kind of cookie dough you find at the store (I know for a fact that peanut butter would be fabulous) and you can use any kind of Oreo you want.
(Side note: did you know that new flavors of Oreo pop off the shelf almost daily? Target has Cookie Dough and Blueberry Pie flavors right now!)
Basically you just press some cookie dough on the top and bottom of an Oreo and bake each cupcake in a muffin pan. Then, when they're cool, frosting them with vanilla frosting.
This is the perfect easy treat for any party or just because you NEED COOKIES RIGHT NOW.

Don't forget to go get Hayley's book – you won't be disappointed!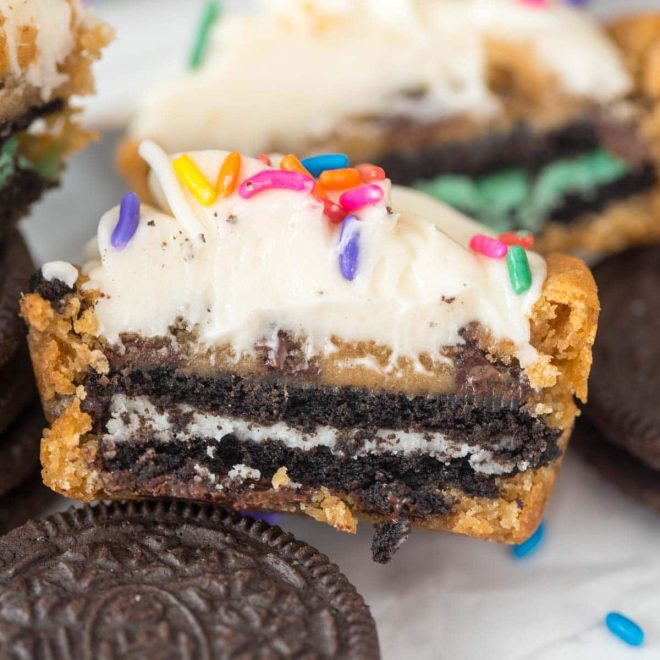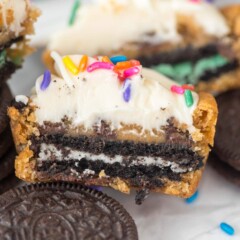 Frosted Cupcookies
These Frosted Cupcookies are a cupcake made out of chocolate chip cookies and stuffed with an Oreo! Frost them with your favorite frosting for a decadent and EASY treat!
Ingredients
1

24-count package refrigerated chocolate chip cookie dough, room temperature (see note)

12

Oreo cookies

any flavor

1

cup

butter

4

cups

powdered sugar

1

tablespoon

vanilla extract

1

teaspoon

salt

3-5

tablespoons

heavy whipping cream

OR substitute a can of vanilla frosting - or any flavor - for the homemade frosting
Instructions
Preheat oven to 350°F. Spray a 12-cup muffin pan with nonstick cooking spray.

Take a single piece of cookie dough and flatten it slightly with the palm of your hand. Place an Oreo on top, then flatten another piece of cookie dough around the Oreo forming a ball and completely enclosing the Oreo. Place cookie dough ball into the muffin cup and repeat.

Bake the cookie cups for approximately 20-25 minutes or until golden brown and edges are set. Cool in pan for at least 15 minutes and then run a knife around the edges to help you easily remove it from the pan.

Pipe canned frosting onto the cupcakes. Or make your own frosting: beat butter until creamy with a hand mixer. Slowly mix in powdered sugar, one cup at a time, until it's crumbly, then add vanilla, salt, and 2 tablespoons heavy whipping cream. Beat until smooth and fluffy, adding more cream as needed for consistency. Frost the cupcake cookies with the frosting.

Store loosely covered for up to 3 days.
Nutritional information not guaranteed to be accurate
Click HERE for more easy recipes that start with cookie dough or cookie mix!
Chocolate Chip Cookie Cupcakes
Rolo Stuffed Chocolate Chip Cookie Cups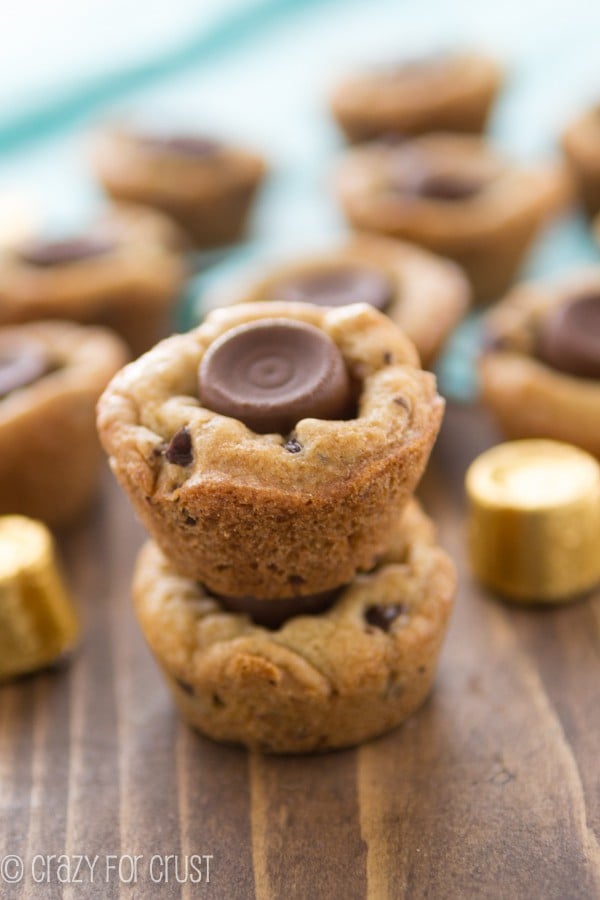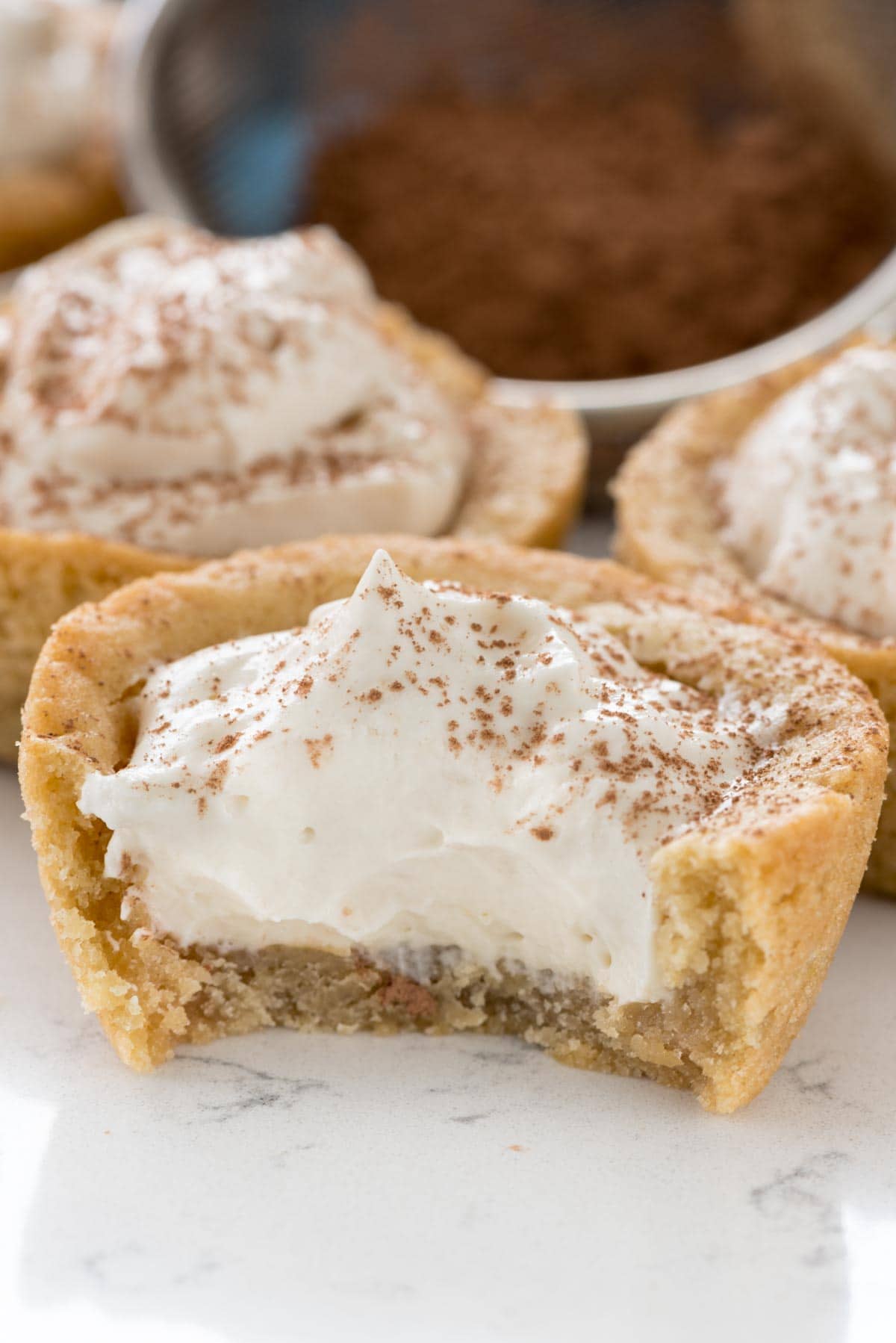 Sweets from friends:
Brown Butter and Dulce de leche Cookie Cups by Handle the Heat
Cadbury Cream Cookie Cups by In Katrina's Kitchen
Pina Colada Cookie Cups by Life, Love and Sugar
Last Updated on August 28, 2019