This post may contain affiliate links. For more information, read my disclosure policy.
Eggnog Cinnamon Rolls: Because when you love eggnog, you need to put it in all the things. Eggnog in the dough and in the glaze. The best cinnamon roll recipe for Christmas morning!
Time to get eggnoggy up in here!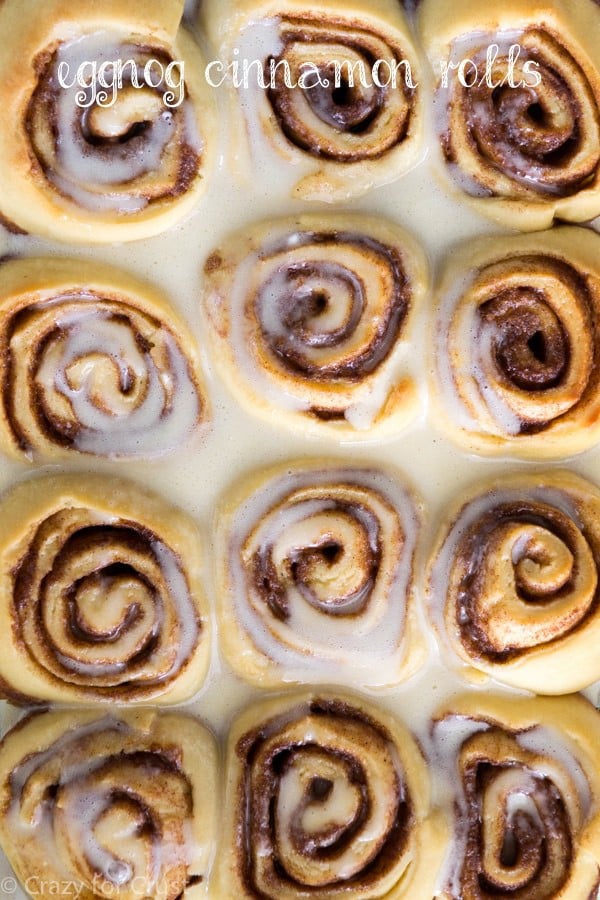 I really love Amazon Prime, and kind of in a sadistic way. I kind of want to see how many times the UPS guy can come to my house between now and Christmas without blowing a gasket. I'm not the only one who has felt like doing this, am I?
Last week I realized I needed a cord to connect my computer to the TV because Scandal didn't tape and ohemgee that's, like, a major #firstworldproblem. 5 minutes later I'd one-click ordered my cord on Amazon with only 2 days to wait.
The next day I decided I needed a Swiffer Steam Mop. Click.
Then I ordered some Christmas gifts. Click.
And so on.
I think I'm going to need to leave the UPS guy something nice on the porch. Maybe some Eggnog Cinnamon Rolls?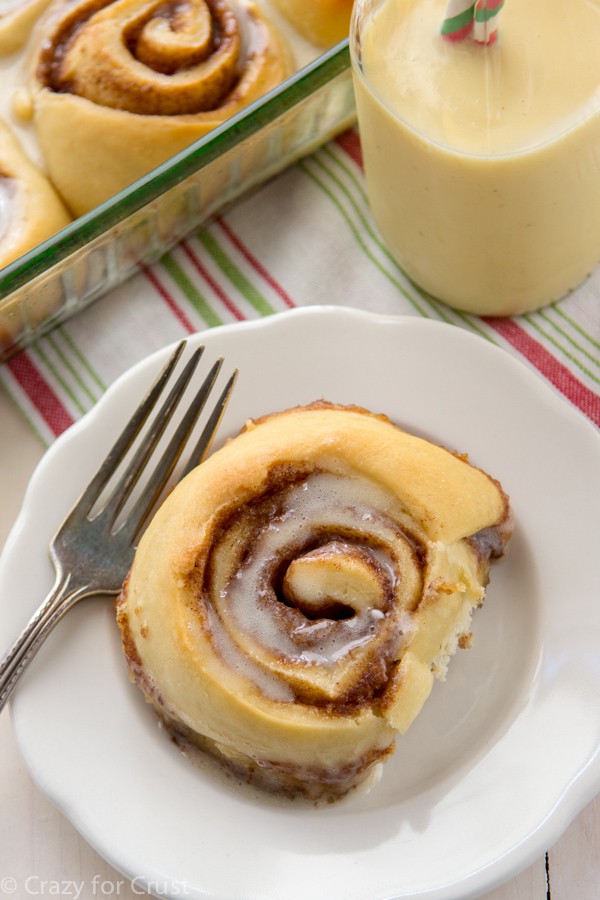 The one thing I do wish I could order on Amazon that's not available? Mini containers of eggnog. When we lived in Arizona the local dairy (Shamrock Farms, I think?) sold little single serve eggnogs at the grocery stores. Those were perfect for me. I'm the only one in my family that loves this holiday drink, and a full carton always goes bad before I drink it all.
Honestly, I only ever really want one glass a season. That's it. One glass usually curbs my craving…but the smallest ones they sell here are quarts, and that's too much for me.
Unless you bake with the eggnog. *lightbulb moment*
I've only made one eggnog recipe on this blog, a pie. It was time to change that. So I made cinnamon rolls. With eggnog added to the yeasted dough.
They looked like this:
Eggnog Cinnamon Rolls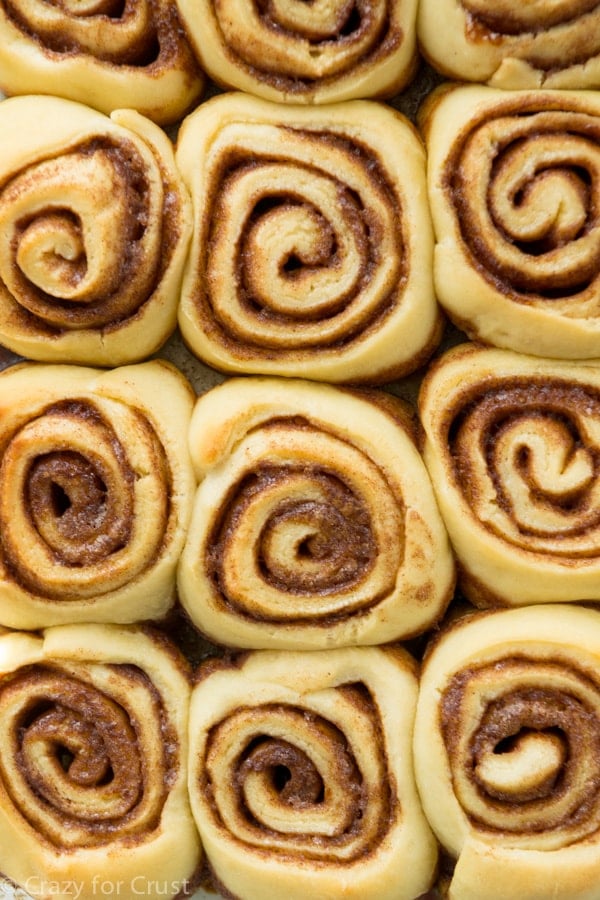 Then I made an eggnog glaze with more eggnog.
And I poured it all over the top. Like this: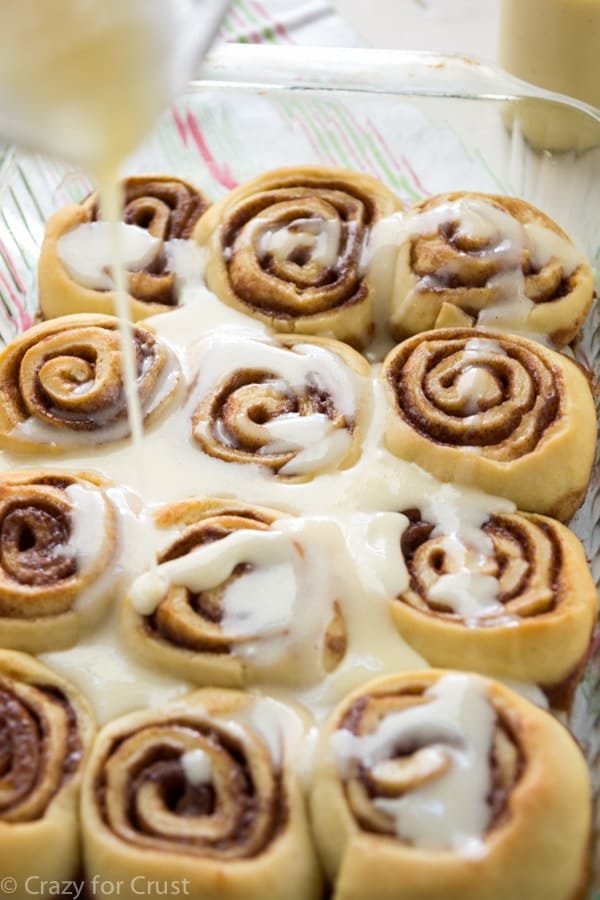 Um, yeah. Best. Decision. Ever. Leftover eggnog? No more!
These cinnamon rolls are my favorite recipe (that post has a photo tutorial if you need a visual on yeast and cinnamon roll making). All I did was substitute reduced-fat eggnog with the nonfat milk in the recipe.
It worked, fabulously.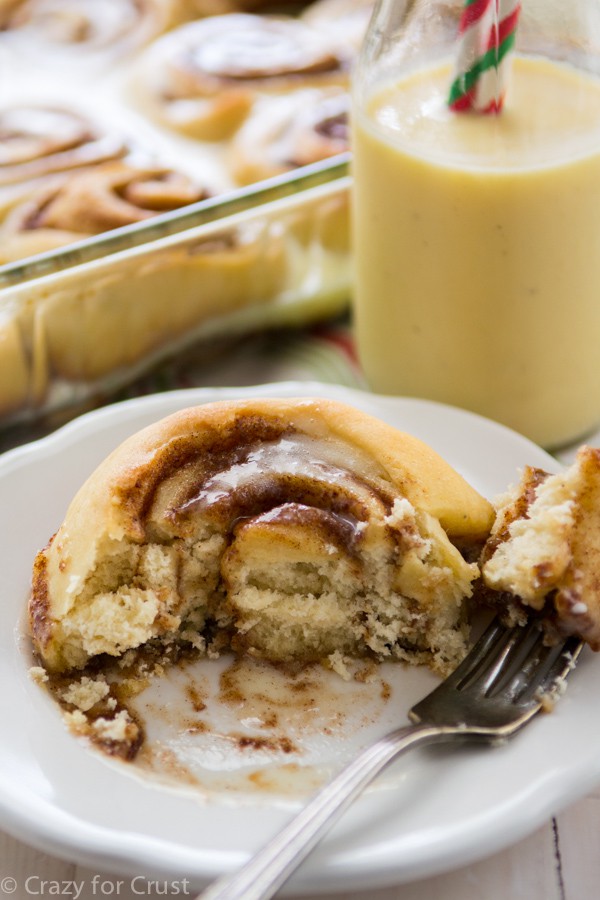 The thing I love about all my cinnamon roll recipes is that you can make them overnight. You do all the hard work on Day 1: the yeast and the rising and the rolling and the flour everywhere. Then you put them in your pan and you refrigerate them until you want to make them the next day.
Mornings, especially Christmas mornings, are so much better when the hard work is already done. The hardest part about these the day you make them? Waiting for them to bake. And when you bake them? They smell like eggnog. It's drool-inducing.
Even the glaze is easy. No creaming butter and cream cheese – this is as simple as it gets. Eggnog + powdered sugar. Basically these are nog squared. But without the nog. Unless you wanted to add some bourbon or Southern Comfort to the glaze. That would make greeting the day even better. 😉

Think the UPS man would forgive me if I left him a pan of Eggnog Cinnamon Rolls? Or just the bourbon?
Probably that last one…
Eggnog Cinnamon Rolls Recipe: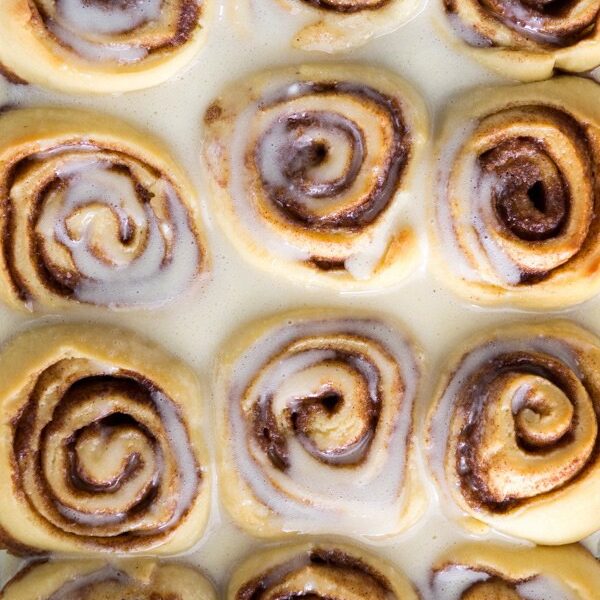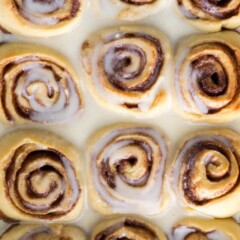 Eggnog Cinnamon Rolls
These cinnamon rolls come from my favorite recipe but instead of using milk...they use EGGNOG! Perfect for Christmas!
Ingredients
For the Dough:
1

package active dry yeast

about 2 1/4 teaspoons

3/4

cup

very warm eggnog

regular or reduced-fat

1/3

cup

sugar

3

tablespoons

unsalted butter

softened

1/2

teaspoon

salt

1

egg

3

cups

all-purpose flour

plus more for dusting

Paddle attachment & dough hook for your mixer
For the Filling:
5

tablespoons

butter

softened

2/3

cup

brown sugar

1

tablespoon

cinnamon

2

tablespoons

flour

1/4

teaspoon

salt

1/2

teaspoon

ground nutmeg
For the Frosting:
1 3/4

cups

powdered sugar

1/3

cup

eggnog

regular or reduced-fat
Instructions
Make the Dough:
Place eggnog in a microwave safe measuring cup. Heat for 30 seconds in the microwave. You want it to be like very warm bathwater. (The time you heat it will need to be adjusted depending on your microwave.) Add yeast and stir. Let it sit for a few minutes.

Place sugar, butter, salt, and egg in the bowl of a stand mixer fitted with the paddle attachment. Mix until the butter is distributed throughout the liquids, although it may be chunky. Pour in the eggnog/yeast mixture and stir for a few seconds.

Add flour and stir with the paddle attachment just until the mixture starts to stick to the paddle. Then replace the paddle with the dough hook. Continue mixing on low speed until the dough forms a ball in the center of the bowl. If dough is still very sticky, you can add an additional 1/4 cup of flour.

Spray a large bowl with cooking spray and place the dough ball in it. Spray the top of the dough ball with cooking spray (lightly) and cover the bowl with plastic wrap. Let sit for 2-4 hours until it doubles in size. Note on rising: if your house is warm, it should rise no problem. If it's cold in your house, it may take longer for the dough to rise.
Prepare your Rolls:
Stir together butter, brown sugar, cinnamon, salt, nutmeg, and flour until it forms a paste.

Once the dough is risen, roll it out on a lightly floured surface into a large rectangle, about 10" by 14". Spread the filling as evenly as possible over the rectangle, making sure to reach to the sides so the outer rolls have enough filling.

Roll the dough up tightly from the long end. Slice it into 9 (large) or 12 (medium) equal rounds. Place the rolls into a 9" pan or 9 1/2" round pie plate (9 rolls) or a 9x13" baking dish (12 rolls) that has been sprayed with cooking spray.

Cover the rolls with plastic wrap and refrigerate overnight.

When ready to bake, preheat oven to 350°F. Remove the rolls from the refrigerator and let them warm up to room temperature while the oven is preheating. Remove the plastic wrap and bake for 23-28 minutes, or until they are golden brown.
Make the frosting:
Whisk the powdered sugar and eggnog until smooth. Pour over warm rolls and serve.
Recipe Nutrition
Serving:
1
roll
|
Calories:
335
kcal
|
Carbohydrates:
57
g
|
Protein:
5
g
|
Fat:
10
g
|
Saturated Fat:
6
g
|
Cholesterol:
49
mg
|
Sodium:
2504
mg
|
Fiber:
2
g
|
Sugar:
34
g
Nutritional information not guaranteed to be accurate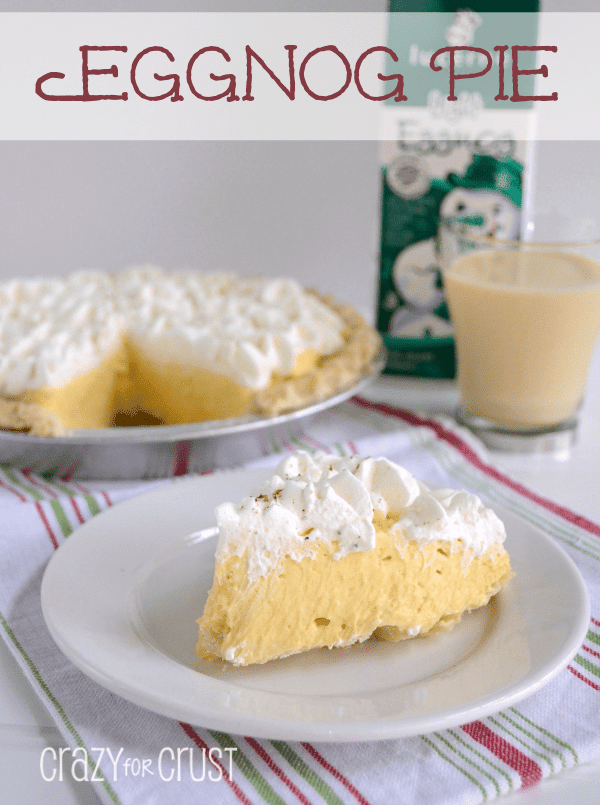 Gingerbread Spice Cinnamon Rolls with Maple Frosting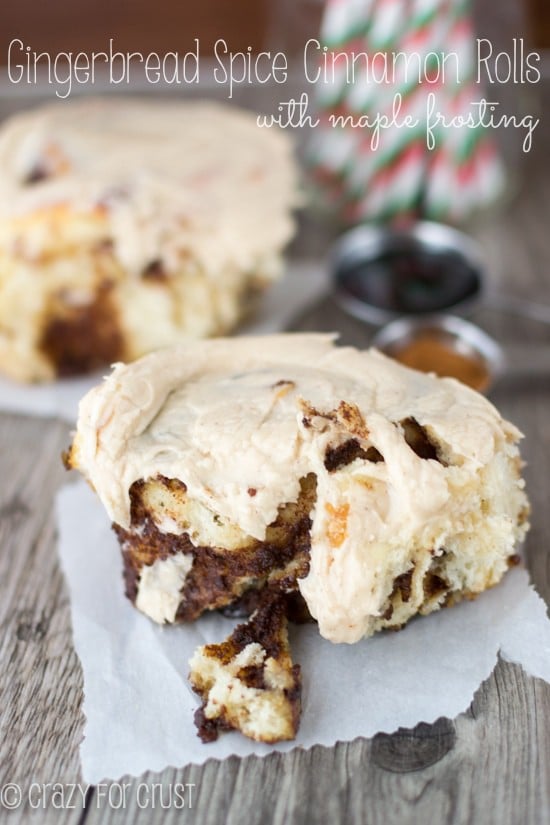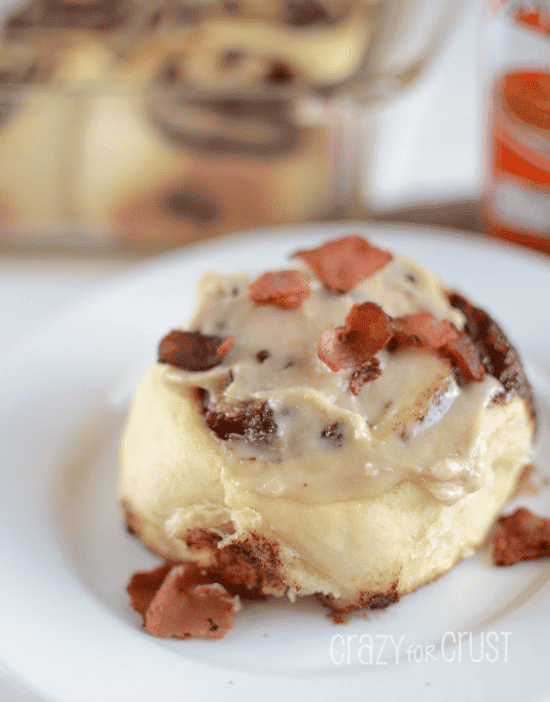 Sweets from friends:
Overnight Eggnog French Toast by Chef in Training
Eggnog Pull Apart Bread by Lauren's Latest
Cherry Vanilla Bean Sweet Rolls by Something Swanky
Last Updated on December 3, 2018