This post may contain affiliate links. For more information, read my disclosure policy.
What is it about February? There are so many birthdays this month I've lost count.
Well, I guess I should say, what is it about May/June? I would have thought the opposite; that there would be a lot of birthdays in November because of Valentine's Day, not the other way around.
Jordan's birthday is in February. But she was due in March. She just decided to be impatient (as she still is today) and come 10 days early, right smack dab in the middle of the birthdaypalooza.
My mom's birthday is on the 15th. Which happens to be the same day as Jordan's BFF's little brother. Oh, and another girl in her class.
Three other kids in Jordan's class at school have birthdays in February, making party planning fun. I just made sure to get my invites out first, a whole month early. Classy, aren't I?
Valentine's Day and the Super Bowl are also in February. It's a short month for goodness sake, what the heck? This month is a cake making extravaganza.
Also in February? My Mother-in-law's birthday. Today, in fact. Which also happens to be the day a friend of mine is having her scheduled C-section.
Again, what the heck is it about May and June? Is there some special "romantic" notion about Memorial Day? There wasn't anything particularly romantic for us; June was when we fit into the doctor's schedule.
And don't get me started on January. So I guess April is a big month for romance too.
Happy Birthday Lorna!
**Hey, do you need some Valentine's treat or craft ideas? Check out the Virtual Party I attended at the Dollhouse Bake Shoppe for inspiration!**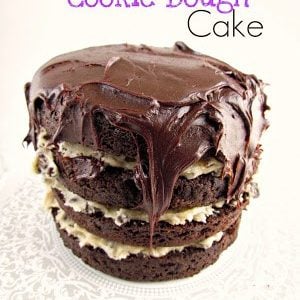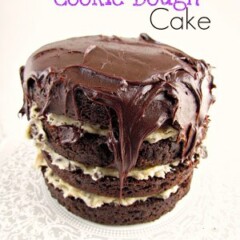 Chocolate Cookie Dough Cake
Ingredients
Chocolate cake mix

, plus water, eggs, and oil called for on the box
For the Cookie Dough Filling
1

cup

heavy whipping cream

1

stick

(1/2 cup) butter

½

cup

granulated sugar

1/3

cup

brown sugar

1

teaspoon

pure vanilla extract

1 ½

cups

flour

1/8

teaspoon

salt

1

cup

chocolate chips

(I used mini ones)

3

tablespoons

milk
For the Chocolate Glaze
4

ounces

semi-sweet baking chocolate

2

tablespoons

heavy cream

1

tablespoon

unsalted butter

1

tablespoon

corn syrup

½

teaspoon

vanilla extract
Instructions
Make the Cake
Bake cake according to package directions. I used two 6"x3" pans and had a little batter left over. You can also use two 9" or two 8" pans instead. Cool cakes completely.
Make the Filling
Beat heavy whipping cream using whisk attachment until soft peaks form. Chill until ready to use.

Melt butter in a microwave safe bowl. Pour into an electric mixer fitted with paddle attachment. While still hot, add both sugars and mix on low until combined. Let sit to cool for a few minutes.

Turn mixer on low. Mix in vanilla extract and flour. Stir in milk, 1 tablespoon at a time.

Stir 1 cup of whipped cream into cookie dough mixture (using paddle attachment). Add more whipped cream if needed to reach your desired consistency. Stir in chocolate chips.
Make the Glaze
Place your chocolate, cream, butter, and corn syrup in a bowl and set it over a pan of boiling water (make sure the bottom of the bowl does not touch the water). Stir until the ingredients have melted together and are smooth. Remove from heat and stir in vanilla. Let cool to room temperature. Frost cake as desired. (This will frost the top only of a 6" round cake. If you want more, double the recipe.)
Assemble your Cake
Slice your layers in half. (I baked my cake in 6x3" rounds and sliced each in half to make a four layer cake. You can do it that way, or leave it as two layers. Or whatever.) Top each layer with a healthy dose of cookie dough filling. Top the whole cake with chocolate glaze, or you can frost it with your favorite chocolate frosting. But beware – this is a rich cake. A little frosting goes a long way!
Nutritional information not guaranteed to be accurate
(Glaze from Annie's Eats)
Last Updated on May 13, 2020