Easy Oven Baked BBQ Chicken
This post may contain affiliate links. For more information, read my disclosure policy.
Easy Oven Baked BBQ Chicken – this easy chicken recipe takes is FULL of BBQ sauce flavor and is made in the oven for a quick weeknight meal. The chicken always comes out perfect!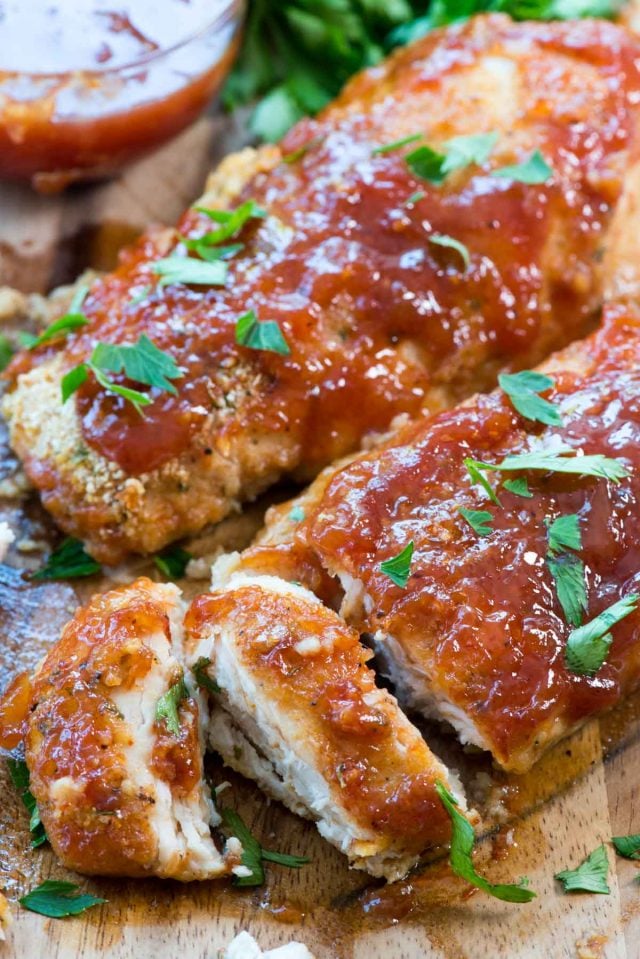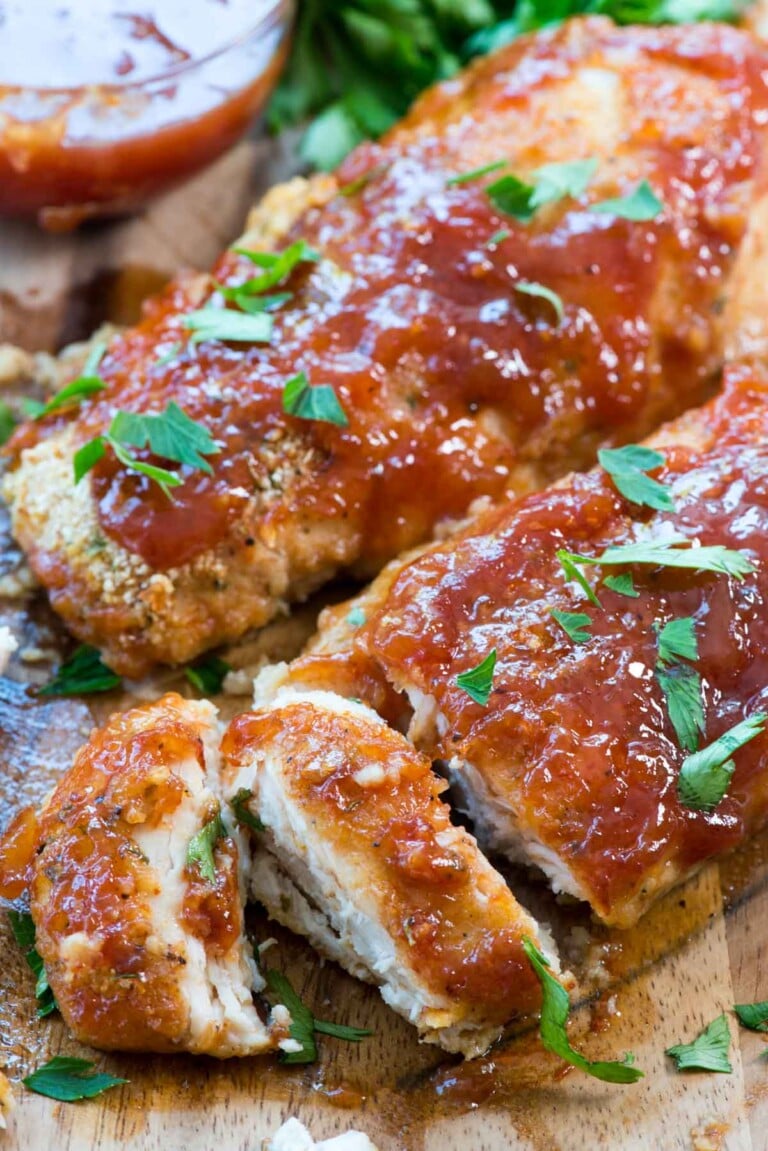 Happy August my friends! I can't believe summer is coming to an end; it seems like just yesterday I was looking forward to summer and all the fun it afforded and now I'm looking forward to back-to-school and all the freedom that brings!
We've had a ton of fun this summer and I'm looking forward to leaving my suitcase unpacked for a month or two. I feel like I've been gone more than I've been home the past few months, which was fun and exciting, but now I'm looking forward to routine, both with school and with EATING. My summer travel was capped off this past weekend with a girls trip to Reno; a group of moms I've known since Jordan was in Kindergarten try to take a trip together each summer. We go for one night and just have FUN without husbands and kids. This year we decided to head to Reno and stay at a big resort, lounge by the pool and go for a nice dinner. It was a blast!
If there is one thing I'm happy about with the ending of summer vacation (well, besides Jordan going back to school) it's that I hope to have a regular eating routine. I have got to get serious and focus on my eating for awhile. My 40th birthday is in just under 2 months and I want to lose 10 pounds if I can. Wish me luck!
The hardest thing for me about losing weight is my job. I bake cookies and pie for a living – and I have zero willpower. So in the interest of my waistline, I'm going to try to share a dinner recipe once per week to cut down on the amount of sugar going in and out of my kitchen. I have some tried and true recipes I'm going to share with you over the next several weeks, like this easy oven baked barbecue chicken.
Done in under 45 minutes, oven baked barbecue chicken is an easy weeknight meal with tons of flavor!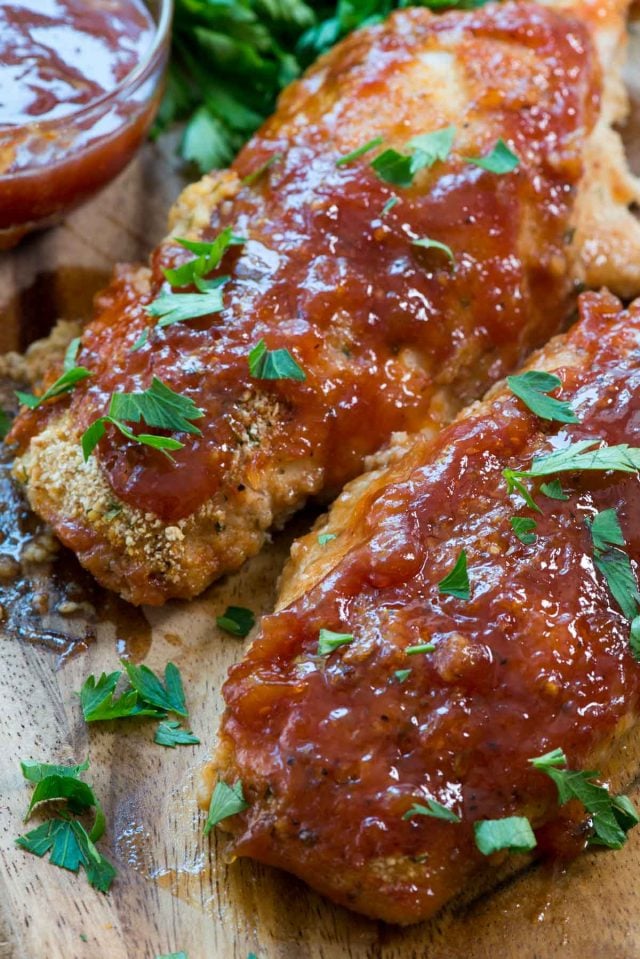 This BBQ chicken recipe is a spinoff of my easy chicken parmesan. It starts with chicken breasts (or you can use tenders) that are lightly breaded then baked. Halfway through baking you add barbecue sauce on top and the chicken finishes cooking and gets all flavorful and saucy at the same time.
The best part about this chicken recipe: it comes out perfectly every time and is never dry!
Plus, it's a super easy meal for busy weeknights. You can prepare and bread the chicken ahead of time even, if you know you'll have limited time in the evening. And kids love it – Jordan usually gripes about chicken because we eat so much of it, but she ate all of her portion and said it was delicious. I think the ample dose of barbecue sauce helped!

Ready to make dinner? Here are some tips for the perfect easy oven barbecue chicken recipe:
This is perfect paired with a nice salad or some roasted vegetables. I rarely ever make a starch with dinner, but it would also be good with mashed potatoes or even French fries.
When preparing the chicken, I like to split the breasts in half to make them even throughout for even cooking. You can also use tenders if you prefer.
Use your favorite barbecue sauce. I love the one that Kings Hawaiian makes (it's sweet, so obviously it's my favorite) but a nice honey barbecue would be yummy too.
Enjoy!!
Servings: 4 -6 servings
Oven Baked BBQ Chicken
Easy Oven Baked BBQ Chicken - this easy chicken recipe takes is FULL of BBQ sauce flavor and is made in the oven for a quick weeknight meal. The chicken always comes out perfect!
Ingredients
4 4-6 ounces each boneless, skinless chicken breasts
1 egg — beaten
1 cup Italian breadcrumbs
1/2 teaspoon smoked paprika
1/2 teaspoon ground black pepper
1/2 teaspoon onion powder
1/2 teaspoon garlic powder
1 teaspoon kosher salt
3/4 cup barbecue sauce — use your favorite
Instructions
Preheat oven to 450°F. Spray a baking dish with nonstick cooking spray.

If your chicken breasts are not even thickness, pound them even, or slice them so they are uniform in size and thickness.

Place beaten egg in a shallow dish.

Place breadcrumbs and spices in another shallow dish; stir to combine.

Dip each chicken breast in the egg then in the breadcrumbs, coating both sides with the crumbs. Place in an even layer in the baking dish.

Bake for 15-20 minutes, or until the chicken looks golden and crisp. Do not turn.

Pour the BBQ sauce evenly over the chicken and continue baking for 5-10 minutes or until sauce is bubbly and chicken is cooked through.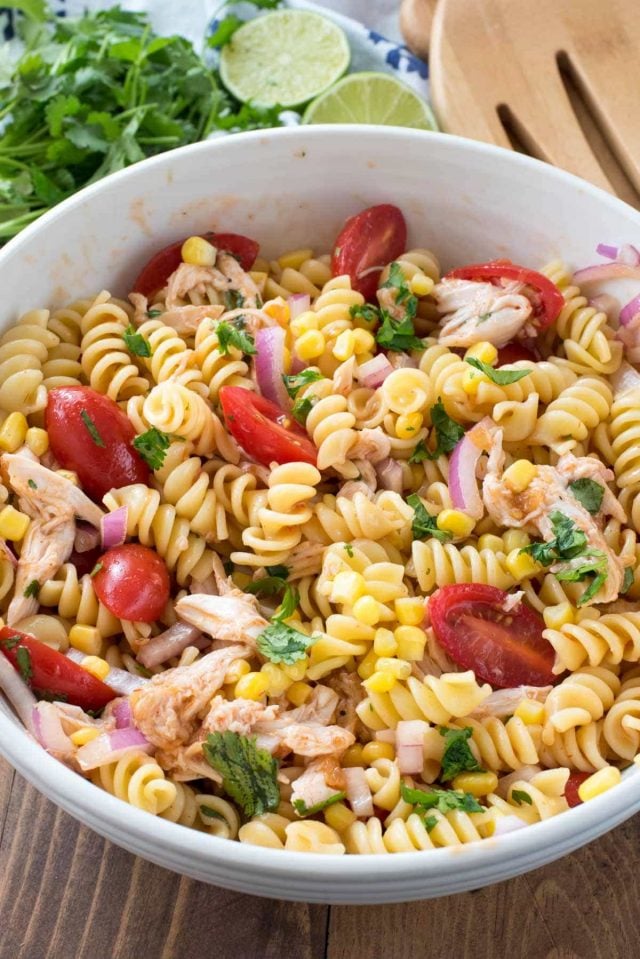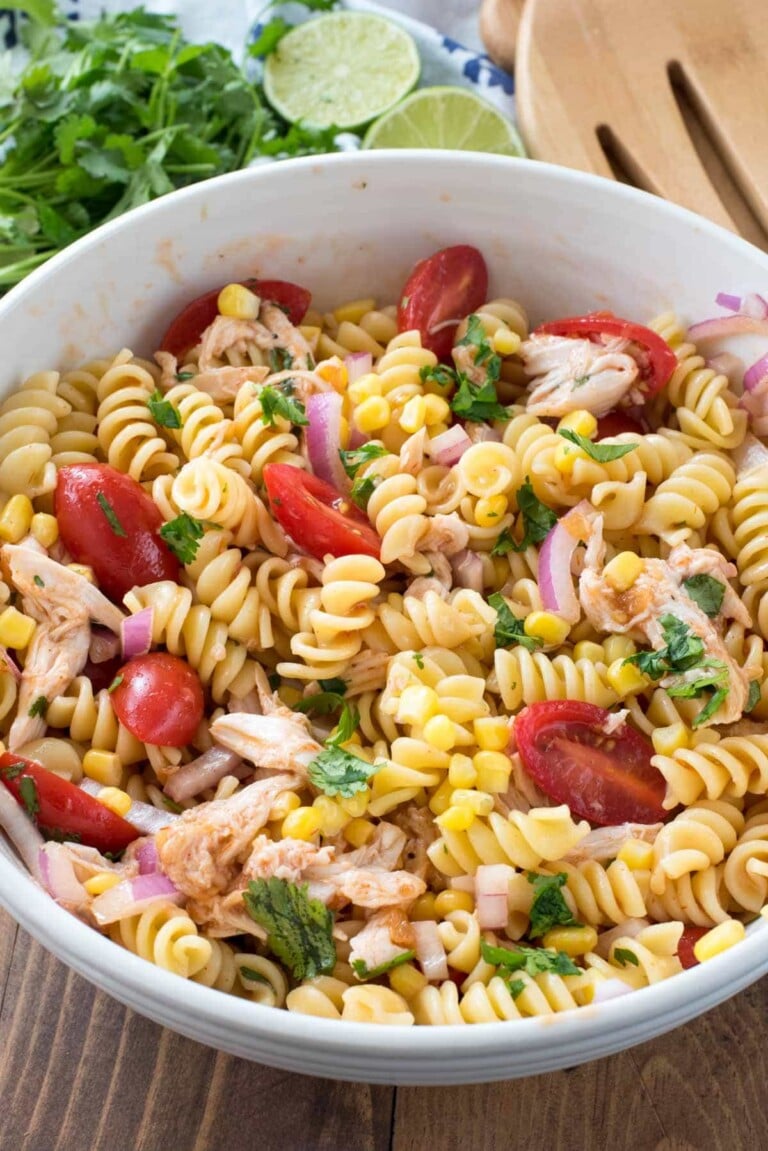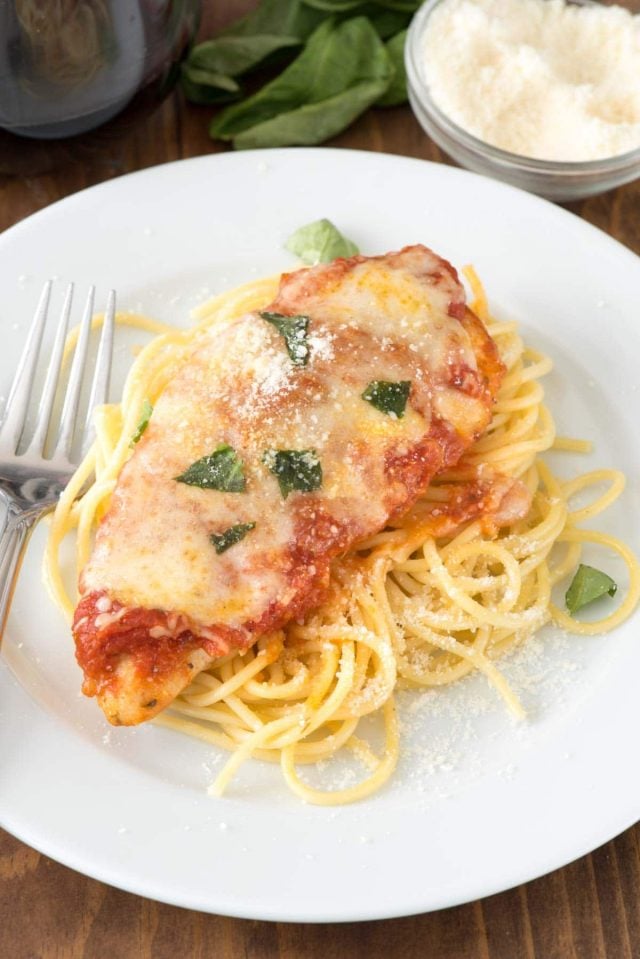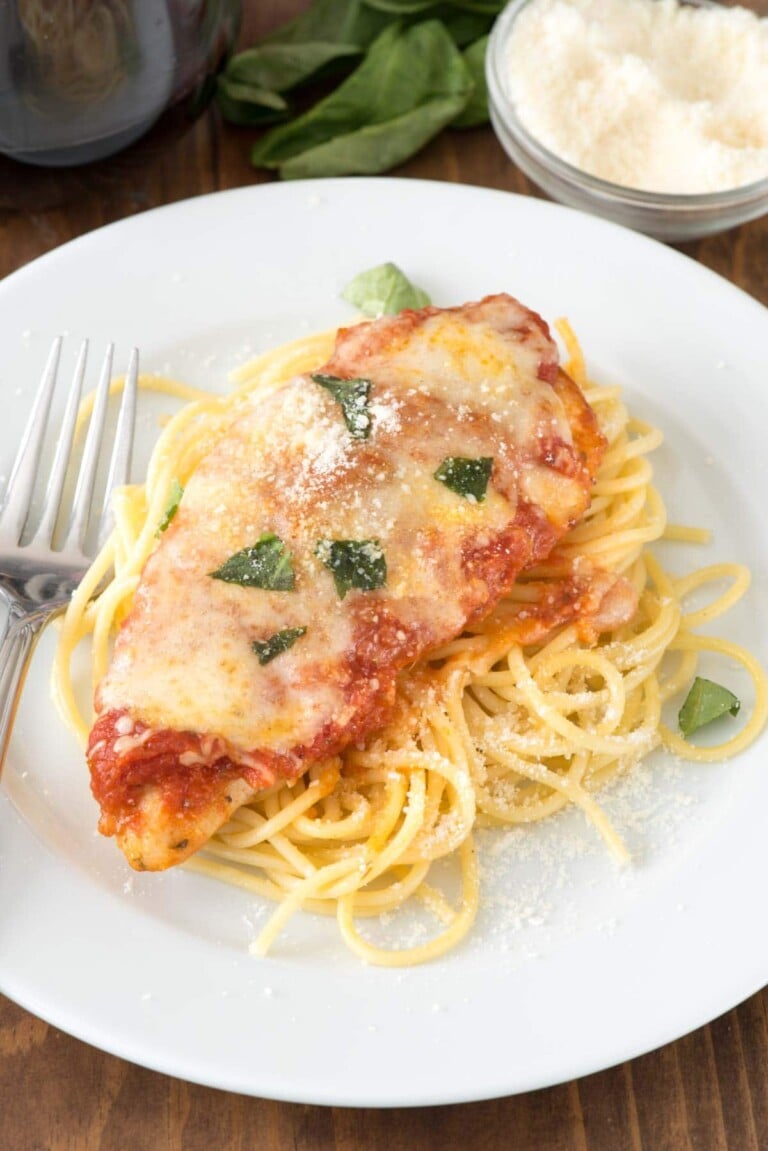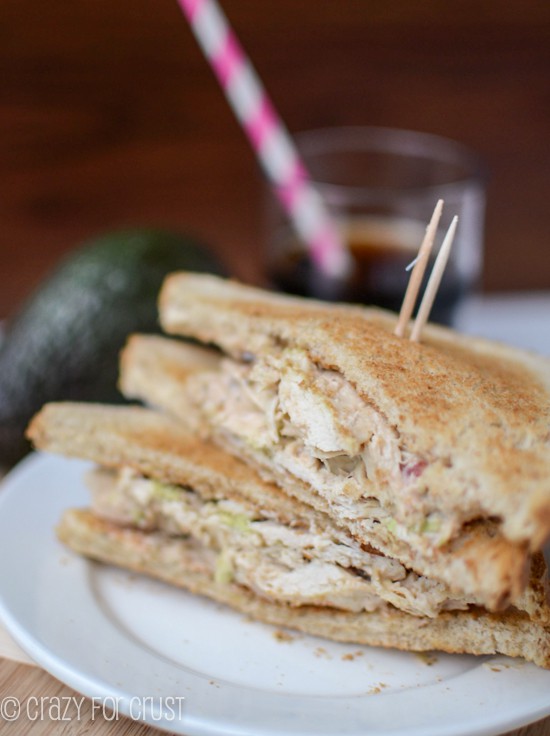 SaveSave