This post may contain affiliate links. For more information, read my disclosure policy.
Easy Caramel Pecan Rolls are a simple, delicious breakfast or brunch treat, made in less than an hour, with no yeast and no rising time. It's not fiction – it's this recipe. And it's PERFECT!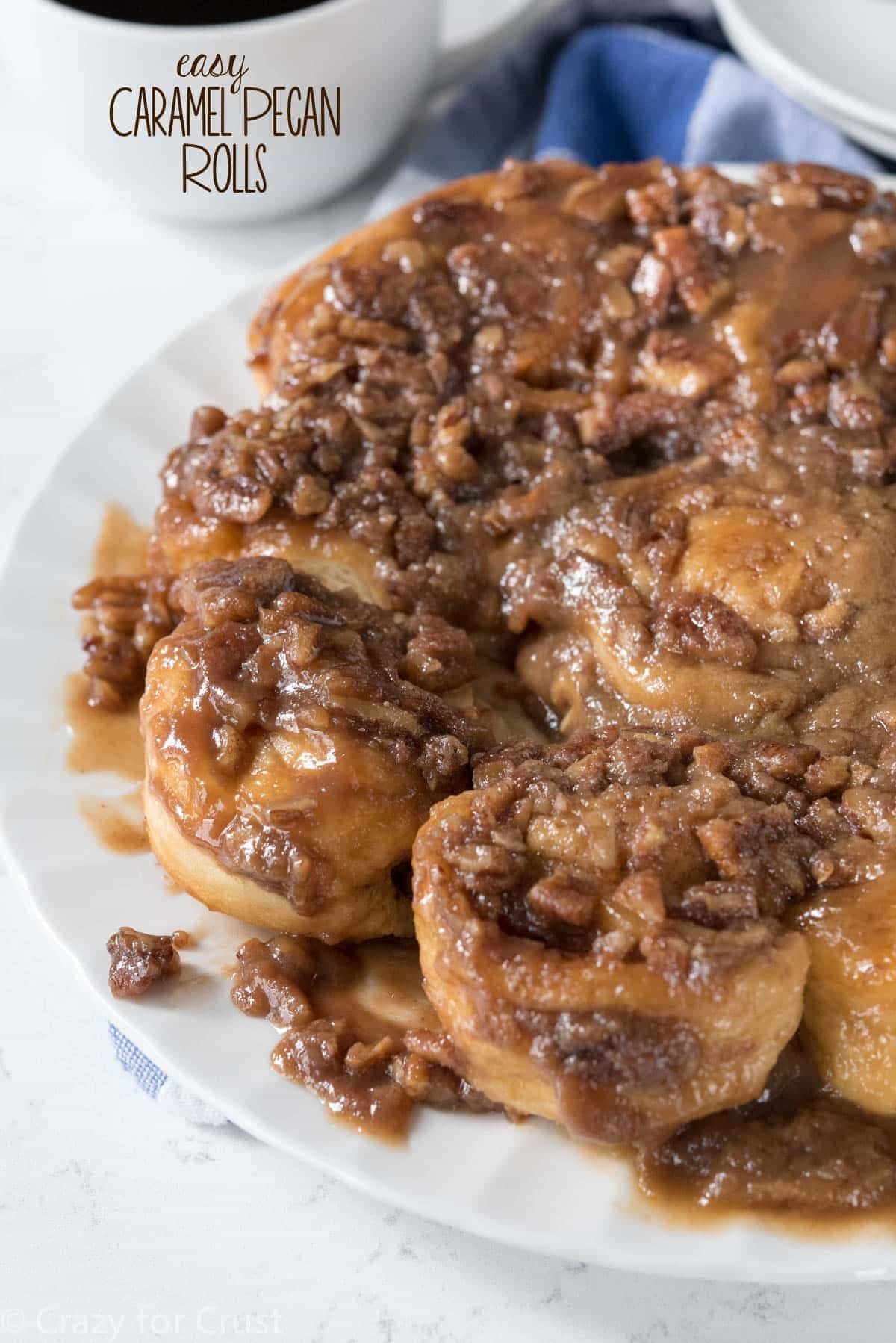 One of the local radio stations here in Sacramento (107.9 The End) has a great morning show. The hosts are hilarious and I love listening during my short morning trips in the car.
Every Monday they play "War of the Roses" which is, when you really think about it, a horrible thing, but it can be quite funny. A woman calls in, worried her husband or boyfriend is cheating, so the hosts call the guy and pretend to be a company sending free roses to anyone. Somehow the guy always falls for it and we all eagerly listen to see if he'll send the roses to the caller…or someone else.
Really, the whole segment is like a car wreck: you don't want to listen but you can't not. Like when you pass a car crash on the side of the road and you tell yourself you're NOT going to be one of those rubberneckers and then you careen your head around like everyone in front of you.
Every time the segment comes on I cringe. I change the channel, then flip back. I tell myself I'm not going to listen to the imploding of someone's relationship…but then I do. I mean, regardless of who the guy sends the roses too, the relationship is pretty much over right? Either he's a jerk or she's got major trust issues.
Anyway, long story short, last week we were listening on the way to school. (Yes, I win at the mom game. I let my 10 year old listen to the Wake Up Call.) Anyway, the guy they called sent the roses to his wife. The problem? The girl that called thinking he was cheating on her…was his girlfriend. Can you say oops?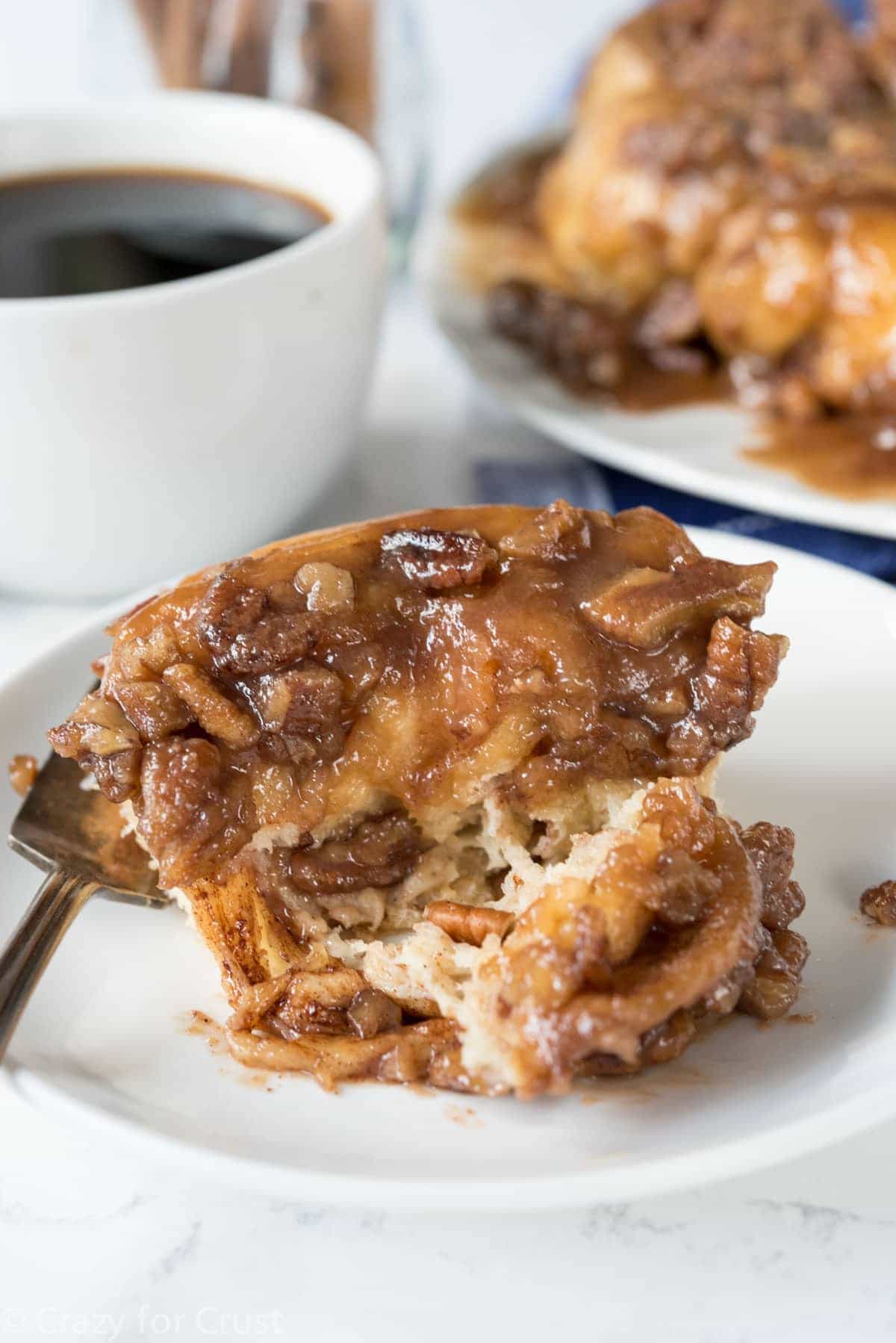 He hung up as soon as they told him who they were, and as Jordan got out of the car she's all, "MOM! You have to tell me what happened next after school okay?!"
Oh, honey. What happens next is that (1) the girlfriend gets fat eating 6 pints of Ben & Jerry's, (2) the wife hears about it because she probably knows someone who listens to morning radio, and (3) the husband will probably find his belongings on the front lawn after work.
The moral: don't cheat. Also? Don't call a morning radio show with relationship problems.
But you know what? I'd cheat on my favorite Overnight Cinnamon Rolls Recipe with these Easy Caramel Pecan Rolls. #truth
This recipe takes less than an hour from start to eat. I promise!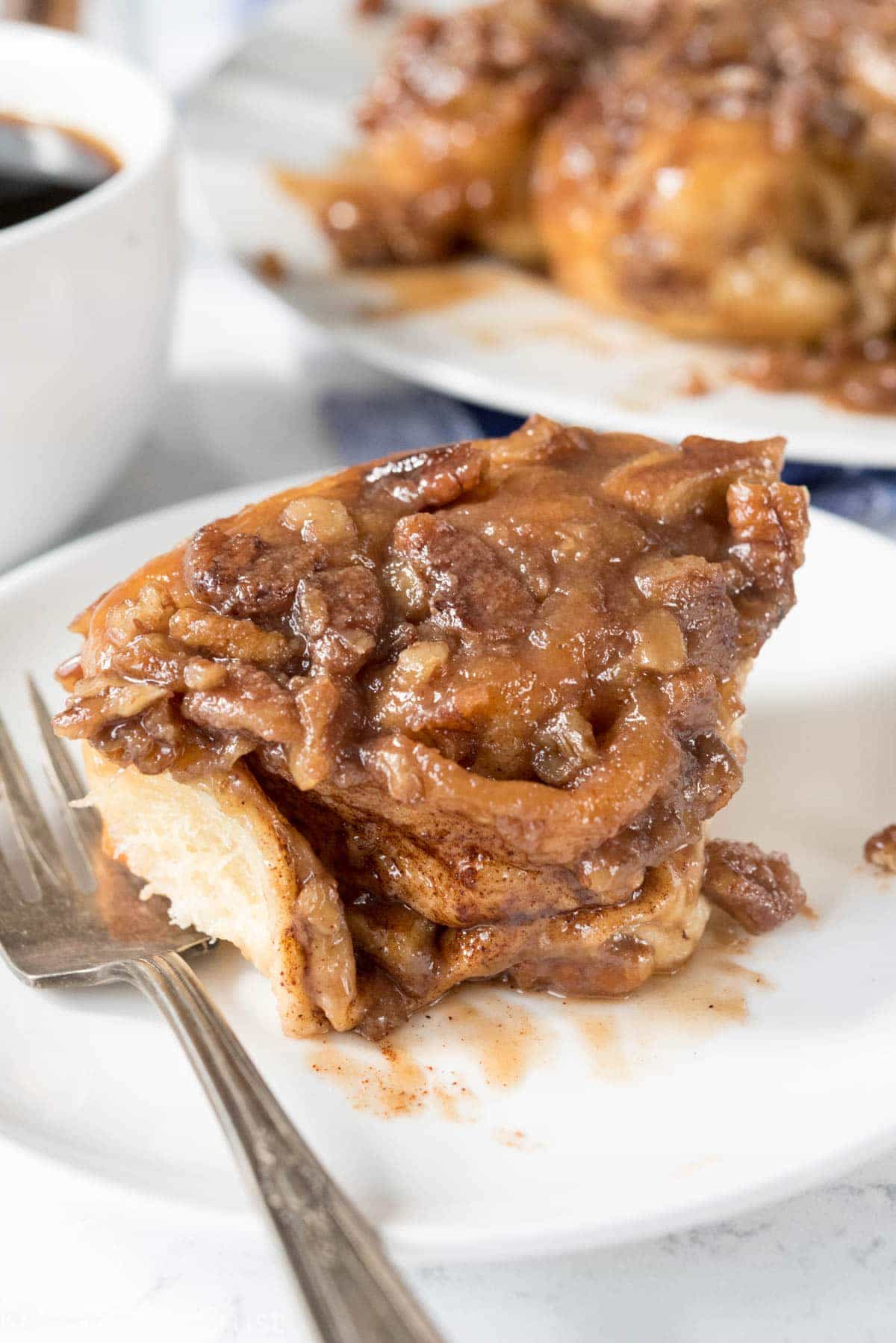 How did I make sticky buns in less than an hour? I started with Pillsbury Crescent Rolls. Sometimes a girl needs easy, am I right? Plus, if it's Thanksgiving or Christmas or Easter morning, the last thing you want to do is wait for yeast to rise.
Ain't nobody got time for yeast on a holiday.
To make this easy caramel pecan rolls recipe, I simply used two (8 count) packages of Crescent Rolls. I unrolled them both, pinched all the seams, and pinched the two rectangles together, like this: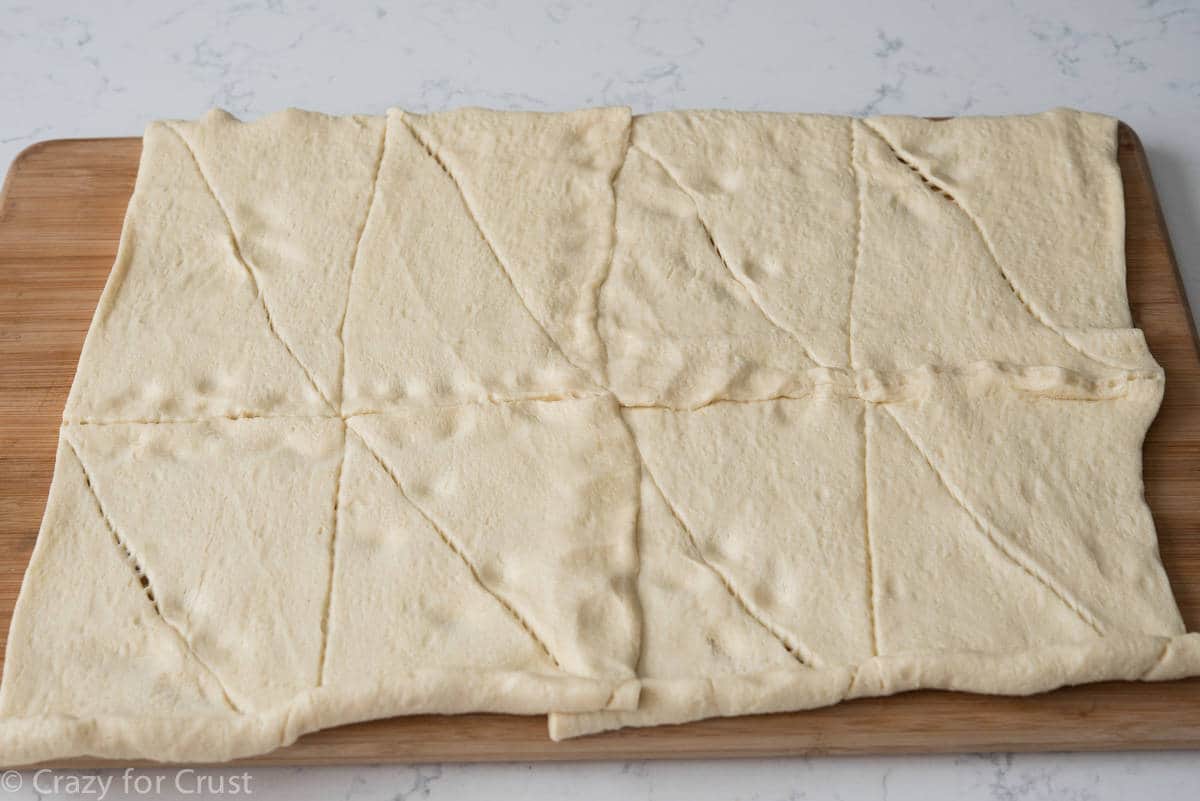 Then you just top the Crescent Rolls with a little butter, cinnamon, sugar, and pecans. Roll the big thing up and cut it into 9 big fat cinnamon rolls. <–That takes about 5 minutes.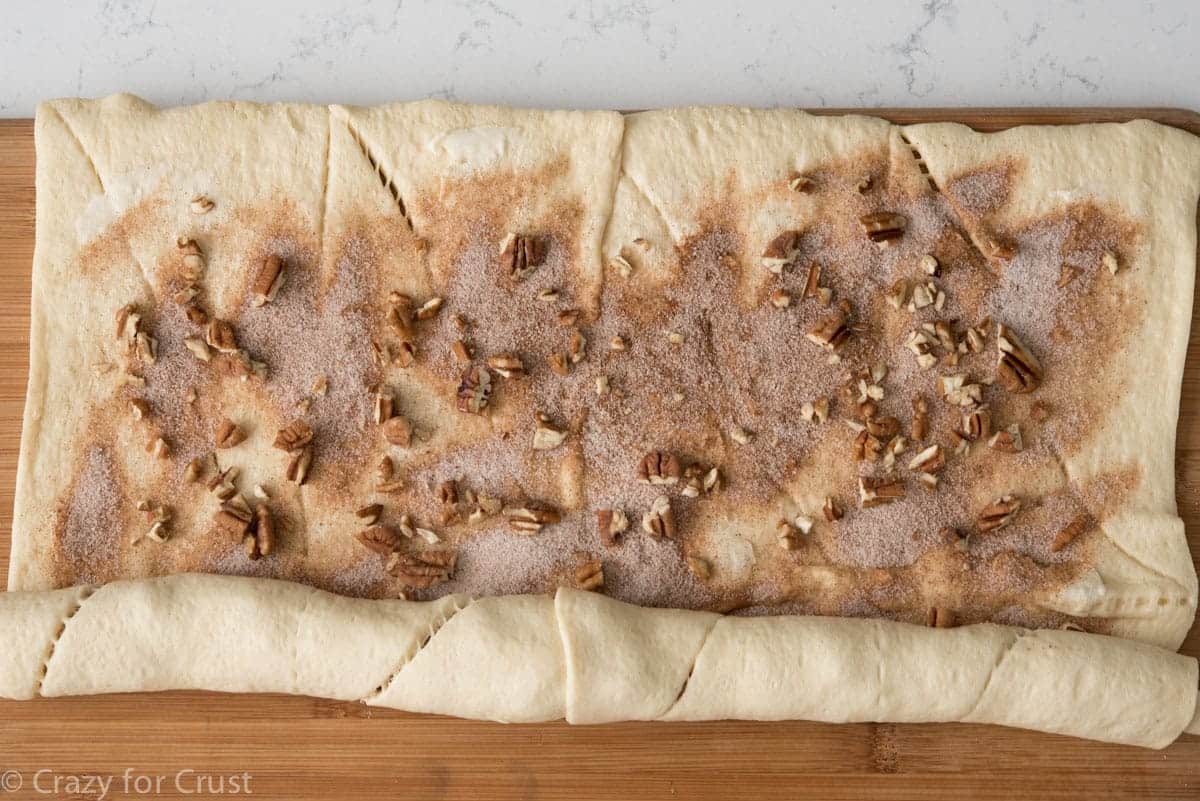 Then comes the caramel part. I wanted easy – no boiling or corn syrup or anything. So I whisked brown sugar with heavy whipping cream and poured that, along with some chopped pecans, in the bottom of a pie plate. Place the rolls on top and bake.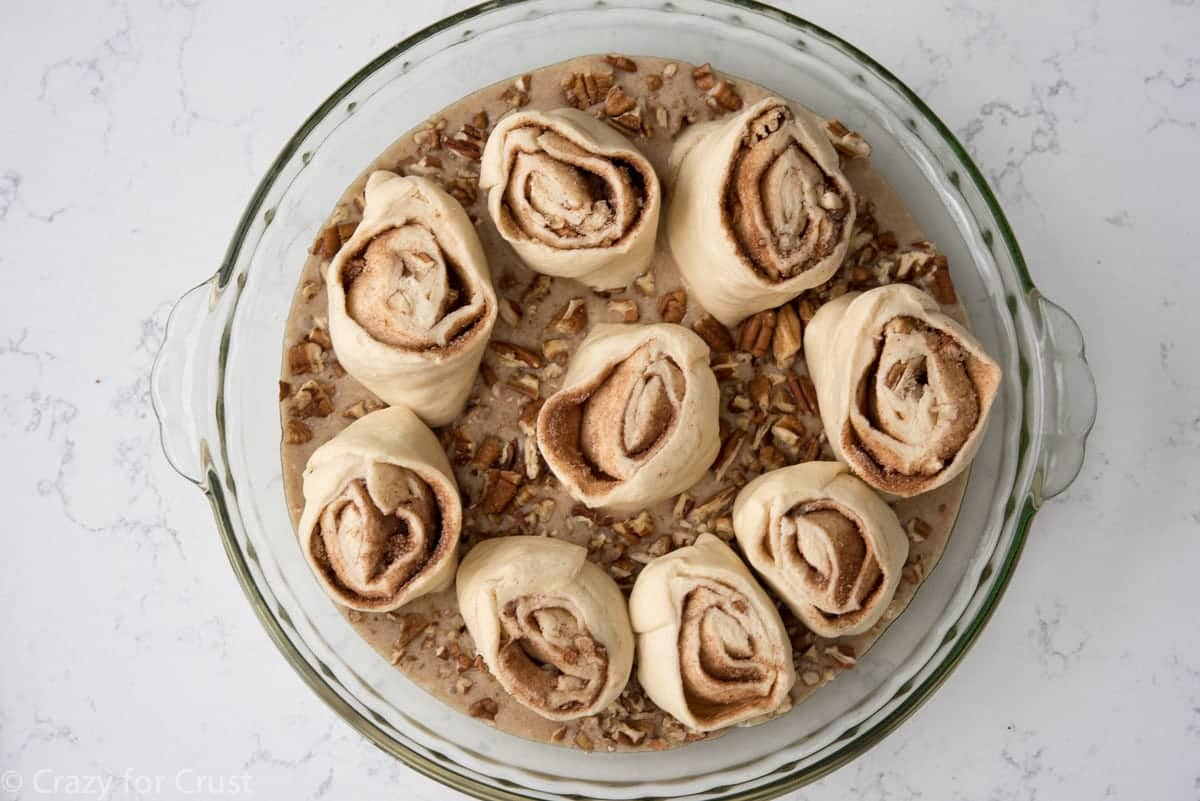 One the rolls come out of the oven, cool on the stovetop for about 5 minutes. Then, being careful because the pan is still hot, place the serving plate upside down on top and flip the rolls out of the pan. And then you get this:

Easy caramel pecan rolls taste like top notch cinnamon rolls, but they take no time at all to make. You'd never even know I started with Crescent Rolls! They're easy, fast, and foolproof. Also, they are Christmas morning proof – you can make them before the stockings are down from the mantle.
Plus, they taste SO GOOD. I ate two. For lunch. #truth
Enjoy!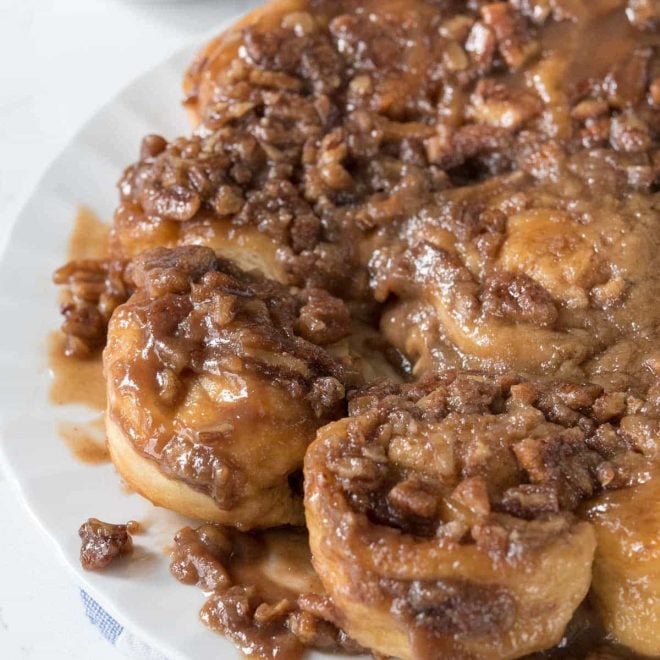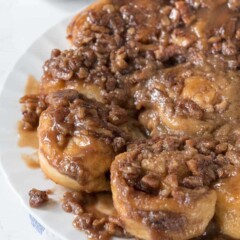 Easy Caramel Pecan Rolls
These Easy Caramel Pecan Rolls are sticky buns without all the work! No yeast, no roll - just caramel rolls in under an hour.
Ingredients
2

packs Crescent Rolls

8 rolls each for a total of 16 rolls

Butter

softened

3

tablespoons

granulated sugar

1

teaspoon

cinnamon

1/3

cup

+ 3/4 cup chopped pecans

3/4

cup

packed brown sugar

3/4

cup

heavy whipping cream
Instructions
Preheat oven to 350°F. Spray a 9-10" pie plate with nonstick cooking spray.

Unroll both sheets of Crescent Rolls and leave in the rectangles. Pinch the seams together. Turn the rectangles so they're longer vertically and place them next to each other. Pinch them together creating a large rectangle.

Spread a little butter (about 2 teaspoons) over the entire rectangle. Mix granulated sugar and cinnamon in a small bowl. Sprinkle over butter, then sprinkle with 1/3 cup of the chopped pecans. Roll up the rectangle, rolling from the bottom. Cut into 9 equal parts.

Whisk brown sugar and heavy whipping cream in a small bowl. Pour into prepared pie plate. Sprinkle remaining 3/4 cup pecans over the mixture. Place the rolls evenly in the pie plate. Bake for 22-28 minutes until they're golden on top and not too jiggly. Remove from oven.

Let the rolls cool on the counter for only about 5 minutes. Turn serving plate upside down over the top of the pie plate and carefully flip the pan over, so that the rolls turn out on the the plate. Be careful, the pan is still hot! The caramel will drip down over the rolls and plate, so be sure you use a big enough plate. (Note: don't wait too long to turn out the rolls. Put the pie plate in the sink and fill with water immediately for easy cleaning later - the caramel hardens as it cools.) Serve rolls warm.
Recipe Nutrition
Serving:
1
roll
|
Calories:
441
kcal
|
Carbohydrates:
49
g
|
Protein:
5
g
|
Fat:
26
g
|
Saturated Fat:
9
g
|
Cholesterol:
22
mg
|
Sodium:
404
mg
|
Fiber:
2
g
|
Sugar:
28
g
Nutritional information not guaranteed to be accurate
Click HERE for more Pillsbury Dough Recipes!
Click here for more Brunch Recipes!
If you like the easy caramel pecan rolls recipe, I bet you'll love these sweet brunch recipes, too!
Overnight Lemon Monkey Bread, from Barbara Bakes
Caramel Apple Sweet Rolls, from Oh, Sweet Basil
Pumpkin Cinnamon Rolls, from Spend with Pennies
2 ingredient Cinnamon Roll Pull Apart Bread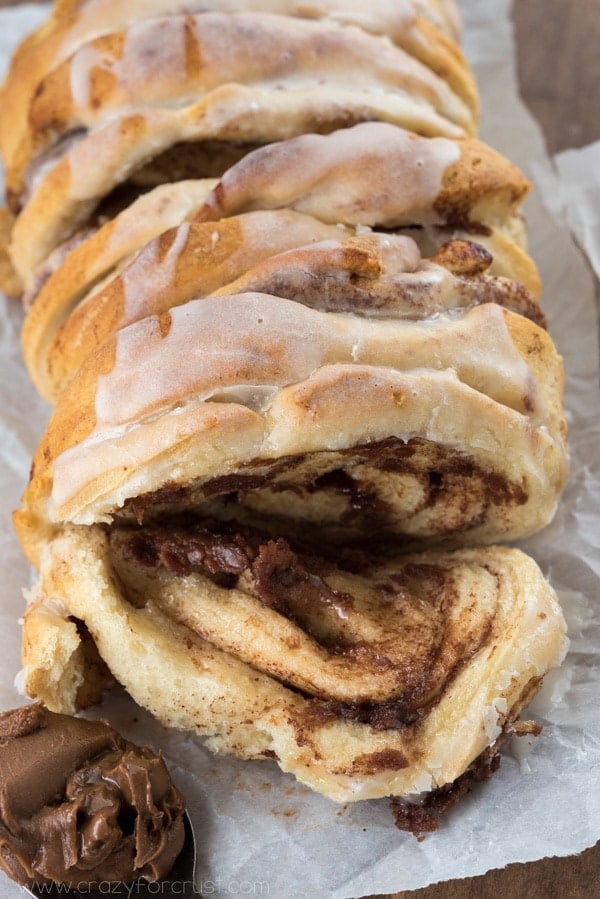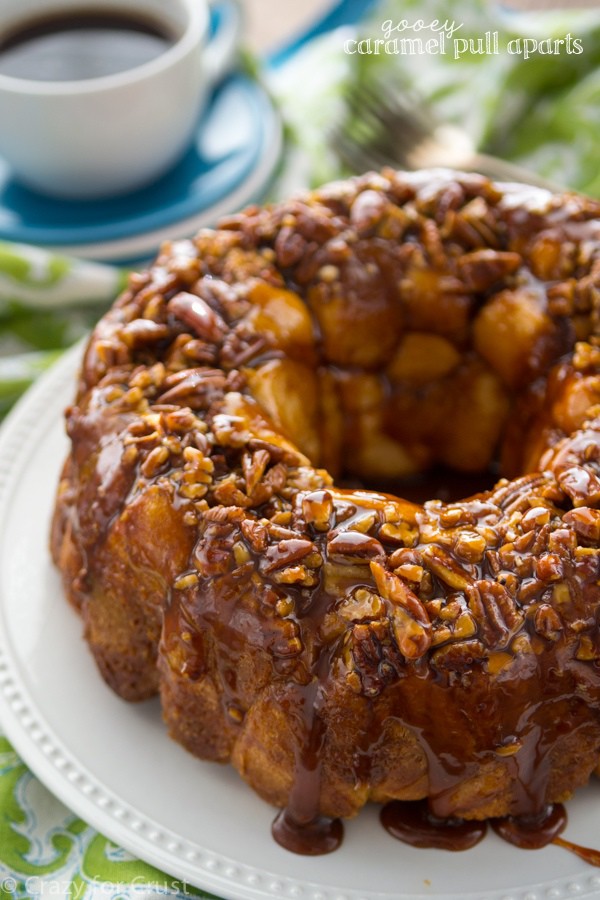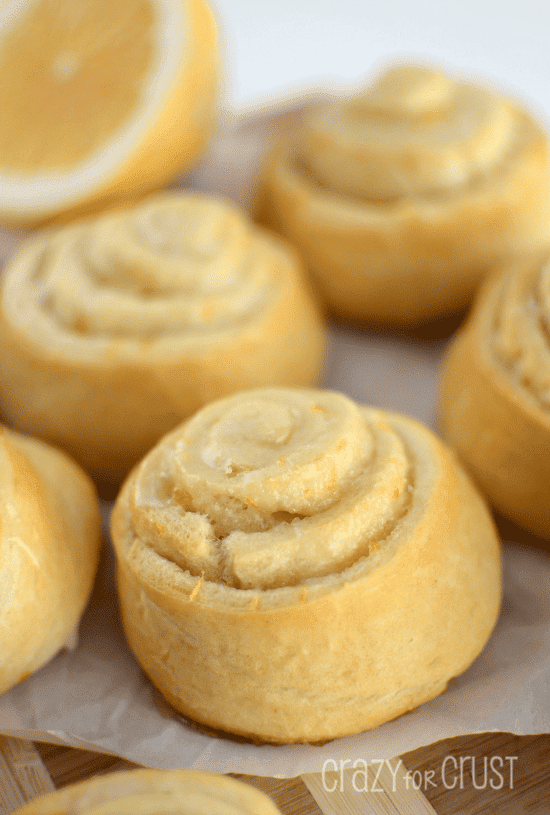 Last Updated on February 2, 2023