This post may contain affiliate links. For more information, read my disclosure policy.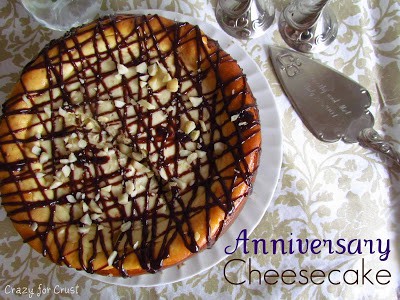 On Friday my husband and I will celebrate 10 years of marriage. I can't believe it. It seems like it was yesterday that we started our lives together. Since we got married we've moved to a new state, moved again, had a kid, moved back to the home state. He changed jobs, I changed jobs, I stopped working to stay home with our daughter. We got a cat and a dog. We've had great times and hard times. And he's still my best friend, unconditionally.
I still think about my wedding day – the beautiful sun, the music, the people, the dancing. Have you ever watched back your wedding video? It's a fun experience. The first time Jordan saw it she was about two and freaked out because she couldn't understand why I was on the TV and next to her in the room.
I don't remember the food we had at our wedding. I mean, it was good food. I didn't have any complaints. But it was just basic catering food; a buffet filled with chicken and pasta and salad. But you know what part of the meal I do remember?
The cake.

She made cheesecakes. As wedding cake. Cheesecake with the best crust you've ever eaten. A macadamia nut shortbread crust. Oh. My. Goodness.Oh, the cake. When Mel and I first met we used to hike along the ocean. Afterwards we would drive to this little not-quite-a-storefront cake shop. When he had worked for FedEx he used to deliver and pick-up there. He had become friends with the owner and she'd give him leftovers of the cakes she was making. But she didn't make just any old cake, my friends. No, it wasn't regular cake that would draw us to her shop over and over.
When it came up on our tenth anniversary, I thought, hey, why don't I order us a little cake? She ships them all over. And then I saw the prices. She's become popular over the years (once she was one of the choices on the Today Show wedding series) and now her tiny serves two serves 10 cakes are over $70.
So I decided to make my own.
Now, this isn't her recipe. It's not a $70 cheesecake. But it is darn good.
I used Lorna Doone cookies in the crust. And macadamia nuts. And, because a San Andreas Fault sized crack opened in the top I like chocolate, I drizzled the top with it. And added more nuts. The filling? Is a recipe for the Cheesecake Factory cheesecake I found here. And it's so good. I've never added sour cream to a cheesecake before and boy, have I been missing out. It makes it so creamy!
So, Happy Anniversary to my husband. I love you and am looking forward to the next 10 years together!
And now, to celebrate, we are off to Las Vegas. Alone. Just the two of us. For three whole nights! *Happy Dance*
Have a great week, everyone!
Anniversary Cheesecake (aka Creamy Cheesecake with a Macadamia Nut Shortbread Crust)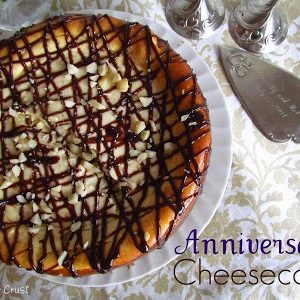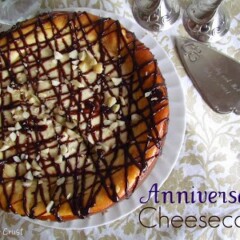 Anniversary Cheesecake (with Macadamia Nut Shortbread Crust)
Ingredients
For the Crust:

1

cup

macadamia nuts

(plus more for garnish)

5

oz

/1 sleeve Lorna Doone cookies

(from a 10 ounce package, about 19 cookies)

2

tablespoons

sugar

2

tablespoons

melted butter

For the Filling:

3

– 8 ounce packages of cream cheese

(1 ½ pounds), at room temperature

1 1/3

cups

sugar

5

eggs

, at room temperature

16

ounces

sour cream

, at room temperature

¼

cup

flour

2

teaspoons

vanilla extract

2

teaspoons

fresh lemon juice

Hot fudge and macadamia nuts

, for garnish (if desired)
Instructions
Preheat oven to 325°.

Finely chop macadamia nuts in a food processor. Add to a medium bowl. Finely chop the cookies in the food processor and add to the nuts. Mix in sugar and melted butter and stir until combined. Press in the bottom of a 9" springform pan. Set aside.

Beat cream cheese on low speed until fluffy using an electric mixer fitted with a paddle attachment. Add the sugar and mix on low until creamy. Add one egg at a time, mixing in between each addition. Add the flour, lemon juice, and vanilla and mix until combined. Add the sour cream and beat well.

Pour the mixture on top of the prepared crust. Bake for one hour and 15 minutes. Turn off the oven and prop open the oven door. Let the cheesecake sit for one hour. Remove from oven and cool completely. Chill 24 hours before serving.

Before serving, melt ¼ cup of hot fudge and pour over cheesecake. Top with more chopped macadamia nuts.
Nutritional information not guaranteed to be accurate
Last Updated on May 12, 2020