Chocolate Truffle Cake Roll
Don't be afraid of the cake roll! This Chocolate Truffle Cake Roll is one of my favorites yet – a rich chocolate truffle filling inside a from-scratch chocolate cake roll!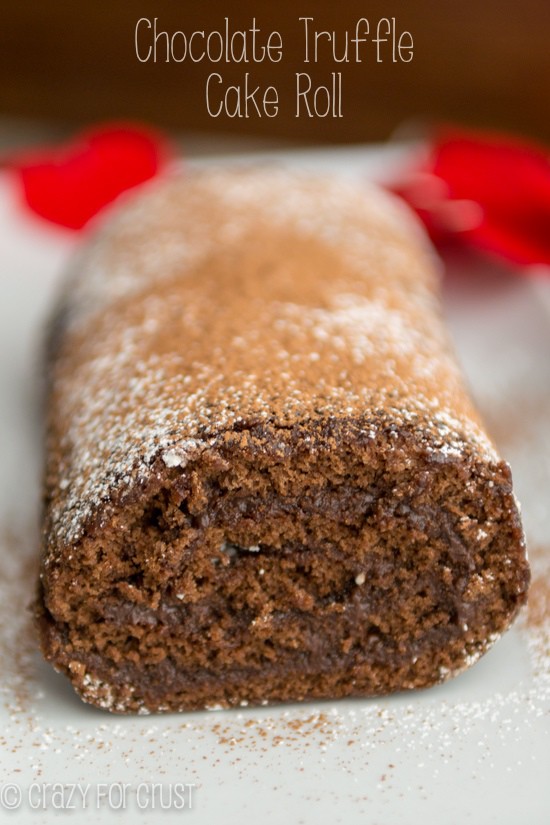 Cake rolls are amazing. There are so many flavor combinations! It's my goal in life to turn everything into a cake roll at some point…because I can. So far I've made Carrot Cake, Turtle, Zucchini, Caramel Apple, and Vanilla. Now? Now I'm doing chocolate!
Okay, so let's just address your cake roll fears. They're not scary, I promise. I used to be scared of them, until I made one. Then I realized it's more about practice and technique. And you know what they say: practice makes perfect. So I plan to keep on practicing! If you are still afraid, make sure you've read my cake roll tutorial. There are pictures of each rolling step. And I also have rules for the perfect cake roll. Be sure to follow them.
This cake roll (some call it a roulade or a roll cake) is chocolate. It's a from-scratch recipe. Please note: you can use a box mix to make a cake roll, but you have to adjust the amount you use because a full cake mix will not fit in a jelly roll pan (check out the Turtle Cake Roll, that was from a box.)
I used Hershey's Unsweetened Cocoa in this recipe, but you know what would also be amazing? Using the Special Dark Hershey's Cocoa. That's what I'm using next time!
You can fill this cake roll with whatever flavors you want, but may I suggest truffles? Yes, I said truffle. This cake is filled with ganache! It's so, so good. And rich. And chocolatey. You make a simple ganache with chocolate chips and heavy cream, and then once it gets spreadable (not too thick, but not drippy), you spread it over the unrolled cake. Re-roll the cake (it'll be messy) and chill until the ganache setts into a truffle consistency and you have a truffle filled cake!
This is perfect for Valentine's Day. Or a birthday. Or Christmas. Or a random Monday. Heck, make it for the Super Bowl. I don't think anyone would complain.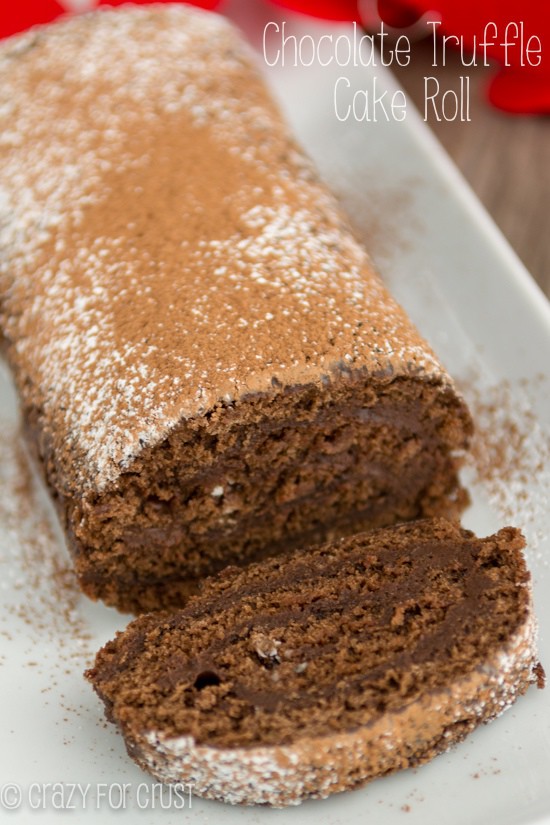 I know I wouldn't, but then again, I probably wouldn't share it either. 🙂
I have so many cake roll recipes – you should try them all!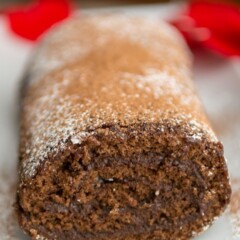 Chocolate Truffle Cake Roll
Ingredients:
For the Cake
3 eggs
3/4 cup granulated sugar
1/4 cup usweetened cocoa powder
1 teaspoon vanilla extract
1/4 teaspoon salt
1 teaspoon baking powder
3/4 cup all purpose flour
Powdered sugar, to aid in rolling
For the Filling:
1/2 cup semi-sweet choclate chips
1/2 cup heavy whipping cream
Directions:
Preheat oven to 350 degrees. Line a jelly roll (10×15") pan with foil and spray with cooking spray (I like to use the spray with flour).
Beat eggs at high speed for 5 minutes, until frothy and dark yellow. Beat in sugar and vanilla extract.
Whisk together salt, baking powder, cocoa and flour. Stir into wet ingredients just until blended.
Spread in prepared pan. Batter will be in a very thin layer and you will need to use a wooden spoon or spatula to spread it to all the corners of the pan. Bake for 9-15 minutes (mine took 10).
While the cake is baking, set a clean kitchen towel out on a large work surface. Sprinkle liberally with powdered sugar (about 1/4 cup). As soon as the cake comes out of the oven, turn it over on the kitchen towel sprinkled with powdered sugar. Remove foil carefully.
Working at the short end, fold the edge of the towel over the cake. Roll tightly, rolling up the cake into the towel. Let cool completely while rolled, at least one hour.
While the cake is cooling, place heavy cream and chocolate chips in a microwave safe bowl or measuring cup. Heat for about 45 seconds, then whisk until smooth. If the chocolate doesn't want to melt, you can heat in additional 15 second increments until it will. Chill until the mixture is spreadable, but not runny, about 30 minutes to one hour. You can leave it on the counter if it's cool in your house but it will take longer to get to the consistency you want. You want to be able to pour it on the cake and spread it easily, but it should not be so thin that it just drips off.
When you want to assemble the cake, unroll the roll carefully. Spread the frosting evenly over the top. It will be a little messy because the frosting is gooier than regular frosting at this point. Re-roll your cake, wrap tightly in plastic wrap and chill for several hours, until the filling is firm, like a truffle mixture. Dust with powdered sugar and cocoa before slicing and serving.
All images and text ©
. Please do not use my images without prior permission. If you want to republish this recipe, please re-write the recipe in your own words, or link back to this post for the recipe.
Avocado Truffles {A healthier alternative!}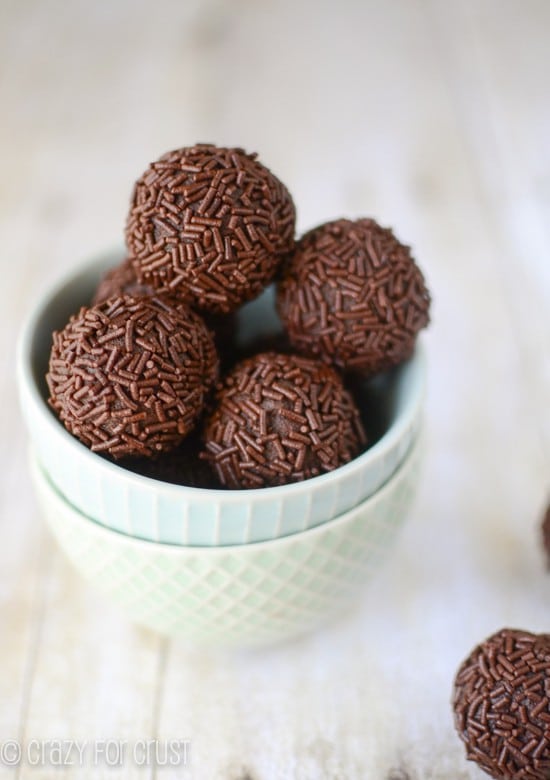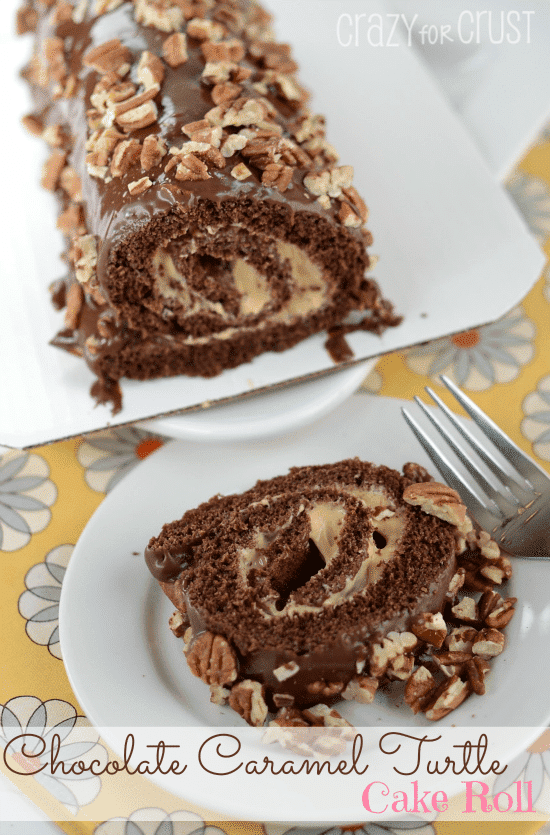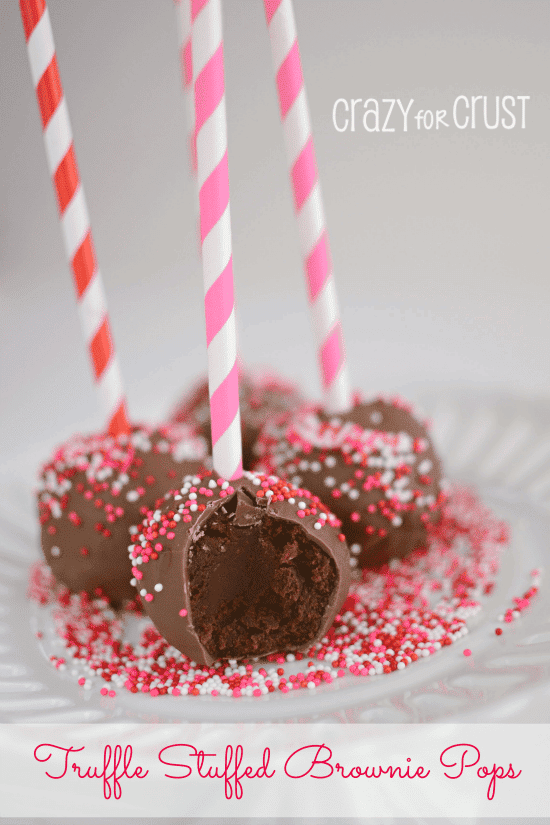 Sweets from friends:
Dark Chocolate Mint Truffle Oreo Fudge by Something Swanky
Chocolate Truffle Pie by Cookies and Cups
Chocolate Truffle Cookies by Roxana's Home Baking