This post may contain affiliate links. For more information, read my disclosure policy.
Chocolate Macaroon Pie – this easy macaroon recipe is baked into a pie crust and then filled with a rich chocolate ganache filling! It's the perfect mixture of decadent chocolate and coconut – this pie is always a hit!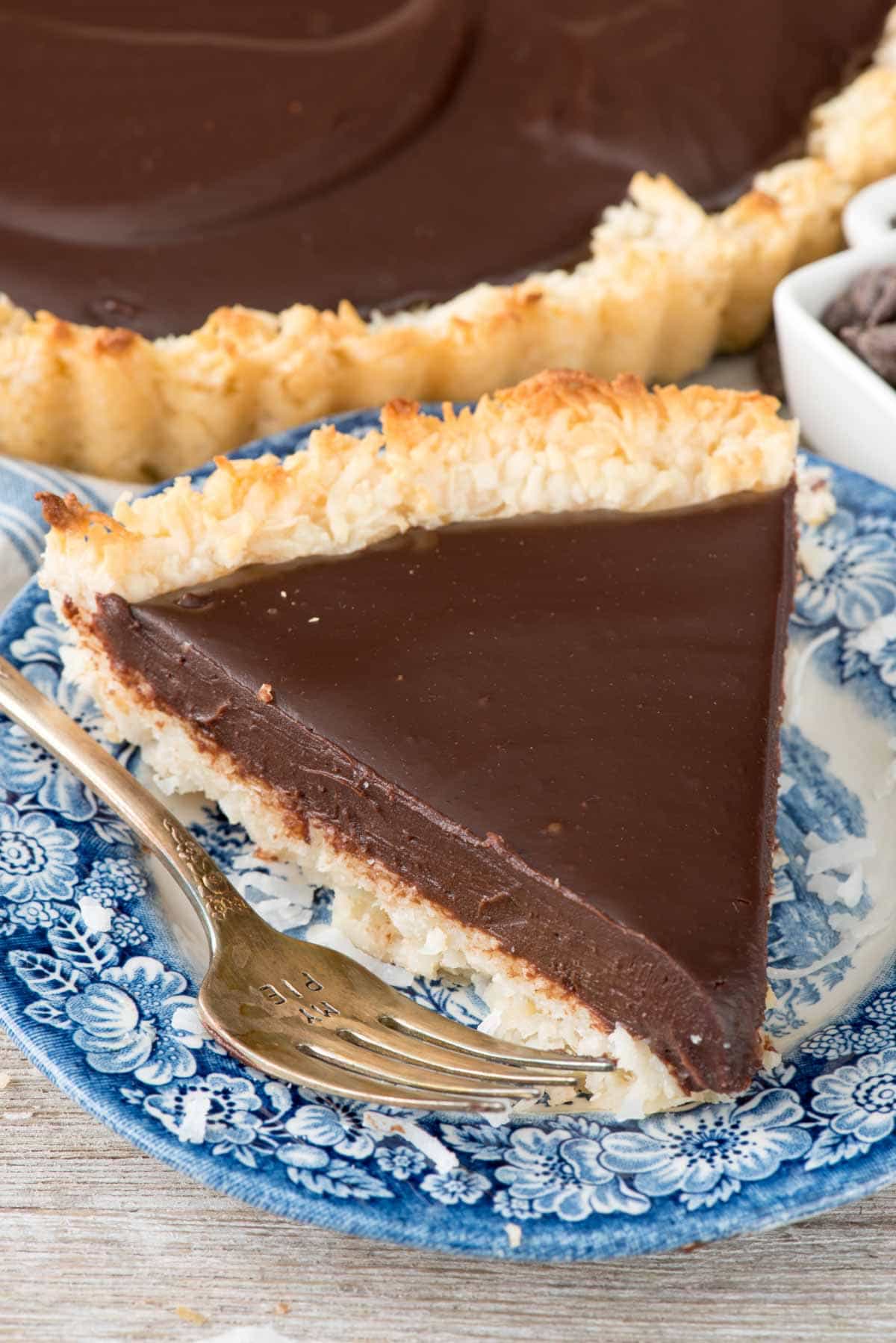 A few weeks ago I decided to make a Facebook video for my coconut macaroon recipe. The night before, I did what I always do on a heavy video/baking day: I measured out all my ingredients in all the little bowls and set them on a cookie sheet for easy transfer into my office, where I do all my baking (because it's where my video set-up is). The irony is, I just got a brand new kitchen and I bake in my office, but whatever. #foodbloggerproblems
On filming day, I set up the cameras and got to filming the macaroons (one of my favorite recipes, BTW). I got through the entire first part, where you stir the coconut with the flour and do the perfect pour shot of the sweetened condensed milk, mixed it all together…and then I realized the memory card was full and the camera stopped recording after I set the bowl down. It didn't even film the first ingredient going into the bowl.
(Okay, inventors, invent a camera that beeps loudly at you when the camera stops filming.)
My heart sank because I knew I had to make more batter. What was I going to do with 4 dozen macaroon cookies? And then I remembered I've been wanting to make a CRUST out of a macaroon for a very long time. A macaroon pie crust, like a cookie crust but the cookie is a coconut macaroon. And then I'd fill the pie with chocolate ganache because, why not?
I went to the kitchen to turn the cookie dough into a crust and make another batch of ingredients to film for real…and then I realized I was out of sweetened condensed milk, so I had to go to the store and buy new ingredients. (I later learned that homemade sweetened condensed milk is possible!)
#storyofmylife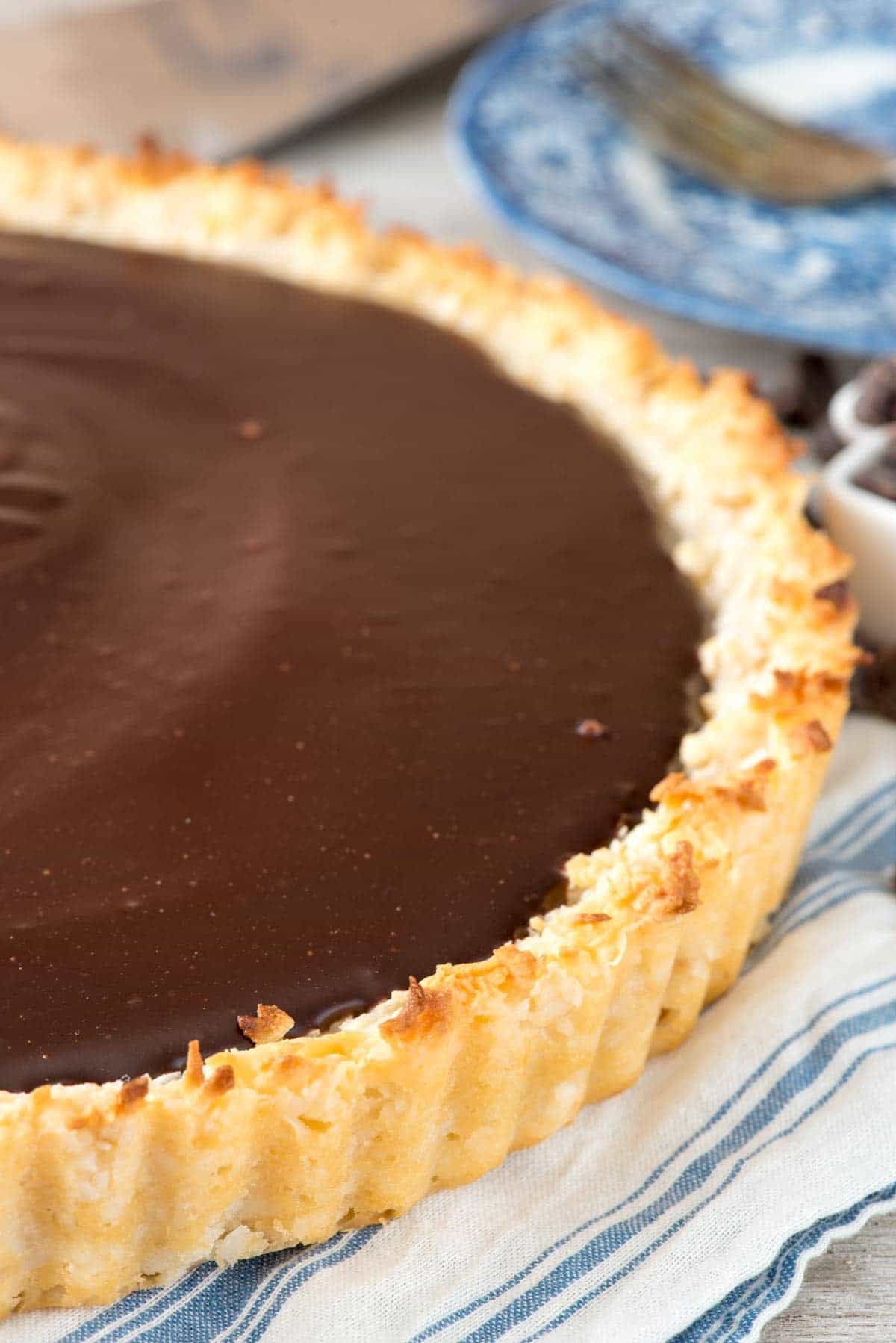 After all that, I made the coconut macaroon video and got a bonus recipe and video (this chocolate macaroon pie), took photos and went about my month knowing I'd post the pie recipe closer to Easter. Fast forward to Monday of last week, when I was getting this post ready. I edited the photos and they were horrible. HORRIBLE. There was a glare, the lighting was off, I'd covered the pie with plastic wrap and there were plastic wrap marks all over the top I couldn't fix in editing.
So what did I do? Yep. I made a THIRD batch of macaroons so I could make a SECOND Chocolate Macaroon Pie and take better photos. But the first thing I had to go do before I did all that? You guessed it: I had to go buy more sweetened condensed milk because I was out. Again.
It's been a week, you guys.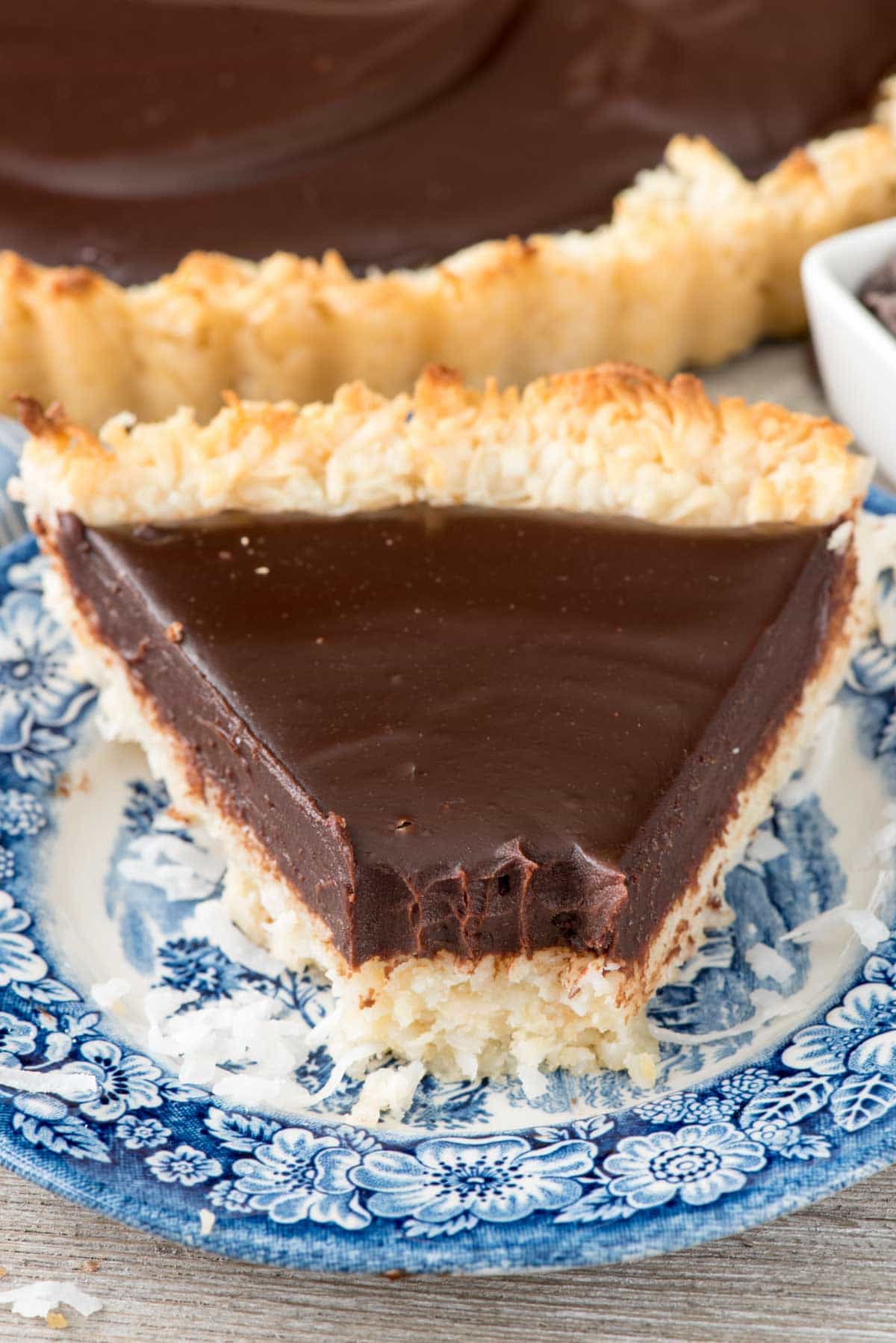 Okay SO, let's talk about pie. This is the ULTIMATE coconut pie recipe. Coconut haters need not apply because the crust is basically a bag of coconut. There really aren't that many substitutions for that except, I don't know, a different recipe. I kid you not, I WILL get comments on Facebook: "I don't like coconut what can I use instead?"
The crust recipe starts with my favorite coconut macaroon recipe. It's eggless and is bound together with more than 5 cups of coconut, a can of sweetened condensed milk, and a bit of flour. If you're gluten free, you can use 1:1 GF AP flour (I like Bob's Red Mill best). It's a thick mixture that you then press very firmly into your pie plate.
Now, let's discuss pie plates. I only have 9″ pie plates but there is a lot of coconut mixture. I suggest using a 10″ tart pan (with removable bottom) instead, or even a 9-10″ springform pan. The removable bottom is going to make it much easier to slice this pie. Press it very firm, until it's very compact into the pan. Bake it until it's golden, then let it cool.
Then the magic happens: the GANACHE.

If you don't make ganache and think "Forget the chocolate macaroon pie, just hand me a straw", I'm not sure if we could be friends IRL. I kid, but really. Who doesn't just want to scrape that chocolate off the crust and eat it? I use chocolate chips for my ganache because they're cheaper and more readily available than baking chocolate. I mean, you can buy both at the grocery store, but if you want to make this today, the chances that you'll have a bag of chocolate chips is greater than if you have 12 ounces of baking chocolate lying around. I love semi-sweet ganache paired with the coconut crust, but this works with milk chocolate or super dark chocolate too.
This chocolate macaroon pie is like eating a giant Mounds candy bar. Just be sure to get it out of your house so you don't eat it all!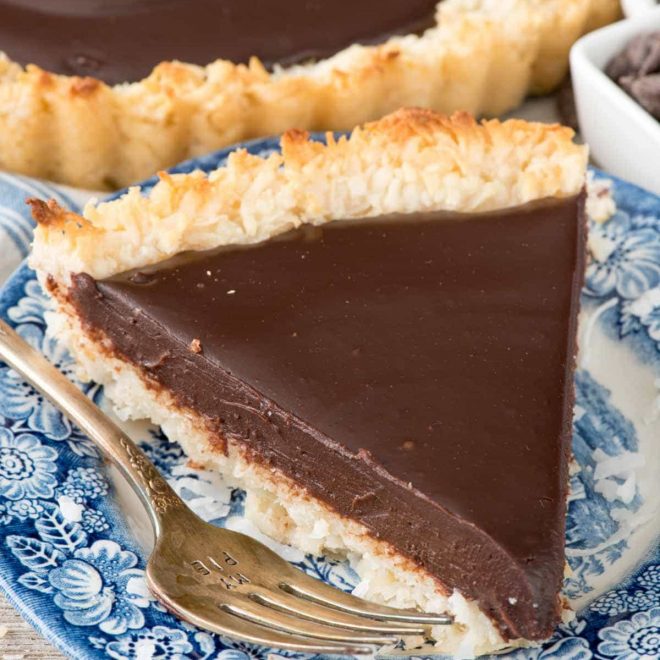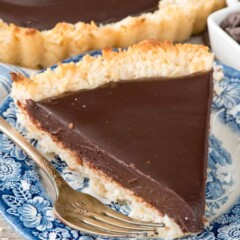 Chocolate Macaroon Pie
Chocolate Macaroon Pie - this easy macaroon recipe is baked into a pie crust and then filled with a rich chocolate ganache filling! It's the perfect mixture of decadent chocolate and coconut - this pie is always a hit!
Ingredients
For the crust:
2/3

cup

all purpose flour

may substitute 1:1 GF All Purpose Flour

5 1/2

cups

shredded sweetened coconut

1/2

teaspoon

salt

1

14 ounces

can sweetened condensed milk

2

teaspoons

vanilla extract

1

teaspoon

almond extract

optional
For the filling:
2

cups

semi-sweet or dark chocolate chips

(about 12 ounces)

1

cup

heavy whipping cream
Instructions
Preheat oven to 350°F. Spray a 10" tart pan (with removable bottom) with nonstick cooking spray. Place your tart pan on a cookie sheet to avoid spilling in your oven.

Stir flour, coconut, and salt. Stir in sweetened condensed milk and both extracts. Stir until combined. Press into the bottom and up the sides of the prepared pan. Press to compact it firmly.

Bake for 20-25 minutes, or until the edges are golden brown and the center is no longer glossy. Cool completely before making filling.

To make the filling, place the heavy whipping cream in a large bowl or measuring cup. Heat in the microwave about 2 minutes, or just until it starts to bubble slightly (but don't let it come to a full boil). Add the chocolate chips. Let it sit for about 10-15 seconds, then whisk until smooth and the chocolate is all dissolved. Pour into crust.

Let it sit at room temperature until cool and set. You can make this up to 2 days ahead and store covered in the refrigerator but allow it to come to room temperature before serving.
Recipe Nutrition
Serving:
1
/10 Slice of Pie
|
Calories:
436
kcal
|
Carbohydrates:
57
g
|
Protein:
7
g
|
Fat:
22
g
|
Saturated Fat:
14
g
|
Cholesterol:
129
mg
|
Sodium:
2061
mg
|
Fiber:
2
g
|
Sugar:
40
g
Nutritional information not guaranteed to be accurate
See more of my ultimate pie recipes here!
Click here to see more of my ULTIMATE COCONUT recipes!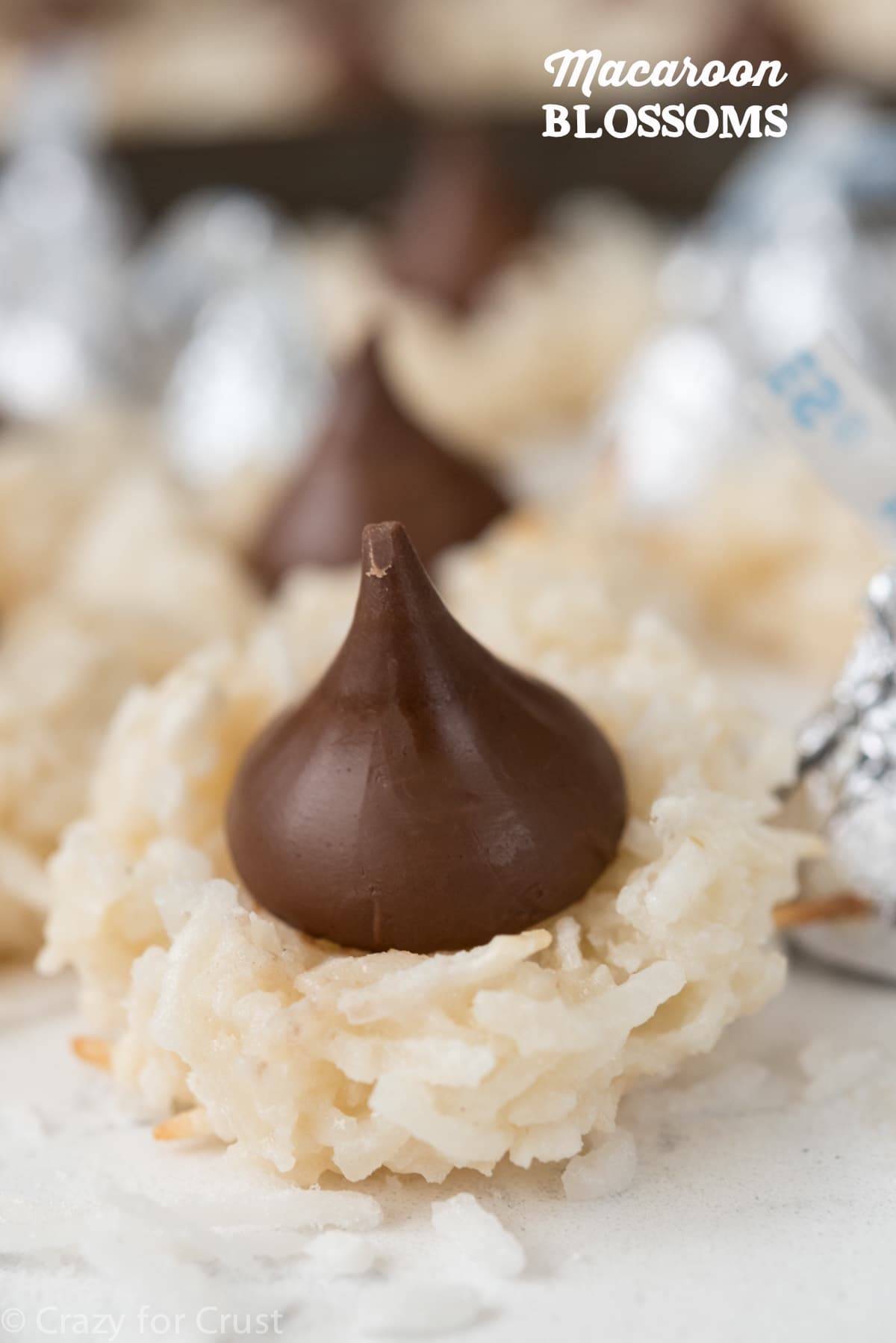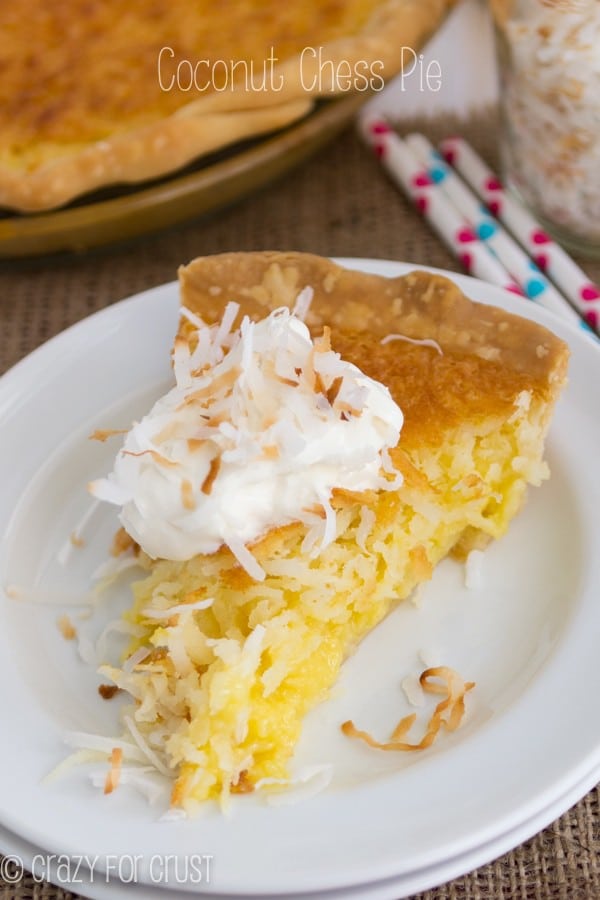 Salted Caramel Chocolate Ganache Pie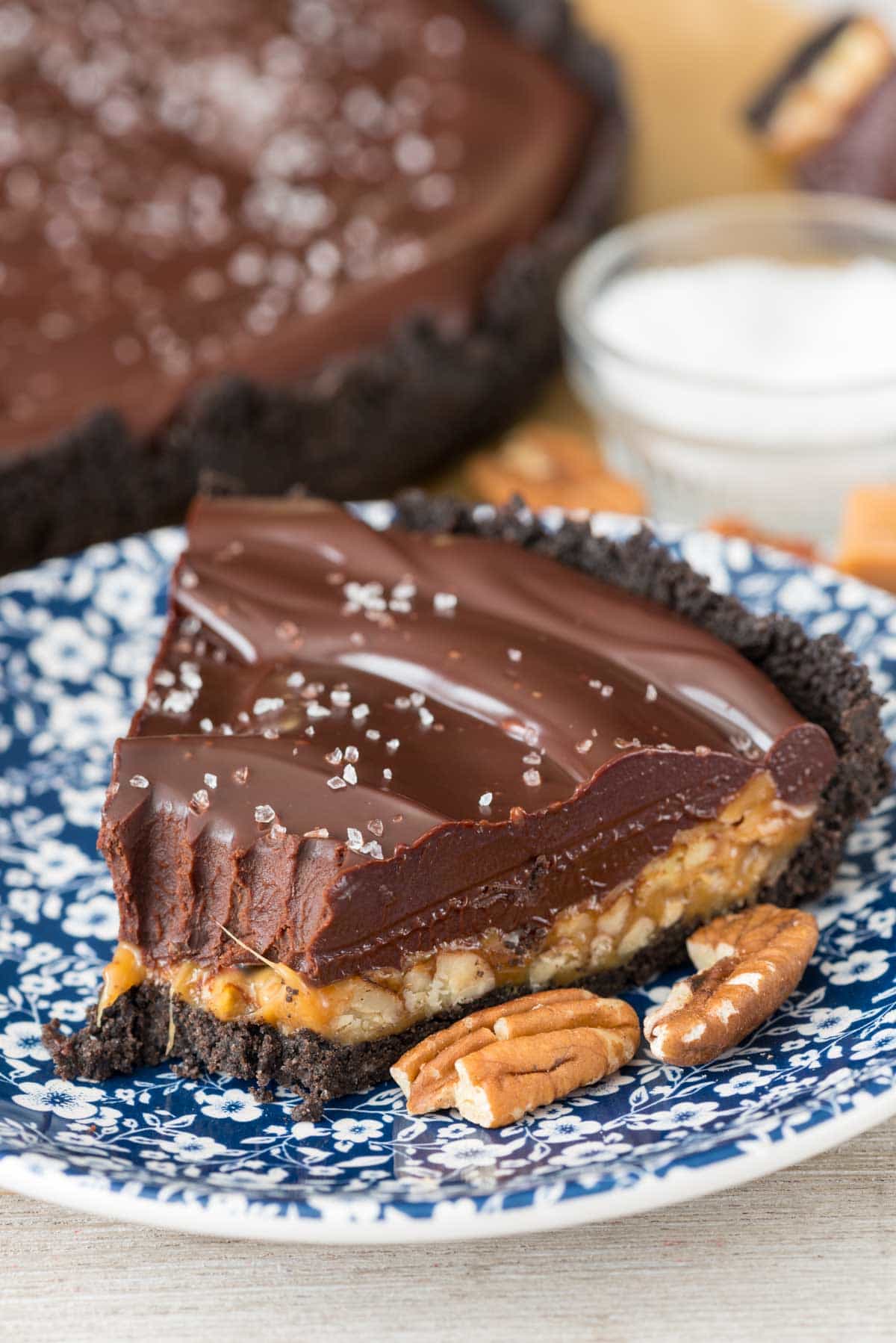 Other macaroon recipes you'll love:
Key Lime Pie with Coconut Crust by Two Peas and their Pod
No Bake Lemon Macaroon Cheesecake by Inside BruCrew Life
Dulce de Leche Macaroons by Taste & Tell
Last Updated on September 16, 2019