This post may contain affiliate links. For more information, read my disclosure policy.
To my daughter's future spouse,
First, let me start off by saying, thank you for loving my daughter and marrying her. I hope you make each other happy for a lifetime. You are marrying a wonderful woman – I'm sure she will be as lovely and as sweet as an adult as she is as a child.
That said, let me get to the point.
I want to apologize to you. For that problem with your ears. The one that has probably, by the ripe old age of 35, has caused you to either (A) go crazy or (B) need hearing aides. I know I should have warned you of my daughters' propensity for language and the increased and abundant rate at which she uses it.
But then, if you knew how much she really talked, we might not be having this conversation right now. Hence my neglect in telling you that you will never get a word in and you should just give up trying.
I remember one hot summer day when my daughter was six we were on our way to have dinner. From the moment we left our house, through the car ride, and across the parking lot, she never stopped talking. I remember looking at my husband with one of those looks only a husband and wife can have; the ones that speak volumes. I think mine said "Holy Cow. She hasn't shut up for 15 minutes. Will the noise ever stop?"
His probably said "This is your fault. I should have known what I was in for when I married you."
Anyway, one thing you can probably do to stop her from talking is to feed her. It works for me.
These Carrot Cake Pops might be the perfect thing. Because I'm sure she's over that whole picky-eater thing by this point.
Or maybe not. But no matter, you should make these anyway. Because they are delicious. Amazing. The moist cake-cream-cheese-frosting flavor inside a house of white chocolate? Priceless. Even better because of the crunch from the nuts that hits your mouth first.
They are quite large and require lots of bites. Feed her one and have five minutes of peace.
Sincerely,
Your future mother-in-law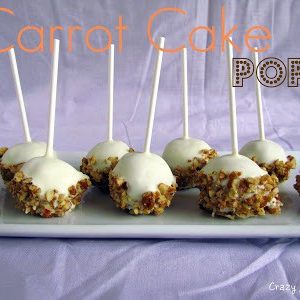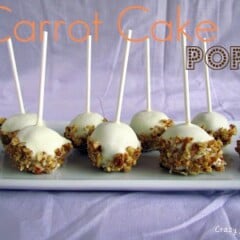 Carrot Cake Pops
Ingredients
For the Cake:
2

eggs

1/2

cup

vegetable oil

1

cup

white sugar

1

teaspoon

vanilla extract

1

cup

all-purpose flour

1

teaspoon

baking soda

1

teaspoon

baking powder

1/4

teaspoon

salt

1

teaspoon

cinnamon

1 1/2

cups

grated carrots
To make the pops:
1

can cream cheese icing

(or your favorite recipe)

1 - 1 1/2

bags white chocolate melts

(14-20 ounces) Have two bags on hand just in case

Lollipop sticks

2

cups

toasted pecans

, chopped
Instructions
For the cake:
Preheat oven to 350 degrees. Grease and flour one round 9" cake pan.

In a large bowl, beat together eggs, oil, sugar, and vanilla. Mix in flour, baking soda and powder, salt, and cinnamon. Gently fold in carrots.

Pour into prepared pan and bake 30-40 minutes. Cool completely (overnight, preferably) before making cake pops.
For the pops:
Note: the cake has a lot of oil. I found it easier to do upside-down cake pops so they didn't fall off the sticks. You will not use as much icing as you would with a box mix. Also, make sure the balls are very cold before dipping.

Crumb your cake into a large bowl. Add about 1/4 of the can of icing and mix into cake. Add more icing as needed until you can form the mixture into a ball. Form into balls and freeze for 15 minutes or chill in the refrigerator overnight.

Melt your vanilla candy coating according to the package directions. Place your chopped pecans in a shallow bowl or pie plate.

When ready to dip, remove balls from freezer and place in refrigerator. Remove only about three balls at a time to dip. Dip the lollipop stick into the candy (about 1/2") and then insert into ball. Immediately dip the ball into the melted candy. Remove and tap off excess (I use Bakerella's tap-tap-tap the wrist method). Roll in chopped pecans and place on a wax-paper lined cookie sheet. Repeat until all pops are made. Chill until hardened. You can make them ahead of time and freeze if needed. Let come to room temperature before serving.
Nutritional information not guaranteed to be accurate
Yield: about two dozen pops, depending on size.
Click here for more Carrot Cake Recipes!
Last Updated on September 10, 2023