Carrot Cake Cheesecake Cupcakes
This post may contain affiliate links. For more information, read my disclosure policy.
Carrot Cake can fix anything. So can cheesecake. Together? They can run the world.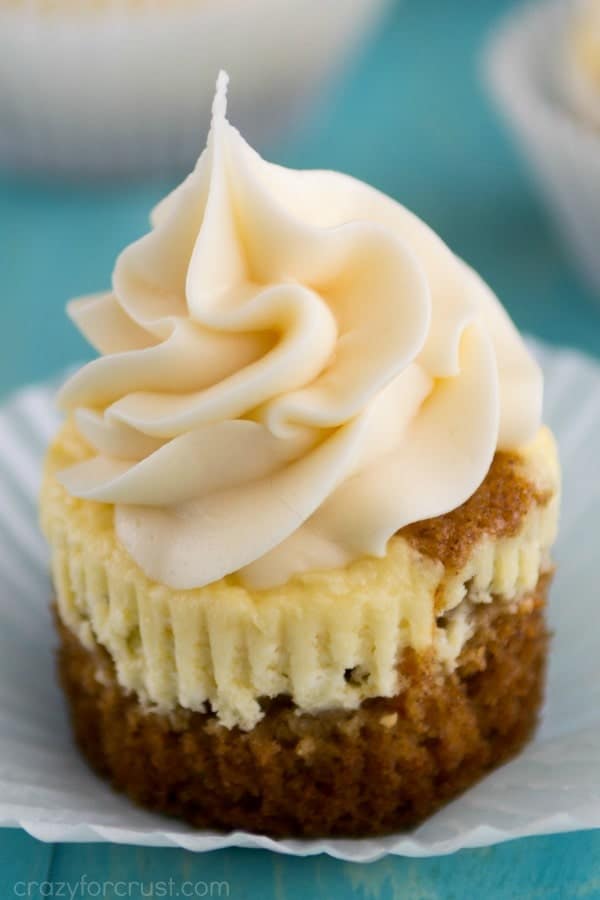 I've learned a lot of things over the past few months in our new house.
For example, I can now assure you that maroon, goldenrod, faux-finish yellow, dark taupe, and hunter green are very nice colors to use on walls. But not if they are all in the same room.

Ocean blue and dark blue are also nice colors. Unless they are covering the walls, ceiling, baseboards, heater vents, intercom vents, light fixtures, and closet/bedroom doors.
Ditto hot pink and neon green.
Did you know that window blinds need to be cleaned once in awhile? If not, years worth of dust and grime actually build up on them, forcing the person who tries to clean them to fling dirty water everywhere and cause their children to repeat naughty words said in the heat of battle.
Ditto showers and bathtubs.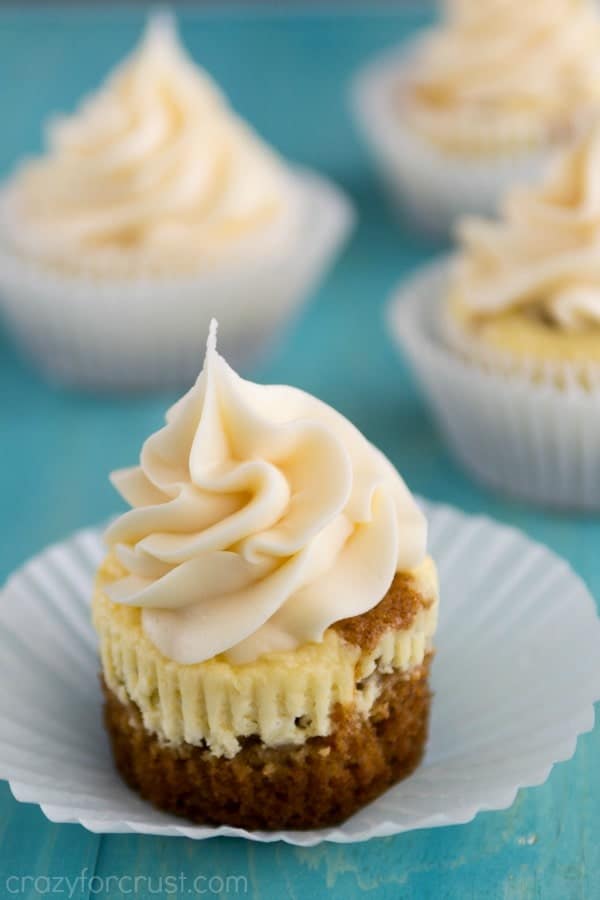 Oh, and I never realized that having a dog go outside to um…you know…was optional. All these years I've been trekking outside in freezing or burning hot weather to pick up Ginger's presents. I should have just sent her into the (carpeted) garage. Or the walled in sunporch.
Needless to say, there were lots of little fix-its and repairs to be made. One of our old neighbors was a contractor in need of work and he did a ton of stuff (including new flooring and ripping out that disgusting sunporch) for way less than if we'd hired someone official.
So, of course, as a thank you, I made him cupcakes.
I asked him what his favorite dessert was. He told me his two favorites are carrot cake and cheesecake.
And these cupcakes were born.
A layer of carrot cake. A layer of cheesecake. Cream cheese frosting.
I will relay your thank you's to him the next time he comes to fix something.
Because I figure there will be a next time. There always is, isn't there?
Servings: 12 cupcakes
Carrot Cake Cheesecake Cupcakes
A dessert mashup of cheesecake and carrot cake cupcakes!
Ingredients
For the Cupcakes:
1 egg
1/4 cup unsweetened applesauce
1/4 cup vegetable oil
1/4 cup packed brown sugar
1/4 cup granulated sugar
1/2 teaspoon vanilla extract
1/2 cup flour
1/2 teaspoon baking soda
1/2 teaspoon baking powder
1/4 teaspoon salt
1/2 teaspoon cinnamon
1/2 cup shredded carrots
1/2 cup chopped pecans
For the Cheesecake:
1 pack — 8 ounces cream cheese, room temperature
2 tablespoons sour cream — room temperature
1/4 cup sugar
1 teaspoon vanilla
1 large egg — room temperature
For the Cream Cheese Frosting:
8 ounces cream cheese — softened
1/2 cup unsalted butter — softened
4 cups powdered sugar
1 teaspoon vanilla extract
1 teaspoon heavy whipping cream — optional for consistenct
Instructions
Preheat oven to 350°. Line muffin pan with liners. Set aside.

Make the cake batter: In a large bowl, beat together egg, applesauce, oil, sugars, and vanilla. Mix in flour, baking soda, baking powder, salt, and cinnamon. Stir in carrots. Pour evenly into 12 muffin liners. Set aside.

Make the cheesecake batter: make sure all ingredients are room temperature to avoid lumps. Mix together cream cheese, sour cream, egg, sugar, and vanilla with a hand-held mixer. Pour evenly on top of cake batter in muffin pan.

Bake for about 16-22 minutes, until cheesecake is no longer runny. Cool completely.

Make the frosting: Using a hand mixer, cream butter and cream cheese until fluffy. Slowly add in powdered sugar and vanilla. Mix until smooth. Add heavy whipping cream as needed for consistency. Frosting option: use a 1M tip for a beautiful cupcake. Store in refrigerator.
Click here for more Carrot Cake Recipes!
This recipe is from my cookbook!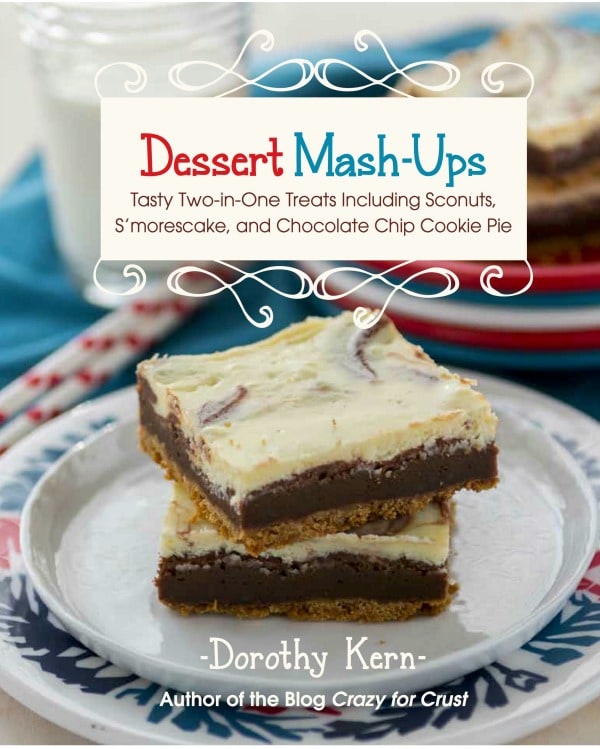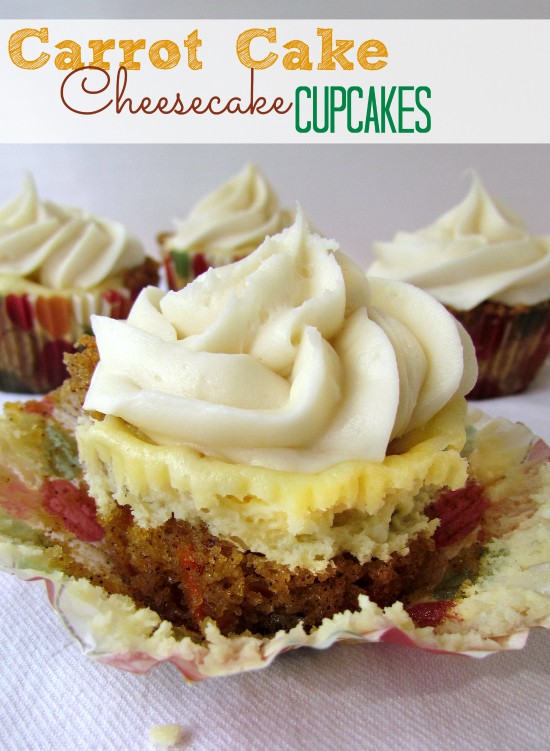 Check out these carrot cake recipes: