This post may contain affiliate links. For more information, read my disclosure policy.
Today is a very special day. It's a day for Funfetti Cake Batter Cookie Pie!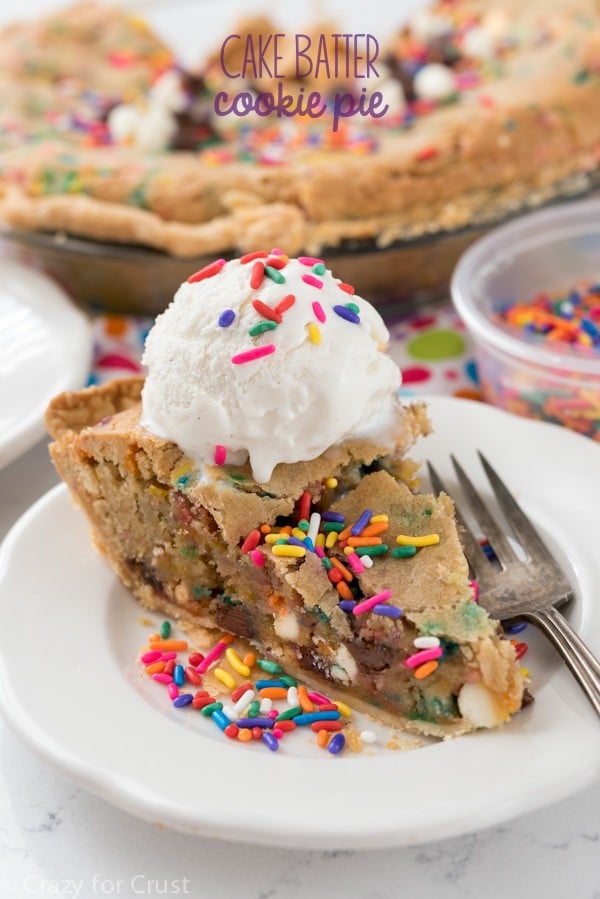 Birthdays are a big deal to me. They always have been. When I was a kid, birthdays were big events and they still are for me today. No matter who is having a birthday in the family, I want to make sure the day is super special.
Today, there's a birthday in my family. It's not me (that's tomorrow, actually!) and it's not even a person. A thing is having a birthday and I'm celebrating big-time today.
(Actually, I'm sitting on an airplane coming home from a food blogging conference. But I'm celebrating in spirit!)
Okay, so long story short: Crazy for Crust is having her birthday today. She's 5!!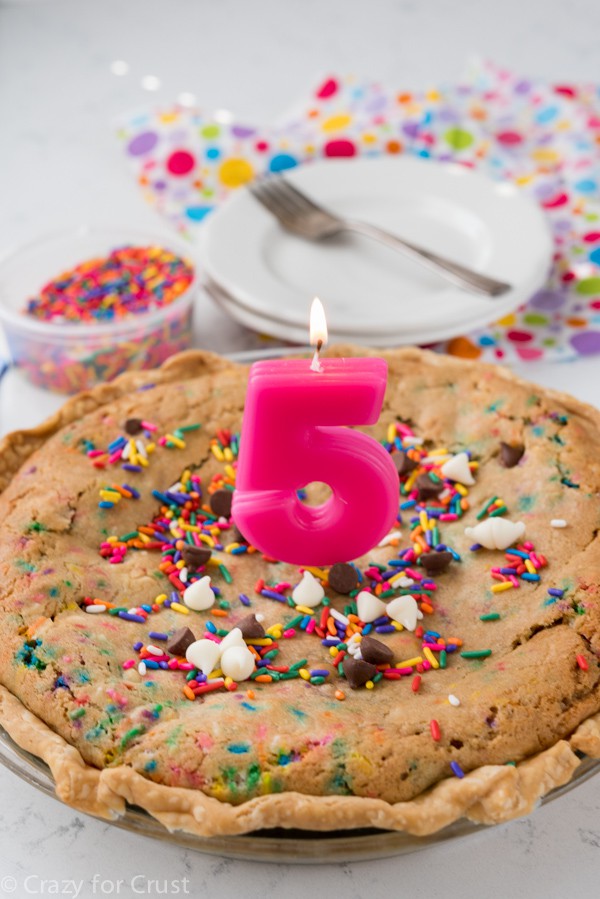 I celebrate my blog birthday every year because I think of the birth of my blog as the birth of the true and real me. Writing this blog has made me figure out who I am, what I want to do with my life, and it's instilled a confidence in me I didn't know I had.
I spent several adult years in a job (teaching) that I'd thought all my life would be my passion but it wasn't. Then I spent 5 years as a stay-at-home mom who should not have been a stay-at-home mom. Really, I was not cut out for that, emotionally, but I did it because I didn't want to go back to teaching and I didn't have very many other options. (Long story.)
Then Jordan started Kindergarten and I started this blog. And I feel like the life I have now began.
This year, my blog would be starting Kindergarten. What's that saying? "All I really need to know about life, I learned in Kindergarten?"
All I really need to know about life, I learned blogging: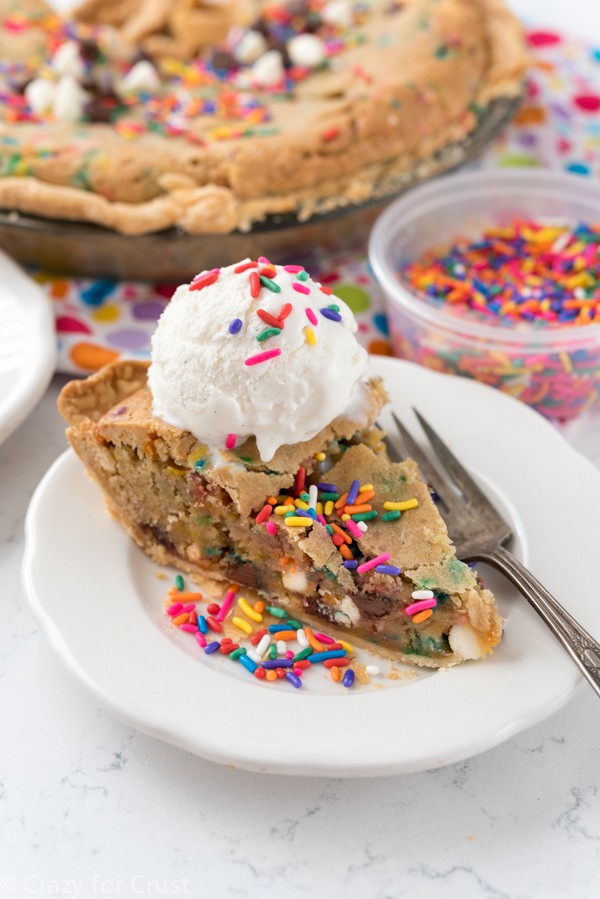 Share everything (on social media over and over and over).
Don't take things that aren't yours (recipe stealers suck).
Wash your hands before you bake (duh).
Warm cookies and milk are good for you (again, duh).
Live a balanced life (um, still working on that one).
Learn some and think some and be creative (blogging is like learning a new language and all things creative all in one).
Take a nap every afternoon (because, hey, we work from home so we can).
And finally, Look (be present, look around you, life is what you make it).
Blogging has taught me lots of things. Namely, how to be me.
And it's also taught me that I like Cake Batter very, very much.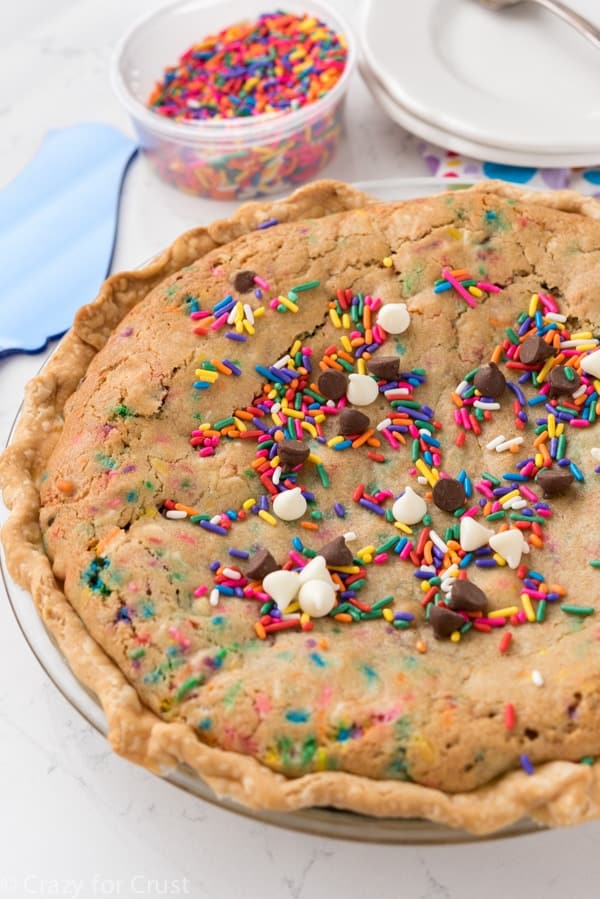 I think this might be one of my favorite pies ever. This one is a close second, and it's not very different from this cake batter version.
It's a giant funfetti cake batter cookie in a pie crust. IS THERE ANYTHING BETTER?
(Just agree with me, mmkay? It's my blog's birthday.)
The dough for the cookie is based off of my favorite blondie recipe. I used a combination of brown and granulated sugars to give it more of a sugar cookie like flavor, but the brown sugar gives it a rich tone like a normal blondie has.
There is no actual cake batter or mix in this cookie. It's a giant from-scratch cookie that gets it's cake batter flavor from butter extract. They sell butter extract at most grocery stores nowadays and I've used it in so many funfetti recipes. It just adds that cake-like flavor without using a mix. If you don't want to buy the extract, just use more vanilla. Or add some almond extract. Either works just fine!
The cookie is filled with sprinkles (obvi, life is more fun with sprinkles!) as well as chocolate and vanilla chips. All of this is pressed into a pie crust. Use a packaged crust or my all butter pie crust, either will work just fine. Bake and then eat straight from the pan, warm, with a fork.
Or be responsible and use a plate. But then you need to add ice cream and more sprinkles.

Thank you to all of you for all your support these past 5 years. You guys have changed my life, and I love you all for it! I want to send an extra special sprinkle-filled thank you to the wonderful women I've met through blogging. This job would not be possible without any of you. ❤️
Enjoy this pie!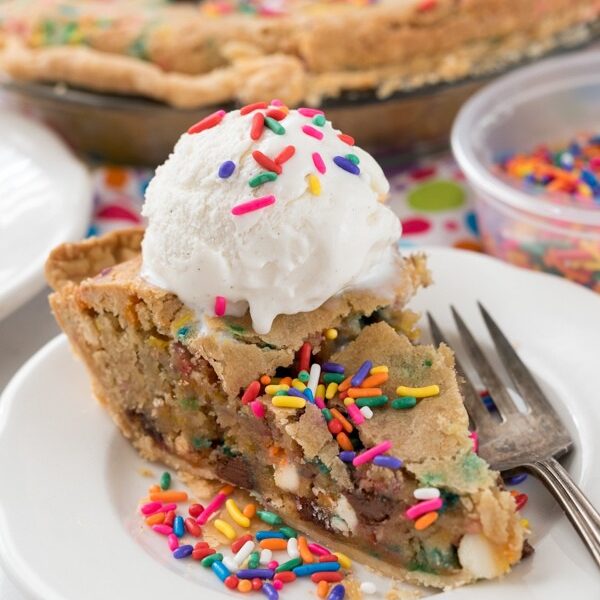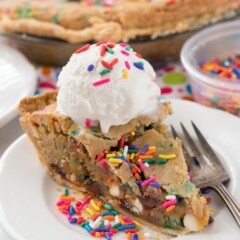 Cake Batter Cookie Pie
This Cake Batter Cookie Pie is the best of both worlds! A funfetti cake batter blondie is baked into a pie crust for the ultimate birthday dessert mashup! Served plain or with ice cream it's the ultimate cookie pie!
Ingredients
1/2

cup

unsalted butter

softened

1/2

cup

granulated sugar

1

cup

brown sugar

packed

2

eggs

1

teaspoon

vanilla extract

1

teaspoon

butter extract

see note

1

teaspoon

baking powder

1/2

teaspoon

salt

2

cups

all purpose flour

1/2

cup

sprinkles

use "jimmies" for best results

1/2

cup

white chocolate chips

1/2

cup

milk chocolate chips

1

pie crust

homemade or refrigerated
Instructions
Preheat oven to 350°F.

Place butter and sugars in the bowl of a stand mixer fitted with the paddle attachment. (You can also use a hand mixer.) Cream until smooth. Add eggs and extracts and mix until smooth. Add baking powder and salt, mix, then slowly add flour and mix until just combined. Stir in sprinkles, white chocolate and milk chocolate chips.

Unroll pie crust into a 9" pie plate and crimp edges as desired. Place dough into the pie plate and press to flatten. The dough is very wet, it's helpful if you spray your hands with cooking spray or dampen them before spreading the dough evenly in pie plate.

Place pie on a cookie sheet and bake for 38-44 minutes until the crust is browned and the pie is browned on top. The center will be slightly jiggly but not too much so - it'll finish baking as it cools.

Cool completely before slicing. Serve plain or with ice cream or whipped cream.

Store covered at room temperature or in the refrigerator for up to 3 days.
Nutritional information not guaranteed to be accurate
See more of my ultimate pie recipes here!
Funfetti Cake Batter Wedding Cookies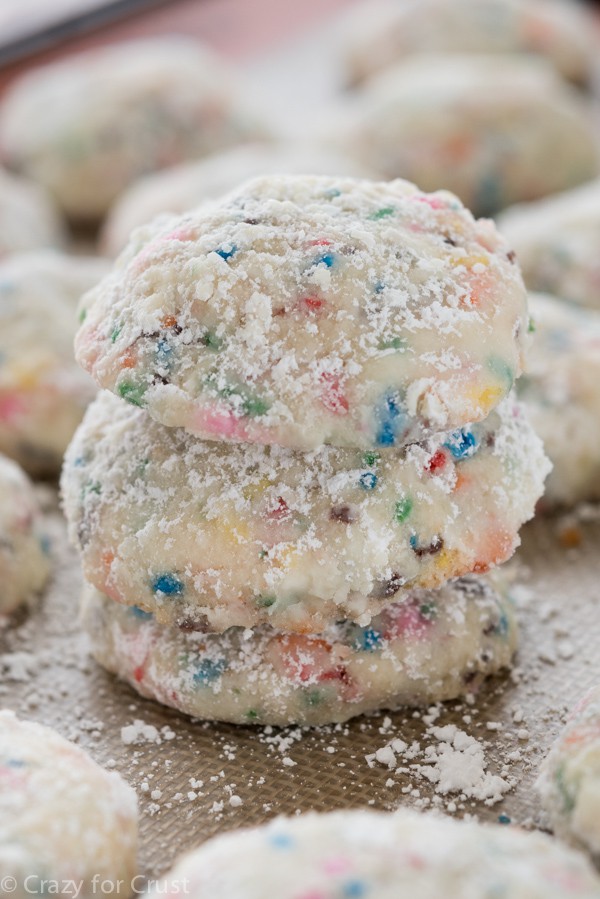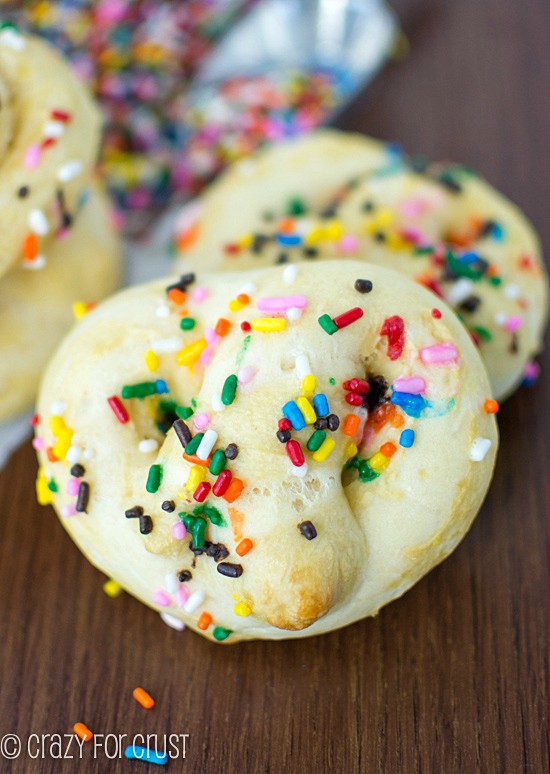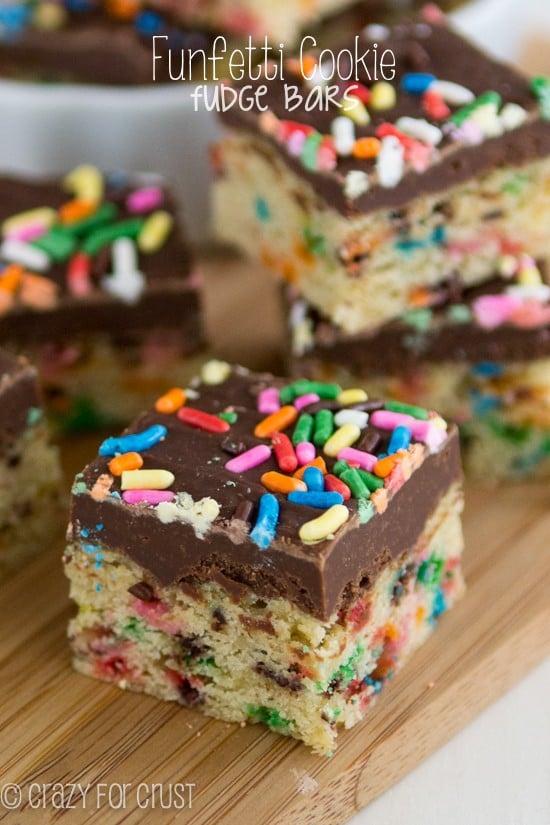 Sweets from friends:
Funfetti Cookie Dough Balls by Averie Cooks
Funfetti Oreo Cheesecake Bars by Mom on Timeout
Funfetti Cream Pie by The Domestic Rebel
Funfetti S'mores Cupcakes by Something Swanky
Last Updated on September 20, 2019