This post may contain affiliate links. For more information, read my disclosure policy.
That's right – this is a BETTER Chocolate Sheet Cake Recipe! Tastes as good as your regular recipe but with NO eggs or oil/butter! (Which means you can eat more, right??)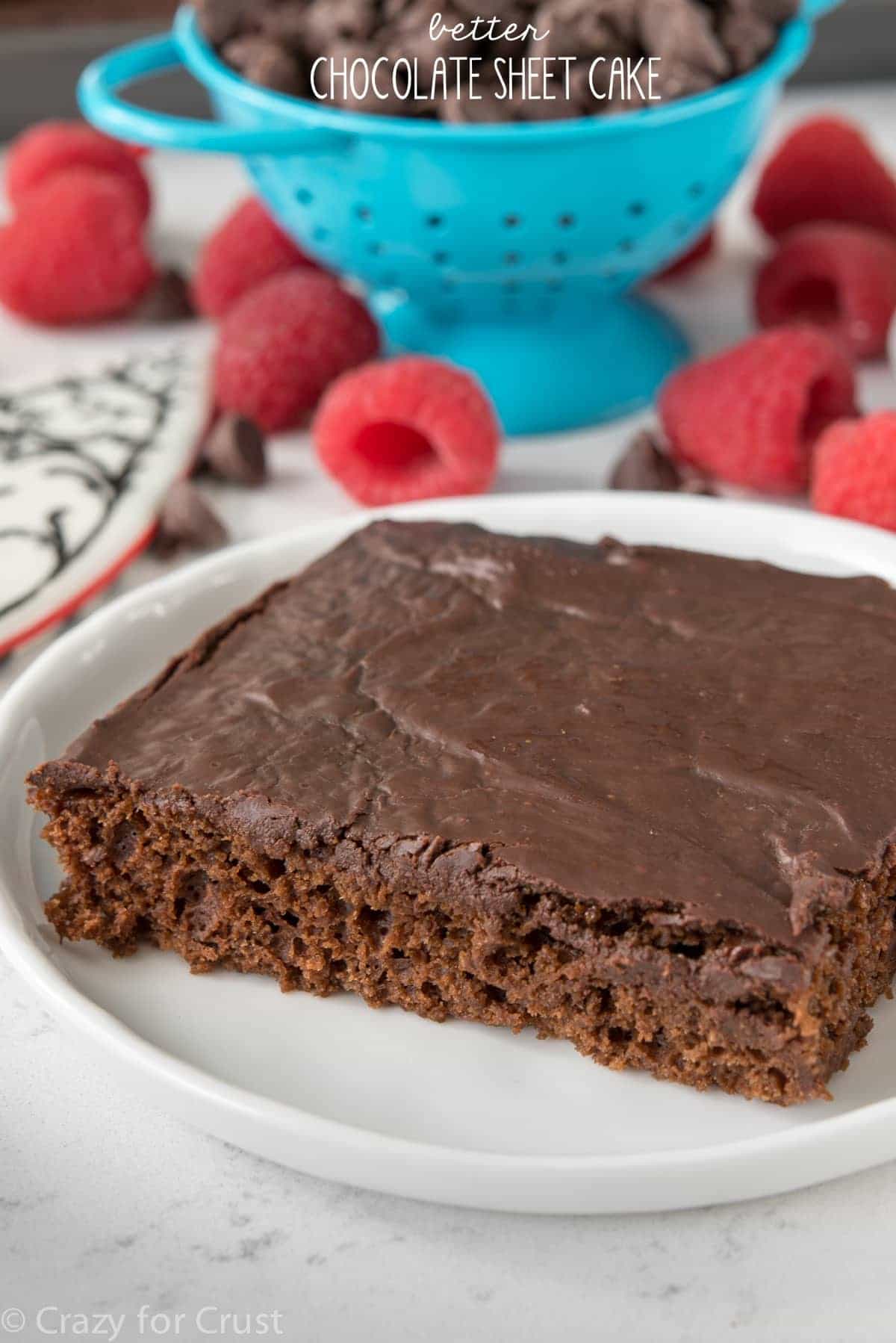 I love chocolate, which should be no surprise to you. A good portion of my recipes on this blog are chocolate recipes! I also love me a good cake…but I don't love me the extra pounds those two things can pack on.
I know I'm all against resolutions and dieting (don't even get me started on sugar-shaming and the diet-shaming that happens all of January) but I am trying to eat better. I'm trying to limit my desserts and carbs as much as possible, and just saving eating those things for the BEST of the best. I want to get the most out of my calories, you know what I mean?
If it's not good, I don't want to waste my time on it. I don't want to have to do more miles because I ate a cookie or slice of cake that wasn't worth it. Do y'all feel me? Good, because that's where this cake comes in.
It's worth every bite and every calorie, except that it's a BETTER Chocolate Sheet Cake, so the punch isn't as much as it normally is. So…more bites are acceptable. #mykindofcake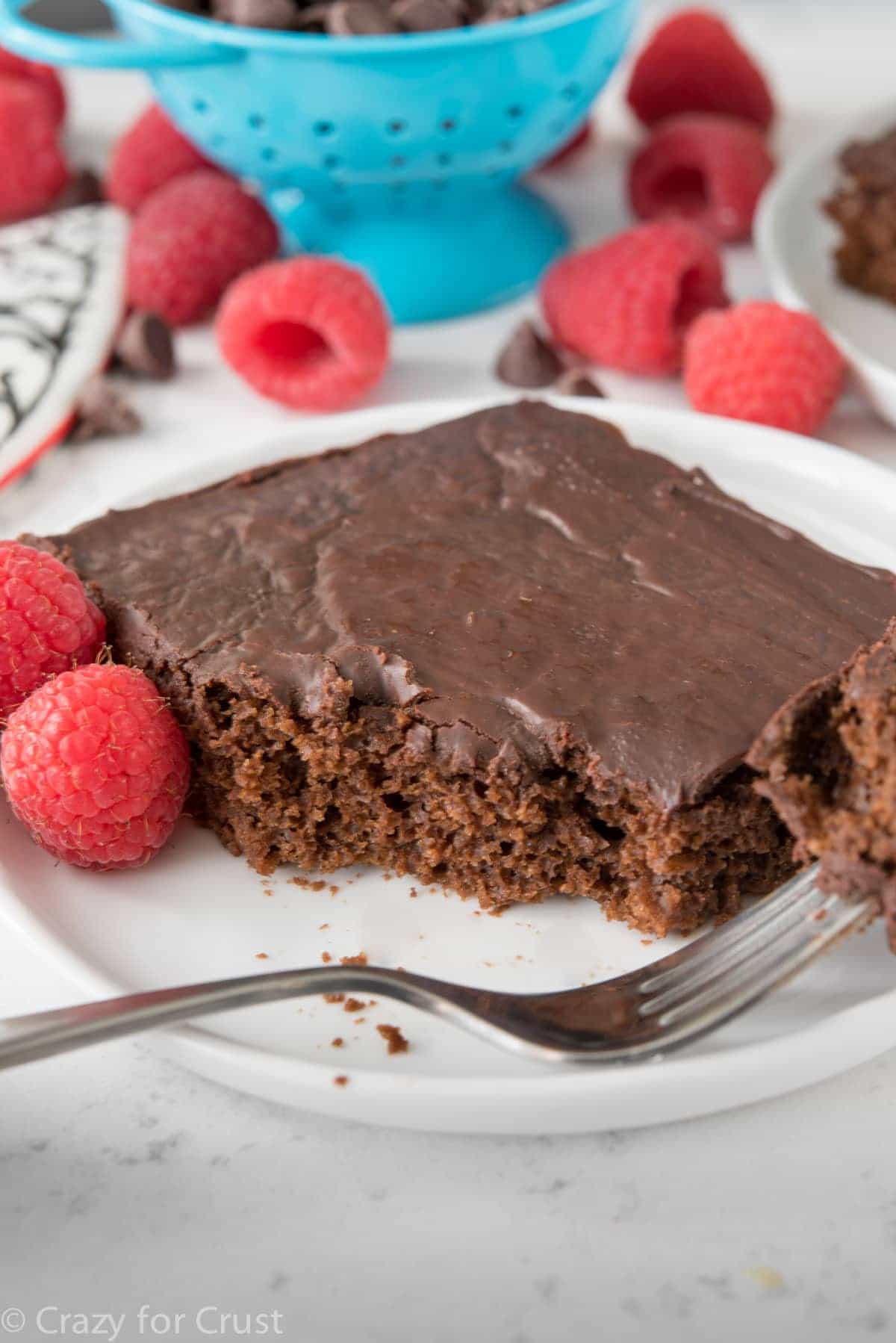 Sometimes I enjoy a challenge. I get a craving for something (like sheet cake) and I want to recreate it so that I can actually enjoy it without worrying about what I'm going to eat later. Remember – even if I'm all "NO DESSERTS!", I still have to try everything that goes on this blog. I try it when it's first baked and again later, after it's rested. I even sometimes taste things that have been frozen, just to see how that works. That's a lot of little bites that add up, which is why I like to sometimes create something that won't add up to as much.
For this Better Chocolate Sheet Cake, I wanted to make a skinnier recipe that was actually better.
My goal was to use my other sheet cake recipe, which was already egg-free, and reduce the fat in it. I did that by omitting all butter and oil from the recipe. In fact, there's only a little bit of fat in the recipe as a whole. How did I do that?
I omitted the oil from my original recipe by adding unsweetened applesauce and nonfat vanilla greek yogurt. Both keep the cake incredibly moist without adding all the saturated gunk you normally find in cake. I also reduced the sugar and used half all-puropose and half whole-wheat flour.
And, instead of using milk or buttermilk, I used a combination of vinegar and my favorite almond milk, Unsweeteened Almond Breeze.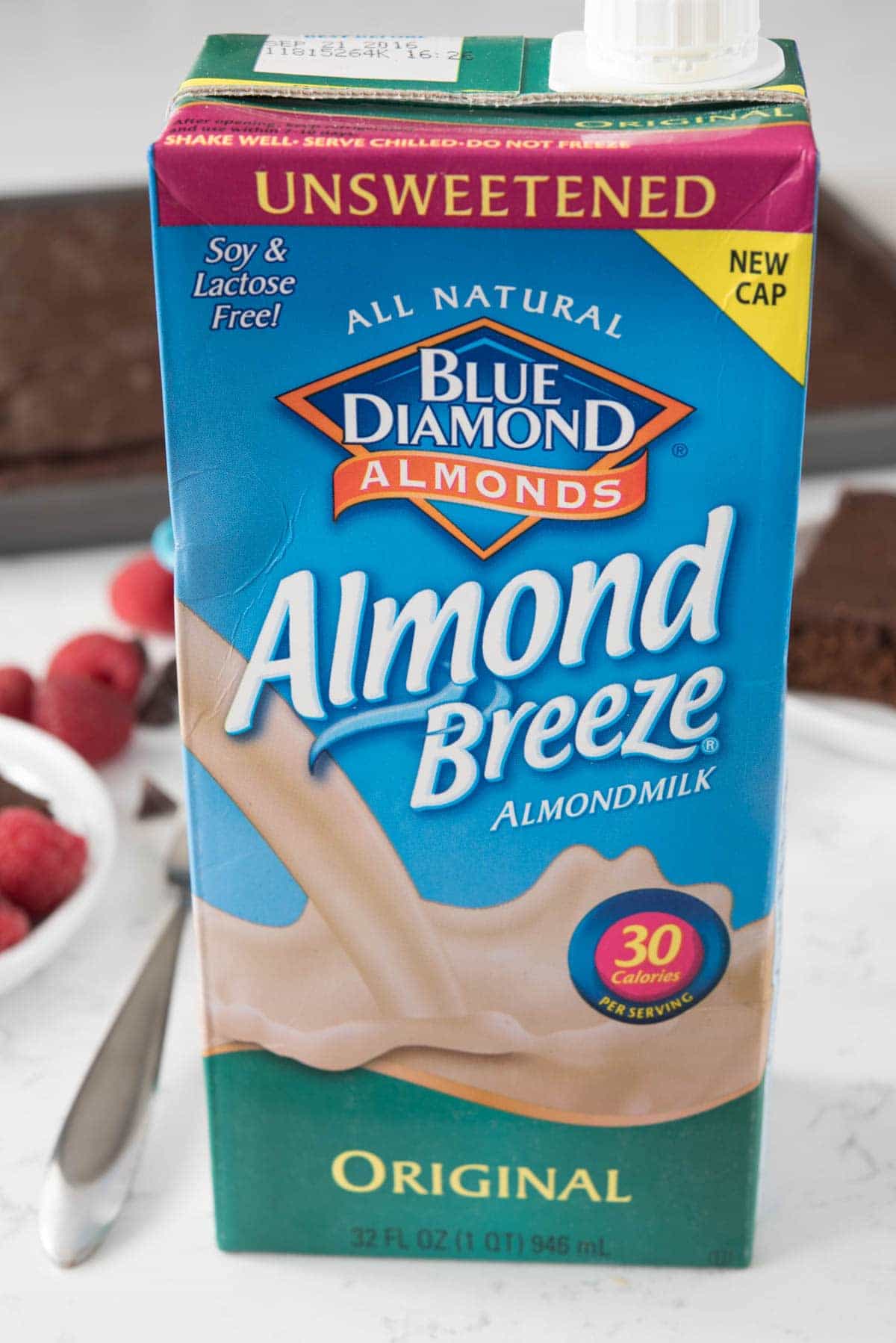 I've substituted Almond Breeze in so many recipes, here on this blog and in real life. I use it exclusively on my cereal and in my smoothies, and I almost always substitute it in recipes when I'm baking. It has less calories and sugar per cup than regular nonfat milk and more calcium, which I love. If you haven't tried almond milk yet, you're missing out!
The Better Chocolate Sheet Cake bakes up moist and rich and chocolatey, just like a regular sheet cake would.
And then there's the matter of the frosting. Can we talk about sheet cake frosting for a minute?
Rich, thick, fudgy cooked sheet cake frosting is from the heavens, yes? I love it and could eat it with a spoon. However, it's not very calorie conscious. In fact, when I was researching skinny sheet cake recipes, many of the cakes were lower calorie, like mine, but most of them still used the rich icing that has a stick of butter and cups and cups of powdered sugar.
As much as I love that frosting, I don't think that's better for you. It's like spreading Nutella on a rice cake – not really healthy. I edited the frosting on this cake so you could actually feel okay eating it. The recipe just calls for making a ganache out of chocolate chips and almond milk. It's easy, makes the perfect amount, and hardens a little like the regular frosting.
And, if you heat up the cake in the microwave for just a few seconds before eating it, it'll be all melty and gooey like the real thing. You won't even know it's different!
Sheet cakes are also perfect for parties. Over the next few weeks I'm sure there will be lots and lots of parties going on and maybe you want a little something that won't kill your diet too much. If that's the case – make this cake!
And if one of those parties happens to be a football party, I've got you covered: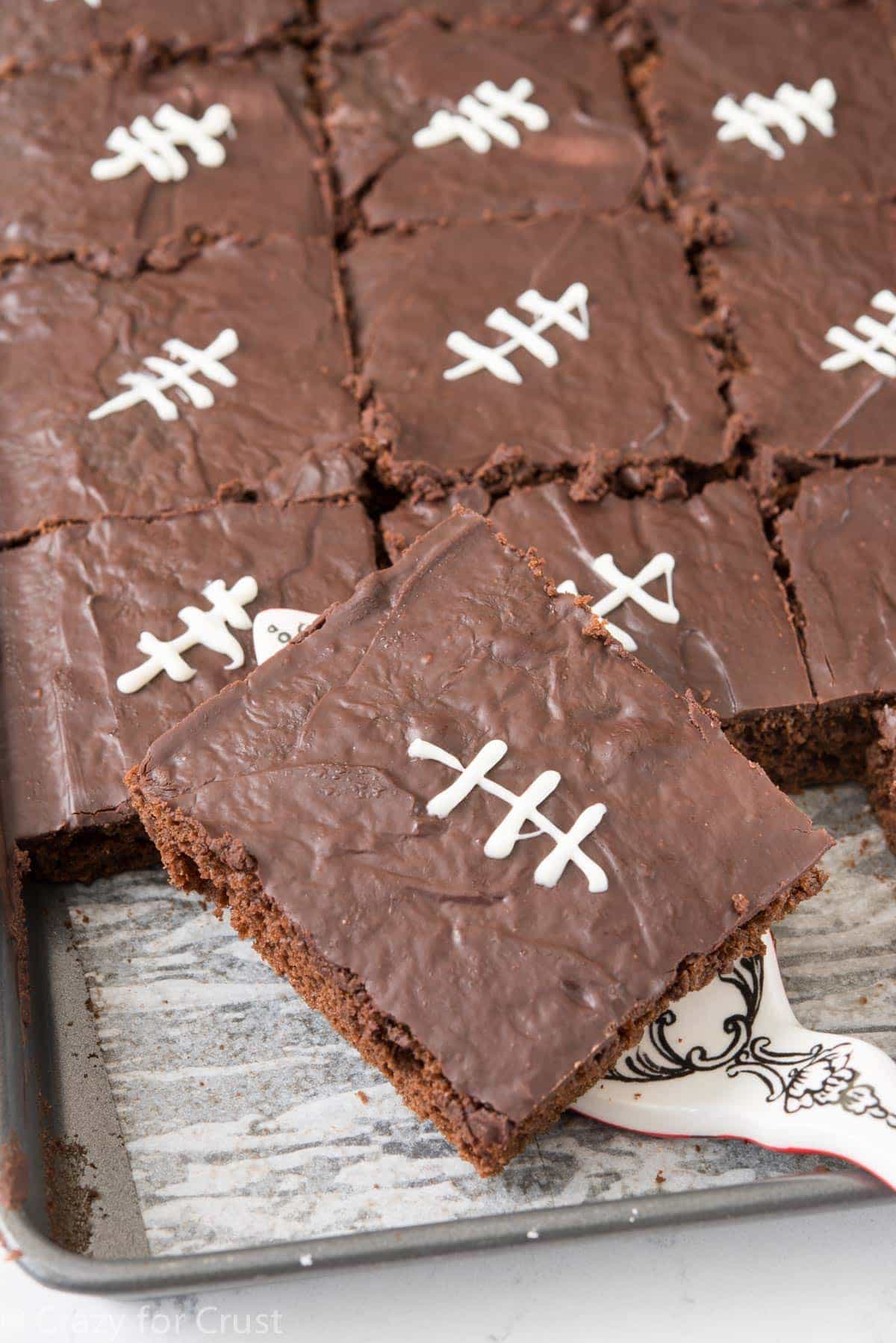 Make it a FOOTBALL sheet cake!!
Also – because sometimes you crave a cake but you only want a slice – you can FREEZE this Better Chocolate Sheet Cake! Slice and freeze it in a large resealable plastic bag, then let a slice defrost at room temperature or 30 seconds in the microwave. Perfect for when you have a major chocolate craving!
It really is a BETTER chocolate sheet cake. Enjoy!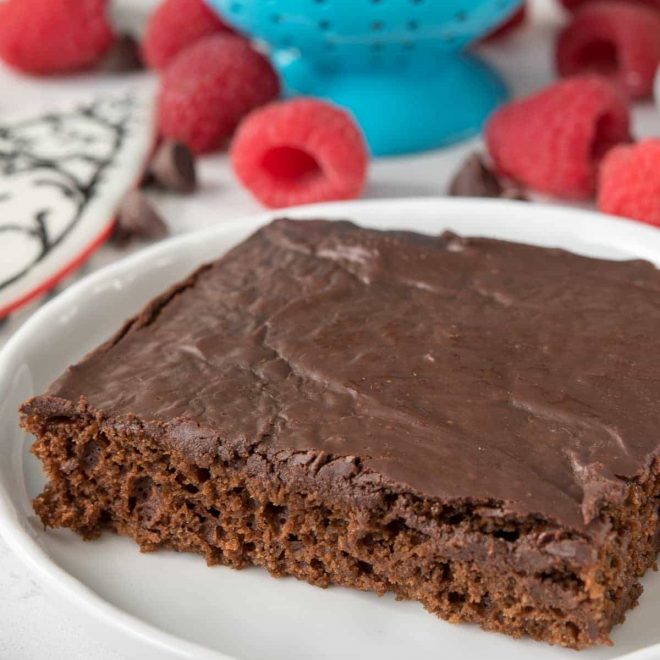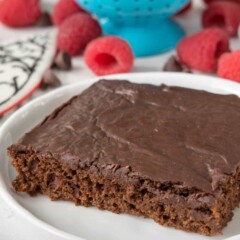 Better Chocolate Sheet Cake Recipe
This BETTER Chocolate Sheet Cake Recipe is BETTER FOR YOU! NO eggs or oil/butter - this cake is a better cake! Plus it's easy to make and tastes just as delicious as the original version.
Ingredients
Cake:
1

cup

all-purpose flour

1

cup

whole wheat flour

1

cup

granulated sugar

1/3

cup

unsweetened cocoa powder

1

teaspoon

baking soda

1/2

teaspoon

salt

1/2

cup

nonfat vanilla greek yogurt

I use Dannon

1

cup

Almond Breeze Almond Milk Original Unsweetened

1/4

cup

unsweetened applesauce

1

teaspoon

vanilla extract

1

teaspoon

white vinegar
Frosting:
1

cup

semi-sweet or milk chocolate chips

1/4

cup

Blue Diamond Unsweetened Almond Milk
Instructions
Preheat oven to 350°F. Line the bottom of a 10x15 sheet cake pan (cake roll pan) with parchment paper, then spray with nonstick cooking spray.

Whisk both flours, sugar, cocoa, baking soda, and salt in a large bowl. Set aside.

Whisk greek yogurt, almond milk, applesauce, vinegar, and vanilla in a measuring cup. Stir wet ingredients into dry and stir until just blended and smooth.

Pour batter into prepared pan. Bake for 13-16 minutes until a toothpick comes out clean 2" from the edge of the pan. The cake will somewhat spring back when touched.

As soon as the cake comes out of the oven, make the frosting. Place the chocolate chips and almond milk in a medium bowl. Heat in the microwave on high power in 30 second increments, stirring between each, until melted and smooth (about 1 1/2 minutes, depending on your microwave). Spread evenly over the top of the cake. It'll be a thin layer, but it'll cover!

Cool completely before serving. Store loosely covered on counter or in refrigerator for up to 3 days.

Serving suggestion: Slice the cake and pipe white laces onto each piece to look like footballs. Use white chocolate chips (melted) or canned white icing for this step, if desired.
Nutritional information not guaranteed to be accurate
Click here for my ultimate Football Party Menu!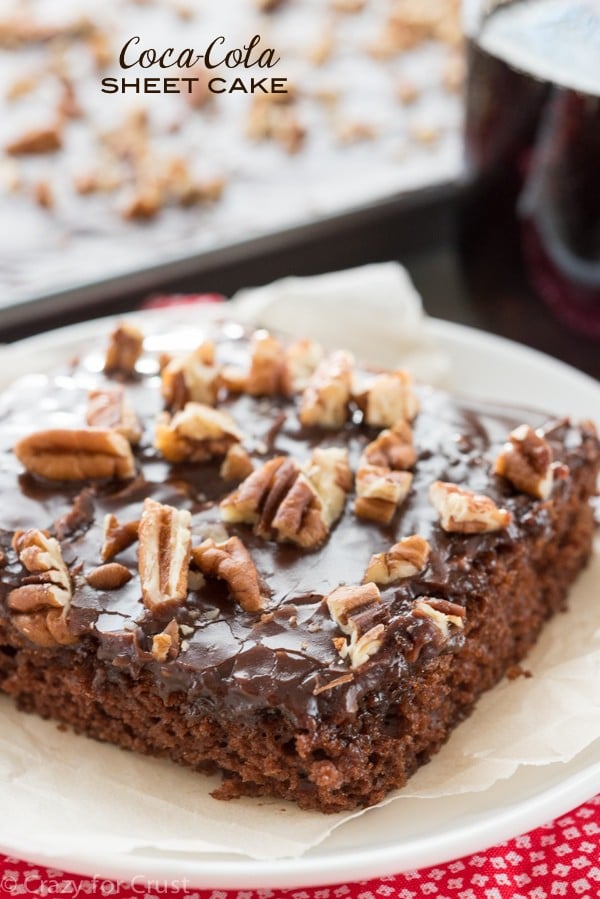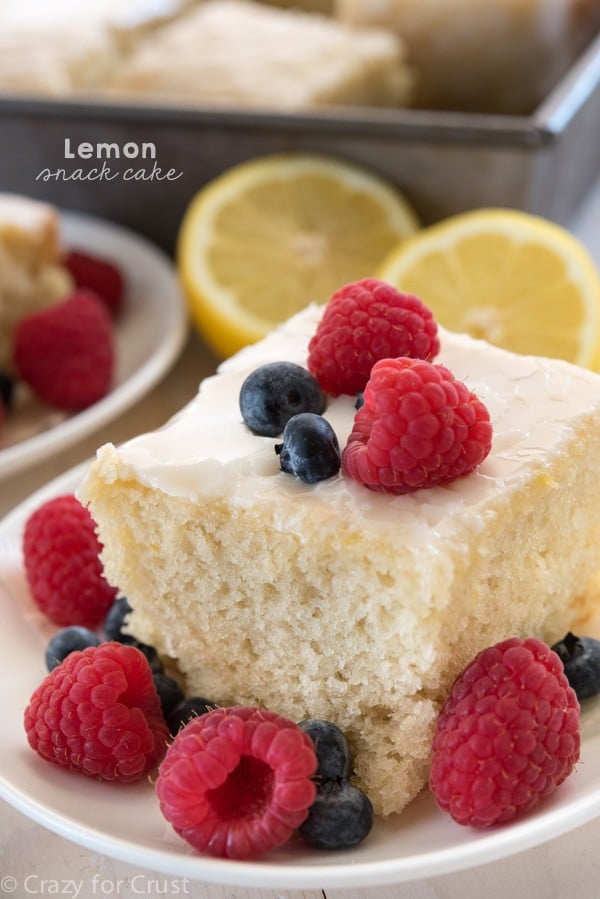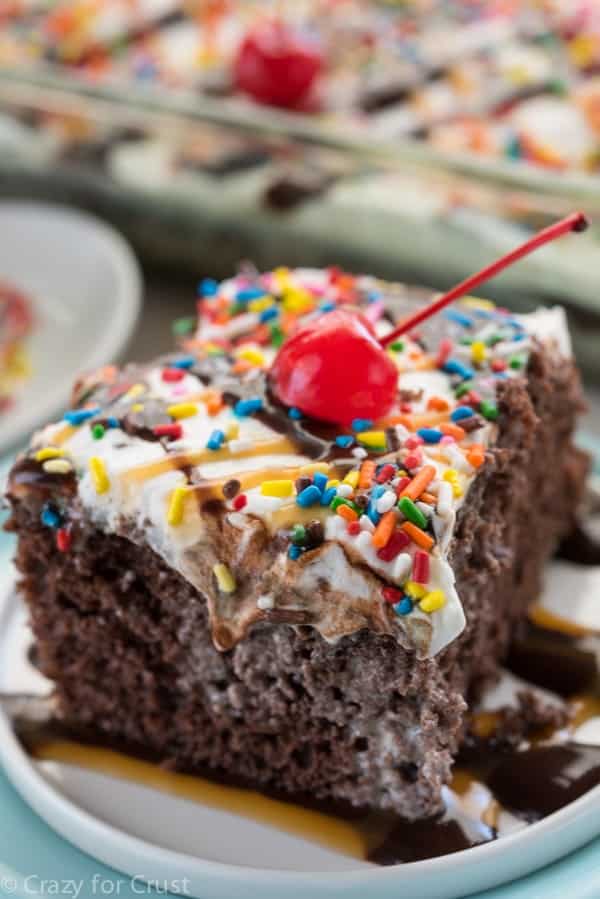 Sweets from friends:
Coconut Almond Sheet Cake by The Food Charlatan
Coconut Almond Banana Bread by Very Culinary
Reese's Peanut Butter Chocolate Chip Pound Cake by Mom on Timeout
This post has been sponsored by Almond Breeze. All opinions are 100% my own.
Last Updated on September 12, 2022