This post may contain affiliate links. For more information, read my disclosure policy.
Dear Avocados,
Oh, dear avocado, why can't I quit you? You are simply irresistible to me. Every time I pass you at the store I cannot help but buy three of you. I place you on my counter next to the bananas, who grow old and spotty as you disappear as fast as you're purchased.
See, I used to hate you. Loathe. And then I tried you and it was love at first bite. It started out simple. I put you in salads and mixed you with salsa. Once a week we'd eat an avocado.
But then you became this little nagging voice in my head. "Doooooooroooothhhhyyyy," you'd call out to me. Enticing. Calling me. My siren song.
Before long I was putting you in as many meals as I could. Substituting you for cheese whenever we ate tacos, which became increasingly often. Making turkey-bacon-avocado sandwiches. Putting you in pasta.
And then…then….you took me to the dark side.
Dessert.
Oh, avocado. First I turned you into a frosting. A sweet, green frosting that shocked everyone who saw you.
Then my friend Jocelyn made you into ice cream. And, oh, was I smitten.
I have so many ideas in my head for you, avocado. Too many.
And then one day I saw an article in People magazine. A little picture of you, dressed as a popsicle.
And not five minutes later I was unearthing my popsicle maker and turning you into one of the sweetest, fruity, and yummiest popsicles ever.
Who knew that mixing you with sugar and vanilla and lime could make you so addicting?
Who knew that my daughter would devour your popsicle without even wondering why it was green?
Oh, avocado. You and I, we were meant to be BFFs.
Thanks for the good times. Please don't ever leave me.
Love, your #1 fan,
Dorothy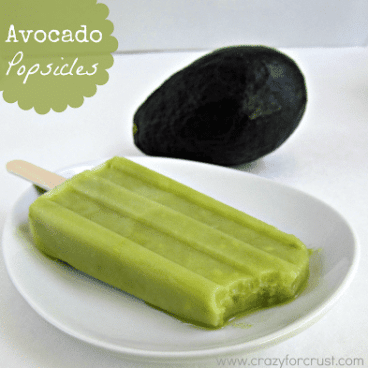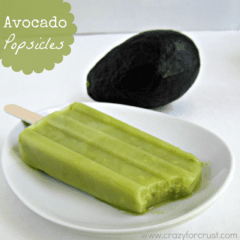 Avocado Popsicles
Ingredients
1

cup

water

1/2

cup

sugar

1

medium avocado

1/4

cup

lime juice

1

teaspoon

vanilla
Instructions
Heat sugar and water in a medium saucepan over low heat until sugar is completely melted. Cool completely.

Mash avocado with an avocado masher, mashing out as many lumps as possible. Add lime juice and mash some more. Whisk in vanilla and sugar water. Pour into popsicle molds and freeze until hardened. (Makes about 5 regular sized popsicles.)
Nutritional information not guaranteed to be accurate
(Adapted from People Magazine)
Chef in Training, Trick or Treat Tuesday, Cast Party Wednesday, Sweet Treats Thursday, Chic-and-Crafty, Tastetastic Thursday, Sweet Tooth Friday, I'm Lovin' it Fridays, Sweets for a Saturday, A Well-Seasoned Life, Strut your Stuff Saturday, Weekend Wrap Up Party, Weekend Potluck, and all of these too!
Last Updated on February 2, 2023