This post may contain affiliate links. For more information, read my disclosure policy.
Chicken Salad Sandwiches – Love Avocados? These sandwiches should go on your list! A chicken salad sandwich made with avocado and greek yogurt – no mayo. Avocado Chicken Salad Sandwiches: lunch tomorrow or dinner tonight!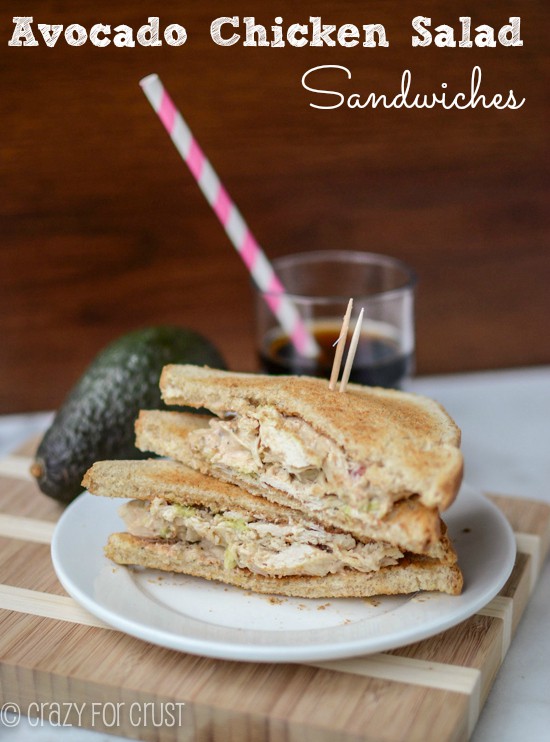 This post almost didn't happen today. You see, I got back from Bloggy Boot Camp last night and my head is literally swimming with information. It feels heavy – like it ate too much at the buffet.
Bloggy Boot Camp literally rocked my world. It was amazing. I came home with pages of new information. Today was all about getting organized. I set some goals for myself, I decided my most important action items, and I sifted through a ton of information. I plan on doing a few posts about what I learned because there was too much information not to share!
I felt like such a grown-up all weekend. I actually drove to the airport, parked, took the shuttle, got through security, flew, and checked into a hotel all by myself (without my husband doing it for me). If you know me – that's a big deal. He travels so much, I usually leave it all to him, which is why I was so nervous all last week I was literally sick to my stomach for days beforehand.
Plus, I got to wear a badge and hand out business cards and be all "I'm at a conference!" to anyone who asked.
And when I got home last night my daughter was actually so excited to see me. She had a chance to miss me – and that actually felt good. We're together so much…she never realizes what it's like without mom!
I decided I could not wait one more minute to share these Chicken Salad Sandwiches with you! I know, I know. Another savory dish. You don't hate me, right? I mean, a principal ingredient in these Chicken Salad Sandwiches is avocado…so that should give me bonus points.  And well, I'm finally using avocado for a non-dessert dish. You can't just eat  popsicles and donuts, right?
I don't know where Chicken Salad Sandwiches came from, only that the idea popped into my head one afternoon while I was trying to figure out how to get more avocado in my life.
Chicken Salad Sandwiches are the easiest recipe ever – especially if you use a rotisserie chicken from the grocery store. The day I made these, I was too early to buy one of those chickens, so I just boiled and shredded some chicken breast. It worked just as good!
The chicken salad mixture is super simple: avocados, greek yogurt, and salsa. You mix it all together, add salt and pepper to taste, and mix in your chicken. Slap it on some bread and you've got a rockin' dinner or lunch your family will love.
I've made these Chicken Salad Sandwiches on soft sandwich rolls and on toasted wheat bread. Either one works – use what you have on hand. You can use your favorite salsa too. I like my sandwiches plain, 'cuz I'm weird, but you can add lettuce, tomato, onion, whatever you like on a sandwich.
Really, it's the method that makes these my favorite dinner. And the avocado. That's my favorite thing ever!
Mmmm….avocado. I'm addicted and I'm not afraid to say it.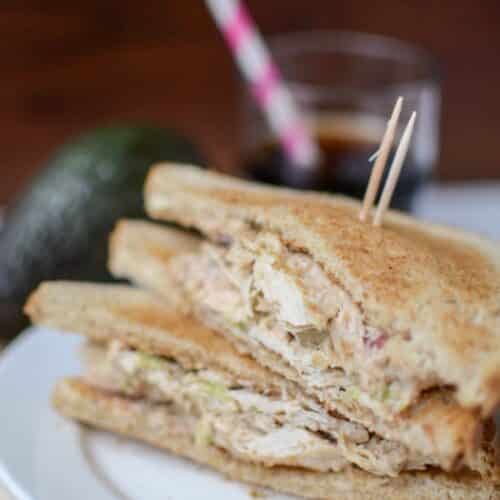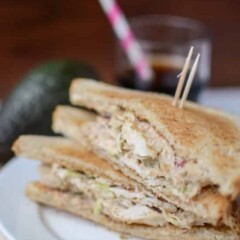 Avocado Chicken Salad Sandwiches
A great sandwich for leftover chicken! Mix avocados with yogurt and salsa - no mayo - for a delicious Avocado Chicken Salad Sandwich!
Ingredients
2

cups

cooked chicken

(shredded or cubed, see note)

1

medium California avocado

1/2

cup

plain non-fat Greek yogurt

1/4

cup

salsa

(I love TJ's Double Roasted)

1/2

teaspoon

salt

(or to taste)

1/4

teaspoon

pepper

Bread

(sliced white/wheat or soft rolls)

Lettuce

, tomato, and/or onion, optional
Instructions
Remove the flesh from the avocado and place in a medium bowl. Mash with a potato masher. Stir in yogurt, salsa, salt, and pepper. Stir in chicken.

Serve chicken salad on a soft roll or toasted sliced bread. Top with lettuce, tomato, and onion if you wish!
Recipe Notes
The easiest chicken to use is a rotisseire one from the grocery store. Simply shred and use in the recipe. You can also cook chicken breasts (grill/roast/boil) and then dice or shred them. Or use leftover chicken from a previous dinner. The options are endless!
Nutritional information not guaranteed to be accurate
Enjoy, and thanks for reading!
Last Updated on May 12, 2020