This post may contain affiliate links. For more information, read my disclosure policy.
Whether for lunch or an easy weeknight meal, Arugula Pizzas are the PERFECT solution. Just a few simple ingredients and everyone loves pizza – including the kids – even with arugula on top!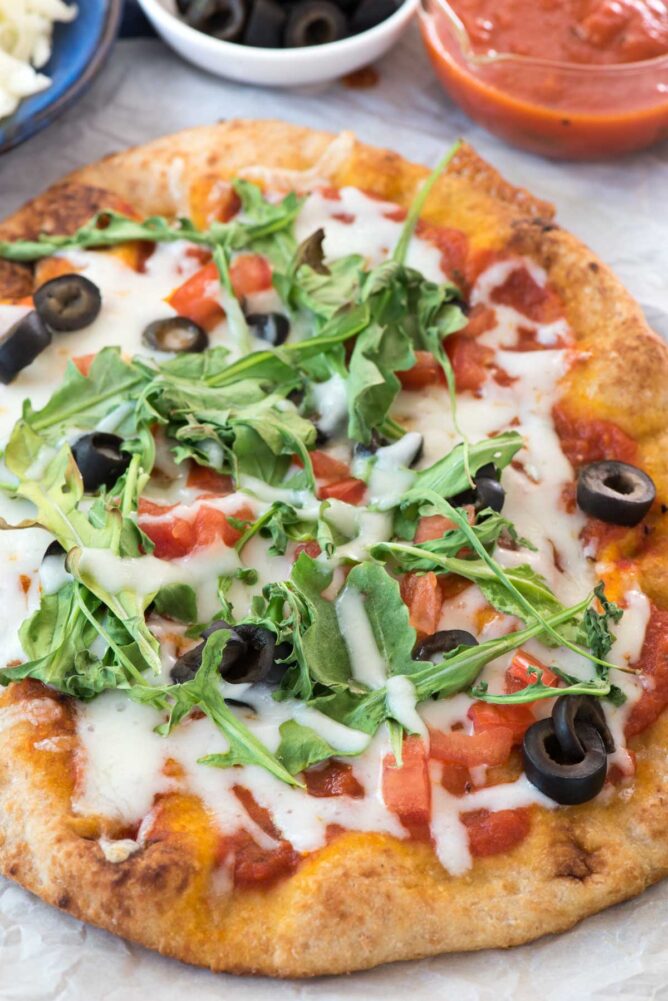 Jordan has been at dance camp with NDA for the past two days. I have no idea what "NDA" is, but according to Jordan it's like God is teaching her to dance for 3 days. The whole thing is in preparation for her first year as a team dancer at her middle school. They're at camp for 9 hours a day, which is a godsend for me. 9 hours to work and get stuff done. 9 hours to bake and photograph, make videos, do laundry, answer emails. 9 hours to procrastinate because I really don't feel like working this week.
Why is that? When I have a ton to do and a few days to do it I just want to watch TV, read Sinners, and shop online. Instead I'm forcing myself to sit here and knock out some blog posts because next week is the last week of summer and, well, it's a you-know-what show, I gotta say. Play dates and dance practice and orientation and water parks OH MY.
I keep telling myself, just hang on girlie because in 2 weeks you'll have a regular schedule again. I CAN DO IT.
When we have these busy weeks and I run out of time to make dinner (or Mel is gone and I just don't want to) I often turn to homemade pizza. Everyone loves pizza. I could live on it. Seriously: send me to a deserted island with unlimited pizza and Taco Bell bean burritos and I'd happily live forever and ever. (I'm such a non-foodie food blogger.)
Often, I use my own homemade crust when I make pizza. Other times I buy freshly made dough at the fancy grocery store. Other times Boboli finds its way into my cart and then there are the times like the day I made these easy arugula pizzas. I was digging in the freezer for something and found some naan I'd frozen (after I made homemade baked churros) and decided they'd make a great vehicle for pizza.
Arugula pizzas an easy weeknight meal to make with vegetables and store-bought pizza crust or naan.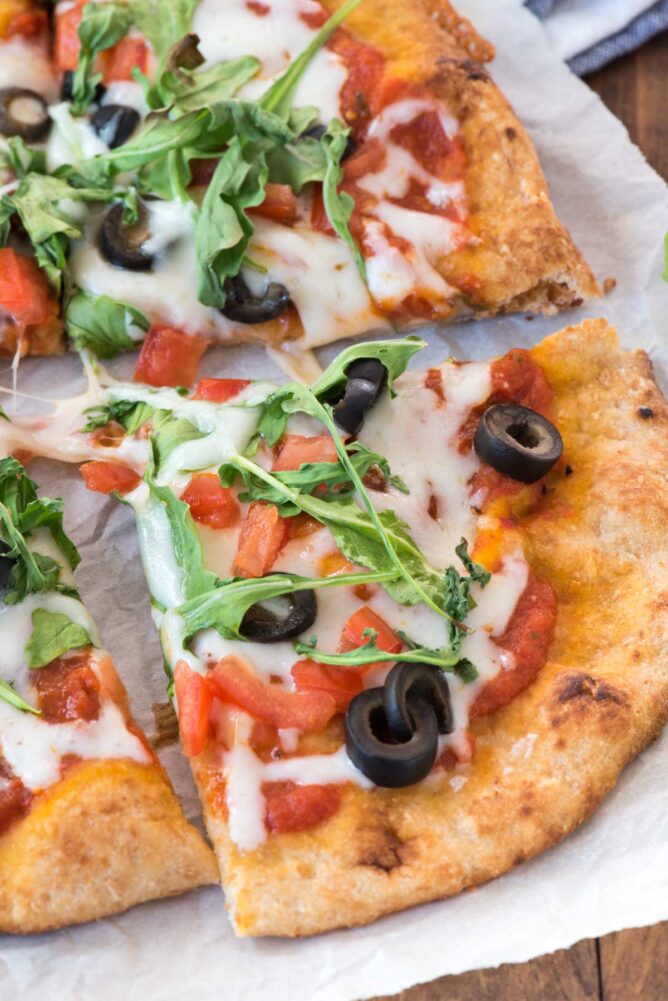 I mean…really…does anyone NEED a pizza recipe? I mean, you get some sauce and cheese and toppings and go to town. No one needs a pizza recipe, but you do need this SUGGESTION of a recipe. I used a package of 2 naan (perfect for me and Jordan on a night when Mel was out of town), topped it with sauce and mozzarella, and then some veggies. Chopped tomato, black olives (because Mel hates them) and, my new favorite thing, arugula.
Until very recently I hated arugula. I've tried it over the years and thought it "too spicy" for my liking. And then I had it somewhere…maybe a restaurant? Anyway, I fell head over heels in love. Obsessed. I went through bins of it in days. My family finally begged me to stop serving it to them so now I eat it at lunch. All of a sudden I realized that lettuce exists with taste. Romaine is boring; arugula has flavor.
LETTUCE COMES WITH FLAVOR, y'all. Did you know?
Anyway, I love putting spinach on pizza, so arugula works too. Even Jordan liked it. Plus, it really is like that saying: I had a salad for lunch. Just kidding it was pizza.
In all honesty…this IS kind of like eating salad so….


Dinner on the table in 20 minutes. An easy weeknight meal that's perfect for everyone because pizza is always in demand!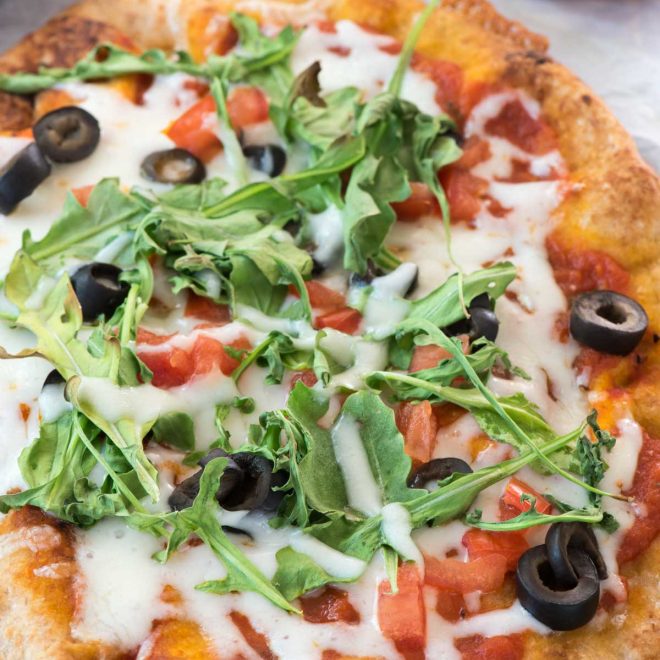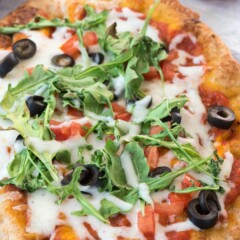 Arugula Pizzas
Whether for lunch or an easy weeknight meal, Arugula Pizzas are the PERFECT solution. Just a few simple ingredients and everyone loves pizza - including the kids - even with arugula on top!
Ingredients
4

mini pizza crusts or naan flatbread

or make mini crusts from homemade dough

1

cup

pizza sauce

2

cups

shredded mozzarella cheese

1

8 ounce can sliced black olives

1

roma tomato

seeded and diced

1-2

cups

of fresh arugula
Instructions
Preheat oven to 450°F. Lay out pizza crusts or naan on parchment paper on cookie sheets.

Top crusts with desired amount of sauce, cheese, olives, and diced tomatoes. Top with a handful of arugula.

Bake for 6-8 minutes, or until cheese is melted and crust is hot. Slice into wedges and serve.
Nutritional information not guaranteed to be accurate
Click HERE for more PIZZA RECIPES!
Bacon Ranch French Bread Pizza
The Ultimate Pizza Crust Recipe
SaveSave
SaveSave
Last Updated on May 12, 2020