This post may contain affiliate links. For more information, read my disclosure policy.
Almond Baklava Croissants – Okay, my friends. Hold on to your hats for this one: I turned baklava into Baklava Croissants! And they only have 4 ingredients!! *gasp*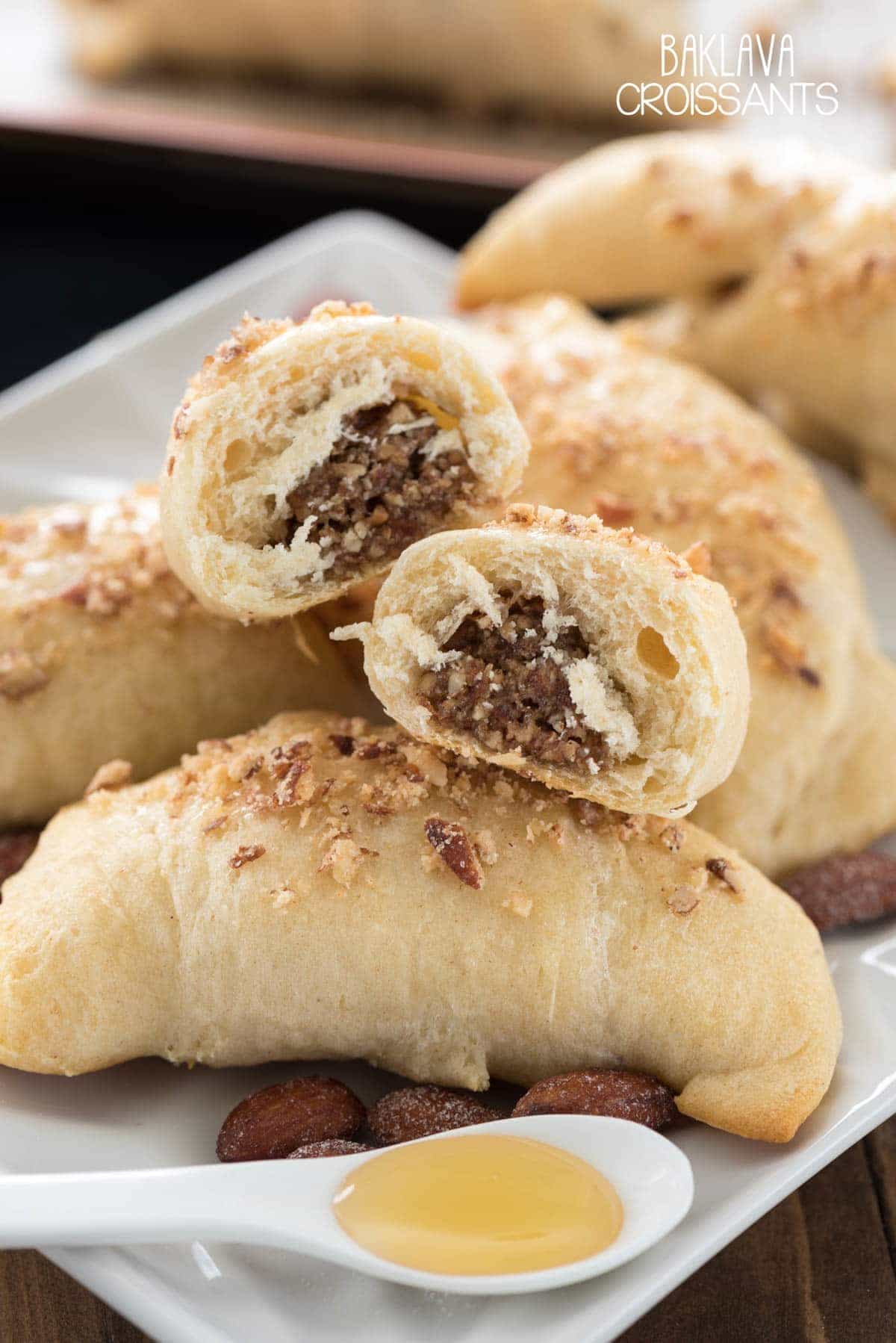 As I've said before, when I travel I eat. More specifically, I bakery crawl. I look up every bakery within walking distance of my hotel and I try to visit as many as I can. Often I'll spend double digits on pastries and muffins and cookies, just to take a bite out of each; I consider it research.
Last month, when I went to Santa Monica, Holly and I took a long walk through LA neighborhoods to try Gjusta, a local bakery. It was your typical 1 mile LA walk: from trendy hotels and palm trees through residential streets filled with cute homes mixed with condos, BMWs and Audis parked all over the streets and homeless encampments on every corner. We were just starting to get a little nervous when, out of the blue, Siri told me we'd arrived. It looked like a warehouse from the outside, but when you opened the door it was like another world; a world that smelled like fresh baked bread and pastries.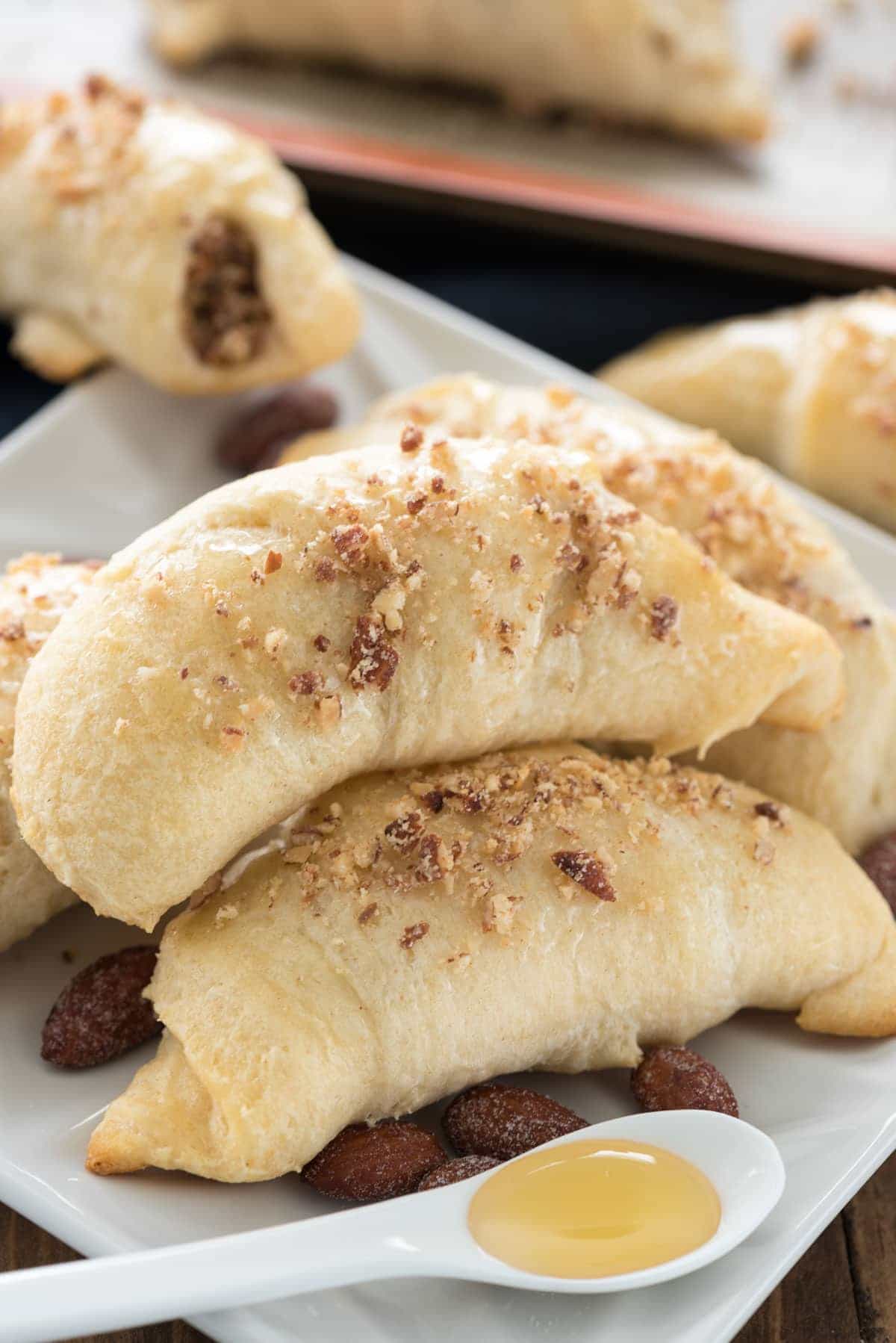 The first item in the bakery case was a Baklava Croissant. I think it's one of their specialties and it was so unique I had to try it. It was layer upon layer of flaky pastry (so flaky I looked like I showered in croissant confetti after I ate it) filled with a sweet baklava filling. It was heaven, and before I'd even finished my first bite I knew I was going to make them at home.
(I also knew I was going to take a little help in the croissant department. I mean, I love a fresh baked flaky croissant as much as the next person but ain't nobody got time for that, especially when you're making breakfast, am I right or what?)
When I got home I got right to work making my new favorite breakfast pastry: the Almond Baklava Croissant.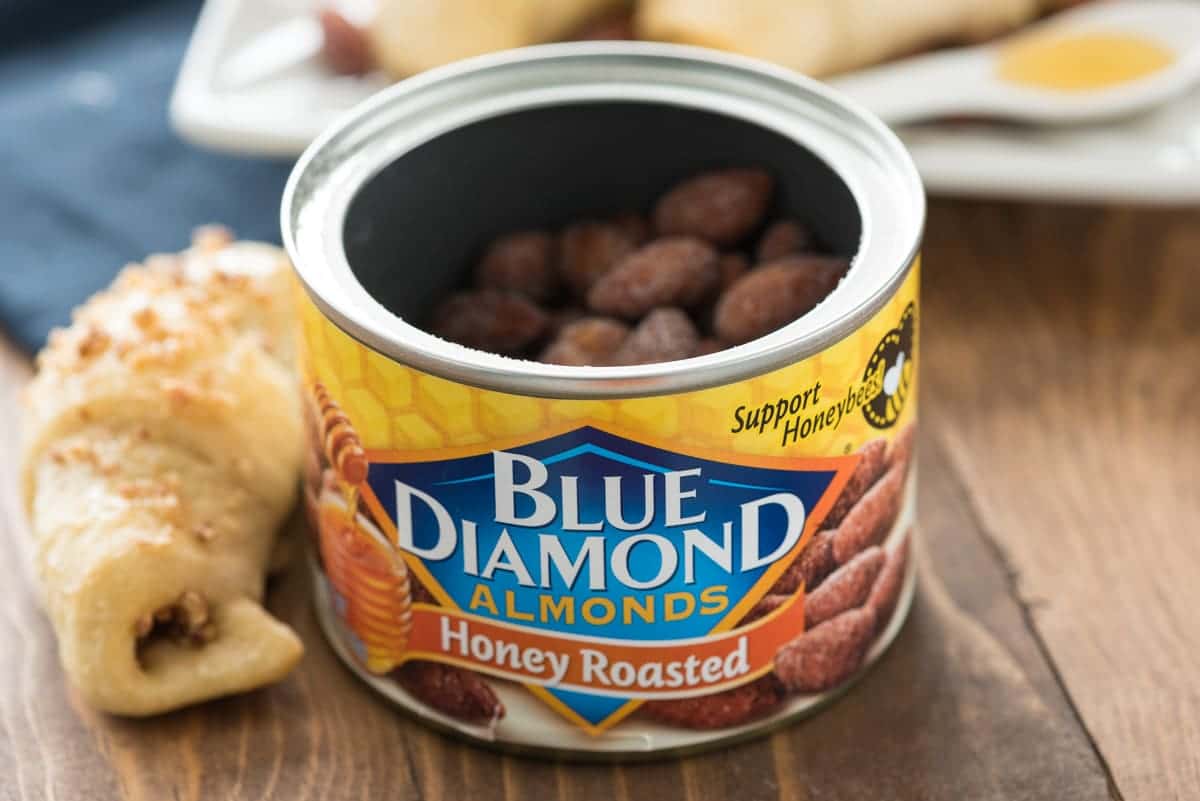 How to Make Almond Baklava Croissants
I know traditionally, baklava isn't made with almonds. But I had these Honey Roasted Blue Diamond Almonds in my pantry and I knew they'd be the perfect fit for these baklava croissants. After all, the other key ingredient in baklava is honey. (Also, put honey roasted almonds in front of me and watch out, I may bite off your hand if you get too close to them.)
Once the almonds are chopped and mixed with some cinnamon and honey it tastes like a delicious baklava filling. I rolled my filling up in crescent roll dough, but you can also use puff pastry if you want a more traditional croissant-like texture. Either will work!
The other thing I love about baklava is the honey drizzled all over the top. It's ooey-gooey and sweet, and I wanted these croissants to have some of that feature, but still be somewhat portable. If you're serving these for brunch, you want people to be able to grab one easily, right? So instead of pouring syrup all over them, I just brushed the tops with honey and sprinkled more almonds over the top.
4 ingredient Almond Baklava Croissants. Is there anything better??

Also – these Almond Baklava Croissants are so easy to make your kids can probably do it (with dad's help chopping). Just leave the printout on your husband's desk…maybe he'll give you a Mother's Day surprise??
Want even more? Subscribe to Crazy for Crust to get new recipes and a newsletter delivered to your inbox. And stay in touch on Facebook, Pinterest, Twitter, and Instagram for all my latest updates. If you make this recipe, share a photo on social media tagging @crazyforcrust and using the hashtag #crazyforcrust.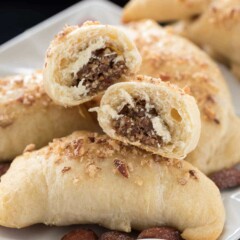 Almond Baklava Croissants
Make Almond Baklava Croissants for breakfast or brunch! This EASY recipe has only 4 ingredients. It's baklava in croissant form!
Ingredients
1

cup

Blue Diamond Almonds (any flavor; I used Honey Roasted

1/2

teaspoon

ground cinnamon

3

tablespoons

honey

divided

1

can

8 count Crescent Rolls (or you can use Puff Pastry, see note)
Instructions
Preheat oven to 350°F. Line a cookie sheet with parchment paper or a silicone baking mat.

Finely chop the almonds (a food processor is helpful for this). Reserve 2 tablespoons for garnish.

Stir together finely chopped almonds, cinnamon, and 2 tablespoons of honey to make a thick paste.

Unroll and separate the crescent rolls into 8 triangles. Divide the almond mixture among the crescent rolls, placing large tablespoonfuls in the thick end of the triangle. Roll tightly and place on prepared cookie sheet.

Bake for 11-14 minutes, until golden brown. Let cool before glazing. Note: glaze just before serving.

To glaze: heat remaining 1 tablespoon of honey in a small microwave safe bowl for just a few seconds, until it's more liquid. Brush onto the tops of each crescent roll and sprinkle with reserved almonds.

Store in an airtight container for up to 3 days. These are best stored unglazed (it gets sticky). You can also freeze unglazed croissants for up to one month.
Recipe Nutrition
Serving:
1
Croissant
|
Calories:
124
kcal
|
Carbohydrates:
21
g
|
Protein:
3
g
|
Fat:
5
g
|
Saturated Fat:
1
g
|
Sodium:
228
mg
|
Sugar:
10
g
Nutritional information not guaranteed to be accurate
**Did you make this recipe? Don't forget to give it a star rating below!**
Click HERE for more Pillsbury Dough Recipes!
Almond Chocolate Toffee Shortbread Bars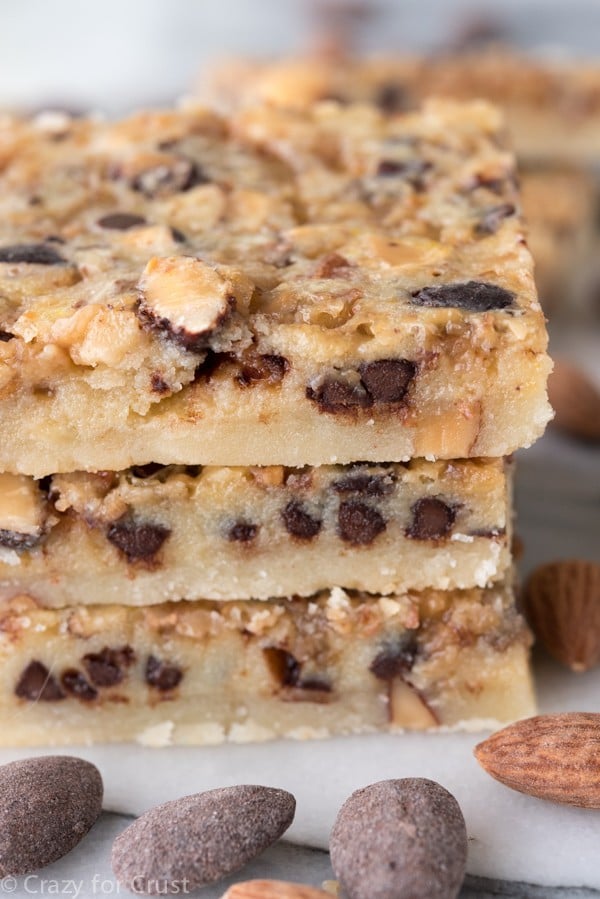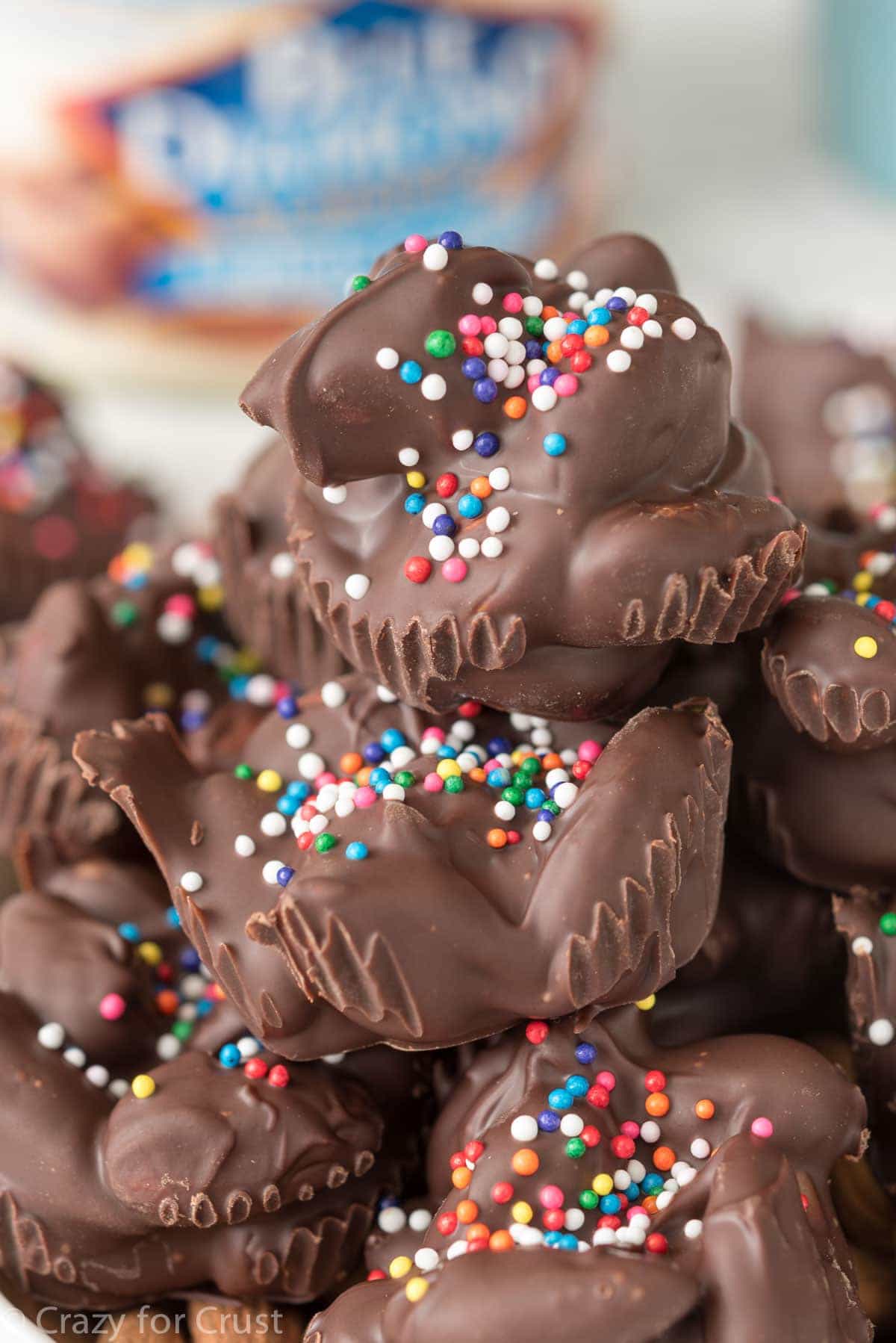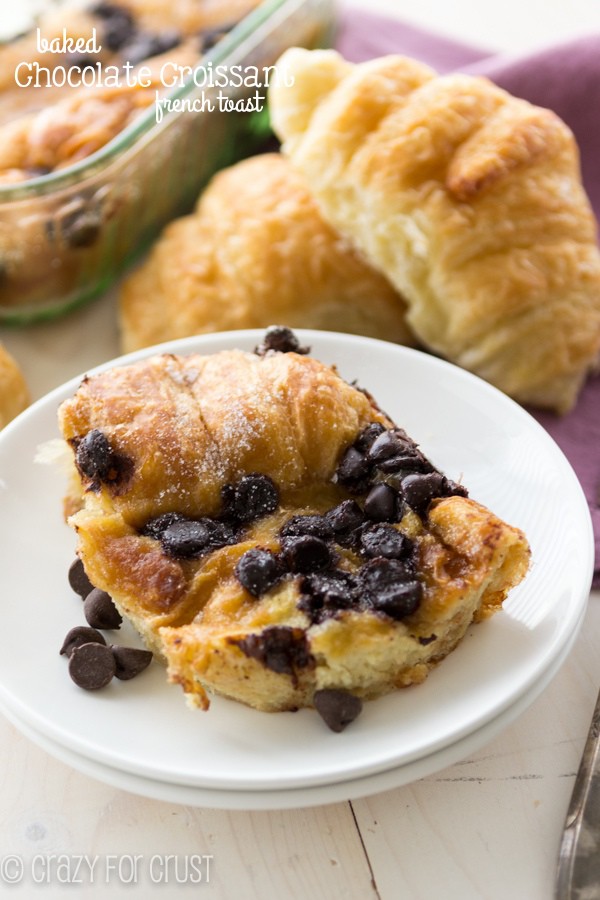 This post has been sponsored by Blue Diamond Almonds. All opinions are 100% my own.
Last Updated on February 13, 2019