This post may contain affiliate links. For more information, read my disclosure policy.
Happy New Year! I hope you all were safe and responsible last night and that you are having a wonderful holiday!
Psst…have you entered to win an iPad with Retina Display yet? Go enter!
You all, my readers, have made this an absolutely fantastic year for Crazy for Crust. Last week I shared with you my favorites…and now I am sharing with you YOUR favorites; the top viewed posts here at Crazy for Crust.
I must say, some of these would have been on my favorites list, had they not made this one. Some of them I wouldn't have thought twice about. But all of them had more hits than I would ever have thought possible! So thank you, for making this list possible.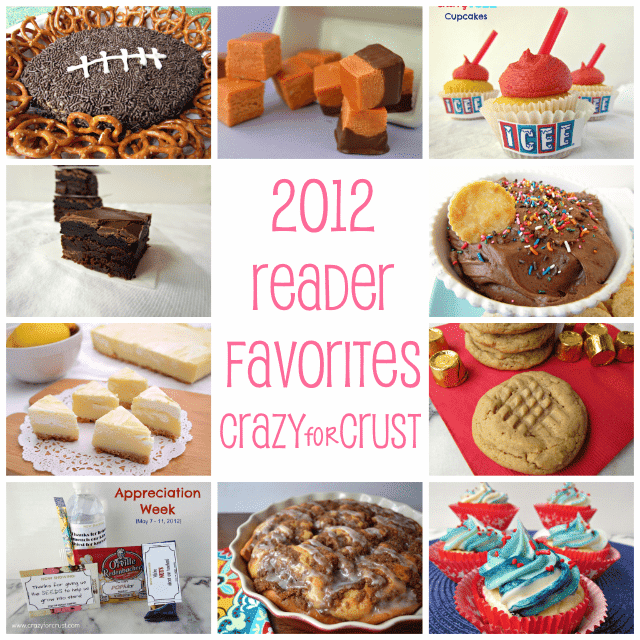 Peanut Butter Football Dip – this post was my first (only?) post that went "viral." As in, it will probably be #1 for a loooong time. I have no idea what the appeal was other than it was peanut butter and chocolate…but everyone loved it so much people stole my photos and recipes as their own…so I guess that means I made it!
Butterfinger Fudge – such a simple idea…and I was amazed at the response.
ICEE Cupcakes – holy cow this one went crazy. Jordan loved these…me, not as much. But all her friends adored them, and I immediately got an order for a set.
Oreo Truffle Brownies – this was followed later by my favorite of the two, Nutter Butter Truffle Brownies.
Devil's Food Cake Batter Dip – this is an amazing treat…but what I came away with was those pie crust dippers. Best invention ever!
Lemon Meringue Pie Fudge – I think the triangles did it. Seriously.
Rolo Stuffed Peanut Butter Cookies – again…not a new thing but OMG y'all love a stuffed cookie, don't you?
Teacher Appreciation Ideas – I run a dessert blog, have less than a handful of non-dessert recipes, and one makes the top 10. Who knew?
Coffee Cake Pie – shockingly good.
Red Velvet Cheesecake Cupcakes – a second variation on one of my favorite cupcakes!
Thanks for supporting me in 2012! What will your favorite recipe be in 2013? I guess you'll have to keep reading to find out!
What do YOU want me to make this year?
Last Updated on May 12, 2020