This post may contain affiliate links. For more information, read my disclosure policy.
Happy Saturday friends! I'm starting a new (occasional) series here on Crazy for Crust. I read so many fabulous blogs every single day and sometimes I just want to highlight them, so I'm introducing "10 Blogs You Should Be Reading". Theoretically this will be a monthly post (but you know how I am about that!!) so let's just say when the moment moves me, I'll post. 🙂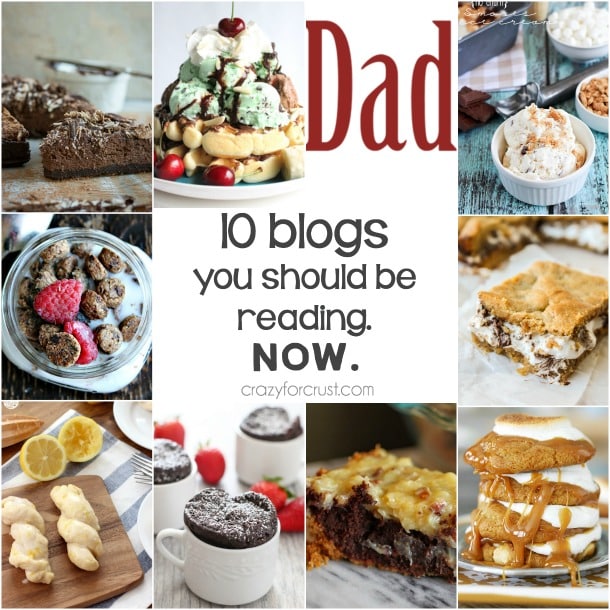 The point of this series is to introduce you to some of the other blogs I love and read often. Chances are, if you like me, then you'll like them too! Although I'm betting the lists will be food blog heavy, you might find a DIY or craft blog or maybe even a mom/dad blog too. I hope that you find something new to read and enjoy!
So, in no particular order, here are 10 blogs you should be reading…right now.
I think my favorite part about Gerry's blog is his photography. And his food, obviously. Both together are absolutely drool-worthy and gorgeous. He's a stay at home dad with a serious passion for food – and it shows! From recipes like Steak and Ale Pie for dinner and a Chocolate Mousse Tart for dessert, you'll go to his blog for the photos and stay for the recipes and blogging!
I met Alice at BlogHer Food in Miami. She was so super sweet that I knew I needed to start following her blog, and I'm so glad I did because her food is amazing and her photos make me drool. She also makes dinners, desserts, and everything in between. Some of my favorites are her Mini Pizza Bites and her Ultimate Waffle Sundae because, well. It's kind of obvious, no?
Dad and Buried is not a food blog, it's a self-proclaimed anti-parenting blog. You guys, he's hilarious. Every time I read a post or something on his Facebook or Twitter I'm dying laughing. Last week he posted something with a controversial title which got him in hot water on Facebook. Just reading the comments was enough to make me cry from laughter. So…you should check him out. And then laugh along with me!
If you love good food that's a little bit better for you, you need to check out my friend Jen from Yummy Healthy Easy. You may recognize Jen; she did some round-ups for me last year while I was writing my book. Her blog is full of everything you want in recipes that are a little bit healthier and a lot yummy. I'm in love with her Easy Hand-Held Pot Pies, her Flourless Chocolate Cake, and my favorite, her S'mores No Churn Ice Cream. Plus I've met Jen – she's an amazing person!
Where do I start? For one, Heather is a great friend. She actually lives not that far from me and we've gotten together on occasion. I love her to pieces! But also? I love her blog. First, her photos are stunning. Simple, elegant, airy, and delicious are the words I'd use to describe them. For Heather, it's all about the food. She makes almost everything from scratch – something I admire so much. She makes her own cereal, her own Doritos…and her collection of single serve recipes astounds me. She's also one of my go-to dinner blogs. You're going to love her too, I promise!
I first met Karen, The Food Charlatan, last summer at BlogHer. The funny thing about that is we had to go to San Jose to meet…when she only lives about a half hour from me. She's a super sweet person and her food. OMG you guys. Her recipes rock, but I go to her blog to drool. She has tons of actual food recipes on her site but I'm addicted to her desserts. Get ready to gasp: Nutella Stuffed Brown Butter Blondies, Reese's Stuffed Brownies, and Peanut Butter S'mores Bars are the things I think about when I think about Karen…and sometimes I dream about them at night too. But shhh, don't tell anyone that, they'll think I'm weird.
You know what's funny? I think I've met half the people on this list. And Jessica from A Kitchen Addiction is on there too: we met last year at BYBC. There's a very interesting story about how we met…but it's too embarrassing for the internet. 🙂 Anyhoo….I've been following her blog forever now it seems. Jessica is my yeast hero. She does so many breakfast pastries that I just cannot wait to see what she comes up with next! Breakfasts like Strawberry Filled Cinnamon Twists and White Chocolate Lemon Brioche Twists are mixed in with tons of donut and muffin recipes, along with dinners, bars, and more desserts!
Okay, so I'm really embarrassed about this one: Jennifer and I were both at the Pillsbury Bake Off and I didn't even talk to her! It's probably because I become the world's biggest dork and/or recluse any time I come into contact with someone I've never met. It's a problem. Anyway, as soon as I got home I looked her up and OMG. Her blog is filled with delicious dinners (tons of Asian recipes I've been working my way through) as well as pages of mug cakes. She even wrote a book about mug cakes which I'm dying to get. Her blog is based in San Diego and she also does restaurant reviews all over the world. I plan to dig into her San Diego ones for our trip next month!
I found Mir from Just About Baked because she is a faithful reader. And boy, am I glad she is!! Her dessert recipes are some of the favorites I see every day. It's kind of gotten to the point where we read each others minds. If you're a fellow food blogger you probably know the whole "mind reading" or "syncing up" that we go through. You know, that time when you make the BEST MOST ORIGINAL RECIPE EVER and then your friend posts it the next day? Well, Mir posted Kit Kat Brownies the other day and I may have said a bad word. But it was okay, because, um, look at them! Also? German Chocolate Pie, the end. (Oh, I lied. Not the end. Because her writing is so much fun to read too!)
In order for me to properly introduce you to Kathleen from Yummy Crumble, I need you to look at these. RIGHT?? That there is why she had to be on this list. And also? Because she's awesome. I met Kathleen through her comments on my blog and ever since I've looked forward to clicking through and seeing her latest delicious desserts. I love finding dessert blogs to read because we're kind of a super cool bunch. I mean…we deal in sugar for a living. What's not to love? You must check out Yummy Crumble…can I tempt you with some Blackberry Pie Bars or some Caramel White Hot Chocolate Cookies? I knew I could!
And there you have it, the first installment of 10 blogs you should be reading. I hope you found some good ones today.
What blogs are YOU reading??
Last Updated on September 9, 2022