This post may contain affiliate links. For more information, read my disclosure policy.
Strawberry Lime Party Punch – this easy cocktail recipe has just 3 ingredients: strawberry vodka, lemon lime soda, and seltzer. It's the perfect refreshing party punch cocktail!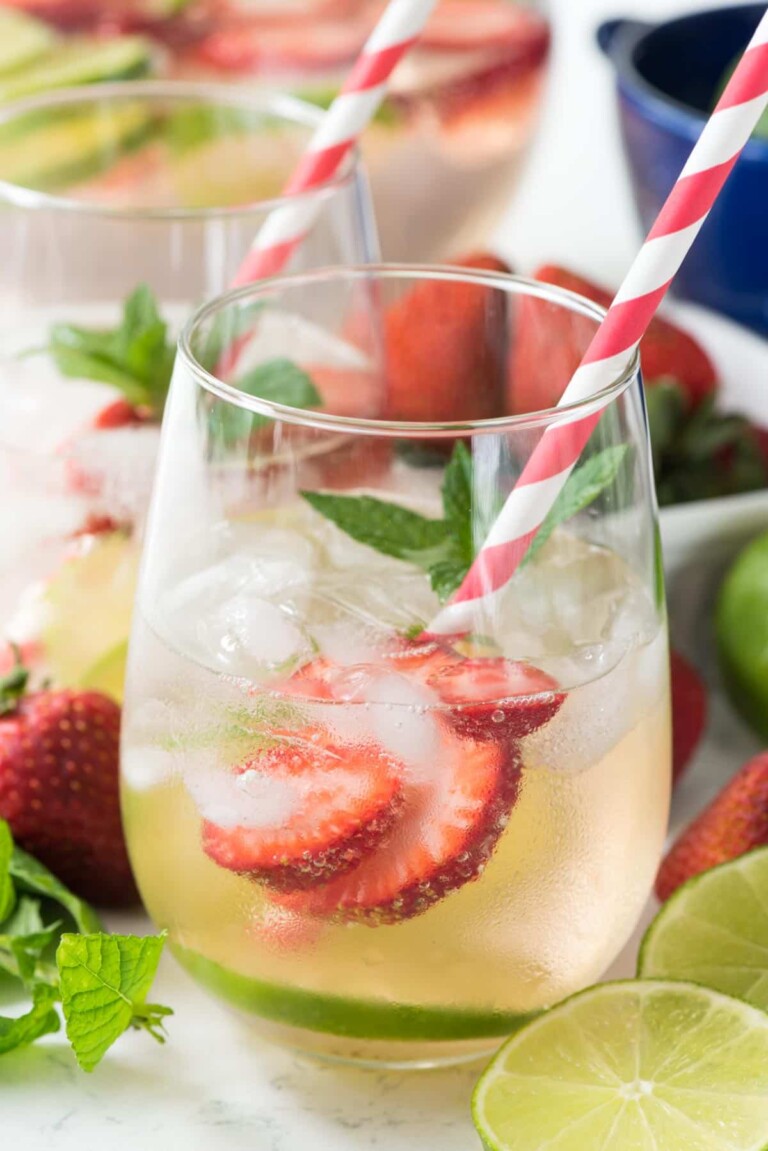 I have been doing this blogging thing for almost 7 years now. SEVEN, can you believe it? I started when Jordan was in Kindergarten and now she's an elementary school graduate. But guess what? Some of the people I know STILL don't think I work. They think that, because I'm home all day, I don't have responsibilities and/or can do anything at the drop of a hat. That, because they work outside the home, or have multiple kids, or blah blah blah their life is so much harder.
Now, don't get me wrong, I fully admit how cushy my job is. I get to work at home, I get to still be a stay-at-home mom (although the challenges of being a WAHM and SAHM are another story), and rarely do I have to put on makeup or do my hair when I get dressed for work. I love my job, it pays my bills, and I often don't think of it as work because it's fun. BUT…
I do have a job. PERIOD.
I don't get up and shower and go to an office, no. But I do set my alarm and get up at 6am so I can work for a half hour before the morning crazy starts. I do that all year round, even in summer, even on school vacations. Sure, I take a break to go to the gym in the morning, but at that point I've already been working for two hours.
I may take 20 minutes off to go grab Jordan from school, but I work right up to making dinner. Then I work after dinner. And that 2 hour break I took for a party/volunteer at school/dentist appointment/field trip? I'm making up that time in the evenings or early morning…or on the weekend. Peeps, don't get me started on weekends. Or vacations, for that matter.
This month I have two super fun vacations planned: a family trip to LA and a mother-daughter trip to Canada to see one of my best friends. But I can guarantee you, while I'm waiting in line for the Matterhorn or watching my daughter and her BFF experience the Main Street Electrical Parade for the first time, I'll be on my phone, sharing on Facebook. When I'm sitting on Holly's deck in Canada drinking a glass of wine talking about our lives, I'll have my laptop on my lap editing a video.
My point is, I never stop working. EVER. That's how it is when you own a business. I don't judge anyone for their jobs, how hard they work, or what they do. Sometimes I wish I'd get the same in return.
Anyway…wow. It seemed like I needed to get something off my chest there. Whew, it was a long time coming. Thanks for listening, because I needed to say it. And if you have a friend doing the same thing to you, maybe you just forward them this post and say "Hey, that looks like an AMAZING cocktail, let's make it!" and hope they read it.
Because it is, an amazing cocktail that is. Strawberry Lime Party Punch – just 3 ingredients in a fruit soaked wonderfulness. This is my new favorite everyday drink!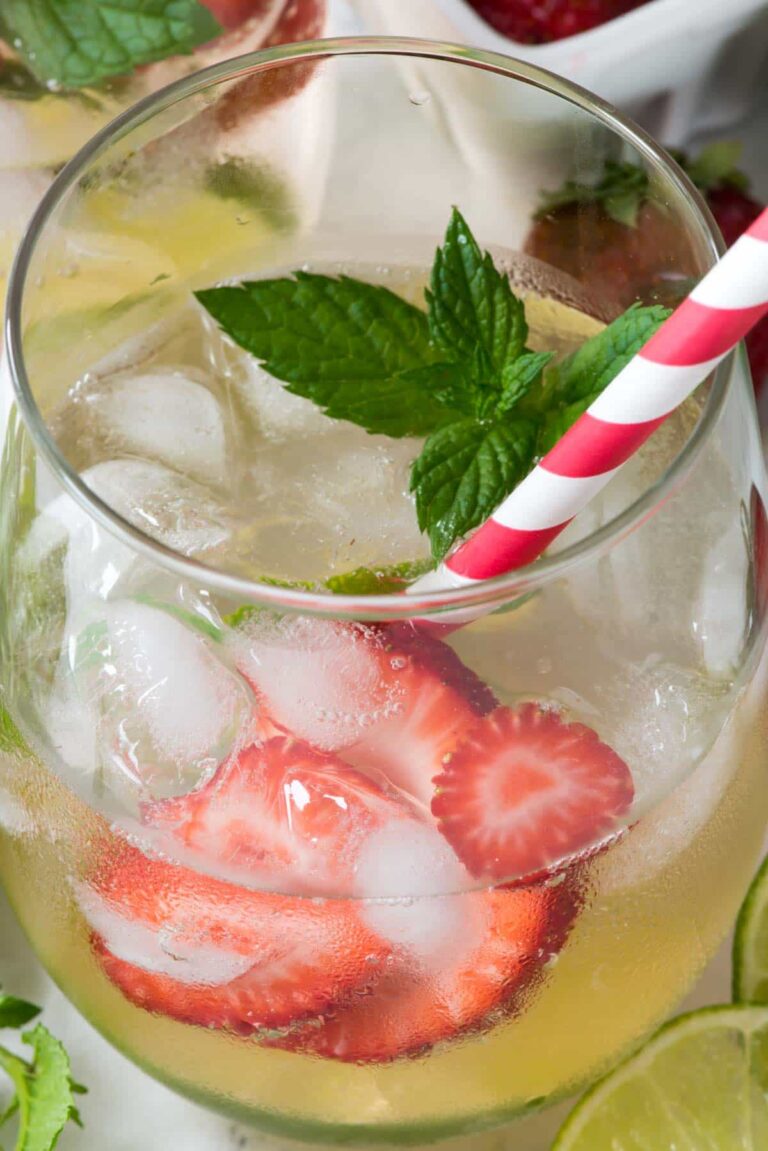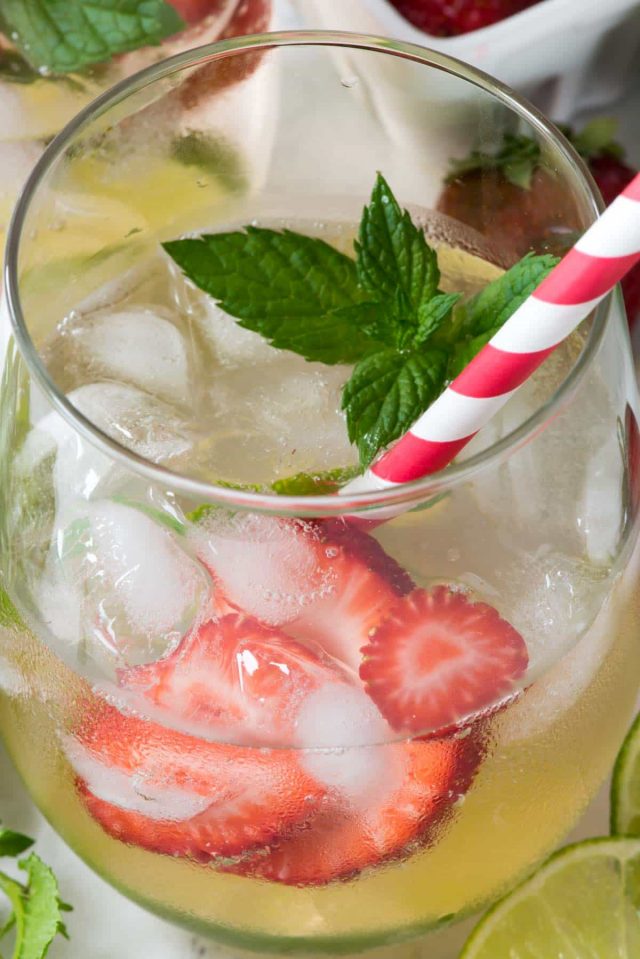 When I was in South Carolina (obviously just on a fun vacation and not working, hahahahaha) I bought a bottle of Strawberry Vodka to try and I fell in LOVE. There are tons of flavored vodkas out there but this one? My hands down favorite! It's sweet but not overly so, with a nice flavor of strawberry. We mixed it with lime La Croix and that became my go-to drink for the trip and even after I got home.
You can make this strawberry lime party punch as a single drink (sort of a vodka press, with vodka + seltzer + a dash of soda for sweetness) but I decided to turn it into a fabulous party punch cocktail I'm making for every summer party this year. I mixed my strawberry vodka with Lime La Croix (my new addiction) and some diet lemon-lime soda for sweetness. Add some strawberries and limes and let it soak, like sangria!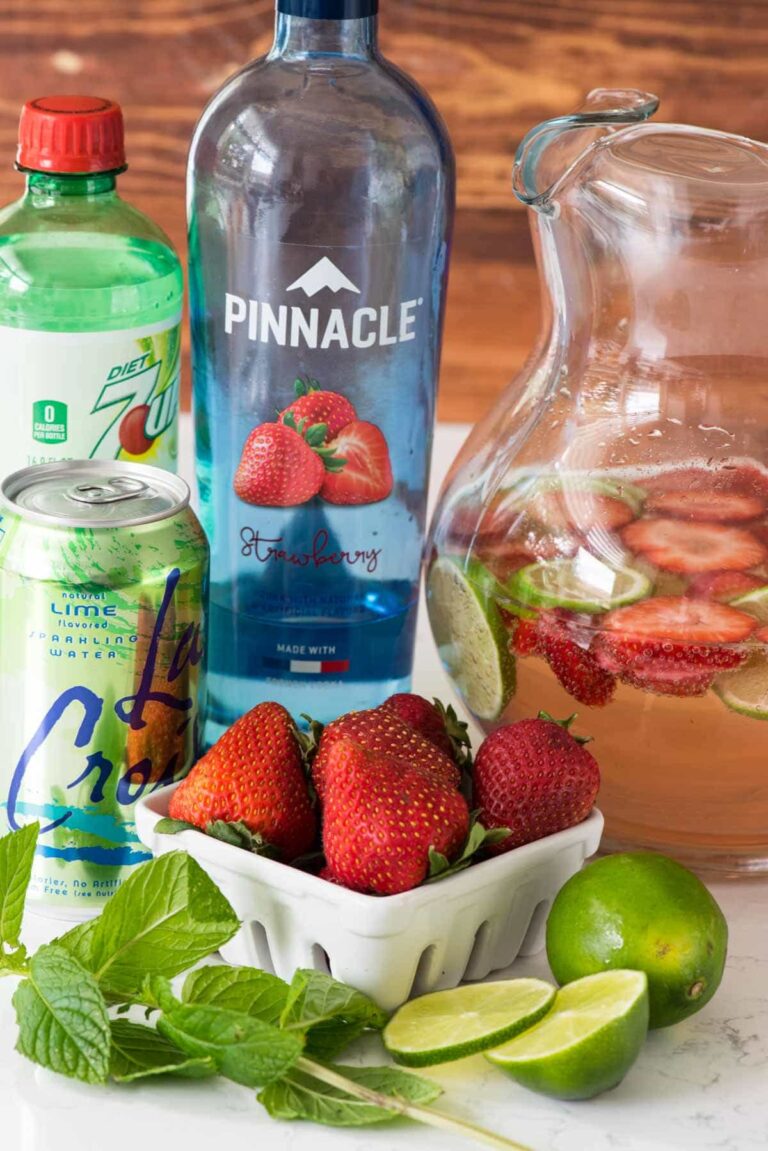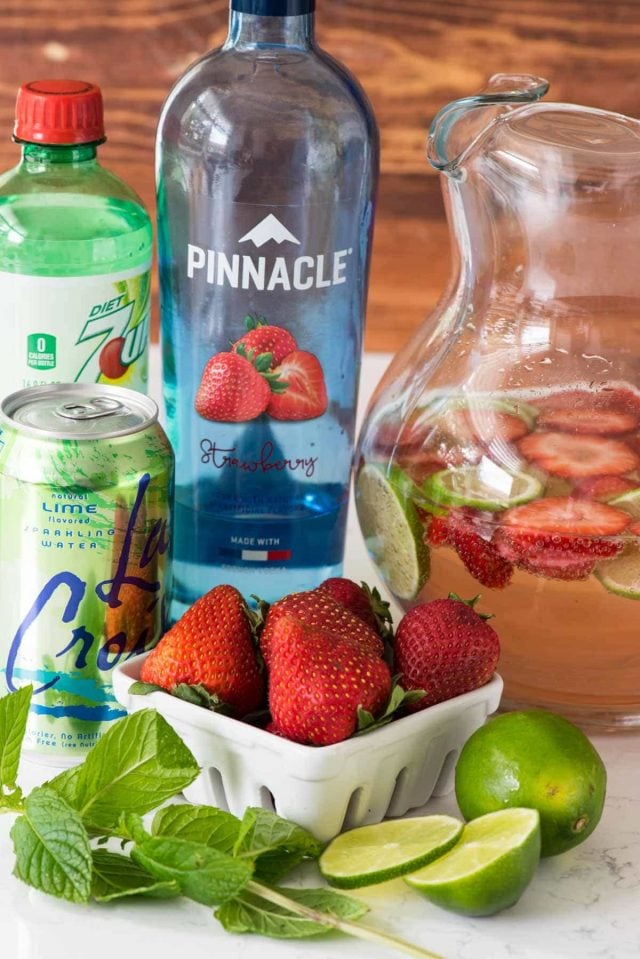 I know it's sometimes hard to find the Strawberry Vodka. They don't always have it at the regular grocery store, but if you have a liquor store or wine store, they should have it. If not, just use regular vodka. The berries will soak in and flavor it regardless.
As for the La Croix, you can use any flavor you like. I just love using lime because lime and strawberry go so well together. And you can use regular or diet lemon-lime soda, and as much or as little of it as you want. Adjust for your tastes!


Strawberry lime party punch is the PERFECT every day or party drink because it's light and refreshing. Enjoy!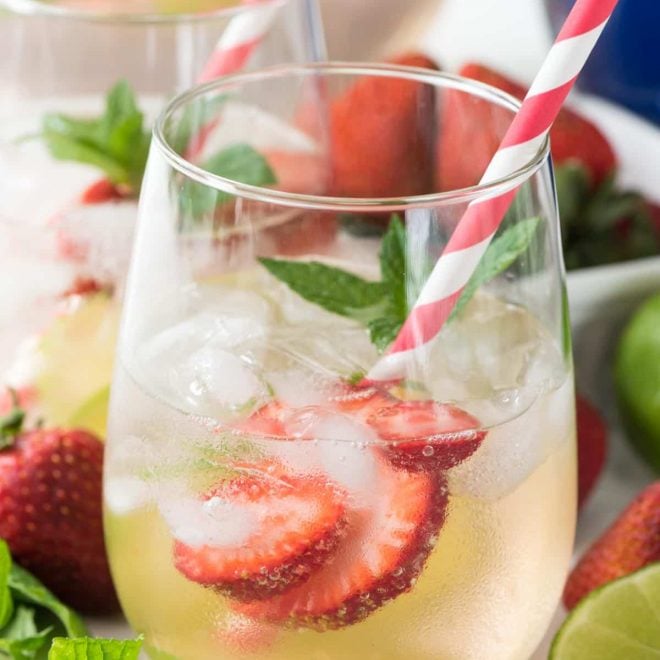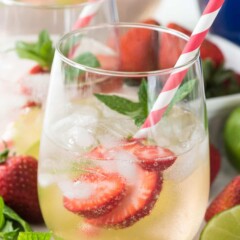 Strawberry Lime Party Punch
Strawberry Lime Party Punch - this easy cocktail recipe has just 3 ingredients: strawberry vodka, lemon lime soda, and seltzer. The perfect refreshing party punch cocktail!
Ingredients
1

cup

Strawberry Vodka

or regular vodka

1

16.9 ounce bottle diet lemon-lime soda (or regular lemon-lime)

2

cans

12 ounces each lime seltzer (such as La Croix)

Strawberries and limes

for garnish
Instructions
Add all ingredients to a pitcher. Stir and serve immediately over ice.

Tip: soak the berries and limes in the vodka for 2-3 hours before serving. Add the soda and seltzer just before serving.

For one cocktail: add 1 ounce vodka to a glass with ice. Top it off with seltzer and soda to desired sweetness and strength.
Nutritional information not guaranteed to be accurate
Click here to see more DRINK recipes!
Click here for my ultimate Football Party Menu!
Love party punch recipes? Be sure to try Rum Punch by Lemons for Lulu, Cucumber Lime Punch by The Food Charlatan, or Tropical Pineapple Punch by Grandbaby Cakes.
Last Updated on May 12, 2020