This post may contain affiliate links. For more information, read my disclosure policy.
Looking for places to eat in Charleston? Traveling to South Carolina, or like to live vicariously through the food other people eat? Then you need to read this list of the 12 MUST GO places to eat in Charleston!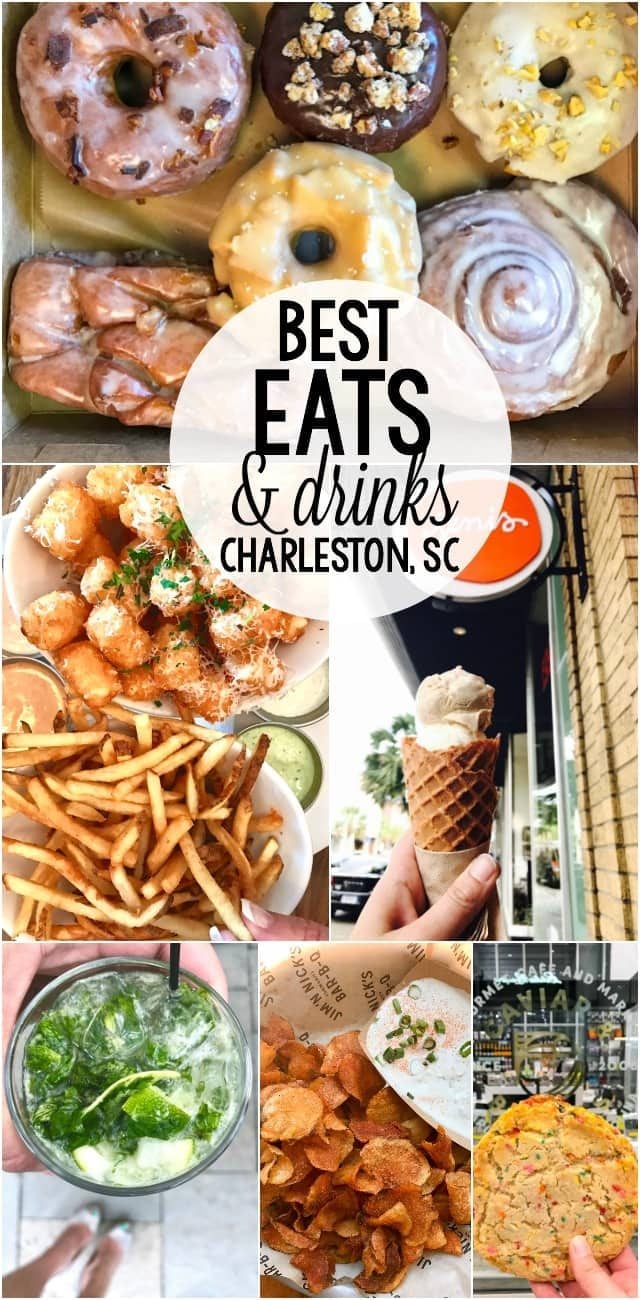 After My Trip I Found The BEST Places To Eat In Charleston
Recently I attended a conference in downtown Charleston, South Carolina. I'd never been before so I was very excited to see this beautiful city and experience some authentic southern cuisine. From biscuits to doughnuts, fabulous cocktails and fried chicken, Charleston has it all.
I was only in town for 3 full days and two of them were mostly taken up by conferencing. I would have liked to spend weeks eating my way through downtown Charleston, but instead I had to settle for 12 of the BEST food I could find. Normally I don't eat 3 full meals a day, but during my time in the south I not only ate 3 full meals but full snacks and cocktails too. Word of advice: if you're going to Charleston bring your stretchy pants, because there SO many delicious places to eat in Charleston.
And now my favorite places to eat in Charleston, South Carolina, in no particular order… (except, well…biscuits and doughnuts are always in my top positions!)
Callie's Hot Little Biscuit
476 King St, Charleston, SC 29403
If you love biscuits you MUST GO to Callie's. I've honestly never had a better biscuit than her basic Buttermilk. The cinnamon one was to die for too, with all that drippy gooey butter. The Cheddar Chive was one of my favorites, especially when paired with the savory thyme whipped butter. Want something heartier? Go with a sandwich or one of the specials. Can't decide what to get? They have a 3/$5 deal where you get three small biscuits (any flavors) for $5.
Cost: cheap
Time: it's busy, so plan to wait in line. There are only a few counter seats, so get your biscuit to go.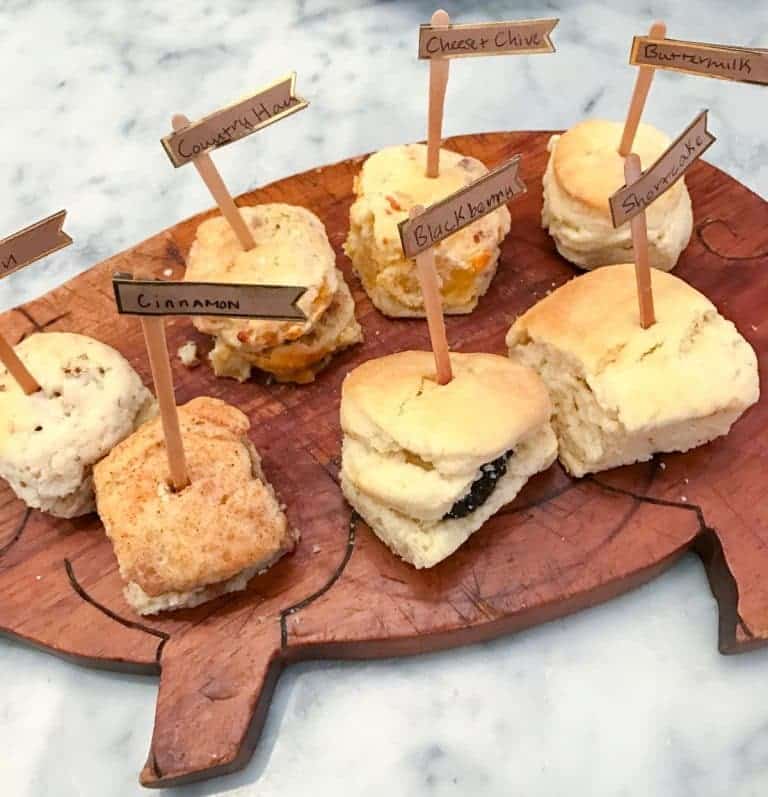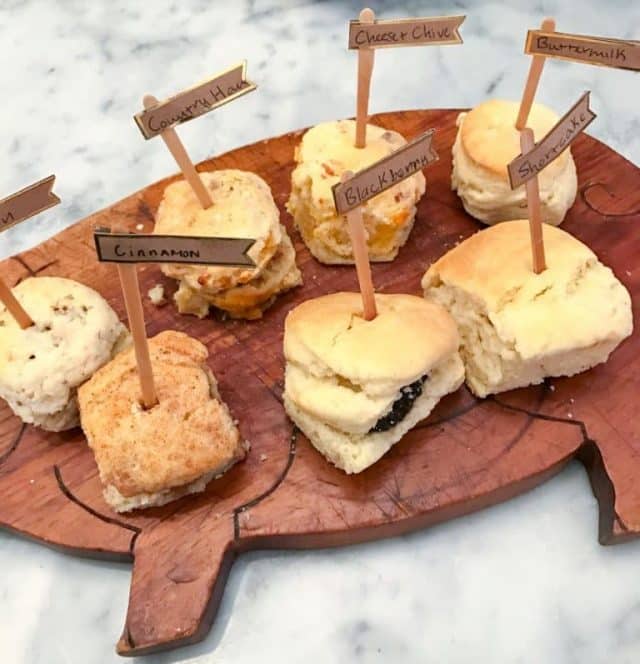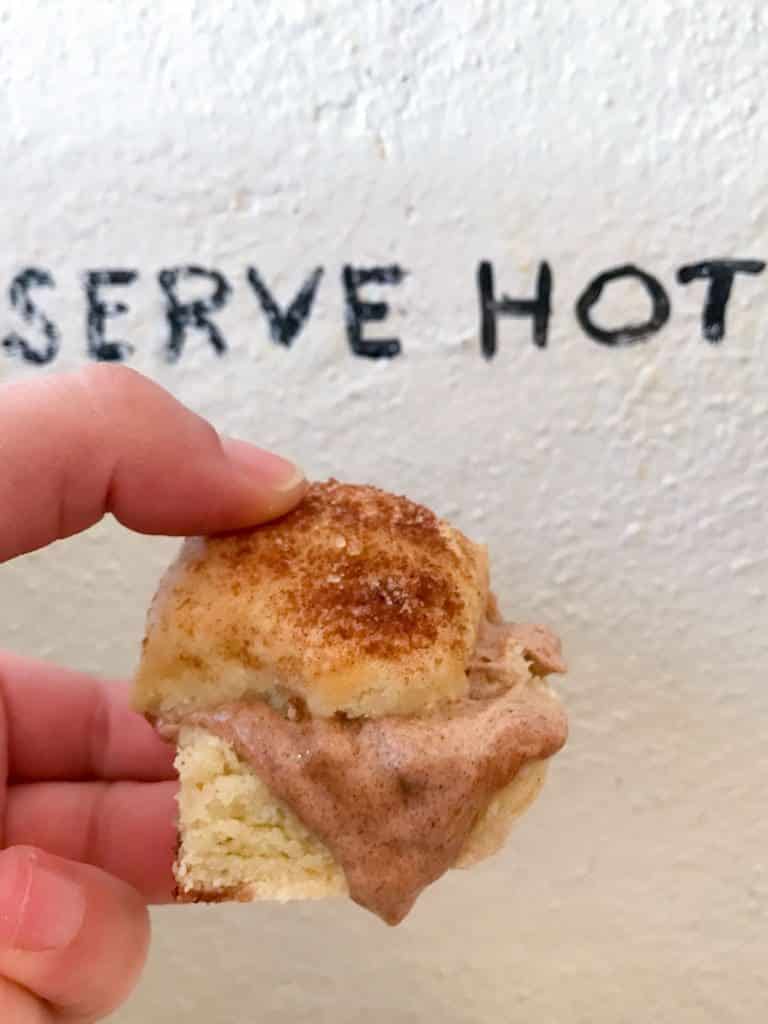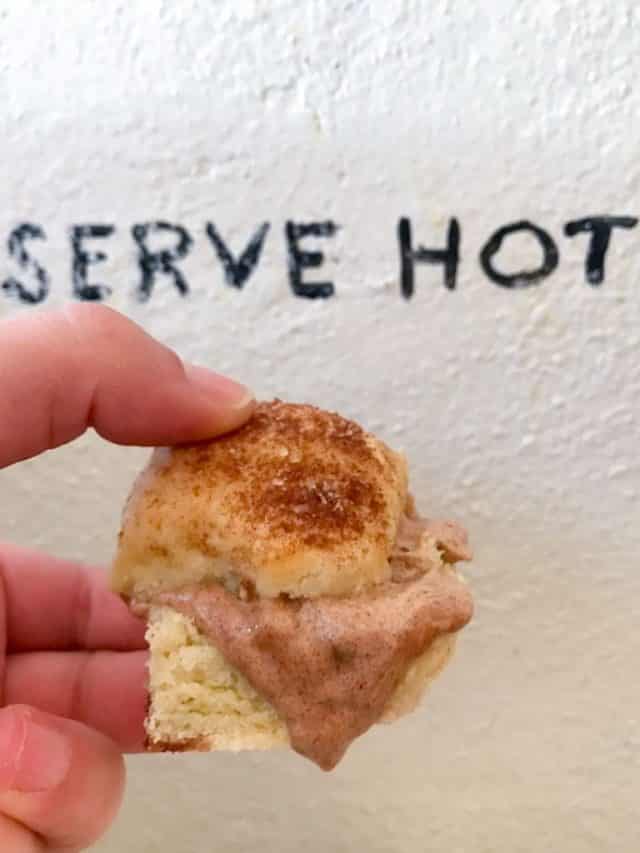 Glazed Gourmet Doughnuts
481 King St, Charleston, SC 29403

Glazed is right across the street from Callie's. Grab a biscuit to go, then go get a dozen doughnuts. (I'm not joking; I really did that.) The menu runs the gammet from basic chocolate with sprinkles and maple bacon to more crazy flavors like bacon apple fritter and s'mores. The Salted Caramel Old Fashioned (right in the middle in that photo) was probably the best doughnut I've ever eaten, and the Banana Cake Doughnut (vegan) was really good too.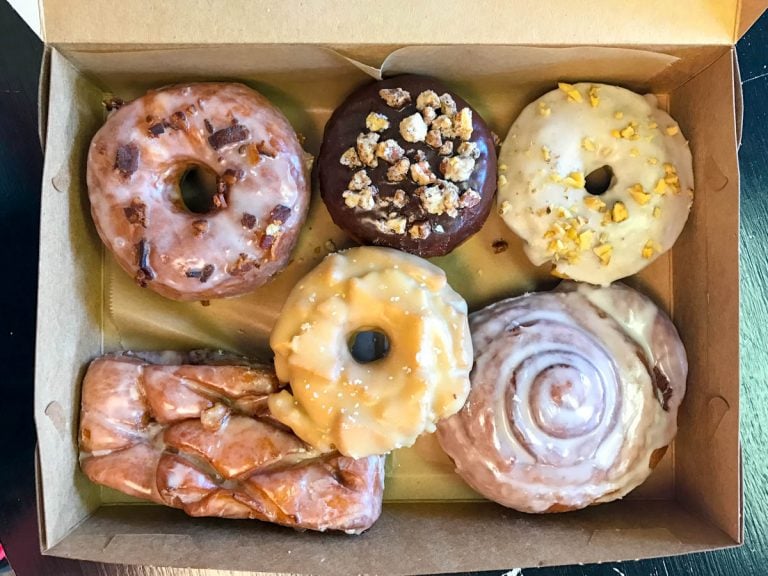 Cost: cheap
Time: it can get busy but wasn't when I was there, and there is lots of seating.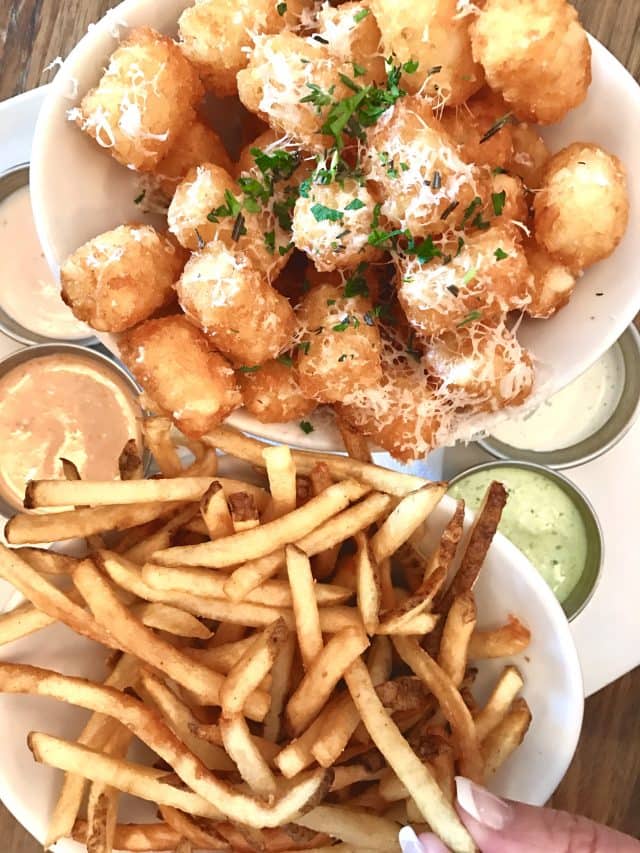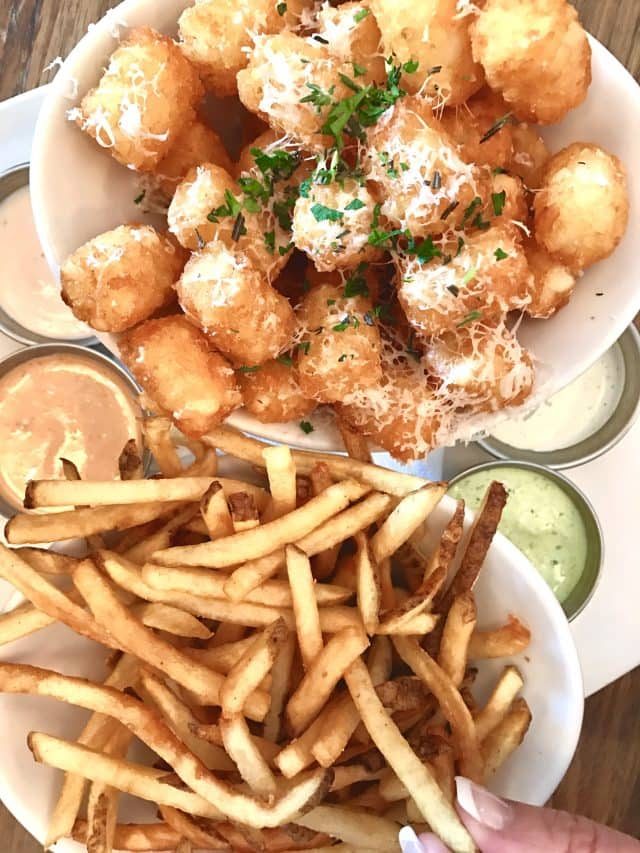 HoM Charleston
563 King St, Charleston, SC 2940
We popped into HoM for lunch one afternoon and were very impressed. The cocktail menu was en pointe (what? who doesn't order afternoon cocktails when on vacation?) and we absolutely inhaled the fries and truffle tots. I suggest asking for all the fry sauces; they were amazing. I also recommend the Dixie Flatbread and a few of the Blueberry Mint Splashes.
Cost: affordable (most menu items are $10 or less)
Time: plan to wait for a table at meal times, and even in between, because this really is one of the best places to eat in Charleston.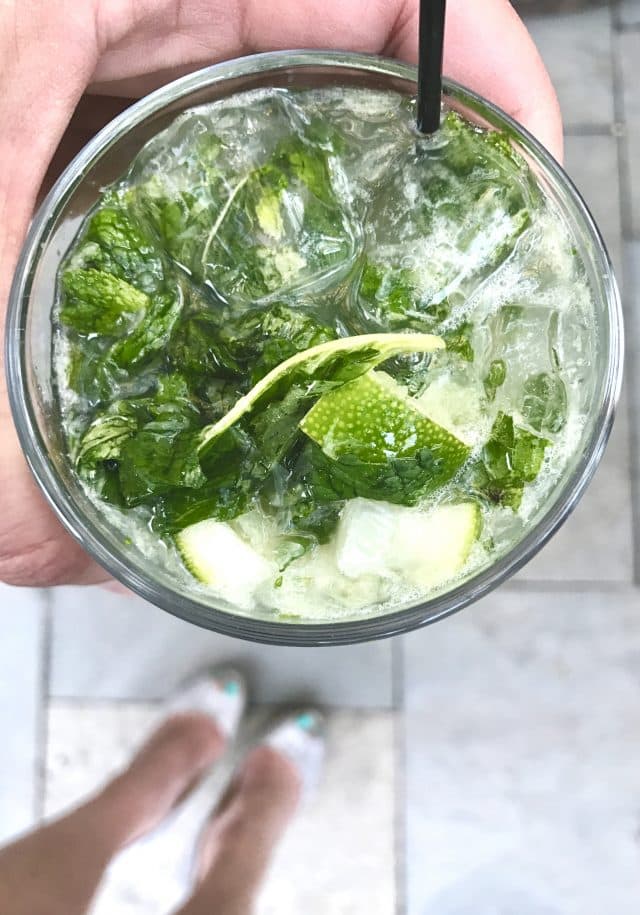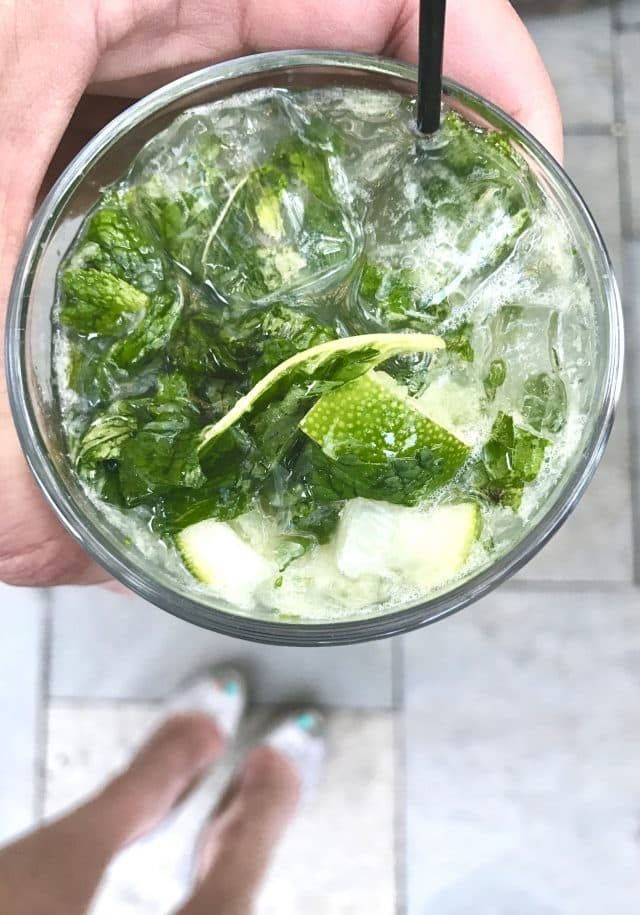 Prohibition
547 King St, Charleston, SC 29403
We didn't dine at the regular restaurant at Prohibition; rather we had the back room and patio for our closing event. I'm sure the food was done by the restaurant, but it's not food that's on the regular menu. It was good, so it's definitely worth your time. However, even if you don't eat there, you MUST get drinks. The bartenders make a killer mojito (I don't even like mojitos and I drank 3 of them). One of their specialty cocktails is a Jack Rose made with applejack and pom. Not only is it a gorgeously vibrant cocktail, but it went down super easy too.
Cost: Pricey for food, cocktails about $10 each
Time: plan on reservations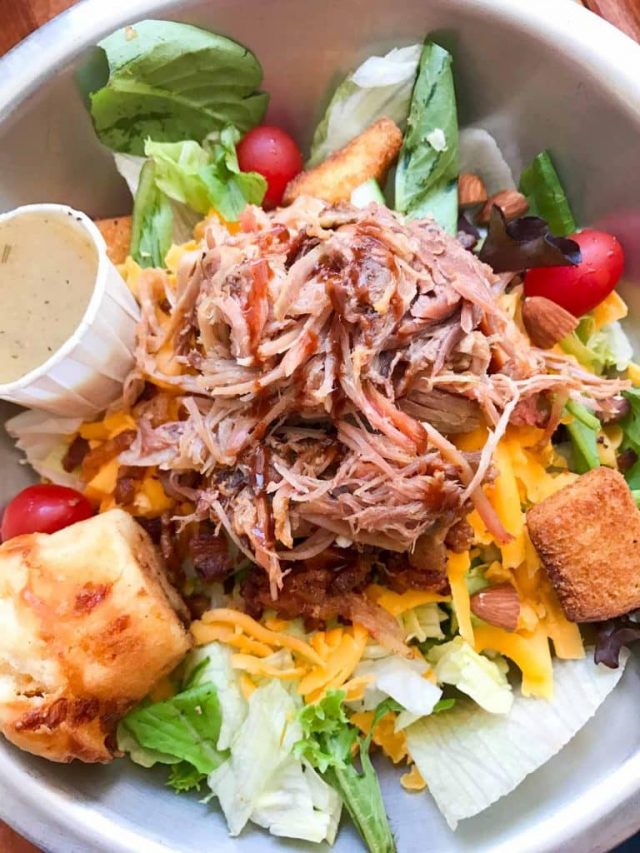 Jim 'n Nick's
288 King St, Charleston, SC 29401
One cannot go to the south without getting BBQ. I think that's a law somewhere? Jim 'n Nick's is a chain, yes, but it's right smack dab in the middle of King Street so it's perfect when you need a food break from shopping. We were hot and tired and hungry and couldn't decide where to eat until we saw the neon pig outside. How can you NOT be attracted to a giant pig on the side of a building? Being ladies who were lunching, we got salads, but I gotta say, the salad was one of the best I've had. The ingredients were fresh and the meat was cooked absolutely perfectly. The BBQ sauce on the table added a nice kick to the top as well. Both the Pig in the Garden Salad and the Chopped Southern Salad were winners, although looking back I should have ordered catfish or pimento cheese just to be authentic.
Whatever you do, though, when at Jim 'n Nick's, order the BBQ chips with an extra side of blue cheese dressing. It was drinkable.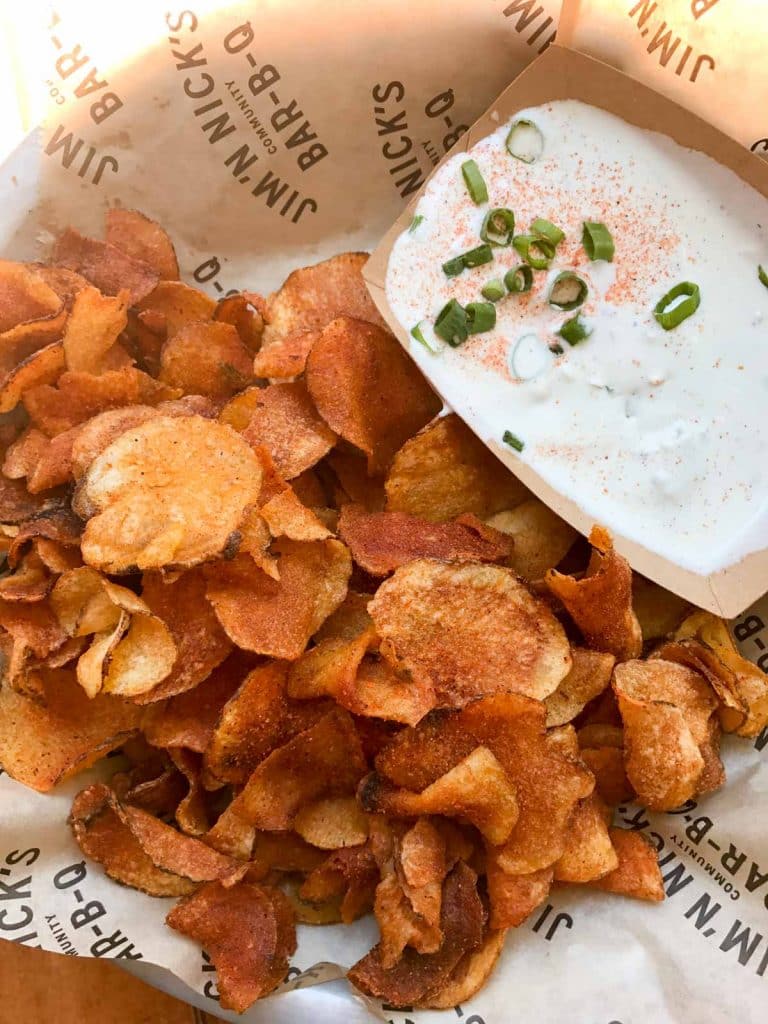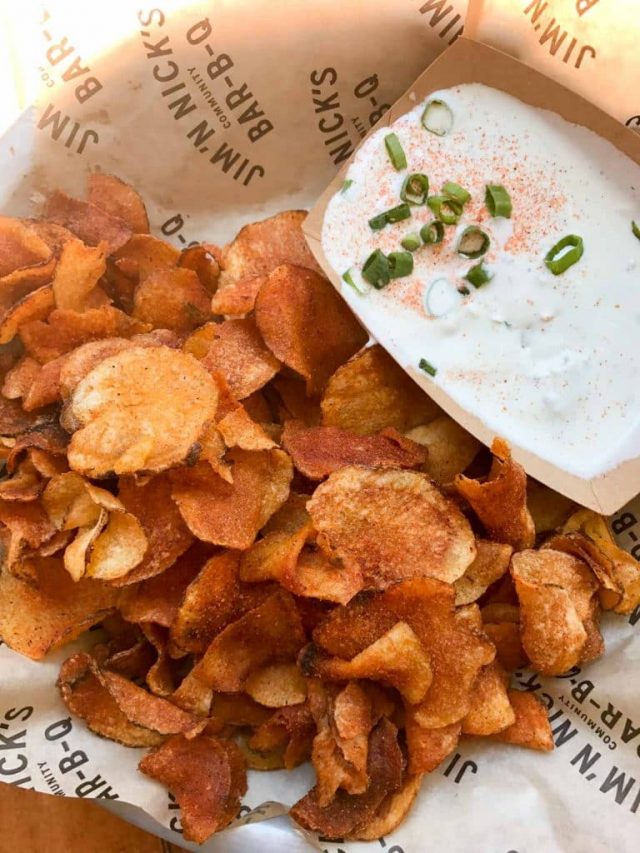 Cost: Affordable
Time: may get crowded at meal time, but the inside is large with plenty of seating. It's walk-up and order, so it's faster than a traditional restaurant.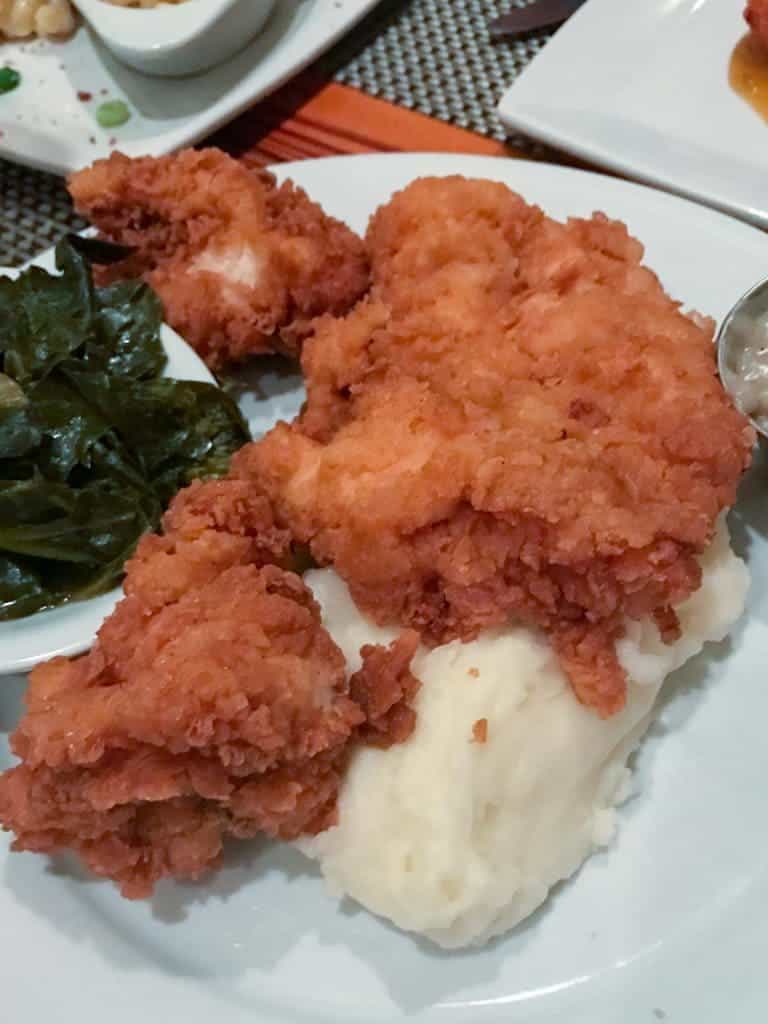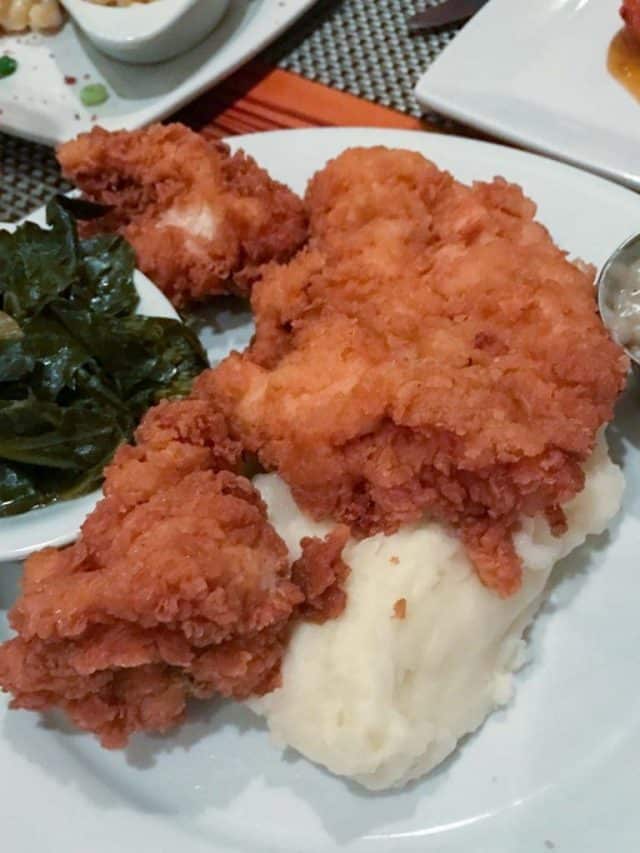 Poogan's Porch
72 Queen St, Charleston, SC 29401
Our first meal was at Poogan's Porch. The restaurant is housed in an old southern home (coined for the dog – Poogan – who loved to sleep on the porch). It's one of those restaurants that's booked solid at 8pm on a Wednesday night, so they're doing something right. The menu is truly southern, with fried green tomatoes, fried chicken, pimento cheese, and shrimp & grits all making an appearance. We decided to split several things instead of each order our own meal, so I can highly recommend the fried chicken and fried pimento cheese. The Kale Caesar was good too, although I was a little sad to see that kale as a salad (and not boiled as greens) had reached the south. The wine list was good too.
Cost: expensive (appetizers are affordable at under $15, but entrees range from $20-$40
Time: reservations are a must for dinner – don't be late and don't add people at the last minute, and expect to wait even with your reservation. Quite obviously, the entire state must think this is one of the best places to eat in Charleston.
The Cocktail Club
479 King St #200, Charleston, SC 29403
This hidden bar can be hard to find, especially when you're a few drinks in and wearing heels. Look for a door that looks like it belongs to a different building, and then head upstairs where you'll find the hidden bar and patio space. The menu is light on food but heavy on Gin; the cocktail menu is pages long so browse it ahead of time or you'll be the one holding up your party from ordering. Or just do what I did: drop a finger and pick a drink. I got lucky; the At a Thyme Like This… was a delicious blend of vodka, prosecco, grapefruit juice, cinnamon, and thyme.
Cost: $10-15 cocktails
Time: get there early to get a table; by 10pm the place was standing room only.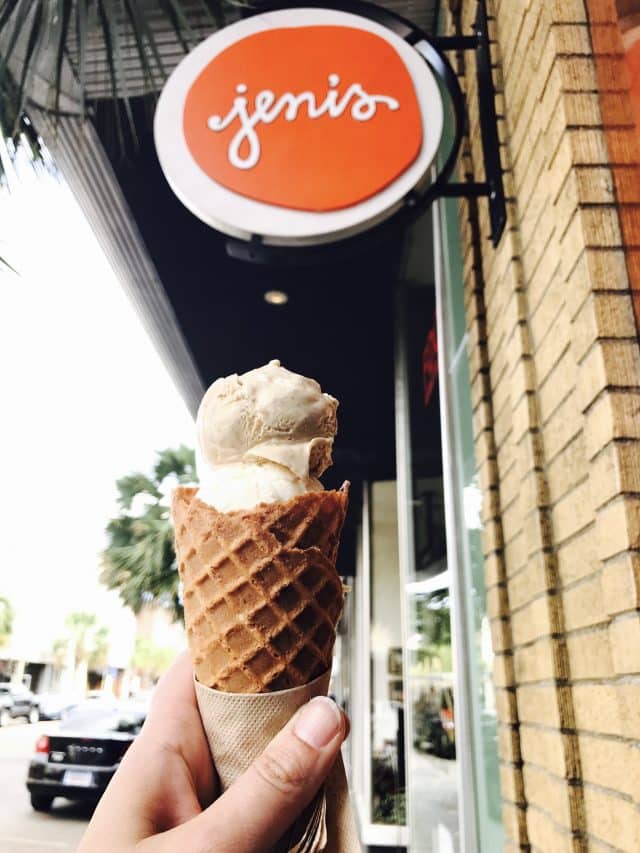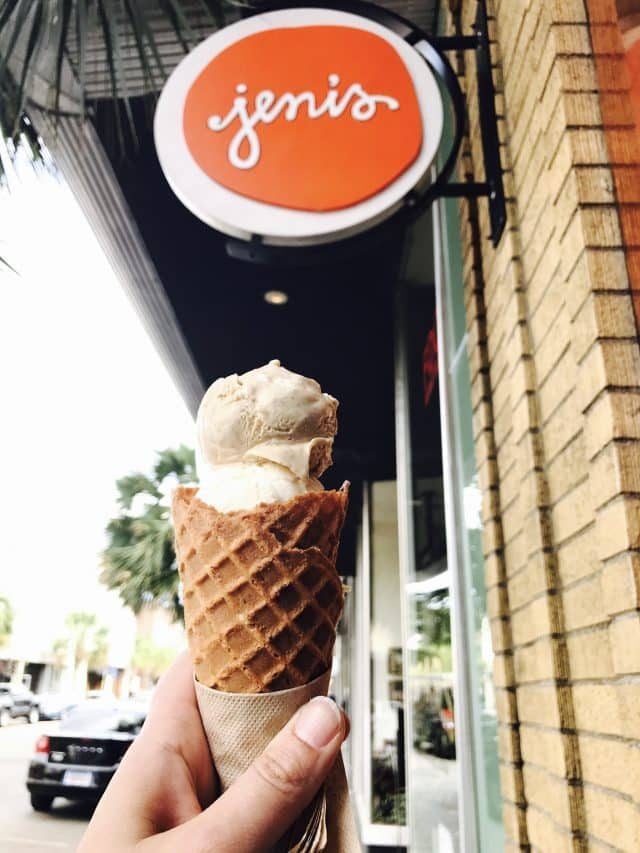 Jeni's Splendid Ice Creams
501 King St, Charleston, SC 29403
Yes, I know there are a number of places to get ice cream in any given city, and that Jeni's is a chain. BUT…it's Jeni's. When in a city that has one, you must go. I still remember eating it in Nashville years ago so when I saw the sign I pounced. Sweet Cream, Salty Caramel, Espresso, Berry…Jeni's has flavors for kids and adults. And get a waffle cone, you know you want one. Actually, you know you need one if you're looking for one of the best places to eat in Charleston.
Cost: Cheap
Time: expect a line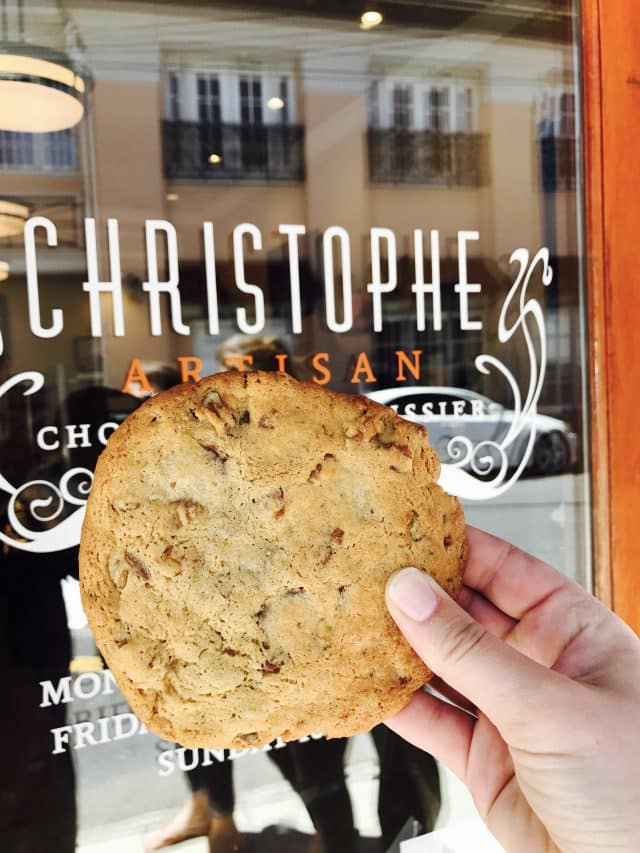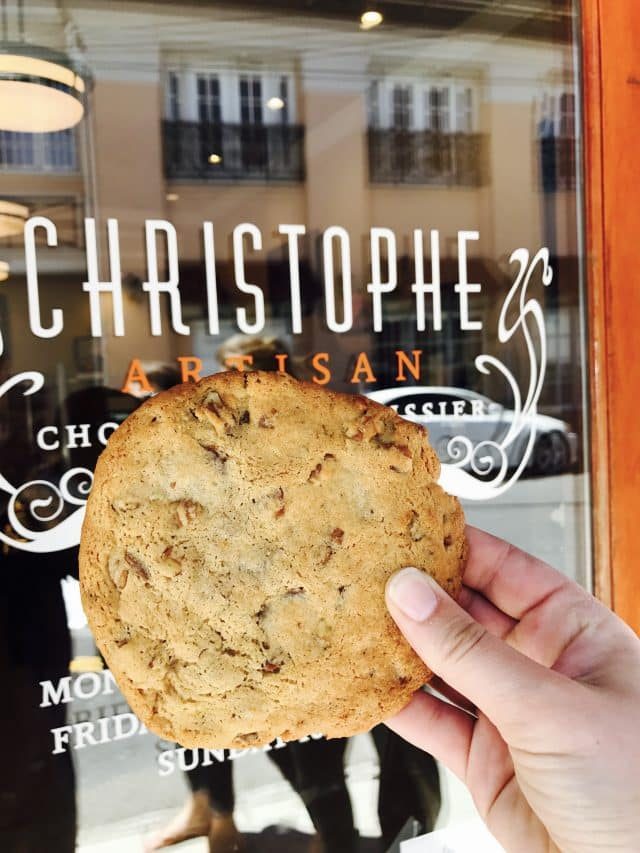 Christophe Artisan Chocolatier
90 Society St, Charleston, SC 29401
Christophe Artisan Chocolatier is off the main street in downtown Charleston. To be honest, it wasn't even on my list, but my radar detected chocolate and veered me right towards it. Inside they have an array of gorgeous chocolates you'd expect to find in a chocolatier, as well as numerous branded chocolate bar flavors and macrons (of course). The chocolate chip cookie was good, but the sable was the best cookie I've ever eaten. Get it. Get one now.
Cost: cheap to medium depending on what you order. Cookies under $5, chocolates are $20 and up for a box.
Time: fast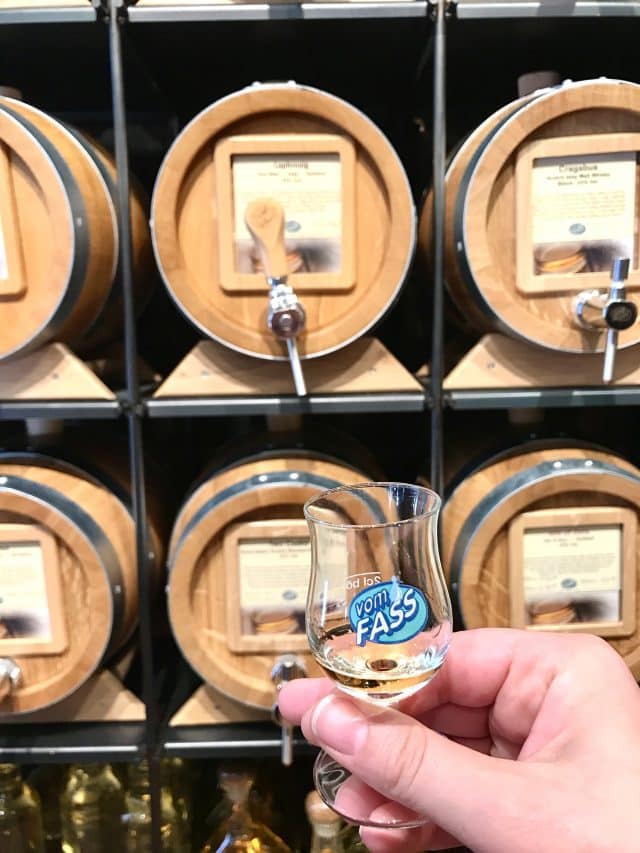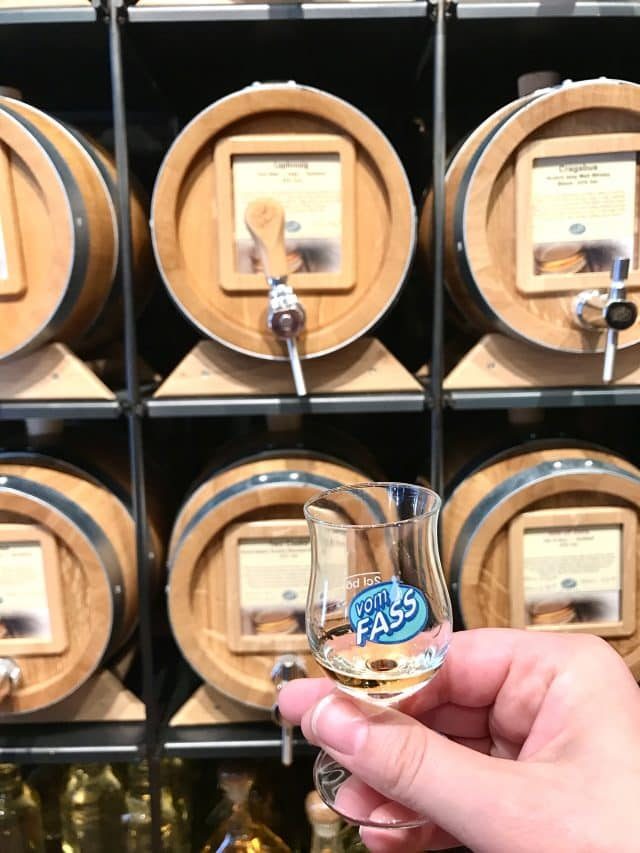 VomFass Charleston
342 King St, Charleston, SC 29401
VomFass was another accidental visit. We were shopping and peeked our heads in to see what it was and saw olive oil. We weren't interested until the salesman said "whisky tasting" and we were all in. You can taste as much as you want (within reason, I'm sure). Whisky isn't my thing, but they also have liqueur. The favored vodkas were AMAZING – try the grapefruit. You won't be sorry.
Cost: expensive if you buy something, small bottles start at around $20
Time: fast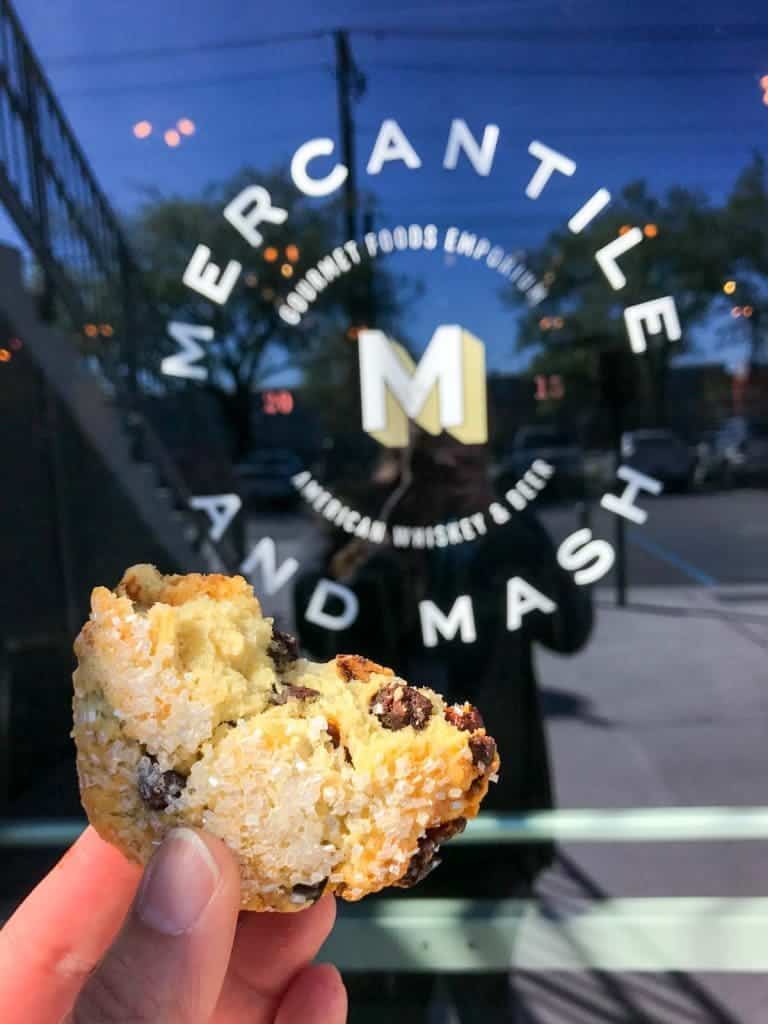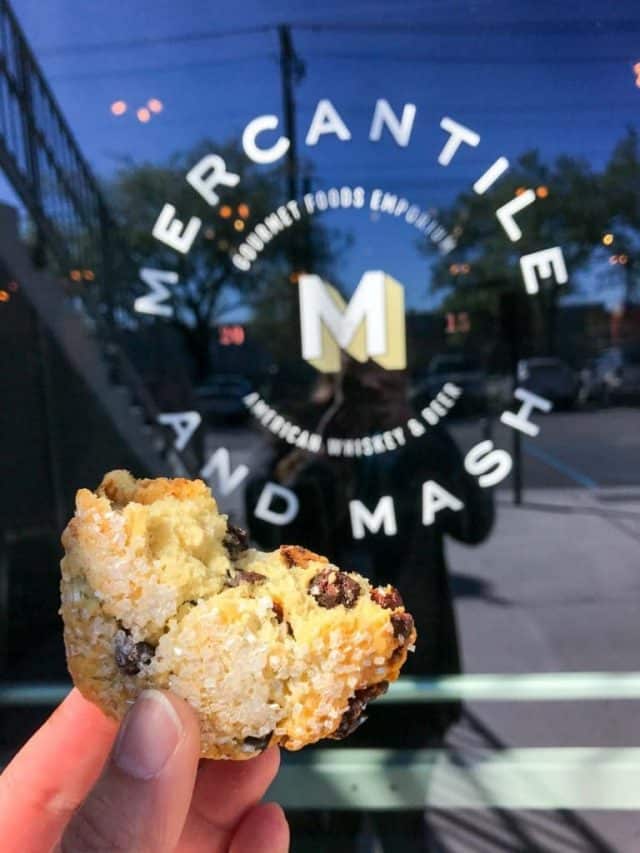 Mercantile & Mash
701 E Bay St, Charleston, SC 29403
I happened upon Mercantile & Mash accidentally during the conference. Our sessions were being held upstairs, in the old Cigar Factory. I'm pretty sure this place is a local hangout because it's not really in the touristy area (in fact, I wouldn't walk there from King Street after noon). We needed coffee, so we wandered in and were pleasantly surprised; this market is a trendy foodie paradise. You can grab and go, get baked goods from the bakery, or order hot sandwiches. There's a full coffee shop in the middle with baked goods (the BEST scone I've ever eaten) and the rest of the store has local food, wine and gifts. I bought plates and napkins for food props, as well as some snacks.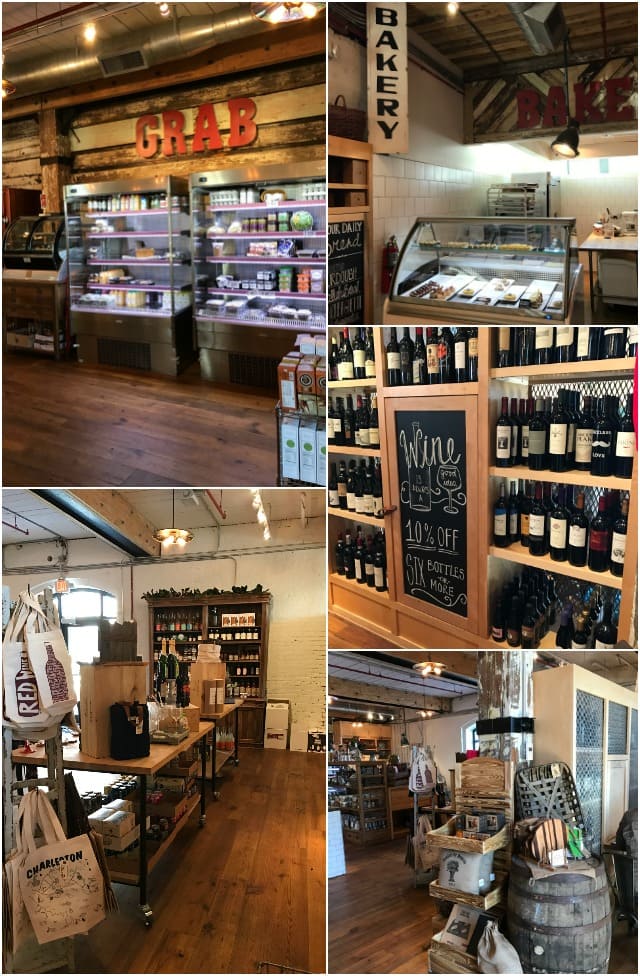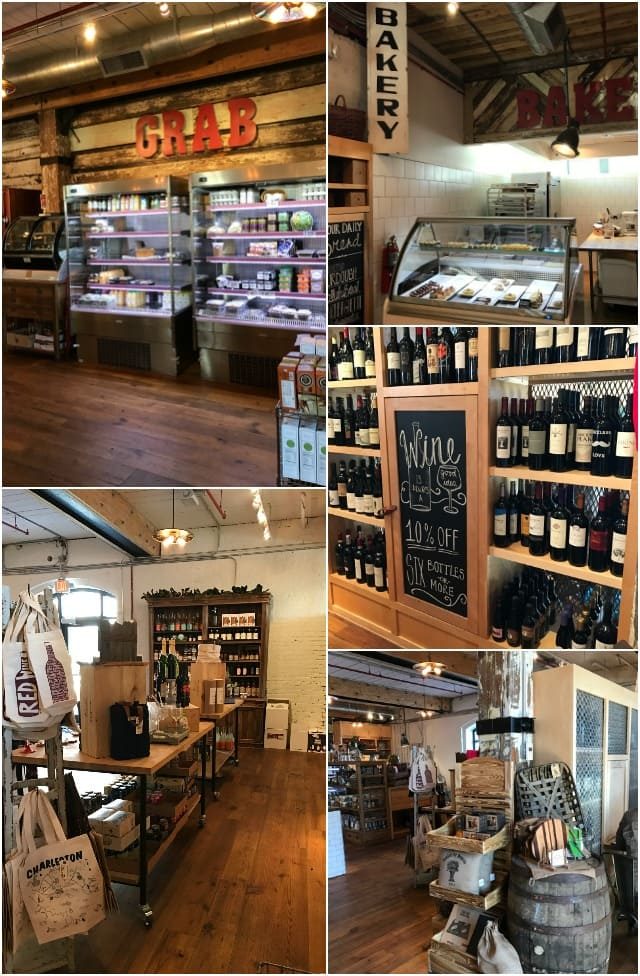 Cost: Affordable
Time: just getting coffee or lunch? Fast. But plan some time to wander and shop; you won't be sorry.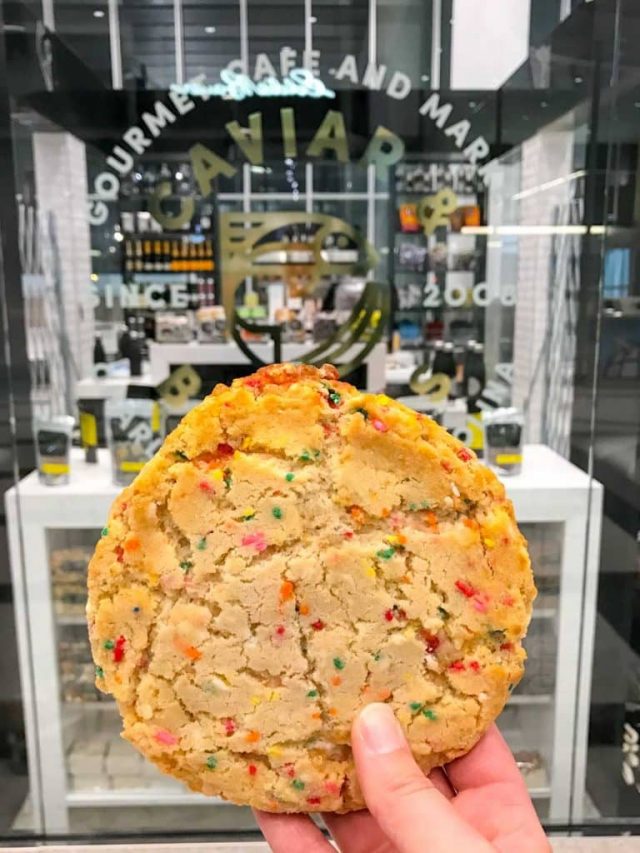 Caviar & Bananas
Multiple Locations; photo taken at Charleston Airport
I'd seen Caviar & Bananas pop up in my pre-Charleston research, but didn't think much about it. A gourmet market, ho-hum. But! It was a godsend at 5am on Sunday morning when I was waiting for my flight. Full coffee shop with ginormous baked goods (perfect for…after party stomach) that tasted amazing. That sprinkle cookie got me through my flight home. The market wasn't open that early, but it's full of specialty foods and drinks, and worth a stop if you're a foodie who likes to explore.
Cost: affordable
Time: fast, but leave time to shop the market
With all of these places to eat in Charleston, you should probably plan your trip now!
Last Updated on May 29, 2023