This post may contain affiliate links. For more information, read my disclosure policy.
Giant Strawberry Cinnamon Roll Cake – Sometimes you want a showstopper breakfast. This Giant Strawberry Cinnamon Roll Cake is that recipe!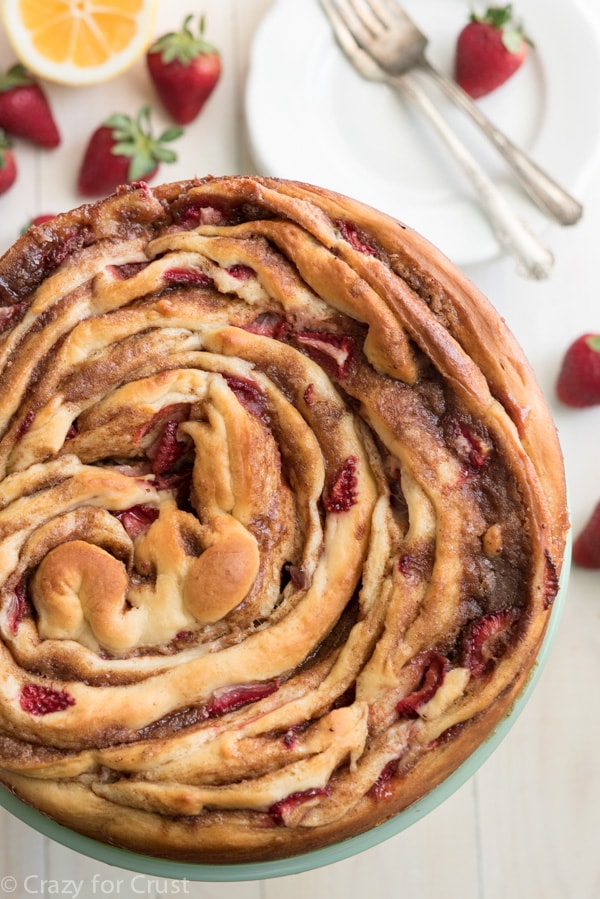 Before we talk about this Strawberry Cinnamon Roll Cake recipe, let's talk about something serious. #Youshouldbeusedtothatbynow
This week, April 19-26, 2015, is National Infertility Awareness Week (NIAW). Many of you may have read my infertility story (and thank you for reading!) but I wanted to bring to light NIAW because infertility is still a topic that is close to my heart. You see, infertility never goes away. It's always there with you, lurking behind the scenes.
We are so lucky to have been blessed with our daughter, just over 10 years ago. But just because we had a happy ending doesn't mean it's not still there, close by. I think about our story and our choices often. Every time IVF makes the news, I think about it. Every time a friend gets pregnant, my infertility is there, waiting to remind me of it's existence.
I think that many people who go through the infertility process make peace with their choices. We have made peace with our choice to only have one child. But that doesn't mean I don't think about the babies I won't have. I think about them often.
Whenever someone asks me where the rest of my kids are, I am reminded.
Whenever I look at Jordan and think about the fact that, when we get old, she'll be taking care of us alone without sibling support, I think about them.
Whenever my daughter speaks out loud what she's thinking inside and says, her voice full of longing, "I wish I had a sister," I think about the sister I didn't give her and my heart breaks a little.
Infertility is like a wound: it scabs over but it never heals, not completely.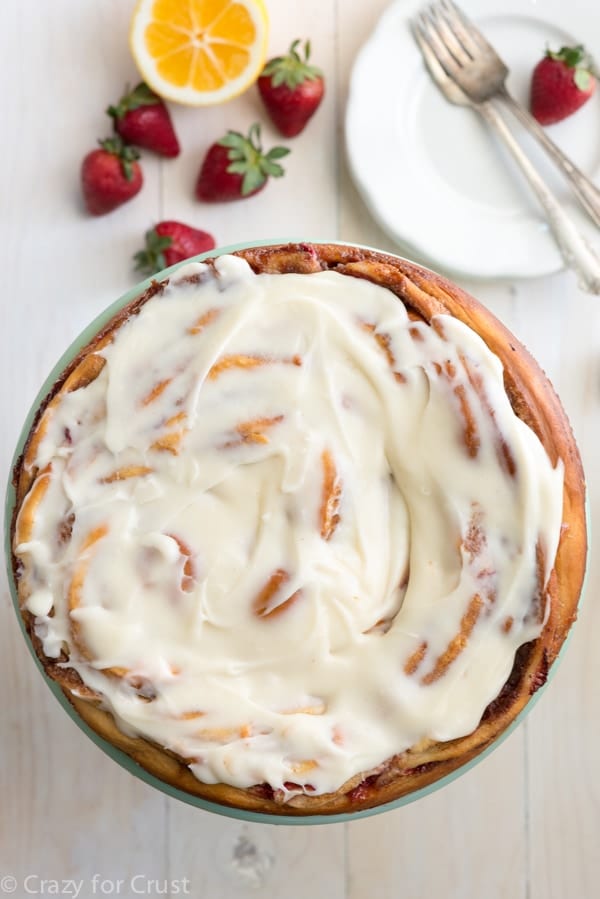 When I began my journey 12 years ago, I was young. I was living in a completely new state at the time and none of the women I knew were married, let alone having babies. When we realized there would be problems with conceiving, I felt like I was all alone. No one else knew what I was going through. No one else cringed every single time a friend ended up pregnant or someone asked "when are you going to have kids already???!!!"
But I wasn't alone. That's the dirty little secret of the journey of infertility. You're not alone: 1 in 8 women will experience some form of infertility. Look around you. You probably know more than 8 women. How many of them have suffered along this road? Many of them in suffer in silence for fear of the dumb things people say or because they're private people, or because they think no one understands.
Luckily, I'm not one of those private people. I'll tell anyone who will listen about my experience. Ask me about my "other kids" on a day where I'm in a vulnerable (read: bitchy) mood and you'll hear more about vasectomies that you ever wanted to know.
The theme this year for NIAW is You are not alone. I wanted to talk about this today because that statement is the single most important thing you need to realize when you're going through infertility. You are not alone. If you're feeling like you have no one to talk to about your journey; if you're struggling with the emotional weight of this alone, don't. First of all, I'm here. You have me. Chances are, there are other women you know too. And if you don't know anyone else, RESOLVE is there for you. RESOLVE helped me so much 12 years ago. I went to monthly dinners with 15 women in various stages of infertility. It was exactly what I needed to get me through the process.
Maybe someday the babies I didn't have will stop haunting my dreams. Until then, I'll just write prose on the internet and talk to my several friends who've been through it. What a difference a decade makes.
Lets Talk About This GIANT Strawberry Cinnamon Roll Cake
And now? Now we can talk about the most awesome cinnamon roll ever. It's a GIANT cinnamon roll cake. With fresh strawberries inside!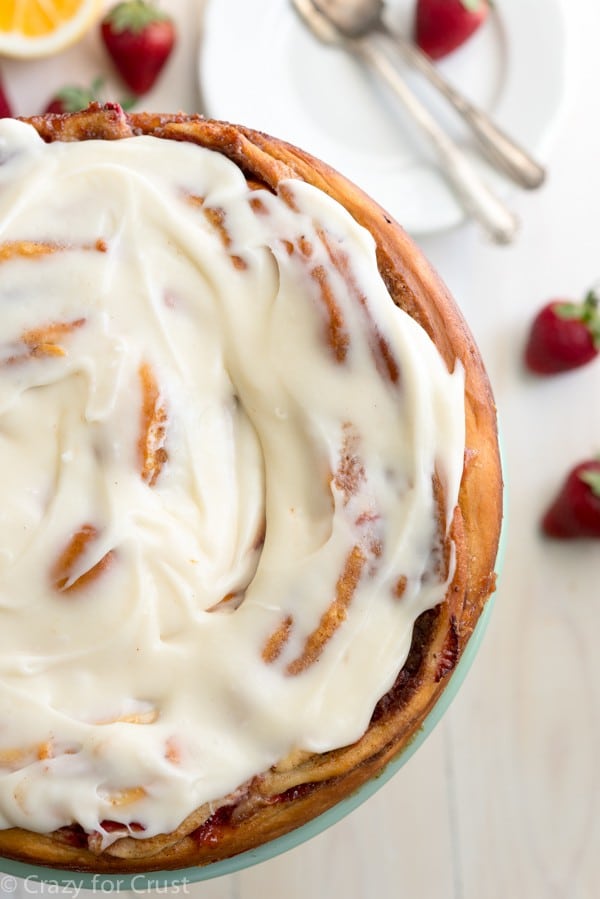 I first saw a giant cinnamon roll cake on my friend Heather's blog. I immediately filed that in my memory and thought, someday I want to make one of those babies.
Someday is today.
I didn't want to make a regular flavor because I've made regular cinnamon rolls before. I wanted to make a flavor. First, I thought funfetti (which I am going to make some day). Then two things happened: I made strawberry shortcake and my store had a sale on strawberries.
Decision made: A Giant Strawberry Cinnamon Roll that looks like a cake.
This Strawberry Cinnamon Roll Cake is one of those desserts people look at and think they are really complicated, but it's not. It's SO EASY, I promise. I'm even going to show you how easy it is: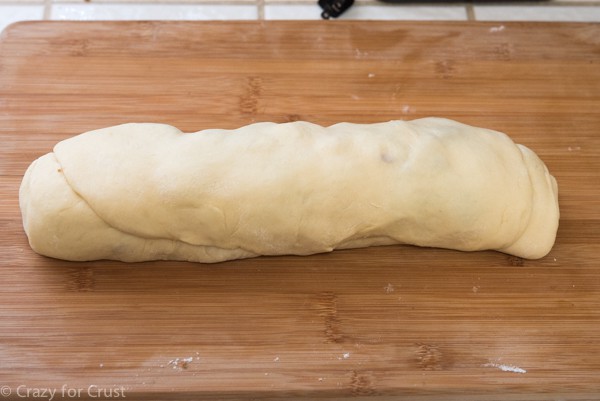 You start with your basic cinnamon roll recipe. I made the normal cinnamon brown sugar filling, but then I added fresh chopped strawberries. I tossed the berries with sugar and cornstarch to make sure they didn't become a wet mess all over the dough, so don't skip that step!
Roll up the dough like normal. At this point you can make these into Strawberry Cinnamon Rolls and cut the log into 9 or 12 pieces and bake them like any cinnamon roll. Or, you can continue the process below and make a cake!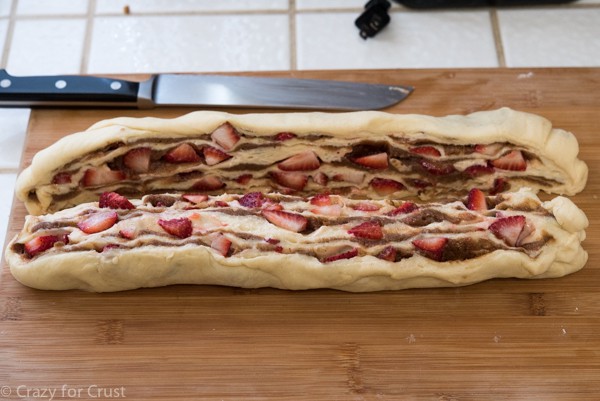 Slice the log in two. Isn't it pretty?
Then grease a 9″ round cake pan. Use the kind of spray with flour, if you have it, especially if you plan to remove it to a serving platter.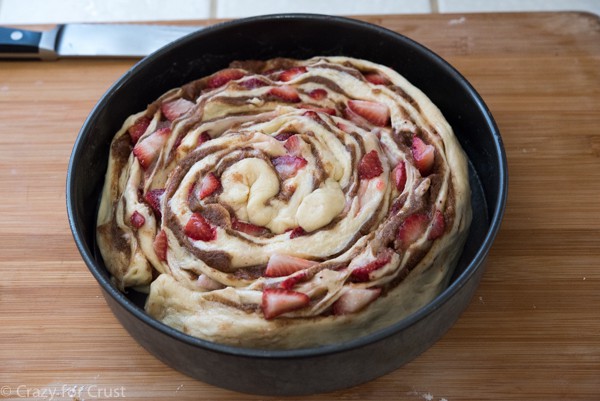 Then spiral your half-logs into the pan. Roll one half into a tight spiral. Place it in the center of the pan.
Wrap the second half around the edge and pinch it to meet (see the bottom left of that pan picture).
Note on rising time: normally, with this recipe, I do all this work, then put the pan in the refrigerator overnight so I don't have to get up at 4am to make the whole thing. I did NOT do the overnight step because I was worried that the strawberries would weep too much, causing the cinnamon roll to stick to the pan when it's baked. You are welcome to do the overnight rise – I've done that with blueberry rolls before and it worked okay, but they did weep.
What you can do, if you don't want to do all the work the day of, is get to the rising step BEFORE you roll out the dough and fill it, and chill that. Just place the bowl of rising dough in the fridge after it's risen, then proceed with rolling filling and spiraling in the morning.
Then you bake it and drizzle it with lemon cream cheese frosting (you can leave the lemon out if you prefer).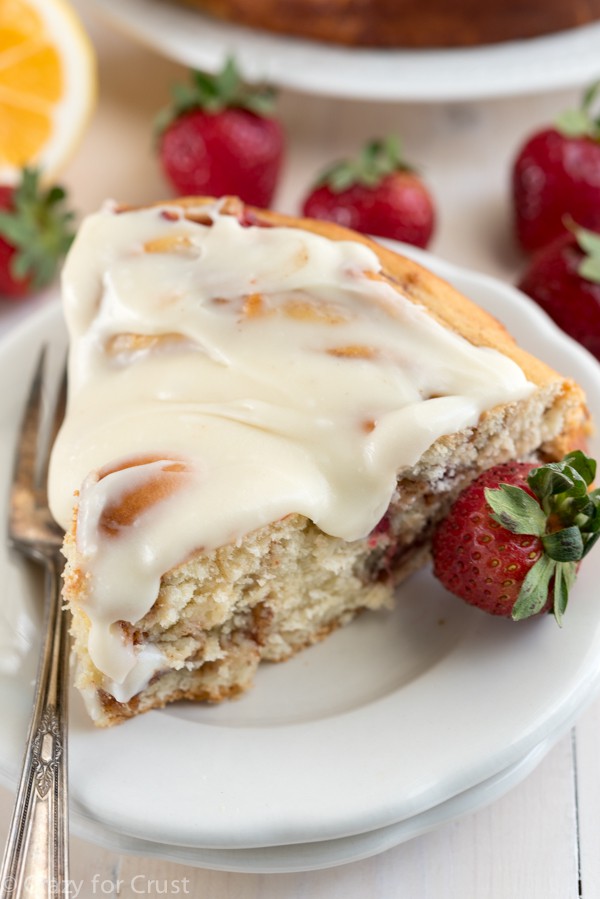 Then you cut it like a cake. In fact, this could be a cake. Serve it for breakfast, brunch, or dessert. Having made this – and realized how easy it is – I'm making it for my birthday cake this year.
Seriously. But then it would have to be funfetti.

And, as we all know, when Jordan requests it for her 11th birthday…it'll be mint flavored.
If you couldn't tell, cinnamon roll cake is, like, my new favorite thing. 🙂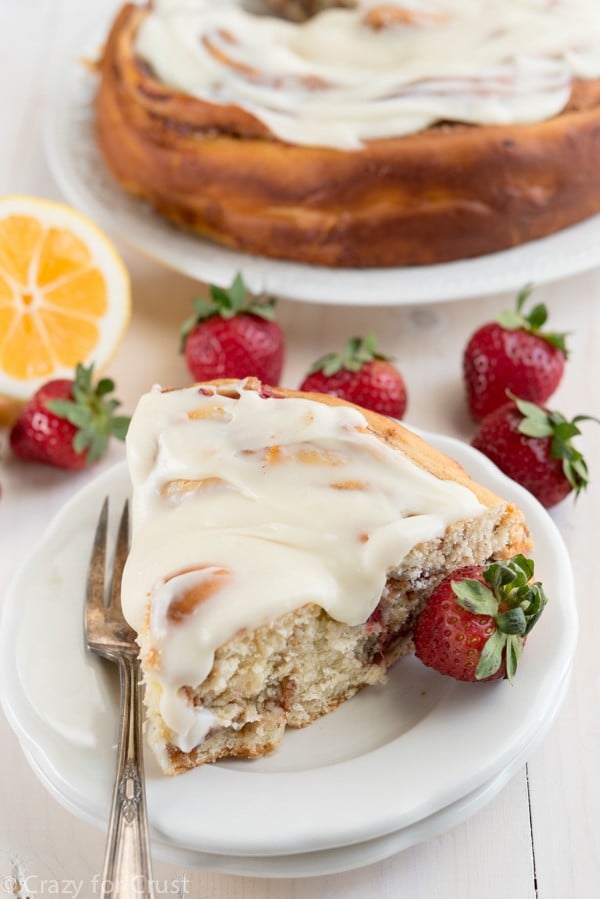 Can you see why I love this Strawberry Cinnamon Roll Cake?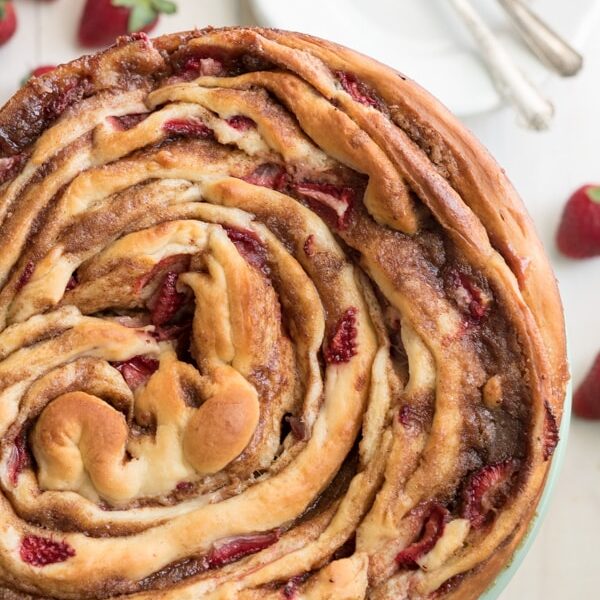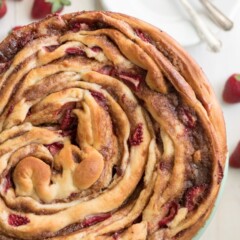 Giant Strawberry Cinnamon Roll Cake
Instead of making cinnamon rolls, make a Giant Strawberry Cinnamon Roll Cake! It's a stunning brunch recipe, especially with lemon icing!
Ingredients
For the Dough:
1

package active dry yeast

about 2 1/4 teaspoons

3/4

cup

warm non-fat milk

heated to about 120 degrees, about 45-60 seconds in the microwave

1/3

cup

+ 1/2 teaspoon granulated sugar

divided

3

tablespoons

unsalted butter

softened

1/2

teaspoon

salt

1

egg

3 - 3 1/4

cups

all-purpose flour

plus more for dusting

Paddle attachment & dough hook for your mixer
For the Filling:
5

tablespoons

butter

softened

2/3

cup

brown sugar

1

tablespoon

cinnamon

2

tablespoons

flour

1/4

teaspoon

salt

1 1/2

cups

diced fresh strawberries

about 3/4 pound

1

tablespoon

cornstarch

1

teaspoon

sugar
For the Frosting
2

tablespoons

butter

melted

2

ounces

cream cheese

very soft

1 1/2

cups

powdered sugar

Pinch

salt

1

teaspoon

vanilla extract

2-4

teaspoons

fresh lemon juice or milk
Instructions
Make the Dough:
Place milk in a microwave safe measuring cup. Heat for 45-60 seconds in the microwave, until it's about 120°F. (The time you heat it will need to be adjusted depending on your microwave. You can use a candy or a meat thermometer to test the temperature.) Add yeast and 1/2 teaspoon granulated sugar and stir. Let it sit for a few minutes.

Place 1/3 cup granulated sugar, butter, salt, and egg in the bowl of a stand mixer fitted with the paddle attachment. Mix until the butter is distributed throughout the liquids, although it may be chunky. Pour in the milk/yeast mixture and stir for a few seconds.

Add flour and stir with the paddle attachment just until the mixture starts to stick to the paddle. Then replace the paddle with the dough hook. Continue mixing on low speed until the dough forms a ball in the center of the bowl. If dough is still very sticky, you can add an additional 1/4 cup of flour.

Spray a large bowl with cooking spray and place the dough ball in it. Spray the top of the dough ball with cooking spray (lightly) and cover the bowl with plastic wrap. Let sit for 2-4 hours until it doubles in size. Note on rising: if your house is warm, it should rise no problem. If it's cold in your house, it may take longer for the dough to rise.
Prepare your Rolls:
Preheat oven to 350°F. Spray a 9" round cake pan with the cooking spray with flour.

Stir together butter, brown sugar, cinnamon, and flour until it forms a paste.

Once the dough is risen, roll it out on a lightly floured surface into a large rectangle, about 10" by 14". Sprinkle the filling evenly over the top and then spread it as evenly as possible over the rectangle, making sure to reach to the sides so the outer rolls have enough filling.

Stir diced strawberries with cornstarch and sugar. Sprinkle over filling.

Roll the dough up tightly from the long end. Slice the roll into two long halves, split open. Roll one into a tight spiral and place in the center of your pan. Wrap the other half around the spiral filling the edges of the pan and stretch it so the ends meet. Bake for 30-35 minutes until golden brown.

Alternately, you can slice it into 9-12 equal rounds. Place the rolls into a 9" pan for 9 rolls or a 9x13" pan for 12 rolls. Bake 23-28 minutes until they are golden brown on top.
Make the frosting:
Whisk the melted butter and softened cream cheese until mostly smooth. If your cream cheese is too stiff, you can use a hand mixer. Whisk/beat in powdered sugar, vanilla extract and 2 teaspoons lemon juice or milk, adding more as desired for thickness. Pour over warm rolls and serve.
Recipe Nutrition
Serving:
1
/8th slice
|
Calories:
560
kcal
|
Carbohydrates:
93
g
|
Protein:
8
g
|
Fat:
18
g
|
Saturated Fat:
11
g
|
Cholesterol:
70
mg
|
Sodium:
3866
mg
|
Fiber:
3
g
|
Sugar:
53
g
Nutritional information not guaranteed to be accurate
ALL of these recipes could be made into Cinnamon Roll Cakes using the same method: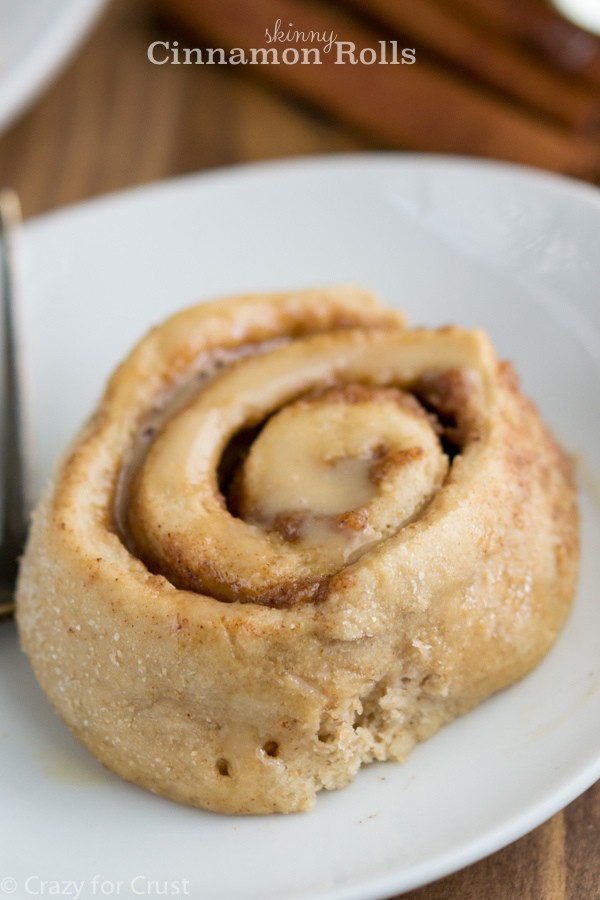 Overnight Cinnamon Rolls – with a yeast rising tutorial!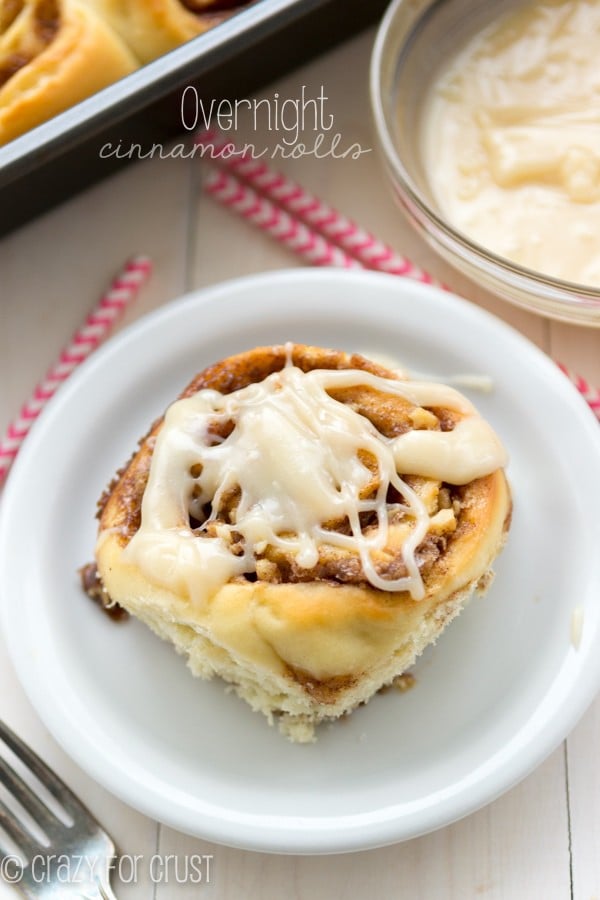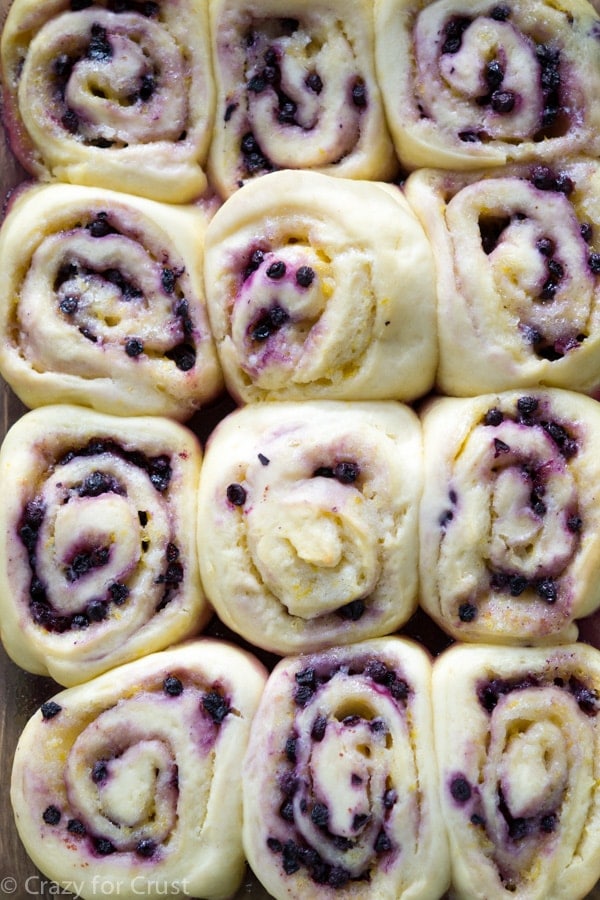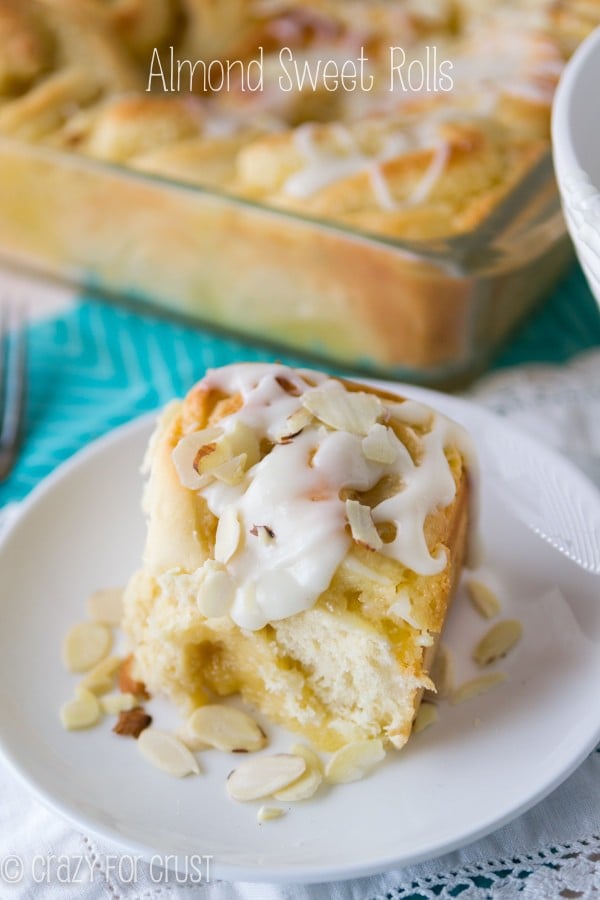 Enjoy!
Last Updated on September 12, 2022