This post may contain affiliate links. For more information, read my disclosure policy.
Skinny No Bake-Peanut Butter Bars are a way to satisfy your peanut butter craving without the guilt!
You know those peanut butter bars? The ones with a whole stick of butter and a pound of powdered sugar?
Yeah, these SKINNY No Bake-Peanut Butter Bars are just like those without all the guilt!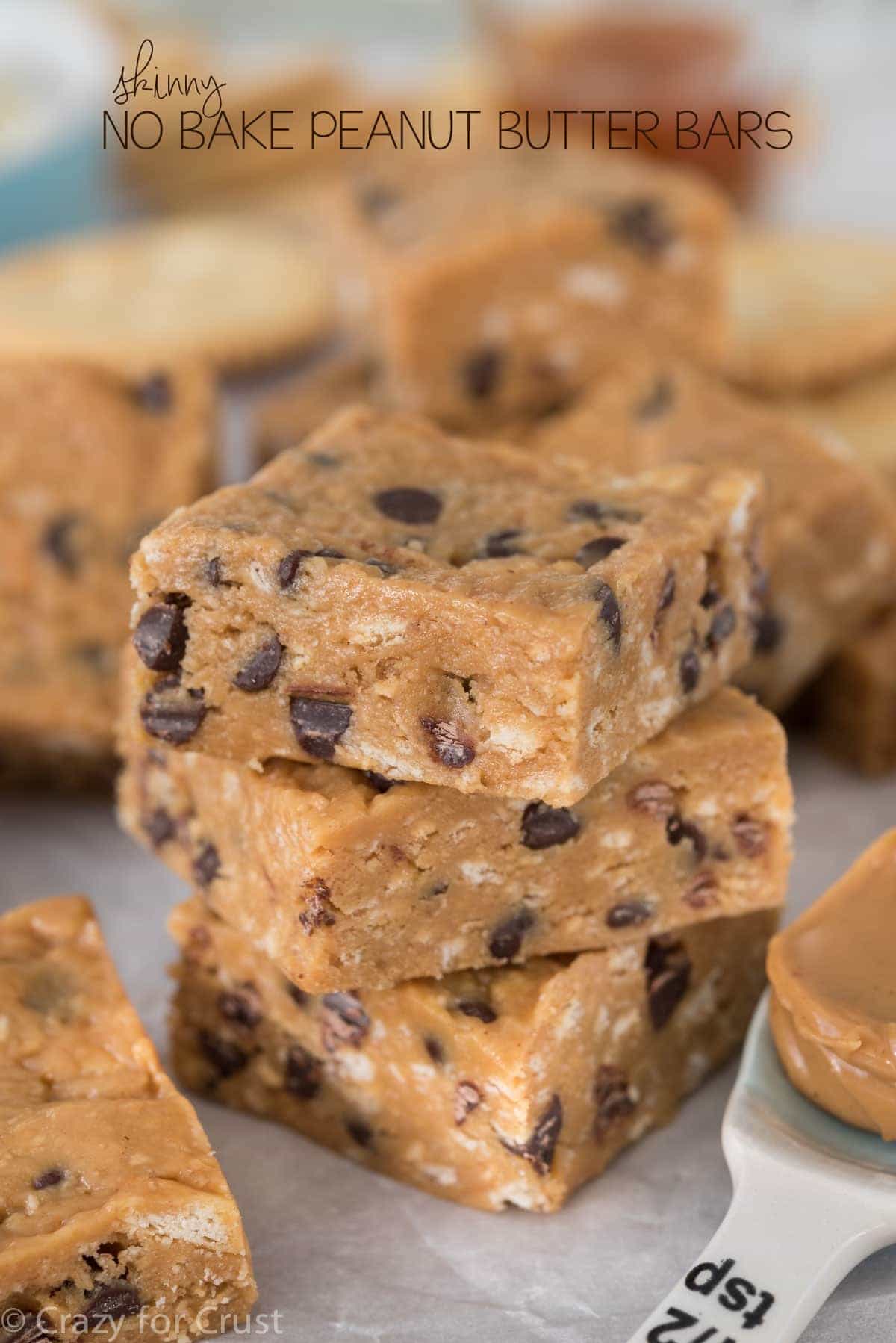 Remember how last summer I binge watched Friday Night Lights and then it was over and I got depressed and sad and had to start watching it all over again? Well, I did it again. But not with FNL…this time the binge watch was Newsroom.
Have you heard of Newsroom? It's an HBO show that is free to stream on Amazon Prime. And when I say "free" I mean just like with VEEP they pulled me in for two seasons and then we got to the third and I had to buy it. #wortheverypenny
And yes, that's right. It only has 3 seasons. *crying*
Anyway, if you need a good drama to binge, watch it. If you liked West Wing, you'll love it. It's also by Aaron Sorkin and it has that same fast-paced dialogue and relationship interactions like West Wing, but it's set in a newsroom.
How does this relate to these peanut butter bars? Well, we finished the last episode and depression set in, so I turned to sugar to make me feel better (come on, you do it too) and luckily I had these Skinny No Bake-Peanut Butter Bars to eat instead of the original version. #winningatmydiet #notreally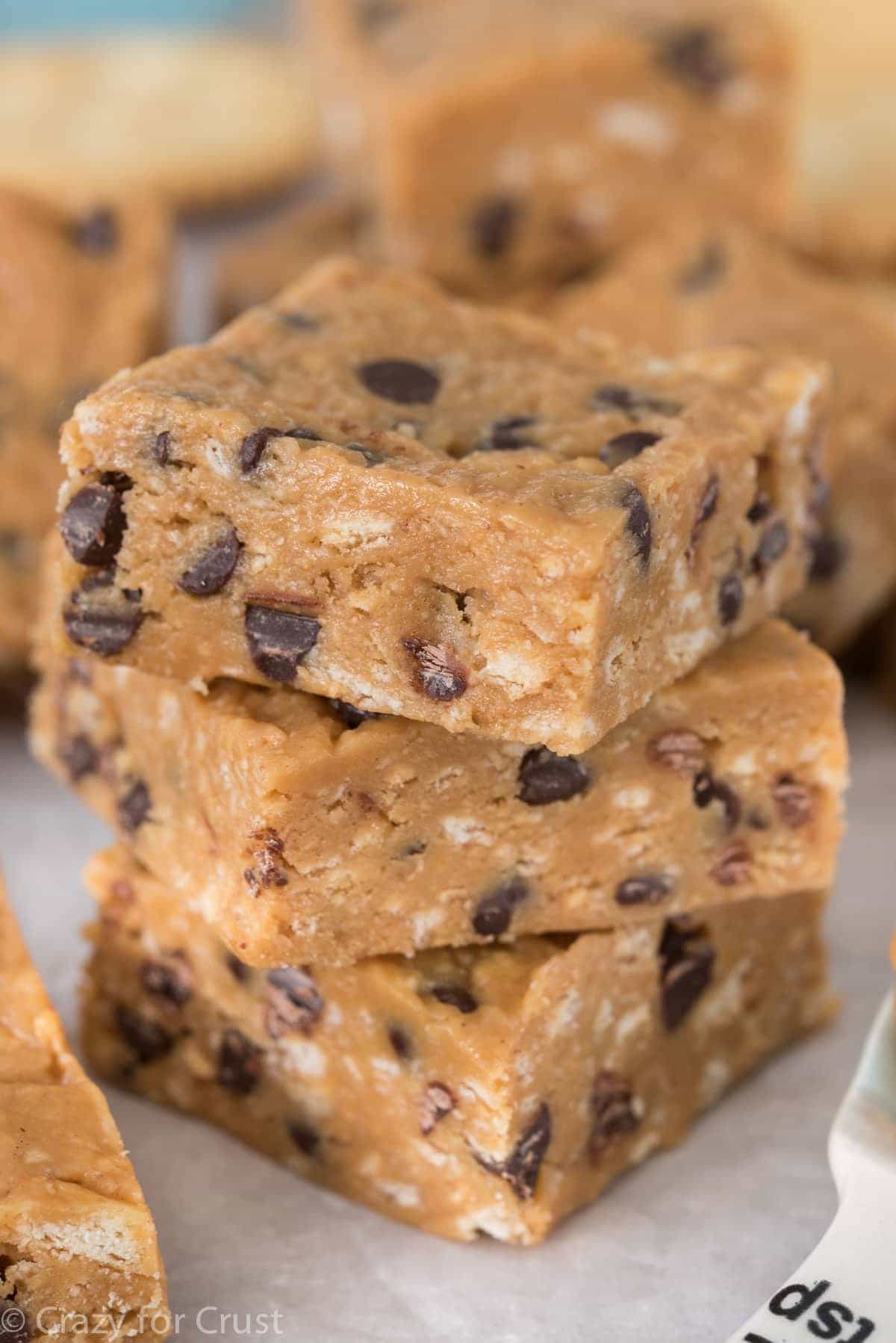 Now, I'm calling these bars "skinny" because they're much lower in calories and fat than the originals. They're not really health food, obviously, but eating a pan of these is definitely more waistline friendly than a pan of the other ones. How did I do this? Let's break down the recipe:
White Chocolate. The original recipes uses butter, which has a lot of fat and calories. I used white chocolate instead, which has less fat. The chips have sugar, while butter doesn't, but they help bind the bars together without all the bad fats from the butter.
Honey. Have you seen how much powdered sugar goes into the regular recipe? It's a lot! I got rid of the powdered sugar completely by using honey. That, combined with the sugar from the white chocolate, makes these just as sweet as the originals, but more naturally so.
Ritz Crackers. Honestly, I don't think there's a huge difference between pretzels and graham crackers and Ritz. They're all carblicious, but I used low-fat Ritz.
FYI, in case you were ever wondering: one tube of Ritz crackers has about 31 crackers in it, which yields about 1 1/3 cups of crushed crackers.
Chocolate. Normally I coat the tops of these bars in peanut butter and chocolate. For these, I just mixed some mini chocolate chips into the dough. I love using mini chips because you get a lot of bang for your buck (you can use less and still taste them in every bite).
Peanut Butter. I didn't change anything about the peanut butter in these bars. I used my normal Skippy Naturals (which is NOT a "natural" peanut butter). Just make sure to use a regular peanut butter in this recipe, regardless of brand, and do not use the need-to-stir natural peanut butter. You could also try reduced-fat peanut butter, I bet that would work just fine.
I really liked these bars – they're rich in peanut butter flavor, perfectly sweet without being overly so, and they're crunchy from the Ritz. They also have the distinction of being dairy-free (if chocolate doesn't bother you), which makes them a great party treat.

Make them for a birthday, a random Tuesday, a football party…or just because your Amazon Prime binge ended. No judgements from me!
Enjoy these Skinny No Bake-Peanut Butter Bars!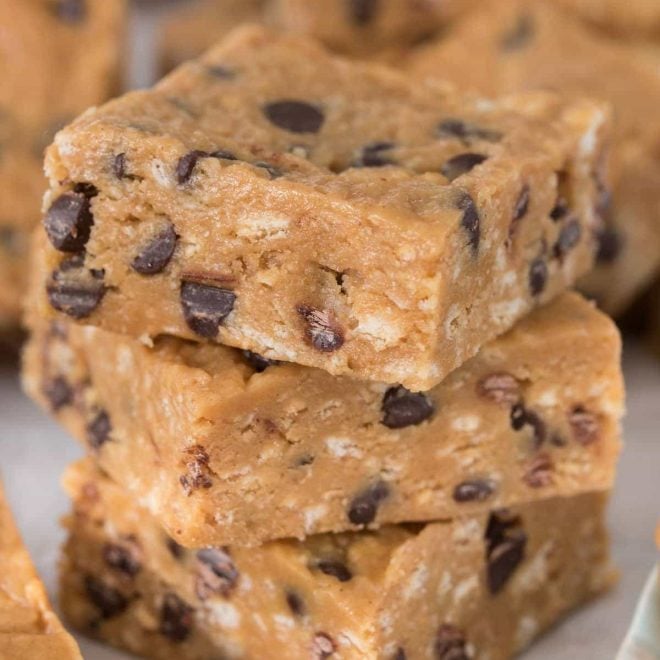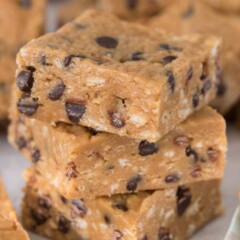 Skinny No-Bake Peanut Butter Bars
These EASY Skinny No-Bake Peanut Butter Bars have less calories and fat than my normal version. They use white chocolate instead of butter, honey instead of cups of powdered sugar, and low-fat Ritz crackers for binding!
Ingredients
1

cup

creamy peanut butter

regular not natural

1/4

cup

white chocolate chips

1/2

cup

honey

1

teaspoon

vanilla

1 1/3

cups

crushed low-fat Ritz crackers

about 1 sleeve or 31 crackers

1/2

cup

mini chocolate chips
Instructions
Line an 8x8" square pan with foil and spray with nonstick cooking spray.

Place peanut butter in a large bowl.

Melt the white chocolate in a small bowl in the microwave on 50% power in 30 second increments, stirring between each, until melted and smooth.

Add white chocolate to peanut butter along with honey and vanilla and stir until smooth. Stir in crushed Ritz crackers. (I crushed them by placing them in a large ziploc bag and rolling the bag with a rolling pin.) Stir in mini chocolate chips.

Press mixture into prepared pan. Chill at least 3 hours, then cut into squares. These are firm from the refrigerator but get quite soft at room temperature, so be sure to plan for that.
Nutritional information not guaranteed to be accurate
Click here to see more PEANUT BUTTER recipes!
Double Peanut Butter No Bake Bars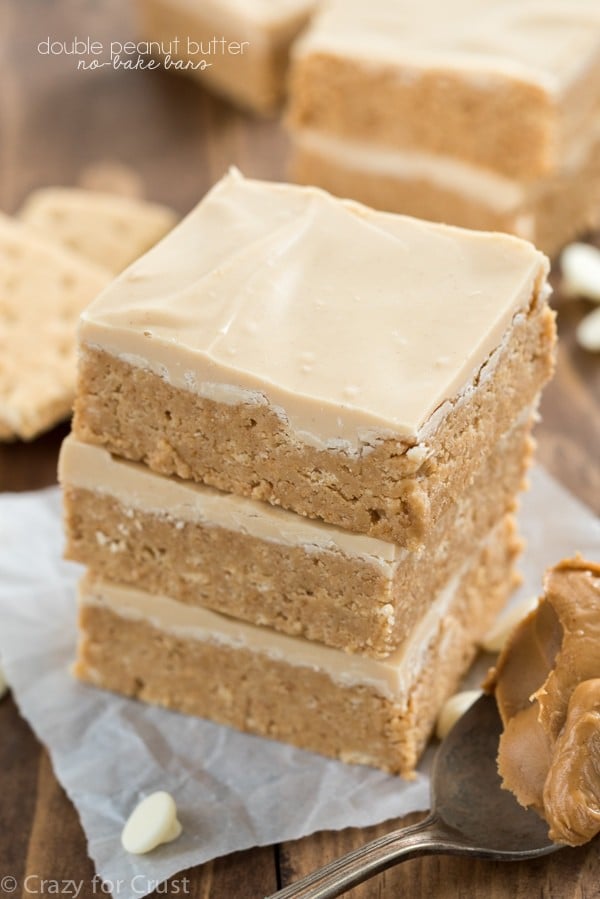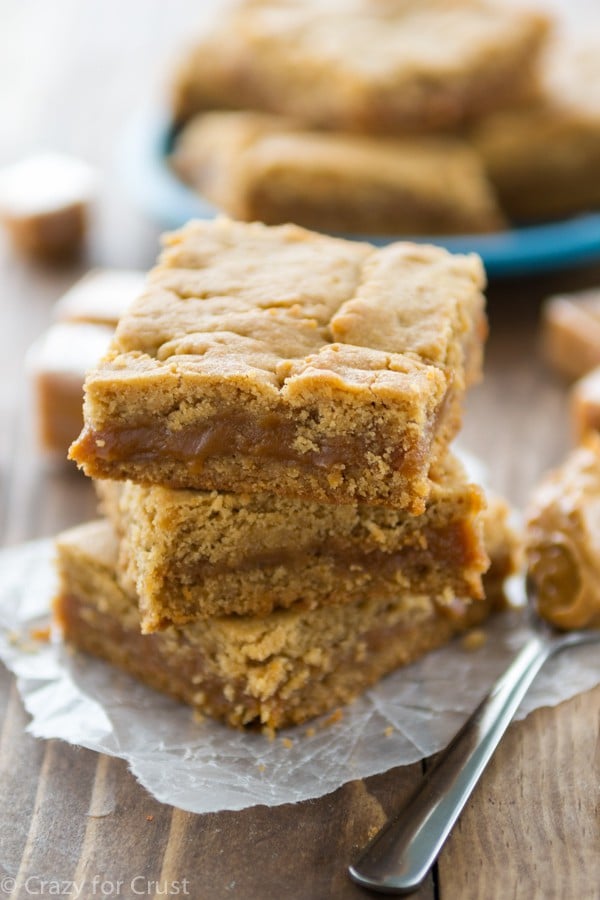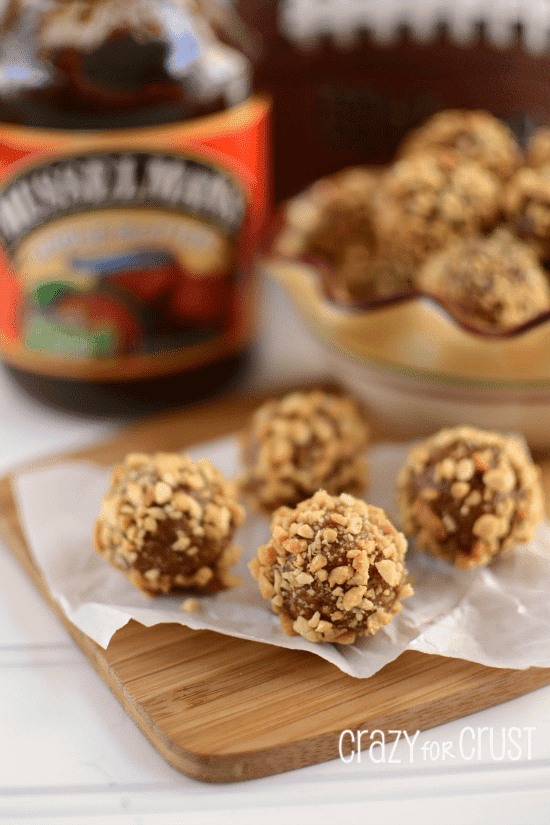 Sweets from friends:
Nutella No Bake Bars by Dinners Dishes and Desserts
No Bake Chocolate Chip Cookie Dough Bars by The View from Great Island
Fudgy No Bake Bars by Something Swanky
Last Updated on September 23, 2019