This post may contain affiliate links. For more information, read my disclosure policy.
Single Serve Sangria for one – Happy Saturday, my friends! It's the weekend…which means it's cocktail time. (Or is that just me?)
I think every Saturday should be Sangria Saturday, don't you?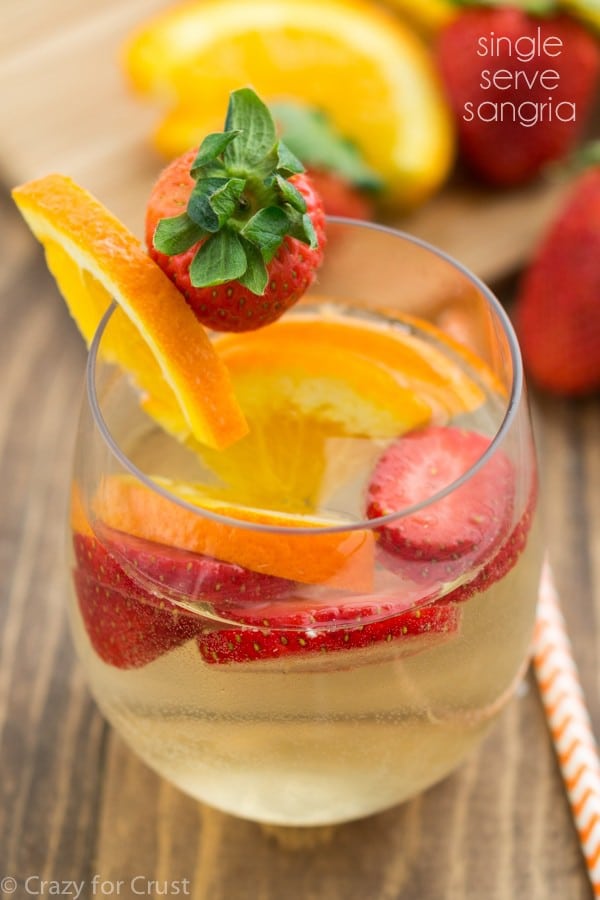 The warmer weather that we've been experiencing in it-never-rains California is making me want sangria. I've been dreaming of summer barbecue, pool parties, and lots of sangria. And then I wake up and it's the end of spring break, school is as busy as ever, and my pool feels like it's -67°.
It might feel like summer is already here…but it's not, so my dreams are still just that. And since it probably snowed on some of the flyover states the other day, y'all are probably dreaming of it too, right?
Until last summer, I never had sangria. I'd never been interested in this delightfully fruity wine concoction until I realized that it could be made with white wine. Then I made some for a party and was instantly smitten. I started craving sangria all. the. time. There was just one problem with that:
Sangria serves a crowd. I'm just one person and we rarely ever have a crowd over. An entire pitcher of sangria + Dorothy = not a very good thing.
So last week when I was totally craving sangria and I was the only one drinking, I thought up my new favorite thing:
Sangria for one. Single serve sangria. RIGHT!!??

How to Make This Single Serve Sangria
I was going to call this recipe "Single Girl Sangria" but then I wondered if that wasn't PC. Then I realized it's probably not SEO friendly and I'm a total SEO slave. So I'm just going to refer to this drink in my head as Single Girl Sangria and outwardly I'll shout it as Single Serve Sangria.
FOR ONE.
A few notes about making your own individual sangria:
You can

use any fruit or wine combination

you want. I like white wine and I'm partial to the citrus + strawberry combination. Just cut up enough fruit for one glass.
Use a wine that's a little sweeter. Good sangria white wines are

Sauvignon Blanc or Pino Grigio

, but you can use chardonnay in a pinch.
Sangria tastes best when it's been

sitting for a few hours

. It's why it's a great party drink. If you're making it for yourself, you don't have to do that but if you know you're going to want some single girl sangria, add the fruit to your glass of wine as soon as you think about it. I made mine in the morning for an evening indulgence. Even an hour or two of soaking is just fine.
I like my sangria with a

little bit of rum

. Because…rum.
I also like my sangria less sweet. If you like yours sweeter,

add a teaspoon of sugar

.
And, lastly, I like some

sparkling in my sangria

. I used plain sparkling water (again, less sweet and less calories), which I just added right before drinking. You can also use lemon lime soda (regular or diet).
This is the perfect drink to make you dream of summer. Even if you're dressed in snow boots inside your house in front of a warm fire watching Grey's Anatomy while your husband is out of town.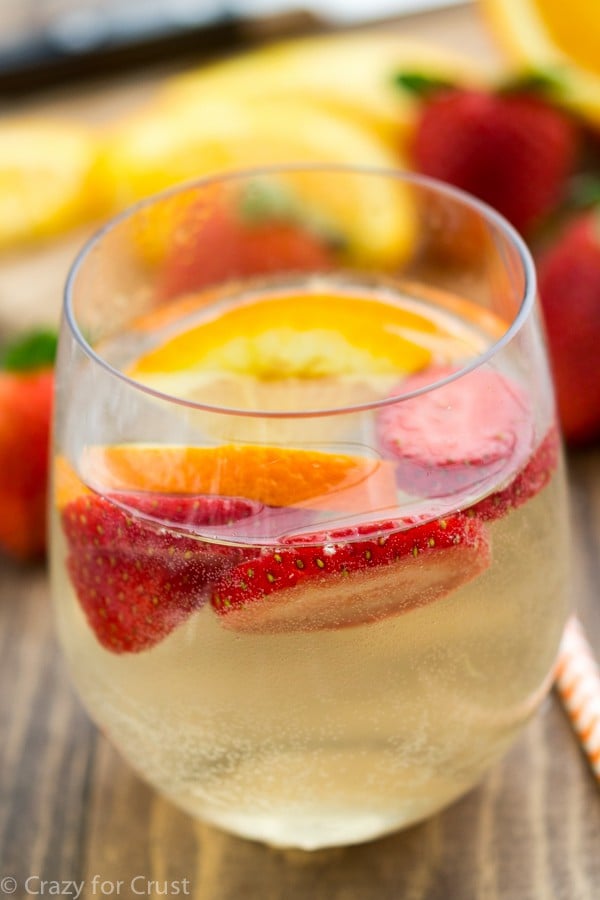 Albeit that's a little depressing, but whatever. It's still single serve sangria for one. 🙂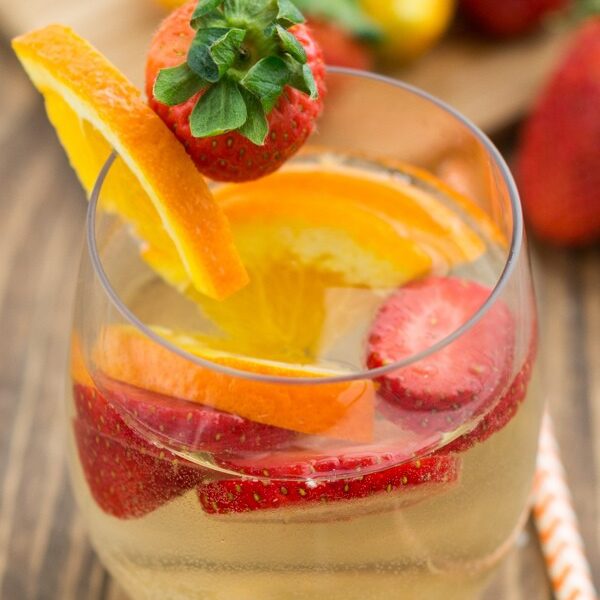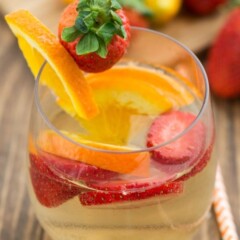 Single Serve Sangria
The perfect drink for summer...when you just want ONE serving of sangria!
Ingredients
1

strawberry or 3 raspberries

1

slice

orange or lemon

1/2

ounce

white rum

1

cup

white wine

like pinot grigio or sauvignon blanc

1/2-1

cup

sparkling water
Instructions
Add fruit, rum, and wine to your glass. If you are going to drink the sangria immediately, add the sparkling water. Otherwise, cover and chill until ready to drink, then add the sparkling water to taste.
Recipe Nutrition
Serving:
1
sangria
|
Calories:
311
kcal
|
Carbohydrates:
27
g
|
Protein:
2
g
|
Fat:
1
g
|
Sodium:
16
mg
|
Fiber:
6
g
|
Sugar:
15
g
Nutritional information not guaranteed to be accurate
Click here to see more DRINK recipes!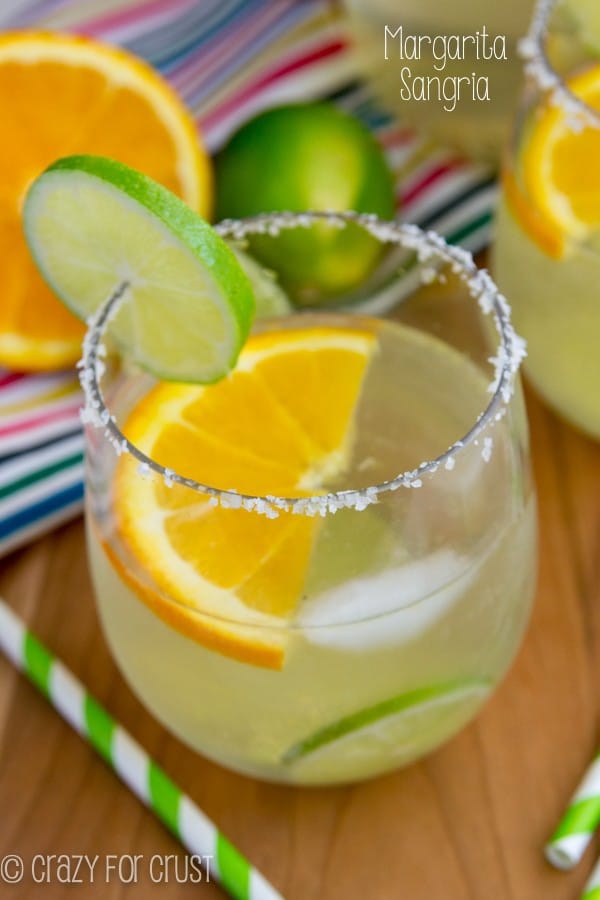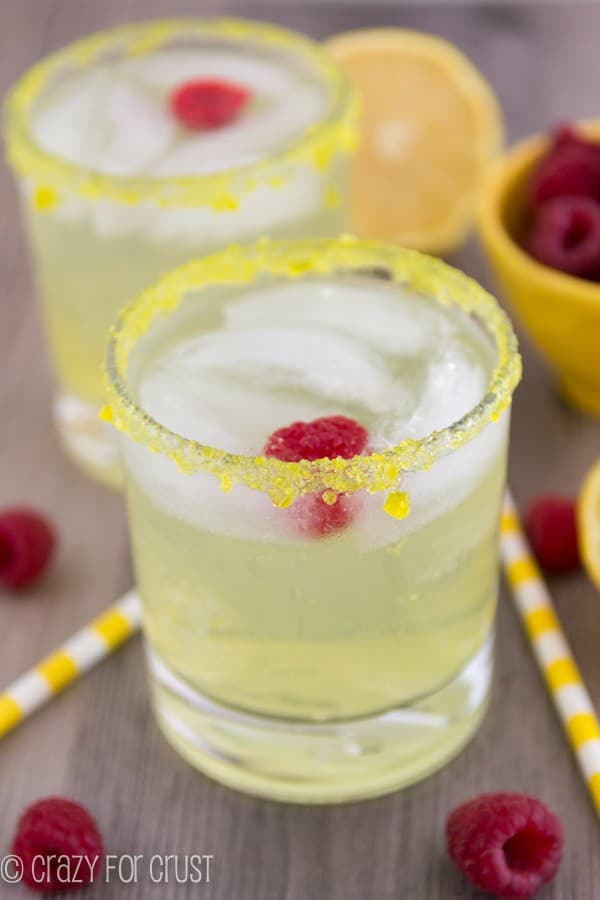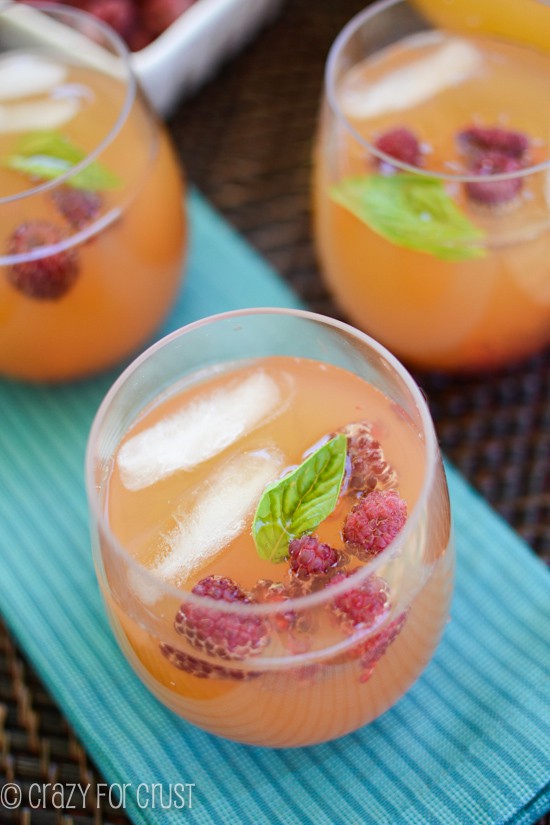 Sweets from friends:
Cherry Limeade Sangria by RecipeGirl
Pomegranate and Rosemary White Sangria by Bakeaholic Mama
Cherry Orange Sangria by Noble Pig
Last Updated on August 21, 2018